The USS Harakaze was a Rambo Nation Butterfly-class starship launched for test flight in April 2820 while Rambo Nation was under the occupation of the Galactic Empire of Cyrannus. During its initial testrun, the vessel was under commanded of commander Tash Hannity, an Academy instructor.
During its initial test flight in April 2820 the vessel was reported lost while investigating the dissapearance of the Imperial Light cruiser Unfortunate in the Metruia Nebula. Since then, it began its exploits to return to the Quadrant Galaxies. By August 2820, the field-promoted cadet to commander Jenna Lenissa Rambo assumed command of the Harakaze and utilised a joint Ramboidae/Imperial/Loyalist crew.
Construction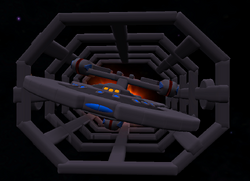 The Butterfly-class line of vessels were initially designed to be a trainee ships, though with the fall of Rambo Nation in October 2819 (21AQF) it was redesignated to act as a frigate for the Occupied Rambo Exploratory fleet. With its sister ship, the USS Butterfly conducting its test flight in January 2820, the Harakaze followed suite in April 2820 while under command of commander Tash Hannity.
During its maiden test flight the Harakaze suffered from numerous technical difficulties, including power fluctuations in the warp conduits, wrong sensor alignments causing ghost readings, none working replicators and sonice showers, conventional water tubes plagued by stoppages preventing the use of showers and lavatories. Yet with the dissapearance of the Imperial Arquitens-class light cruiser ICS Unfortunate the Harakaze was dispatched to investigate its dissapearance as it was the closest vessel in range.
Harakaze Exploits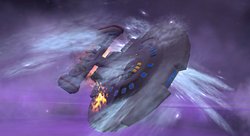 Main article: Harakaze Exploits
In May 2820 (22AQF) the Harakaze entered the Metruia Nebula in search of the missing Imperial Light Cruiser Unfortunate though was hit by a subspace turbulance followed by a displacement wave. After systems came back online the ship recieved outer hull damage at deck 3, section 3 to 5. 4 casualties were reported, including the chief engineer and the tactical officer. To make matters worse the ship had a close encounter with the native Argotus space entity that entangled the ship and endangered its structural integrity. Luckily the quick actions of the crew prevented the destruction of the vessel.
Afterwards it travelled four weeks in the Void of Nothingness until they met some T'varuuh traders who pointed them to a nearby system. By the end of June 2820, the Harakaze was running low on almost everything and its diverted course to Gorgorthrond where the crew liberated Lassa Evaana Penaeli from captivity. Escaping the planet it then headed to the Crockagator C5 station where the ship recieved repairs before continuing the journey a month later in August. Upon leaving the crew soon recieved an Imperial signal from Gorga III and set course to investigate. Upon arriving they found the crash site of the Imperial light cruiser Unfortunate and the stranded lieutenant Corbar. Upon the arrival of the Gorgorian a fire fight broke out and the crew of the Harakaze managed to get most out though at the expense of their commander. Tash Hannity was stabbed by Gorzask with a spear and died shortly after being transported to the transporter room. Before her passing she field-promoted Jenna Rambo to commander and handed over the captaincy of the ship to her.
Personnel
Edit
Divisions and Shifts
Edit
The USS Harakaze has a number of crewmembers onboard, a total Crew capacity of 55, all working in one of the departments and divisions found onboard.
Known divisions:
Command division: corps of officers who specialise in command and control functions onboard the starship (or stations). Capable of leading missions, operating consoles and advance abilities in tactical operations.
Color: white collars.
Medical division: corps of crewmembers and officers who are comprised of physicians, nurses and combat medics.
Color: Light green collars
Operations division: corps of crewmembers and officers who are the backbone of the fleet. Comprimised of the engineering, navigation and maintenance.
Color: Yellow collars.
Science division: corps of crewmembers and officers who are comprised of the exploratory, medical, and mental health departments.
Color: Blue.
Security division: corps of crewmembers who are specialised in security, interrogations of prisoners and guarding the brig.
Color: Red markings.
The crewmembers can be divided into various shift duties, like day shift (main bridge crew- 08.00-16.00), swing shift (16.00-24.00), night shift (24.00/00.00-08.00) and other notable crew members working various rotating shifts.
The USS Harakaze has a three-shift rotation within 24 hours.
Captain's History
Edit
COMMANDING OFFICER
NAME & RANK
YEAR
EVENTS
AFFILIATION
Jenna Lenissa Rambo
Commander
2820

First Cadet Trainee XO under Commander Tash Hannity
Second Commanding Officer of the USS Harakaze after field-promotion in August 2820


Rambo Nation
Tash Hannity
Commander
2820
(April - August)

First Commanding Officer of the USS Harakaze
Tracked down the fate of the USS Elgorodaurl
Rescued lieutenant Lassa Evaana Penaeli from slavery at Gorgorthrond
Located Corbar and the remaining crew of the Unfortunate on Gorga III
Perished onboard the Harakaze upon encountering Gorzask at Gorga III
Field promoted Jenna Lenissa Rambo to commander


Rambo Nation
Crew Members
Edit
Under Jenna Lenissa Rambo (2820 - ongoing)
Under Tash Hannity (2820 March - August)
Name/Rank
Name/Rank
Name/Rank
Name/Rank
Name/Rank
Tash Hannity
Commander
Commanding Offficer


Died August 2820

Jenna Lenissa Rambo
Cadet
Executive Officer
Volerx Ateeshe
Cadet
Helm Officer
Dil'inne'Dry
Crewman 2nd class
Engineering
Velinde Autumnlight
Crewman 3rd class
Security
Further Reading
Edit
Apocrypha-subclass
USS Aelin Sardothien

 ·

USS Alua

 ·

USS Apocrypha

 ·

USS Artoria Pendragon

 ·

USS Asto of Charlemagne

 ·

USS Huntress Atalanta

 ·

USS Jeanne d'Arc

 ·

USS Jung Siegfried

 ·

USS Karna of Anga

 ·

USS Spartacus

 ·

USS Usurper Mordred

 ·

USS Vlad III
Butterfly-subclass
USS Butterfly
Continent-subclass
USS Africa

 ·

USS Antarctica

 ·

USS Asia

 ·

USS Europa

 ·

USS Gondwana

 ·

USS North America

 ·

USS Oceania

 ·

USS Pangaea

 ·

USS South America

 ·

Harakaze-subclass
USS Akeno Misaki

 ·

USS Blue Mermaid

 ·

USS Daughter of the Sea

 ·

USS Haifuri

 ·

USS Harakaze

 ·

USS Isoroku

 ·

USS Musashi

 ·

Pacific-subclass
USS Aleutian Arc

 ·

USS El Niño

 ·

USS Hurricane

 ·

USS Mariana Trench

 ·

USS Pacific

 ·

USS West Mata

 ·

Wanderer-subclass
USS Cour de Lion

 ·

USS Galathynia

 ·

USS Lion Statant

 ·

USS Lionheart

 ·

USS Wanderer

 ·
Community content is available under
CC-BY-SA
unless otherwise noted.