"hurhurhur da meen faic wus mai idea"

- Kal'kuir
Loron Sik Ships are the largest common class of Da Rogue Boyz' shipz. Armed to the teeth with firepower, and sporting an intimidating face, Sik Ships are a personification of Loron strength in spaceship form: very dangerous, very menacing and very disorganised and chaotic.
Sik Ships serve both as capital ships for bosses and as the main body of a fleet, but are always owned by bosses rich enough to afford them. As such, many bosses personalise their Sik Ships with all sorts of tacked-on weapons, bling and paint jobs to make their ships stand out. Though the base model comes with core specs, added weapons can mean that several ships become far more powerful than others, while poor maintenance or installation can lead many Sik Sips to become weak.
History
[
]
Origins
[
]
The Sik Ships were first developed during Da Moovment, to attack a New Kralgon Empire planet. The Sik Ships were designed to be similar to Da Propa Big Rogue Krooza and to accompany it, but to be smaller so they'd be easier to use. The design quickly caught on as many bosses all fought one another to own their own.
Early improvements
[
]
When the Tralkikianoe gave Da Rogue Boyz technology during Da Rampage, they gave the ship particle cannons and relativistic missiles. As well as this, however, they improved the ships' AI, meaning it could commandeer guns and help out with commandeering the ship in general. Later, the Borealis Consortium Network also improved the ship, by giving it the nanomachines and regenerative armour that the other ships have.
Da Rogue Era
[
]
During Da Rogue Era, the Sik Ships saw their greatest improvement drive. After Settlin Da Score, the Loron had conquered the Unified Nation of Ottzello, and could now build Sik Ships made purely of nanomachine regenerating armour. Their weapons were outfitted with more powerful relativistic missiles, and a weapon known as "da Planet Eeta", which could use self-replicating swarms of nanomachines to eat a planet whole and transform it with quantum replicators into materials used to build other ships.
In Da Reckoning, Kal'kuir improved the ships further when fighting in the Milky Way Galaxy. By installing soliton weapons capable of tearing holes in starships and one-way mirror nightshades, which he dubbed "da Solushon" and "da Hood" respectively, the ships were able to rival the Delpha Coalition of Planets. However, this armor and these weapons proved to be extremely expensive, meaning that outside of a few ships fighting in the Borealis Galaxy, very few Sik Ships could be outfitted with them.
Characteristics
[
]
Design
[
]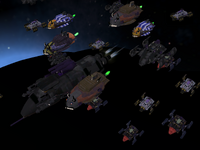 Sik Ships are 900m long, with what is designed to look like an angry face at their front. Their larger weapons - their particle cannons - are visible, while the relativistic missile launcher is contained in the 'mouth' of the ship.
Because the bosses take great pride in their Sik Ships, no two ships look the same. This is because of multiple paint jobs, added bling and weaponry that the bosses love to apply to their ships in order to make them stand out.
Behaviour
[
]
Sik Ships are often the capital ship leading Rogue Boy fleets, as the largest ship in a fleet is the one leading the attacking fleet. However, most typical fleets are led by Da Propa Big Rogue Krooza. As the leading ship(s), the crewmen will simply blast anything they see. The ships' guns are commanded by both the ships' AI and the volunteer gunners inside.
Build
[
]
Sik Ships are constructed using albative nanomachines, meaning they are self repairing and have incredinly tough and thick armour. They are powered, like most Loron ships, through zero-point energy from a vacuum, or when necessary, through plasma fusion reactors producing high outputs.
Armament
[
]
Weaponry
[
]
The base Sik Ship model has access to the following weaponry:
Da Lasa Gun - turbolaser cannons. Existing in large numbers, these can be used to destroy smaller ships or fired broadside to destroy opponents' capital ships.
Da Part Blasta - particle cannons. Fires subatomic particles to disrupt the atomic structure, easily capable of dealing damage relative to a nuclear weapon of the same size. Existing in large number.
Da Boomstik - a relativistic missile. The projectile is accelerated with an electromagnetic drive, as well as the acceleration of the ship's movement, as well as hypermatter which can be gathered (meaning they are at their best when fired just as the ship exits subspace), making them move at a speed that is a high percentage of the speed of light. The projectile can ultimately destroy ships and space stations in a few shots, and cause major damage to most planets.
The following weapons are owned by various other Sik Ships on purchase:
Da Rokkit Boomstik - relativistic missiles containing antimatter. Much like the normal Boomstik, their projectiles gather hypermatter and are accelerated with an electromagnetic drive, but deal an even more powerful punch. This is capable of destroying moons, planets, and in some extreme cases, stars. However, because of its highly unstable nature, it has also had a notorious history of destroying the firing Sik Ship before the weapon is launched at all.
Da Solushon - a soliton weapon. A transition phase is fired that can break symmetries and cause objects to tear apart. Far deadlier than da Part Blasta, but also incredibly expensive.
Da Blak Hole - a gravity weapon that can cause an spacetime implosion creating a black hole in a specified area. Incredibly powerful, but so expensive that very few Sik Ship owners can afford them.
Defenses
[
]
All Sik Ships are made of extremely albative metal made of nanomachines, meaning it can self-repair with ease. They all by default use non-phasic shielding, meaning they can withstand many weapon blasts before the shield begins to run out of power or fail and their armour becomes vulnerable.
Several Sik Ships can be outfitted with a nightshade defense known as Da Hood. This is a one-way mirror that can essentially prevent almost anything from getting through the defenses and almost break them from the rest of the dimension entirely, but requires a heavy amount of power.
Notes
[
]
Gallery
[
]
Da Loron stoof
WEZ DA REAL LORONZ MAN DONT REED DAT UNO STOOF ITS DUM
OI BOLD MEENS SPESHUL STOOF
Da Cash

Thugz Fer Dosh

 ·

Mafia

 ·

MEH NO ONE CAREZ BOUT CASH ANYWAYZ LETS BE HOENST
Da Godz
YA SO DUM MAN ZR'AN'KARS DA ONLY REEL SIK LORON GOD AN DA OVAS BUT ROZ'TAH'FLOK IS DUM
WE IS DA REAL COOL LORONZ DA ROGUE BOYZ IS DUM DONT REED DEM
| | | |
| --- | --- | --- |
| Da Tekkno Stuff | | SHUT UP MAN WE HAS DA SAME TEKKMO STOOF AS UNOS TEKK |
Da Cash
SHUT DA HELL UP MAN LOOK HEER
Da Timez
DUMBO GO

HEER

Da Godz
YOO LOSAS ZR'AN'KAR IS DA DUMEST GOD EVA ALL DA OVA GODZ AN ROZ'TAH'FLOK IS BETTA
WE IZ DA DEFFMARCH BOYZ AN WE IS DA BEST COS WE WIV DA MALI'NAR YA DUMBOS
| | | |
| --- | --- | --- |
| Da Warz | | COMIN SOON MAN SHUT UP |
| | | |
| --- | --- | --- |
| Da Tekkno Stoof | | SHUT UP MAN WE HAS DA SAME TEKKNO STOOF AS MALI'NAR DO YA DUMBO MOST OF DA INFO IS HEER BUT OMG WE DONT NEED MUCH TEKKNO STOOF WEZ TOO POWAFUL HUR |
| | | |
| --- | --- | --- |
| Da Godz | | ALL DEM GODZ IS DUM DA ONLY REEL GODZ IS DA DEFFMARCH GODZ |
Part SporeWiki:Fiction Universe