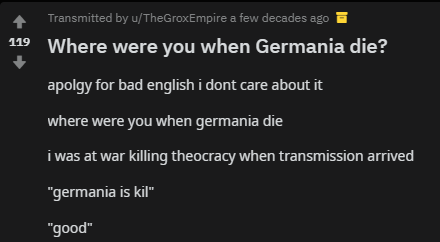 Hey, I'm AestheticLunar. Please call me by my preferred name, Theodore. I'm a writer and contributor here on SporeWiki for the fiction verse project and I've been contributing to the fiction verse (although under a different account) since May of 2018.
My main contribution to the wiki is the United Republic of Grubmolians, my first & main fiction. Right now I'm working on developing and revising my fiction in the Krothul Galaxy as well as working on my private AU's Grox.
I am normally shy and impressionable so I usually don't come out and interact with other users all that much unless I need criticism or help. It is also unlikely that I will collaborate with anybody so you are better off asking somebody else to collaborate with you. Please don't brush me off as rude or insensitive, I am just not a very sociable person.
I enjoy reading history, discussing/debating politics or subjects in general, relaxing/calming music & writing fictions for my characters, but you won't see most of them.
Oh, by the way, I have a lot of abandoned fiction. If these fictions haven't been edited in more than 6 months or are just plain empty you can go ahead and assume they're dead.
My Fictions
Edit
A race of semi-aquatic proto-mammals with a dark past
America if it was Texas and it had a massive colonial space empire
A union between 3 massive superpowers founded after a terrible war
An evil xenophobic hivemind centered around the core of Krothul Major
"What if the gods blessed a man to conquer the universe?"
"What if we made a country based on pure science and fact?"
"What if we made a living planet?"
Userboxes
Edit
| | |
| --- | --- |
| | This user loves interstellar travel! Exploring the galaxy is this user's dream! |
| | |
| --- | --- |
| | This User Prefers To Be a Scientist. Species that hinder scientific and technological innovation will be extinct through natural selection. |
| | |
| --- | --- |
| | This user is more than one year on the wiki |
| | |
| --- | --- |
| | This user is a Wiki Grox, who dislikes humour pages and communicating with other users. They are often enemys of wiki Asgord. |
Community content is available under
CC-BY-SA
unless otherwise noted.