Ummm....
Edit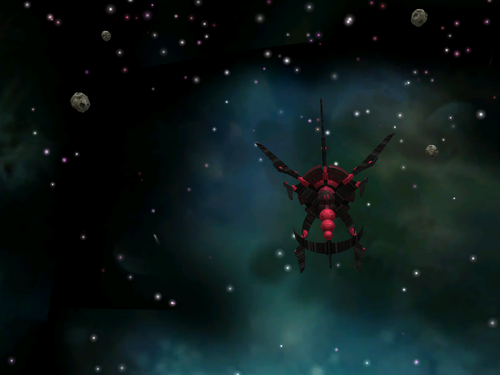 "Does anyone have any intel on this object? We're kind terrified of it when it made a transuniversal bridge and carved through a galaxy in minutes."

- Shka'Tun Rep
Well it doesn't look like Grox technology, nor does it seem to be of Cognatus origin. It's possibly something to do with that new Xhodocto-worshipping cult that's been making threats, attacking random planets and stealing ancient swords recently. That's our best guess, although others probably have more information on the matter. It seems to be a superweapon, designed to continue the cult's attempts to destroy us all. Out of curiosity, is that an actual photo of the object, and if so, what are those similar-looking asteroid-like objects that are floating around nearby?
~ Admiral of the Girdo Empire
"We think its called C-133316666, but we need further verification. The blocks floating by? I...I think it was dead hypergiants at widths of about...uh...well i'm not certain. We need further research. But what we do know is that object is massive."

"It easily went straight through a galaxy...it sort of reversed the galaxy's velocity and then...increased its mass. It sucked up the galaxy's contents and...well...it exploded."

"It was absolutely massive...I don't know how big but it is noticible in a galaxy from a distance."

- Shka'Tun Rep
I don't personally deal with information-gathering activities, so I won't ask you how you gained the information about its name. But about the dead hypergiants... that's not natural. It's not possible for them to look like that, not with such a quick process as you're describing. Yes, you'll have to do further research on that when the superworldship's safely away from there. But if they are the remains of hypergiants, then we're not dealing with normal technology. That isn't even the sort of thing "Demonic Energy" can do, as far as I'm aware. Converting rock to nexidium is one thing, but this is a whole order of magnitude more powerful than any records suggest Demonic Energy can be. I'd doubt even the Xhodocto's gods' abilities to do that so quickly, but then again I'm not an expert on these matters. Of course, even if they could, there can't be a god operating the structure, right?
As for everything else that it's done... I have no idea. If it is several parsecs wide, then that could explain how it's managed to get the energy to do everything quickly. Still, I don't think it's natural, and I'm not even sure that we're looking at the effects of Demonic Energy here. Not that I can think of any alternative explanation... maybe a primal, reality-warping power? I don't know.
~ Admiral of the Girdo Empire
"Haha! The Xhodocto will return and destroy you all."

- Thel Vauron
Does anybody have any idea as to what's happened with this Construct? For that matter, has anybody even seen the Shka'Tun recently? This could be important. There's a reason the Admiral hasn't archived this topic yet.
~ Commodore Hlraka of the Girdo Empire
The Awakening
Edit
"Take heed, mortals and act. The pieces have been placed, the board set. A war of the gods is about to begin."

- Unknown
"What are you? I have not seen such dark energy before... could this be... no it can't be... Mornûnendur?"

"You are correct in your assumption mortal, however, I am but a messenger of the Mornûnendur, a servant of their will."

- Unknown
"You will have my full support!"

- Tricarrion.
"So thats where you are, Tricarrion, well not if I get in your way! The Xhodocto will be fuming to discover that you are mixing energies."

- Bo Ramik.
"I am more poweful than you now, adept of the light! I have struck a bargain, I am allowed to be with both, so along as I don't mix those energies."

- Tricarrion.
"I am very glade we sent seed ships out into the universe... i assume this is going to ruin my entire week. Are you related to the unknown device that showed up and destroyed an entire galaxy? I hope not, that would suck."

- Evermind
"This war will get Tier 0 civilizations and transapients involved, which are indistinguishable from gods."

- DCP.
I suppose that a "war of the gods" might be something that would count as not a game, like what Thel'Vauron said...
~ Emperor Tokzhalat
"It makes me wonder if they can be considered gods after all if they go to war, how mortal of them. This supports our theories that they are not truly omnipotent after all, but are extra-dimensional entities."

- DCP.
"Fair assessment, only one is truly omnipotent."

- Unknown.
Well, how does one define a god? Millions of cultures across the universe have worshipped mortal deities. I agree with you that these beings do not fit the strictest definition of "god", and that there is probably more to their history than the common mythology. But does that really matter? Words change over millennia; perhaps we'll need to rewrite the dictionary soon.
~ Commodore Hlraka of the Girdo Empire
"I am one that mortals would see as a God. However even we have a God"

- Unknown
"We are all gods, each and every one of us. We think, we create, we destroy. What more does a god need? Power? No, a god only needs to be sentinint."

- Evermind
"That is also the DCP's view. Due to Many Worlds Interpretation, everyone can control their own quantum universe, their own destiny as quantum observers. We think there might be an energy, however, it manifests and projects its self to the individuals beliefs and mind, while some would say they are experiencing a religious miracle, another would say it as a paranormal event, or a feat of their own elemental or psionic power."

- DCP.
"The Apolocypta? We have heard of them. Though we believe they were last seen before our arrival in these galaxies... this is an interesting event.. perhaps even a valuable ally..."

- Captain Votarah
"Your thoughts are disturbing Vartekian, the Trinity and other gods can, and will stop you"

- High shaman Jonjann of the Krazo Boid
"What threat are the gods to us? They will soon have other problems....."

- Captain Votarah
"Votarah! You have been great allies since the DCP Civil war, so I shall say an alliance with Mornûnendur will be most benefitting."

- Captain Votarah.
"Yes, yes I can feel there awakening. The Mornûnendur have returned!!! Now none can stop us to achieve our goals. Welcome back my ancient allies and friends. Let us once again join hands against the noble rulers of Atlantica. There time is ending and our time is near. The gates are opened, none can stop us now!!"

"well. um... this is awkward. Didn't you lose before?"

- Evermind
"Stay your tongue mortal! Or you will experience the wrath of the gods!"

- Mornûnendur
"Indeed, and that was the great mistake of the Noble Gods to not get rid off instead they punished us or banishment, now I have more influance. Now I have an army and an influance over various Demi-Gods. This I did not had the last time. I learn of my mistakes.... which cannot be said of the Noble Ones. None the less, now I have opened the gate, the barriers of the Realm of the Rambo Gods have fallen and I have a free move to play. And do not think you can warn the Noble Ones, they are ignorant for this evil thanks to me!! HAHAHAHA"

- Armtyris
While I don't mind your attempts to turn the universe into a realm of chaos and evil, do you mind not doing those manic laughs? They're so cliché.
~ Emperor Tokzhalat
The DCP shall stand in your way, as we do against all evil! We have defeated gods before, we stared in the face of Kamik himself, and if it was not for us ressurecting Master Kroc, Kamik'Shi himself would have beaten you.--DCP
"Well, it seems like you have a well thought out plan. We will be busy in the Sporemaster Alliance, but if you bother us enuff, we will fight. If you don't we will be having a massive celebration to signify the end of the Sapo Civil War, and all non-evil/Grox/Xhodocto creatures are welcome to visite. If you see someone you want to eat, try to control the urg to do so, we would rather not have a war right now (thats mean you, Loron). Oh, and BTW, im immortal, im a machine mind. Sorry to dissapoint you."

- Evermind
"The DCP? Hahahaha!!! You would be like bacteria against our forces invoke not our wrath."

- Mornûnendur
"we of the 9th universe were able to defeate the Xhodocto, im sure your much weaker then them. Deafeating you (if the past is corect) should be easy."

- Evermind
"You underestimate us. You are bringers to your own demise, for only gods can defeat us. (In fiction this is true)"

- Apocaylpta
"I hate to quote myself, but: "We are all gods, each and every one of us." So there, we can beat you now. But really, gods are just really strong beings, and the bigger you are, the harder you fall. Note that you WILL fall someday. "

- Evermind
"Beware Mornûnendur! For I, the forefather of those who defend your precious Multiverse from the threat of the Evilness brought by the Xhodocto, had come to this realm in order to bring an end to a considerable threat from you! Begone your presence from this Universe, and so we will spare your deity lives, do not defy powers that once made the Xhodocto fall!"

- Veo
"We, are the Krass legendary paths of power, hunters of those whom say to be gods and yet abuse their authority."

- Veo
Archiving
Edit
We have closed some of the subfrequency discussions on this message due to lack of use. All transmissions have been stored in an archive, avaiable to be accessed for future reference. If anybody wishes to continue discussing a particular archived topic, please start a new discussion about it. Notable discussions that may require attention at some point in the near future include those about the reformation of the Seven Starr Alliance and whatever it is that the Grox have been doing, and the Cognatus Alliance's superweapon construction industry.
~ Admiral of the Girdo Empire

"Great. We are currently downloading the files to our databanks."

- Gibek, of the Gablinus
"Cool. Downloading into database now. "

- Evermind
End of the Intergalactic War and the Beginning of the Classic Era
Edit
"Greetings, friends and allies. After months of arduous fighting, the Intergalactic War has finally come to a rather unexpected end, the Cognatus are no where to be found, and the Imperial Alliance and the Trucinex have retreated from our home system, hostilities across the universe with the Cognatus have ended and for the first time in months, the Republic is recovering at last, beginning the Golden Age. As my country continues to reemerge, I will be sending diplomats and ambassadors across the cosmos, in the hope of preventing a repeat of the war. More updates of the recover of the Republic soon."

"Good, peace is always good. I can assure you that the Sporemaster Alliance will not be the cause of any wars or chaos, not intentionally anyway. "

- Evermind
"The DCP has now finished its part in many old wars, and we too look forward to a brighter future, as we are expanding into hyperspace colonization (although we could cross the bulk between universes before, it will be our new form of colonization). We have recovered from the War of Ages and terrible Dark Age. Postgrimbolsaurians, Metakind and other evolved people are also growing in number, however, this transevolution began since the information age, long ago, but now such transevolution is becoming more noticible. As we read from the Girdo "useless hyperspace" message, this is untrue, another dimension will give us huge power over this universe on a technological standpoint, easier transportion into others and even more understanding on the dynamics of the physics of the universe. Finally, if we unlock what Dark energy is (no not the spiritual kind), we will have an unlimited resource. So, it seems a brighter future for all of us is beginning to form, after the post-War of Ages horror. However, rising dangers of the Cult of the Deathmarch, and the Tokzhalan's alliance with the Daleks and Grox should not go unoticed."

- DCP Science and colonization reporter.
"The Grox are attacking our colonies! We're still recovering from several recent conflicts, so we don't have enough ships to mount a successful defence against them. *sigh* The Human Coalition has fallen less than two months after it was founded... some of our ships have escaped, fortunately, and have fled to Human Republic territories on the other side of the Milky Way. Sadly, I'm not one of those escapees. Still, the Coalition should hopefully live on as part of the Republic, even if I'm not part of it... anyway, the Conqrix have nearly found me, so this message is just to warn you: the Grox are b-"

- Human Coalition
"Then the Grox have breached our non-aggression treaty of the Milky Way. This angers the Coalition of Delpha! We agreed, that if they started attacking empires more than 500 light years from their space, we will be at war once more, with exception between the Grox and the Gablinus-Avis. They have dishonoured our agreement! We are ready for war once more, and we shall prepare our assault..."

- Warlord Kilnok.
"This is to the Human Republic/Coalition:Your species, along with your humanoid cousins, are quite advanced and powerful, but not only that, you are one of the most influential species in the Milky Way, with a long history, even though strangely you have reached Space Stage several times in your history and then evolved. Since although we are not yet allies, our empires are in friendly terms (well, not with all of you humans, you are a chaotic species, your empires:Galactic Empire, Goa'uld, Deta Quadrant humanoids/Coalition races and the Federation/Republic races all vary in a spectrum between good and evil). However, your tones have changed, and the Grox are far more evil than the few human factions that are. It is about time a true alliance is set, may you join us in an assualt on the Grox?"

- DCP Diplomat.
"The Coalition ships have arrived at Republic space. We do not know about the "Galactic Empire" that you speak of, and the "Goa'uld" are - as far as we're aware - extinct in our part of the galaxy. But the rest of us are now united under the banner of the Republic, and once we have upgraded our ships with the technology brought to us by the Coalition refugees, we will join your attack. Although we do not like to go to war, in this case it is probably necessary."

- Representative of the Human Republic
"The Galactic Empire as far as we know is a Tier 1 civilization from an unknown and distant galaxy, they seem to be at least on our level or even more powerful than us. There are many species, but one of them, strangely is identical to Homo sapiens. We think if they are the same as your kind, they are probably the most advanced humans if they are (or it could be an example of convergent evolution). They have a few colonies on the edge of the galaxy, and they don't look like they want peace. We believe also, that there maybe another Goa'uld System Lord out in the galaxy somewhere."

- DCP
"The Goa'uld are probably no threat to us though, we calculate they they would have to infect two thirds of our government before they can take over."

- DCP
"Maybe your intelligence on these two civilisations is accurate. However, our own databases do not contain any information about either of them. Back on the subject of the Grox, the fleet we are planing to send will be ready in a few days' time. In addition, from what the Coalition refugees are telling us, those theories about the Grox going through a process of "upgrading" themselves appear to be true. Their fleet was armed with weapons such as "superlaser" particle beam weapons, and their Conqrix troops fired missiles that could be detonated inside the Coalition soldiers' personal shielding. The Coalition have only seen this technology from the "Tokzhalan Empire" before, so these Tokzhalan were apparently allies of both the Coalition and the Grox?"

- Human Republic
"The Grox are of little threat to us, in fact, we are planning on destroying what is left of their empire in the Milky Way/Plazith Rim."

- Salsetthe Republic
"These imps have been annoying the universe for too long, we have to do something about it..."

- Diplomat Gibek of the Gablinus-Avis
"Do not underestimate the power of the Grox we have made that mistake ourselves... they may not be powerful but they have grown to fight like demons...."

- Captain Votarah
"The Grox were of little threat to any of us before today, Salsetthe. To reach Coalition territories, they must have passed through your space, which begs the question: if they're so little of a threat, why didn't you destroy their entire fleet while they were en route to their destination? Although you may like to keep yourselves a mystery to the rest of us, it's well-known what you do to any ships with harmful intent that are passing close to your systems. I apologise if that sounded hostile, and if you could help us destroy the Milky Way's Grox, we would be very grateful. But, like Votarah says, just be careful not to underestimate the Grox. That never did anybody any favours."

- Human Republic
"You are incorrect, they never even passed through our space, but they did come close. They used a series of wormholes, one of which leads to/from near the Galactic Core to just outside our space, and another wormhole which passes relatively close to the previous one, but the end which is in the Delta Quadrant, as you would call it, never stays in one place very long. You may know of it as being the Barzan wormhole. We shall consider declaring war on the Grox, but we know of their ties with the Tokzhalan Empire and the Daleks."

- Salsetthe Republic
"This is another thing... they have very powerful allies who we also have good ties with... a war against them may grow much bigger than you think... "

- Captain Votarah
"Ah, of course, a wormhole! We've become so used to transwarp drives recently that I'd forgotten about natural subspatial pathways. That explains it..."

- Human Republic
On the matter of the Daleks and the Tokzhalan Empire, we've seen no great presence of either of them near the Plazith Rim's Grox Space. The Daleks seem to be concerned with the war in Ottzello, while we've only seen evidence of Tokzhalan scout fleets. There's one Tokzhalan Mothership there, but a small task force should be able to destroy it. I think.
~ Admiral of the Girdo Empire
"I would just be careful on what you do.... "

- Captain Votarah
"The power of the Grox can't be forgotten. They are Tier 2, they control highly energetic galactic cores and have vast populations. Although their power has been greatly diminished in some galaxies, they can be found in almost every. Maybe they even have fully colonized ones. There are many mysteries that surround their technology and biology. It may turn out that combined they may have more colonies and ships than the lot of us."

- DCP.
"And then there are all those upgrades that their soldiers have received."

- Gablius-Avis
"The DCP does bring up an important point, however, we have found that they only colonize around the galactic core of other galaxies, due to the requirements of their technologies. They do have many more colonies than most of us, but they're scattered around various galaxies. Their technologies and biology are no longer a mystery to us, due to actions we have taken previously. Also, would you care to elaborate on who those allies are that you have good ties, Captain Votarah of the Vartekian Empire?"

- Salsetthe Republic
"We're sending you our forces to your location, they will arrive in only 3 minutes."

- Captain Benjamin XII
"Well, what are the Energy refineries with Grox insignas on them that we have found orbiting Galactic Cores? We have found various relics left over since we colonized the core, designed to extract energy either off the accretion disk or the Hawking's radiation they emit."

- DCP.
"What we don't know, is what they used them for..."

- DCP.
We found no such stuctures in Girdo after defeating the Grox there. When did you first discover these refineries? If they're less than 20 years old, that would suggest yet another recent advance made by the Grox. If not, then they're probably nothing to worry about... at least not in comparison to the reports of the Grox being armed with superlasers and transphasic missiles.
~ Admiral of the Girdo Empire
"If you wish Salsetthe, We have met with these daleks before from another dimension as we have mention to the Tokzhalan... the Grox also have a few small empires that work for them like puppet empires.... Our intell also suggests that the grox are planning to make strades with a group of scientists to build a massive army of superweapons (aka giant robots.) although if this is true or not remains to be seen...."

- Captain Votarah
"The universe has moved on and this new war seems to be a cry for attention."

- General Zillum
"We have found them in both the Milky Way and Tigris galaxies. To most in the the Milky Way, it is common knowledge, there is even one on display in the museum of galactic cultures. It is possible that the Grox are slightly more advanced in some galaxies, than they are in others, or perhaps some are more important to them. The structures were soon discovered after we conquered the Grox in the inner core of the galaxy, they were well used, but we are unsure how old they are. They could be used anywhere from creating wormholes or distorting spacetime, to powering massive weapons such as the Superlaser to simply providing energy for use in their daily lives."

- DCP.
"Our first ships are now ready to join the invasion of Grox Space, three days ahead of schedule! Fortunately, thanks to the Human Coalition's military scientists, we have developed nonphasic shields that will render the Grox' transphasic missiles only as effective as a regular quantum torpedo, which while still effective is much less of a threat. We're not sure how to deal with the superlasers, unfortunately, and even worse, we've yet to manage to install more than a single superlaser generator onto even our largest ships. Of course, we're still able to fight, and our ships are on the way to rendezvous with the DCP forces as we speak."

- Human Republic
"Our ships have yet to attack the Grox head on, but we have already unleashed thousands of Torpedo spheres on the chosen sector. Unfortunately, the Grox adapted to our sub-to-realspace weapons, although the weapons are of early design and when thy are improved, they should not be as limited. I have heard of the massive wars your previously split empires have fought in, some of those empires warlike like us, and we admire your adaptability in combat. It would be an honour to engage the Grox by your side."

- Warlord Kilnok
"Thank you, Warlord. And of those old empires of which you speak, some of their greatest warriors and strategists are ready to die with honour in the war against the Grox, and cannot wait to fight alongside your forces against the cyborg scourge.
Our old, pacifistic ways are over, for now at least. The Human Republic will be defenders of peace, not merely its proponents. Of course, we will still be primarily peaceful and non-violent explorers and scientists, but our Starfleet will now always be ready and able to fight wherever, whenever and whomever they may need to.'"

- Human Republic
As far as news from the front lines is concerned, the Salsetthe attacks on the outer colonies have been going well, but their forces are still being slowly worn down mere weeks after the battle against Tokzhalan forces in the Ghelaxin Galaxy. Fortunately, the DCP and Human fleets are joining the invasion (as you should know) and Tokzhalat's ships have left Grox Space, so an invasion of the inner colonies may also be a victory. However, the Grox still appear to be working on upgrading their military. We believe they may now be, in their quest for new military technology, becoming like the Borg and assimilating alien technology. If our beliefs are right, though, they now have the ability to scan through shields, so they will be able to reverse-engineer other species' creations without any of the risks involved in Borg-style assimilation. The risk of them developing warheads like the Salsetthe "tricobalt" weapons is one thing that is likely to occur if our fears are justified.
They may also be planning on striking back against their attackers. Our scouts have detected disturbances on long-range scans that may suggest a large attack fleet being developed, and our intelligence agencies fear that they may even be developing a new, large warship class, maybe of the "Super Star Destroyer" type, and possibly inspired by the Tokzhalan Empire's Motherships. Although we cannot be certain on the accuracy of this information, we should make sure to be prepared.
On the bright side, our scouts in various other galaxies have determined that more work is being done elsewhere in the universe than in the Plazith Rim. Although this might seem like bad news, if anything it suggests that the Grox are preparing to lose their colonies in the galaxy and are instead concentrating on the rest of their empire.
~ Commodore Hlraka, on behalf of Girdo Imperial Intelligence
Seven Starr Alliance
Edit
The Grox. The Cult of the Deathmarch. The Tokzhalan Empire. The Imperial Alliance and the Confederate Alliance of Systems. All of these civilisations are ready and able to launch an all-out war against us as any time. The Grox and Tokzhalan appear to be doing so already, albeit very slowly. The others are apparently building up their forces, and planning their next moves.
We need a better forum for coordinating intergalactic defence. This discussion board is not suitable, since all of these enemies can watch what we are saying at any time. The Humans, Salsetthe, and DCP all talk about their plans to destroy the Grox. The Grox can see these plans, and may even be able to take action against them. Yes, this board is still the best place for most things, but a few more sensitive issues should not be made available for viewing by the entire Gigaquadrant!
Our intelligences agencies have done good work in managing international cooperation so far. But they have their limits; they can only be a foundation, a base upon which to build our new universe.
So now it is time to remake the Seven Starr Alliance. I believe the DCP should lead the restoration of old SSA channels, since they were one of the main members of the original coalition. Of course, it is their choice. However, all of us must work together to make sure this happens; never abandoning the project or letting ourselves believe that it will fail. So long as we make sure that we do not succumb to the same mistakes as we did last time, only belief in failure will jeopardise our success.
So. Shall we begin?
~ Admiral of the Girdo Empire
We believe that it should begin as soon as possible with the original members holding leadership.
-Apollo
Every potential member empire should be carefully analysed on a case-by-case basis, including the members of the original SSA. After all, one of the issues with the old Alliance was how freely it let hostile and warmongering empires into its league. However, we agree that, at least at the beginning, it will be best for the most powerful, trustworthy, and influential of the original members - probably the DCP, URC, Rambo, and maybe the Shka'Tun - to control and command the combined decisions of the SSA. I suppose we will see what happens in later years.
~ Admiral of the Girdo Empire
We shall also support this new Seven Starr Alliance, let us know what we can do. Empress Ramashe of Rambo Nation.
I request that the Gjigantrox Interstellar Empire be allowed to join the reformed Seven Star Alliance! -Chief Ambassador Carillion
"The Sporemaster Alliance proposes that, instead of having the original empires telling the SSA what to do, you have all the member empires send representatives to a senate or council which will be the entity that does the decision making. Otherwise, there is no reason for the smaller or younger empires to join, as we will have no say in what it does. Basically, either everyone gets a say in how the SSA runs and acts or the Sporemaster Alliance will neither join nor recognize it. "

- Evermind
All empires will have a say; it's just that, at the beginning, the founding members will make the final decisions in order to make sure that everything runs smoothly. Hopefully, when the SSA has been up and running for a short while, there should no longer be any need for such a system.
~ Admiral of the Girdo Empire
"Evermind, your request to either join or be allies is still under review. It was your empire that attempted to ally with the Imperial Alliance a notable enemy of the Seven Starr Allianc, was it not? "

- Apollo
"True, but it is also true that they declined due to us also allying one of their enemies. They stated that we would be a neutral faction and that they hoped good relations would come of it, so it sounds like they are trying to become friendlier. Either way, if you refuse us, we will still not recognize you, so it makes no difference to us."

- Evermind
"So you consider the Imperial attack on the Shipyards of Cyroenia an act of friendliness? Also, as a nation that did not share the horrors of the Second Galactic War, I would suggest that you keep your foolish remarks to yourself. And it makes no difference to us, whatsoever if you join or not."

- Apollo
"What of our request, Apollo?"

- Carillion
"I beg your pardon, what do you speak of?"

- Apollo
"2 things: 1, when did we ask you if you cared if we joined? And 2, Why do you assume we care?"

- Evermind
"Well, 1: Since we are senior members of the original Seven Starr Alliance, it is our duty to evaluate possible new nations, and 2:We assume you care because you made a suggestion about the future of the alliance and said, and this is a quote Basically, either everyone gets a say in how the SSA runs and acts or the Sporemaster Alliance will neither join nor recognize it.. I think that just about covers it. "

- Apollo
"I speak of our request to join the new SSA, my friend."

- Carillion
"The Gjiantrox have proven to be a great and noble empire, of course you can join!"

- Apollo
"Thank you! This is great! I look forward to meeting with other representatives to discuss the reformation."

- Carillion
"I am quite ashamed, but the Sylit Republic left the Seven Starr Alliance when threats of a civil war took place. But now, as the United Veatrex Federation, I would like to request a reentry of my people into the SSA."

"When i asked "why do you assume we care" i mean "Why do you assume we care they attacked you?". And if I seem ruder then normal, well, its getting harder to do my job as time goes on, the Sporemaster Alliance is rarely of one mind anymore, so i have to work extra hard to keep it together. I am sorry for ever starting this argument. Yes, we would like to join, and yes, we would still prefer that everyone have a say. And yes, the Imperial Alliance did say they were going to attempt to be friendlier. We hope you do not think worse of us for trying to A)Protect ourselves, B)Bring peace to the universe, and C)Assume the best no matter what anyone else says. Cause thats what we did, or attempted to do. We A)made an attempt to protect ourselves by allying them, B)Attempted to bring a little more eace, and the hope for more peace, into the universe, and C) Assumed that they could and would chance for the better. If you think those are things that make us unworthy to become part of the new SSA, then deny us access. We will not be upset by this, but it will stain the relationships between us and the SSA, as well as inner relationships between members of the Sporemaster Alliance. So, big block of words short, The Alliance is stressed by its newer members, we would still like to join the SSA, and we will not blame the SSA if we are not permitted to join it."

- Evermind
If the problem is that the Sporemaster Alliance is not currently stable, then perhaps it would be best for you to not join the SSA until your situation has improved. On trying to form an alliance with the Imperial Alliance, we understand, so that will have no bearing on your joining of the SSA. Remember, though, that you should always be cautious when you think a nation is going to change, instead of being completely idealistic. You may be allowed to join later, when your internal problems have been dealt with, but I don't think that you will for now. However, feel free to consider yourself an ally of the Seven Starr Alliance, so if you believe that certain actions of certain rogue elements in your society may cause further political destabilisation thereby endangering your prospects of becoming a major intergalactic society again and joining the SSA, you may call on us for help and we will see if we will provide forces to aid you.
Aturox: Your case is currently under review. We believe that you will probably be accepted, but after spending several months in your seclusion there is a backlog of data for us to analyse, so we have to look at all of that first.
~ Admiral of the Girdo Empire
"Don't worry about our internal problems, we will deal with them ourselves. If it does come to the point where we need outside help, you will know for sure. When we have dealt with the inner problems, then we shall ask to join again. We respect your decision to refuse us, I would also refuse us, so dont worry. The Alliance will come out of this intact, or not come out at all."

- Evermind
We can now announce that the Seven Starr Alliance discussion channels are once again open for members and allies to use! The first four memebers - the DCP, URC, Rambo Nation, and my own empire - are currently members. The Gjigantrox and UVF should be added soon. Finally, Evermind, are the Sporemaster Alliance officially declaring themselves as allies of the SSA, or not?
~ Admiral of the Girdo Empire
"Yes, we are allies of the SSA and we hope to become a member when our internal troubles are dealt with. We would like to warn you, the Alliance has become more unstable. I would recommend avoiding our territories until the troubles are done, I cannot promise your safety within them. That goes to all peoples who wish to enter our territories, BTW "

- Evermind
Okay. In related news, we can confirm that the Gjigantrox Interstellar Empire, United Veatrex Federation and Bearian Nations Space Command are now listed as Seven Starr Alliance member empires. This means that they, along with the Delpha Coalition of Planets, Rambo Nation, United Republic of Cyrannus and the Empire of the Girdo Galaxy are the first seven members of the Seven Starr Alliance!
~ Admiral of the Girdo Empire
War with the Core Federation
Edit
Some have you may have noticed our growing tensions with the Core Federation. We send this transmission to warn the galaxy of our conflict. We are gearing up for war, and we know we cannot win any war against the Core Federation alone. That is why we are asking for help. We stand no chance against the Core Federation by ourselves, especially considering the fact that we have suffered heavy losses in the TIAF Civil War. We will appreciate any help we can get, even if that help is just supplying ammunition or spaceships. Do also note that the URC has already decided to assist our cause. We hope the galactic community will help us through this dark time. -Captain Lorrelas of the TIAF

"I am afraid you misunderstood captain, we said that we would try to solve this mess peacefully, if war does breakout, we shall remain neutral."

- President Apollo
"The DCP shall stay neutral as well, another war is not what this Gigaquadrant needs right now. True, the CoreFed's betrayal and secret Commonwealth has really annoyed us, but they never fired a single shot on our world and probably was a misguided attempt of doing the right thing. Since then, our relations have improved, and they have provided us with help. You are also our allies, but we will not side with either if war breaks out. In fact, I would seriously reconsider, the Core Federation are very powerful, and smaller empires may get caught in the crossfire, further damaging the peace. We are still wary of CoreFed, so we will keep a sharp eye on both sides of the front."

- DCP Captain.
"I DONT KNO WHAT TA SAY HERE CS WE HATE YOO BOF AS MUCH AS EACH UVA BUT I SEE WHY YOO HATES DA CORFED ENNIT DEY GO ON ABOUT OH YEH WE AS TA KKIA SIHM YEH WE IS DA BEST BEINS OF LIGHT I MEAN WAT DA HELL DEY JUST AS BAD AS DEM XHODIE BOYZ IS ALL NONSESNE TA ME YANNO AN WHILE DA GALAXY IS ARGUIN ABOUT WHOS IN CHARGE DA LORONZ WILL CLOBBA DA LOT"

- Da Propa Big Boss Zr'Ahgloth
"The UVF shall also remain neutral. While we are a little edgy with our relations with the Federation of the Core Worlds, we have no actual reason to go to the offensive."

- Grand Admiral Aturox
"However much our newer members want us to go to war with someone, we will remain neutral unless attacked. Besides, we are allied with Corefed."

- Evermind
(sigh) I should have known it would be hard to gather allies against a nation such as the CoreFed. We have searched for a diplomatic solution, but alas, we have nothing that they want. If we did have anything, we lost it to the VFP. We have money, but they do not use the same currency as us. We tried diplomacy. We even passed the Intergalactic Trade Act to improve our relations. But it looks like our only choice now is war. Perhaps the DCP was right, that we should choose a different approach. However, war is the only approach we have left. -Captain Lorrelas of the TIAF
"May I ask what they have done to you?"

- DCP.
Well, our relations got off to a rocky start when we decided to split from the Jarquivx Federation. Being their ally, the Core Federation threatened war if we started an armed rebellion. So we seceded from the Jarquivx peacefully. After that, things kept going downhill. We managed to make a shaky peace with them before the March of the Apocalypse, but other than that, our diplomatic relations have all but failed. Now, we have reason to believe that the CoreFed secretly helped our Rebels win the Civil War, severly damaging our Federation. Believe us, we didn't want to go to war with the Core Federation. But they brought this on themselves. -Captain Lorrelas of the TIAF

"My deepest sympathies my friend, however if you accept our offer we will offer you victory everlasting."

- Lamorta of the Confederacy
"May the Sporemaster Alliance ask what The Core Federation has to say on the subject? Because every story has two sides."

- Evermind
To the Confederacy of Allied Systems: We thank you for your request for alliance. However, we cannot accept yet, for you are enemies of our allies. However, since our own relations are neutral, we are not going to completely decline your offer. If no one comes to our aid, we would be more than glad to reevaluate your offer. When all else fails, you will be our last resort.
To the Evermind: We will attempt to reestablish communications with the CoreFed, so that you may hear their story. However, do not be surprised if they do not answer at first. -Captain Lorrelas of the TIAF
"They better respond, this could ruin our relationship with them. We cannot get involved unless we hear both sides and deem one morally correct over the other. So far it seems as if they are the aggressors, but thats with your spin, whether you know it or not, so we cannot trust your opinion. If they cannot or do not respond we may cut the alliance and help you. If they give us a good solid reason no to help you, then we will not help you. Wish the news was better."

- Evermind
We have analysed the situation as fully as we can with the information that we have at the present, and believe that the TIAF are in the right. If you wish, Captain Lorrelas, we will happily give you our new "quantum replicator" technology, which should fix all of your problems relating to ammunition, energy supply, and possibly much more. And, if a peaceful resolution to this conflict is found, they can be used for various civilian purposes, since the production technology can create anything from food to antimatter and the zero-point energy extraction provides enough power for almost anything that you may need. This is cutting-edge technology - really; we only finalised the designs this week - and although other empires may have similar devices, it seems that none are willing to donate any to your federation.
~ Emperor Tokzhalat
We thank you deeply for your offer, but we cannot accept it yet. Accepting your gift may look like we are becoming allies, which may turn many of our own allies against us. Also, we are unsure of your intentions, and some of my advisors tell me this could very well be a trap. However, as we told the Confederacy of Allied Systems: we may reconsider if no one decides to help us. -Captain Lorrelas of the TIAF
Of course. We understand. But if you believe it to be a trap, you could always analyse a small batch of replicators to make sure that they are safe, and then use those to produce all of the others that you need. Obviously, that doesn't help the first problem, so like I said, I understand your decision to decline for now.
~ Emperor Tokzhalat
"Corfed is starting to worry me. They still haven't answered my question, where are they? If this keeps up, we will need to make a decision based on less then complete information. That is never a good idea. This whole even is stressful. The councils of the Alliance have decided that we will not aid you directly, but will accept refugees and send food and other basic necessities to those who need it among you. Thats as far as we are willing to go without knowing what Corfed thinks about this whole thing. "

- Evermind
Please be patient for a little longer. Though we are enemies, we will at least let the CoreFed tell you their story. We already sent them a transmission, but they haven't answered yet. Perhaps their communications are down, or maybe they're just being uncooperative. Whatever the case is, we will at least be fair towards the CoreFed. -Captain Lorrelas of the TIAF
"We will wait. Its not what the people of the alliance want, but we don't have much of a choice, cutting an alliance is a major thing, and cannot be done hastily. I just hope that Corefed responds before something bad happens..."

- Evermind
"The DCP finds it srtrange that the CoreFed keep setting up things like the UDN and other organizations, they could be planning something."

- DCP.
That the Ravenrii are planning something should be obvious. I get the impression that they're much like the Xhodocto, only without the xenocide. We can be pretty sure that the "Core Federation" isn't their ultimate goal in existance.
~ Admiral of the Girdo Empire
Invasion
Edit
"Help! The Xhodocto are invading! They've already burnt a hole in the Gigaquadrant; we need your help - now!"

- Communicator Hidden
We can't help you if you don't know where you are. The Gigaquadrant is a big place, so no matter how big a hole they may have burnt in it we still won't be able to find you.
~ Admiral of the Girdo Empire
"Indeed, spatial ruptures can be sealed. However, are you sure you are not mixing rthe Xhodocto up with that silly cult?"

- DCP.
"Heck no! They're as tall as a building and as terrifying as heck! Their ships are freaking huge as well! We're within the ---"


"[Laugh] We're baaack... and this time... we're not going to play so nicely... [Manic Laugh]"

- Xhodocto Elite
"You may find that this time, the DCP is far more powerful. We have the ability to track your signal now, you are sector PP38 Banana [suddenly, the DCP use their entanglement manipulator to crush several Xhodocto motherships]. Hah! See now Xhodocto, we are now a hyperspatial empire! Now commander, proceed to finish'em off!"

- DCP.
"Awww, you xhodocto are so cute! *Pets hologram of a xhodocto*"

- Empress Helenia of the Asgord Empire
"[Laughs at the DCP] What do you think we are, pests? Your power is just a fraction of what we can do to you within a split second. [Laughs again] It is in some ways good to see you have some pathetic attempts. Why you try remains unknown even to the most intelligent of our kind...we have had forces more powerful than ourselves crushed under our feet. Now what makes you think you will have any more of a chance?"

- Khazurhal Angazhar
"Oh, and one other thing. We have orders from the Kamik'Khazurhal himself that if you do not surrender your armies to us...the Asgordian Empire will suffer losses. Then others. Then the galaxy, and then the galaxies neighbouring it. Starting from.....now."

- Khazurhal Angazhar
"Losses? Us? *Laughs hard* Oh, you nearly got us, are you making a prank show?"

- Empress Helenia of the Asgord Empire
"If I were joking I wouldn't have said it. Your skin will become a rug once i'm done with you."

- Angazhar
"You are so funny that we recorded your speeches and put it in our top 10 funniest moments of 401 KRE! *Pets Angazhar's Hologram*"

- Empress Helenia of the Asgord Empire
"That is the last time you will insult us. Soldiers! Prepare. We are going to 'visit' the Asgordians."

- Angazhar
"NO! Angazhar, with the universe on your demonic back, you will be destroyed before our sisters-in-peace get eliminated! Everyone, let's do this for the peace of the universe!"

- Ms.Pepis
"[Laughs] You're still alive? [Manic Laughter] I'd like to see a barely advanced...'Kutnamyu'....like yourself try."

- Angazhar
"*Reply to their "visit"* Yay! Come to our major party in Asgordia!"

- Empress Helenia of the Asgord Empire
"Don't you get it? They said it sarcastically. They are going to DESTROY you! Prepare for the worse! *Sets up Ascended Walls near the Asgord Homeworld* These should hold till they come."

- Ms.Pepis
"Our transapient AI allies will make short work of your inferior animal-like forms. They say, bipeds are not the most effective physiology."

- Transapient mind.
*pets Anghazar's hologram* I agree with the Asgord. You're not as threatening as you think you are. *smiles* You were imprisoned once before, and there are plenty more swords in the world. It'll take a while for us to take you seriously once again.
~ Commodore Hlraka of the Girdo Empire
"[Extreme Manic Laughter] You're stupider than I thought!"

- Angazhar
Yep, you got that right!
~ Commodore Hlraka
"Girdo Empire, want to be friends with us?"

- Empress Helenia from the Asgord Empire
"Stop laughing, it is so...Cliché. You are a laughing stock of the universe, for it is not for you to laugh at us, in fact, the entire multiverse laughs at you!"

- DCP.
"So, Angazhar, you're back. I'm looking forward to cutting off your head... multiple times."

- Chief Ambassador Carillion
We may befriend you later, Asgord. Not yet, though. Our galaxy... isn't in the best of states at the moment. *smiles*
~ Commodore Hlraka
"Does your....insolence have no bounds? I laugh at you for your pathetic excuses for intimidation. If you haven't noticed...your technology is like a little piece of scrap metal. You are fighting forces which you don't know even the half of..."

- Angazhar
"You cannot destroy us everywhere, even if you destroy us in this universe, we will exist in the next, for we are quantum immortal! Your attempts at extinguishing all life is ultimately futile. Now break away from your semigod, he is not omnipotent, and live your life!"

- DCP.
"[Laughs] Bad choice of words. Commence attack. Leave none alive. Bring the leaders to me."

- Angazhar
"Awww, Angie, you are so cute! *Pets her hologram*"

- Empress Helenia of the Asgord Empire
"Our Emperor, was able to block Kamik'Shi's power, he is also immortal."

- DCP.
"This...pathetic power that you are telling me is of no effect. One. One, puny immortal insect. Against...a transfinite...immortal race which has never been destroyed. Quantum Immortality sounds boring. Impress me."

- Angazhar
Sorry, do you mind if I get a word in edgeways? Thanks. Anyway...
No, Angazhar, of course our insolence knows no bounds. According to you, if we're insolent, then we die at your hands. If we're obedient, we also die, and in the exact same way. So why not have some fun before our inevitable end?
By the way, we lost contact with Girdo five minutes ago. Literally. It's gone. *smirks*
I'm first in command of the Girdo Empire now, if you want your drones to kill me. Assuming you're concerned about an anonymous empire armed with "scrap metal", that is. I don't mind if you leave us alone, of course.
~ Commodore Hlraka
"I would have thought your species (yes, whether you like it or not we consider you life) would know about quantum mechanics. Simply put, while we observe people dying around us, we ourselves never percieve our own death (even though people see us dying). This is because parallel duplicates of ourselves are constantly created across new quantum universes. Lets imagine, lets say, a guy called Angazhar. He gets up, and heads off to work. Imagine all the things in our daily lives that could harm us. Just the slightest miscalculation in driving could lead to accident, and by probability, these things add up. It really surprises me that Angazhar have lived even this long, his chance of survival in a fixed universe is almost 0. However, luckily in Angazhar's view of existence, he makes it to work. But due to quantum mechanics, there are all sorts of universes where he died on the way, leading to different timelines where people observed his death. But to Angazhar, he is unaware of this timeline. In effect, this goes on forever. We are trapped in our universes, and Angazhar will eventually observe the death of the universe, alone, since everybody is trapped in their own, where they are the only survivors, everybody would be experiencing the same thing. Scary isn't it? But the universe isn't cotton candy, nor is it cold and harsh is just is so. Impressed?"

- DCP
"I'm not impressed in your mortal science. Quantum Immortality is almost like second nature. You're telling me something that we were created to understand. [Sighs] i'm bored. Let's see some souls fly."

- Angazhar
"No. Let's see DEMONS fly!"

- Ms.Pepis
"Then we shall bore you with more of our mortal science. Now lets move on to the Strong Anthropic Participatory Universe theory!  :D"

- Dr.Kenders.
"Dr.Kenders, glad to see you. How long has it been? Anyways, explain to these demons that they are life just like us PLEASE! Proves a point AND bores them. No offence"

- Ms.Pepis
I wouldn't have thought that it would be so easy to bore a supernatural being. A sense of ennui seems like the sort of thing that should only benefit a mortal.
~ Emperor Tokzhalat
"Well, it took you long enuff. Its been, what, three months since you were driven out. And speaking of driven out, what makes you think we won't just shove you out again? If we did it once, we can do it again, and the gigaquatrant has only gotten stronger since you left."

- Evermind
"In which our power...has grown in return. Where you have gained confidence will only result in a greater satisfaction for us. Your humiliation is our source of humour."

- Angazhar
"Your confidence...annoys me. Pray that you wont annoy me further."

- Angazhar
"The DCP will troll the Xhodocto on the subspace communications! How is your wife today Angazhar? Oh yes she is dead. Poor lonely Xhodocto, pitful, almost."

- DCP troll.
"I wish you the worst of luck in you war, but the Sporemaster Alliance has bigger things to worry about..."

- Evermind
"You. Will. Not. Say. That. Again."

- Angazhar
"Is. That. The. Fast. Est. You. Can. Talk. Angashar?"

- Evermind (btw this is not in any way referring to Xhodocto himself)
"Upset by a mortal, worse upset by a troll!"

- DCP Troll.
"Ah, you're back, Angazhar. Welcome! Should I have Cycklos defeat one of your gods again?"

"Personally, I think that you all are underestimating the Xhodocto. Do so at your own peril."

The science fiction collaborative universe of SporeWiki
You have just entered a rich science fiction world. Hope you enjoy!