The Multiverse is composed of countless locations. Notable places on an intergalactic scale are listed here.
The Gigaquadrant
Edit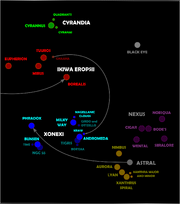 The Gigaquadrant (often known as the "First Gigaquadrant") is a political grouping consisting of galaxies in and slightly beyond the Local Sheet, as well as the least-empty regions of intergalactic space known as the Rifts or Endless Space that lie between them, making up a region that is around nine megaparsecs in radius.
Xonexi Cluster (Local Group and neighbours)
Ikiwa Eropsii Cluster (Centaurus A Group and Circinus Galaxy)
Nexus Cluster (M81 Group)
Silver Galaxies and Astral Cluster (IC 342/Maffei Group)
Ungrouped galaxies
Galaxies outside the Local Sheet
s: Spiral galaxies with fewer than 107 stars, many of which are known to have been created and seeded with life by Essentials or Ultraterrestrials.
†: Galaxies destroyed during the "Annihilation".
*Structurally M101 in the real-world place of M83.
Other Universes
Edit
Further reading: Omniverse
Except for where noted, the fate of all of these since the Annihilation is unknown; many were presumably destroyed.
Most of the Planes of Existence (those that are not clearly "realms of perception") are usually thought of as being separate universes outside the so-called "Realitos Realm".
The science fiction collaborative universe of SporeWiki
You have just entered a rich science fiction world. Hope you enjoy!
Community content is available under
CC-BY-SA
unless otherwise noted.