Rambanda is a planet in the Ramstra star system. It is the home of the Sylits. Rambanda comes from the Sylish word Rambandic, which means "large circle". Ramstra comes from the Sylish word Ramstric, which means "large star".
It is the capital of the Sylit Republic and the base of the Galactic Republic in Ramvelkys Galaxy. It's capital city is Veatrex City, the most populated city in Ramvelkys Galaxy.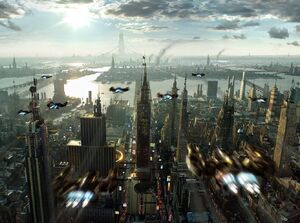 Rambanda's Geography
Edit
Ramreev River (means large river)- divides the 2 continents
Ramstig Staight (means large separation)- divides the 2 continents on the other side of the planet
Ramkint (means large land)- the bigger of the 2 continents
Rotkint (means small land)- the smaller of the 2 continents, where the Sylits first became civilized
Urotkint (means very small land)- an island off the coast of Rotkint
Hyvysoka Mountains (means new, high)- a small mountain range, only mountain range, located on Ramkint
Mt. Evtukoa (means forever tall)- the tallest mountain, located in Hytrant mountains
Drena Hills (means short)- little hills on Rotkint
Hyreev River (means new river)- river on Ramkint, runs through Veatrex City
Adjar Plains (means lowlands)- plains around Rambanda City, very, very flat
Trilka Valley (means Trilx)- a valley in the Hytrant Mountains, where Trilklantrantaraw tribe (the Trilx) originated
Ramvel (means large water)- The biggest ocean on Rambanda, touches Veatrex City and Rotkint
Other Planets in Ramstra System
Edit
Volna- Wildlife Sanctuary established by the Sylits
Crecbandic- Ice planet
Plynram- Gas giant
Pravey- Location of first colony
Other Objects in Ramstra System
Edit
Woomus- Rambanda's moon, also base of Echelon Industries
Tremok- A comet that was seen in 29 B.S.A. that passes Rambanda every 8 1/7 years.
(Please note that Rambanda actually has a mostly green surface, but these pictures were taken before that was established.)
Community content is available under
CC-BY-SA
unless otherwise noted.