Limbs are type of creature parts that can be attached to the creature's body, each with its own unique look.
The legs and arms affect the creature's movement and attack animations. A creature without legs is known as a slug. Playing as such a creature in the Creature Stage will give the Slugger achievement.
Editor controls
[
]
Once a limb has been placed, joints can be arranged and moved by clicking them. Once placed, each joint and limb segment can be individually sculpted with the mouse wheel.
Holding the Ctrl key allows to cut and reattach segments of limbs to other limbs, making it possible to create complex limbs unavailable otherwise. Multiple limbs can be attached to a single joint creating a split, but limbs cannot merge back (for example a limb can be arranged to form a Y shape, but it is not possible to create loops of limbs). Multiple hands and feet can then be attached to limbs that branch.
There also exists an exploit to make limbs invisible, see Invisible Limbs for more info.
Available limbs
[
]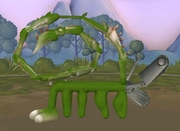 There are 24 core limbs, 24 exoskeleton limbs, and 4 mech limbs. They all come with either hands or feet, and with the exception of the robot parts, hands provide

Graspers and feet have
Speed 1. The hands and feet of core and exoskeleton parts are not available from the hands/feet tabs and cost
20.
The price of each limb is calculated from the price of its hand or feet plus the price of each segment. All the segments cost
15 and can be sold independently of the rest of the limb. Each limb segment also has a complexity of 1.5.
Core limbs
[
]
Only the first column is available in the free creature creator demo.
Style
Tier 1
Tier 2
Tier 3
Tier 4
Thin Arms
Slackwrist 50
Graspers
Python 50
Graspers
Doubelbow 65
Graspers
Wizardsleeve 65
Graspers
Muscular Arms
Meekling 50
Graspers
Flextor 50
Graspers
Burly 50
Graspers
Bulgo 65
Graspers
Thick Arms
Deltroid 50
Graspers
Cutty 50
Graspers
Skrappy 65
Graspers
Gunnshow 65
Graspers
Thin Legs
Brawnysaurus 50
Speed 1
Cankle 65
Speed 1
Broncosaurus 65
Speed 1
Steatopiggy 65
Speed 1
Thick Legs
Phatella 50
Speed 1
Stompbottom 65
Speed 1
Callypigeon 65
Speed 1
Yumstick 65
Speed 1
Knee Bent
Thundercalf 50
Speed 1
Ostrichopath 65
Speed 1
Thighstrider 65
Speed 1
Qopazcoatl 65
Speed 1
Exoskeleton limbs
[
]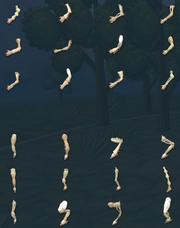 Exoskeleton limbs were introduced in Patch 1.03.
Style
Tier 1
Tier 2
Tier 3
Tier 4
ExoArms 1
Arm Plated 65
Graspers
Spiker 50
Graspers
Lesser Tubercle 50
Graspers
Delta Point 50
Graspers
ExoArms 2
Sinew Slug 50
Graspers
Brawned 50
Graspers
Tendonikes 65
Graspers
Fleshed 50
Graspers
ExoArms 3
Deltoid Tuberosity 50
Graspers
Humorous Humerus 50
Graspers
Khourtier 50
Graspers
Holiarm 50
Graspers
ExoLegs 1
Locust Legs 50
Speed 1
Plated Muscle 50
Speed 1
Spikependage 50
Speed 1
Armored Bones 50
Speed 1
ExoLegs 2
Bugleg 50
Speed 1
Grouchyspike 50
Speed 1
Centilegs 50
Speed 1
Layered Limb 80
Speed 1
ExoLegs 3
Thighboned 50
Speed 1
Grasshopper 65
Speed 1
Femur Friday 65
Speed 1
Proprioceptive Flex 50
Speed 1
Mech limbs
[
]

Bot limbs are only available with the Spore Bot Parts Pack.
Robotic
Autojaunts 70
Sneak 2
Charge 1
Speed 1
Roto-knots 70
Graspers
Strike 2
Knee-matics 70
Sneak 2
Charge 1
Speed 1
Mechstensions 70
Graspers
Strike 2