The Grox Empire is an advanced civilization with many vehicles. The vehicles can not be used in game, even if they are scanned. However, if you somehow obtain a grox colony, you can go into the editor, make a change, then undo it, and save. You will then have the vehicles available for use anywhwere.
Name: Grox
2,000 HP (offensive), 2,400 HP (defensive 1), 800 HP (defensive 2), 3,600 HP (ally fleet) 400 HP(escort)
150 DPS
About 2/3 as fast as the player
Abilities
Edit
Unlimited Mega Repair Packs.
Cloak.
High speed auto-blasters.
Good navigational abilities, almost never misses shots.
Grox Grumbler
Edit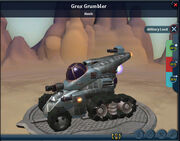 Type: Colony Land
390 HP
22 Military Power
17 Speed
Abilities
Edit
Groxoplane
Edit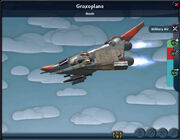 Type: Colony Air
210 HP
18 Military Power
66 Speed
Abilities
Edit
Oceanic Grox
Edit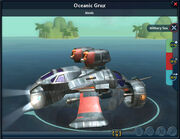 Type: Colony Sea
443 HP
38 Military Power
17 Speed
Abilities
Edit