This article and/or section may contain outdated information!

Please review the content and make sure it is correct as of the released version of Spore.
If the page is content, please move it to the content namespace.
For more info, please see SporeWiki:Post-release cleanup.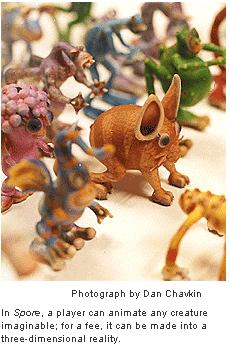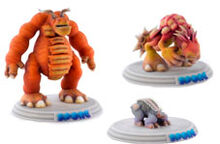 Figurines, or Sculptures, were statuettes that people are able to, for a fee, have their computer-created creatures made into real-world figurines. A variety of figurines based on the developers' creatures was displayed at E3; the Joystiq team posted photos of these to their website. Some time later, the team received a figurine of a creature they designed at E3 in the mail.
Other testers also received their personal creatures by mail.[1]
Only creatures can be printed, and fragile parts (such as eyestalks) are not allowed.
This service has been discontinued.
Creatures made using this service seemed to have been made of Sandstone, a common material for 3D Printers, and most likely the reason fragile parts could not have been made, due to the material's brittle nature. If this service were to re-open, they would most likely use tough, somewhat flexible plastic to make creatures, allowing them to have previously unavailable parts attached.