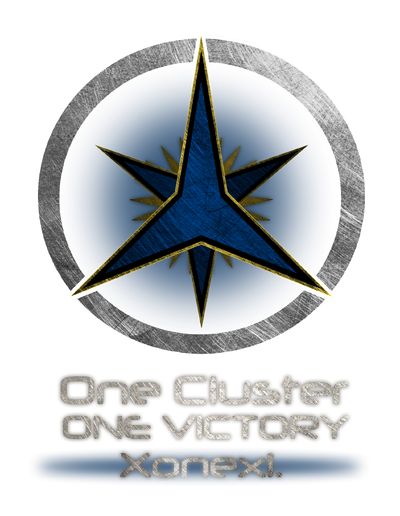 The Xonexi Allies were the nations that opposed the Delpha Coalition of Planets and its allies during the Great Xonexian Schism. Grown out of the secret Alcanti Triad alliance between the Draconid Imperium, France, and the Tybusen Intergalactic Allied Federation, these nations were affiliated with such organizations as GITO, the Andromedan Galactic Commonwealth, and the Orion League. Together, they composed a massively influential geopolitical entity that coalesced in response to the rapid polarization of Gigaquadrantic politics from 2796 to 2800.
While not strictly an organization or an alliance, the Xonexi Allies cooperated intensely with one another in their struggle against the Delpha Coalition of Planets, sharing technologies, resources, and manpower as well as coordinating military action across galaxies.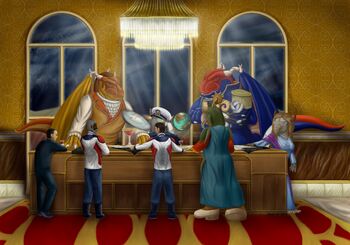 Alcanti Triad - Signed June 29, 2800
Orion War
-
Began February 11, 2802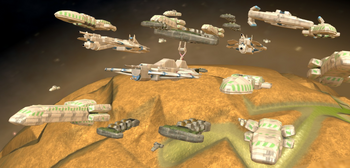 Parisian Declaration - April 5, 2802

Andromeda Campaign - Began September 14, 2802
Allied High Command
Edit



ALCANTI TRIAD

 ·

 ·




BOARD OF NINE

 ·

 ·

 ·

 ·

 ·

 ·

 ·

 ·

DEFUNCT

 ·

 ·




CENTRAL ANDROMEDAN
COMMISSION




OUTER ANDROMEDAN
COMMISSION

 ·

 ·

 ·

 ·

 ·

 ·

 ·

 ·

 ·

DEFUNCT

DEFUNCT

OBSERVER

 ·

OBSERVER

 ·




MIRUSIAN COMMISSION




KATARIAN COMMISSION
(previously Milky Way North)

 ·

 ·

 ·

 ·

 ·

 ·

 ·

 ·

DEFUNCT

DEFUNCT

 ·
Weaponry
Edit
Angelfire
BAG-11
RM-710
TYPE

Anti-ship hyperspatial missile

TYPE

Guided antimatter bomb

TYPE

assault rifle

NATION OF ORIGIN
NATION OF ORIGIN

NATION OF ORIGIN

NATIONS PRODUCING
NATIONS PRODUCING

NATIONS PRODUCING

AVAILABILITY

Overflowing

AVAILABILITY

Fair

AVAILABILITY

High

Description

Description

Description

The cornerstone of allied tactics during the Great Xonexian Schism, the Angelfire revolutionized interstellar warfare. It was an anti-ship missile equipped with a hyperdrive and sensors fine enough to hone in on a target through hyperspace. When used en masse, as they were time and again, these have been known to devastate fleets at mind-boggling ranges.


A brutal yet effective countermeasure to superior DCP infantry, the BAG-11 guided antimatter bomb was designed to thoroughly eliminate a target within a small radius. Remotely guided by a computer, it is a deadly accurate though expensive to produce panic button for allied commanders on all sorts of battlefields. It is usually effective against infantry, but has low armor penetration.
Adapted from the standard-issue assault rifle of the Talon Aetheral Corps, the RMa-710 dual-firing battle rifle dispenses magnetic slugs at velocities of mach 10, allowing it to penetrate a variety of armours and has in battle served as an effective if simple counter to DCP infantry armour. The RMa's primary differences are it's adaptations to fit Allied 5.56mm ammunition; a larger barrel but reduced muzzle velocity
Strike craft
Edit
Super Mirage AF
Hyperfighter Hurricane
Torrent
TYPE

Dual Angelfire carrier

TYPE

Light hyperspatial interceptor

TYPE

Omnirole fighter

NATION OF ORIGIN

NATION OF ORIGIN
NATION OF ORIGIN

NATIONS PRODUCING

NATIONS PRODUCING
NATIONS PRODUCING

AVAILABILITY

High

AVAILABILITY

Fair

AVAILABILITY

Very limited

Description

Description

Description

One of the most common Angelfire carriers, the Super Mirage AF was widely distributed to allied states. It was one of the few allied strike craft capable of carrying and firing two, making it a valuable asset to those that received them.


The Hyperfighter Hurricane is an upgraded version of the Eurofighter Hurricane tooled specifically for hyperspatial warfare. The craft maintains its ancestor's affordability and lightweight design, though incorporates a new and more efficient hyperdrive, a sophisticated sensor system, and a refueling probe meant to allow it to accompany bombers on long-range missions.
The Torrent is an advanced French omnirole, dual engine, hyperspace-capable, swept-wing, supermaneuverable strike craft. Widely considered to be one of the most impressive fighters in the Gigaquadrant, it is renown for its flight characteristics, combat ability, and egregiously high per-unit price.
F-302 Eclipse Starfighter
AS-340
TYPE

Omnirole fighter

TYPE

Omnirole drone

NATION OF ORIGIN

NATION OF ORIGIN

NATIONS PRODUCING

NATIONS PRODUCING

AVAILABILITY

Fair

AVAILABILITY

High

Description

Description

The F-302 Eclipse represented a massive leap in Farengeto technology. While not as advanced as its counterparts, it has a much lower unit cost. Its larger size allows it to carry more weaponry, as well as leaving room for Farengeto AI technology.
The AS-340 series is a grouping of advanced remotely-controlled aircraft valued for it's efficient production calues that allow it to be produced in large numbers. The AS-3xx range is unique amongst the allies for the inclusion of a magnetic drive that grants it unparalleled maneuvreablity compared to reaction engines in areas with a local magnetic field.
Ground vehicles
Edit
C-39 Impérial
C-41 Ulysse A3
FAVT-75
TYPE

Light main battle tank drone

TYPE

Main battle tank

TYPE

Fast attack vehicle

NATION OF ORIGIN

NATION OF ORIGIN

NATION OF ORIGIN

NATIONS PRODUCING

NATIONS PRODUCING

NATIONS PRODUCING

AVAILABILITY

Overflowing

AVAILABILITY

Limited

AVAILABILITY

High

Description

Description

Description

Descended from France's MBT in the 2750's, the C-39's latest and last version delegates it to something of a spam tank built in enormous numbers. This gives commanders the tactical and strategic flexibility of having a pawn to sacrifice. This does not mean that it is a bad tank, however. Its gun is a terrific example of French engineering, capable of firing at a speed of 23 rounds per minute. Its major drawback is its decreased range, which is poor when compared to other tanks.


The fruit of a Franco-Roreinian collaboration, the C-41 combines the best of French and Roreinian tank design. It is a strong main battle tank with decent armor, extreme mobility, advanced fire and control systems, and the mother of all French tank guns: the ERT A-2000. At a range, it is equipped to launch anti-tank guided missiles, and can defend itself against missile attacks with limited point-defense capability. The Roreinian Uoi-2778 autocannon makes it deadly in close range.
A popular light transport and recon vehicle, the FAVT-75 is a popular support vehicle for main battle tanks. Although equipped with twinned rail cannons and a top swivel-mounted medium machinegun and clad in an organic ablative armour, the FAV-75 is not designed to withstand heavy impacts. It compensates with a chameleon camoflage system that allows it to blend visibly into the landscape and scramble it's profile on all ranges of the electromagnetic spectrum.


Starships
Edit
Adrianne-class
S-305 Galaxy Frrigate
TYPE

Heavy combat cruiser

TYPE

Hyperspatial frigate

NATION OF ORIGIN

NATION OF ORIGIN

NATIONS PRODUCING

NATIONS PRODUCING

AVAILABILITY

Limited

AVAILABILITY

Limited

Description

Description

The foundation of the Coalition's Navy and Economy, the S-305 Galaxy is a versatile frigate whose frame has been repurposed for a range of roles.
Notable Planets
Edit
| Alcanti | Paris |
| --- | --- |
| | |
| Planet Alcanti is a terrestrial world that is the homeworld of the Draconis and capital of the Draconid Imperium. Within the Imperium it is considered the most important planet within the entire galaxy. Due to it's political status the planet is heavily defended with vast arrays of sattelites, space fleets, security forces and security probes, even mighty battlestations. Depite the level of security the population lives in the lap of luxury and the planet itself is almost idyllic. | Paris is the capital and most populous planet of France. It is situated at the heart of France's Metropolitan region in the Milky Way Galaxy, close to the Trans-Regional Hyperway which gives it direct access to the four corners of the French hyperspatial network. Following in the footsteps of the historical city by the same name, its influence politically, economically, and culturally contribute to its status as one of the leading capitals of humanity. |
| Araveene | Farengeto | Galactica |
| --- | --- | --- |
| | | |
| Araveene is the unofficial capital of the Corovai System loacated in the Andromeda Galaxy. A moon of the gas giant Corovai IV, Araveene is known for its single continent-spanning city that houses a large percentage of the population as well as its substantial economic prowess despite starting out as a helium-3 extraction outpost. Araveene is host to some of the wealthiest in Segmentum Draco's core worlds and potentially the whole of Andromeda, and closely ties with Alcanti in terms of prestige and influence. | Farengeto is the capital of the Farengeto Republic and the Farengeto Trade Coalition. Once a simple Modian colony, its mysterious history gained it widespread fame. The war that resulted from its discovery and the planet's neutrality in the aftermath would establish Farengeto as an economic hub that would rapidly grow into one of biggest economic centers in the Gigaquadrant. | Galactica is the capital of French Quadrantia and the most important center of trade in the Quadrant 82 Neutrality Zone. Located on the Ramsoria Run Trade Route which bisects the Quadrants, Galactica commands a vast network of trade routes, assets, and wealth which passes through its many markets, stock exchanges, and banks. |

Other major planets:
"One Cluster, One Victory."

- Xonexi motto
The Xonexi Allies are not a formal organization like the Seven Starr Alliance or the Mou'Cyran Accords, but a network of alliances and distinct political and economic organizations united behind a common cause. In this way, they are heavily inspired by the Allies of World War II before the creation of the United Nations.
Joining the Xonexi Allies requires no formal application. Making an alliance with one of the main Xonexi powers is usually enough to declare a nation as aligned with the Allies.
Despite the name, the membership of the Xonexi Allies does not extend to every single state in the Xonexi Cluster, and indeed, many Xonexi nations have declared neutrality in the conflict.
The future is uncertain.
Peace will be enjoyed by the victors; oblivion by those who falter.