"There are not many of us left in this universe, but those who left are among the finest warriors in the gigaquadrant. Pure of heart, strong of body. Fear us, for Dei'Ar may come for you next."

- War Predictor Matheoward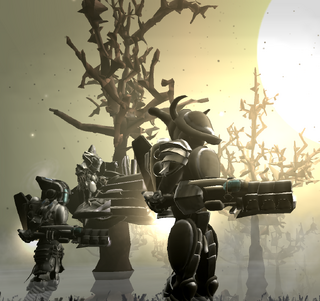 The Divinarium is still protected by its ancient and powerful army, the Dei'Ar Order. Due to being decimated heavily after the War of Ages and Holy Shadow War, and overall small population of the Divinarium compared to other Andromedan superpowers, remaining, Dei'Ar Order has changed its military doctrine now. Instead of being a sledgehammer, a weapon bringing dread to its enemies by sheer mass and firepower, it now works as a blade, striking quick, decisive strikes to destroy important enemy positions to force an enemy to surrender without destroying most of the enemy forces.
The Dei'Ar Order is closely connected to the Ecclesial Navy of the Divinarium, to the point that these two structures can be considered one. Both the Navy and the Order share a high command, and Dei'Ar Troopers serve their duty on the spaceships of the Navy regularily, protecting them from the external threats. A common way for the Dei'Ar forces to invade is to attack from wormhole gates located on spaceships and worlds, giving them extreme speed and mobility unmatched by most of the other Andromeda superpowers. However, due to its relatively small numbers, it is hard for the Order to fight a conventional and especially defensive war, and the Divinarium needs a constant upperhand in conflict in order to prevail.
History
[
]
The Divinarium military originates from the military forces of Enaran Empire and Salveron Republic back from the ancient age of Radeon civilisation when they were united into the Church of Spode, working together with the newly formed Ecclesial Space Navy; it has proven effective in conquering new territories from the Church of Spode. As the Church expanded, so did its military might. Over time, the military became an independent organisation called the Dei'Ar Order - meaning "those who have sworn to the divine (nation)", which had much power of its own.
During the war with Imperions, emergency powers were given to the military general of this time, Jaharan, who, unfortunately, claimed control over the Church of Spode and led it to the age of brutal dictatorship. Fortunately, the crisis was averted by the intervention of Telfar's followers. Time came, and a new great war had begun; between the terrir-inspiring Xhodocto and mortals who stood out to protect what they loved - and the species of the Church and later, the Masaari Crusade that followed it were one of these mortals. In this long war, the War of Ages, the Dei'Ar order was led by a new leader, a charismatic warrior called Tadjamad.
After the blood was shed and Xhodocto were defeated, what remained of the Masaari Crusade and Dei'Ar Order were struck by aftermath. Telfar was dead, and the Conclave elected Iovera, a young Exarch from Sanctuarium, as a new leader of the Crusade. Iovera decided that since their civilisation was destroyed, the Masaari should now stay and protect what territories were left, as expansion would take too much resources. Tadjamad disagreed to follow the orders of who he considered a young girl, and has proclaimed the Dei'Ar a nation of its own, the Dei'Ar Theocracy, leaving his fleet to elsewhere in the Gigaquadrant. Only a few Dei'Ar soldiers agreed to aid Iovera, led by one of the War Predictor's confidants, Matheoward Alvarie. Tadjamad's empire became, for a short period of time, the true successor of the old Masaari Crusade, while Iovera's Masaari Remnant remained inshadows.
Time passed, and the Dei'Ar Theocracy fell, with many of the surviving warriors of Dei'Ar joining Iovera now. Allying with the mysterious Isio'Nar, she had a plan now. As Annhilation was tearing the universe, she led her people to Andromeda, where they could expand outside of other nations' presence. However, expansion required another army. Having little population to be sent to frontlines and with hostile Coalition spreading, Iovera started the production of Metallo Militant Force, an army of machines that would bolster and support the weakeneed Dei'Ar Order. Furthermore, the fleet and Dei'Ar Order were not interwined completely to the point two organisations could be considered one.
The Dei'Ar Order and Metallo Militant Force later served together in Andromeda War, fighting the Draconid Imperium, the Brood of War, Legion of Badmanz and the Andromedan Grox Empire. In the aftermath, the first two empires became allies of the Divinarium while the latter two were defeated and destroyed.
Metallo Militant Force
[
]
Dei'Ar Order
[
]
Infantry
[
]
Standard
Specialised & Elite
Other
Commanders
[
]
Vehicles
[
]
Stats
[
]
-
Metallo Laborer
Metallo Light Militant
Metallo Heavy Militant/Commander
Metallo Probe
Fyrvrtha Hunter
Telzoc Ravager
Sader Exterminator
Telzoc Templar
Imperion Infiltrator
Radeon Magus
Radeon Chaplain
Radeon Celestian
Sader Engineer
HP
25
35
75
25
200
450
35
500
50
50
35
100
35
TP
0
30
100
0
250
400
100
700
400
100
1500
1500
50
PP
1000
1000
1000
1000
1000
300
300
100
400
500
100
500
100
FP
N/A
N/A
N/A
N/A
200
200
200
500
500
350
700
700
100
SP
-
80
-
-
250
450
10
600
350
20
20
700
20
m/s
30 m/s
30 m/s
30 m/s
200 m/s
20 m/s
50 m/s
15 m/s
40 m/s
75 m/s
35 m/s
35 m/s
35 m/s
15 m/s
EP
0
0
0
0
50
50
50
100
50
300
200
200
50
AP
100
100
100
100
200
200
100
300
1500
500
500
500
100
Quotes
[
]
"We hate to admit, but the Divinarium is a... worthy adversary"

- Fela'thoran of the Coalition
"Hmpf...Not bad."

- Koluap
"The Dei'Ar order, definitely a powerful force that have become strong over their experience of war. It is clear that the Radeon still know how to fight!"

- Yogtam
"dei'ar orda, metallo doods. imma batta yoo eitha way."

"The Dei'Ar Order relies on mysticism more than most militaries I have seen - chaplains and psychics walk hand-in-hand with machines and brave hunters. They may be more akin to a something out of a storybook, but there is no denying the results; they are a fine, if inventive, fighting force."

- Lord-Admiral Larnus Vontarion of the Draconid Imperium
"Deep in the human unconscious is a pervasive need for a logical universe that makes sense."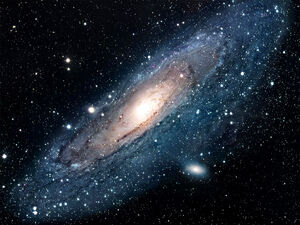 Note: Monet47's fiction is in bold, TheImperios' fiction is in italics, Hachi's fiction is

underlined.
Segmenta
Inner

Mechanicum

 ·

Draco

 ·

Crepusculum

Outer

Adniliho

 ·

Exterioris

 ·

Umbra

 ·

Ignotum
The New Dawn rises.
"But the universe is always one step beyond logic."