The Cards Revealed is a Historical Event

---

"The Cards Revealed" is considered a historical event or a completed fiction within the

SporeWiki Fiction Universe

. You must ask its original creator if you wish to add any additional stories.

The Cards Revealed is a crossover between the Second Borealis Galactic War and the Andromeda War, that is begun by two bitter Loron rivals.
Prologue
[
]
Br'klakkon's plan
[
]
In the Andromeda Galaxy, just before Da Rogue Boyz were beginning to enter the Andromeda War, something was being conspired, that would cross over between the Andromeda War and the Second Borealis Galactic War. Over in Master Br'klakkon of the Legion of Badmanz' lair, full of skulls and dead animals, Gratz'kaoz was reporting in. Gratz'kaoz walked up to Br'klakkon's throne, took one last bite off his meat and threw it to the ground with the other rotten meet.
Gratz'kaoz - oi br'klakkon wat da fuk do ya want? i was havin a sik timne killin peepz den YOO interupted
Br'klakkon - Ah... Bow before me, Gratz'kaoz. I have a mission for you, and you would certainly like to spill the blood of our new enemies.
Gratz'kaoz - i dunt bow befor anyone dikhed
Br'klakkon - Arrrrgh...
Gratz'kaoz - wat do ya want anyway

Br'klakkon stood up.
Br'klakkon - YOU! DO MY BIDDING! GAAAH! GO AND KILL ALL ROGUE BOY WANNABEZ IN ANDROMEDA DAM U!
Gratz'kaoz - ROGUE BOYZ? DESE STILL EXIST?
Br'klakkon - AARGH!

Br'klakkon took a deep breath and calmed down, once against speaking in arrogant, cold tone.
Br'klakkon - Yes. Fre'kloar's boyz. They still expand and fight, and are apparently among the most powerful Loron groops in this universe.
Gratz'kaoz - WAAAAAT?

Gratz'kaoz roared loudly, not unlike a demon.
Br'klakkon - And now they are heading here. Destroy them. Kill them all.
Gratz'kaoz - NOW IM PISSED OFF. IMMA KILL ALL OF DEM SO HARD DEYR MOMZ GONNA FEEL IT
??? - hurhurhur da pains an da lafta is propa propa funny...
Gratz'kaoz - wat

Ref'kolar appeared behin Br'klakkon.
Ref'kolar - so den, gratz'kaoz.
Br'klakkon - Who's that? Wait, I recognise this one. He looks like a demonic Fre'kloar... Devourer's Chosen. I can feel entropy within this one.
Ref'kolar - That's me, Br'klakkon. I'm with the Devourer's Chosen. And for my own and their reasons, I will assist you.

Br'klakkon turned to Ref'kolar and approached him.
Br'klakkon - What does the Corruptus want from Mali'Nar?! And what's with your speech?
Ref'kolar - Yes, the Entropic powers...I've caused so much suffering with these powers that it's hysterical!!!
Br'klakkon - Good, good. I would like any aid. Go and murder all Rogue Boyz.
Ref'kolar - The Corruptus wants nothing from you. I am to help you in the Borealis Galaxy...I don't know if you are aware, but there's an artifact in Borealis.
Br'klakkon - What?! Tell me more...
Gratz'kaoz - WHOS DIS DIKHED IMMA SMASH HIM

Gratz'kaoz gave Ref'kolar a bad look, but Ref'kolar simply laughed. Grat'kaoz chuckled and stopped fighting.
Ref'kolar - Those artifacts that you search for...all of them are in Andromeda. All but one, that is...funny, isn't it? Hahahaha... Go to the Borealis Galaxy, murder the Rogue Boyz as you said...BUT GET DA ARTIFACT MAN

They all knew what to do...
The First Contact
[
]
Over in Da Propa Big Rogue Krooza, something else had gotten word to Da Rogue Boyz. As Br'klakkon's plan unfolded, two old enemies would once again clash...
Hagto'Zhl - man Fre'kloar whai did yoo forc me ta do dis fing
Fre'kloar - cus its gonna be sik man we get ta blast da dumbos

The Rogue Boyz fleet, out in deep space, were encountered by another Loron fleet...
??? - WELL WELL WELL IF IT ISNT YOO AGEN
Fre'kloar - YOO MUST B DA LOSAS DA DIVIPEEPZ TOLD ME BOUT. WES GONNA KILL YAS JUST SO YA KNO SO STAND STILL TA MAKE IT EASIA K?

A familiar voice was roaring down the microphone, but then they saw its face...
Gratz'kaoz - ITS ME YOO DIKHED

The Rogue Boyz warbosses all screamed, except Grak'tona who yawned.
Kal'kuir - YOO AGEN
Gratz'kaoz - YES ME AGEN. WOT YOO GONNA DO ABOUT IT?!?!?!?! HURHURHURHUR
Voa'reak - KILL YA AGEN YA MORON. WE DID IT TWICE ALREDY
Gratz'kaoz - OH??? I DUNT FINK ITS GONNA B DAT SIMPL...
Brag'klogga - GRATZ MAN YOR DUM STOP REVIVIN. OI IM GONNA TURN HIM INTO A WATAMELON JUS LIKE I DID WIV DAT XI'ARAZULHA HURHURHUR
Gratz'kaoz - SPEEKIN OF WHICH...

Another Loron appeared behind Gratz. Two Loron.
Ref'kolar - hurhurhur old enemies meet agen...dis maeks me laff
Fre'kloar - COPYCAT DUMBO
Ref'kolar - WANNABE LOSA
Gratz'kaoz - YA SEE? LOADS OF PEEPZ WANT YOO DED DIKHED
Fre'kloar - meh to ya peepz. i got an entire EMPIYA who wants ya ded

Suddenly, Hagto'Zhl remembered Gratz'kaoz' face.
Hagto'Zhl - oi want a sec...gratz'kaoz...I REMEMBA YOO. PROPA DUM GEEZA BAK IN DA FOG WAR WE HAD TA KEEP YOO CHAINED OTHAWISE YOO WOULD ATTACK DA MARINOXIDIZ AN DA REST OF DA HOMIES
Gratz'kaoz - YEH AN IMMA PUT YOO IN DA CHAINS DIS TIEM DEN MA BOYZ IS GONNA FEED OFF YOO

Knar'gank, leaning against a wall, decided to speak.
Knar'gank - gratz yoo murdered ma dad. expect a shanka on ya eyes yoo dikhed

Gratz'kaoz was surprised.
Gratz'kaoz - yoo...is knar'thils son????
Knar'gank - yeh i am...an wat yoo gonna do about it??? imma aveng him.

The other Loron, Br'klakkon, clasped his hands, smiling subtly.
Fre'kloar - WHOS DIS NAO
Br'klakkon - All is according to my plan.
Gratz'kaoz - dis is ma homie Br'klakkon hurhurhur...
Fre'kloar - neva heard of hur

Gratz'kaoz tried to slap the hologram of Fre'kloar
Ray'loth - yor way dumma dan i rememba
Gratz'kaoz - AN YOR A TWAT JUS LIEK I REMEMBA
Br'klakkon - Ah... Let me enlighten you, for I am Br'klakkon, the Proper Big Boss of the Legion of Badmanz. Soon, my friends, you will bow to me. All of you.
Ray'loth - WAT DA HELL
Jol'kiar - DA ROGUE BOYZ BOW TA NO ONE. cept zr'an'knar when its pizza party day BUT STILL
Grak'tona - wot bout me
Br'klakkon - Ah. Your opinion of my words may change soon.

Grak'tona shook his head.
Grak'tona - LISSEN KLAKKON. IM DA BOSS ROUND HEER. IM DA ROYAL DOOD WIV DA ROYAL BLUD. YOO BOW TO ME BECUZ IM ROYAL. OK?
Br'klakkon - Who is that frostbitten barbarian?
Grak'tona - HOW HAV YOO NOT HERD OF ME IM DA KING OF BOREALIS DIKHED

Br'klakkon smirked.
Br'klakkon - So full of yourself. I will guarantee the position of a vassal under my rule once you would be under my control.
Grak'tona - NO LOSA ITS MY RULE!!!!!!!!

Jol'kiar facepalmed.
Jol'kiar - dere he goes agen...
Gratz'kaoz - oi jol'kiar whos dis losa
Jol'kiar - hes da leeda of da cold loron
Grak'tona - HE SED HE WAS DA LEEDA OF ALL OF YOO

Br'klakkon, now tired of this conversation, decided to speak up.
Br'klakkon - Ahahaha! You are the great warriors. Perhaps you could just settle this and bow to me?
Fre'kloar - ME? BOW TO YOO? FUK OFF
Ref'kolar - This discussion...is propa PROPA FUNNY
Drizz'pyrokirk - SHUT UP FREEK NO ONE ASKED YOR OPINION

Ref'kolar looked at Drizz'pyrokirk, who burst into hysterity. Br'klakkon turned to Ref'kolar.
Br'klakkon - Close your mouth, Geltastra's lapdog.

Ref'kolar tried to corrupt Br'klakkon into laughter.
Gratz'kaoz - OI. CUT DAT CRAP OUT. I WANNA SMASH DEM
Br'klakkon - Gah! Your pathetic laughter annoys me! No Mali'Nar would submit to your madness, you fool!
Ref'kolar - You know what's REALLY HILRAIOUS?! While you've all been yelling at us, our fleet has slaughtered yours!!

Everyone looked at the computer all of a sudden. Had the Rogu Boyz' fleet been destroyed while this conversation was going on?
Kal'kuir - nah it didnt. uvawise we wuld had noticed it
Propa Big Rogue Geek - I hate to inform you, Kal'kuir, but casualities are high and we're down to just 3 Propa Sik Kroozas.
Kal'kuir - REELY? OH MAN I NEED A BETTA RADAR
Rel'larutina - Or maybe you need one that you'll actually pay attention too...
Kal'kuir - I NEED ONE DAT SAYS "NO ONE ASKED YA OPINION"

Gratz'kaoz laughed, taken advantage of the situation.
Gratz'kaoz - PREPAR TA DIE!!!!
Fre'kloar - YA MOM!!!!

Gratz'kaoz readied an enormous canon to be fired at the Propa Big Rogue Krooza.
Zalk'don - OI MAN FIRE DA BANANA GUN. an dunt forget da boomz

One of the Legion of Badmanz' warbosses, Gar'dakkra, arrived.
Gar'dakkra - BOSS, IMMA TIRED OF DIS CHIT CHAT! CAN I JUST SMAK ALL DESE DUMBOS?

The Krooza barely dodged the shot and fired its own weapons.
Gratz'kaoz - SHUT YA MOUTH GAR'DAKKRA CANT YA SEE WES BUSY FITIN DIS KROOZA?
Ref'kolar - Hahaha..HAHAhahaha...MUHAHAHAHAHA!!!!

Ref'kolar caused all of the missiles the Rogue Krooza fired to explode. All of the Rogu Krooza's guns no longer fired lasers, but out of them came a flag saying "Bang!".
Jol'kiar - ...dats jus stoopid man
Brag'klogga - HUR I JUS GOT A SIK PLAN

Brag'klogga teleported several Troopaz and Boomaz to inside Gratz'kaoz's ship, wher they started to cause destruction.
Gratz'kaoz - I GOT A SIKKA PLAN

Gratz'kaoz ran towards the area Brag'klogga teleported the troopas, and slaughtered them all singlehanddly.
Brag'klogga - OH MA DAYZ MAN HE KILLED OUR DOODS
Gar'dakkra - YEA FINALLY! DIS QUITE OFFENDS ZR'AN'KAR! FINGS SHOULD GET LOUD NOW!
Hagto'Zhl - ZR'AN'KARS MA DAD DUNT GO TALKIN BOUT HIM

Rel'larutina stood in front of Fre'kloar.
Rel'larutina - Are you gonna do the sensible thing and evacuate, or get yourself killed?
Fre'kloar - YOR BLOKIN MA VIEW YOO BALL SHAPED DUMBA
Rel'larutina - Seriously...
Jol'kiar - perhaps we shuld leg it we dun got enuff fiyapowa ta fite gratz
Fre'kloar - HUR FINE
Gratz'kaoz - DATS RITE PISS OFF. BUT WEZ HEDIN TO BOREALIS WEZ GONNA KILL YAS AN TAEK DA ARTIFACT IN YOR GALAXY. YOO BETTA BE REDY!!!!
Br'klakkon - ...What he said.

Just before he left, Fre'kloar caught the last thing Gratz'kaoz had said.
Fre'kloar - artifact?
Gar'dakkra - YEA KILL THEM!

Preparing for the war ahead...
[
]
The Rogue Krooza made an emergency teleport jump, being the only Rogue Boyz vessel to have survived.
Kal'kuir - man dat was...wot da fuk jus happened
Fre'kloar - gratz seid he wus gonna come afta us. WE NEED BETTA WEPONS
Kal'kuir - MOAR LIKELY ONES DAT ACUALLY SHOOT SOMFIN OTHA DAN A FLAG DA SAYS BANG AN FIREWORKS
Zalk'don - YOO DESIGNED DA KROOZA KAL'KUIR SO DAT MEENS YOO ALSO DID DAT
Kal'kuir - IT WAS CLEERLY REF'KOLAR DIKHED

Grak'tona yawned.
Grak'tona - meh yor all dum. let dem come imma smash dem wiv ma sik king strenght

---
Meanwhile, back in Gratz'kaoz' cruiser...
Br'klakkon - Hm. They fled. This... hinders my plans. Luckily, I have counted on that. Gratz'kaoz, lead the fleet into Borealis. Destroy the Rogue Boys. Failure is not an option.
Gratz'kaoz - YOO BET I WILL. AN REF'KLOAR YOR COMIN WIV ME K?
Ref'kolar - OF COURSE
Gratz'kaoz - WE IS GONNA SMASH DEM ONE BY ONE...
Ref'kolar - But you better leave Fre'kloar to me...
Gratz'kaoz - no man FRE'KLOARS MINE

Gratz'kaoz glared at Ref'kolar.
Ref'kolar - HE DUSNT GO AROUND COPYIN YOO MAN. MAKES ME SO SAD ITS ALMOST FUNNY
Gratz'kaoz - HE DIDNT KILL YOO TWIC
# Ref'kolar - Well...actually he did. But that's not the case. We'll both kill him together. How about that?
Gratz'kaoz - ...deel.

Br'klakkon smiled again.
Ref'kolar - Excellent. Now you go ahead. I need to make my daily prayer for the Devourer, you see...
Gratz'kaoz - ok yoo do dat
Br'klakkon - Children. Let's hope that their idiocy won't harm my plans...

And thus, Gratz'kaoz full force was unleashed on the Borealis Galaxy, and both Andromeda and Borealis would race to get the Andromedan artifact...
Criminal intervention
[
]
Rumours sprea quickly in Borealis. And with the Borealis Consorium Network, whose network was wired into the galaxy, they were the first to hear of these things, and they decided who heard them next. So when word of an Andromedan artifact that caused a galactic war in Andromeda reached Zaarkhun, something was going to happen...
Falrik Zaarkhun - Gentlemen, I think you all know why we're here.
Volim - Something about an artifact, right?
Falrik Zaarkhun - Correct. But when this artifact is so important it's causing a war in the Andromeda Galaxy, you know that it's worth grabbing.
Volim - I heard something about a war going on Andromeda. I don't know much about that galaxy but apparently there is a lot of carnage going on for these things.
Falrik Zaarkhun - Exactly. So just imagine the potential usage for this artifact. Blackmailing factions of the war, selling it for over double the market value...
Torrent - Double? Hah, that's too little.
Falrik Zaarkhun - Of course. Triple? Quadruple? Five times?
Volim - Well it depends on what those Andromedans can pay. But yeah, quadruple at the very least.

Falrik Zaarkhun had a thought.
Falrik Zaarkhun - We can of course cause them to set bids on this thing, and sell fake replicas of it...But what's important now is getting it. We'll need to get the artifact before many others find out about it. The sooner we make our move, the sooner we get it. Also, I want some of our spies to kill anyone else with any information about the artifact in Borealis.
Torrent - That should be easy. I can send a word to some Arviper warlords out there, these guys are good at sneaking.
Falrik Zaarkhun - Great. Wel...can we trust the Seagon with this knowledge?
Volim - While they are good military friends, I wouldn't trust something like this with them. They tend to be rather...selfish...when it comes to ancient technology.

Falrik Zaarkhun pondered for a moment.
Falrik Zaarkhun - We could always lie to them, to get them to help our cause? Volim - I'm not sure. Why do you want them anyway?
Falrik Zaarkun - I'm rather concerned that we'll have more than just the Loron to deal with. Not the Rogue Boyz, the Legion of Badmanz.
Torrent - Legion of what now?
Genrai Nal - The Legion of Badmanz. Loron from Andromeda, led by the Mali'Nar Master Br'klakkon. But he is the least of our problems. From what I have heard, we will be dealing with the artifacts' 'guardians', the Inheritance, and the Mali'Nar has sent us his best fighter, Gratz'kaoz. Just ask the Rogue Boyz, he is a formdiable foe.
Volim - How can you know all of that anyway?
Genrai Nal - I know these things, Volim. I do my research, and I'm part of the Corruptus. Another thing worth mentioning, the Consortium's networks don't have much of a hold in Andromeda, and undoubtedly the empires of Andromeda will be racing to get the artifact themselves. Zaarkhun is right, we will need all the help we can get.

Volim glared at Genrai Nal, appearing irritated, but then turned to Zaarkhun.
Volim - Fine, you can try lying to the Seagon. But it needs to be a really good lie.
Falrik Zaarkhun - That's true. But for now, we should probably make our first move, and make a rush for the artifact. If we can get it know when on the Loron know about it, we should be fine. So, if we're all ready, let's go?
Volim - Yes. I'll just give Skhánaróton -01 a signal so he can join us in this...

Volim pressed some buttons on his console, sending for the Jittoram
Volim - ...There. We're ready now.

The ship used its spacetime weapon to create a wormhole to the desired location.
---
The Iron Fist emerged from the wormhole, in a dead region of space.
Falrik Zaarkhun - Figures, nothing here yet.
Torrent - Where's the thing?
Falrik Zaarkhun - There's not a single planet here. Genrai, are you sure these co-odinates are correct?
Genrai Nal - I am positive. These were the exact co-ordinates that the Loron gave me before I killed him.
Volim - You were following Loron directions?
Genrai Nal - I made perfectly sure they were correct. It was the exact co-ordinates that his ship had last visited. The system could not be far.
Sollow - We've found something. It's...an enormous ship. And there's an incoming transmission.
Volim - Respond.

A voice roared on transmission.
Gratz'kaoz - WHO DA FUK AR YOO

Torrent jumped, startled.
Torrent - Alright that's not funny!
Ref'kolar - FUNNY?? No...THAT IS FUNNY!!!!!!!!
Volim - I am the one asking who are YOU who YOU are.
Gratz'kaoz - IM GRATZ'KAOZ. DIS IS MY TERRITORY-PISS OFF. oh an dis geezas ref'kolar hes som guy who hangs around me fer som reeson
Volim - I heard about you. Apparently the other Loron are all scared of you. Well you can piss off MY galaxy because you cannot intimidate me.

Gratz'kaoz glared.
Ref'kloar - You're not scared? That's funny...most people are, ENNIT GRATZ
Volim - Oh please. You're just another oversided brute with no indoor voice. I've killed thousands of the likes of you already.

Genrai Nal got out his blades.
Genrai Nal - It is clear, Gratz'kaoz, that you are failing to intimidate any of us. If you wish to intimidate, why not face us in battle?
Gratz'kaoz - REALLY??? SIK COM TO DA PLANET HEER urr da green one AN MY BOYZ GONNA BATTA YORS
Torrent - We'll see about that.
Gratz'kaoz - OK

The transmission closd.
Falrik Zaarkhun - Sollow, set us a course for the nearest 'green planet' that Gratz'kaoz was referring to, and land.

Sollow directed the ship and landed.
---
Sollow - We're here.
Volim - Now where are they?

The Iron Fist, with a huge supporting fleet, landed on the world, and the Wranploer Legion's numbers all landed in full focrce. Shortly after, over the nearest hill, a huge horde of Loron led by Gratz'kaoz came.
Volim - Ah, there he is. He's quite a big kid now isn't he?
Falrik Zaarkhun - Right, I'm gonna need Volim, Genrai, Sollow and Skhánaróton -01 to lead our forces.
Skhánaróton -01 - About time...
Falrik Zaarkhun - Torrent, don't get me wrong, you will be leading a force of your own, but only into the woods to the side. Your task is to get some of the Loron ballastics by surprise.
Torrent - I get it, no problem.
Falrik Zaarkhun - Excellent. We're all ready, then...WHAT THE HELL?!

Four enormous, 100m tall four-legged beasts with large horns and artillery cannons on the top, operated by Loron, charged in the direction of the Iron Fist. Many Wranploer soldiers charging to fight the Badmanz were crushed by them.
Torrent - I didn't know Loron had war beasts.
Genrai Nal - They didn't. But this is Gratz'kaoz, so who knows what he's done?

The beasts all approached the Iron Fist at a rapid rate.
Volim - Use the Iron Fists's weapons and exterminate these monsters.
Falrik Zaarkhun - We can't activate or charge up its weapons in time before they smash it.
Volim - Well...crap.

The beasts roared, approaching faster and faster, then came to a halt.
Genrai Nal - Tackling four beasts at once? Almost not fair. Thanks for getting those two, Sollow.
Volim - Wha..

Volim looked up, and saw that the beasts were being tackled by Genrai and Sollow, singlehandedly.
Sollow grabbed two of them by the chains, and they both pulled. Sollow tugged on one chain, and the beast fell to the floor. Sollow jumped, and stabbed its eye, before then cuting at its brain. Sollow turned to the second beast, climbed it within seconds, and cut open its brain the same way.
Torrent - Thanks for making me feel wimpy, guys.
Skhánaróton -01 - As long as I get something to shoot.

Skhánaróton -01 armed his energy rifle and shoot down the Loron as they fell.
Genrai Nal - It's my turn...

Genrai Nal, manwhile, was still handling the beasts. One he killed in a similar manner to Sollow, the other he destroyed by firing Dark Gyronic at the artillery cannons on th top, causing the cannon to explode, killing the beast.
Volim - Not bad.

Gratz'kaoz, in the distance, roared.
Gratz'kaoz - WOT DA FUK?!?!??! REF MAN YOO SED DEY WULD SMASH IT
Ref'kolar - They may have been killed BUT IT WUS STILL PROPA FUNNY ENNIT?
Gratz'kaoz - NO MAN IT WASNT FUNNY YOO DIKHED IT WAS ANNOYIN
Ref'kolar - STOP YELLIN AT ME AN GO KILL DEM MAN
Gratz'kaoz - YEH MAN LETS GO SHANK DEM TOGEVA

Gratz'kaoz and Ref'kolar charged out onto the battlefield, joining their troops in the front line, and ripping apart the Wranploer troopers.
Genrai Nal - We are losing men fast.
Volim - Well what are you waiting for? Attack them!

Genrai Nal did so, and the nearest Loron gang of 45 Loron were killed soon by Genrai Nal in 40 seconds, using well-placed slashes of his blades. Skhánaróton -01 and Torrent supported by firing their guns from a distance, while Volim took down the Loron that approached them.
Genrai Nal - Now do you want to attack, 'General'?

Ref'kolar, wth several Flashie Loron, suddenly came seemingly out of nowhere and approached the front line fast but were ambushed by Torrent's squad.
Torrent - Ah, hell.

Torrent and his squad attacked the Loron, while Skhánaróton -01 gunned them down, lauguing quietly.
Falrik Zaarkhun - Torrent, you're gonna have to keep them busy any way you can, if not kill them. By the looks of things, Genrai and Sollow will have to fight their leaders, and that's the only way to break the Loron's almost unbreakable morale.
Torrent - Tell them to hurry because my ammunation's going short.

Genrai Nal and Sollow knew what to do; they went to confront Gratz'kaoz and Ref'kolar respectively.
Gratz'kaoz - WHO DA FUK AR YOO LOSAS STANDIN IN MA WAY
Ref'kolar - They want to stop us from getting the artifact...YOU EINT GONNA LET DEM ENNIT?
Gratz'kaoz - CORS NOT. IMMA RIP DEM UP PROPA PROPA HARD. DIS WILL BE FUN...
Sollow and Genrai prepared their weapons.
Sollow - Genrai, you ready?
Genrai Nal - Yes. I heard a lot about you, Gratz'kaoz. Time to put your skills to test.
Gratz'kaoz - IMMA PASS WIV AN A* (da only A im eva gonna get) I GOT DA PROPA SIK BLAKK BELT YA SEE HEER? crap i forgot to put it on today...BUT STILL IV GOT A BLAKK BELT
Genrai Nal - You realize your "blakk belt" means nothing to me.
Gratz'kaoz - WELL IT SHULD DIKHED. IMMA RIP YOO UP SO HARD YA MOMS MOMS MOM WILL FEEL IT

Gratz'kaoz roared and charged at Genrai Nal's direction.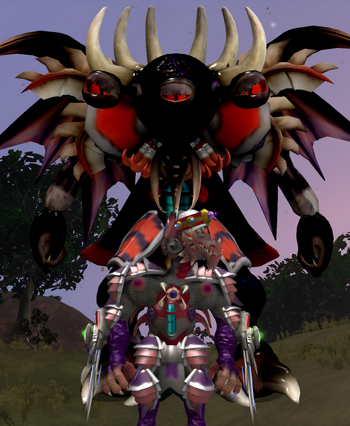 Genrai Nal - Bring it.

Genrai Nal readied his weapon and entered a fighting stance. Gratz'kaoz jumped on Genrai Nal's direction, trying to smash him. Genrai Nal, however, rolled, and suddenly vanished from sight.
Gratz'kaoz - COWARD COM BAK HEER
Genrai Nal - Come back? All right then, you asked...

Genrai Nal appeared behind Gratz'kaoz, and stabbed his blades into Gratz' back. He stabebd one in Gratz' shoulder, and another into his back, forutnately for Gratz missing major internal organs, unfortunately cutting hard.
Gratz'kaoz - OI I ACTUALLY FELT DAT. NOW YOR MAKIN ME MAD

Gratz'kaoz charged energy on his fists and punched Genrai Nal. Genrai Nal dodged, and swung his blade around at Gratz'kaoz' knee. Gratz'kaoz dodged the blade and kicked Genrai Nal's face. Genrai Nal kicked at Gratz'kaoz in retaliation, then before Gratz could retaliate, disappeared.
Gratz'kaoz - YA CANT FITE ME. ALL YOO DO IS SNEEK AROUND LIKE A WIMP
Genrai Nal - But you know that it hurts you, don't you?

---
Meanwhile, Sollow confronted Ref'kolar...

Sollow - Well, it looks like they're enjoying their fight. That leaves only me and you.
Ref'kolar - You look so sad. You should laugh with me, for the Devourer's glory!
Sollow - I've never laughed since I was alive.
Ref'kolar - That's depressing. BUT IF DATS DA CASE DEN PREPARE TA GET STOMPED
Sollow - Try me.

Sollow drew his vibroblade. Ref'kolar levitated with his entropy and fired several blasts at Sollow. Sollow was hit, but then ran around Ref'kolar in circles at an incredibly fast speed that Ref'kolar couldn't keep up with. Sollow finally stopped, and slashed Ref'kolar's arm, after jumping up to reach him.
Ref'kolar - OW MAN WAT DA HELL
Sollow - I've fought much deadlier foes than you. Please, you're disappointing me.
Ref'kolar - ITS FUNNY CUS YOR DUM

Ref'kolar teleported to behind Sollow, grabbed him and threw him against the ground before stomping him several times. Sollow's chest was eventually crushed, and he lay lifeless. Ref'kolar pointed and laughed. While rRf'kolar was laughing, Sollow healed, out of Ref'kolar's notice, in seconds, and threw several knives at Ref'kolar, hitting his eye, shoulder, and chest.
---
Genrai Nal emerged, at least 20m from Gratz'kaoz, and fired several Dark Gyronic blasts. Gratz'kaoz absorbed the shots and flew into Genral Nal, tackling him against a tree. Genrai Nal struggled for a moment, and kicked Gratz'kaoz between the knees.
Gratz'kaoz - DAT DUSNT HURT HUR
Genrai Nal - Was it meant to?
Grataz'kaoz - wat

Genrai Nal disappeared, and Gratz'kaoz sighed, frustrated. Soon, a Wranploer tank came pasing by, firing at Gratz'kaoz' comrades.
Gratz'kaoz - WAT DA HELL STOOPID TANK

Gratz'kaoz attacked the tank, ripping it apart. Genrai Nal re-appeared.
Genrai Nal - A stealth attack in this situation wouldn't have been so fun.

Gratz'kaoz threw the damaged tank at Genrai Nal, who fell to the floor, apparently crushed by the tank.
Gratz'kaoz - HOW BOOOOOOORIN. I HOPE YA HOMIES OVA DERE CAN FITE BETTA BEFOR I KILL DEM

Genrai Nal, however, picked the tank up.
Gratz'kaoz - wah

Genrai Nal was suddenly surrounded by the lightning-looking Dark Gyronic energy, and grew in size close to that of Gratz'kaoz'. The tank he was holding was thrown asaide.
Genrai Nal - Perhaps this is far more fair?

Gratz'kaoz raised an eyebrow.
Gratz'kaoz - yoo fink yoo can scare me wiv ya gyronic powas? i got dese since a long time

---
Sollow - Another round then, laugher?
Ref'kolar - YOO DAI FER DA DEVOURAR AN CUS ITS GONNA B FUNNY AS HELL

Sollow and Ref'kolar circled each other, staring and waiting for the first move from either of them. A grin formed on Sollow's face.
Ref'kolar - Oh? Yes. Laugh! You know you want to.

Sollow's grin stayed the same as normal.
Sollow - Nice try, but you cannot manipulated a soulless body that is already manipulated.
Ref'kolar - Laugh. LAUGH. WHAI DUNT YOO LAFF
Sollow - You'll only make me laugh with your failed attempts to combat me.
Ref'kolar - FINE DATS IT IMMA SACRIFICE YA

Ref'kolar fired entropic blasts at Sollow. Sollow, however, dodged in a quick, acrobatic move. Ref'kolar kept firing.
Sollow - Muscles tell me a lot, you know. They even allow me to predict when your next blast of entropic energy will fire...and thus, where it will hit. You always move your arms synonymously with your enrtopic firing.
Ref'kolar - DIS EINT FUNNY AT ALL

Sollow, in an incredibly quick move, ran and slashed Ref'kolar and then climbed the nearest tree.
Ref'kolar - OW MAN

Sollow, in the forest, waited patiently for Ref'kolar's next move. Ref'kolar backed up slowly, while using his energy to heal himself.
Sollow - It's all right, Ref'kolar. I've got all the time I need...it's not like I can die anytime, is it?
Ref'kolar - Well ain't you an arrogant one.
Sollow - While I'm patient...I would love you to attack soon. You heal so slowly...hey, I'll be your doctor. I'll use an old method of surgery...it's called, amputation.

Sollow jumped from the trees, landed close to Ref'kolar, and chooped off Ref'kolar's bleeding arm.
Sollow - Want me to ease the pain more?

Sollow chopped off one of Ref'kolar's eyes to taunt him, and cut at his ribs, sawing two in half, then jumped back up to the trees.
Sollow - Incredibly strong, vibroblades. They can cut through titanium chain with ease...

Ref'kolar fell on the floor, screeching in pain.
Sollow - Who's laughing now?
Ref'kolar - YOR GONNA PAY...BUT NOT NOW I NEED A FUKIN DOKTA

Ref'kolar disappeared.
---
Genrai Nal was once again invisible to Gratz'kaoz. Gratz'kaoz was wandering around, searching for him.
Gratz'kaoz - WIMP STOP HIDIN

Genrai Nal didn't respond. Gratz'kaoz grunted and turned his eyes to Falrik Zaarkhun's direction.
Gratz'kaoz - FINE DEN IMMA KILL YA BOSS IN DIS CASE
Genrai Nal - You're clever...

Genrai Nal unhid, and slashed Gratz'kaoz' arm.
Gratz'kaoz - GOTCHA

Gratz'kaoz used his other hand and grabbed Genrai Nal, squeezing him. Genrai Nal struggled hard, trying to break free.
Gratz'kaoz - PREPARE TA DAI YA THICO

Genrai Nal, with struggle, eentually escaped Gratz'kaoz' grasp, and hit Gratz'kaoz with Dark Gyronic. Gratz'kaoz simply absorbed the attack, and punched Genrai Nal against the ground.
Genrai Nal got up, and...
Genrai Nal - You realise I cna just take this opportunity to vanish, don't yo?
Gratz'kaoz - yeh
Genrai Nal - But I won't.

Genrai Nal cut Gratz'kaoz' lip with one arm blade, with the other, he cut Gratz' hand. Gratz'kaoz roared in pain and jumped back. Genrai Nal dodged Gratz'kaoz, then turned and kicked him to the ground. Gratz'kaoz fell down, stunned.
Gratz'kaoz - DATS DUM
Genrai Nal - This is not that Gratz'kaoz I have heard of. The Gratz'kaoz I know would show his pure rage and hatred, and use it as his greatest weapon.
Gratz'kaoz - YA WANT TA SEE ME MAD?

Gratz'kaoz was engulfed in a dark fire, while his eyes shined blood red.
Gratz'kaoz - DEN YA GONNA SEE ME MAD
Genrai Nal - That's more like it.

Gratz'kaoz roared once more, and charged at Genrai Nal's direction with his fists engulfed in energy. Genrai Nal trid to dodge, but was punched hard and knocked to the floor instantly, before being stomped and hard. Genrai Nal got up, trying to wrtestle Gratz'kaoz, but ultimately lost. Genrai got up once again.
Genrai Nal - Dark Gyronic powers? Two can play at that game...

Both were englufed in huge Dark Gyronic energy...
Gratz'kaoz - DAAAAAAAI!!!!!!!!!!

They both charged their energies, and blasted each other, knocking each other far off. Gratz'kaoz struggled to get up, in pain and exhaustion. As an enormous Loron Carria approached, about to run him over, suddenly his hand was grabbed and he was lifted up by Genrai Nal.
Genrai Nal - You're a tough one...
Gratz'kaoz - GET YA HANDS OFF ME
Genrai Nal - Calm down. When the fight is done, I'm not your enemy.
Gratz'kaoz - HUR...
Genrai Nal - I'm impressed, Gratz'kaoz. You've built a strong army and you're one of the toughest fighters I've ever seen. You have to be the greatest Loron in history; the perfect Loron, with true strength, aggression, and leadership.
Gratz'kaoz - tell me sumfin i dunt kno
Genrai Nal - We may meet again, kaoz.
Gratz'kaoz - NEXT TIME IM NOT LETTIN YOO SURVIVE
Genrai Nal - That's how any true soldier thinks.

Genrai Nal left.
---
Back on the Iron Fist, with both forces leaving the battlefield, the leadersgot together to discuss what'd happen now.
Torrent - This was a waste of time, resources, troopers and ammunation.
Falrik Zaarkhun - Well gentlemen, I think that fight went pretty well considering. We know what we're up against, we've go a good idea what location we're at, we can turn on a Cold Relay, and we can basically do anything from here.
Volim - We should have just gone orbital bombardment on those Loron from the start.
Falrik Zaarkhun - Orbital bombardment wouldn't work. I can use Gratz'kaoz now, you see, and after that fight's occured, Gratz will be willing to smash anything just to prove he's not a coard who runs away from fights.
Volim - Bah. We've got legions of big thugs we could use. And you...

Volim pointed at Genrai Nal.
Volim - Good job at letting him escape.
Genrai Nal - It was a good job. Only now can we use Gratz'kaoz to get this artifact properly. Besides, I enjoyed the fight, and I wish to meet him on th battlefiled again.
Volim - Ugh. You speak like one of these posh Zoles commanders.
Genrai Nal - Excuse me?

Genrai Nal readied his blade.
Genrai Nal - If you wish, I could also slice you open like 'one of those posh Zoles commanders' would.

Volim raised an eyebrow.
Volim - Truly you're kidding me.
Genrai Nal - We'll see who's kidding when we meet in battle...

Falrik Zaarkhun stepped between them.
Falrik Zaarkhun - Enough! Save it, both of you, it won't help us if you two fight.
Genrai Nal - Falrik, his head is too big for his body. In all honesty, I would be more than happy slicing it off...
Volim - Then control your little demon, Zaarkhun. If I see him conspiring against me, then he'll see what will come for him.
Falrik Zaarkhun - Little demon? Volim, you're not thinking he's gonna turn on you because he's Corruptus, are you?
Volim - Are you blind to the world around you? Did you forget what these...monstrosities are capable when we fought them back in the Xi'Arazulha invasion?
Falrik Zaarkhun - I didn't. I also didn't forget the decades Genrai has fought by my side with me.
Torrent - Guys, let's just go back in searching the artifact before we start killing each other.
Sollow - I'm with him. Though, us killing each other won't affect me in the slightest. For obvious reasons...
Volim - No one cares for your condition.

Falrik Zaarkhun activated a holographic plan of the location they were in.
Falrik Zaarkhun - Thanks to Genrai and Sollow, we've managed to steal the Legion of Badmanz' plans for the sector of space, given to them by their leader, Master Br'klakkon. He's not to be underestimated; these are definitely accurate. My plan of action: activate this Cold Relay, stop surpressing the rumours about the artifact for a second, and let everyone else in on the secret...so everyone kills each other.
Volim - Is this Br'klakkon a Loron? Because this seems to elaborated to be Loron work.
Falrik Zaarkhun - He is, but as I said, he's not to be underestimated. As in, he's one of few Loron who has some decent intelligence. Some call him an evil genious.
Genrai Nal - But he is stll Loron, and will still make mistakes. The Inheritance are likely to have bluffed the location of this artifact. While everyone kills each other after the bluff location, we can sneak in and steal the correct artifact.
Torrent - Let's not waste time then.
Falrik Zaarkhun - Any objections?

Falrik saw there were none.
Falrik Zaarkhun - Good. And meanwhile, I'd like to get talking with this Br'klakkon guy...we can really use him as an ally, perhaps, work together. After all, I still have some connections with Zargoth...
Sollow got out of his pilot seat and set the ship to auto-pilot.
Sollow - I'll head for th Cold Relay and actiave it. Apparently it's abandonned, so one of you lot could get yourselves killed, or severely injured, if you were to try enter that place and activate it again. I'll link it up with the Grid, the Caretakers will do the rest.
Volim - Fine, you do that.

Sollow nodded, and got off into his ship.
Falrk Zaarkhun - All right, all done. Let's get some rest for now.
Falrik and Torrent left the oom, and Volim stood up to leave afterwards. Before Volim left, however...
Genrai Nal - Falrik trusts you too much. Back in the Clash of the Crimelords, I always seid it would be better to simply finish you then. But I never got my wish.
Volim - Hmpf. Side yourself with those cultists and I'll make sure your death is slow and painful.
Genrai Nal - The 'cultists' aren't led by an old egomaniac who's to lazy to deserve the title of 'general' anymore.
Volim - You know nothing about me or my past, do not make such assumptions.

Volim left. Genrai Nal grunted, talking to himself.
Genrai Nal - I'll side with you as long as Falrik tells me too...and as long as my blades don't agree to be introduced to anyone else, yet.

Expected enemies
[
]
Since the end of the Xi'Arazhula threat, the Draconid Imperium had increased patrols in an effor to combat the ever-present threat of pirates. The Imperium's borealis colonies were no exception to this and industrialisation had stepped up. In the Lona star system, a Draconid fleet realised that they were not alone. Two Zoles starships, and a Unified Nation of Ottzello Warship arrived in vicinity. Contact between them was engaged. The Imperium had dispatched the fleet with the aim confirm evidence of an ancient artifact hidden in Borealis. Tarsus Senvinus was aboard ne of the cruisers and had been chosen by the Imperium's Royal Academy due to his expertise in the artifacts. But Borealis is a dangerous place for those who are not heavily armed.
Zoles Pilot - Identified as Draconid Imperium....What's your business in this sector?
Captain - Information has been gathered that a classified article has been discovered in this region. We are here to investigate.
(UNO) AI pilot - Our vessels are in this vicinity for the same purpose. Perhaps our superiors should discuss this?
Tarsus - Captain, I believe the alliance has a right to know our activities. It is obvious they are aware of the artifact.
Captain - Fine... UNO your suggestion has been approved.
The Zoles Imperium leader, King Rebaris, appeared on hologram as well as UNOL. Tarsus formally greeted them in his cruiser's briefing room.
Valzo - Greetings, Draconid Imperium. So, rumours have reached Andromeda, too? Yes, it seems odd that an artifact is located in Borealis...
Tarsus - As far as we can tell. that is why the Imperium had sent me.
Rebaris - The artifact appears to be of great importance to you. So, we have agreed with UNO that you and the rest of your Commonwealth have the rights to procure the artifact. Our affiliates in this galaxy are willing to co-operate wth you in procuring the artifact, although the Brood of War have a grudge against UNO, which we fear may interfere.
Tarsus - The Brood of War will not be a bother. However if you deem it acceptable, protocol requires that we fortify the artifact's location. Recent events have made us... cautious about moving them.
Kralgon Emperor - That seems fair enough...but what proof do you want?
Tarsus - Where are my manners.. I am Tarsus Senvinus, senior professor at the Royal Academy of Alcanti.
Kralgon Emperor - Ah, greetings. I'm sure you'll know who we are, and there's a lot of us, so a formal introduction on our part would only slow us down.
Tarsus - My cousin Vidius speaks highly of you.
Kralgon Emperor - Really? That's nice to hear.
The Tralkik Commander displayed some new images of co-ordinates and maps on the holographic communcation.
Tralkik Commander - These are the suspected locations of the artifact; using the Grid technology we've recently been able to tap into and use ourselves, we are capable of mapping out every inch of space in Borealis, yet many things, such asthe Grim Reaper sector, several Wranploer Legion influences and the location of this artifact will not show.
Yogtam - The AIs and all the geniouses in UNO and the Zoles have pinpointed these possible areas, although that's just based on the planets that do show up on th Grid. If not, then the locations taht you see are blank are co-ordinates to where we believe there may just be hidden star systems that contain the artifact. It will be difficult to procure, that's certain.
Tarsus studied the images UNO had provided and was intrigued. While they were all discussing, an alert appeared on radar.
(UNO) AI - Hostile vessels in-bound.
Tarsus - What.. Captain, alert the fleet!
The Unified Nation of Ottzello ship engaged its weapons, and all the crew immediately prepared for battle situations; there was no hassle or alerts involved, just a message sent through The System. However, an entire fleet was approaching.
Cruiser AI - Alert: Hostile lifeforms detected. All crew to alert status.
---
In the chaos of the ensuing battle, several boarding shuttles were launched towarsd the ship Tarsus was aboard. After breaching the hangar, Captain Torrent, with many Zí-Jittorám and Wranploer soldiers, blasted their way up to the command bridge. The cruiser's Marines fought hard in the corridors however the Zí-Jittorám were proving very difficult to subdue. The firefights curt a path of death from the hanger and passing the briefing room. Many marines went to defend Tarsus, although they were each assassinated by sneaking Loktan, or shot by Jittorám troopers' blasters. Tarsus wandered out into the corridor armed with a pistol, when he saw Torrent approaching he froze momentarily at the colossal soldiers fighting their way through.
Torrent - So you're Tarsus, eh?
Seeing Torrent, tarsus turned tail and sprinted in the other direction. Many Loktan appeared in the end of the corridor and destroyed his pathway. Tarsus stopped himself and turned back to see the captain approaching.
Torrent - Get back here, worm!
Torrent ran towards Tarsus, his blades ready. Marines arrived to protect Tarsus, he Tarsus turned back with fear in his eyes. Torrent easily slew the rest of the marines protecting Tarsus, while the Jittorám shooters killed the rest of the marines approaching. Torrent grabbed Tarsu, and smashed him against the wall, still holding a hand to his throat. Fearing for his life, Tarsus tried in vain to pry Torrent's hand open.
Torrent - Tell me the location of the artifact!
Tarsus - *cough* why should I...
Torrent punched Tarsus hard, giving him a black left eye and a damaged jaw bone.
Torrent - Because I'll kill you and your entire crew if you don't.
Tarsus - You're bluffing! Kill me and there is no-one to tell you where to look!
Torrent - Oh of course there is...
Torrent had expected this, pulling out an image he displayed a picture of Tarsus' family.
Tarsus - Wh-what is this...
Torrent - I'll go to Andromeda and I'll kill every one, and the last one alive, I'll force him to tell me. They'll know about your work. Or better....I'll just kidnap you now, and make you watch each of them die until you give up the location of the artifact!
Tarsus - You... you lie! The navy will blast you into dust before you are even five parsecs inside Imperial space!
Torrent - I wouldn't be so sure.
Torrent continued beating Tarsus until he was in more pain.
Torrent - You see, I've never told you what the Wranploer Legion is realy capable of. Now, WHAT DO YOU KNOW ABOUT THE ARTIFACT?!
Tarsus - It... I.... It's close..
Torrent - ...That's it? "Close"? Do you know nothing more? And I don't want theory, I want exact locations!
Torrent drew his blades, and cut Tarsus, making sure to pierce the skin and bones, but not cut any off. The pain verwhelms Tarsus as he roars in agony. He is now shaking, his breathing is erratic.
Torrent - Would you want your cousins to suffer this before they died? Although, of course, it'd be far more painful...I WANT SPECIFIC DETAILS ON THE ARTIFACT!
Tarsus - You have no.. Id-d-dea what .. *splutters* those relics can do!
Torrent was losing patience. he glared, and struck Tarsus again.
Torrent - That's not of my concern. TELL ME!
Tarsus - Araema... W-we linked it to the Araema s-system.
Torrent smiled, and kicked Tarsus again.
Tarsus - Argh! Void... S-swallow you..!
Torrent - Thanks for your help. You've been most...co-operative. And I'll be nice to you: I won't force you to give me any exact details within the star system, also, I'll give you a nice place to live in my ship, rather than the prison.
With these words Torrent dragged Tarsus away. Tarsus was terrified at his fate, he watched as a lone marine fired his gun in Torrent's direction. Torrent ducked the shot and dropped Tarsus. He then looked at the marine, grinned, and sliced him in pieces. Tarsus watched in horror as the marine was buthered, once Torrent was done he continued to drag Tarsus away. As the chaos raged on several ITN warships arrived in the area.
Admiral - This is admiral Taras Dacia, for the crime of assaulting an imperial warship you are to all be taken into custody. Resistence or retreat will prompt us to destroy your ships!
Torrent kicked the ground in frustration and dropped Tarsus.
Torrent - Ah, hell. Let's get outta here, we got what we came for.
Torrent and his forces made a run for it and stole a few fighters in the ship's hangar before returning to his own vessel and leaving via the closest Cold Relay. The warships pusued them, firing in the direction of the retreating ships and managing to score hits on a few of them.
---
Tarsus sat in his quarters an hour later. His jaw was damaged, he was bruded cut and suddered several fractures. The dedical bay's crew had given him plaster casts and a nanite injection to aid the healing process. Warden Erinas Talaevia A Drallvian member of the Imperium's domestic security forces entered his room and asked him to recount his experiences. It would be an hour before he left the room to a waiting Admiral Dacia, who paced with her arms folded.
Dacia - How is he?
Erinas - Stable, but traumatised. Give him some time to rest.
Dacia - The Wranploer Legion deserves justice, where did he send them?
Erinas - The Araema system, that was as accurate as he went.
Dacia - Araema... Good. I will contact subsector command and have them dispatch a fleet to the area.
Erinas - He tells me the pirate had threatened to murder his brood.
Dacia - All of them? Damn. Senvinus might not be soldiers but I doubt high command will take lightly to having their brainiacs mudered for one vendetta.
Erinas - It is lucky the Zoles Imperium provided DS with this 'Torrent'. We will need navy support.
Dacia - Consider it granted, warden. That arsehole nearly fled with one of the cluster's most imprtant minds.
Erinas nodded and headed towards the shuttle bay to report in. Dacia let out a deep sigh, unfolded her arms and headed in the same direction.
Fury and dread
[
]
As Br'klakkon's plan unfolded, a small squad of the Divinarium in the Borealis Galaxy, investigated a cold forest world near the wormhole to Andromeda. A distress call was sent from the world, and the Divinarium feared that it may be an enemy that they have not seen for a fairly long time since the beginning of Andromeda War. The Legion of Badmanz.
A group of five Divinarium troopers teleported to the surface of the planet amidst a wild boreal forest, investigating the area. Enrath, a young Imperion soldier recently assigned to a Borealis squad from Andromeda, dared to ask his commander.
Enrath - This world looks quiet. Perhaps there is no danger here at all? This call could be an error, or perhaps-
Enrath was quickly interrupted by a shout of his commander, Sergeant Freyr. By his ice blue pelt one would easily understand that he was in Borealis from his birth, a mark of his frozen home easily seen.
Freyr - Silence! Our relay stations are efficient enough not to fail. I see your fear. This cold scares you, little Imperion? Hah! I was born here and I will not be afraid like you. No force, not even the dreaded Xhodocto, can scare me!
Enrath - ...Of course.
The Divinarium squad pressed forward and walked through the trees towards a relay station. This station was intact. No sign of damage, no sign of enemies.
Freyr - Strange...
Enrath - Commander! Watch out!
A terrible shadow loomed upon the Radeon sergeant, the shadow of a huge Loron warrior. The mighty monster made a move, leapong upon him and wild rage. With a swift strike, Loron punched Freyr, breaking his bones and armour.
Gratz'kaoz - DIE MUTHAFUKAS
Upon seeing this carnage, the rest of the squad ran away and fled the forest in fear. However, they were not safe, as yet another Loron shadow loomed in the woods. A horrible, but smaller, warrior of the Legion of the Badmanz smashed the little warriors of the Divinarium, riding a powerful and humungous warbike. Soon, nobody was left alive in the forest save for the Lorons, bones of the soldiers lying on the ground.
Gar'dakkra - HAHAHA DAT WAS PROPA FUN
A Secret Alliance
[
]
On Br'klakkon's homeworld, the centre of the Legion of Badmanz, a cold, shattered planet with a frozen, blue, lava-like substance, two starships were about to land. The difference being that one crash landed, and the other landed closely nearby perfectly. A figure stepped out of the ship that had landed, and walked slowly towards Br'klakkon's base. The tall, cloaked, hooded, shady figure was showing no caution at all.
A Loron'Kikra and his gang, who were particularly cautious (or just bored of having had nothing to kill in some time), rushed over to where the ship was. The figure seemed so determined (or reckless?) that he wasn't paying any attention to them. They greeted him warmly, that's for sure; he was met with instant blasta fire bye several screaming Loron and Loron'Kikra.
But nothing would hit him. Every bullet went around him, and nothing scored a single hit. The course of direction was changed in mid-air. Every missile seemed to fail to hit, like some jammer was induced. Every laser seemed to go right around him. The Loron tried throwing grenades, but they did not explode. Suddenly, the figure pulled off his cloak: it was Falrik Zaarkhun. Zaarkhun aimed his revolvers, and scored headshots on each Loron, killing them in 0.8 seconds with headshots from his antimatter bullets, blowing their heads off. Br'klakkon arrived.
Br'klakkon - Wait! I recognise his face...
Zaarkhun paused, and looked at Br'klakkon.
Falrik Zaarkhun - Why, hello there. I'v come to you just to discuss some small...Legion related matters.
Br'klakkon coughd; the less people who knew about the Mali'Nar, the better. He tried to act Loronic, in order to fool Zaarkhun:
Br'klakkon - FUK OFF MAN OR IMMA SHANK YOO AN GET MA HOMEIS ON YOO
Falrik Zaarkhun - It's all right. Your secret is safe with me. I'm with Zargoth; I'm representing him to discuss some matters with you, and so we can both oversee this operation together. If you want me to prove to you that I am him...
Br'klakkon - Hmph. Do it.
Br'klakkon got many more of his boyz on Falrik Zaarkhun. Zaarkhun aimed his revolvers and killed them with headshots, as they continued to fire at him. But, again, no bullets hit him...
Br'klakkon - They're missing...no, the way the bullets change course of direction like that isn't possible without either some electromagnetic technology I cannot detect, or spacetime technology. If it is the latter, he must be working with Zargoth.
Falrik Zaarkhun - Then I assume diplomacy may occur. Take me to your base, I need to talk with you and Ref'kolar.
Br'klakkon - Hmph.
Upswing
[
]
The New Boss
[
]
Zaarkuhn walked with Br'klakkon into his fortress. Br'klakkon's fortress was one of both sophistication and primitive; while the walls were all shined and polished, with many advanced consoles for Br'klakkon's computers, it was also full of plans written out in graffiti paint or in blood on the walls, as well as bones of the dead. Br'klakkon sat on his throne, and invited Zaarkhun to sit on the couch.
Br'klakkon - So, enlighten me; what does Zargoth want with the gods of chaos?
Falrik Zaarkhun - It's simple. Zargoth wants me to personally oversee your actions in Borealis with Ref'kolar, so that I can give you a tactical edge, and Zargoth can interweave this operation with his own.

Br'klakkon shook his head.
Br'klakkon - Mali'Nar goals are different to the rest of the Legion of the Deathmarch. We breed war, chaos and hatred, not striving for domination and destruction like you!
Falrik Zaarkhun - You're branding Zargoth's plans as plans simple as the usual domination and destruction. Zargoth's plans don't have war, chaos, hatred, death, domination, or any of that in mind. His plans, I can assure you, will benefit everyone, except those targeted. He wants to work together, for mutual benefit, and this artifact may just help both of us.
Br'klakkon - Hmph...Fine. I thought you weren't affiliated with Zargoth anymore, though?
Falrik Zaarkhun - Not all ties were cut. I must also apologize, but the Borealis Consortium Network can't ally with the Legion of Badmanz, as we're also involved with the Rogue Boyz.
Br'klakkon - No matter. The alliance may be secret. No one in the Rogue Boyz is clever enough to work it out, and those who can won't be listened to.

Br'klakon called Gratz'kaoz and Ref'kolar to enter the room. Falrik Zaarkhun turned to them.
Br'klakkon - This is Falrik Zaarkhun. He'll oversee the operation with you.

Gratz'kaoz roared at him, and spit on the ground. Ref'kolar just looked unimpressed.
Ref'kolar - What the...DAFUK IS DIS HERETIC
Falrik Zaarkhun - "This heretic" is overseeing you and Gratz'kaoz' operation. I work for Zargoth.
Ref'kolar - What? But you were one of the people who foiled the Devourer's divine plan of allowing the Xi'Arazulha to propser in the Second Borealis Galactic War...HOW CAN I KNOW DAT YOR NOT LYIN
Falrik Zaarkhun - Fine. Do you want me to prove to you I'm with Zargoth?

Ref'kolar nodded.
Ref'kolar - Gratz'kaoz, send some of your boyz on him.
Gratz'kaoz - YOO ENT NO BOSS OF ME. BUT YEH I WANNA SEE HIM GET SMAKED

A total of 8 Loron, all with Blastas opened fire on Zaarkhun. But, as before, the bullets all went around him.
Gratz'kaoz - WAT KIND OF MUMBO JUMBOS DAT?
Falrik Zaarkhun - Zargoth kind of spacetime 'mumbo jumbo', of course.
Gratz'kaoz - BOYZ YOO BETTA HIT HIM OR IMMA HIT YOO INSTED

The Loron fired until they ran out of ammo. In 3.5 seconds, Zaarkhun hit each with his revolvers; headshots from his exploding bullets blew their heads off. Zaarkhun stood up, and humorously, took a bow.
Falrik Zaarkhun - Tell me that anyone other than Zargoth's servants can do that.

Ref'kolar grunted and crossed his arms, while Gratz'kaoz roared at the dead bodies, picking them up an shaking them, before eating them, and spitting out the bones to join Br'klakkon's pile of bones.
Br'klakkon - Zaarkhun mightn't be in person all the time, but he'll be available at all times, and will help you plan your operations.
Ref'kolar - ...So be it. BUT IF SOMFIN GOES WRONG CAN I EET HIM?
Gratz'kaoz - NO I EET HIM DUMBO. WANT ME TA EET BOF OF YAS?
Falrik Zaarkhun - Don't worry, Ref'kolar. You'll be laughing all the way.
Ref'kolar - Hmph.
Gratz'kaoz - br'klakk hes stoopid jus sayin.

Falrik Zaarkhun smirked.
Falrik Zaarkhun - If anything, Master Br'klakkon, I'm the only one intelligent around here. I mean, look at them;

Zaarkhun pointed to Gratz'kaoz, roaring adn beating his chest, trying to eat the bones; then at Ref'kolar, making images of clowns appear, and laughing to himself, interrupted occasionally by short prayers to the Devourer and mentions of his desire for Fre'kloar's death.
Br'klakkon - I see your point...
Ref'kolar - Better than me? Hahahaha....HAHAHAHA MAN DATS PROPA FUNNY!!! I deteriorate the minds of my opponents with a power giving to me by the Devourer, the supreme deity. All you have is an augmented, spacetime-controlling body.
Falrik Zaarkhun - Ah, well. I'll pop up tomorrow by transmission. I want full access to the ship database, a battle report, and knowledge of the current plan, if there is one.
Gratz'kaoz - YEH PISS OFF NO ONE LIKES YOO

Falrik Zaarkhun left. Gratz'kaoz shortly stormed out in a rage. Ref'kolar remained behind, and turned to Br'klakkon.
Ref'kolar - Are you sure you can trust him?

Br'klakkon shrugged.
Br'klakkon - I can trust him just as much as I can trust you.

Ref'kolar grunted, and there was an awkward silence.
Br'klakkon - Besides, you're high up with the Devourer, aren't you? I hear Genrai is one of Zaarkhun's most trusted friends, and who doesn't trust a servant of Shu'wokerama? If Genrai trusts him, I guess I can.
Ref'kolar - Hmm...I guess so. But Zaarkhun has quite a backstory; even if he is still with Zargoth, I'm not sure he's trustworthy.
Br'klakkon - True enough. But for now, carry on with the plan. As it progresses, we draw nearer to my mistress' goal...
Ref'kolar - And the Devourer's, of course...HAHAHAHAHAHHA
Br'klakkon - And now, it seems, Zargoth's too. You run along, I've got business to attend to...BESIDES ITS PIZZA DAY TODAY
Ref'kolar - SIK. wait its pizza day evryday. HURHUR DATS FUNNY

Breed
[
]
Kol Daren sat on his large, metal throne, his eyes flared with anger and rage. His experiments were all going down the drain, with each and every one of his Zazane prototypes either coming out deformed, or dying on day one. He grunted, and then stood up, as he heard clattering approaching him. A small, weakly Zazane of natural origin walked towards him, breathing heavily and looked as if she was beaten.
Kol - What news do you bring, wrench?
Zazane - I...I b-bring news from B-Borealis...Artefacts...Mysterious power...You m-must retrieve it...
Kol - Very good, now get out of my sight!

The Zazane woman nodded and walked off as quickly as she could. Kol let out a smirk and began to walk. His path was leading him towards the lower levels of his base, where his most successful experiments had taken place. Kol was proud of what he had achieved, and eyed the fossilized remains of bug-like creatures that lined the walls of his base.
Kol - And so, from the past you were defeated, brought to your downfall...
He proceeded downwards, where loud growls and roars were getting more common to his ears, almost continuous. His heavy steps provoked more noises, the darkness starting to close in as he got even lower.
Kol - But from the ashes of your death...I have brought you back...
More growling and roaring. And almost complete absence of light. Kol was not afraid, not of the dark nor the vicious noises that came at him like a siren. This had been the marvel of his work, the fruit of all his efforts. For several months, he had travelled through the black market to try and gain the right materials needed, but now, he had finally done it.
Kol - And now, you will serve under my hand...You will do what I say...You will do what I think...
Kol chuckled as he then entered a floor that was lit only with a red light. The sound was deafening. Kol swung his arms open, admiring what he has achieved. He began to laugh, adding to the noises of the floor.
Kol - You all should be grateful...I have resurrected you from your remains, I have made you evolve into better forms! You will work as my personal army, you will infest and destroy! And most of all...you will spread the ZazDie to all Zazane you encounter, to aid in my research!
Mighty beasts slammed against the walls of their containment rooms, massive claws and pincers attempting to rip open the doors. Kol chuckled and walked through the floor, where robotic drones were keeping things in order. Kol's own robotic creations, adapted from stolen pieces of tech that was being sold on the black market. He need not pay, he was immortal and he was powerful. No seller would dare mess with his might, what Kol wanted was what Kol got. The room at the far end of the floor held a command console, adapted in size for Kol.
Kol - Thanks to you, I will have enough biomatter to keep my projects going...Agh, enough of this! Your mission is to attack an UNO colony, and infest it so we establish a proper foothold in Andromeda!
He entered the room and walked over to the console. With his large, clawed fingers, he pressed on buttons that were attached to the console, and slid several switches up and down. He smiled gleefully as he pressed the last button, a large white semispherical one at the centre of the console.
Kol - Project Damnation, you are free!
Meanwhile, several planets that were supposedly void of life soon sprang to life as huge creatures burst from the crust and into the atmosphere, and then into space. These planets were near a system where an UNO planet resided, and was their main goal. The ships moved at an extraordinary speed, they were huge as well. As they approached, they sent many rocks and spheres at the planet.
On the planet's surface, missiles were sent to try and stop the supposed comets and asteroids from reaching the surface, although it was too late, as most of them got through and slammed onto the surface. A message was sent through UNOS; citizens ran for their lives to avoid the falling rocks.
Hours later, the citizens watched on as the rocks apparently presented no more harm. One approached a rock, and touched it. He then pressed his head against it, only to have it wrenched off by a massive claw as the rock shattered, revealing a group of vicious and ferocious arthropod-like creatures. Soon the other rocks shattered as well, and the bio-ships were in the planet's orbit, dropping more onto them. Kol, meanwhile watched from a hologram as the screams and cries of many citizens feeled his ears, and he chuckled. His mission was successful.
Kol - Haha, at last, I have finally entered the fray. The artefact will be mine, and with it, I will use its power to bring my children to life...
The beasts ripped people to shreds and devoured them, while shrugging off gunfire from the protective forces, their skin and armour too hard to penetrate from standard pistols and guns. Blood flooded the streets, as well as corpses lining the roads and organs dripping from ruined buildings. It had taken about five hours for one city to be infested.
This would be the stronghold of Kol's forces.
The Inheritance
[
]
It was time for the Divinarium to get involved. The Zoles Imperium, Niaka Special Forces, Unified Nation and the Draconid Imperium were already involved, and they paved the way for the Divinarium to arrive on the scene in full force. While the forces set out to defend their colonies from the Rogue Boyz, Legion of Badmanz, Borealis Consortium Network and now the Darrennarrgh Breed, it appeared another threat was about to attack them...
The Divinarium instantly dispatched a fleet to answer the distress call on a Zoles Imperium world. The world claimed they were being 'massacred by robots'. The scout fleet set off via the Borealis Grid, and no sooner had they got there, the Fyrvrtha fleet commander sent back a transmission.
Fleet Commander - Come quickly! We need assistance! The Inheritance is attacking!
King Rebaris - The Inheritance are attacking our worlds? Why? And how have they come out so quickly, has someone found the artifact?
Commandant Vekaron - They can't have. Using the Grid, we'd be able to find out if this was the case, and we monitor it 24/7. No, someone must have set them off another way...
The Divinarium sent help, in the way of Zelfron II and Syntagmatarch Nalramath. They would lead their fleet to fight the Inheritance in space, and defend the Zoles people on land. The Zoles, being incredibly valient soldiers wouldn't let up, but were severely outnumbered as well as outgunned by the robotic forces they were up against.
The battle has begun. Seemingly out of nowhere, mechanical creatures were coming, their gravitic weaponry making buildings collapse and citizen explode in bursts of blood. Zoles' turbolasers could only slow them down, but the Inheritants continued to move no matter what they have faced. The Divinarium forces have arrived, but they could do little to hinder them as well.
In a bold attempt to fight the invasion of the Inheritance, Nalramath has attempted a bold but, ultimately, foolish move. Moving swiftly between the slow machines, he put himself right in the center of their formation, forcing them to shoot right amidst their forces. Launching his jetpack to move out of the graviton field, he threw himself into the air, watching the Inheritance's robots elliminating each other in a huge gravity explosion. Zoles and Divinarium forces cheered in what was seemingly a victory, while Nalramath remained silent as always.
Because it was no victory.
Crumbled into pieces, the broken Inheritance Guardbots' parts haven started to glow. In terror, Zelfron has realised what was going on. Forming a huge torrent of metal and energy, Guardbots' carcasses fused to become something... something more.
In a huge flash of light, the battlefield has been cleared of broken white Inheritance metal; all broken Guardbots have been consumed and turned into a new shape. A huge monstrosity that possibly dwarved even the mightiest Lorons, armed with huge long tentacles was now gleaming in the moonlight - the type of Inheritants that was originally presumed to be nothing but a myth. Flying in the air, it has moved at high speed to its enemies, crushing everything on its path. Nalramath stood down attempting to slow it, but was simply crushed by the robot's sheer mass, his blood splatting across the battlefield. One of the greatest Imperion warriors and the captains of the Divinarium was defeated in a second, an inglorious end for the glorious warrior.
Caring little for death it was bringing, the machine continued to reap the lives of the living, firing its gravity cannons and ripping its enemies apart with its tentacles. Unlike the previous Inheritants the Zoles warriors have been fighting, this one could not be defeated at all; it did not even stop under fire. Zelfron, after seeing his loyal troopers dying, shivered in fear; it was rare for a warrior like him, but when such a threat appeared, he could do nothing but to say:
Zelfron II - FALL BACK! TO ALL REGIMENTS AND FLEETS, FALL BACK! RETREAT, CONSOLIDATE... WHATEVER! This monster... cannot be defeated.
The Divinarium soldiers, as well as Zoles warriors, have fled with much hesitation. Even though they would surely taste death and defeat in this battle, fleeing was cowardly regardless of that. Embarking in transports and tanks, all remaining forces on the planet moved to the largest city there, where they could organise a better defense against the machines. The huge robot has followed, with its brethren who were fighting elsewhere on the planet joining in. After a long journey and pursuit, Zelfron's forces have reached the capital, where they could fight from. Inheritance armada has besieged it now, and what could be a pyrrhic victory or a glorious death for the remaining Zoles and Divinarium warriors turned out to be something different. Looking on the surroundings, seemingly to scan something, the Inheritance machines have stopped their rampage.
Inheritance robot - Error. No trace of the Artifacts found. Leaving the planet.
In another flash of light, Inheritance robots turned into puddles of liquid metal, leaving the forces of the Zoles and the Divinarium confused. Confused but alive.
The Honey Trap
[
]
Torrent had wasted no time following Tarsus's lead. After arriving in the five-planet system his ship launched several propes. Torrent sat in his chair drumming his fingers, waiting for the probes to come back was usualyl the worst part. After an hour of waiting the propes showed data that revealed the artifact to be on the moon of the second planet. After his fleet warped to the location he ordered several crew to the surface.
They discovered an ancient bunker that had been buried under a cave-in caused by a nearby meteorite impact long ago. While soem of his crew did fall prey to what defences reamined they discovered the artifact. As they hauled it back to the surfact the sensors on Torrent's ship detected inbout hyperspace fluctuations. He bared his teeth as the signals headed straight for him.
Torrent - Blast it lads, we've been found out. Pack that thing up and lets get outta here!
He was interrupted when the signatures revealed themselves as a Draconid fleet. Answering the hail he looked at the face of Admiral Dacia.
Dacia - Captain Torrent. Under the jurasdiction of calactic law you are under arrest for the assault of a Draconid citizen, assaulting an imperial fleet, resisting arest and genral piracy.
Torrent - Is that all?
Dacia - We have hyperspace inhibitors surrounding the planetoid, surrender and your trial will go easier.
Torrent - You really don't know me at all do you.
Loktan crew member - Boss, they're right. We can't do FTL inside this field.
Torrent - Bah! End transmission and let's get outta here.
As Torrnt's fleet shifted to escape the Imperial fleet moved closer. One of the carriers launched dropships to capture the ground teams while Gangplank cruisers approached his ship. Under his thrusters the ITN could easily catch up. Both fleets fired on each other as the pirates crawled to the edge of the field. It was not long before gangplank cruisers apprpaoched his ship and fired boarding pods at the hull.
AI - Warning hull breach detected.
Torrent - Keep going, I want to welcome our guests.
Torrent headed own to the bowels of his ship where the ITN had deployed marines. When one of the marines spitted Torrent they opened fire to incapacitate him, he fired back, quickly killing them. he battled a dozen marines who were making short work of some of the weaker crewmembers. As he was fighting a nearby ITN cruiser was destroyed from a volley from the ship's guns, making a small hole in the hyperspace inhibitor field. This was Torrent's cue but due to the size of the hole he was limited to warp drives.
Crewmember - Captain, that explosion gave us a chance to make warp jumps.
Torent - Do it, We've overstayed our welcome!
Crewmwmber - Aye captain.
A marine tried to take Torrent from behind however Torrent noticed him and grabbed the soldier by the throat, plunging a sword into his stomach dropping him. He continued to fight the marines boarding his ship as they edged closer to the edge of the field. As he headed back up to the bridge the ship made a short FTL hop to the edge of the field and as they passed through it the ship almost immediately activated longer-range FTL and headed for the nearest cold relay.
Torrent - Blasted aliens. Volim is not going to be happy when he hears about this...
---
Back in orbit of the planetoid the fleet had some of the ground team in custody. Two of them had been Zí-Jittorám and were brought on board in bodybags along with the artifact. The sergeant saluted as Dacia arrived in the hanger.
Dacia - Sergent what is this? I told you to take them alive.
Sergeant - Sir, have you ever tried telling a Zí-Jittorám to come quietly? These two took out five men before we managed to subdue them and three others are being treated for serious injury.
Dacia - Point taken, good work sergeant. Can I ask why you wanted to bring the artifact on board? Don' you remember the reports from other sites?
Sergeant - With all due respect, I would prefer it if this thing was out of reach of the legion, the consortium and whoever else wants it.
Dacia - Point taken, I will arrange for safe transport to Dranvamus. I would rather risk the droids getting their hands on these things over the inhabitants of this place.
The sergeant saluted and ordered for the artifact be taken to a secure hold as the fleet returned to Draconid space.
The Great Artifact Robbery
[
]
After some effort the Artifact was uncovered and loaded aboard the TNSS khatha'Raemus. Fearing an ambush by either the Inheritance or the the Wranplower Legion Kerella Dacia had requisitioned for a large escort to protect the convoy as it returned to Andromeda. Tarsus greeted Kerella on the bridge and hoped a smooth return to Andromeda would be the order of the day. 12 light-years from the wormhole to Andromeda the BCN lashed out. Attacking the convoy on the borders of the uninhabited Salverid system. As the fleet passed theo uter astreoid belt the ships made theri move and fired their weapons.
The BCN fleet deployed numerous shuttles as the TNSS Khatha'Raemus. came under fire. In the midst of battle the ship's crew gathered weapons to hold off the attackers. The BCN shuttles opened, and out of them come holograms and test dummies. The emergence caused confusion on the lower decks. On the bridge, Dacia sat in her command chair spouting orders to keep the shuttle passengers contained along with a protective forse sent in Tarsus' direction. Out of one of the shuttles, a pale-looking undead Heeyorian figure cmes out, and threw energy knives at 5 marines, killing them, before jumping up to the ceiling and clinging on. It was Sollow.
Sollow - Hahahaha...you mortals want to dance?
The marines opened fire without saying anything. Sollow was hit several times, but the shots have no effect on him as he healed instantly. He mockingly said their actions were dissapointing as they refined theri aim. In a flash, he slaughtered several more marines with knives and brute strength, throwing them and rushing at them. Furious and wanting to slow him down one of the marines pulled out an ion pistol and fired in Sollow's direction. Every shot missed as though he knew the trajectories.
Sollow - Muscles, they tell me a lot. They even tell me when and where you are going to fire your gun.
he kept throwing knives and noticed that with some of the knives they impacted the marine armour. Power surges flow from the knives as the impact charged the batteries on the marine power armour. Sollow was unfazed by this development.
Sollow - That is some strong armour...these knives normally penetrate...
Marine snorted in response. Elsewhere several marines huddled up in a corner, afraid. Each of them were slaugthered by an unknown figure hiding in th shadows. It was Genrai Nal. Genrai cloaked again, wandering the battle slaughtering marines justs as Sollow was. The reports were being recieved on the bridge as Dacia leaned forward.
Dacia - Status report, now.
Officer - two hostiles currently on the lower decks.
Genrai Nal - Of all the Draconid Imperium has to throw at us, I am disappointed. I am yet to find a single worthy adversary.
Marine - Admiral we're getting claughtered. Vent the deck if you have to!
Dacia - Greethspit... *she stands up from her chair* captain you have command I'm going to secure the hold.
---
The marines continued firing theri disruptors. As Sollow and Genrai travel down the hall a squad emerges at the end in an ambush.
Sollow - How disappointing...
Sollow threw knives at the marines, and as they charged at Sollow, Genrai cloaked and stabbed them from behind. They had no cance against the army of two that were storming towards the primary cargohold. Sollow acrobatically jumped around, drawing fire from the marines as well as stabbing and throwing knives at them. He drew out his main blade, and cut the throats of more mairnes. He then licked his blade with his snake-like tongue. Meanwhile, Genrai continued to murder many more marines. The reinforcements slowed as the rest of the marines followed the Sergeant's order to hold theri ground.
Captain - Admiral they'll tear you apart.
Dacia - It is either me or the marines. I hate seeing them slaughtered like this.
The captain nodded and tossed her a plasma shotgun from an opened weapon case. She headed into a trubolift and activated a portable shield generator. A feeling of dread entered her heart as she descended. She did her best to not think of the feeling as the lift sped down towards the cargohold.
Genrai Nal - Sollow, I have reason to believe their stronger forces are on the move.
Sollow - Ah yes...perhaps we will meet an opponent worthy of battle...
Genrai Nal - We are nearing the cargo hold. If the marines continue to come as easy as this, perhps we will take the ship down too.
Sollow - Yes...
Dacia - I want two battalions on standby in the cargo hold. Have them take point and cover every opening.

Sollow and Genrai Nal took the elevator leading to the cargo hold, murdering every marine inside it.
Genrai Nal - I believe it is located on this floor. There are many entrances, but they will be heavily guarded. No matter.
Sollow - For these mortals, heavily guarded is like a few more unworthy combatants than usual.
Dacia's turbolift opened and she jogged down the auxillary corridor. Her door opened to dozens of marines hiding behind makeshift barricates and deployable forcefields. They look at Dacia but it was hard to tell what they were feeling behind their visorless helmets. In the centre of the chamber was a large black monolith preotected by two non-phasic berriers. The two descended down the eleavtor, and as it opened, another bloodbath awaited them, as they murdered all the marines heading to them, and went to the nearest entrance.
Sergeant - Arms up. I want hell to greet them at the door.
Dacia - Let's make this count.
Genrai Nal - Wait. There are huge forces up ahead that could cause us some problems. I will sneak ahead and take them out.
Sollow - Nonsense, I'll go. It's not like I'm going to, I dunno, fall dead on battle anytime soon... I died once. I can't die twice.
The door was cut open, slowly, and suddenly breached. Sollow opened the door shouting "surprise" and was immediately met with a barrage of fire from the imperium's fusion guns. Sollow dodged the shots and and the shots that hit partially disintergrated him only to heal up in seconds. However, a few bug like creatures had begun pouring through the door and eat at the marines...but they weren't from either Sollow or Genrai. The sounds of snarling and roaring from many vicious, drooling mandibles erupted and stormed into the room, varying in many sizes. Some were shooting green bio-bullets at both sides, while others sliced and slashed about angrily.
Captain - Admiral we have new contacts. I cannot confirm who or what they are...
Genrai Nal - It seems we have another opponent.
Dacia - Shit.
Genrai and Sollow began to cut away at the creatures, not focusing on the marines. Realising the futile situation the sergeant called for the marines to fall back. The marines backed towards the door Dacia entered from but she stood her ground. The bugs made up a large, organic swarm that was eating away at the marines, while hidden within the massive swarm, Kol Daren outswung his arm, knocking Sollow back out of surprise.
Genrai Nal - Ah, the dance of battle! Identity yourself. And state your purpose.
Dacia - *mutters into her earpiece* Captain, prepare to decompress the cargohold...
Kol was able to hear and chuckled deeply before he stretched his arm.
Kol - I don't think so, captain.
The earpiece sparked. Causing dacia to sqawk as the device malfuctioned, she hastily pulled it from her head her head.
Genrai Nal - Ah. You are the one they call Kol Daren. Perhaps I shall meet a worthy adversary in battle afterall.
Kol - Genrai Nal, your reputation precedes you. I see that your...partner here is doing a fine job of making a mess of things.
Genrai Nal - Less talk, more combat. I will savour this moment, as I do any great battle!
Dacia readied her shotgun and backed towards the door. Sollow grabbed Dacia from behind and held a blade to her throat, ready to cut it. She sqawked as she was grabbed.
Sollow - Now, watch where you point your toys...
Dacia - Piss off... pirate s-scum!
Sollow - I will not hurt you...but you will not hurt us...you are to vent this cargohold, correct?
Kol huffed with a smirk and tensed his muscles, an aura surrounded him and he began to levitate into the air. genrai readied hs blades.
Kol - We'll see how much you'll enjoy this.
Genrai Nal - Excellent!
Dacia - ...on my word...
Kol looked down at Genrai his long sharp claws extended like blades.
Sollow - Then you shall...as soon as I permit it, I will let this blade go, and you will vent your cargohold, and no one shall be hurt. But do it early, and I will cut your throat.

Genrai Nal struck first, cutting at Kol Daren's legs. In response Kol's tail rose up, causing a slash under Genrai's chin.
Dacia - So I die either way? Hah.
Sollow - I will let you live...if you wish...
Dacia - If you hadn't noticed, I am not wearing a spacesuit.
Sollow - But there are such things as teleporters. You will die either way. But co-operate, and you will live...unofficially...under our terms...
Genrai continued to knock blows and slash Kol Daren. Kol simply folded his arms and sighed as he blocked a majority of the slashes with his tail.
Dacia - It sounds like you think I fear death.
Sollow - But you do. All you mortals fear death like it is a demon. But death is not as bad as you think it is...

The two continued to brawl it out shouting banter at one-another as they dueled, causing massive damage to each other. Sollow then let go of Dacia.
Sollow - Dacia died today. But not really. She actually lived...
As he finished with Dacia relaxing a hail of disruptor bolts flew from behind him. One hit him in the uper back, prompting him to turn around. When he turned back to look at Dacia the muzzle of her shotgun was barely inches from his central eye and she was scowling. A blast from her shotgun sent him staggering back as the blasma bruned away his face. While distracted Dacia ran for the squad who continued to fight off the swarms that were moving around Kol and Genrai.
After the doro sealed Genrai and Kol continued fighting. Sollow stood up and grunted, reealising what had happend. Kol Daren lookoed over to him after smacking Genrai with his tail. He chucked as Genrai stood up and vanished in purple smoke.
The HXTs that had once circled the field were now closing in. genrai and SOllow fought desperately to keep the mat bay. After several minutes of ficghting, of which both swere shoing little signs of being worn down Falrik contacted the mon their communicotors.
Falrik Zaarkhun - Are you having any luck with that artifact?
Genrai - We have a problem. Kol Daren appeared, and he had brought his bugs with him.
Falrik - I see. New plan, I want you both to return to the Iron Fist. Let the heroes have their relic.
Genrai - That is not like you, Falrik. You want us to give up? It is behind a shield, we are drawing nearer, so close I can almost taste it.
Falrik - Let's just say, this task is becoming much less profitable thanks to this 'Draconid Imperium', and their refusal to give up so easily as I expected. I, of course, was prepared for this.
Genrai - So we are simply packing up?
Falrik - Look at it this way, Captain Torrent was nearly captured, twice, this 'Admiral Dacia' has been there every step of the way and is getting wiser to us and now we have Kol Daren pursuing the artifact. I think it is best if we look for safer alternatives.
Sollow - Why don't we take the artifact from wherever it is going?
Falrik - Again, that is going to take resources. And a lot of looking, because my sources tell me this Imperium of theirs is big.
Genrai and Sollow both looked around and growled.
Genrai - Another Zoles Imperium, how wonderful. Fine. We'll let the unworthy have it. But I hope this does not become a trend.
Falrik - You and me both, Genrai.
Sollow and Genrai cut their way back towards the shuttle they had arrived in. The BCN's assault fleet soon left the entire battle behind as they retreated. Leaving the convoy to wear off the attack by Kol Daren.
An Admiral Breaks
[
]
Dacia and the marines had jsut passed through the door as the HXTs screeched and snarled trying to reach through the door. Dacia and the squad closed it, crushing an insectoid arm in the process. The magnetic seal activated and a shield pule erupted, sheathing the door. They all took a deep breath and she leaned against the wall as the sergeant approached her.
Sergeant - Any serious injuries?
Dacia - None, I'll be fine...
Sergeant - Be thankful one of the crew used their initiative.
Dacia - Which one?
The sergeant coughed and backed to the side. A Zazane walked up to her wearing a lieutenant's markings and saluted.
Ghoro - Lieutenant Ghoro, sir.
Dacia - Thank you lieutenant.
Ghoro - I was with the Brood of War while they were stationed in Borealis. That... abomination you saw is called Kol Daren and he is... well he is a menace.
Dacia picked herself up, regaining her breath.
Dacia - It's not surprising since he was able to fight off a man who had decimated the ship's marine units.
Sergeant - Admiral you should get back to the--
He stopped abruptly as something was heard crawling in the vents above. Everyone readied their weapons.
Sergeant - ...Everyone to the bridge, keep an eye on every crevice.
The squad moves through the corridor in a ring formation with Dacia and Ghoro in the middle of thr group. Snarling and growling was heard getting louder as large bugs run through their corridors, smelling their scent. The marines continued moving. While it was not visible through theri helmets there is a creeping sense of dread washing over them. Some Draconis-sized bugs turn around the corner, snarling as they slowly get closer, while quickly, a crab flipped its way through the ceiling above and landed on Ghoro, gripping its spines deeply into his which caused him to roar in pain.
Ghoro - Get this thing off me!!
The marines opened fire on thwe larger bugs while the sergent turned backwards and plunged an energised combat knife deep into the crab's side. It let out a painful screech, but the spines were still dug in, as were the claws on its long limbs. The sergeant twisted the knife to cause mroe damage. His helmet equipment shielded him from the noise. Ghoro furiously tried to pull the crab off, baring his teeth in the process. As the knife was twisted the crab spasmed and its limbs flopped out, while the spines were quite firm into Ghoro's back, secreting a strange purple liquid without anyone noticing. Eager to get the thing off the sergeant pulled the knife out and used it to sever the crab from the spines. Throwing the body as far as he could.
Sergeant - Medbay, now.

---
Dacia - Ghoro, what is your status?
Sergeant - Admiral we don't have time for first aid, he needs those spines out and needs full mediccal attention.
Ghoro did not answer out of an odd sense of defiance.
Dacia - Lieutenant, stay with me. If you are not feeling okay we have to know.
Ghoro stayed silent, perhaps muttering or whispering a few words that were too quiet to be heard, until he simply stood still, dropping his weapon and shambling a bit. Everyone approached a lift and heard the clank of his weapon landing on the metal floor. Dacia hastily turned to him.
dacia - Lieutanant?
Ghoro tilted forwards until he fell onto his knees, his eyes rolled back, revealing that they had gone from the usual whitish colour to a now near-on pitch black and his mouth was wide open, gurgling.
Dacia - Shit. Sergeant a nanite apray, now!
The sergeant pulled out a silver canister and cautiously approached Ghoro.
Sergeant - Ghoro, this won't hurt. It should keep your symptions at bay long enough to reach the medbay.
Ghoro gurgled more, gasping for air as he then quickly stood up and was swinging his arm around, whacking the sergeant into the nearby wall with a surprising amount of strength. Dacia lifted her shotgun out of caution. Other marines lifted their weapons in response
Dacia - Lieutenant if you can hear me you have to control yourself!
Ghoro held his head, while his scales and skin bulged, his muscles were expanding unnaturally while his breathing became more frantic, almost animal-like. he could barely say "I...h-hear...". Dacia ran over to the nanite spray which had landed halfwway between Ghoro and the Sergeant and picked it up, holding it up towardss Ghoro with one hand and her shotgun in the other
Dacia - You are going to be... fine...
Ghoro's skin had turned purplish colour, and he was a little larger than before, and he looked towards Dacia before taking a few non-hesitant steps forward. The marines backed away as Ghoro appeared to grow, his uniform tore as his flesh expanded. Dacia prepared to apply the spray. Ger heart was racing, overcome with dread and she applied the spray before dropping it. Ghoro lunged, barely missing her and instead attacking the sergeant, his long fangs wrenching out armour and flesh while his long tail whips about, striking a few marines.
Dacia - Ghoro... Ghoro stand down!
The marines fired hastily but after a few shots they realised their weapons had little effect. Ghoro snarled and wrenched out the sergeant's throat, turning his head so it lands directly at Dacia's chest with a splatter sound when it crossed her armour. Ghoro then stood and roared at the other marines. Dacia lifted her shotgun, unsure if she was still speaking to Ghoro.
Dacia - Stand down... that is... an order...
Ghoro lunged, and took down another few marines. There was a familiar chuckle from somewhere in the corridor. Dacia backed towards the turbolift calling for everyone to fall back. As she stepped back, she abruptly bumped into a rather large, scaled figure and the sensation made her turn pale; Kol Daren smirked and pushed her forward. As she was pushed forward she stumbled and turned around, altering the settings of her shotgun for close-range she fired hastily. Kol grunted as the shot pounded against his chest, he knelt down on the floor groaning. Dacia pumped suspiciously and aimed at his head. scowling. Kol continued to groan, but suddenly looked up at her and smirked
Kol - Stupid mortal.
Dacia panicked and fired at his face. The bullet shattered against his skin and he stood up quickly, chuckling as he did and grabbed her shotgun, bending the barrel backwards with ease. Her breathing increased as she let go of the now-useless weapon. She backed towards the wall.
Kol - You should feel honoured that you are in the presence of a god.
Dacia - Wh...what?
Kol - Of course, you mortals always were stupid, worshipping your silly little idols and statues while you threw dung at each other around campfires. I am Kol Daren, Lord of the Zazane.
Dacia - No...no no no, you can't be. These bugs, they're your doing aren't they? What did you do to the lieutenant?!
Kol - The Zazane? I perfected him, I allowed him to evolve to the next level of Zazane. I gave him perfection, at no cost aside from his complete loyalty to me!
Dacia - Yeah... I've heard that before.... He can't be superior, he's a monster, you made him a monster!
Kol - No, your mortal mind cannot comprehend perfection. It's why you are so weak, as your kin were.
Dacia - You're lying... you're lying, I know you're lying!
Kol - I pity you. Your weak, frail eyes fail to see what I have accomplished. The future of the Universe shall be one of unity and peace. But in order to do that--
Kol smirked and approached her as she backed away.
Kol - I need to wash away the stains.
Dacia pulled out a handgun and kept it held to her side. Kol smiled, and simply by closing the palm of his hand, the gun crunches and shattered. Dacia let go of the crushed gun. She briefly looked to Ghoro to see a sight of gore that made her feel uneasy. She turned back to Kol and felt the cold of the wall behind her. Flowing through her head were thoughts that her death was close. Uncomfortable words to describe her situation rushed like trains forming a constant stream*
Kol - The bugs that plague this ship, they are mere pawns, created to spread the formula of perfection onto Zazane, while at the same time eat away at the perverse mortals that defile this beauty, known as the Universe. And this includes even you. You are nothing but a petty bug that stands against a god.
For the first time in years, Dacia was speechless with fear. Only spouting quiet and brief chirps. Her back was now pressed against the wall and the colossal Zazane stood in front of her.
Kol - Before I crush you beneath my foot, I want to ask you a question. What do you know of...the Inquisition?
Dacia opened her mouth but could barely respond. After a few breaths she gathered the will to speak.
Dacia - Inquisition?
Kol - You heard me. Inquisition. Who are they? Where are they located?
Dacia - They're a part of... the C-cult of Drakon. They patrol the Imperial territories and fight belief systems they think are bad.
Kol - Hmph, Cult of Drakon? Who is this "Drakon"?
acia - Draconis... s-see him as their god. According to stories he wrote them a book on how to live a rich a-and f-full life.
Kol stood in silence, before bursting out with sudden laughter.
Kol - A god? A god?! Anybody can write a book! What use is a book, when power is the substance and force that gets you somewhere in existence? I shall destroy the Draconis, and have them denounce their fate in their supposed "god".
Dacia - M-most Draconis I have m-m-met believe in him o-one way or a-another... I don't kn-know much about the in-intriciacies.. but Inquisitors are some of th-the most p-powerful agents in A-Andromed-da..
Kol leaned in closer to her. She leaned back in what little room she had.
Kol - Andromeda?
Dacia - Y-yeah...Th-the Imperium is from there.
Kol - Tell me more about Andromeda. How do I get there?
Dacia - Kerella Dacia, Admiral, 11325572-6.
Kol - I asked for the location of Andromeda, not for your name.
Dacia repeated, reciting her name rank and serial number. Kol growled and placed a hand against her throat.
Kol - If this is some sort of brave act in death, it is not working. It seems I will have to read you.
Dacia she repeated again with a feeling of absolute terror. Kol lifted her up and looked her dead in the eye, reading her memories and thoughts, seeing images of Andromeda and the gates between there and Borealis.
Kol - Mmm...very nice...so full of dirt like yourself.
Dacia - You won't s-stop them! Dominicus Vinterva!
Kol - It is no use, mortal...
Kol forced upon Dacia images of Zazane females being raped and beat mercilessly by Kol, as well as visions of the bugs being reawakened and feasting on their corpses.
Kol - Mortal scum like you deserve worse than this.
Dacia - You... you are disgusting! No wonder Ghoro c-called you an abomination!
Kol - Ghoro is no longer, I have freed him from your mortal grip, as I will free the billions of other Zazane!
Dacia - You *gasps* are in..sane...
Kol dropped her, and grabbed one of the rib bones from her fallen comrades, who was at least half alive. He raised it and then slammed it into Dacia's leg and into the floor.
Kol - Don't waste your breath. You will be needing it.
He kicked the nanospray at her, before him and Ghoro teleported in a bright, purple light. Dacia was left alone, Kol had take nthe HXT's with him. Wrenching the bone from her leg she reachedo ut and administered a spray. She panted, chirping wearily as the wound closed up. She heaved herself up and pressed ap lnel on the wall, asking for medics to head to her location.
The Morning After
[
]
Hours later Dacia was resting in the medical bay with a cast around her leg. Tarsus was in the same room with a bandage around his right arm. The cpatain entered the room and took his hat off. he sat on the empty bed next to hers and huffed with sadness.
Captain - Admiral are you still sure it was a godo idea to take the artifact away from here?
Tarsus - Those... things. Those bugs were teaaring the ship apart.
Dacia - Wh.. what happened to the pirates?
Captain - From what we can tell they left, the artifact's outer shielidng recieved soem minor impacts but it is still holding.
Tarsus - We're still on course for the gateway. We should be there in a few hours.
Dacia - Gateway?
She sat up in alarm.
Dacia - Captain that Zazane, Kol Daren, he is planning to head there, he's going to Dranvamus and he is not the type to take 'no' for an answer.
Captain - Admiral, you of all people know that the gateway is one of the most heavily fortified locations in Borealis imperial space.
Dacia - I know, and thanks to me he knows as well!
Tarsus and the captain pulled their lips shut. Blinking.
Tarsus - Admiral... Can you repeat?
Dacia - He read my mind, he scanned every memory and every piece of knowledge I have, he knows everything I do and he's going to attack with a forcelarge enough to take on the numbers I last new about. We need reinforcements in that area and on the Dranvamus side as well.
Captain - Dacia calm down. Even if he did breach the defences he would need to activate the gate using the right codes which only gateway command members know.
Tarsus - He read your mind?
Dacia - He was asking about the inquisition... he wanted to know about them. Gateway command needs to be placed on high alert ASAP!
Tarsus - Admiral, if you think him having your knowledge is a risk them we both think you need to relieve yourself.
Dacia returned to a position lying fown, the events of the assault were still fresh in her mind.
Dacia - You're right. Once we return to imperial pace I will put forward a request for relievement. Unti lthen I will remain in command of the mission.
Tarsus - Understood.
The captain returned on deck and the convoy, now recivering from the attack, headed for the Andromeda Wormhole.
Ancient Revelations
[
]
The Real Artifact
[
]
It was not long before everyone realised that the artifact they had recovered was a fake. There was indicators however on the artifacts that pointed to one specific location. Admiral Dacia, frustrated that her chrage was for nothing had managed to recover from her ordeal with Kol Daren and gathered veteren soldiers along with allies from UNO and the Zoles Imperium in her war room. She agreed to lead a ground team to a lone spire jutting out of the wastes of a planet in the system's life-zone.
Within a few hours the ground forces all convergd beneath a huge spire building. As Zr'Ahgloth and Fre'klaor argued over posession of the artifact admiral Dacia and UNO arived with a large contingents of soldiers. UNO had agreed beforehand that the admiral, on behalf of the commonwealth, would claim the artifact. With soldiers facing him at gunpoint and as Grak'tona states his reasons a huge storm was heard, and a diabolical insane laughter is heard, followed by another, Loronic yet descended roar. Finally, two more figures. Ref'kolar, Gratz'kaoz, Br'klakkon and Falrik Zaarkhun all arrived at the rooftop.
Ref'kolar - It is very funny you fight over the artifact...WEV FOUND IT AN WEZ IN DA PROCESS OF GRABBIN IT OURSELVS
Gratz'kaoz - I DUNT CARE FOR DA ARTIFACT I JUS WANNA KILL PEEPZ
Br'klakkon - Gentlemen, prepare for a dramatic show of pain and beauty! Our goal is achieved. Gratz'kaoz, dispose of these miniscule pests.
Gratz'kaoz - YEH
Dacia scowled, with a few movements the marines surrounded the tower pointing their weapons upward.
Fre'kloar - Wait man...is dat Zaarkhun?
Hagto'Zhl - ZAARKHUN MAN WAT DA HELL AR YOO DOIN
Falrik Zaarkhun smiled grimly. He pointed his pistol at Br'klakkon.
Falrik Zaarkhun - I apologize for any inconvenience, but I already have the artifact.
Ref'kolar - I knew you were not trustworthy!
Dacia - Criminal scum, hand it over!
Br'klakkon - Forget not who you are, worm. Give the artifact now and I shall assure you *won't* be fed to Gratz'kaoz. Maybe.
Fre'kloar - ZAARKHUN BETRAYED ME? DATS DUM I DUNT LIKE YOO ANYMOR
Falrik Zaarkhun - You see, I told Br'klakkon that I was working with Zargoth. My spacetime technology made this believable. But in fact, I have never once seen Zargoth since he took over my body! I lied! I killed Zargoth's agent and posed as the agent.
Genrai uncloaked and Sollow appeared, alongside the Rogue Boyz.
Sollow - Don't worry, he's on your side.
Fre'kloar - he is?
Sollow - Did you not listen to him? He posed as their ally, only to take the artifact from them.
Fre'kloar - oh. i tough he wanted da artifact for himself or sumfin

Br'klakkon - Pathetic creature. Gratz'kaoz! Feed!
Ref'kolar - And you think your little pistol can harm us, ascendeds and descendeds?
Gratz'kaoz - IMMA BREAK YOO UP
Falrik Zaarkhun - Maybe a gram of antimatter mightn't harm you. But what makes you think you can harm me?
Dacia - I am taking the artifact for the Imperium and I don't plan on standing aside for anyone.
Br'klakkon - Your very intelligence, or lack thereof, proves your incompetence and weakness. It rightfully belongs to me, lord Br'klakkon.
Dacia - Talk is getting us nowehre. Stand down or we shall take the artifact ourselves.
Ref'kolar - And you!
Ref'kolar prepared an entropic blast, aiming at Zaarkhun
Ref'kolar - I will tear you apart!
Falrik Zaarkhun - Really? Please, do try.
Ref'kolar launched an essence blast at Zaarkhun. Gratz'kaoz ran into his direction. The energy blassed somehow missed Falrik, being redirected around him. He reminded them that he cannot be hurt in that way. Gratz'kaoz grabbed Zaarkhun who held up the artifact in his hand.
Falrik Zaarkhun - This particular artifact is made from the technology of the ancients of Andromeda and the Cold Ones combined.
Gratz'kaoz looked, and saw the Zaarkhun he grabbed was a decoy, and that Zaarkhun had teleported instantly. At that moment, Dacia, reaslising that she had to act, lowered her arm and the marines converged to ascend the tower. Gratz'kaos screamed in rage.
Falrik Zaarkhun - You don't seem to understand. This artifact is capable of something that you wouldn't be able to control. It uses mind control!
Jol'kiar - NO DUNT LET DEM GET DERE
Da Rogue Boyz all entered the tower and Zaarkhun reappeared on the rooftop. He held out the artifact. Gratz and Ref both jumped into the rooftop. Ready to grab Falrik.
Do You See This?
[
]
Farik Zaarkhun - Behold, true power of the ancients, which only I can wield!
Gratz'kaoz - I DUN CARE MAN I JUS WANNA KILL YOO
Zaarkhun activated the artifact and with a flash every single soldier stopped their approach towards Zaarkhun. dacia cried out to regain control among her soldiers. She could do nothing. Falrik pointed his fingers in a gunlike position, and 'shot' a flying Loron helicopter, and then an UNO one. Falrik jokingly said "Bang!" after each 'shot', and the vehicles suddenly crashed and exploded. Falrick laughed, relishing in the moment while other commanders tried to garner what was going on. Dacia squawked and opened her wings. Falrik Zaarkhun held his imaginary 'gun' to his head, and 'fired.' All of the troops, except the Rogue Boyz, suddenly started to feel headaches, to collapse, and feel generally uneasy. Dacia collapsed ot her knees. Look at yourself Falrik. Yo hold.. you hold power beyond you!
Falrik Zaarkhun - Hahahahaa...dear Dacia...
Falrik Zaarkhun held out his arm in a gun like position.
Falrik Zaarkhun - Die!
Gratz'kaoz - ...WAT DA HELL AR YOO ALL DOIN?
Ref'kolar - Enough of this...give me the artifact now!

Dacia pulled out a fusion pistol. She felt certain that Falrik's own actions proved why the commonwealth wanted to hide the artifacts away. Falrik repeatedly 'shot' this gun. Several BCN troops deployed in front of him and began shooting at the hundreds of soldiers and vehicles unable to fight, killing them all. Falrik Zaarkhun laughed almost manically. Ref'kolar ran into Zaarkhun's direction, trying to get the artifact from him. Dacia squawked and launched herself into the air, flying towards Falrik. Ref'kolar was kicked back using the same technology that prevented anything hitting Zaarkhun. He 'shot' Dacia and she fell with a squawk and landed on the ground, meekly lifting herself up.
Br'klakkon - Hah. Zaarkhun. Your intelligence is something to be admired.
Falrik Zaarkhun laughed, and then yelled out at the sky.
Ref'kolar - Gratz'kaoz, don't you feel the power piercing through your mind?
Gratz'kaoz - Eh? wat powa?
Ref'kolar - ...Figures. You're too insane to be mind-controlled.
Falrik Zaarkuhn - DO YOU SEE THIS VOLZARA, ZARGOTH?! DO YOU SEE THIS?!?! I AM VICTORIOUS...YOU CANNOT STOP ME!!
Dacia - Ancient spirits I... I can't believe what he's doing...
Falrik Zaarkhun began to laugh, as Volim and Torrent joined him in the mass murdering. Zaarkhun turned to Gratz'kaoz.
Falrik Zaarkhun - You...you are resistant, I see? Ancient technology that breaks the fundamentals of this dimension can touch even Tuolog...but you are unnaffected?!
Gratz'kaoz - Im too sik for ya
---
Admidst the chaos an imperial dropship headed towards Dacia's location. Dacia clamboured up, broken from the fall she pulls out a nanospray to help her recover. Loron and BCN troops spilled oil over where the UNO was fighting, and Drizzy'pyrokirk and his boys set it alight. As this oil spread, UNO, Zoles and Niaka tried to run away, still finding it difficult to overcome the power affecting their mind. Zaarkhun turned back to Gratz'kaoz. he shot the ground beneath Grfat'kaoz, the miniature explosion causng Gratz to fall into the flame. he was burned, but felt no pain. As the dropship came close Dacia climbed aboard and it immediately began to fly away. Falrik fired shots from his pistol, which mightn't have kileld him, but kept him burning as the flames began to consume him. Everyone called to retreat if they could. Tuolog managed to get UNOL to escape, with the rest of UNO's forces retreating. The Niaka and Zles forces struggled to retreat, and some got out alive. The Rogue Loron all fired their weapons at the allied forces while Falrik Zaarkhun laughed maniacally. Dacia managed to rescue a few soldiers as they fled.
Falrik - DO YOU NOT SEE THIS!??
Gratz'kaoz - I see a big mouff on a tiny body dat im gonna crush
Dacia - Pilot.. get us away from here... now!

Gratz'kaoz struggled to escape the fire and fell. He was burnt to a crisp, barely breathing. Zaarkhun laughed maniacally. Then, suddenly, a few explosions were felt. The Vague Fate had arrived.
Falrik Zaarkhun - It's the Vague Fate!
Fre'kloar - DA VAGUE PEEPZ? SIK DEYZ GONNA KILL UNO FOR US
Jol'kiar - BAK IM MA DAYZ WE DIDNT LET PEEPZ KILL OUR ENEMIES FOR US
Falrik Zaarkhun - I would be cautious. The impact of their attacks, while aimed at UNO, will hurt everything here. We ought to evacuate.
Fre'kloar - Alrite sur. OI BOYZ LEG OFF
dacia's dropship closed up as they fly away. Despire protests from Ref'kloar the BCN troops hurried to evacuation points. Zaarkuhn looked at the sky one last time before deactivating the artifact.
Falrik Zaarkhun - YOU HAVE SEEN NOW WHAT I AM CAPABLE OF, ZARGOTH, VOLZARA, ALL OF YOU!! MORTALS ARE FAR MORE POWERFUL THAN YOU WOULD THINK, FURTHER BEYOND YOUR CONTROL THAN YOU KNOW!!
Zaarkhun teleported out with the artifact. Dacia felt the effects of the device wearing off she leaned back inside the dropshp. Down below the Loron headed to trukks desperate to retreat from the scene.
Da Sikkest Boss Battul Eva
[
]
The Rogue Boyz all got in their truck to leave. When they were a few km away; they were kicked by a demonic-looking figure chasing after them. Gratz'kaoz was not yet dead. The Boys were terrified as the truck rocked and rolled over.
Gratz – I SEID IVE BEEN IN WORSE STOOF AN I MEANT IT. WHERS DAT ZAARKHUN MUPPET I WANNA KILL HIM
Fre'kloar – i dunno man but wat i do kno is dat WE ISNT YET FINISHED''
Gratz – FRE'KLOAR YOR BLOODY TINY MAN I SWER. YOO GOT EVEN TINIA AS TIME PASSED
Fre'kloar – an yoo got bigga but YOR BRAIN CLEERLY DIDNT
Jol'kiar – MAN DERES ONLY ONE WAY A LORON CAN SETTL DIS...FITIN TIEM!
Gratz – SHUT UP YA MOMS DUM YA DAD WUS STOOPID AN IM A BETTA LORON DA YOO
Fre'kloar – GRATZ MAN. I FORT YOO TWIC. BOF TIMES I WON. WAT MAEKS YOO FINK I CANT FITE DIS TIEM? LORONZ AR SCARED AS FUK BY YOO. YOR FRIKIN INFAMOUS. BUT IM GONNA CONQUER DA FEER OF ALL LORONZ TODAY. AN SMAK YOO UP A THIRD TIME. I DUNT CAR WHO MADE YA A DEEMUN IT WONT HELP TODAY!!!
Gratz – OI YOO WON BOFF TIMES BY CHEETIN SO IT DOSNT COUNT. ALSO KOLOSSUS MAKE ME A DEEMUN CUS HES SIK AN GET TA EET YOO. NAO SHUT UP AN DAI

Gratz charged at Fre'kloar. The two of them fought intensely but after some time Fre'kloar realised that Gratz was stronger. Fre'kloar conceded. Wondering of Gratz'Kaoz was.
Br'klakkon – Harumph. My plans are not over yet, mortal. You *will* know your place.
Gratz – IVE ALWAYS BEEN BETTA DAN YOO. IM NOT EVEN TIRED. I KNO WHOS NEX. IMMA GO FER ZAARKHUN AFTA YOO. AN DERES ON OTHA PERSON I ENT BATTERED. BADGANGMANZ SON. IMMA FIND HIM AN SMASH HIM AN IF HES DED ALREDY DEN IMMA BRING HIM BAK TA LIFE AN CRUSH HIM TEN TIMEZ.

As Gratz boasted, Fre'kloar laughed to himself. Gratz stopped shouting asked what was so funny.
Fre'kloar – ya see, dey neva found badgangmanz son did he? But yanno whai? IM BADGANGMANZ SON!!!

Gratz stared down for a moment, silent, before bursting into flames, roaring.
Hagto'Zhl – FRE MAN SHUT UP
Fre'kloar – YOR SKIN LOOKS PROPA BURNT MAN!!! ITS JUS AS BURNT AS YA DADS WAS WEN BADGANGMANZ KILLED HIM IF NOT WAY WORS!!!

Gratz stepped on Fre'kloar several times, blinded by rage.
Fre'kloar – OH AN BY DA WAY YOR HOUSE WAS PROPA MESSED UP WEN BADGANGMANZ AN HIS CREW GRAFFITIED AN DREW STOOF ON IT!!!!
Fre'kloar, whose morale was now greater, got up and threw more punches. They battled more but the tide did not turn for Fre''kloar. Gratz continued to prevail over him, hardly damaged by the former's efforts to hurt him. Fre'kloar realised he may have been over his head as Gratz roared at him. His own subordinates were intimidated, with Grak'tona planning to become the new boss if Fre'kloar died. Jol'kiar asked him to do something. Fre'kloar looked at the Rogue Boyz. Each one stepped back, with a sad expression on their face.
Grak'tona – do somfin den lads...actually imma do somfin. OI GRATZ DUNT HURT MA BODYGUARD OK

Grak fired a freezing shot at Gratz'kaoz, which only helped his burning body stablizie and doesn't hurt him
Gratz'kaoz – dat wus nice of yoo. still gonna frikkin rip ya apart afta im done heer tho
Jol'kiar – i guess...we cant do nuffin...
Fre'kloar – nu man...NU I GOTTA...i cant...

Gratz'kaoz laughed in a loud, demonic voice, not unlike that of Kolossus's. Suddenly, Gratz'kaoz was knocked back. This surprised him.
??? – Hahahaha...as FUNNY AS IT IS DAT DA COPYCAT DUMBO IS DYIN...I will NOT allow you to kill Fre'kloar!! I have missed my chance to claim the artifact, and that you should take away something else from me enrages me so much ITS PROPA FUNNY

Gratz recognised the voice as that of Ref'kolar. However a twisted voice appeared in the ears of both Ref'kolar and Gratz'kaoz. br'Klakkon whispered int otheri ears. Coerning them and tempting them.
Voice - Listen to your master... Quit your pitiful warfare and unite against the single foe. It is an imperative to comply.
Both of them were extremely defiant at Br'kalkkon's words. Gratz revealed that he never really cared, before threatening to kill Fre'kloar. Ref'kolar healed Fre'kloar, and the two of them took on Gratz'kaoz. Another battle ensued. With Ref'kloar using entropic energies they were able to severely injure Gratz. As he lay on the ground Fre'kloar kicked Gratz one last time in the head. This killed him. Ref'kolar felt strangely satisfied with the victory.
Ref'kolar – well, my doppelganger, I did not kill you on this opportunity, yet I feel strangely...satisfied.
Fre'kloar – me too cus gratzs ded. agen. STAY DED DAM U
Br'klakkon – in the name of whatever mad gods you follow, joker, shut up.
Ref'kolar – bah. I am no longer your puppet, Br'klakkon; our partnership is now at conclusion. And you have lost Gratz'kaoz, and the artifact, too...
Ref'kolar – he betta stay ded or imma shank his mom. anywayz safe don yeh?
Fre'kloar – imma let yoo go DIS TIME. GET OFF MA SIGHT FOREVA YOO
Ref'kolar – yor squabble continues...how FUCKING HILARIOUS!!

Ref'kolar teleported away, leaving a clown behind him. Jol'kiar was Impressed with the end result. All the other loron confessed that they had all been too scared to face down Gratz'kaoz. Jol'kiar agreed that Fre'Kloar had proved he was a proper Loron. At that moment, Gratz' corpse rose and Kolossus appeared.
Grak'tona – I LOST MA SHINY THINGY...OI WAT
Kolossus – Fre'kloar you have done well. Your epic family rivalry with Gratz'kaoz comes to a close. You will be remembered throughout all Loron legends for this day.
Fre'kloar – safe. OI HAGTO GET JELUS

Jol'kiar was unimpressed. Before he left, Kolossus mentioned that he had to take Gratz's body. He did not say why only that he still had a use for 'Da Devil'.
Zaarhkun's Contingency Plan
[
]
Back on the Iron Fist, Falrik Zaarkhun was feeling very pleased with himself. He held the artefact in his hand smiling all the while.
Falrik Zaarkhun - Well, you have to admit, that was very successful.
Volim - It was all good, except the part where you acted like a cartoon character shouting at people. That was slighty creepy.
Falrik Zaarkhun - Don't worry, you'll understand it one day.
Zaarkhun looked at his console, away form Volim, and then sighed.
Torrent - So, we got the artifact. What do we do with it now?
Falrik Zaarkhun - Like you...I have a fear.
Volim - Hm?
Falrik Zaarkhun - We'll sell the artifact over the black market, as we originally intended, for at least five times its market value. With how desperate the Commonwealth is, they will either buy it, or try to steal it from the Consortium Network. But officially it was the Wranploer Legion who stole it; they can't legally take our artifact.
Volim was curious as to exactly what Falrik was afraid of. Falrik looked at his console with reluctance. The voice of Br'Klakkon whispered into his mind ,causing him to loer his head, he tried desperately to shake the voices from his head.
Br'klakkon - Bravo, Zaarkhun! Bravo! Maybe I could even give you some money of my own for doing exactly what I needed, little servant.
Falrik Zaarkhun - Uh...damn! Get out of my head!!...Volim, I shall tell you later.
---
Terella Dacia returned to the briefing room of the ''TNSS Khatha Raemis''. She slumped in her chair as the communicator beeped. She lifted her feet up onto the table and accepted the incoming call. Holograms of her allies including UNOL, Xerkea and Verkeron appeared in and behind the seats. They were all either disappointed or furious and Terella lifted her feet of the table and sat up in the chair.
Kralgon Emperor - ...What the hell just happened?!
Xerkea - We were humiliated by a power-mad crimelord. That's what!
Dacia - I am still trying to work that out myself.That artifact. It was some kind of mind-control device... never seen anything like it.
Vekaron - I knew this Zaarkhun was a threat. I'll report back to the Imperium, and all ties with that Network of his will be terminated.
Tralkik Commander - It appeared to be using an advanced kind of mind controlling device with apparent extradimensional manipulation of some sort.
Dacia - He seemed untouchable. Quite literally.
Tuolog - That must be 5D. I can tell. It work on the holographic principal by controlling us from the 5th dimension. Dacia, these artifacts...they much more powerful than I anticipate...
Zelfron - Power of technology is great, I learned to understand it.
Xerkea - So many criminals... It's no wonder extragalactics call our galaxy a hellhole.

Zr'Ahgloth shook his head.
Zr'Ahgloth - eh man da BCN's too big a part of da galactic market ta jus get rid of dem liek dat but i got a feelin dat maybe deyz workin wiv da Wranploa Legion.
Dacia - Now you all know why the Commonwealth wants these things locked away.
Tuolog - I do. And I agree that must happen. If you ever need UNO's support, we always here.
Xerkea - If they're working with the Wranploer, that gives me even more reasons to destroy them all!
Valzo - Hey, one thing. Anyone remember what Zaarkhun said when he yelled to the sky?
Dacia - I swear by the forests, Torrent had stood beside him. And a Wranploer. I can't say who it was though.
Vekaron - Something about mortals being powerful or so. I didn't exactly pay attention, I was trying to dodge the angry Loron shooting at me.
Dacia - Yeah... Does the name 'Zargoth' mean anything?
Tuolog - He directed it to Zargoth, the leader of the Vyro'Ralza, and to Volzara, the goddess of the Vyro'Narza. He said something about mortals being stronger than they thought. But what he mean?
Yogtam - That's probably not something we should think about.
Dacia - If this is to do with gods, the Inquisition must be contacted.
Vekaron - A champion of the Devourer's Chosen was also there. Though it seems he was against Zaarkhun.

Yogtam paused for thought, then made a statement.
Yogtam - We will look into it later. Zaarkhun is a very complex one. I don't know why his plans involve them at all.
Tralkik Commander - Perhaps they do not. Most probably it was his little display of power in that moment of ego.
Dacia - That would make sense.
Xerkea - He reminds me too much of Volim.
Zr'Ahgloth - hey man chek dis out
Zr'Ahgloth showed them an image of a webpage on the galactic network. It was a black market page, hidden to most, and the description was "an artifact built by the Andromeda ancients and the Cold Ones with the ability to manipulate minds." Everyone looked at the page in shock that despite all its power, Falrik was openly selling it to the highest bidder. After Zr'Ahgloth proposed they buy it from him, Xerkea beat her head against the desk out of sheer frustration. Everyone was debating as to whether or not the article was genuine or a complete fake. With most agreeing that he must have been selling the real thing. Images were displayed of its interior and some of the codes on its metals and inside it. They matched other Andromedan artifacts.As they continued debating, Falrik Zaarkhun joined the comms chat.
Falrik Zaarkhun - Surprised?
Xerkea - You! I'll track you and throw you into jail!
Dacia - Your days are numbered Falrik!
Falrik Zaarkhun - Maybe you will. Maybe you won't. But anyway, I'd like to know what you're up to on my website.
Xerkea - Grrr! Track him! Track him immediately!
Zelfron - Disgusting criminal. I will bring you to justice.

Dacia spoke up, to show her authority.
Dacia - Listen Falrik. You hold power that you couldn't even -begin- to realise. Turn the artifact in before you end up doing something you will regret!
Falrik Zaarkhun - You do realise, of course, I have several decoys from which this message is being relayed. Oh, but I have, Dacia. That's why I'm selling it.
Xerkea - He's already done enough damage! Many soldiers died because of you, SCUM!
Falrik Zaarkhun - Lie? I am being perfectly honest. What use do I have with this thing, Dacia? Controlling more minds? No...I don't need it at all. This was merely a demonstration. I don't want the artifact. You can buy it off me.
Dacia - You really want that kind of power loose to some random buyer?
Vekaron - You really expect us to believe you? Are you stupid?

Despite the rage going on, Falrik remained calm.
Falrik Zaarkhun - You explained it yourself, Dacia. "I cannot even begin to understand its power." I shouldn't be underestimated, but there is some truth to that. Really though...my reputation shouldn't make me untrustworthy. I'm not sure how to prove my honesty on this one, but just take my word. How else will you get the artifact off me, anyway?
Dacia - I have ideas.
Xerkea - Blowing you into tiny meaty gibs!
Zelfron - You toy with the weapons of the ancients, Falrik. You do not realise that you are but a puppet now.
Falrik Zaarkhun - I would like to hear them.
Dacia - I know you would, but why should I divulge?
Falrik Zaarkhun - Because you're not getting this artifact unless you get it from me.
Dacia - No-one deserves the power you hold. The instruments of gods grant untold power yes. But at what cost?
Zelfron - This seems too strange. Too deceptive. You are planning something! And not only you...
Xerkea - The Special Forces will find you, and when they do, you won't be able of running or hiding, no matter how many decoys you have.

Falrik began to explain to everyone about the artifact.
Falrik Zaarkhun - Hahaha.... I know much about this artifact. The artifact is one created by the Cold Ones and the same Andromeda ancients who have made the other artifacts in Andromeda. The ancients, you see, could not create any effective method of controlling the minds of of people at will. You know how they did? They knew much about the Holographic Principle. It's the idea that our 3D forms are just projections of ourselves in the 5th dimension. By the principle, everything you see here is a projection of the 5hth dimension. Only the Cold Ones, who had stuided Taldar technology, understood it. They took it here, to work on it. And then, everyone died. You see, everyone died because the Cold Ones were killed off. I won't say anything, but I will say it's no coincidence the Vague fate turned up there. But really, these artifacts are a dangerous relic of the past. I shouldn't toy with them any longer. I may be a criminal, but I'm a rational, reasonable person. I wish you could believe me.
Dacia - Your reputation makes it difficult.
Falrik Zaarkhun - Understandable, of course.
Falrik Zaarkhun closed the terminal, and an offer to 'preview item using a simulation' was given for item 'ANDROMEDAN ARTIFACT!!! ULTRA RARE'. Vekaron was convinced that Falrik's actions had reminded him of General Volim. As they talked a mysterious voice spoke on an audio feed. The Tralkik Commander offered to increase the security level of the network further.
??? - Good. I represent the Royal Intelligence Agency and I have a few suggestions as to acquiring the artifact.
Yogtam - Yes?
Zelfron - Speak.
Xerkea - A friendly face, at last.
??? - Sincere or not, Falrik wants to come away a rich man. He is sure to offer a very demanding sum. I can provide an agent to aquire the artifact from him, examine it and then return it.
Vekaron - Sounds reasonable.
??? - Do not worry, he should not suspect a thing.
Yogtam - If money's what he wants, money is no value to us. Your agent should pay.
??? - And he will. Do not worry about where the money is coming from; all that matters is that the acency has the resources to meet any of his demands.
Zelfron - My people care not for money. I only want to punish this disgusting criminal.
Kralgon Emperor - Excellent. And anyway, one more thing. Should we perhaps make an official statement that the BCN may be in league with the Wranploer, and are not to be trusted?
??? - I can also offer to keep any buyers at bay to make sure only we aquire the artifact.
Xerkea - Of course.
Kralgon Emperor - I shall post on the universal discusion board immediately. And if that is all sorted, I suppose we are done here.
The holograms were disabled as the transmission ended. The mysterious contact was in truth hiding out in an apartment in the outer rim. Smiling that he had gained approval he activated a terminal in his bedroom. the voice of a Heeyorian could be heard on the other end. The figure walked to the window and looked out to the dirty inner-city environment outside.
Heeyorian - What is it?
??? - Inform Mr. Zaarkhun that Kendra Tactical Solutions would like to make a very special purchase.
The Heeoyrian nodded and turned off his transmitter. Straightening himself up he headed up to a console to contact Falrik aboard the Iron Fist.