"Rejoice, dear friend! Your destiny is to become one with the void, and avoid the pain of living any longer. You may longer fear the pain brought by the Hegemony's rulership, and be free of your chains. Warriors, fire the canons. Leave a crater in their world."

- Sorcerer-Lord Vratith the Exalted
Organization
Edit
Structure
Edit
Commanded by the Supreme Warlock-King/Witch-Queen, the Rathanii fleet, as of now, is headquartered in the capital of Rathan Nova. Though officially under her command, most decisions and deployments are made by the Supreme Military Commander, Khahoten, who directs most of the fleet's operations, while various Admirals command their fleets with savage resolve. Overall, the highest ranking Sorcerers and Warlords form the High Command, giving direction and orders on behalf of Khahoten against their enemies and in their slave raids.
The Rathanii fleets' smallest organizational number is a Patrol Force, made up of three ships, usually a Frigate and two corvettes, or three frigates. The next highest, is the Task Force, made up of a Cruiser, and four frigates, and kept in "hot-spots" of rebel activity, enemy border regions or trade lanes with their Hegemony masters and other Vassals. The next, is an Occupation Force, a larger, offensive fleet organized and placed over an enemy world during a slave raid or all-out attack, after the main fleet has moved on to more important objectives. It is made up of two Cruisers and 6 Frigates. The largest is the Assault Force, made up of anything from 10, to even 20 ships, usually centered around one or two carriers, or, if they are lucky, a Temple-class Ship.
Rathanii Fleets, especially Assault Forces, are often lead by Warlords, but many Sorcerers will join their personal fleets to test their powers, direct their forces, and, in the case of slave raids, go down to personally find their newest Acolytes and students from the most essence potential. Specialized rooms are built into the frigates, Cruisers and Temple ships to gather and focus their powers.
Personnel
Edit
Officers
Edit
Those who command the vessels, are often high-ranking warriors themselves, professional and highly-trained warlords, who have studied the arts of warfare for years, and bring them to the test with their battles against their foes. Lower ranking warriors command a single vessel and all it's crew, while higher ranking ones can command three vessels, then five, before moving to command sections of a fleet, before finally commanding an entire fleet of their own. The only exception is the Incubus-class Raider, which are commanded by independent ravers and pirates. These groups are much less professional and more rapacious, seeking weaklings to raid and attack, and brought to heel by the Fleet Lords to support their forces.
Fleet Officers and Commanders, since they often won't see personal combat, wear a fine uniform that combines aspects of Hegemony uniforms with their armor. Though most of the uniform is a fine, cloth tunic and leather boots, the chest and shoulders are covered in baroque armor, as are the shins and wrists.
The Rathanii do not see difference between army troops and naval troops. As such, Warriors, Janissaries and Infernal Guard will often find themselves serving on fleets based on their specific skills, abilities and attitudes. These troops perform patrol, policing duties among slaves and prepare for boarding actions, be they hostiles entering the ship, or they entering another ship to take prisoners and slaves for the Pits. As the Rathanii are natural fighters, the Rathanii train constantly for all sorts of situations, from city battles, to boarding actions, using their weapons to lay into their victims without hesitation.
Internal Workings
Edit
Command Room
Edit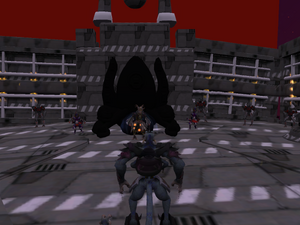 The Command Room is separate from the main bridge, where the onboard Fleet Commander or Admiral oversees operations on behalf of his Sorcerer-Lord. The Command Room is where the Sorcerer in charge of the fleet spends his time, surrounded by his Infernal Ironsworn, Beylik Janissaries, and various other attendants, usually seated upon his Shadow Throne. Shadow Thrones are creations of pure obsidian, night-black seats of power, that is kept afloat by repulsorlift beds and devices, so that the Sorcerer may not walk, or look down upon visitors. The throne is surrounded by walls of pure black stone as well, all of this meant to focus their powers. The mysterious black mineral is used in many Rathanii structures, including the Shadow Crowns on pawns, and various armors and weapons. It focuses their dark alchemy powers, and is used by them to meditate and guide their forces with their powers.
Within a Command room are various personal touches done to allow them access to various things, from arcane tomes and scrolls they have inherited from their old masters and taken from various temples and archives for their personal use, as well as devices to view the stars, and various trophies taken from rivals and such. Here, commanders, captains, and minor Sorcerers, Acolytes and others will meet with the Sorcerer-Lord to discuss very important matters, but usually the Sorcerer merely guides his forces with his powers, not bothering to get involved unless needed.
Meditation Chamber
Edit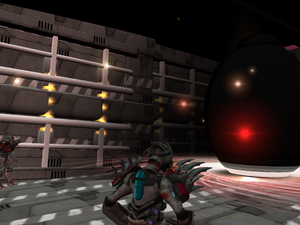 Hidden within the Command Room, is the Meditation Chamber. A smaller room, this is, at certain times, with no foes to deal with and the like, the Sorcerer-Lord will retreat to recover and truly focus his powers. Over their long lives, the Sorcerer-Lords gain many injuries, and, in general, the continued use of Dark Alchemy ravages their flesh and body, leaving many deformed and gaunt, and continued use of the Meditation Chamber is required to deal with these afflictions. At the center of this grey and black room, is the Shadow Egg.
A structure of pure black stone, similar to their throne, the Egg is a large structure where the Rathanii will sit in, and be bathed in healing substances and oils, and gather and focus his energies. As the stone acts as a focal point for most darker essences, it is here where the Rathanii go to not only heal and slow down their decaying bodies, but also recharge their energies after a long battle. They may even strengthen their ability with enough time spent in the Shadow Egg, though more powerful Sorcerers need more time spent in the egg to see results.
This room is absolutely private to the Sorcerer who uses it, and only a few attendants and Ironsworn are allowed to visit and stand in the room, if only to see to his health and wellness. Any officers who meet with him or her here are bound to be executed, the last thing they often see is a sphere of pure black and void, like a black hole drawing in their souls.
Sorcerer-Lords usually float within the egg, unmoving, and it is without any sensory input, that they are forced to contemplate their pursuits of power, their purpose in the Ways of the Annihilation, and plot their next grabs of power. There is completely no sound or visuals within the eggs, and it acts as a test, often forcing younger Sorcerers to not use it as often, due to how it effects their minds and sanity from the complete lack of any senses they usually use, and teach them to rely on not just their eyes and ears.
Star Dreadnoughts
Edit
Carriers
Edit
Cruisers
Edit
Frigates
Edit
Corvettes
Edit
Fighters
Edit
Quotes from others
Edit
Though based on Mandalorian design aesthetics to keep with their Mendel origins and all, all ships designed for the Rathanii fleets are original vessels and designs.
With the exception of the Incubus-class, all Rathanii vessels are named after demons from Christian Demonology.
Community content is available under
CC-BY-SA
unless otherwise noted.