Second Ottzello Galactic War is a Historical Event

---

"Second Ottzello Galactic War" is considered a historical event or a completed fiction within the

SporeWiki Fiction Universe

. You must ask its original creator if you wish to add any additional stories.
The Second Ottzello Galactic War was a three year war of the Ottzello Galaxy, instigated by the Kralgon Invasion Force created by the Kralgon Emperor, who wished to avenge his race after its destruction in the Great Blyro War. It was fought against the Galot Republic and the Grand Ottzel Order, before the two factions merged to create the United Nations of Ottzello, along with their allies the Delpha Coalition of Planets. Meanwhile, Da Propa Big Loron Empire fought their own war against the Third Sovereign Domain, and the Zaarkhun Consortium led by Falrik Zaarkhun pursued its own agenda.
While he was the last survivor of his species, the Kralgon Emperor was armed with much more powerful, ancient technology, and was assisted by the Tokzhalan Empire and their allies in the conquest. The rest of the Ottzelloans were driven from their homes, forced to hide out in the edges of the galaxy with criminals, while the Delpha Coalition of Planets abandoned all operations in the galaxy. The Kralgon Emperor founded the New Kralgon Empire, and had enslaved the Loron using the "System", old Kralgon nanomachines that he could use to control an individuals' thoughts. Close to the end of the war, the Emperor learned that Falrik Zaarkhun had manipulated the entire affair from behind the scenes, presumably to directly profit from the sale of arms.
The Emperor's Revival
Edit
For hundreds of years, the ruins of Kralg had laid almost completely dormant. Once populated by a race known as the Kralgon, filled with bustling Pods that made up their habitat, machines whirring throughout the world creating more machines that would be commandeered by the Kralgon, it was now in mere ruins, with millions of Pods destroyed, and millions more dormant, waiting hundreds of years for orders.
However, there was a single Pod that had just received an order. The largest Pod on the planet, located within the largest cluster of Pods, this was home to the former Emperor of the once great Empire of the Kralgon. Now it was home to a single Kralgon, who had been kept frozen in cryosleep for years, waiting for the time when he would awake as the new Emperor. And the Pod finally received orders; it awoke him.
The new Kralgon Emperor would go by no name other than "Kralgon Emperor", for his father had never named his son, and never expected to die before he would have to. The Kralgon Emperor awoke expecting a coronation, but instead, as he was slowly unfrozen from cryosleep, fell out of his chamber to no fanfare. In fact, nothing was present inside his Pod aside from a large, empty corridor. The nanomachines had kept his Pod completely clean, but it was immediately obvious that his Pod had not been lived in by a living organism for hundreds of years.
In many ways, the Emperor had feared this would happen right as he was frozen. But as he unfroze, and saw his entire home dormant, he became overcome with a sense of terror. Terror at what lay before him, entering a world with no one to help him. As he made his way further through the Pod and saw no sign of movement, it became clearer and clearer to him that his species had become extinct, but he had no idea how. His memories were slowly returning to him of the time before, but he could not even remember why his species had vanished.
The terror slowly turned into anger, as he made his way towards the top, the central command of the Pod. Now, the rage built up inside him. He was no longer interested in what happened to his people, for he didn't care. His people were the most ingenious scientists in all of Ottzello. They were supposed to rule the entire galaxy, were it not for those pesky Ottzel slavers. The Grand Ottzel Order, if they were still around at all, would be the first victims once he rebuilt the great starship armada that his people had once been known for. And if machines could not satisfy his need for a new army, so be it; he would clone himself identically billions of times to repopulate his new Kralgon Invasion Force.
Finally, the Emperor made his way to the command bridge, where he was greeted by a computer that lit up upon scanning him. He knew now that the computer was his to control, as it listened to him. The enormous bridge felt like it was a kilometer long and at least a hundred meters wide, from the days when it was populated by hundreds of Kralgon at each of the terminals, but now a single artificial intelligence would be needed. The legendary Kralgon Command Computer, which stayed connected to every Kralgon AI throughout the Empire, spoke to him.
Kralgon Command Computer - Greetings, Kralgon Emperor. We have awaited your return. It has been 452 years since an Emperor addressed us.
Kralgon Emperor - Is my army operational?
Kralgon Command Computer - No other Kralgon is presently alive; but we can mass produce AI Weapons at your command. Only the base on Kralg is still active, but we can produce Pods to colonise other planets.
Kralgon Emperor - Can your resources produce me an entire invasion fleet?
Before his eyes, the Command Computer projected the Emperor with several holograms depicting exact numbers of the ships and ground vehicles that it had the resources to produce within a few hours. Using nanomachines to produce each warship, it would take merely a day to build a fleet that would satisfy the Emperor's needs. A huge grin formed on his face as he saw the power he now had.
Kralgon Command Computer - We can place Pods in most planets within the solar system to construct even more. This can be improved further if we retake our closest colony, located five light years away from Kralg.
Kralgon Emperor - Clone me thousands of times, and advance the process. For now, my clones shall serve as footsoldiers, while the AI Weapons form my army.
Kralgon Command Computer - Kralgon Emperor, the closest colony to ours appears to be overrun with aliens. These are not aliens that we have records of within our database. What shall we do?
The Emperor's grin turned first to a growl with a clenched fist, furious that they would dare deface his peoples' legacy, before it then became a smile and a cackling laugh.
Kralgon Emperor - Destroy them all.
The Strife of Ottzello
Edit
Planet Zalkroid had been a populous Galot Republic colony, inhabited primarily by the Gykar and Galot for its extremely rich minerals and andasium both on the surface and in its asteroid belt, where the shipyards in space had been constructed. Located far away from the Loron threat, it had gone mostly unharmed, for few Loron dared to go near the orbital defenses and starships that awaited them as they went so far out of their way to reach the planet. It had not been difficult at all for the Republic to terraform the world, and its colonies located within domes were extremely well inhabited, with many Galot and Gykar immigrating to the world to make their new life working in the vastly growing ship industry. The investment in the world had caused the once roughly barren planet to explode in population.
However, the rich minerals, the asteroid belt, and the space shipyards were exactly why it was the first target of the Kralgon Invasion Force. Hundreds of years ago, the planet was, in fact, a Kralgon colony, but it had been razed by orbital bombardments that came shortly before the ancient Empire of the Kralgon had fallen. The Emperor was intent on taking it back, and using it to construct his new starforce.
None of the orbital defenses around planet Zalkroid had prepared for this kind of attack. A swarm of huge Kralgon Obliterators and Kralgon Killships, unmanned weapons poised to annihilate the defenses, destroyed every defensive cannon put in place within minutes, whittling away at their shields with weapons the Republic could not possibly prepare for. The Republic attempted to contact the invading fleet, but received no response to a single transmission. Their defenses were primed for dealing with space pirates and Loron, not a huge armada of unmanned warships primed to destroy everything.
The Republic's defenses on the ground knew that the invading fleet was commandeered by an alien, even if all the weapons were unmanned, once the first Pod was dropped. Straight in the middle of a colony on the planet, a huge Pod dropped and latched onto the surface, immediately beginning action and taking root in the ground, before deploying thousands upon thousands of identical clones warped in to destroy every living organism and claim the planet as their own. And not only were clone foot soldiers attacking, but huge, unmanned Kralgon Land Destructors among other ground vehicles tore apart the militia.
The defenses attempted to fire back, but they saw only that any damage that did reach through the shields of the unmanned weapons was ineffective; the machines were constructed using highly advanced nanotechnology, allowing them to repair damage done to their nano-engineered armor. The rapid fire coming from the coilguns and the antimatter shells from their cannons eventually destroyed all life on the planet, as more Pods dropped carrying weapons of mass destruction. Once the invaders were happy that the world was theirs, the Pods stopped deploying ground troops, and instead took root to begin mining the world's surface. The machines now focused instead on building new weapons of war, using nanotechnology to construct them at a rapid pace, presumably to take over the next planet.
In the Galot Republic President Regto's office, she had heard the news of what had happened to the colony. How it had been ruthlessly torn apart by completely alien invaders, who uttered not a single word to them as to their motives or their resolve. Invaders packing highly advanced technology of the likes that the galaxy had not seen in hundreds of years. It was clear that whatever was coming, the galaxy was completely and utterly unprepared.
President Regto immediately called Valzo, the commander of the Republic's army. She appeared desperate and distraught.
Regto - Have you seen what happened to planet Zalkroid?
Valzo - Unfortunately...yes.
Regto - I don't believe it! These invaders, they came out of nowhere. We could not even analyse their weapons before they annihilated our defenses within minutes. Who would do this?!
Valzo - We do not know the source of these aliens, or their origins. It is clear we are not prepared for this, unless we rely on the support of the Delpha Coalition of Planets. No arms manufacturer or scientist in this galaxy has technology that matches these aliens, whoever they may be.
Regto - Valzo, I cannot ask you to lead the fight against these aliens. You will certainly be destroyed by them. All I can ask is that you rally support from our allies, from those unaffiliated with the Galot Republic, and any you can to fight back against this menace. Zalkroid will certainly not be the last world they conquer, for all observers suggest that their fleets were headed for more worlds afterwards. I will enlist Zelfron and the Telzoc to lead the fight against them.
Valzo - Understood, Madame President. I will do what I must.
Valzo closed communications, fearing for the life of every Galot within the Republic. But it might not just be the Republic under threat from these invaders. From what they had heard, even the Ottzelloan Grox may be under threat. Valzo knew it was time to gather a team.
The Gang Rivalry
Edit
For weeks, the Kralgon Invasion Force had been unstoppable. Every single invasion on a Galot Republic or Grand Ottzel Order planet had been a sweeping success; they would arrive to a planet, dropping Pods filled with clones and AI Weapons, and swarm the entire world, and then turn it into yet another factory to launch a bigger invasion force next time. There were little to no significant losses on the side of the Kralgon, and they never withdrew from any invasion.
With two notable exceptions.
The Kralgon Invasion Force had been unprepared for Da Propa Big Loron Empire, because the Loron had simply not been a spacefaring species when the Empire of the Kralgon ruled in the Ottzello Galaxy. Therefore, both invasions on Loron planets had been failures. Their Pods and AI Weapons were unprepared for swarms of Loron who could tear them apart with brute strength, far larger and stronger than any other alien the Kralgon had encountered. Any swarms of Kralgon clones were worthless, for the Loron could brush off most of their attacks and devour them, while smashing the Weapons to pieces. The Kralgon could not hope to match the Loron's numbers, meaning that every time it launched an invasion on a Loron planet, it was forced to withdraw and consider other options.
This naturally put the Loron in a very good spot. Having been kicked around by the Delpha Coalition of Planets for the first half of the Delphan Excavation War of Ottzello, the Loron were finally back on form. On their homeworld of Groodrub, Da Propa Big Boss Zr'Ahgloth prepared a group pizza party of the strongest Loron to gloat about their successes against the Kralgon. But two of his subordinates arrived to the party early. It broke Loron tradition to not arrive at a pizza party fashionably late, so when the two arrived early to Zr'Ahgloth's palace, they were alone. The two Loron were Jol'kiar, the former Propa Big Warboss, and Fre'kloar, a reluctantly appointed Big Warboss.
Jol'kiar - told ya man. its agenst loron tradishon ta arriv early. dats whai no one else is heer yet
Fre'kloar - YEH WELL DIS MEENS WE CAN START EETIN BEFOR DA OTHAS
Jol'kiar - hmmm well its also agenst loron tradishon ta eet befor da propa meel starts but screw dat lmao lets grab stuff?
Fre'kloar - yeh man TRADISHONS IS NICE AN ALL BUT AN EMPTY STOMACH COMS FIRST
The two proceded to raid the kitchen, grab three of the largest pizzas - whichever appeared to be the pizza made especially for Zr'Ahgloth - and stuffed their mouths with them, before returning to the empty hall and taking a seat. They laughed amongst themselves, before Jol'kiar decided to get serious.
Jol'kiar - now lissen. yoo an i both kno dat Zr'Ahgloth ent fit ta leed da loronz. hes a propa corrupt leeda an hes too full of himself. derefore i fink da nex leeda shuld be one of us
Fre'kloar - wow dat kinda came outta nowhere. urm i guess leedin da loronz wuld b sik but hao do we figure out who does it??
Jol'kiar - same way tradishon dictates. KILL ZR'AHGLOTH DEN TAKE OVA
Fre'kloar - oh. OH YEH HAHA DA PIZZA MUSTA DISTRACTED ME. YEH MAN ZR'AHGLOTHS A NUMPTY WHOS ALL BARK AN NO BITE
Jol'kiar - YEH WE SHULD OVATHROW HIM but hes akshully a bit tuffa dan he looks dats da problem
Fre'kloar - surly we can boff take him on. den we boff becom da leedas (but im da bigga one)
Jol'kiar - cant do dat. its agenst tradishon. an if we break tradishon den we wont be accepted as legitimat leedas
Fre'kloar - MAN TRADISHONS KEEP GETTIN IN DA WAY OF EVERYFIN MAN. DA OLD TIMES SUK
Jol'kiar - YOO WANNA SLAP? IMMA FITE YOO IF YOO SAY DAT AGEN KEEP YO STOOPID MOUF SHUT BOUT DA OLD WAYZ
Fre'kloar - NAH MAN DA OLD WAYZ IS LAME YA DIDNT EVEN HAD SIK GUNZ AN SPAICSHIPS I BET ALL YA HAD WAS... STIKKS OR SOMFIM LMAO
Jol'kiar growled at Fre'kloar, and stood up to throw a punch, before Zr'Ahgloth kicked the door open. He was surrounded by several other of his close allies, including Da Propa Big Warboss, Thr'aloy, Zr'Ahgloth's closest friend. He glared at them with suspicion in his eyes.
Zr'Ahgloth - YOO TWO LOVEBIRDS DON HEER?
Fre'kloar - YA MOMS A LOVEBIRD
Zr'Ahgloth - I WULD SAY YA DAD IS BUT NO ONE EVEN KNOS WHO YA DAD IS. HE WAS PROBZ A PROPA LOSA. DERES A REESON WHAI THRALOY IS PROPA BIG WARBOSS AN YOO TWO ENT: YOR UNLOYAL AN YA ALWAYS RUN OFF KISSIN EECH OTHAS ASSES INSTED OF BEIN LOYAL TA ME
Thr'aloy - also im coola
Zr'Ahgloth - yeh dat too but BASICALLY YOO NEED TA GET IN LINE BEHIND ME AN KISS MY ASS
Fre'kloar - LOOK MAN I DONT CARE IF THRALOY IS INTO DAT SORTA FING BUT I EINT DOIN JAK
Thr'aloy - FORM A LINE. FORM A LINE. FORM A LINE!!!!!
Jol'kiar - MAN DIS IS STOOPID. JUS TELL US WHAI YA CALLED US HEER
Zr'Ahgloth - tbh i kinda forgot lmao
Thr'aloy - yoo called da celebrashon rememba?
Zr'Ahgloth's eyes lit up, as he then ushered the rest of the Loron to their seats. Each of them sat in a circle, while seveal Chikz came in to deliver pizza.
Zr'Ahgloth - RITE LADS. YANNO DEM ALIEN LOSAS DAT KEEP INVADIN PLANETS? DA ONES KNOWN AS DA "KRALGIES" OR SOMFIN DAT ALL DA WEEK GALOT AN PATHETIC OTTZEL IS SCARED OF? WE REKT DEM TWICE. AHAHAHAHAHAHAHAHAHA
Thr'aloy - i meen not like dey stood a chance. all dey do is thro som stoopid geekz at us an we just smash dem cus deyz small an week an dey look like peppas on legs
Zr'Ahgloth - EXACTLY. DA KRALGIES, WHICH I NOW DUB DA "PEPPA LOSAS", IS BASICALLY NOT A THRET TO US. HOWEVA DEY IS A THRET TO DA GALOT AN DA OTTZEL AN DOSE LOSAS HAV BEEN GETTIN ON MA NERVES. SO I SAY WE LET DEM FITE EECH OTHA AN DEN WHOEVA WINS WE REK DEM DEN WE TAKE OVA DA GALAXY. YEH?
Thr'aloy - YEH. AN WHOEVA DOESNT ALSO SAY YEH GETS A SLAP
Each of the Loron cheered, with the exception of Jol'kiar. Fre'kloar looked at him, but Jol'kiar shook his head.
Jol'kiar - ITS AGENST LORON TRADISHON TA SIT OUT OF A FITE. YOR ALL STOOPID
Thr'aloy - SHUT UP GRANDPA SHOULDNT YA BE IN A RETIREMENT HOUS OVA AT DA GALOT REPUBLIC???
Jol'kiar - YOO WANNA SAY DAT TO MA FACE YA LIL TWERP? YA ONLY TOOK MA JOB BECUZ YOO KISSED DA BOSS' ASS GOOD ENUFF
Thr'aloy - HUR I COULD BREAK YA NEKK WIV ONE ARM WRAPPED AROUND MA BAK
Jol'kiar - WANNA TRY IT????
As Jol'kiar and Thr'aloy stood from their chairs, Zr'Ahgloth stood up from his, stepped in between them, and picked both up by the throats and threw them straight back to the chairs they sat down on, where they fell on it and broke it. A Chik coming in bringing pizza sighed.
Chik - ...I'll go fetch them some new chairs. And clean the mess up, I guess...
Thr'aloy - OW MAN WAT YA DO DAT FOR
Zr'Ahgloth - BECUZ I ENT HAVIN INFITIN IN MA GANG. IF YOO DO DAT IMMA MAKE AN EXAMPLE OUT OF YAS. DA ONLY ONE DAT CAN TURN ON ONE OF HIS OWN IS ME
Thr'aloy - BLEH. YA GOT LUKKY DIS TIME GRANDPA
Jol'kiar opened his mouth, but Zr'Ahgloth caught him first.
Zr'Ahgloth - AN I DONT GIV A TOSS BOUT YOR TRADISHON JOLKIAR YA OLD DOOFUS. DONT SAY A WORD OF DISRESPECT OR ELSE IT WONT BE YA CHAIR I BREAK NEXT TIME.
Fre'kloar - man i swer yor full of trash
Zr'Ahgloth - YOO SHUT YA MOUF TOO. BUT ANYWAYZ YEH WE ENT FITIN DA GALOT OR DA KRALGIES. DEYZ WORFLESS TA US. SO INSTED WES GONNA FITE DA DUMBO COMBINASHON OF PIZZA NOW DAT ROZTAHFLOK SED WE CULD AGEN. or at leest he didnt say we culdnt afta. FURTHAMOAR DERES ANOTHA PIECE OF STINKIN FILF IN DA GALAXY WE NEED STOMPIN: DA ZAZZIE LOSAS. I WANT YAS TA TAKE CARE OF IT AN ILL TAKE VOLUNTEERS NOW
Jol'kiar - I WAS DA FIRST WHO FOUGHT DA ZAZZIES SO IT SHULD BE ME
Thr'aloy - YA MEEN DA TIME YA LOST TO A GIRL??? AHAHAHAHA
Jol'kiar - SHUT UP MAN SHE CHEETED
Fre'kloar - I WILL GO FITE DA ZAZZIES. IT WULD GIV ME SOMFIN TA DO AN PROOV DAT IM BRAVA DAN THRALOY
Thr'aloy - AHAHAHAHAHA oh wait yor serius. lemme laff harda. AAAAAAHAHAHAHAHAHAHAHAHAHAHAHAHAHA
Zr'Ahgloth - OK ITS SETTLED DEN. JOLKIAR AND FREKLOAR GO BOFF TOGETHA, HOWEVA THRALOY FOLLOWS BEHIND TA MAKE SURE DEY DONT DOUBLE CROSS ME YEH? MEENWHILE I GOT UNFINISHED BIZNESS WIV DA DUMBO COMBINASHON SO IM GONNA FITE DEM
Thr'aloy - oh great nao i hav ta babysit yoo two stooges apparently. YA BEST NOT DISAPPOINT US
Fre'kloar - DA ONLY ONE DATS GONNA DISAPPOINT PROBS IS YOO SINCE YOOLL BE IN DA BAK ALL LAZY WHILE WE REK DA ZAZZIES
Thr'aloy - wateva man yor gonna loos an im gonna be watchin eetin pizza lmao
Zr'Ahgloth - IN DA EVENT DAT ALL THREE FAIL, I WILL REK DA ZAZZIES MASELF AN SEND DA THREE TA FITE DA DUMBO COMBINASHON AN PROBS FAIL AGEN BECUZ DEY SUK LIKE DAT. EITHA WAY WE BES STIK BY DIS PLAN YEH?
Thr'aloy - YEH BUT I EINT GONNA FAIL. IM DA BEST
Zr'Ahgloth - HAHAHA IM NOT WORRIED ABOUT YOO FAILIN IM WORRIED ABOUT DA OTHAS FAILIN RELLY. BUT YEH DIS IS A SIK PLAN BUT ANY WHO DONT LIKE IT CAN FORM A LINE BEHIND ME NOW AN KISS MY ASS
Each of the Loron, including the disgruntled Fre'kloar and Jol'kiar, cheered enthusiastically as they then returned devouring more pizza that the Chikz brought along with them. One of the Chikz then turned to Fre'kloar and Jol'kiar and spoke quietly to them.
Chik - Trust me, I don't like that Zr'Ahgloth loser either. He's full of himself. If you could topple him at some point, yeah that'd be great.
Fre'kloar - huh. not every day ya heer a chik talk crap like dat. yor slightly less dum dan da othas
Chik - Yeah, well I'm not like any other chik. I'm Rel'larutina. I've been itching to fight something for decades now, and I'm tired of cooking pizza for this douche. If you wanna, like, overthrow him or something, I'll get some Norol to help ya out or whatever.
Fre'kloar eyed Jol'kiar with confusion. It was unusual for Norol to act like Rel'larutina, and he disliked her race as it was usual for Loron, but at the same time, it proved to be an unique opportunity.
Fre'kloar - wat do ya say man? sounds weird but could work
Jol'kiar - bak in ma dayz we neva lissened ta chikz wen dey talked politikz. dey shuld be in da kichen. howeva deyz also supa smart so i say if dis chik has ideas den i wanna heer her out. maybe we can get dis rebellion goin afta all?
Fre'kloar - we will hav ta see. ya got yaself a deel chik
Rel'larutina - Sweet. Just let me know when's a good time and I'll help you organise any uprising you come up with.
Zr'Ahgloth - OI CHIK I ORDAD PIZZA WIV PINEAPPLE ON IT BRING ME IT
Rel'larutina then rushed off to deliver more pizza to Zr'Ahgloth. Fre'kloar and Jol'kiar were now far more confident in their chance of success than before.
It was clear that Da Propa Big Loron Empire, for once, would not be the biggest threat to the Ottzello Galaxy. But while the Kralgon Invasion Force stormed through Ottzello, the fierce battle between the Loron and the Zazane would rage on, to see which warrior race would prove the strongest. And the Loron still had unfinished business with the DCP. If the DCP wanted to provide relief to the Ottzelloans against the Kralgon, they would clearly have to get through the Loron first.
The Chessmaster
Edit
Court trials that took place within the Grand Ottzel Order occurred in a space station located in each star system, with their ship confiscated until the defendant received a note from the judge that they were innocent and permitted to leave. That way, it was impossible for any criminal who was convicted there to escape on any ship other than a prison ship sending them to another space station located normally just a few hundred thousand miles away.
For the defendant of tonight's court case, Falrik Zaarkhun, the process was entirely familiar to him. The Heeyorian businessman was the most successful business owner who was not an Ottzel, and that made him a target of many of his competitors. It also made him the target of several Ottzel who believed the success of his Zaarkhun Consortium, an enterprise with a huge number of connections to businesses around the galaxy, could not possibly be legitimate. To them, there was no other possibility: Zaarkhun was a criminal.
This time, his prosecutor was a lawyer working for the businessman known as Rektor. Rektor had long been a competitor in the ship building industry and the leader of the market in the galaxy, until the Zaarkhun Consortium massively began to outsell him, and he simply could not keep pace with it. It was simply for him, then, to incriminate Zaarkhun, and have him imprisoned, or at least, heavily fined.
The lawyer was experienced, and armed to the teeth with evidence to bring against Zaarkhun. She had so far not lost a single case, and was the best lawyer money could buy in the entire sector. Rektor had bet a huge sum of his money on this case, and she knew she wouldn't let him down. With the Heeyorian Zaarkhun sticking out like a sore thumb in a room in which the entire jury panel, and the judge, were Ottzel, she brought her case against him before the judge. Rektor, too, was confident. He had paid for one of the best corporate lawyers in the galaxy, and Zaarkhun hadn't even brought a lawyer at all. Zaarkhun's overconfidence would now be his downfall.
Lawyer - As you know, your honour, allegations of racketeering, fraud, bribery, and extortion brought against CEO Falrik Zaarkhun are nothing new. Indeed, the Zaarkhun Consortium's concept of legality is one foreign to most Ottzel, and most commentators have expressed surprise at his ability to string by his past actions as "technically legal", or "still no proof". May I begin by reminding the jury of the questionable results of his racketeering trial in the Galot Republic only a month prior, or the "technical legality" of his embezzlement of Tal Apartments Ltd shortly after acquiring the company.
The lawyer had brought up Zaarkhun's background to set the tone of the trial. If she reminded the judge and jury of how he had narrowly escaped trials before, they would be less likely to make the same mistake again. Furthermore, she would intimidate Zaarkhun; if she had fully done her research on his past run-ins with the law, she would know exactly what tricks he normally uses. She looked over to Zaarkhun, who simply sat in his chair, alone, arms folded, and saying nothing.
Lawyer - The charges I bring before Falrik Zaarkhun today, however, are beyond doubt. I present before you evidence of his wrongdoing through three licensed corporations: Kadas Inc., Aorik Inc. and Doulisk Inc, in which the former is based within the Grand Ottzel Order, while the latter two are Galot and Gykar-based corporations respectively. There is public record of each of these corporations interacting, and the dubious legality of them all is plain to see.
The lawyer then presented a hologram showing the three of them, with figures and transactions listed for each. Kadas and Doulisk reported huge profits despite minimal expenditures, while Aorik reported huge expenditures with losses. The lawyer then explained what the jury was looking at.
Lawyer - Aorik Inc., a company allegedly selling home furniture, is based within predominately Galot planets in the Galot Republic. As you can see, it has not been profitable for ten years. It is well known that the company has changed management several times, and there have been many public scandals about the company's alleged poor management leading to fall in profits. This has allowed it to take huge amounts of government subsidies due to the laws of the Galot, meaning taxplayers keep this allegedly unprofitable business afloat. However, closer inspection reveals that this furniture company is in fact very profitable.
The jury looked confused, before the lawyer continued.
Lawyer - The company's profits are all in fact chased in by Doulisk Inc. Doulisk Inc. is a company that allegedly sells starship components. Of course, the vast majority of these components are sold to the Zaarkhun Consortium, a corporation whose strongest driver in profits is its starship industry; curious that the Consortium would not simply purchase Doulisk and make it a subsidiary. As a matter of fact, Doulisk has been able to charge very, very low prices for its high-quality components compared to its competitors, allowing the Zaarkhun Consortium's ships to make a huge profit margin on ships that other companies cannot compete. Perhaps this is because it instead makes its revenue from a "failing" furniture company that receives its own money not from company profits, but government subsidies?
This was only the tip of the iceberg. The lawyer had far more dirt on Zaarkhun than just this sleazy tactic of increasing his company's profit margins on their ships. But by bringing up incriminating evidence such as this, she made her larger case against him more crucial.
Lawyer - However, it is Kadas Inc., based in the much less regulated Grand Ottzel Order, that is truly incriminating. This company has also reported record profits recently, connected directly to the Zaarkhun Consortium. This business operates space station resorts filled with casino gambling, located within nebulae; which is to say, they are not beholden to any planet's law, and the Grand Ottzel Order has minimal law for these stations. One might simply argue, therefore, that the profits earned from their clubs and casinos is legitimate, until one learns also of the countless reports of guests who have been drugged and subsequently extorted, of the stations closed down due to their links to organised crime, notably the mafia in the Zorik star system, and of blatant money laundering related to its sale of illegal spice to Galot Republic.
Once she linked them all together, it was certain: Zaarkhun would be declared, in no uncertain terms, a criminal.
Lawyer - As you know, no spice within the Order is illegal, but several substances are criminal within the Galot Republic, and therefore casinos owned by Kadas Inc. are frequently used to sell spices to those who would smuggle them into the Republic and earn huge profits for dealers. What you may not know, however, is that those smugglers are in fact employees of Kadas Inc., and the profits they bring to the company are larger than that of a simple casino company. What you may also know is that the resorts owned by Kadas Inc. make frequent use of alien culture throughout their architecture for their guests, and to do this, they design their interiors with Galot-inspired furniture, furniture imported from - you guessed it - Aorik Inc. It makes sense, therefore, that Aorik can provide the semblance of a lack of profit while still supporting several hundred thousand Galot jobs, because it is in fact providing greatly for a company selling gambling and illegal spice. Both Aorik and Kadas report their profits in Doulisk Inc., which practically operates as a Zaarkhun Consortium subsidy, makes a loss on every component it sells but reports profits that were actually made in a furniture company and a gambling company as their own.
A smile now formed on the Ottzel's face, and on Rektor's.
Lawyer - Of course, this cannot be made too blatant, so Kadas still reports some of the profits as its own, but does not report where these profits come from: illegal activity. Illegal activity which, I might add, breeds crime throughout the Ottzel Order, one of the biggest buyers of the Zaarkhun Consortium's starships for defense. Indeed, Falrik Zaarkhun has set up a complex money laundering scheme between three puppet corporations with management that he has either bribed or blackmailed to work for him, and through a set of complexly written and disguised transactions between several planets, has allowed himself to profit at a rate no legitimate businessperson would have done. I believe the evidence is clear: Zaarkhun is guilty of crime.
There was silence across the room, as the judge looked to Zaarkhun. In an Ottzel court, this meant it was now time for the lone businessman, who had remained perfectly still in his chair throughout, to speak. At first, his facial expression remained unchanged, as he did not want to give anything away. In fact, he had already prepared for every single thing the lawyer would bring against him. Remaining in his chair, he spoke.
Falrik Zaarkhun - The honourable lady refers to only a single business that is related to me. Indeed, Doulisk is a great supplier of starship components to us, but the lawyer fails to mention why: this is related to Gykar laws regarding licensing of components. In order to protect the compensation of the research and development team, components may only be sold to a corporation who owns the license for these parts. The research and development team is, of course, a subsidiary of the Zaarkhun Consortium, and it is only natural that I would only want to give the license to produce the components to a company who would sell them exclusively to me. Note that of their thirty-three other clients whom the supply components to, all are in the same situation; they sell components to those who own the license for those components.
This took apart one of the lawyer's arguments. She realised she was not familiar with this obscure Gykar law. Of course, she knew for certain that the corporation must be owned by Zaarkhun, but she had no proof.
Falrik Zaarkhun - It is true also that Doulisk sells its components at an extremely low price, perhaps lower than its competitors could. What she does not mention is the difference in material. Indeed, the minerals mined for use by Douslik are mined on asteroids located in the asteroid belt that circles the planet. It is also Gykar law that a permit must be purchased to mine here. Due to the devaluation of Galot currency, no doubt related to a recent string of Kralgon attacks that have harmed the economy, their exports are much cheaper. You will note that in a recent report cited by Doulisk, which my opponent fails to cite, that they reported their profit margins on each component sold: 40% added value to each component. Certainly not "selling at a loss", and certainly explains their record profits. They have taken advantage of the increased demand.
Rektor became a little nervous. Zaarkhun's ability to handle himself here was easily beyond that of most lawyers. By building up an incriminating case against Zaarkhun, Rektor had actually harmed the legitimacy of his own case if Zaarkhun were able to take just a few pieces of it apart.
Falrik Zaarkhun - Indeed, it is true that several transactions between Doulisk and Aorik have been made. All of them have been to purchase material used in the beds located in a ship's sleeping quarters. Furthermore, to imply Aorik, a business with no relation to myself, is in fact profitable but reports its profits elsewhere, is ludicrous to say the least. Indeed, the corporation is subsidised by taxpayers, as was made law by the Galot Jobs Protection Act, which requires that companies operating with Galot labour as opposed to automated labour be subsidised so that they may pay their workers a living wage. The company has, however, struggled to keep up with competitors increasingly replacing their own labour with robotics, and has relied on its sales of hand-made, luxury Galot furniture as exports to companies that highly value such items for their hotel guests, such as Kadas Inc.
It was ridiculous to Rektor and the lawyer that he could present evidence against them. Yet, everything he cited seemed entirely believable. Zaarkhun stood up from his chair, and approached the judge, leading in to his main argument:
Falrik Zaarkhun - It is unfortunate also that the honourable lady smears the name of Kadas Inc. with isolated incidents at a few clubs that it has since shut down, though I suspect I know why she does this. Kadas Inc. is well known for importing and hiring from non-Ottzel, and the honourable lady has but a single piece of evidence that Kadas Inc. works directly with the mafia groups: that both the mafia and Kadas employees are predominately alien. Very unfortunate that she would make a case that is so clearly racially motivated and insensitive to the legalities and economies of other alien cultures. I suspect it is in no due part to the Zaarkhun Consortium's recent profit reports exceeding that of Rektor's own business. For these two to remind the galaxy that Ottzel prejudices against other aliens are still very real, and that even in a time of war against the Kralgon, the Ottzel would still sooner protect their own profits than lift a finger to help an ally in need, is highly worrying.
Rektor and the lawyer now appeared extremely nervous, as the judge and jury became much more impatient with them. Zaarkhun's argument was clear; whether or not the jury liked him, he could easily frame this to the galaxy as a case of Ottzel bias against aliens, in a time when the Grand Ottzel Order needed all the help they could get. The galaxy knew they'd need the starships that the Zaarkhun Consortium sold, so to incriminate Zaarkhun based on what appeared to be fabricated charges would send the wrong message to the galaxy: the message that the Ottzel would only protect the galaxy from the Kralgon if their kind were the ones to profit from doing so.
Falrik Zaarkhun - Interesting that my opponent fails to mention that the improper transactions that went through Kadas Inc. did not in fact lead to Doulisk. They were traced, however, to one company...
Zaarkhun brought up holograms that led straight to Rektor's company. Rektor's jaw widened in shock, unable to speak.
Falrik Zaarkhun - I believe the projection of my money laundering friend, Rektor, is ironic. I will leave it to the jury to decide if they choose to bring charges against Rektor following this. However, I believe the case against me to be closed.
There was a long silence in the room, followed by the jury panel to quickly submit their votes to the judge. The judge then spoke.
Judge - The jury has come to the same conclusion as I: we cannot in good conscience bring up any charges against Falrik Zaarkhun. He is innocent, and these money laundering charges are attempted smears against a successful business.
The judge then activated a switch, allowing Zaarkhun to return to his ship. He had successfully humiliated his opponents, who had paid large sums of money for lawyers to argue their case, only to destroy them on his own.
In fact, however, all three corporations were indeed companies managed by Zaarkhun himself, and Kadas Inc.'s transactions made that ended up in the hands of Rektor's business were simply made as a cover up should Rektor ever bring charges against him. He had fabricated evidence against Rektor to delegitimise any case made against the Zaarkhun Consortium. And indeed, Doulisk, which was working directly for Zaarkhun, did sell every single component at a loss, and the minerals it mined were worth far more than Zaarkhun had made it out.
Very few members of the jury in reality had really believed Zaarkhun's story, or found it compelling. But the judge was not in fact an Ottzel judge. It was a Katel known as Durzhan, who had time and again took over the minds of judges who would ever bring cases against Zaarkhun. Zaarkhun knew that most of his defenses to those who had truly studied law were not nearly as compelling to a judge who did not simply take him at his word; they were merely theatrics so no one outside would ask questions. The sly appeal to emotion made Zaarkhun appear to be a victim of a witch hunt against him, a tactic he had not used in a prior trial, and that the lawyer had not prepared for, but would easily make most non-Ottzel sympathetic to him, for they knew what the Ottzel did to aliens. While the Ottzel jury wanted badly to bring charges against Zaarkhun, the mounting pressure from them, and from a judge very convinced Zaarkhun was innocent, led them to declare him innocent.
But in reality, Zaarkhun was anything but innocent. He was the galaxy's biggest conman, and most successful criminal. And his plans to fatten his profits from the Kralgon Invasion Force went far beyond taking advantage of devalued currency.
Stage One
Edit
The Tokzhalan Empire
Edit
Having finished his conquest of the twelth star system in a matter of a week, the bloodthirsty Kralgon Emperor sat within his starship, working through the list of nearby star systems for which to invade next. Aside from a few encounters with the Loron, the Emperor had not faced much heavy resistance until that point. He had also not had much contact with alien life at all. Typically, any transmission sent to him was a plea for his forces to stop, or an attempt of the Ottzelloans to open up diplomatic relations; transmissions that he had ordered his computer to deny immediately before they reached him.
But this time, the Emperor received a transmission that seemed to be coming from outside of the galaxy, and had an entirely different wavelength to what he was used to. The transmission contained no visual feed, instead being purely audio.
??? - Greetings, Emperor of Ottzello.
The Kralgon Emperor was tempted to reject this transmission at first, but the use of the term "Emperor of Ottzello" stroked his ego just enough that he was intrigued. He decided to respond.
Kralgon Emperor - That indeed is my correct title. To whom am I speaking?
??? - I am Emperor Tokzhalat, leader of the Tokzhalan Empire. As you have surely deduced from the origin of this transmission, we are not from your galaxy. However, we have heard about your campaign to regain control over the worlds that you are owed.
This, too, struck all the right chords with the Emperor. To him, his invasion of Ottzello's planets was not illegitimate, but was the rightful reclamation of land which belonged to the Kralgon. The Kralgon, he determined, were the true rulers of the galaxy, and he was merely setting things to right. Now he was very interested to hear what Emperor Tozkhalat had to say.
Kralgon Emperor - I am glad to hear this. Indeed, my campaign thus far has been successful, and one day, I shall set to right this galaxy. Only the Kralgon can put this galaxy on its true path towards prosperity, for the Ottzel are a weak and misguided species. I am glad to hear that the intergalactic community will view my eventual rule as legitimate, and recognise the future empire of Ottzello under me as its ruler.
Emperor Tokzhalat - And I am glad to hear of your successes. We have seen the current situation in which your galaxy finds itself, and I am convinced that you are indeed the one who must raise it to a greater level, by uniting it under your hand. If you ever need our support, Emperor, our forces, and those of our allies, are ready to lend their arms to the service of your mission.
The Emperor was now particularly intrigued by this offer. He was cautious at the same time, for it was rare that anyone made such an offer without wanting something in return, but nonetheless wished to learn more.
Kralgon Emperor - Now that you mention it, your support would be most appreciated. In return, I can promise you future trade deals with us, and allow you to mine a portion of our vast andasium resources from our planets while you are here. What can you, and your allies, offer me in terms of forces at the moment?
Emperor Tokzhalat - On our part, our greatest strength lies with our drone attack ships. One fleet each from over one hundred thousand worlds is ready to join you. Our allies possess a fleet of ten million warships, each carrying a ground force of two thousand five hundred soldiers. Their soldiers, you will find, are most impressive. Each is a pilot of his own miniaturised fighting vehicle, equipped with the strongest weapons and shielding that I have ever known.
Kralgon Emperor - That sounds most impressive... most impressive indeed. I am curious, however. Through what means did you hear of my campaign? I was under the impression that Ottzello was still cut off from the rest of the universe, and that the only outsiders present here were the Delpha Coalition.
Emperor Tokzhalat - You have supporters within your galaxy who have found a way to contact outsiders, so it seems. Others who accept that Kralgon rule marks a better future than their present.
Kralgon Emperor - How... curious. I was unaware of this, but nonetheless, I shall take the help I can get. For I suspect that my campaign won't prove so simple the further on it goes. Anyone who recognises the rightful Kralgon rule of this galaxy, however, is an ally of mine. It has been very good making your acquaintance, Emperor Tokzhalat, and I very much look forward to seeing your forces, and those of your allies, in action.
Emperor Tokzhalat - Thank you for allowing us the opportunity of this disucssion, Emperor of Ottzello. I shall begin to bring our fleets into your galaxy, and then you may provide us with your orders. Until then, goodbye.
The Emperor smiled, and then chuckled to himself a little. Part of him was still suspicious of such a generous offer, but he needed all the intergalactic allies that he could muster. He was thrilled to have the backing of such an organisation behind him, though he perhaps didn't know just how powerful the Tokzhalan Empire, and their allies, the Daleks, were...
First Invasions
Edit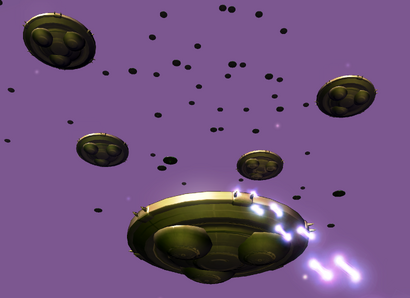 The first Tokzhalan-Dalek flotilla arrived at Ottzello three days after Tokzhalat and the Kralgon Emperor had made their informal agreement. Tokzhalat informed the Kralgon that it was an initial task force of fifty warships, transporting the most elite warriors of their combined armies, whose purpose was to act as an initial assault force against enemy worlds. They would appear in the sky unexpectedly, as their relatively small numbers and advanced cloaking technology rendered them barely noticeable to planetary warning systems, then deploy overwhelming numbers of shock troops against their target's military bases before seizing control of the cities. After this strike force had established a stronghold in the galaxy, many more vessels would arrive to continue the invasion.
Tokzhalat did not tell the Kralgon the actual reason for the small size of the first flotilla: the Daleks were simply being uncooperative. Sceptical of the value of dedicating their fleets to such a war, they had only provided five cruisers to join an expeditionary force; the remaining forty-five vessels were the much smaller Tokzhalan drones which acted as an escort. This was a worrying state of affairs. Tokzhalat had promised an armada of ten million warships; he needed to give the Daleks a good reason to deliver, not just to win the Kralgon Emperor's trust, but also to keep the Daleks busy such that they could not break the terms of their alliance and turn against him.
Eager to see the "elite strike force" in action, the Kralgon Emperor directed them to a Telzoc agricultural planet, Trondothse, in a strategically valuable region near the confluence of two hyperlanes. Having only one major city, Trondothse would be easy for the Kralgon to seize for their empire, but with the vast majority of the populace living in smaller farms and villages scattered across the three continents, most of which possessed their own armouries in order to defend their fields against local predatory wildlife, such an invasion would quickly turn into a protracted guerrilla war.
The Tokzhalan-Dalek invasion began similarly, with an attack on the city. Tokzhalan drones rapidly acquired air superiority while Dalek cannons flattened the ground defences, and then twelve thousand Daleks glided out of their ships towards the streets and exterminated any Telzoc soldiers or civilians who showed signs of resistance, along with those who appeared to be too weak or ill to be of any use as slaves. The city fell in twenty minutes.
Following this successful blitzkrieg, the Tokzhalan drones left the city to launch strikes against the surrounding settlements, while the Daleks rounded up the surviving Telzoc to be cybernetically converted into obedient slaves. Once enough slaves were created to run the process with little supervision, most of the remaining Daleks left the city to join the Tokzhalan drones in their suppression of the rest of the planet. Fourteen hours later, all of the planet's armouries had been destroyed, and the Daleks returned to the city, content that any remaining resistance would be of minimal threat to them.
Pleased with their work, the Kralgon Emperor ordered the strike force to attack the nearby planet of Firontrotz, a heavily-defended military stronghold and factory world. A garrison of two hundred Daleks remained on Trondothse to oversee the slave operations, and the Tokzhalan drones that left with the rest of the flotilla were quickly replaced with a dedicated planetary defence swarm sent by Tokzhalat.
The invasion of Firontrotz was a far longer campaign. Because the planet had a far stronger and more numerous military contingent, the battle for its skies required Daleks to be deployed instantly upon arrival, and even though they were taken by surprise, the Telzoc were able to inflict casualties among the invading forces. Furthermore, the Daleks planned to take as many factories intact as possible, which further prevented them from taking actions that would have shortened the conflict at the cost of collateral damage. Twenty-five hours into the battle, one of the Dalek cruisers was destroyed by concentrated fire from an entire Telzoc battalion. However, this was the extent of the Telzoc victories. After three days of fighting, although most of the Tokzhalan drones had been shot down and hundreds of Daleks had been killed, the last military bases had surrendered or been destroyed, and most of the factories had been taken.
Now the Daleks were pleased with what they had achieved. Ottzello was a rich source of new slaves, and its factory worlds would be of great utility in producing new starships to transport them back to the Daleks' own territories. A far larger Dalek fleet was sent on its way to the galaxy, and millions of Tokzhalan drones were brought along to join them.
Business Opportunities
Edit
Titanozor's New Rival
Edit
Thr'aloy's Thrashing
Edit
Zr'Ahgloth and Tyraz' Showdown
Edit
New Slaves
Edit
Stage Two
Edit
Da Rebellion
Edit
Defeat of the Gykar
Edit
Coalition Withdraws
Edit
Partner in Crime
Edit
Defeat of the Telzoc
Edit
Dakster's Last Push
Edit
Confronting the Emperor
Edit
In Hiding
Edit
In Captivity
Edit
Emperor of Kralzello
Edit
The war is actually a rewrite of the original war that was started in July 21, 2010. The rewrite began on October 1, 2017, just over seven years later.
The original war also involved the Iteok, the Vartekian and the Fordan Empire, though neither user was editing fiction at the time the rewrite was written.