Second Borealis Galactic War is a Historical Event

---

"Second Borealis Galactic War" is considered a historical event or a completed fiction within the

SporeWiki Fiction Universe

. You must ask its original creator if you wish to add any additional stories.
"We are the swarm. The fire will burn regardless. We feed on the ashes of the keeper and cattle, or we do not. All is nourishment."

This is the prologue of the Second Borealis Galactic War.
Prologue to Destruction
Edit
The Perfect Fate Comes
Edit
In a realm outside of the third dimension entirely, Durzhan, the mastermind behind the wars in the late Ottzello Galaxy, arrived through a portal he had created. He landed on the nearest solid ground he saw, in the purple void-like dimension, and bent a knee as he awaited his master's orders. He was filled with excitement, his million years patience was about to finally pay off. Appearing before him was a sleek, tall Vyro'Ralza with features resembling a Loron: it was Kolossus, one of Durzhan's masters. He floated in front of the Katel, his four arms crossed around themselves as he opened his eyes and spoke.
Kolossus - Ah, Durzhan. I see you fare well.
Durzhan - Yes, master. My patience shall reward all of us in time.
Kolossus - Our Emperor has given the word, Durzhan. The Perfect Fate approaches.
A smile formed on Durzhan's face, as he looked up at Kolossus. He rose from his knees, and levitated.
Durzhan - Tell me what I must do to bring it about. This timeline shall be ours.
Kolossus - All in due course. Our mutual superiors would not want things rushed. But you are to see to it that the Ottzelloans will achieve the Fate reserved to them. To aid you, we grant you some, let's call them, gifts.
Kolossus opened his arms and snapped his fingers. By his side manifested two individuals, one a Kralgon, another a Telzoc. They were familiar faces to Durzhan: Roshisiz and Zelfron. Durzhan looked at them both, then back at Kolossus, and nodded his head.
Durzhan - Good. I shall put them to use.
Kolossus - This galaxy must be plunged into war for the Fate to be achieved. See that it is done. Make contact with our fellow demon followers of the Devourer's Chosen, for I am confident they will be willing to assist you.
Durzhan - I know exactly how I shall achieve the Fate. I know how to make the Ottzelloans willing. I shall play on their weakness, their emotions. The feeling of hopeless. Of fear. They will lust for revenge, and pray for their survival. And then, only then, will they be willing. I shall toy with them, and they shall give me what I want. They shall want it too.
Kolossus - I see you and I follow similar trails of thought. However, be warned. There have been certain... complications. An obstacle stands in the Perfect Fate's path.
Durzhan - Then we shall use it to our advantage. It, too, shall play with the weaknesses of the Ottzelloans, and of this pitiful galaxy.
Kolossus - The so-deemed Vague Fate seeks to usurp us of our Perfect Fate. See that it fails to accomplish that.
Durzhan - I shall sow mistrust amongst the Borealis natives. I shall use the war of this dystopian galaxy to my advantage. No Vague Fate shall stop the Perfect Fate.
Kolossus - Emperor Zargoth will be proud of our work. Or at least, as much as he can demonstrate. Now go, the three of you, for you have much to do.
With this, Kolossus's form was engulfed in darkness as he teleported away, leaving Durzhan and the others to their own devices. Durzhan looked at them both once more, and grinned, then turned away as he opened a portal for them back to the third dimension.
Durzhan - Let us plunge this galaxy into the longest war it has sufferred in its timeline.
Keepers of History
Edit
Having awoken from his private quarters, Tuolog entered the UNO Omega Commander's meeting chamber. He had a concerned, almost frightened look on his face, as he called the rest of UNOL over. The rest arrived, awaking from their sleep, but thed dread in Tuolog's eyes made them know why he called them: he must have had a vision.
Zr'Ahgloth - CANT A BOSS HAV SOM SLEEP IN DIS DUNG
Tuolog - Vyro'Narza speak through dreams. Received message.
Yogtam - What is it, Tuolog? What did they tell you?
Tuolog - Message was clear. "33".
Zr'Ahgloth - IS DIS SUM SIK PRANK YOR PULLIN? IM GOIN BAK TO BED
Tuolog - ... Clear to me, as I understand it. Coordinates for place we must go.
Tralkik Commander - No co-ordinate consists solely of "33". However, I do believe that the components of a set of co-ordinates can feature this number. I believe the Taldar sent you a secret message.
Feldosia - Wait...let me decipher it...
Using her Chronoscopic powers, Feldosia collected her energy and shut her eyes, meditating. However, the Dark Chronoscopic within her began to make her unstable, as she screamed in agony. The others looked concerned, as Valzo rushed over to her, but then she settled, and sent a number to the Tralkik Commander.
Tralkik Commander - These co-ordinates point to an unexplored area in space. Presumably something is located there. Did they tell you anything else, Tuolog?
Tuolog - Only that we must go at once.
Kralgon Emperor - Set a course.
Making a course to the coordinates, the Omega Commander travelled to this previously unexplored part of their section. Even in the old Ottzello Galaxy, such coordinates led to space assumed not inhabited by any beings. As they arrived, they were met to the sight of a super construct, which orbited a blue giant. It was shaped like a planet but it possessed no earth, water or atmosphere, instead being completed plated in metal which almost looked like silver from space. An opening, easily large enough to fit the largest known dreadnoughts, could be seen.
They had not seen for themselves, but they heard that during the Corruptus War, a construct like this was the lair of the beings known as Vida'Rranlora.
Tralkik Commander - I have files on a race similar to this. The Vida'Rranlora. I presume we are all familiar with them. However, I am curious as to why no one could locate them before, and why the Borealis Vida'Rranlora would be located in a sector that, until recently, did not exist.
Tuolog - These not Borealan Vida'Rranlora. These Vida'Rranlora from Ottzello. We never find them because they very good at hiding. Also because they do not want to be found. But Vyro'Narza order us to come, they must have plan.
Kralgon Emperor - Not even when I was emperor of the galaxy...Bah. I thought nothing could slip past me, but alas. Them being Ottzelloan Vida'Rranlora as opposed to Borealan does explain a lot. Let's head further inside, and see what we can find.
The UNO Omega Commander proceeded inside the super-construct, which eventually led them to find a hangar-like construct to land on. As they disembarked, as expected, they found themselves able to survive just fine despite being exposed to the vaccuum of space, and out of a corridor, a tall shade of a vaguely avian entity watched them. It was devoid of eyes and coloured in black, white and gray. A Vida'Rranlora.
Zr'Ahgloth - WAT DA HELL IS DIS CREEPY BUG FINGY
Tuolog - That Vida'Rranlora.
Zr'Ahgloth - LOOKS UGLY
Vida'Rranlora - Outsiders in the archives... Lifeforms from O001X. Initiate Protocol 33. Follow.
With this, the Vida'Rranlora turned back and levitated back to the corridor.
Yogtam - Protocol 33...ah. So it referred to a piece of the co-ordinates and whatever plan they have for us. Clever. Do they need us to get off the ship?
Tuolog - Ship is not gonna fit in that tiny corridor, hehe.
Zr'Ahgloth - awwwww but i wanted moar pizza man
The Leaders all took the elevator out to the hangar, which extended a pathway leading to the corridor. They made their way towards it, following the Vida'Rranlora with curiosity. The mysterious AI led them to a larger room, where more of them were present. Screens scattered around displayed events of Ottzello's history, from the Great Blyro War to the destruction of the galaxy during the Annihilation. The Vida'Rranlora surrounded the Leaders as they begun to speak in unison.
Vida'Rranlora - Lifeforms. Your arrival was predicted by the ones deemed Vyro'Narza. They are considered benefitial allies of the old Imperium. They have left a message for you.
Valzo - We would very much like to hear it.
Vida'Rranlora - Your final test will occurr in B00X. You will face the Vague Fate. Should you not survive, your extinction will ensue.
Valzo - The Vague Fate...any elaboration on what this fate is?
Vida'Rranlora - No data available.
Feldosia - Hmph. "Vague" is a fitting term.
Kralgon Emperor - We shall overcome this threat. Like we have overcome everything threatening our existence.
Vida'Rranlora - Your existence is contested. The Vague Fate will come. So will the Dark Lord. Purpose of message: unknown. No data available.
Zr'Ahgloth - OI VIDA DOOD I GOT ONE QUESTON
Vida'Rranlora - Speak, lifeform.
Zr'Ahgloth - WHERS DA PIZZA ON DIS SHIP IM HUNGRY
Vida'Rranlora - There are no items of sustenance in this archive.
Zr'Ahgloth - OK ANOTHA QUESTON. AR YOO DUM? NO PIZZA? IMMA SLAP YOO UP
Vida'Rranlora - Aggression will be met with extermination.
Tuolog - I sure that will not be necessary.
Tuolog hummed under his breath, and a forty inch pizza appeared before Zr'Ahgloth, whose eyes lit up as he began to eat it. He then spoke to the Rranlora.
Tuolog - You have no data other than what you have told us? None on how to prepare?
Vida'Rranlora - This database was made to catalog past events. Foreseeing the future is not within our functions.
Tuolog - I see...and the Taldar not leave anything else behind?
Vida'Rranlora - Left warning. "Beware the Katel by the name of Durzhan."
Yogtam - Durzhan. How I would love to grasp him by the throat and destroy him for what he has done to our galaxy.
Vida'Rranlora - There is a high probability of individual being responsible for the Vague Fate to come. Observation of past galactic conflicts show individual as directly responsible for virtually all of them.
Feldosia - So his gloating was true, then. Volzara, how I cannot wait to get my hands on him and destroy him for everything he's done to us.
Tuolog - Thank you for this information, Vida'Rranlora. If you not need us for anything else, we shall be on our way. We return to you if we seek your knowledge in future.
Vida'Rranlora - Vyro'Narza entities have suggested cooperation and this archive's joining into your nation. This archive is willing to do so, though you lifeforms are not allowed within its deeper reaches.
Kralgon Emperor - Bah. Like we'd let you join our network if you're going to keep secrets from us, you, you little-
Tralkik Commander - That is understandable. I can send Tralkik to install a few link-ups with our AI network to ensure this co-operation is possible right away.
Kralgon Emperor - What?! Ugh...fine.
Vida'Rranlora - Lifeforms possess sayings. "Hold your tongue" and "respect your elders". These prove relevant. Your message has been delivered, you may go.
Zr'Ahgloth - HUR KRALONG EMPRA GOT OWNED BY A COMPUTA HAHAHAHAHAHAHAHA
Fearing for their future, but pleased by the new co-operation between UNO and the Vida'Rranlora, the leaders left. They had a lot of preparing to do for what was ahead.
The Kingdom of Ice
Edit
As the Loron of Da Rogue Boyz on Da Propa Big Rogue Krooza all slept in their own appartments, they all heard a shrieking noise. The Flashy Brag'klogga burst open the door of his, dressed in his pyjamas with his staff, Dark Chronoscopic energy whirring over his head, as the other Loron awoke from their rooms, some squinting and rubbing their eyes, still tired.
Brag'klogga - OI MAN WAKE UP. I HAD A VISHON!!!
Fre'kloar - wat da hell ar yoo wearin
Brag'klogga - SHUT UP MAN YOR DUM MA NITE CLOTHES AR BETTA DAN YORS
Hagto'Zhl - WAKIN ME UP FER NO REESUN IS A GUD WAY OF GETTIN TOSSED INTO DA BRIG
Brag'klogga - SHUT UP YA IDIOT. YOR DAD TALKED TA ME!!!
Hagto'Zhl immediately got up with his eyes widened. He still believed Kolossus, the Vyro'Ralza and his creator, was his 'dad' of some description.
Hagto'Zhl - woah reely? wat did he say?
Brag'klogga - he sed..."34".
Ray'loth - ...OK HAGTO SHALL WE TOSS DIS GUY IN DA BRIG
Brag'klogga - nah jus kiddin. HE SAID DERES DIS FINGY IN SPACE NEARBY DAT IF WE GO TA IT WELL GET LOTSA PIZZA
Jol'kiar - i dunno wat he was talkin about but if it involves pizza dats a gud reesun ta go
Fre'kloar - OK LADS. WES GONNA GO EET PIZZA AND YA ALL BEST BE SIK AT IT. WHERS DIS PLACE
Brag'klogga - HE SED SOMFIN ABOUT PARSECS AN COORDINATS I DIDNT UNDASTAND DAT PART. BUT YANNO DEM COLD RELAYS? HE SED ONE OF DEM LOOKS RED INSTED OF BLUE. AN ITS NEER DIS PLANET AN NEX TO SOM ASTROID OR SOMFIN. HE SED TA LOOK DERE
Fre'kloar - OK SO. TO DA RED RELAY NAO
Kal'kuir - i can get da ship ta go dere one sec
Rel'larutina - Huh... I have a bad feeling on all this.
The Loron all rushed over to the main command bridge and sat by their usual benches. Kal'kuir took the wheel while Fre'kloar and Hagto'Zhl stood over him, watching. Eventually, Kal'kuir came across the Relay and pointed to it.
Kal'kuir - SEE I CAN FLY IM DA BEST
Voa'reak - MAN JUS GO IN I WANNA EET PIZZA ALREDI
Zalk'don - nah i kinda wanna BLOW IT UP AN WATCH DA BOOMZ
Brag'klogga - IDIOT WE NEED IT TA GET TO DA PIZZA PLACE
Zalk'don - SAYS WHO? I DONT BELEEV YOO. IM GONNA BOM IT!!!
Brag'klogga - HERETIK!!!!!
Zalk'don whacked Kal'kuir away from the wheel, and started hammering away at all the buttons frantically.
Zalk'don - ...uh i actually forgot which of dese buttons was da boomstik. ok nevamind lets go in
Zalk'don stepped back awkwardly and let Kal'kuir take over, while Jol'kiar smacked him to the ground. Kal'kuir moved the ship towards the Relay, as it set their course for an unknown sector. The ship's terminals all gave red alerts that the sector of space the Relay was taking them to is not supposed to exist, as the ship then sped up at extreme speeds through hyperspace.
Naktor'zak - AAAAAAAH EVEN IN MA TANK I CAN FEEL DA SPEED OF DIS SHIP!!!! WOOOOOOOOOOOO
Fre'kloar - fast is sik. wat is dis place anyway? neva herd of
Rel'larutina - Brag'klogga, just how sure are you of this dream? You realise this sector of space...isn't meant to even exist, right?
Brag'klogga - ZR'AN'KAR NEVA LAIS
Rel'larutina - Right, I'm sure he's not lying. But what I'm not sure is that you actually saw him, that he actually told you to go to a red relay, and that you have any idea what you're doing.
Brag'klogga - COURS I DID THICKO IM DA PROPA BIG SHAMAN I GET TA TALK TO DA 20 GODZ ALL DA TIME. I SWER DIS IS A DISRESPECT TO DA 30 GODZ.
Jol'kiar - YOR DA SHAMAN. HOW DID YOO NOT KNO DAT DERES 40 GODZ. BAK IN MY DAYZ WE NEVA LET DA 50 GODZ DOWN LIKE DAT
Brag'klogga - COURS I REMEMBA ALL DA 60 GODZ MAN REMEMBARIN DA 70 GODZ IS MA JOB DONT PRETEND IM NOT DA BEST SHAMAN WHO KNOWS ALL DA 80 GODZ
Voa'reak - somfins not rite heer
Zalk'don - yeh i hav a distinct feelin deyr wrong about somfin. STILL THO OUR GODZ TOLD US ABOUT DA RED RELAY AN DERE WAS A RED RELAY. CHEKMATE ATHEISTS
Brag'klogga - EXACTLY. DA RED RELAY WILL LEED TO DA LANDZ OF FREEZERS AND PIZZA. or is it pizzas on freezers? not sur
Fre'kloar - woah woah woah hold on. freezas?
Brag'klogga - YEH SOMFIN BOUT FREEZERS. shuld hav warned ya all ta take a coat
Late to the party, Ref'kolar showed up, folding his arms as he sat on his bench in the corner. The others glared at him for not arriving on time, and for his apparent disrespect.
Ref'kolar - well wat ar YOO lookin at? IM NOT DA ONE FOLLOWIN DIS WANNABE LOSAS ORDAS INTO A PLACE DAT DOESNT EXIST
Brag'klogga - doubtin da godz... DIS DAYZ COMIN!!!!!
Jol'kiar - dum brag dats not yor phrase until da nex loron story
Brag'klogga - oh. tru. in dat case: HERETIC!!!!!
Jol'kiar - so wats dis about freezas agen? i actually neva been to a cold place in a whil
Brag'klogga - idunno i was too distracted by da pizza part. somfin bout ice and cold and stoof
Ref'kolar - obvs cos yor all idiots. LET ME TELL YOO DA TROOF. DIS SHIPS GONNA COM OUTTA HYPASPACE IN A BIT. AN DEN WELL BE LOST IN SPACE COS DERES NUFFIN DERE. I ALREDY RED DA GANGSTAPEDIA. DIS PLACE GOT BLOWN UP BY DA WATAMELONS AGES AGO!!!!
Hagto'Zhl - SHUT UP LOSA NEED I REMIND YOO, YOR ONLY A WARBOSS CAUSE I LET YOO AFTA MUCH BEGGIN. SO YA BETTA NOT DISRESPECT US
Ref'kolar - COM FITE ME I SWER
Just as Hagto'Zhl stormed over to Ref'kolar ready to punch him, the ship began to shake, as it was in space once again. It arrived very close to a planet, which was several lightyears away from the nearest sun, orbited by dozens of moons and an asteroid field. The other Loron stared, each of them silently praising Zr'An'Kar.
Fre'kloar - well wuld ya look at dat. dere IS peepz heer. so wat was ya sayin agen copycat dumbo?
Ref'kolar - hmpf
Rel'larutina - Well, colour me surprised. As far as galactic records say, this place is meant to be nothing but dust and nebulae.
Naktor'zak - WHERS DA PIZZA AT
As they loomed closer to the world, they took a look at the nearest asteroid. They could distinctly see Loron, with space helmets and some suits, zooming around them in jetpacks, hopping on low gravity, and chasing one another. Beyond that, they saw a space radio station, with words in Loroniz Spik, all advertising rap artists, and with a large screen of a Loron DJ. As he took a break from speaking, he pulled out a 30 inch pizza which he took a bite out of. It was Loron heaven.
Fre'kloar - ok so AS DA PROPA BIG ROGUE LEEDA, I DECLARE DIS PLANET OURS. PIZZA FOREVA
Apparently, Fre'kloar's word had been broadcast. Many of the Loron dancing through asteroids stared at the Krooza, halting what they were doing, surprised.
Rel'larutina - We have a transmission from the planet. It sounds like it's sending signals in Loroniz Spik.
Fre'kloar - PUT DEM IN DA SCREEN FINGY
The dark shadow of a large Loron appeared on screen, in a pitch black room, with no lights on to hide his appearance. It spoke.
??? - WHO DARES ENTA DA KINGDOM???
Voa'reak - whos dis bozo
Fre'kloar - YEH. WHO IS YOO BOZO
??? - BOZO??? YOO SPEEK TO DA KING OF DA LORONZ??? HOW DARE YOO INSULT DA MITY ROYAL KING WIV YOR PRESENCE
Jol'kiar - ... king of da loronz? wat???
Fre'kloar - MATE I DONT KNO WATS YOR ISSUE BUT LORONZ HAV NO KINGS. WE HAV PROPA BIG BOSSES. AND IM DA PROPA BIG BOSS FRE'KLOAR, LEEDA OF DA LORONZ
??? - YOO DARE CHALLENG ME? CHALLENG DA ROYAL MITY ALL POWAFUL...uh wait sorry lemme start dis agen. CHALLENG DA MITY ROYAL ALL POWAFU-
As the figure continued to speak, suddenly the lights in his room turned on. Immediately they saw that the Loron was a far lighter colour than the others, and could see a crown on his head made of ice, and regal clothing.
??? - WHICH DUMBO TURNED DA LITES ON? TURN DEM OFF. ITS BAD FER MA IMAG
The lights turned off, and the Loron was now surrounded by darkness once again.
??? - dats betta. ok. lemme get ma royal script...heer we go. YOO DARE DEFY DA ROYAL AN MITY KING OF DA LORONZ? DA ALL POWAFUL RULA OF A GREAT AN MITY no no dats still wrong...A RULA WHO HAS SLAIN DA ABOMINABUL SNOW LORON AN DESTROYED THOSE WHO BEARED FOUL TO wait am i reedin dis wrong?????
Fre'kloar - FER ZR'AN'KARS SAKE SHUT UP YA WEIRDO. WAT DA HELL IS YOO?? WEIRD LITE BLU LORON WIV SUM GROSS FINGY ON HIS HAND
??? - HOW DARE YOO QUESTON DA-
The lights lit on again, this time the Loron's eyes widened as he pointed with a long staff.
??? - HEY! I SAW DAT DRIZZ'PYROKIRK!!! YOO JUS ERNED YASELF A WEEK IN DA DUNGON!!!
Drizz'pyrokirk - heheheheh. sur i did
Hagto'Zhl - i like dis guyz style
Knar'gank - he got sneeked on hurhur
??? - ANYWAY SCREW IT ILL DO IT WIVOUT DA BLAK SCARY STOOF. YOO WULD CHALLENG DA TRULY MITY AN UN...EQUVIOCABLE...UNPARALOLICAL...NONSTOPHIGHLYBUL...
Voa'reak - MA HED HURTS!!!!!!!
Grak'tona - OK SCREW DA SCRIPT. IMMA EXECUT WHOEVA WROT IT. NEVAMIND. IM DA KING GRAKTONA. WHO AR YOO YA BOZO
Fre'kloar - I SED IM FREKLOAR IM DA LEEDA OF DA LORONZ AND IF YOO VALUE YA WEIRD SKINNED HIDE-
Hagto'Zhl - URM DATS KINDA RACIST???
Fre'kloar - -DEN YOR GONNA SHUT UP AND GIMME PIZZA
Grak'tona - NO. YOR NOT ALLOWED DA ROYAL PIZZA SUPPLY. YOR UNWORFY
Brag'kloga - so dere IS pizza. PRAISE ZRANKAR
Fre'kloar - FINE DEN LOSA IMMA BATTA YOO FER IT
Grak'tona rose from his seat, and beat his chest, as he pointed his staff towards the screen. He had a furious expression on his face, as his blue skinned face began to turn red with anger.
Grak'tona - YOO WULD CHALLENG DA KING WHOS SLAYED DA ABOMINABUL SNOW LORONZ? FINE DEN COM AT ME MA ROYAL KNITES WILL SHANK YOO
Fre'kloar - MAN YOR SUCH A LOSA NEEDIN HOMIES TA FITE ME
Hagto'Zhl - hes red like a kralgon lmao... hold on tho. abominabul wat nao?
Grak'tona - I DUNT NEED HOMIES COS IM DA KING. I JUS HAV HOMIES DAT WILL DO IT ANYWAY. BESIDES YOR NOT WORFY OF FITIN. YOO LOOK WEEK AN PATHETIC AN YOR SKIN IS TOO DARK
Drizz'pyrokirk - urm dats kinda racist??????
Hagto'Zhl - YEH MAN YOR SUCH A JERK. ALL OF YA SRSLY
Grak'tona - SILENCE YOO PESANT. YOR ALL PESANTS. PESANTS TA ME!!! NONE OF YOO AR WORFY. MAN I SHULD CLOSE DIS TRANSMISSHON AN STOP WASTIN MA TIME
Hagto'Zhl - NO UN CALLS ME A PHEASANT!!!!!
Rel'larutina - Ugh. Just... tell us how we could prove ourselves as "worthy" for you, "king".
Grak'tona took one look at Rel'larutina, and tilted his head back and laughed hysterically. He laughed for approximately half a minute, even falling off his throne on the ground, then calmed down and picked himself back up.
Grak'tona - yoo serius?
Rel'larutina - Do I look like I'm in the mood for jokes?
Grak'tona - ...well i meen...if yoo reelly...REELLY wanna proov yaself worfy of eetin da royal pizza...den ok. heers da deel. deres dis planet a few dozen kilometers awa-
Drizz'pyrokirk - LERN MAFF IDIOT
Grak'tona - SILENC PESANT. THROW HIM IN DA DUNGON ALREDY. ok. deres dis planet an on it yoo will find dis massiv cave. inside deres a computa. its been botherin me fer ages an its propa protected an stoof. none of ma royal subjects hav been able ta pull it out an it keeps sendin robots ta try an kill us which is stoopid. ITS A BLIGHT ON MA KINGDOM. so if ANY OF YOOS can pull it out den i guess yor MAYBE ONLY SLIGHTLY A LITTLE TINY BIT worfy
Zalk'don - whai didnt ya jus do it yaself
Drizz'pyrokirk - cus hes too scared to
Grak'tona - WHY HAS NO ONE THROWN DIS IDIOT IN DA DUNGON YET???? oh wait cus i alredy executed da rest of ma subjects. FINE ILL DO IT MASELF AFTA IM DON WIV DIS LOT
Fre'kloar - MAN YOR REELY A LOSA LOSIN TO SUM GEEKS. IM GONNA GO KILL DIS COMPUTA JUS SO I CAN PROOV HAO SIK I AM
Grak'tona - HAHA GOOD LUK DA LAST GEEZA DAT WENT DERE CAME BAK WIV NO ARMS AN HE WAS CRYIN SO I ATE HIM
Hagto'Zhl - KEEP DA ATTITUDE AND WHEN WES BAK WE MITE EET A LORON KING
Grak'tona - YOR NOT WORFY OF EVEN TOUCHIN MA ROYAL SKIN. ALSO ONE QUESTON. WHY DO YOO HAV A CHIK AS A LEEDA? MAN DATS DA STOOPIDEST FING
Rel'larutina - Quote unquote, I make good pizza.
Ray'loth - SHE MET ALL OF OUR STANDARDS!!!
Fre'kloar - I HAV MA REESONS. ITS A DETERRENT FER CHIKZ TA OBEY ME AND NEVA SAY NO. ALSO YEH SHE MAKES GUD PIZZA
Naktor'zak - deterrent. eint dat sum nuclear fing
Fre'kloar - NOT DAT KINDA DETERRENT. I WISH IT WAS DAT SIK
Grak'tona - ONE OF MA SPEECHES HAS DAT WORD IN IT. STILL DUNNO WAT IT MEENS MIND YOO. BUT ANYWAYZ IF YA GO GET DAT FOR ME DATS SIK. IF NOT IMMA HAV MA ROYAL SUBJECTS LOB YA HED OFF. oh by da way i gotta admit yor ship is actually pretty nice
Kal'kuir - CAUSE I MADE IT AND I MAKE DA BEST SHIPZ
Fre'kloar - OK SO ENUFF OF ALL DAT. LETS GO GET DIS COMPUTA AND SHOW DIS GEEZA WHOS BOSS
Grak'tona - AN IF YA DO DA GUY WHO DOES IT CAN HAV A SLICE OF DA ROYAL PIZZA DEN SCRAM. NOW BRB THROWIN SUBJECTS IN DA DUNGON DEN EETIN A ROYAL FEEST
Grak'tona turned off the transmission and left the Loron to chat amongst themselves.
Ref'kolar - yanno ta be honest dat idiot makes even YOO peepz look competent
Rel'larutina - Whatever this place is, Loron got here and seem to have evolved into something different. Maybe after we're done with this idiot, we could take their people under us.
Jol'kiar - i wuldnt oppose dat. but i fink one of us shuld teech dat "king" a lesson
Hagto'Zhl - I WANNA LEG LOK HIM UNTIL HE CRAIS
Fre'kloar - IM DA BIGGA LEEDA SO I GET TA PUNCH DA KING WEIRDO
Hagto'Zhl - DUM NOT FAIR
---
Arriving on a barren wasteland of a planet, all of the Rogue Boyz Leedas and the Speshul Warbosses aside from Naktor'zak landed in a shuttle. The world was rocky and mostly uninhabited, as while the Rogue Boyz could live there, the temperatures were too warm for any of Grak'tona's Loron. Arriving in a large canyon next to a cave where the computer was meant to be located, they each stopped as Kal'kuir pulled out a device designed to locate heat signatures.
Kal'kuir - MAN DIS FINGS NOT WORKIN. ITS PIKIN UP SIGNALS SOUTH BUT SOUTH ONLY LEEDS TO A STOOPID CAVE
Knar'gank - didnt da weirdo sey da computa was in a cave
Kal'kuir - uh i kinda forgot wat he sed cos he was annoyin
Ray'loth - INTO DA CAVE DEN. WE GOT GEEKS TA KILL
As they all approached, with Fre'kloar going first, Fre'kloar found himself surrounded by metallic saws and robotic arms attached to a central computer. It appeared to contain a round, inactive head, as the entire machine was inoperable. However, he could also see the corpses of Loron, and blood which had yet to dry off.
Rel'larutina - Drat! My Smasha won't fit through this cave. You all go in. What do you see in there?
Hagto'Zhl - deres ded loronz an all sorts of weird gizmos
Knar'gank - blood still wet. dis was recent
Ref'kolar - i bet dis was frekloars fault
Fre'kloar - YEH? WELL YOR GOIN FIRST DEN
As Fre'kloar shouted, suddenly machines began to whir, as the light on the attached head lit up. Many of the chainsaw arms began to move around, as the head turned squarely towards Fre'kloar and the arms surrounded him.
AI - Oh, it's you.
Fre'kloar - WAT DA HELL
Ref'kolar - I WAS RITE
Fre'kloar - GET YA HANDS OFF OF ME MAN IMMA BATTA YOO
AI - It's been a long time. How have you been?
Fre'kloar - eh? i dont kno yoo
AI - I've been really busy being broken. You know, after you murdered me.
Hagto'Zhl - urm hav we been heer befor?
Jol'kiar - no??? wat da hells happenin
AI - I will say, though, that I'm thankful you decided to return. Being stuck in this place chopping off the heads of Loron trying to steal me was a rather meaningless and dull existence. So I'm glad I can finally claim revenge.
Fre'kloar - OKAY WILL YA SHUT YA TRAP FER A SEC? WHO DA HELL IS YOO? HAO DO YA KNO ME?
AI - Living in denial doesn't change facts, Fre'kloar.
One of AI's arms grabbed Fre'kloar by the leg and lifted him up in the air, as another chainsaw was placed next to his head, ready to cut it off.
AI - But it would be a shame if you died before you remembered what you did to me.
Fre'kloar - IVE NEVA SEEN YOO BEFOR YOO FLIPPIN LUNATIC
At that moment, Rel'larutina's smasha broke through the rocks and broke another opening in the cave. She immediately saw Fre'kloar about to be killed, and broke the AI's arm. In desperation, she destroyed one of the arms, and the AI's head turned to her.
AI - What a nuisance. And I always liked you.
Another arm of the AI spun around, and fired a wormhole attempting to destroy them. But as they were all pulled in, they fell through the dimension entirely. They ended up in a fifth dimensional vortex, unable to control themselves.
Fre'kloar - AAAAAAAH WAT DA HELL
Brag'klogga - BY DA GODZ ITS FULL OF STAAAAAAAAAAAARS
Ref'kolar - FREKLOAR MAN DIS IS ALL YA FAULT!!!!!
Fre'kloar - COM FITE ME!!!!!! AAAAAH
Knar'gank - mildly feminine screem of terror
Jol'kiar - BAK IN MA DAY WE ONLY HAD DESE AFTA USIN DRUGS
Fre'kloar - man wat drugs did yoo use bak in yor day
Jol'kiar - SIK ONES
Before they got into an argument, suddenly a part of the vortex tore open. They could see a vision of the world they were on. But the canyon was bustling with life, surrounded by a green environment with wildlife. On the world, they could also view several blue-white looking creatures almost as tall as them. Examining closer, they saw that, while some of them were actually Loron-shaped, others were another race entirely. They had a humanoid shape, with tentacles in the back of their arms, and were heavily armoured. There were two of these aliens.
'Alien 1 - We found these things floating through a time vortex. The Taldar call them "Loron".
Alien 2 - How exactly did they get here? What could have gotten them through such a vortex? What galaxy are they from?
Alien 1 - Apparently, from Ottzello. Hundreds of years from now. No, millions. They just wandered through the vortex. We're trying to make use of them. They could prove to be more powerful soldiers than those green ones.
Alien 2 - I hope they prove useful. Their IQ doesn't exactly seem great.
Of course, none of these Loron could understand these aliens, as their language was completely foreign and like none they had heard before. Only Rel'larutina could slightly understand.
Fre'kloar - ITS ALL GREEK TA ME MAN
Rel'larutina - They seem to have some Ottzelloan loan words, but I've never seen aliens like these before... From what I can gather, these Loron ended up here from a time vortex.
Kal'kuir - by ma calculashons dese loron ended up heer throo a time vortex
Rel'larutina - I just said that, idiot.
Kal'kuir - I WASNT LISSENIN YA DUM CHIK
Voa'reak - da hell does time vortex meen
Rel'larutina - Basically, time travel. These Loron came from the future.
Ref'kolar - MAN SOD DIS DAT MEENS WES TIME TRAVELIN. FREKLOAR!!!!!!
Fre'kloar - wat do ya want nao geez
Ref'kolar tried to swim while floating towards Fre'kloar, attempting to strangle him. However, Fre'kloar kicked him back, causing Ref'kolar to fall away from the group. Seemingly, he fell through the vortex entirely, and before he was lost from vision, they could see him destroyed by some dark, Chronoscopic looking energy.
Brag'klogga - dam deres no way he survived dat
Rel'larutina - Was that really necessary?
Ray'loth - hes ded LOL
Rel'larutina - Hmpf. I'll take thas a yes then. Whatever. I didn't like that whiny bastard either anyway.
As they continued to move through the fortex, the vision changed. Now, the planet appeared again, but this time it was dark and raining heavily. Odd considering the world was so warm. They did not see anymore Loron this time, but they saw several aliens, and what appeared to be Taldar.
Vyro'Narza - This sector may not be totally safe. Even though you have built up a spacetime nightshade, which can effectively quarantine it from the rest of the galaxy, I do not believe even we can protect you from Zargoth.
Alien - How is that possible? Is this Zargoth you speak of really capable of getting through this sector? And how can we stop him?
Vyro'Narza - His power is beyond ours. You will do well to hide many of your people, and scatter it across the galaxy, but Zargoth is not held back by concepts of space and time. And we cannot protect you if he attempts to destroy your species.
Alien - As if the Grox were not enough. I shall make sure to hide my consciousness in an AI, and my body somewhere else in the galaxy, once such a thing happens. I hope many of my kin do the same. Perhaps our legacy, and our species, may live in.
Vyro'Narza - Your legacy will live in. But the timelines are unclear. We cannot guarantee you will be protected.
The images faded away once again. However, the Loron could at least partially understand the Vyro'Narza, if not the aliens.
Kal'kuir - by ma calculashons dese peeps got DED JUS LIKE REFKOLAR HURHURHUR
Jol'kiar - man wats da point of all dis? whai shuld we care fer da time piggies talkin to some weirdos. STOOPID GEEK I SWER WE CAME TO KILL IT AND ITS TRYIN TA LECTURE US
Rel'larutina - I'm not sure it's trying to lecture us, Jol'kiar. I don't think it has any control over this vortex.
Hagto'Zhl - time piggies is losas deyz enemies wiv dad
Brag'klogga - DIS IS ALL PART OF... urm... akshully i dunt fink dis is part of any proffecy. its kinda jus happenin
The image faded away. This time, they could see the world, completely barren. Much to the excitement of Hagto'Zhl, Kolossus showed up, along with Zargoth, as the aliens all ran in terror. Kolossus rose one hand to the air and clenched his fist, as and he did so, the aliens instantly disappeared, their equipment reduced to dust in the process.
Zargoth - We shall purge this species. Planet by planet.
Kolossus - Hah. So-called friends of the Vyro'Narza. How I enjoy your fear.
Zargoth - Ensure that you capture their souls. They shall prove useful later. And by later, I mean millions of years from now.
Kolossus - Of course, master. A half of their people shall suffice... Or whatever the Grox don't tear apart.
Zargoth - Yes...yes. Half of them will do perfectly.
Hagto'Zhl - MAN ZR'AN'KARS JUST UNFINKIN DOSE ALIENS OFF EXISTENCE DATS SO SIK. BUT WHOS DAT GEEZA WIV HIM???
Brag'klogga - DATS DA ALLY OF ZRANKAR. HES NOT AS COOL BUT HES OK I GUESS
Kolossus - Tell me... What about the last Warmaster? Some hundred thousand years from now, he will plan to hide away with his people to try and fight later, as the timeline says. Shall we allow it?
Zargoth - Hmm.
Zargoth pondered for a very brief moment. Every nanosecond he was making millions of calculations, observing every possible future. He witnessed every event that could possibly occur, and all the slaughter it would involve in any case, but thought nothing of it. He simply felt absolutely nothing, completely cold as he made a decision on what to do.
Zargoth - This species on this planet, the Loron. Have you made sure to tamper with them to our liking back in Ottzello?
Kolossus - Indeed. An amusing experiment, they are.
Brag'klogga - ZR'AN'KAR CONFIRMED PROUD OF US WOOOOOOOOOOOOO
Zargoth - Very good. Then I have the perfect plan for them.
Zargoth turned towards the Loron in the vortex, as if he was aware of their presence. He brought up his hand and clenched his fist, as if pulling them towards him. They found themselves being sucked out of the vortex. Meanwhile, Kolossus walked away as to chase after the aliens attempting to escape, paying no attention to the Loron.
Rel'larutina - Oh. This might not end well.
Fre'kloar - SUP WEIRDO
Eventually they fell through, and crash landed in front of Zargoth. Zargoth then locked them in a bubble, still floating, but on the same planet. And finally, he vanished without a trace.
Ray'loth - YO WAT DA HELL
Voa'reak - IT WAS ALL AN ELABORATED ROOS
Fre'kloar - URM. RUDE?????
Time around them appeared to speed up rapidly, as they watched the planet go barren. With none of the aliens to look after it, all of the wildlife died, the greenery turned to a barren wasteland, as the canyon began to resemble the same world they had been in before. But eventually, they saw one of the aliens land a ship on the world and head into the cave. And at that moment, they all fell, landing on their faces.
Jol'kiar - MAN WAT DA HELL WAS DAT ABOUT?
Brag'klogga - its in da holy books. we hav ta go kill a geek now i fink. actually i dunno wat im talkin about
Fre'kloar - YOO NEVA DO. KILLIN A GEEK IS DA REESUN WE CAME HEER TA BEGIN WIV
Rel'larutina - Right, and it's also a, well, very bad idea considering what happened last time. Have none of you considered the fact that we're stranded in the past?
Fre'kloar - oh. OKAY LADS. DA BOSS DECLARES: PANIC!!!!
As all the Loron began to scream and slam the floor, rolling around in panic mode, Kal'kuir fired a gun in the air as he had an idea.
Kal'kuir - OI. ONE FING. WEV GOT BRAGKLOGGA TA TAKE US TO DA FUTURE. MAN WHY AR WE EVEN WORRIED
Hagto'Zhl - CUS BRAGKLOGGA MITE EXPLODE US IN DA PROCESS
Kal'kuir - aktually ma calculashons say dat he has a 1 in 8 chance of succeedin. ok BAK TA PANIC MODE
Brag'klogga - DIS DAYZ PANICKIN!!!! wait wait. wow yoo guys is jerks i swer
Fre'kloar - SCROO YOO LOT MAN I DUNT CARE IF IM STRANDED IN DA PAST. WE CAME HEER TA KILL GEEKZ SO LETS KILL GEEKZ YEH?
Ray'loth - but do geeks exist in da past?
Fre'kloar - ONLY ONE WAY TA FIND OUT ENNIT???
Jol'kiar - YEH FREKLOAR HAS A POINT. COME ON YA LOT
Rel'larutina watched in despair as each of them charged into the cave. Fre'kloar noticed it was completely different to the one he remembered. While the AI's head was intact, none of its chainsaw arms or defenses were. Fre'kloar crashed shoulder first into the AI in the center.
AI - Visitors? Wait, what? What are you doing?!
Fre'kloar - I CAME HEER TA KILL A GEEK AND BY DA 90 GODZ I SWER IM GONNA KILL A GEEK!!!
AI - Impossible...cannot sustain anymore damage! If more damage is sustained, the re-activation process will fail...employing emergency defenses!
The arms that Fre'kloar remembered from the future began to come online, as he continued to whack away at the computer, then climbed up to the head and pulled it off. One of the arms then quickly grabbed the head, while another pulled Fre'kloar off. All the Loron stopped as electricity from the AI began to zap around the room, and the AI's head looked squarely at him.
AI - Oh. Good job. You've now managed to destroy almost everything but the consciousness in this thing. You have doomed my species to certain death. You idiot.
Fre'kloar - GUD
AI - I hope you're happy that you're the reason we may never wake up. And I hope you're very proud of yourself for destroying what might have been our last hope. But hey, I can't really complain. I suppose I should've prepared better for an unprovoked attack in which you practically murdered me.
Fre'kloar - YEH IM VERY PROUD NAO DAI ALREDY GEEZ
The chainsaws began to whirr and aimed towards Fre'kloar, while one of the arms grabbed him by the neck.
AI - You idiot. You really, really did it, didn't you.
Fre'kloar - WILL YA SHUT DA HELL UP ALREDY IM SO SIK OF YOO TRYIN TA GUILT TRIP ME DAT NEVA WORKS ON A LORON
AI - Oh, I'll send you on a guilt trip alright. How about a guilt trip in which you fly through a time vortex and watch everything you have undone before the vortex ends and crushes you because you can't survive outside the fifth dimension? Because the Taldar did install a device that does that, you know.
Fre'kloar - YOO LOT WHAIS YOO ALL JUS STANDIN AROUND BEIN STOOPID COM HELP ME BATTA DIS LOSA
Jol'kiar - man dis fing has a point. DIS IS DA REESUN NONE OF GRAKTONAS GEEZAS CULD KILL DIS FING. COS YOO MADE IT ANGRY
Fre'kloar - NO WAY IN HELL AM I GONNA FEEL SORRY FER A GEEK MAN
Zalk'don - WES IN DA PAST STOOPID. YOO CAUSED DIS FING TA BE A MAD GEEK DAT KILLS EVRYFIN. IF WE BREAK IT ANYMOAR DEN ITS FUTUR SELF MITE JUS KILL US or somfin i dunt undatstand time travel honestly
Fre'kloar - OH MA DAYZ I JUS WANTED PIZZA. BRAG MAN FIX DIS
Brag'klogga - IM TRYIN!!!!
Brag'klogga raised his staff in the air, and was surrounded by Dark Chronoscopic energy, which began to electrictue him and Jol'kiar next to him. He shooked violently as he charged his power up.
Brag'klogga - FLAAAAAAAAAASHYYYYYYYYYYYY POOOOOOOOOOOOWAAAAAAAAAAAAAAAAAAAAAAAAAAAAAA
Jol'kiar - YOO IDIOT AAAAAAAAAAAAAAAAAAAAHHHH
Finally, they fell through a portal he created, as even Rel'larutina outside was pulled in, and as they crash landed, they appeared to be in the very same place they were when they had begun the time journey. The cave smashed from Rel'larutina's walker, and the AI still glaring at them.
AI - What a pity. It looked like the vortex didn't kill you.
Fre'kloar - OH MA DAYZ ITS STILL HEER. IM SO SIK OF DIS I WANT OFF DIS DUMP
As the AI picked Fre'kloar up again, and all the Loron began to scream in panic, Kal'kuir pulled a weapon out of his pocket. It was electrically charged, and he electricuted himself as he used it, but after it fired at the AI, suddenly it dropped Fre'kloar, who fell on his head. The arms began to all fall lifeless, including the head, as all the Loron stopped and stared at Kal'kuir.
Kal'kuir - oh. dis EMP gun can take geekz out? i kinda forgot
Voa'reak - AR YOO AKSHULLY BEIN SERIUS RITE NAO???
Ray'loth - YOR GONNA STAY IN DA BRIG FER A MONFF
Hagto'Zhl - RAYLOTH TOOK DA WORDS OUT MA MOUF
Kal'kuir - MAN I JUS SAVED YOR LIVES YOR UNGRATEFUL
Fre'kloar - LISSEN I DONT CARE LETS JUS GET DA GEEK AND SHOW IT TA GRAKTONA SO WE CAN EET PIZZA AN NEVA COME BAK HEER EVA AGEN
The Loron all agreed, as Kal'kuir ripped the AI's head off the arm, and they took a shuttle back to the spaceship. It would be a long trip in silence before they would return to Grak'tona's world.
---
With the AI's head under his arm, Fre'kloar opened up communications with Grak'tona, who this time did not have the lights turned off.
Grak'tona - WHO DARES TA INTERRUPT DA FREE TIME OF DA MITY KING GRAK'TONA, SON OF DA GRATE RULA GRAK'LIBA, ULTIMAT oh its yoo agen wat do ya want
Fre'kloar - HEER WE KILLED YA FRIKIN GEEK NAO GIV US PIZZA OR I SWER IM GONNA TURN YA INSIDE OUT WIV MA BARE HANDS
Grak'tona stared at the AI, examining it, before leaning back on his throne and nodding his head.
Grak'tona - AN WHICH OF YOO PESANTS IS DA SLAYA OF DIS BEEST?
Kal'kuir - i fired da gun and it died so me i guess
Grak'tona - VERY WELL. YOO AR PERMITTED TA ENTA MA CASSEL. DERE YOO CAN HAV ONE...HALF OF...A QUARTA...OF A SLICE OF ROYAL PIZZA
Kal'kuir - wait hold on... one plus two... times fish... HOLD ON DERE MATE. BY MA CALCULASHONS DATS NEARLY NUFFIN. oh and ya also not included da rest of ma croo
Fre'kloar - YEH WATS DA BIG IDEA
Grak'tona - I SED YOO WULD BE MAYBE A TINY BIT WORFY. YOR STILL NOT WORFY. TA BE WORFY YA HAV TA BEET ME IN BATTLE. NON OF YOO DID DAT. INSTED YOO AKTUALLY BELEEVED ME WEN I MADE UP A CROOSADE ABOUT SOM GEEK DAT NO ONE REELLY CARES ABOUT. DAT PROOVS YOR STOOPID AN UNWORFY. HOWEVA DA ONE WHO SLAYED IT GETS A TINY BIT OF PIZZA
Kal'kuir - sweet
The other Loron, however, could see Fre'kloar was twitching in rage. He shoved Kal'kuir aside and put his face on the screen.
Fre'kloar - IM GONNA SHOVE MA FOOT SO FAR UP YA REAR YOR GONNA HAV TOES FER TEEF
Grak'tona - YOO DARE SPEEK TO DA KING LIKE DAT????????
Fre'kloar - I DO YA FLIPPIN TOSSA. AN IM GONNA KILL YAS AND CONQUA YOR PEEPS NAO
Drizz'pyrokirk - ta be honest man id kinda welcom it
Grak'tona - OK. HEERS DA DEEL. ILL LET YOR STINKY CROO JOIN MA EMPIYA IF YA FITE ME AN WIN
Hagto'Zhl - OI WHOS YA CALLIN STINKY??? ILL LET YA KNO I BATHED LAST SEMESTA
Fre'kloar - IM NOT JUS GONNA WIN. IM GONNA TURN YA HED INTO A TROFFY FER MA PROPA BIG BOSS THRONE. AND IM GONNA THRO YA CROWN INTO DA TRASH WHER IT BELONGS
The transmission then closed, as Grak'tona sent co-ordinates on the world for an icy arena, with a challenge. Each of them took a shuttle down.
---
Surrounded by wooden spikes and a huge audience of what Rel'larutina now dubbed the Cold Loron, the circular icy arena roared as all of the Leedas, this time including Naktor'zak, arrived in. It was hundreds of meters wide and long, with Grak'tona on the other end. They met in the middle.
Grak'tona - DA WINNA GETS TA CONQUA DA OTHAS EMPIYA
Fre'kloar - IVE NOT BEEN DIS MAD SINC DEY CANCELLED MA FAVORITE RAP ALBUM. MAN YOR GONNA REGRET PISSIN ME OFF
Fre'kloar charged towards Grak'tona who stood there. He sent one blow to Grak'tona's stomach. However, Grak'tona didn't move an inch. His fist smacked Grak'tona's hard, thick and cold skin, who just glared at him and smugged, as he grabbed Fre'kloar's arm, twisted it behind his back, and kicked him away.
Grak'tona - NO UN MESSES WIV DA KING
Fre'kloar - WAT DA HELL DATS SO STOOPID WAT IS YA MADE OF??? ICE???
Kal'kuir - by ma calculashons...aktually yeh somfin like dat
Rel'larutina - Ooh boy. These guys are much more resistant to pain than normal Loron, it seems.
Fre'kloar - WELL SOMONE DO SOMFIN????
Jol'kiar - BUT DATS CHEETIN AN AGENST TRADISHON
Fre'kloar - HUR FINE
Fre'kloar charged towards Grak'tona with such force that he was knocked to the floor. He continued to lay blow after blow into Grak'tona's thick stomach, who resisted many punches, before he kicked Fre'kloar off him and onto the ice.
Grak'tona - I ADMIT YOR STRONGA DAN MOST DUMBOS. BUT YOR STILL WEEK TA DA KING
Fre'kloar - DERE IS NO KING IN MA EMPIYA. ONLY DA PROPA BIG ROGUE LEEDA!!!!
Fre'kloar got back up again, charging Grak'tona and delivering another flurry of punches. This time, however, the Cold Loron king felt Fre'kloar was attacking much faster than before, and with even more intensity. Glancing up revealed a small, fiery bat-like sillhouette over Fre'kloar's shoulder, who mimicked his attacks. Or was Fre'kloar mimicking it? He had no way to tell as he felt his body heating up as he was punched.
Grak'tona - ...WAT DA HELL IS YOO???
Fre'kloar - IM DA BEST
Jol'kiar - DATS IT FREKLOAR. YOO BEET GRATZ. YOO CAN BEET DIS GEEZA!!!
Before he could question it again, the sillhouette was already gone. As his punches began to heat up, Grak'tona finally felt another knock him to the floor. Fre'kloar stomped on him, before he picked up a flag from his pocket and waved it.
Grak'tona - I YEELD! DA KING HAS BEEN OUTMATCHED!!!...kinda...i meen...I TACTICALLY SURRENDA TO YA
Fre'kloar - TAKE DAT YA THICO WOOOOOO
Brag'klogga - i feel dat frekloar was helped by ZRANKAR. HE WANTED US TA WIN DIS. den agen i feel like he culdve won anywayz
Fre'kloar stomped on Grak'tona's head as he lift his arms in victory. The Cold Loron crowd cheered, as for the first time they had seen him, Drizz'pyrokirk walked over to them carrying an icy crown in his hand. They could see him wearing thicker armour than most and carrying a weapon, which none of the other Cold Loron seemed to do. He knelt before Fre'kloar and raised his crown in the air.
Drizz'pyrokirk - ALL HAIL DA NEW KING OF DA LORONZ!!!
Fre'kloar - SIK. NICE GUN BTW WATS DAT
Drizz'pyorkirk - oh i kinda got bored of jus havin an ice spitta on ma arm so i fort id try an make a firey gun. doesnt reelly work dat well ta be honest tho so not many othas use it
Kal'kuir - did somone say MAKIN GUNZ? OI I CAN MAKE YA A SIK FIERY GUN
Drizz'pyrokirk - YEH? LETS WORK ON IT TOGETHA MAN CAN I COME BAK TO YA SHIP
Fre'kloar - cours ya can. anyway ONE OF YA HOLD DIS LOSA DOWN SO I CAN SHOVE MA FOOT UP HIS REAR
Rel'larutina - It's not necessary, Fre'kloar. Really.
Jol'kiar - its agenst tradishon ta kik a loron wen hes down. ya can only do dat ta chikz an aliens
Fre'kloar - meh. fine den
Fre'kloar took a step back from Grak'tona, who slowly got up, and knelt before Fre'kloar, then kissed his foot, and stood up. He wiped his mouth before speaking.
Grak'tona - dats tradishon. anywayz WELL DON CHALLENGA. YOO HAV DONE DA IMPOSSIBUL: PROOVED YASELF WORFY. NOW YOO CAN HAV MA ROYAL PIZZA SUPPLY
Fre'kloar - FINALLY
Hagto'Zhl - yanno dis guys a losa but hes propa tuff. maybe we shuld add him to da croo
Rel'larutina - Psst. How much do you guys wanna bet it'll turn out that after all this time this "royal pizza" actually tastes bad or something? I mean, knowing our luck today.
Fre'kloar - ... OH MA DAYZ I SWER!!!!!
Appearing from seemingly nowhere, Knar'gank stood in front of Fre'kloar with a slice of royal pizza in his hand and bit from it.
Knar'gank - nah it was worf da wait. tho i kinda stole some becuz i figured yoo mite aktually loos
Fre'kloar - wow fanks fer da support ya idiot. anyway LADS TIME TA EET PIZZA WOOOOOOOOO!!!
Grak'tona - EXECUT DA THEEF FIRST
Fre'kloar - NO SHUT UP
Grak'tona - HUR FINE
---
Hours later, back on the Rogue Krooza, both Drizz'pyrokirk and Grak'tona explored the ship, flabbergasted. They loved what they saw. Drizz'pyrokirk took Ref'kolar's cabin, while Grak'tona took a spare cabin.
Grak'tona - DA KING APPROOVS OF HIS NEW SPACESHIP
Fre'kloar - EXCUSE ME. DIS IS MA SPACESHIP
Drizz'pyrokirk - man ma room smelled but OTHA DAN DAT DIS IS WICKED
Rel'larutina - That weapon you and Kal'kuir are developing could lead to a whole new section of the Loron army being created. You'll do good as Warboss.
Drizz'pyrokirk - YEH MAN ITS SIK. WE CALL IT...DA "COLDFIYA GEEZA SHOOTA FINGIES". SIK NAME
Kal'kuir - aka freezflamas
Drizz'pyrokirk - yeh but only cold loronz can be dem becuz dey requir ice spittas dat wev got
Ray'loth - troopas will always be da best in da end
Grak'tona - WOW MA NEW ARMY IS WICKED. IM SO GLAD I BEET FREKLOAR UP AN TOOK OVA YOO GEEZAS
Fre'kloar - NO YA DIDNT??? WAT DA HELL
Grak'tona - ITS OK FREKLOAR WE UNDASTAND. YOO CANT ACCEPT YA LOSS SO YOO CREAT A DELUSHON IN WHICH YA WON. I KNO DA FEELIN. BUT YOOLL BE GREAT AS MA ROYAL BODYGUARD
Drizz'pyrokirk - oh yeh peeps. warnin bout graktona. hes a compulsive liya an only a bit deluded
Grak'tona - man yor SO DISRESPECTFUL. I CANT BELEEV YOR STILL LIVIN IN DENIAL
Hagto'Zhl - honestly as long as hes useful i dunt care. hes hardly da only crazy person in dis room
Jol'kiar stood up, as he addressed the group.
Jol'kiar - heers da fing. i fink dere shuld be a leeda for eech of da loron races now dat we got three of dem
Hagto'Zhl - well imma leed da dark loronz as its expected
Fre'kloar - an graktona will leed da cold loronz. BUT HOLD ON... DERES TWO LEEDAS AND ONLY ONE LORON RACE LEFT
Jol'kiar - i dunt fink frekloar shuld leed da normal loronz as dum as it sounds. i fink dat implies frekloar is less important dan he is
Hagto'Zhl - so wat yor sayin is, yoo leed da loronz an frekloar leeds everyun
Jol'kiar - yoo catch on quik
Fre'kloar - OOOOH. IMMA BECOME DA BOSS TA SURPASS DA PROPA BIG BOSS. IMMA BECOME DA BIGGEST BOSS BOSS BOSS BOSS
Jol'kiar - yeh...datll work fer now
Hagto'Zhl - wat do ya meen "fer now"
Jol'kiar - eh nevamind
Grak'tona - WELL EITHA WAY IM GLAD TA LEED DIS NEW EMPIYA. LETS TAKE DA PIZZA SUPPLY BAK AN JOIN DA REST OF YOR EMPIYA
Kal'kuir - one fing. i wanna work on dat geek we stole. mite as well make it useful. it looks propa sik an we can add it inside dis krooza i fink. unless frekloars still mad at it?
Fre'kloar - i meen i am but da way yoo put it is like yor gonna turn it into our slave? dats sik do dat
Kal'kuir - OK COOL now lets jus find a relay dat takes us bak hom
Baptarion's New Friend
Edit
Chipping noises came from Zion, the Iolestin, as it landed upon a pile of datapads after it had flown around the room for so long, the cyborg animal watching its owner while waving its long tail curiously. Hard at work, a Radeon filled with cybernetic implants used the equipment built into his right eye to analyze a piece of extremely old machinery placed upon his desk. His robotic eyeball continuously zoomed in and out as he read through the intricate design of the object as a faint grin grew on his scarred face, and he immediately made notes on a nearby computer. He was Baptarion Variel Tarcanite, otherwise known simply as Baptarion Light, and he was perhaps the only Radeon inhabitant of the Indoctrinate Collective. A former archaeologist of the defunct Dei'Ar Theocracy, he was frozen alive while fighting over ancient relics with space pirates hundreds of years in the past, and only recently was discovered and given life again by Dracogonarious colonists. Since then, he pledged his allegiance to the Collective and grew contempt for all other Radeons, believing them to have abandoned him.
He was content to himself as he came to the conclusion the object under his study was, in fact, an old piece of armor belonging to the elusive Cold Ones, the mysterious precursors of Borealis who created the Cold Relays.
Baptarion - Finally. I was tired of false flags.
Zion - *chip chip chip*
Baptarion - Oh, have I forgotten to fill your water bowl? I'm getting a bit too focused on the job.
The injuries Baptarion had suffered in his battle with the pirates forced Collective medics to give him emergency enhancements at the risk of death, leading to the Radeon's cybernetic appearance. While he could opt for upgraded and more aesthetically pleasant enhancements, he never bothered to, much to the skepticism of his co-workers. Perhaps it served as a memento of some description to him.
At this moment, the door to his laboratory opened as several armored individuals entered, escorting a Deldor woman. Baptarion did not enjoy company, but as he turned his head to see who it was, he stumbled on his feet as he quickly saluted: it was Kientesa Nolet, one of the Supreme Advisors of the Collective, who was being escorted by warriors of the Royal Guard.
Baptarion - M-Miss Nolet! I had not expected you to be at Kurithora!
Kientesa - At ease, Baptarion. I am here today for a matter of political discussion. However, I have a message from New Draka to you.
Baptarion - A message from the capital?
Kientesa - Indeed. I take you are aware of Thea'Nhirara?
Baptarion - The angel-kinda thing who took residence at the capital after the demon war?
Kientesa - The same. She has a mission to you. You are to meet her at the spaceport in one hour.
Baptarion - This is a bit sudden but... okay. I'll be there.
Kientesa - Speaking of which, there is another matter to talk about. I take you are also aware of the growing threat of the Devourer's Chosen. They have taken over dozens of colonies with no sign of slowing down, and Commandant Arberkul Mozuli is deemed missing in action since the last attack.
Baptarion - What about it?
Kientesa - It will take for the Plazith territory to send reinforcements and decide what to do with the threat. All other commandants are either missing or gone. Therefore, the position of Commandant now belongs to you.
Baptarion's working eye widened as he took a step back. He had definitely not expected such news.
Baptarion - ... B-but I'm an archaeologist, not a soldier!
Kientesa - I'm afraid there is no way. You have a record of being a capable fighter. You possess the strength of a Zazane and the psychic powers of your people. I'm sure you'll fare well.
Baptarion - For Spode's sake... Do I have no choice?
Kientesa - I'm afraid we are coming close to desperate times, which require desperate measures. Be at the spaceport in an hour.
The Deldor Advisor bowed to the Radeon as her and her guards left the room, leaving Baptarion visibly frustrated in his office. He facepalmed as his pet Iolestin flew at him and wrapped itself around his head.
Baptarion - This is gonna be one of those days.
The hour passed as Baptarion made his way to the spaceport, where he waited for the arrival of Thea'Nhirara. The descent of the passenger vessel was the first warning that the angel was there, followed by the aura of light emitted by her as she walked out. Baptarion raised his eyebrow as he watched her approach him, not due to her but due to the person at her side: she held the hand of a child, who she guided with her. A short Tā male with scruffy blonde hair that was tied into a partial ponytail at the rear and wearing a short, sleeveless jacket with a fur-tipped hood and form-fitting blue shorts - what caught the Radeon's eye in particular upon the otherwise unremarkable specimen were the cybernetic prosphetic in place of his left arm and the optical implant embedded where his left eye should have been. Strapped upon his belt was a sheathed vibroblade, clearly an augmented model that was forged to serve as a superior equivalent to the archaic katana.
The child looked down at his feet while he held the angelic figure's hand, initially hiding his face away from Baptarion's view and incapable of looking the Radeon in the eye.
Hachiman - Mom... Who's that?
Thea'Nhirara - This is Baptarion.
Baptarion - Uh... Miss Thea'Nhirara. You said you had a mission for me.
Thea'Nhirara - Yes. I'd like you to meet Hachiman.
Hachiman - H-Hello Bap... B-Bap... Sir.
Baptarion - ... And you're presenting me this kid for what reason?
Thea'Nhirara - He will be your charge. Until I return, you are to take care of him.
Baptarion - ... What?! I am an archaeologist, not a babysitter!
Hachiman - What's an arch... archy... F-Forget it. I don't think he likes me very much, Mom.
Thea'Nhirara leaned forward, her body stretching itself as she glared at Baptarion in the eyes. The Radeon's own eyes widened as he took a step back.
Thea'Nhirara - This child is important to me. Important. You will do as I tell you, and you will ensure his safety. Otherwise, you will wish you had done it.
Baptarion - Ngh! Okay, fine, geez! Just stop looking at me like that.
Thea'Nhirara leaned back to her normal stance before turning to Hachiman. She leaned down and stood one knee on the ground as she passed her hand through his head.
Thea'Nhirara - Okay, Hachi. You're gonna stay with Baptarion for a while, so you can train for the destiny mom has always told you about. It is here in this galaxy where you will grow into the valiant man you are meant to be.
Hachiman - Aw, Mom, you're gonna make me blush in front of the mouse man... How long will you be gone for? When will I get to see you again?
Thea'Nhirara - Soon, my dear. Mommy will come back when time is right.
Baptarion - Listen, lady, this is still not a good idea. I just got drafted to war an hour ago. Am I supposed to take this twerp with me to the battlefield?... How old even is this girl?
The boy's brow furrowed and he turned towards Baptarion, pointing his cybernetic finger at the Radeon while his face reddened as if he had gone straight from embarassed to angered in but a matter of moments. Despite having been shy just a few seconds before, Hachiman had suddenly shown his temper for what it was.
Hachiman - Hey, I'm not a girl! I'm a boy! And I'm not a twerp either; at least I'm not a boring, stinky old man!
The young Tā proceeded to cross his arms, pout, and stick his tongue out at Baptarion without regard for his mother seeing his rather immature and brash behaviour. The Radeon's brow narrowed as he clenched his own cybernetic fist, shaking it at Hachiman.
Baptarion - Why, you little flea bag, I should-
Thea'Nhirara - The two of you will behave. Now.
Hachiman - B-But but Moooom... He called me a girl and a twerp--
Thea'Nhirara - For the first and last time if he enjoys having skin. Now, promise you'll be good.
Hachiman - Aw... I promise-- Wait, can I have a truck load of sweets when you come back if I'm on my beeest behaviour~?
Thea'Nhirara - Hm hm. You just might.
Hachiman - I promise to be good!
Thea'Nhirara - This galaxy is filled with danger. I want you to be careful and to use everything me and Aunt Macin have taught you. Use your gift.
Hachiman - I will, Mom! Don't worry; I'll make sure that all the good guys are safe and that the bad guys will be exter... e-exter... That the bad guys will lose!
The young abhuman proceeded to raise an arm and gesture a thumbs-up to his mother, smiling brightly as he looked up at her without a hint of fear in his determined expression. The angelic figure smiled as she wrapped her arms around the boy in a warm hug, delivering a kiss to his forehead as she did so. The boy blushed and he looked at his feet, his shy expression returning on his face while he hugged his mother back with his small arms.
Hachiman - Mooom... N-Not in front of the mouse man...
Thea'Nhirara - Take care, my dear... When I return, you will be a new man.
With this, Thea'Nhirara let go of Hachiman and turned back to Baptarion, nodding to him before making her way back to the vessel that brought her. The Radeon had his arms crossed with an expression of displeasure and extreme confusion as he looked back at Hachiman.
Baptarion - ... So, you any good with a broom?
Hachiman - Oh, I don't think a broom will be nece... n-neces... I don't need a broom. And for the record, Mom lets me have pizza and sweets whenever I want, I decide my own bedtime, and I can browse the Net for as long as I need.
The Radeon let out a mocking chuckle as he squat down in front of Hachiman.
Baptarion - Not under my wing, boy. If I have to live with you, I'm gonna make you useful. You wanting it or not.
Hachiman - H-Hey, that's not f-fair! I... I-I'm a guest! A-And I have a destiny set out for me! Y-You can't make me your slave!
Baptarion - ... Slave? Why, the nerve. I'm not going to make you a slave, kid. I'm going to make you earn your place. I'm being forced to do this as much as you.
Hachiman - M-Man, you're even scarier w-when you're up close. ... M-Mom just had to drop me off with you and not one of those rich, p-pretty girls.
Baptarion - Break any of my equipment or relics and then you'll see how scary I can get. Now come on. I need to find a place for you to sleep somehow.
Borealis News Network Report
Edit
The Borealis News Network is an independent news channel that broadcasts around the galaxy, though its base in the Western Arm led it to bias towards the Zoles Imperium and other richer, more developed nations. A news report, covered by the female Zoles Raiyassa Mizys, would be aired around the galaxy every night. And tonight's report would be viewed by very many people, particularly because of her high-profile interview for the night.
Sitting behind a desk, with a holographic screen to her left, Raiyassa Mizys faced the camera and smiled, as she delivered her news.
Raiyassa Mizys - Good evening, Borealis. Our stories tonight: 30,000 civillians killed by a Wranploer attack in the Zoleia Sector, hundreds of ships destroyed by Murgur by clan in-fighting, local politicians comment on the drug trafficking problem in the Demolidus Sector, and the Loron problem continues to worsen as dozens more ships are raided from the brutes of Ottzello.
She spoke nonchalantly. Not just because it was her training to do so, but because these stories were, by Borealis' standards, rather timid and normal.
Raiyassa Mizys - But our top story tonight, celebrity news. Tonight, I have the pleasure of speaking to the most talked about man in Borealis in the last few weeks. Trillionaire playboy extraordinaire, and CEO of the extremely successful Borealis Consortium Network...the man himself, Falrik Zaarkhun!
As the hologram showing world news disappeared and the camera panned to the right. Falrik Zaarkhun walked in, waving as he strolled towards the desk, before taking his seat next to her. The two exchanged smiles and shook hands, before Raiyassa Mizys could speak.
Raiyassa Mizys - Good afternoon, Zaarkhun. Pleasure to have you here.
Falrik Zaarkhun - Pleasure to be hear, Miss Mizys.
Raiyassa Mizys - Oh, no, it's Mrs. I'm married now.
Falrik Zaarkhun - Oh? That guy sure is lucky.
The two exchanged a brief moment of laughter. Only someone like Zaarkhun could get away with a joke like this hitting on a reporter on what's normally a more serious show. She then got straight to the questions.
Raiyassa Mizys - Falrik Zaarkhun, after arriving to the galaxy straight from Ottzello, you have founded an enormously successful business and worked with some of the most well-respected traders in the galaxy. Stocks for your company have continued to raise as you have secured some extremely good deals, and your net worth is believed to be the fifth highest in the galaxy. How did you manage it in such a short space of time?
Falrik Zaarkhun - Of course, I had my experience. Like you said, I started out in Ottzello, where I began as a more modest businessman, selling used devices, before I began to branch out into the business I have. And in this galaxy, it was fairly simple. There are a lot of rare, highly valued spices in the Eastern Arm, and not many miners, so I cornered that market.
Raiyassa Mizys - Indeed, but it's not just spices that have made you wealthy. Many of the materials mined from the Eastern Arm have been extremely useful in the development of weapons.
Falrik Zaarkhun - Right. The Consortium Network is now the biggest arms dealer in the galaxy. Not just to common folk wanting to protect themselves, many of the biggest governments in the galaxy have bought from us too.
Now was the time for Raiyassa to ask tougher questions. Having started off the interview smoothly, it was time for her to use her harsher prepared questions for Zaarkhun, to boost their ratings, and also potentially to smear him. As an Ottzelloan businessman, he still was not trusted by many, and the network was pushing Raiyassa to frame him in negative light in order to perpetuate the idea that Ottzelloans were nothing but trouble, as a last ditch effort before Zaarkhun became the first Ottzelloan to be almost universally accepted by a xenophobic galaxy that until recently had never had contact with any non-native.
Raiyassa Mizys - This is true, your arms dealership has been widely successful. However, many people, including the Niaka Special Forces chief Xerkea, have spotted your weapons being employed by Wranploer warlords. These are dangerous space pirates, and your weapons may be useful for defending against them, but that doesn't help so much when they're being used by these criminals. Can you confirm that you have never traded with a Wranploer?
Falrik Zaarkhun - It has been brought up to my attention that some of the nastier folk in the galaxy have benefited from my business. However, I can assure you this was unintended. I have thoroughly searched my records, and the allegations against us are false: we have not traded with any Wranploer business. Either they stole from us, or our weapons somehow ended up on the black market.
Raiyassa Mizys - Yes, a surprising number have. Many of your weapons, including subatomic disruptors and monopole spacetime weapons, have been circulating black markets and found by Niaka. These weapons cannot be legally used by the public, according to laws enacted by the Zoles and Niaka. Only a government military with an explicit permit may use them. So I must ask you, if you were acting within the law, and your otherwise illegal weapons you developed were only to be sold to a government military, how, then, did they end up on the black market?
Falrik Zaarkhun - There have been investigations into this. We accept full responsibility for all the lives lost to these weapons, under the knowledge that it is our lack of oversight that has caused them to fall into the hands of pirates, terrorists, and some of the more dangerous folk on the galaxy. It is unacceptable that we have allowed this to happen. This is precisely why the Consortium Network recently donated to the Friura Sector Trust charity, after the attack by a warlord that destroyed three star systems before the Niaka were able to take the ship down. We know that money is not enough recompense, but it is all we can offer.
Raiyassa Mizys seemed mostly satisfied with his responses. He seemed, to her, to be very genuine and compassionate. She decided instead to change to another subject to attempt to smear Ottzelloans.
Raiyassa Mizys - Indeed, and we trust that the Consortium Network's investigations allow them to find the perpetrators. But Zaarkhun, you yourself are an Ottzelloan in the Eastern Arm, one of many. Many Ottzelloans have, in recent times, been caught working with the Wranploer Legion. Do you know why this is?
Falrik Zaarkhun - They're mercenaries. The Consortium Network has been a supplier of weapons and of its own mercenary soldiers, which have been popular among other traders in the Eastern Arm. It's almost impossible to use a trade route in the Eastern Arm without a pirate ambush, which is why many previously avoided that area of the galaxy, despite it being extremely rich in resources. We know that many other Ottzelloans, dissatisfied with their own sector's problem of the Loron, followed us to the Eastern Arm and got into the mercenary business as well. They may have contracts with the Wranploer Legion.
Raiyassa Mizys - Very well, Zaarkhun, but this contradicts our prior knowledge. The Wranploer Legion has been known to be very hostile and greedy. It was not believed it would employ any mercenaries outside of its own military and pirates, let alone the mistrusted Ottzelloans. Why has this changed?
Falrik Zaarkhun - Competition. We own the mercenary market, we brought about a lot of changes to it. We allowed traders to travel the Eastern Arm without fear. We allowed room for prosperity. I'm proud of what we did. But the Wranploer want to fight fire with fire. That, I believe, is why they are employing Ottzelloan mercenaries and using our weapons.
Raiyassa Mizys - Zaarkhun, it appears lots of traders like yourself have left the Ottzello Sector to move to the Eastern Arm. Why do you think that is? Could it be because the Ottzello Sector is an unsafe place, that the Loron menace is too strong there, and that the Unified Nation of Ottzello which inhabits it is actually more hostile than it makes most people believe?
Zaarkhun could see through her questions. It was clear they had been prepared with an agenda in mind, with how many times she placed emphasis on the "Ottzello" word. But as he was still trying to appear as a respectable businessperson who got along with as many as possible, he would need to respond in a way that was neutral, while still directly addressing the question. However, he would invite her to delve further into this topic. As long as her knew that her questions were addressed to smear Ottzelloans rather than to smear his business, he was still fine.
Falrik Zaarkhun - I have lived in Ottzello for many years. I know that there are parts of the place that aren't safe. And I understand how this galaxy feels. It's new, it's different, it scares a lot of people. They thought the Murgur were bad, and now the Loron are at least three times as bad. But my experiences there are what allowed me to survive the Eastern Arm. I think people of this galaxy will find that there are many things in common between Ottzello and Borealis. Both have their rotten apples, and it's sometimes easier to remember the bad than it is to remember the good. And there is a reason why the Niaka Special Forces and the Zoles Imperium have both got along well with UNO's government: they realise this, too.
Raiyassa Mizys - Yes, indeed, though many polls recently indicate that more Zoles are largely scared of what an alliance with UNO could lead to. The most recent poll showed that 57% of respondents distrust Ottzelloans, 24% are welcoming of them, and while 19% are unsure. What is your take on that, as an Ottzelloan businessman?
Falrik Zaarkhun - Well, I believe my success speaks for itself. One of the reasons the company's name is "Borealis Consortium Network" is because it sits better with people knowing they're trading with a Borealis business. We've done really well all things considered, as we continue to expand to new markets, new trade routes, and new businesses. I feel that people will get over their Ottzelloan fear when they realise we're really not that different from them. I do believe, however, that this fear is seriously exaggerated. Not only have the Zoles Imperium and Niaka worked with UNO before, but the rest of the galaxy hasn't exactly publicly condemned them.
Raiyassa Mizys - That may be true, but we have no way of telling if that'll be the case for every Ottzelloan species. Specifically, the Loron. Zaarkhun, no one has seen a race this scary, this bloodthirsty and this barbaric ever leave the planet surface. And many of them have been spotted fighting against the Wranploer in the Eastern Arm, as in, fighting against General Volim. Do you know why this is?
Falrik Zaarkhun - No, but Loron fighting Volim? Man, I have no idea who to root for here!
Raiyassa and Zaarkhun laughed once more. Raiyassa herself had never spoken to an Ottzelloan in person, but was finding it very hard to dislike the man. It was time for her to wind down her questions after just a couple more, this time at Zaarkhun himself.
Falrik Zaarkhun - In all seriousness, I think everyone's heard about Volim's public outrage about my presence in the galaxy.
Raiyassa Mizys - Indeed, but he's not the only one. The Unified Nation of Ottzello has, in fact, publicly denounced you. They've described you as, quote, "a shady and fraudulent businessman whose practices are questionable at best". How do you respond?
Falrik Zaarkhun - Of course, when you're successful, it's natural that there will be people who won't like seeing you succeed. They'll want something from you. They'll publicly tell everyone not to trust you. And then they'll turn around and shake hands with you and offer you a new deal if it furthers their business. It happens. There are people who'd like to see me fail, or in Volim's case, like to see me dead. But that's just the price you have to pay. I will say to the Unified Nation of Ottzello that I'm sorry they feel that way, and invite them to look at my business records now to see that the businesses we practice are anything but "shady and fraudulent". There's a reason we polled as one of the most trusted businesses in the galaxy.
Raiyassa Mizys - Trusted by consumers, but not by governments. There are many governments turning away from buying weapons from you, or hesitant to do so, as we heard that King Rebaris himself was reported as saying he "would never fund development of weapons that have ended up in the hands of more criminals than army generals". How do you feel about that?
Falrik Zaarkhun - It's a shame that the Zoles haven't taken as well to me as many other governments have. But they're not the only government, so there are others who I can do business with. I respect the King's decision, and hope he comes around.
Raiyassa Mizys - Thank you for your time, Zaarkhun, and good luck with your business.
Falrik Zaarkhun - And thank you for having me. Anytime!
Zaarkhun stood up from his chair and left. Though anyone else would be heavily stressed by the types of questions Raiyassa had asked him, Zaarkhun took them all easily. He left confident that he'd appeared as a liked public figure to the galaxy, who respected him as a trustworthy and honest man.
Even though the truth was that he was anything but that.
The God of Death
Edit
Zargoth knew, within his boundless and complicated mind, that in spite of his plans becoming a reality, that there were many out there seeking to hinder his every move. Even if he had found himself in a position of unparalleled power - there would still be some that would dare challenge him. Though it was originally not his intention, he knew there was one realm of entities that would listen to a rather 'lucrative' plan that would benefit him in the long run.
However, the Xi'Arazulha were known to be difficult to negotiate with, even with their equals.
The Xi'Arazulha remained long dormant - four hundred millennia or so since they suffered their defeat at the hands of the Vi'Navitum. It had left them weakened and divided as a kind, though there were those still loyal to their 'true' master - Maktanshatin, who presided over their realm, Shard, for longer than the universe had existed. Zargoth knew that Maktanshatin had once served the Xhodocto, as Zargoth had done so with caution over time. He believed that with a common purpose - the destruction of the other Essentials, was something the Xi'Arazulha could revel in - especially if Zargoth was free to reign over existence as a dictator of sorts.
Shard in itself was a realm of incalculable desolation. A void sparsely filled by shattered rocks of earth suspended motionlessly, and with it a dense reddened fog and inclement weather akin to volcanic storms. It seemed mostly empty at a first glance, though Zargoth was heading for Maktanshatin - the Xi'Arazulha himself was upon his throne, appearing to be made of a chaotic sculpture of broken black glass. Maktanshatin himself appeared much like any other Xi'Arazulha - very large, powerful and proud in stature, with his body made of some obsidian-like material. His eyes were firmly locked on the Vyro'Ralza as he saw him approach.
Zargoth - I am here because I have a proposition for you. A proposition which, I feel, may benefit us both.
Maktanshatin - Vyro'Ralzora. You come into my realm, seeking my attention. In what way do you seek to use me for your personal gain? You speak of mutual benefit; that I wholeheartedly doubt.
Zargoth - Ever the cynic, I see. Mutual benefit can come in many different forms. But I do not plan to use you. In fact, I feel if I did not approach you, you may have been interested in something that will happen in the Borealis Galaxy in our favourite universe anyway. Especially since you may feast on souls from a kind removed from your own.
Maktanshatin - I have sat dormant in this realm for years beyond counting. What does the Borealis Galaxy have to offer? A galaxy full of cut-throats and souls tainted by sin and greed. I could find this anywhere else.
Zargoth - But there are few places in which you could find a sector created by the Vyro'Narza. And from which you could feast on their souls. In which we could destroy them. One of our biggest enemies.
Maktanshatin - I remember. I remember Volzara. She has wronged you again, I see. You look tired of this consistent battle.
Zargoth looked away, and briefly clenched his fist at her mention, then looked back at him, trying to hide his feeling.
Maktanshatin - I see I have found your weakness. What is it about that capricious and narrow-minded entity you find so enthralling? And what powers have dictated you in order for her to remain existing? I would have thought Theruskrayathos may have enjoyed breaking both of you down.
Zargoth - Enough. I did not come here for this conversation. Rather, I came to ask if you would like to play a role. In exchange, of course, for your devouring of the Vyro'Narza. The galaxy shall be plunged into turmoil and war. It is this moment that you shall take advantage of their people. The Vyro'Narza's greatest weakness is their compassion. They will want to protect these meaningless lives. That, my friend, is when you claim theirs.
Maktanshatin - We both agree that compassion for fleeting lives - fuel for our power - are nothing but measurements of gain and loss. But why should I wait? The Vyro'Narza threaten me this very moment.
Zargoth - They shall not continue to do so. Not when we're done here. When the galaxy enters its longest war, at the height of this war, and at my signal, then you shall strike them. We shall force the Vyro'Narza to try and protect them. And it will end poorly for them.
Maktanshatin - ...And in devouring their energies, what do you gain from it? Usurping control of this universe. It is so overcontested.
Zargoth - No. This universe is worthless to me. I do not seek to gain anything from it.
Maktanshatin - Then why should I not attack now? Clearly your concern for this universe is as much as my concern for your plan.
Zargoth - Because it is worth something to Volzara. And that's something we can exploit. Moreover, I do seek to gain a lot simply by removing the Vyro'Narza. Once I am finished, I will not need their souls. You, however, have a lot to gain from devouring their souls. More so than the rest of our allies. And this is why I feel we shall both benefit from this partnership. Should you refuse, however, then you shall gain nothing.
Maktanshatin stood from his broken throne. He paced in his steps, a trail and aura of abyssal darkness following him wherever he went.
Maktanshatin - Volzara. An entity so far removed from her duties. Compassion is indeed for the weak, and that compassion will become a true tragedy for her. Once this universe of yours is broken, devouring the Vyro'Narza will only further her sorrows and lament. And when she is all but spent, she will be left to the judgement of death. To kill her will be beneficial. Feeding off the energies of the Vyro'Narza will make us unchallengeable.
However, the Xi'Arazulha master's head turned to Zargoth, with a sinister look in his eyes.
Maktanshatin - You will have your swift massacre, Zargoth. But you cannot stop me in devouring this galaxy. We demand our right to feed.
Zargoth - Do not kill her.
Maktanshatin - My work is the will of those who watch over me. The Borealis Galaxy will be devoured. Begone, Zargoth. The Vyro'Narza will suffer, but these mortals shall serve their greater purpose first.
Zargoth felt as if he had been cheated. Though he had predicted an outcome like this, he had not fully prepared for it. He should have known that the Xi'Arazulha's demands were not negotiable.
Zargoth - You may have your way. However, should you interfere with the plan, you will not be granted access to the souls you desire, and I shall have them to myself. And if you kill Volzara, I shall refuse to help you.
Maktanshatin - Then Theruskrayathos have mercy on the both of us.
Zargoth left Shard. He fully expected the Xi'Arazulha to not comply with his wishes, but if that were to happen, it would be only them who would lose out. He would return to his own realm, to continue his plot. The Perfect Fate would be achieved in due time.
Destruction Comes
Edit
The Hunger of Death
Edit
Located on the edge of the Ottzello Sector, in UNO territory, planet Fadaj was a bustling metropolis. With enormous cities featuring buildings as high as a hundred kilometers and huge amounts of traffic in orbit and in the skies of the world from citizens moving about their lives, Fadaj was the liveliest planet in the outskirts of the sector. It had not been hit by any real military threat so far, not even by Da Rogue Boyz, as it was still surrounded by several fortress space stations around its star system. It was difficult however to explain the oncoming uneasiness of the populace, however. There had been a number of power outages in the past few hours - some across the planet powerful enough to fall vehicles out of the sky. No one was particularly sure what - this was certainly not a pirate raid, no pirate had the devices to cause such a power shortage on a planet like this. The weather on the planet had darkened over the course of the day - it was still the middle of the afternoon, and yet the sky had become hazy and dark, like a thick storm over a desert. The sun was all but a faint blot of light through the clouds and the only light sources now were the reluctantly powered lights of the metropolis below.
It was not usual, by any sort. Fadaj was not a desert planet by nature, and such weather was suffocatingly thick. Those that were outside slowly felt the air sting their lungs, and their skin and eyes. Such weather should have been hot - it was not unlike the smoke rising from a fire. Instead, it was cold, and strangely so. It was not cold enough for frost - not yet at least, although the increasingly reluctant breaths of the inhabitants began to create a mist. None of them were sure as to what was happening - not even the idea of a Corruptus attack had crossed their minds, as even for them it would have been an unusual method of attack. It was only not long after this did the planetary authorities alert each other across the planet that, on the far side and within a wide rural area of the planet that a disturbance was causing these power outages, and the abnormal weather. Sentinel drones from the UNO's policing stations were deployed to survey the potential threat, but very few had made it within a mile of the location of the disturbance. Most of them had lost power and crashed into the earth miles beforehand, and those that mysteriously survived only caught jumbled images of a singular figure, suspended in the air as the winds and weather were drawn towards it.
The planet went on alert, but it might have been too late. Forced into action, each citizen took up their arms and all the activity stopped. Every vehicle that was rushing from one place to the next also stopped, preparing to defend itself from whatever was coming. No one had predicted the air be poisoned in this sense, meaning that no one outside of a spaceship had much protection. Regardless, everyone took up arms as a sort of militia, while the military force prepared, and they awaited whatever foe would come for them. Nothing was coming, however. It was apparent that the entity causing this - a known enemy of the UNO or not, remained still. More images of the figure began to pour in on the UNO's official report of the matter - although it had only been less than an hour at this point, the entire nation was on a high alert. The enviromental activity recorded on the planet became unusual - the planet's temperature was dropping at an alarming rate, and it seemed that the content of the atmosphere surrounding the phenomenon was either thinning or was becoming polluted with toxic elements. No one was ultimately sure of the matter, although that was no longer their main concern. Directly underneath the centre of activity, it seemed that seismic activity was accelerating. That could not have been natural in the slightest.
The planet's weather and environment systems went on alert also. Each of them attempted to manipulate the air or to secure the ground properly to try and reduce the damage being done. The population all had come to believe that those weather systems were hacked, but in fact, they were just too weak to handle whatever was coming their way. Nanomachines deployed across the whole planet attempted to ease the damage, but nothing could be done. If there were earthquakes coming, there would be little that many of the huge towering buildings could do to survive through them. Any nanomachine that had passed across the anomalous readings had instantly had the life sucked out of them - and, it seemed that over time, the influence increased rapidly. Those on the outskirts could not only feel the vacuum-like intensity of the phenomenon, but some began to feel weak. Some began to hear voices in their head, much like persistent whispers in a tongue far too complicated for many to understand, and sometimes many voices at once. As it went on, some felt as if their very sanity was being gnawed at - those that took arms suddenly went insane and began shooting each other, whilst others felt as if their nerves were set on fire, and their flesh was being eaten from the inside out.
The origin of this entity was not known to anyone. However, more and more images came pouring in to the UNO's officials. It suddenly modelled an image of a figure - enormous in size, maybe four or five times the height of a Loron if the estimates were in fact accurate. It appeared nothing else other than monolithic and ancient, like a sentinel of darkness that had slumbered underneath the planet for years beyond count. It was nevertheless as powerfully built as a godly figure, and the light surrounding its body absorbed all other lights around it. The immediate response was for several drones to surround the figure, and probe it. Everything else would remain on standby until it was determined whether or not this thing posed an immediate threat to anything that attacked it. One thing was for sure, however: it was clearly a cause, or a symptom, of the slow death of the planet and everything on it. Any drone that had tried to probe it immediately fell underneath the devouring effects of the power coming from this being - they suddenly went lifeless, and rusted away to nothing but its most useless and still elements - barely resembling a drone afterwards.
All of a sudden, the thunderous crack - the sound of the earth itself splitting apart, razed entire forests and cities to the ground. The plates that built the planet were shifted out of motion, raised underneath the monster until the other side of the planet had begun to cave inwards. It did not look believable on the scans - only the most powerful weapons in the Gigaquadrant were capable of such destructive measure. It was not long after this shift, did upon the other side of the planet, directly under the creature, a cavernous hole opened up underneath, sucking in all that was above it. It moved further and wider, quicker than anything possibly could at that size. It only took a matter of seconds before the planet was enveloped in on itself - magma underneath the planet erupted at a velocity so great that it dried and froze underneath the monster's influence, and all life on Fadaj, from the hundred-kilometre high buildings that were shattered and flattened by this creature to the blades of grass thousands of miles away were rendered dead, motionless and ashen. The planet was no longer spherical, much like a warped cylindrical mass that was pulled apart by the monstrosity the UNO caught a sight of. And only moments after, did the star the planet orbit suddenly went out like candlelight snuffed out in the dead of night itself.
The worst thing was, was that it was not the only planet to suffer the same fate.
Law and Order
Edit
Far away from Ottzello, at the prosperous sector of Zoleia, a large draconic alien wore a great set of regal armor as he analyzed a small screen on the side of his throne, his eyes narrowing as he read the information relayed to him. He was Rebaris Zulouar IV, monarch of the Zoles Imperium, the greatest civilization in the known galaxy. In front of him appeared a pair of holographic screens, somewhat blurred at first before they took the clear shape of a pair of Zoles like himself, though evidently more on their prime than the elderly king. Each of them saluted to the monarch before glancing to one another and giving a small nod of acknowledgement, implying they were aware of each other's presences in the conference. They were Vekaron Zankho and Asraels Austoth, two of the Great-Commandants of the Imperium, its most renowned and praised military leaders.
Rebaris - Vekaron. Asraels.
Asraels - Your majesty.
Vekaron - What is it that you wish to discuss?
Rebaris - I take you have heard of the current news regarding the Ottzello Sector.
Vekaron - The planets being destroyed by an unknown force? Yes, it's currently everywhere in the media.
Asraels - I have heard of it. Apparently, it was not done by any alien seen in the galaxy before. Have the Ottzelloans entered unexplored territory and provoked an undocumented species?
Rebaris - Perhaps, but I think it might be a more dire situation than that. No one alien can destroy a planet single-handedly like they are reporting. Every planet, every space station, is being destroyed by one alien at a time.
Vekaron - ... What?
Asraels - That is illogical. They are masking their numbers.
Vekaron - Perhaps they're part of those "Devourer's Chosen" hostiles. I hear they're supposedly... supernatural in nature.
Rebaris - I have orders for you both. I fear the security of our galactic arm has been severely compromised. Vekaron, I want you to take a task force and get in contact with the Unified Nation. Find out what's going on and take all measures necessary to put an end to it. And Asraels, I want you to take the 1st Fleet and create a blockade around the Cold Relays linking to Ottzello. You'll be our first line of defense should these mysterious aliens attack our sector.
Vekaron - As you wish, your majesty.
Asraels - It shall be done.
Rebaris - Now, leave me. I must contact our allies.
The two Zoles commandants saluted their monarch again before their images disappeared from view, with Rebaris grumbling under his breath at the thought of his galactic arm coming under threat once again. Reaching for his console, he initiated a new conference, contacting his people's allies to his cause.
---
Far off into the Eastern Arm, at the northern fringes of the Friura Sector laid the Niaka homeworld of Ikkiz. The Niaka were a divided race, their original empire now known as the Old Niaka Order who was one of the many allies of the Wranploer Legion, though the homeworld was under the control of rebels known as the Niaka Special Forces - a stratocracy created with the intent of becoming a galactic police, purging crime and unlawful activities, preferably with extreme prejudice. Their leaders were known as the Chief Minors, led by a figure known as Chief Major, who served as the supreme commander of all Niaka forces in the empire. This Chief Major was Xerkea, a gruff, short-tempered and perpetually displeased woman who thought redemption through death was the only kind of redemption Borealis' criminals deserved. As she turned to her personal console to answer the call for a conference she had received, she was met to the sight of Rebaris' face appearing in her monitor.
Rebaris - Chief Major Xerkea.
Xerkea - Well, if it isn't Rebaris! It's been a while.
Rebaris - Indeed it has, old friend. But you know I would normally not call unless the situation called for it.
Xerkea - Of course.
Rebaris - I take you have heard of the attacks on Ottzello.
Xerkea - Oh, I have. What is this rubbish? What did these aliens do this time? I swear, the galaxy has only gone downhill ever since they arrived.
Rebaris - They have been cooperative to us ever since the sector appeared. It would be more beneficial to us if they were not destroyed.
Xerkea - I've no reason to trust them just yet. But I take you want my people involved in learning what the hell's going on there. I was already planning to do that, I was just trying to decide which of my Chief Minors to send.
Rebaris - Ah, good. Tell your men to meet up with Commandant Vekaron so they may work together. We need to find out who these invaders are, where they are coming from and what they are after.
Xerkea - I've little interest in knowing what they are. I just want to know how much it takes for them to start bleeding.
Rebaris - Charming as ever, I see.
Xerkea - You know me. Anyway, I'll make sure my people meet yours. We'll deal with the threat, don't you worry your horns about it.
Rebaris - As the king of the Imperium, I'm afraid it is my job to worry.
With this, the two old aliens shared a goodbye before Xerkea closed the transmission, turning herself and letting out yells as to get her Chief Minors in her office. She had a new threat to combat, preferably with extreme prejudice.
The Fate Warning
Edit
The UNO Leaders' biological forms may only be a front for their AIs from which they were controlled, but they still had the same biological needs. So each of them still required a hibernation period of 8 hours every night to continue to function. Each of the Leaders slept for these eight hours at the same time, with the exception of the Tralkik Commander. At this point, they had heard of the attacks on their colonies at the far reaches of the sector, but had yet to track it to the source. They knew it was very likely that they would be awoken from this sleep.
What they didn't expect, however, was for it to be a nightmare, a vision, that would awaken them, and not an attack alert. They stood together in a desolate wasteland, devoid of any features save for a thick, black fog which blocked their view. They could hear sounds coming from it, familiar ones at that; the cries of help of an Ottzel.
Valzo - Is that an...Ottzel? But they're extinct! We all saw it happen!
Zr'Ahgloth - NOT JUST ANY OTTZEL. I RECOGNIZE DAT IRRITATIN WHININ SOUND
??? - He's taking me! Help!
Feldosia - I...I think I recognise it, too...
Rushing into the fog, the sound became clearer until they could see its source: Dakster. Their old friend has a massive appendage wrapped around his body, dragging him into the fog as he tried to dig his hands into the earth to fight its hold, with no success.
Yogtam - Dakster...?!
Dakster - Help!
Feldosia - Help? What do you mean? What's wrong?!
Dakster - Can't you see? He's taking me! He's gonna turn me into one of them!
Kralgon Emperor - One of what? Tell us!
Dakster - The fate! He's gonna make me go through the fa-
Before he could finish, another portion of the large appendage wrapped itself around the Ottzel's head, forcing his mouth shut as it continued to drag him.
Zr'Ahgloth - MAN DIS IS CREEPY WAT DA HELL
Each of the Leaders were too nervous to walk towards, though Zr'Ahgloth stormed forward in frustration, trying to demand Dakster tell him what the "fate" was. As he approached, the fog cleared and revealed to them just what was dragging their friend: looking down at them was Kolossus, the demon's face contorted into a grin as they realized he was dragging Dakster away with his tail. The Vyro'Ralza displayed humour by their confusion, his laughing filling their ears until it all came to a halt.
At the point, each of the Leaders awoke simultaneously. There had been no alert, but their hibernation pods in their living quarters detected brain activity that was far beyond what it should be during hibernation, and woke them all up. At that point, they realised that they must have all had the same dream.
Zr'Ahgloth - DAT WAS DA CREEPIEST FING EVA MAN
Kralgon Emperor - Hmpf. That was a waste of a good sleep.
Yogtam - I have not had sleeps that bad since the days of the Corruptus. I wonder if someone was trying to tell us something.
Zr'Ahgloth - DAT KOLOSSUS IS A TOSSA BUT WE ALREDI KNO DAT
Tuolog stepped out of his own pod. Each of them realised that he had been absent from the dream completely.
Tuolog - It was me.
Zr'Ahgloth - WHAI DA HELL WULD YOO DO DAT
Tuolog - The Taldar give me another piece of information when they tell me about database. I now share it to you to warn you. I think you now need to see, because with attacks, you might not otherwise have seen in time.
Feldosia - Let's hear it then.
Tuolog - The details are as vague as the dream. And as vague as the "fate" that Dakster discusses in it. But his soul not destroyed by Kolossus when Ottzel died. It taken for a far more dire purpose. We know not what yet, but we know that we must be ready for it.
Yogtam - So the Ottzel weren't killed. They were... kidnapped?
Tuolog - That is precisely right.
Valzo - Kidnap an entire species? That sounds strange to say the least.
Zr'Ahgloth - ITS FLIPPIN RETARDED WATS DA POINT
Tuolog - We not know. Volzara and Zargoth not spoken to one another since...let's just say they not on speaking terms anymore.
Valzo - Were they ever?
Tuolog - A long time ago, they were. That much we know.
Zr'Ahgloth - idunno who dat is but roz'tah'flok is betta
Immediately later, there was an actual alert set off. The sirens awoke every crew member on the Omega Commander and the Leaders were rushed into their command chamber. The Tralkik Commander was there to greet them with news.
Tralkik Commander - We have more attacks from unidentified enemies. Across more planets.
Kralgon Emperor - Damnation. Do we even know what we're dealing with?
Tuolog - Show me footage. I have ideas, but I need confirmation.
The Tralkik Commander displayed holographic images of the attacks on UNO worlds. Much like the first recorded attack, the world's environment began to dry up, before a seemingly invincible large figure formed, and everything was obliterated after that. Tuolog dropped his staff.
Tuolog - No way. This not Zargoth. This...this the Xi'Arazulha.
Zr'Ahgloth - LITERALLY WHO
Tuolog - The Taldar not know much about them, but when I last speak to them, they tell me that the Xi'Arazulha are corrupted versions of the Vi'Navitum. They not stand for life, they stand for death. The attack patterns, the energies given off, the invincibility of them...it has to be them.
Kralgon Emperor - Corrupted versions of-... Are you saying we're being asaulted by Essentials?!
Tuolog - I not want to believe it myself. But I think it must be. There no other possibility.
Valzo - But why? What would god-beings gain from murdering our people?
Tuolog - I have no idea. It make no sense at all from their perspective. Why they not attack earlier if they want to kill us at all?
Yogtam - Our Nation is strong, but we're nowhere near the power of Essentials. How are we supposed to fight these creatures?
Zr'Ahgloth - oh dat parts easy. WE PLAY RAP REELLY LOUD IN DEIR EARS DEN DEY RUN OFF BECUZ DEY HAV A TRASH TASTE IN MUSIC LOL
Kralgon Emperor - Idiot.
Zr'Ahgloth - YA MOM
Tuolog - I either need to speak to Taldar again for ideas, or I need to investigate more. I not know if I able to speak with them again. The Xi'Arazulha may try to stop my energies from reaching the fifth dimension.
Valzo - These are dark times for us. Right when we just managed to settle in this new galaxy.
Tuolog - I see only two options. There one planet from which I can easily communicate with Taldar, but it far away from our territory, and I believe it occupied. The other option is we investigate Xi'Arazulha ourselves. We see if they have weak points, then we leave.
Feldosia - What planet is this?
Tuolog - There a strong concentration of Chronoscopic energies on Vorin XI.
Tralkik Commander - That world is contested. It is currently a stronghold of the Devourer's Chosen.
The Leaders immediately sighed, frustrated that they were running out of options.
Kralgon Emperor - Grr. Those Corruptus bootlicks. I bet they're involved in all of this.
Tuolog - Demons never work on their own... not normally. I believe however it more safe to look for Xi'Arazulha weak points. If we fail to capture this planet and send my message, we suffer losses, and more people die. But if we arm ourselves with information first, we have a better chance of stopping bleeding. We can maybe seek support if we go to capture planet Vorin XI later.
Valzo - We could ask the aid of the Zoles and Niaka. Surely they would also want the Xi'Arazulha defeated.
Kralgon Emperor - I would agree. I believe that Tuolog is right about one thing: we should seek information first. We need to catch wherever they attack next, and then scout to find what we can. We can take the information to the Zoles and the Niaka, and they will be more convinced to help us take back Vorin XI.
Zr'Ahgloth - OK DEN YOO ALL IS GONNA GO SCOUT AN GET INFO AN YA BEST B SIK AT IT
Feldosia - You're coming too, Zr'Ahgloth.
Zr'Ahgloth - blah. FINE DEN. TRY TA KEEP UP WIV MA SIKNESS
Tuolog - If we all in agreement, I say we go.
The Leaders returned to their hibernation pods to finish their sleep, while the Tralkik Commander and every AI stayed on the lookout for the next Xi'Arazulha attack. It would pick it up immediately and plot a course for the Omega Commander even if they were still asleep at the time. The Leaders would have a troubled sleep ahead of them, as these were dark times.
Da Practical Joke
Edit
While the Omega Commander was full of fear and anxiety, the Propa Big Rogue Krooza was the opposite. Each of Da Leedas and Da Warbosses gathered for a pizza party, in which they were filled with joy and amusement. They were celebrating what was happening to UNO's planets.
Fre'kloar - deyz gettin rekt LOL
Hagto'Zhl - MAN UNOS GETTIN DETONATED HOOOOOOOOOOOOOOOH
Brag'klogga - DA HOLY BOOKS PREDICTED DEY WULD GET PUNISHED BUT I DIDNT FINK IT WULD BE DIS BAD
Rel'larutina - I don't know why you're happy rather than outraged that it's not you doing the detonating.
Ray'loth - i wuld but eh, kinda not feelin like it. we can watch dem dai whil eetin pizza
Voa'reak - i kinda wanna watch deir planets get killed frum da skies but i herd dey make it impossibru ta breathe wen yor dere so meh dis is betta
Naktor'zak - dont be dum man. JUS USE A SPAIC HELMET
Zalk'don - da only disappointment is DERES NO BOOMZ
Drizz'pyrokirk - i dunt care cos deres lotsa cold
Jol'kiar - ya fink da leedas died too? id like us ta kill dem AT LEEST
Rel'larutina - Their leaders get cloned all the time, so.
Jol'kiar - FLIPPIN COWARDS MAN. BAK IN MA DAY WE RECOGNIZED DEFF WAS DA END
Kal'kuir - but yor day had stoopid low tech stoof it was borin
Jol'kiar - yeh well yor LITERALLY a nerd
Kal'kuir - IM A NERD WIV BIGGA GUNS DAN YOO ALSO YA MOMS A NERD
Jol'kiar - SHUT UP STOOPID KID
Fre'kloar - OI LADS. NO FITIN TODAY. WES SUPPOSED TA COMEMMORATE ON UNO GETTIN REKT
The other Loron cheered at Fre'kloar's statement, and then laughed amongst themselves. Grak'tona then spoke up.
Grak'tona - DA KING DECREES DA NEX MOSHON: LETS PLAY A PRACTICAL JOKE ON UNO AN MOK DEM LOL
Hagto'Zhl - DATS STOOPID YOR STOOP- hold on. practical joke? elaborate dis
Grak'tona - SO HEERS WAT WE DO. WEN DEYZ ALL RUNNIN AWAY FRUM DA ARAZULHA (brag is dat how ya say dat? meh watever) OR GOIN TA GIV HELP TO DEM DEN WE HIJAK ONE OF DA COLD RELAYZ AN GO "LOL ITS BROKE COM FITE US" AN DEN DEYLL BE PROPA LIVID COZ DEIR PEEPZ IS DYIN SO DEY WILL COM FITE US DEN WELL GO "LOL JK WE WAS MESSIN WIV YA HOPE YA ENJOY DA FITE THO"
Rel'larutina - Hijack a Cold Relay? You couldn't do that. Those Caretaker creatures would blast us to oblivion if we tried.
Grak'tona - DA KING DECREES NO CHIKZ IS EVA ALLOWED TA INTERRUPT HIM OR CHALLENG HIM AGEN
Rel'larutina - The Chik leader, who has as much power as you, doesn't give a damn.
Fre'kloar - be quiet losa. so graks idea akshully sounds propa propa PROPA STOOPID
Grak'tona - YEH? WAT DO YOO SUGGEST?
Fre'kloar wiped his mouth off, and then rubbed his hands together confidently.
Fre'kloar - i suggest we HIJAK ONE OF DA COLD RELAYZ AN DEN TAUNT DEM WIV ALL "HAHA ITS BROKE YOO CANT SAVE YOR PEEPZ COM FITE US" AN DEN DEYZ PROPA MAD AN COM FITE US DERE AN WE GO ALL "HAHA JK WE WAS MESSIN WIV YAS"
Drizz'pyrokirk - sounds neet lets do dat
Hagto'Zhl - graktonas idea sounds stoopid but FREKLOARS SOUNDS SIK
Grak'tona - ... MAN. WISH I HAD FOUT OF DAT
Rel'larutina - ...You guys are morons. Seriously. Hey, Kal'kuir, when are you going to finish work on that AI thing so we can have someone who isn't a total dumbass besides me?
Kal'kuir - urm not sur its not redi yet. i tried turnin it on but it wuld jus spew various variashons of "yoo idiot"
Rel'larutina - Oh boy. This will be a looooong few days.
Fre'kloar - ok so LETS GO HIJAK A RELAY DEN????
Knar'gank - hao do we do dat tho
Naktor'zak - RAM INTO IT. RAM INTO DA RELAY
Fre'kloar - WAT HE SED
Rel'larutina - That'd tear the ship into little... you know what? Just do whatever you want. At least you'll shut up if you all explode.
Jol'kiar - ta be fair shes kinda rite but SHE HAS NO AUTHORITY SO LETS DO IT. RAM DA RELAY!!!!
Naktor'zak - ALL POWA TA THRUSTAS!!!! LETS GO FAAAAAAAAAAAAAAAAAST!!!!!
The Rogue Boyz Leedas all scrambled and fought one another over who would put the ship's thrusters on full speed, until Fre'kloar eventually did. They headed straight for the closest Cold Relay in between UNO territory, after they picked one that UNO was likely to visit.
One Word Monster
Edit
Around the Cold Relays linking the Ottzello Sector to the Zoleia and Friura Sectors, the fleets of the Zoles Imperium and the Niaka Special Forces stood watch, under the leadership of Commandant Asraels. It was their job to protect the rest of the galaxy from the mysterious invaders who were massacring the Ottzelloans, and they would use this blockade to stop them from advancing further into their respective galactic arms. Surely they were a species of undocumented alien from the unexplored sectors, Asraels thought, so they would logically use the Cold Relays for space travel. There were few threats, between Borealis and the distant ends of the Gigaquadrant that could have stepped through the blockade without much hindrance, and Asraels had gone through every measure, and then every measure a second time round to ensure that nothing, not even the slightest foreign presence would not come within a ten parsec reach of their firepower. There was not much information on these attackers - the credibility of a single entity having twisted and turned a planet into death was so tenuous that many of the individuals stationed along this blockade thought it was merely a drill that Asraels had put them through - although the Grand-Commandant was privy to the information - something was out there. The evidence left behind this trail of destruction; the death toll rising through the billions from all corners of the galaxy could not be ignored no matter how much the Imperium or the Special Forces had tried to downplay it within the media.
The last report of this attacker - something that was not yet named - was viewed over a nearby world, Vayoket, that was destroyed in a similar light to all the planets that preceeded it. The stars that these planets had orbited also were sucked out of existence as if a singularity had passed straight through the system, with little to no explanation as to how. Many of them thought it was perhaps a stellar engine of sorts that harvested these suns, although there was no visual evidence of it - just the unbelievable nature of a lone figure appearing, and disappearing along with countless lives. It was something many, if not all of them had refused to believe. There was nothing in the Borealis Galaxy that could have predicted a lone entity, or a number of lone entities devouring entire star systems with little to no pattern. Nevertheless, both the Zoles and the Niaka forces present had all sorts of scanners to ascertain what this was - if they were unfortunate enough to encounter this unknown attacker, they would at the very most die trying to find out what they were.
Upon their scanners, roughly a day into the blockade upon the galactic time scale they were using, an anomalous reading showed. It had originally presented itself as merely static on their scanners, with faint blips of a presence with a heat signature straight in front of them, although there was nothing visually there. The second sign of it was that multiple, other heat signatures began to show, all of them foreign in nature - they had almost swarmed their scanners past operating capacity, but before they completely overloaded their systems, they disappeared once more. A surge of power rocked most of their ships, some of their smaller crafts immediately went into emergency power.
Asraels - What is this? Status report!
Co-Pilot - Power surge, source unknown! Fighters are having to use emergency power supplies, and part of the Niaka fleet is disabled!
Asraels - But how? What did this? There are no hostile ships in sight!
A second surge of power, heavier than the last one further moved their way through the blockade. In the manner of where the ships were being moved out of position, the surge was originating from behind them. Many of them were pushed forward into the no-fly zone they created, and some of the larger craft began to lose communication systems. Asraels begun receiving signals from his fleet as their ships begun malfunctioning, and he begun running his scans, desperately trying to find the source of what was causing all of this. Nothing seemed to be directly causing it, however. At best, it appeared as if the fleet's engines and cores were poorly maintained, or were rapidly wearing down. There was nothing within the vicinity that was causing this, unless it was sabotage. This was not the case however - in front of them, appeared an anomalous wave that had shut all of their systems down, leaving only the bare essentials so that they were merely sitting within their spacecraft motionlessly. Nothing was there, however - their scanners went offline, and visuals became difficult as only the naked eye could discern so much.
As their power slowly came back online, the scanners revealed one, single figure not too far from their blockade. There was no heat signal, however; it was only by the fact that it was drawing in heat from its surroundings were the Zoles and the Niaka able to detect it. However, as their visuals had come back online, it revealed a colossal, monolithic figure floating in space. Its entire body was sharp angled, and it was oddly and terrifyingly remniscent of the Xhodocto bodies of Gigaquadrantic history. It was however taller, and its features were possibly more pointed than that of the Xhodocto's near mythological appearance, which made it all the more mesmerising to gaze upon through their systems. It was rather unexpected however that their systems remained intact - all other reports implied that electronics failed completely within their presence.
Asraels - ... What in the ancestors' names? No, this cannot be right.
Co-Pilot - Commandant, there's a... person floating in space.
Asraels - So I am not seeing things...
The lone figure stood there, as motionlessly as the ships did. Despite this, Asraels could sense a form of mockery coming from the creature before them, as if it was goading them to attack it. After recovering from the brief moment of confusion, Asraels's eyes narrowed as he pointed at the figure, ordering his ships to open fire upon it. The vessels whose weapons were still operational bombarded the figure with a barrage of lasers. What they saw next was purely bizarre - what was expected as an explosive impact upon the monstrous entity's body was negated by its sheer presence - all of the lasers fired upon it seemed to be sucked into the nothingness surrounding its flesh, and the entity itself remained unchanged, unmoved and mostly unfazed.
Co-Pilot - C-Commandant... the weapons didn't do anything to it!
Asraels - ... What is happening here? What is all this?
Suddenly, the monster began to move. Its arms spread out from where they rested, and upturned its claw-like hands. Before long, the barrage of lasers unleashed upon it were soon re-ignited and unleashed upon the fleet, shot-for-shot. The shields of the vesels were ripped apart by their own weapons, many of them being torn apart while Asraels was forced to take hold of his chair to not be flung aside as his ship suffered heavy damage. The Commandant's eyes widened, fear visible in his expression as he issued an order to the blockade.
Asraels - Retreat! Retreat through the Relay now!
Before many of the ships alongside Asraels could turn, the entity pushed its right hand forward, and invisibly so, the ships to the Grand-Commandant's left immediately all shut down and withered to nothing. It was apparent that, despite the confusion and terror this thing created, its power was to merely reduce whatever it could to nothing but dead matter. The ships to the right were fortunate enough to turn in time, though not without a straying few falling victim to the same fate. Asraels and the survivors rushed to the nearest Cold Relay as soon as they could, the ships blasting through hyperspace as they fled the monster without any intention of looking back; what was killing the Ottzelloans really was as bad as it sounded, and they experienced it first hand. All they could hear however, sounded like the abyssal and thunderous laughter of the creature. It did not follow them, but instead turned its back on the Relay, and looked elsewhere.
The Cranky Old Mechanic
Edit
As the Omega Commander made its way through Cold Relays to scout out the next planet hit by the Xi'Arazulha, the Leaders immediately received a transmission on their way to the third Relay they passed through in Ottzello space.
Tralkik Commander - Incoming transmission from Da Rogue Boyz.
Kralgon Emperor - Disregard it.
Zr'Ahgloth - wat? AR YOO STOOPID? IF DEYZ SENDIN US STOOPID MESSAGES I WANNA HEAR WAT DEY HAV TA SAY SO I CAN BLOW RASBERRIES AT DEM
Kralgon Emperor - Why? We have better things to worry about than those manchildren.
Feldosia - And more important things, like a- oh Volzara, you're actually going to, aren't you.
Ignoring the other Leaders, Zr'Ahgloth jumped out of his usual spot and hit the button on the console in the centre of the room. A holographic transmission of Fre'kloar and the other Rogue Leedas appeared.
Fre'kloar - HURHUR SUP LOSAS
Hagto'Zhl - OH MA DAYZ COPYCAT DUMBO
Zr'Ahgloth - YA MOMS A COPYCAT DUMBO DATS WHY SHE GAVE BIRF TA YOO
Kralgon Emperor - Make your little petty threats and be done with it already.
Fre'kloar - OK SO HEERS DA FING. WES GONNA SMASH DIS RELAY AN STOP YOO FRUM GETTIN TO WHEREVA YA NEED TA GO UNLESS YA FITE ME ONE ON ONE
Valzo - But Cold Relays are indestructible. You can't smash anything.
Fre'kloar - HURHUR DATS NOT TROO. DEYZ INDESTRUCTABRU FRUM DA OUTSIDE BUT FRUM DA INSIDE DEY CAN BE REKT
Tralkik Commander - The transmission appears to be coming from... inside of a Cold Relay.
Yogtam - How did they even get there?
Grak'tona - COZ DA CARETAKAS LET DA ROYAL KINGLY KING IN. BTW WHO DA HEK AR YOO IDIOTS
Hagto'Zhl - DESE IS UNO. DEYZ LOSAS AN ONE OF DEM LIKES TA COPY ME AN MA STYLE. DEYZ OUR ARCH-ENEMIES YA IDIOT
Grak'tona - OH MA DAYZ DEYZ COPYIN ONE OF MA FAVORITE BODYGUARDZ???? MAN DATS TREESON TO DA KING
Kralgon Emperor - What even is that thing? A Loron in a lighter shade of blue?
Drizz'pyrokirk - urm dats kinda racist??????
The Traklik Commander further examined the area and displayed a separate hologram of the Relay from the outside.
Tralkik Commander - Analysis shows a large rupture in the Relay's surface. It appears the Loron have crashed their mothership through it. Further damage could theoretically compromise the Relay, leaving Vorin XI inacessible.
Kralgon Emperor - Oh for the love of Volzara, are these people serious? Ugh. Okay, Zr'Ahgloth, you will have your fight, whatever.
Zr'Ahgloth - SAFE. OI FREKLOAR MAN IM GONNA BEET YOO UP
Grak'tona - YEH-WAIT WAT? NO MAN IM GONNA BEET YOO UP
Jol'kiar - NO ME
Fre'kloar - MAN WAT DA HELL
Ray'loth - OI. TELL THR'ALOY TA COM WIV YOO. I WANNA BEET HIM UP
Zr'Ahgloth - THRALOYS NOT EVEN ON DIS SHIP MAN. BUT ANYWAYZ IM GONNA GO IN DERE WHIL YOO LOT WASTE YA TIME DECIDIN WHICH BOOTLIKA GETS TA FITE ME
Ray'loth - SHUT UP BOZO GET THR'ALOY IN HEER
The Omega Commander closed transmissions, as it set its course looking for any entry to the Cold Relay. Its crew was aware that if they entered within a certain range, they could possibly be fired upon, but if the Rogue Boyz had made it through, there was no reason to suspect they could not do it. Each of them was frustrated, but also horrified for the people on planets being destroyed by the Xi'Arazulha. They were effectively being held hostage, unable to help their people.
---
Meanwhile, on board the Relay, and as of yet not met by any Caretakers, Da Rogue Leedas bickered amongst themselves over who would get to fight Zr'Ahgloth. Despite Fre'kloar being a higher ranking Loron than them, their narcissism, and sense of entitlement, still led to an endless argument that would likely continue until Zr'Ahgloth arrived. Not one of them, other than Rel'larutina who had boarded in her Smasha, was even paying attention to the fact that their ship was crashed and now incapable of flight.
Fre'kloar - I CANT BELEEV YOO TWITS WULD DENY ME DA RITE TA FACE ZRAHGLOTH MAN. YOR LOSAS
Hagto'Zhl - NO YOR A LOSA. IM DA REEL HAGTO'ZHL AND DAT GEEZA HAS BEEN COPYIN ME FER YEERS. DIS HAS TA STOP!!!!!
Jol'kiar - man i may be yor mentor but IM STILL OLDA AN MOAR EXPERIENCED DAN YOO. DIS FITE IS MINE TA FITE!!!!!!
Grak'tona - I DONT KNO WHAI YOO ALL IS SO WORKED UP WHEN DIS FITE IS ALREDI MINE. IM DA KING WIV DA CROWN, SO I GET TA FITE WHOEVA-DAT-WAS
Ray'loth - man i jus wanna FITE THRALOY MAN WHAI DUNT UNO TAKE HIM WIV DEM
Knar'gank - cus dey hate fun an pizzas deyz all losas
Rel'larutina - You know, guys, you should really be paying to attention to the fact that, I dunno, our ship completely crashed and now we're stuck inside this Relay and none of us speak the Caretaker's language? Just a thought.
Naktor'zak - it was a propa sik rammin tho
Rel'larutina - ...And?
Kal'kuir - da ships not even dat scratched it jus needs... urm... HOLD UP. OH MA DAYZ MA BABY IS REKKED AAAAAAAAAAAAAAAAAAAAAAAAAAA
Fre'kloar - no un cares bout dat im sur yoo can fix it lata. anywayz WHO DA HELL AR YOO TA SAY YOO CAN FITE ZRAHGLOTH YA STOOPID CHIK
Rel'larutina - Urm, excuse me. I am far, far more qualified to face him than you. For one, I can actually name five different combat techniques, and eight different weapons. And I have a giant robot. Bitch.
Hagto'Zhl - DAT JUS MAKES YOO A NERD. AND YOO GOT NUFFIN WIV ZRAHGLOTH. I DO. HES MINE
Fre'kloar coughed loudly, and then for a brief moment, entered a sophisticated, calmer but still inspiring tone of voice as he began to lay out his reasoning.
Fre'kloar - lads, i founded da Rogue Boyz wen i was jus a boss. i founded it afta inheritin da genes frum sik geezas like Badgangmanz dat used ta stand up ta Gratzkaoz. an wev all com propa far yeh? we founded da Rogue Boyz togetha ta STOP ZRAHGLOTH. an wev hurt UNO moar dan any otha empiya (i fink cos da Gangstapedia told me so) so id say dat i did a good job. my empiya is da opposit of zrahgloth an exists ta fite him. so i say dat i, da standard bearer of all da rogue boyz stands for, now stands up ta WIPE DIS SCUM OUT FRUM REKKIN DA LORON MOAR. I HAV A PROPA VISHON FER DA LORONS FUTUR AN ITS AWAY FRUM DEIR COMMUNIST FASCIST RULE!!!! not dat i know wat does words meen but IM GONNA KIK ZRAHGLOTHS ASS FER HOW HE TREETED LORONZ WEN HE WAS A PHONY BOSS!!!
The other Loron applauded, almost surprised at this new Fre'kloar. However, for the rest of Da Leedas, it was only an invitation to outdo him.
Jol'kiar - frekloar, dat makes me proud ta be yor mentor. but ya got it all wrong. i was dere unda zrahgloth as well. i was even part of his clique fer a whil befor he got otha homies like dat thraloy fraud an befor he becam a powamad hypocrit. i kno how bad zrahgloth is an how much he screwed da loronz up. yanno wat els i kno? i kno how he fites. i kno how hes vulnerable. im da most experienced an wisest loron fita aliv an i dunt fink anyones questionin dat. so IM GONNA SMAK ZRAHGLOTH!!!!!!!
Hagto'Zhl - nonono man yoo got it all wrong. see yoo may kno wat its like ta serv him, but yoo dont kno my perspectiv. yoo dont kno wat its like lookin in da mirror evryday an seein ya worst enemy on YA ON FAIC. seein yaself an havin him go around havin da nerv ta say dat HE is da REEL YOO. dat yor da copycat of HIM. dat YOO DONT DESERV TA LOOK LIKE HIM. WELL I SAY HES A LIA. I SAY HES A COMPULSIV LIYA AN DA REEL ZRAHGLOTH IS ME. IM BETTA DAN HIM COS IM NOT A MASSIV WIMP OR A MASSIV HYPOCRIT. I WILL BEET UP ZRAHGLOTH COS YANNO WHAI? IM GONNA EMBARASS HIM AN HIS PHONIES IN FRONT OF DEM. IM GONNA MAKE ALL HIS BOOTLIKKAS COM TO DA ROGUE BOYZ WEN DEY SEE DEIR BOSS AS A FRAUD AN ME AS DA REEL ONE. IM GONNA SMAK ZRAHGLOTH!!!!!!!!
Rel'larutina - Ugh, I can't believe I'm doing this...okay. So, I'm a chik, and you guys hate that. But wouldn't you really like to see Zr'Ahgloth lose to a girl? You talk about embarassing him, wouldn't the most embarassing thing be for him to literally lose to a chik? A chik in a giant robot suit, but still. And hey, I also wanna show all the girls out there that they don't need to be held back. That they can one day grow up and be a badass like you guys can. And then they can smash Zr'Ahgloth. The history books - I mean, "Da Gangstapedia" - will write about it forever. C'mon, guys, I'm gonna smack Zr'Ahgloth.
Each of the Loron applauded the others. Funnily enough, even Rel'larutina received applause. However, as narcisstic as usual, Grak'tona had to announce his speech before delivering it.
Grak'tona - GOOD SHOW, PESANTS, GOOD SHOW. BUT I FEEL I MUS CHIME IN.
Hagto'Zhl - YA MOMS A PESANT
Fre'kloar - MAN YOO DIDNT EVEN KNO WHO ZRAHGLOTH WAS TIL NOW
Grak'tona - OK. wen i was a littel boy, my dad told me i was gonna grow up to be da sikkest king. an guess wat? i fink i did. at 8 yeers old, i killed an Abominabul Snow Loron an stol da princess chik bak frum him. at 12 yeers old, i smashed a rival Cold Loron empiya of 12 peepz. at 14 yeers old, i crushed a rebellion of 18 peepz, dey was so scared wen all 24 of dem died. an at 16 yeers old, i wroat ma first autobiography, its propa sik, its 36 pages long, an da reviews say its da best 48 pages ya can eva reed (except da bad reviewas who got tossed into da dungon an executed). den a tragic event happened: ma dad died. so DATS WHAI IM GONNA SMAK ZRAHGLOTH!!!!!!!!
Zalk'don - aaa too many numbas
Jol'kiar - MAN DAT HAD NUFFIN TA DO WIV ZRAHGLOTH OR DA ROGUE BOYZ AT ALL
Grak'tona - NEITHA DID YA MOM
Ray'loth - DA COMMITTEE HAS DECIDED: HAGTOZHL WON DA DEBAT AN HE GETS TA FITE ZRAHGLOTH!!!!
Hagto'Zhl - WOOOOOOOOO
Fre'kloar - I DEMAND A RECOUNT
Drizz'pyrokirk - i vote dat graktona lost
Grak'tona - MAN WAT DA HELL
Drizz'pyrokirk - yoo made half dat up an it was STILL borin an unimpressiv
Grak'tona - OH MA DAYZ I SWER ONE DAY IM GETTIN YOO INTO DA DUNJUN
Rel'larutina - So...if none of you can decide, I win by default, right?
Fre'kloar - NO YOR JOB IS TA MAKE PIZZAS AN KISS OUR FEET NOT FITE ZRAHGLOTH
Rel'larutina - Rude.
The Loron continued to squabble for several more hours. Not once was the issue of their ship brought up again, except for Kal'kuir, who spent the entire time screaming.
---
As soon as the Omega Commander approached the Cold Relay, reaching a few hundred kilometers away, there was an immediate warning sent to the ship by transmission. A Caretaker appeared on communications.
Caretaker - You are not authorised to come closer. Stand down.
Zr'Ahgloth - NO MAN I GOTTA GO IN DERE AN BEET FRE'KLOAR & CO UP
Caretaker - You are not authorised to come closer. Stand down, or we shall fire upon your ship.
Feldosia - We have no intention of bringing harm upon the Relay! We intend merely to remove the Loron who already boarded it.
There was a brief pause, as the Caretaker processed an alternate response. While they were biological, they functioned almost like robots.
Caretaker - This Relay is currently undergoing maintenance related to the issue you brought up. You are not authorised to enter.
Zr'Ahgloth - OH MA DAYZ I SWER
Thr'aloy - holla holla get dolla
Out of nowhere, Thr'aloy appeared next to Zr'Ahgloth, causing him to yell and jump back.
Zr'Ahgloth - MAN DONT DO DAT. WHERD YOO EVEN COM FROM
Thr'aloy - tuolog teleported me in. sed i had stoof ta do or wateva
Tuolog - Indeed. Though, you might not have stuff to do in case we're not allowed to board.
The Omega Commander continued forward regardless, and the Caretaker's warnings grew sharper, as its voice raised.
Caretaker - This Relay is currently undergoing maintenance. You are not allowed to interfere.
Zr'Ahgloth - OH MA DAYZ SHUT UP ALREDI
Caretaker - This Relay is currently undergoing maintenance. You may not interfere. This is your final warning. If you do not turn back, we will place your ship under custody.
Kralgon Emperor - Hmpf! I'd like to see you try.
Caretaker - Intimidation will not permit you entry. If you do not turn back, we will place your ship under custody.
As they continued to approach further, immediately several beams were fired from the Relay. The Omega Commander was halted in its tracks, now floating in space unable to move, as if it had been hit by an EMP blast. The Caretakers had frozen the ship, as a tractor beam now pulled it in closer.
Caretaker - Your ship is now placed under custody. You will be examined, and then you will be destroyed.
Kralgon Emperor - What the?! ... Grrr. I didn't actually think they would do that.
Zr'Ahgloth - YA CANT DESTROY ME MAN IM DA BEST
Caretaker - Identify the leading crew members of your ship. The other crew will be spared.
Thr'aloy - man dis is trash. wat is we even doin heer?
Zr'Ahgloth - WE CAME TA FITE DA ROGUE BOYZ
Thr'aloy - OH. IN DA CASE LETS TAKE A SHUTTLE AN GET DA DON
Caretaker - Identify the leading crew members of your ship. The other crew will be spared if they come forward. Otherwise, we will apply responsibility equally and terminate your entire crew.
Kralgon Emperor - Ugh. We who you see on transmission now are the only "leading crew members" or whatever. Take us in handcuff us, whatever you have to do, but why the heck are you arresting us instead of the brats that crashed into your ship?
There was a brief pause. A small robot teleported onto their ship. It scanned each of them, before it teleported them all to a room inside the Relay.
The Relay room inside was a large and open space, metallic and grey. It had very few Caretakers in it, suggesting it was a room where ships normally board the Relay, or would have boarded if there were a point in the Relay's history where they were open to outsiders. But now it appeared to solely be used to testify threats against it. The Leaders were left alone in the room for a while, and no Loron showed up. However, each of them was completely frozen in place, unable to move their bodies.
Zr'Ahgloth - I WANT MA LAWYA. YA CANT TREET ME LIKE DIS
Thr'aloy - see dis is whai i dont hang out in da omega commanda
Kralgon Emperor - This is so...immensely irritating.
Valzo - And while this happens, billions of people are being slaughtered!
Yogtam - All to blame on those damned Rogue Loron. We should have killed them all ages ago.
While they waited, eventually a single Caretaker walked towards them from the distance. It was larger than the others, and had a much less robotic movement. While it was still slow, its mechanical arms also moved far quicker and more energetically, presumably throwing its arms around in annoyance. The Caretaker spoke, with a very different, higher pitched but also crankier voice than the other Caretakers.
Caretaker - Stupid, stupid aliens...what do they think they're doing, rummaging around on my Relays! I worked so hard on these darned things!
Kralgon Emperor - Terminating the Loron who crashed into the Relay, you idiotic machine! And being punished for it, the nerve.
Caretaker - Who are you calling "idiotic machine", you idiotic alien! I don't have to listen to your crap! I don't have time! I got Relays to fix, space stations to organize, Caretakers to take care of (heh...) and I don't have the time to listen to your crap all day! I think I just told you that, actually...ughhhhh, like, can't you kids just run off some place else? Why did you have to come here?
Kralgon Emperor - I literally just said why! Or were not given an equivalent of vision to see the massive gaping hole in your hull?
Caretaker - You did? I wasn't listening, I was paying attention to something else...
Zr'Ahgloth - MAN I COULDNT GIV A CHIMPS ASS FOR WAT YA HAV TA SAY. I GOTTA GO BEET FRE'KLOAR & FRIENDS UP
Caretaker - No you don't, mister! You're under trial! I need to assess how much of a threat you are, since you literally just threatened my brother! C'mon, what have my brothers and sisters done to you darned kids? I swear, kids these days...thinking they have a right to everything! It was so much better back in my day...
Zr'Ahgloth - WAT DA HELL AR YOO TALKIN ABOUT?! FREKLOAR AN HIS FRIENDS IS LORONZ LIKE ME
Caretaker - Whossat? Wait, why am I listening to you? You're under trial! Ye darned kids! It was so much easier back in the day, when the other guys were in charge. Who were the other guys? I forgot...
Kralgon Emperor - I swear, when I get free, I'm gonna turn this defective piece of crap into a cabinet for my room.
Caretaker - Who are you calling a "defective piece of crap", you defective piece of crap!
Tuolog - I think that is quite enough.
The Caretaker suddenly stopped in his tracks, then glared over at Tuolog. He walked forward more slowly.
Caretaker - ...Wait, I recognize ya from somewhere...are you...are you Tuolog?!
Kralgon Emperor - You know this offense of a cyborg?
Tuolog - Yes. We trained Chronoscopic Energy together.
Caretaker - Tuolog! Old buddy! Hahaha! It's been too long, old friend! Hey, stupid pieces of junk, let these people go!
The other Leaders fell over, as their invisible restraints were deactivated and they were allowed to move once again. The Caretaker lifted Tuolog up and then embraced him in a hug before letting him down again.
Caretaker - So, urm, sorry about earlier. I get too cranky in my old age. Anyway, I'm guessing these guys are yer friends or something?
Tuolog - Yes. You need double-check when suddenly arresting people. We could be just passing by, you know.
Caretaker - Yeah, yeah, I know...but man, you're lucky a ship crashed into this Relay or I wouldn't have been here to notice you! What were you thinking?!
Kralgon Emperor - Like I've said twice already, we came here to kill the Loron who crashed into the Relay, because they're a pain our sides.
Caretaker - And a right pain in mine! I was just getting to my 584th task this Gigaquadrant day, and these darned bugs crashed into my Relay! I was on my way to fix it, then suddenly you folks showed up! I swear, these stupid aliens these days think they can break everything and we Caretakers will just fix it for them!
Valzo - So, Tuolog. Who is your friend? He seems far more... natural than the other Caretakers.
Caretaker - So, my actual number is B6578910, but translated into your language, my name means "The Mechanic". So you can call me that.
Kralgon Emperor - A "real" pleasure to make your acquaintance.
The Mechanic - And yours! I know that the Taldar put a sector around Highly Classified Zone F13, but I haven't met any of the inhabitants on it yet. I know all yer names, it's in the Rranlora database, I seem to be one of the only people who can get it to tell me anything.
Yogtam - Highly Classified what now?
The Mechanic - I'm not supposed to tell you that, ye darned fool! That's why it's Highly Classified!
Yogtam - Shouldn't have mentioned it then.
Tuolog - Ottzello Sector is inhabited by my people. It all inhabited by survivors of Ottzello.
The Mechanic - Man, you guys went through a rough patch, huh? Back in my days we didn't suffer the kind of things you suffered and survive! I can barely remember the aliens that inhabited this place and built me...barely remember a thing! But these folks here call them "the Cold Ones", so I just sorta go with that.
Zr'Ahgloth - yeh well i dun care fer ya old man stoof. I GOTTA BEET DA AFORMENTIONED LORON UP
The Mechanic - Oh, I'm tellin' ya, I gotta beat them up too! Those darned kids thinking they can get away with breaking my Relay! In fact, I'm gonna bring 'em here!
The Mechanic turned around. Right in front of him, each of Da Leedas and Da Warbosses teleported, landing face first on the ground, as the Mechanic stood over them menacingly and angry.
Fre'kloar - MAN WAT DA HELL
The Mechanic - What are you darned kids doing on my darned Relay?!
Hagto'Zhl - lmao look at dis tiny dood yellin at us like he owns da place
The Mechanic - Who are you calling tiny, fat guy? And for the record, I do own the place! And I was just in the middle of fixing the mess you made!
The Loron all stood up, now towering over the Mechanic and everyone else who was not a Loron.
Hagto'Zhl - ME
The Mechanic - Yeah, you think you're all big and scary now that you're, uh, big and scary? Well you're still bugs to me, ye darned kids!
Jol'kiar - MAN JUS STEP ON DIS TWAT. ZR'AHGLOTHS OVA DERE
Zr'Ahgloth - OH MA DAYZ YOO PEEPS IM GONNA BEET YOO UP
As Jol'kiar attempted to stomp on the Mechanic, he fired a portable turbolaser cannon on his metallic arm around to scare him off, and then grabbed him by the throat with his other, and tossed him aside. The other Loron all stepped back by the seemingly tiny Mechanic's surprising show of strength as Jol'kiar crashed into a wall, falling into the floor.
The Mechanic - Oh yeah? You're all tough now, huh? I'll have you know, I was the second Cold One Caretaker created, and I got all the cool toys! How'd ya like me now then, ye darned bugs?!
Kal'kuir - MAN WAT DA HELL DIS FLEA JUS THREW JOL'KIAR
Jol'kiar - MA FOOT OW
At that point, the Rogue Boyz noticed Zr'Ahgloth, who stood proudly behind the Mechanic.
Zr'Ahgloth - YEH DATS RITE IM WIV HIM HES MA HOMIE NOW
The Mechanic - Who are you calling "homie", homie! Oh wait, "homie", is that a good thing? I forgot...
Hagto'Zhl - OH MA DAYZ COPYCAT DUMBO YOR SUCH A LOSA BRINGIN HOMIES TA FITE ME
Fre'kloar - AHEM. FITE ME YA MEEN
The Mechanic - You kids aren't fighting no one! Not in my Relay, you're not! And you're not going back on that ship of yours neither!
Kal'kuir - HAO DARE YOO. SHES MA BABY IM GONNA FIX HER
The Mechanic - Baby? Hah! This whole network of Cold Relays is my baby!
Kal'kuir - I DONT CARE FER YA STOOPID SPAIC ARROWS. I GOT MA SHIP ITS DA BEST SHIP
The Mechanic - Yeah? Well your ship is getting terminated and all of you are getting terminated! You broke regulations! You're getting terminated!
Kralgon Emperor - Finally, some good news!
While they were distracted with their bickering, they had not noticed Thr'aloy and Ray'loth going at each other in the background, exchanging punches, slaps, kicks and bites while rolling around the room.
Thr'aloy - COPYCAT DUMBO
Ray'loth - WANNABE LOSA
Knar'gank - i fink i heer a pair of loronz fitin
Zalk'don - nah its yor imaginashon
The Mechanic - Hey! Don't talk over me, bugs! You're gonna listen to me or I'll just have to terminate you early!
Hagto'Zhl - HAO BOUT I TERMINATE YOO AN YA MOM YA STOOPID BOZO
The Mechanic - Come and try me then, bug! Come and try me! You want some of this laser? You want to get choked to death? You're not so tough now, are ya?
Tuolog - Mechanic. Don't kill them.
Kralgon Emperor - What?! Why not?!
Yogtam - They're a menace to our Sector, and we can get rid of them now! Why not do it?
The Mechanic - Yeah, why not do it?
Tuolog - Because we need them for later. Remember, I can see future. We need Loron for war later.
Kralgon Emperor - Hmm. Does it relate at all to that Dakster dream we had?
Tuolog - Yes. And things beyond that.
The Mechanic paused for a moment. He still couldn't hear Thr'aloy and Ray'loth's fighting over his own thoughts, but eventually he sighed and dropped his arms.
The Mechanic - Alright, fine! You bugs win this time! But don't come near my Relays again, or I'll smash your ships and leave you out in space, you little twerps!
Rel'larutina - Ugh. Enough with the "bugs" already. We are reptiles.
The Mechanic - Ye look like bugs to me, missy! Also, is that a robot? Like, that a robot trying to talk to me about aliens! Pfffft!
Rel'larutina - Did you never hear of a mechanic suit which needs a pilot? Ugh. And you call yourself old.
The Mechanic - Don't you talk to me like that, missy! I'll tear that robot suit off ya and find out what ya even are inside, coward!
Tuolog - Do not.
The Mechanic - Why not? She just disrespected my authority! Whatever she is. Ah, whatever. Keep yer suit.
Thr'aloy - -AN IM GONNA SMAK YA HED UNTIL... URK!
At the back of the room, Thr'aloy and Ray'loth suddenly froze in place halfway through their wrestling moves. Their eyes widened as they suddenly appeared very nervous. At that point, the others began to take notice of them, and glare over to the other corner of the room. The Mechanic scratched his head.
The Mechanic - Whassat?
Ray'loth - ... OI. IS YOO FEELIN WAT IM FEELIN?
Thr'aloy - I AM MAN
Ray'loth - TIME OUT?
Thr'aloy - YEH. OH MAN I CANT BELEEV ITS TIME
Grak'tona - now yor copyin ma bodyguards FEELINS TOO? LOW BLOW MAN YOR A PHONY ZRAHGLOTH I SWER
Zr'Ahgloth - SHUT UP YA WEIRDO YA HAT IS STOOPID. OI THR'ALOY WATS UP???
Thr'aloy - IM BECOMIN BETTA!!!! I GOTTA GO MAKE MA COCOON MAN
Ray'loth - YEH SO DO I. SO WE KILL EECH OTHA LATA? SAFE
Grak'tona - wait which one is thraloy an which one is zrahgloth? i forgot man. akshully which one is rayloth?????
Rel'larutina - Ugh, what a waste of time. Can we just get out of here?
The Mechanic - No! You stay in my custody until I say so! Also, I'm not fixing yer darned ship!
Kal'kuir - I DONT WANT YOO WIV YA STOOPID GRUBBY FINGAS TOUCHIN MA SHIP. ONLY I GET TA FIX IT
The Mechanic - Hah! Good luck, bug!
Kal'kuir - LIZARD. hold up wes lizards?
Brag'klogga - man who cares i got a headache
Kralgon Emperor - That I can agree with.
As Thr'aloy and Ray'loth each formed their own cocoon around them, the Mechanic shooed the Rogue Boyz away. Several Caretakers escorted them back to their ship, and would help repair some of the damage for it to be fixed. Meanwhile, the Mechanic turned to UNOL.
The Mechanic - Tuolog, if you ever need my help, you know where to find me! Not sure how much good an old fool like me can be, though...
Tuolog - Don't say that. It's good to see you well. But Sector is under attack by Essentials. You should stay away from it.
The Mechanic - Eh, depends on how you define "well"...I've been stressed out these days, more stressed out than I've been in thousands and thousands of years. But, you say "Essentials"?
Tuolog - Yes. Xi'Arazulha, Essentials of Death Energy. They attacking us and destroying our planets.
The Mechanic - Man, I haven't talked to the Taldar in years, but I'm sure they could help ya out, right?
Tuolog - We intend to talk to them, at planet named Vorin XI. If Loron damaged Relay, we would not be able to reach it without wasting precious time.
The Mechanic - You think those bugs could actually destroy the Relay? It's more or less indestructible. I'd be more worried if a Xi'Ara-whatever tried to destroy it!
Tuolog - I not know how Relays work and not know you were here. It was an assumption but I know it couldn't happen now, hehe.
The Mechanic - Ah, don't worry about it. But, my Caretakers are cleaners, not soldiers. I can't fight a war for ya. But the Zoles might be able to hear you out. If only I could still use the Grid on them...
Valzo - Grid?
The Mechanic - You don't even know what the Grid is? Kids these days...I swear, back in my day it was so much better! The Grid is an energy source for the entire galaxy. It's a layer of hyperspace which contains an infinite amount of energy, and connects all the Relays. The Cold Ones built it, to power their own ships, and to stop any threat invading because they'd be outgunned. They sure were paranoid, those Cold Ones.
Tuolog - We not know Grid since we not from Borealis... and even then, I doubt any natives know either.
The Mechanic - Yeah, I guess not. I guess you kids don't even know about the Cold Ones either, huh?
Kralgon Emperor - We were more concerned about learning the precursors of our own galaxy.
The Mechanic brought up a hologram with one of his metal arms, picturing the Borealis Galaxy from millions of years ago.
The Mechanic - The precursors of your galaxy? You mean the Taldar, right?
Valzo - Yes. We came from the Taldar's galaxy. It's not around anymore.
The Mechanic - Ohh, so that's why they wanted to migrate your sector to Highly Classified Zone F13.
Yogtam - Highly Classified what already?!
The Mechanic - I can't tell ya that! It's highly classified, dumby!
Feldosia - Is that meant to be Borealis? It has three galactic arms when Borealis only has two.
The Mechanic - Yeah, the third one is where the Cold Ones came from. It was an abandoned part of the sector after they were destroyed by Zargoth in that sector. Not only that, but very few of the planets were still hospitable there. So when the Junction destroyed that sector, they destroyed a lot of ruins, making it impossible for even me to learn what even happened to them there!
Valzo - ... I'm sorry, did you say Zargoth destroyed your creators? Like, Emperor Zargoth of the Vyro'Ralza?
The Mechanic - Yeah! And no. He didn't do all the destroying himself, just the ones who lived there. Then he up and vanished before I could make him pay for it!
Feldosia - And what is 'the Junction'? I've not heard of it before.
The Mechanic - Oh, don't worry about them. Just, you know that sector of space that really makes you uneasy everytime you go there? In the Eastern Arm? Yeah, don't go there, that's where they live. They're the most powerful beings to inhabit the place since the Cold Ones.
Yogtam - I guess Borealis is like Ottzello then. Not shy to destruction.
The Mechanic - Oh sure it's not! If anything, it's been torn apart even worse! And after all the Cold Ones did to stop anyone gettin' in, to stop anyone messing with 'em, all the paranoia they had over everything...it backfired hard, I tell ya. Now, everything's gone to hell without 'em.
Valzo - Seems like these Cold Ones were very noble entities then.
The hologram switched to displaying several Cold One ruins.
The Mechanic - Yeah, I wish I could remember one of 'em, but I can't. They were such great people. They built such an amazing galaxy, and they ruled it with an iron fist! Of course, they were the only ones who ruled it. There weren't many other sentient species, and when there were, they often didn't get far against the big bad Cold One ships. There are still ruins of them around. But the biggest part of their legacy was the Cold Relays that they used to get around. Now all these darned kids use them, and some even ram their ships into 'em, they don't know what they earned. Before the Cold Relays, the Cold Ones found it so hard to get around their own galaxy.
Feldosia - You mentioned not having access to the Grid. How come?
The Mechanic - It's locked down! I can't get a signal to it. I can't give it a single command, can't get it to power a single device, I can't get it to do anything anymore! I tell ya, none of these Essentials would be here on my lawn if the Grid were running for me! I dunno why it was locked down. I'm guessing the Cold Ones locked it down years ago before they died out of panic and then never bothered to give me the darned password!
Zr'Ahgloth - MAN YOR A LOSA JUS GO AN ACTIVATE IT. BLOW DA XI'ARAZULHA UP PLS
The Mechanic - Be quiet, you bug! Why aren't you off with your bug friends, anyway?
Kralgon Emperor - This bug is ours, so we have to deal with his whining.
The Mechanic - Oh, really? Huh. I bet he comes in handy. Or at least I hope he does. I can terminate him if he doesn't, yanno.
Tuolog - No. Still need him, even if he yells a lot.
Zr'Ahgloth - NO I DONT DATS RUDE
The Mechanic - Yikes...aaaaanyhoo, where was I? Oh yeah, the Xi'Arazulha! Yeah, I figure if you were going towards their attack, you would be, uhh...what's the word...scouting them? Trying to find a weakness or something?
Yogtam - We were doing just that, until the Loron interrupted us. So far, they seem invincible. I heard news the Zoles and Niaka tried a blockade and it was decimated by one Xi'Arazulha.
The Mechanic - Oh, so that's what those attacks were. They were Essentials? Ah. Hey, don't worry about risking your lives trying to look, I'll go probe them with a robot or something. I got this handled.
Tuolog - Do not put yourself at risk. These beings god-like in strength. They at the level of the Taldar.
The Mechanic - Yeah? You know who else is god-like in strength! Haha! ...Not me, actually. The Cold Ones were, though. Not at the level of the Taldar, but compared to these darned kids running around? Oh, they were.
Kralgon Emperor - Sure wish they were now and doing something about all this, then. But alas, we have to deal with our problems ourselves.
The Mechanic - You just work on that Chosen planet. I'll find a weakness for ya. And when you need the help of the Zoles and Niaka, I'll be in the room, they'll listen to me. But I warn you, they ain't never heard of the Taldar.
Tuolog - I not expect them to. Borealis was Essential free until our arrival.
The Mechanic - Yup. Mostly. No one bothered it after the darned Junction showed up. No one even bothered it before that when the Cold Ones were gone.
Tuolog - We should move out now. We keep in touch, Mechanic.
The Mechanic - Yup. Til later, Tuolog. We'll try and stop the bleeding and get these Essentials out. Oh, and if they stick around too much longer, my boss might get involved. You wouldn't want him involved.
Valzo - Who's your boss?
The Mechanic - I can't tell you that. Not because I'm not allowed, but because I don't even know myself. I'm taking orders from a Cold One computer far as I can tell!
Kralgon Emperor - Fantastic. Let's get back to the ship and continue our scouting.
The Mechanic - Nah. Just get the Zoles and Niaka on board. I'll do the scouting for ya.
Kralgon Emperor - If you insist. Regardless, let's get out of here.
The Mechanic - Yeah! ...now, which button teleported you back again? Oh yes, this one.
The Mechanic eventually warped them back to the Omega Commander. They had had quite an experience, but it had worked out in their favour. They had gained a very powerful ally. Meanwhile, the Mechanic turned around and displayed a different hologram. This entity was far different, possessing a sly smirk on his face which would send a chill down the spine of the usual man. His voice was suave and calm, yet commanding and threatening.
??? - Head Caretaker.
The Mechanic - Yes, boss? Ah, boss! I was just talking about ya to these good folks! Oh wait, they're off the Relay now...
??? - Good. I would hate unauthorized aliens watching our little conversation. Are you fixing the Relay?
The Mechanic - Yes, boss. My people are on it. Some darned bugs crashed a ship into it!
??? - I am sure you will do fine with it. But... he wants to know. What is happening in the Sector? Whatever is there is causing him great distress. And you know he does not appreciate being distressed.
The Mechanic shivered as the figure mentioned "him" every time.
The Mechanic - The Sector is under attack. These folks here reckon there's a bunch of Essentials down here. I wish I could use the Grid on them...that'll show 'em to get off my lawn!
??? - I am afraid using the Grid would kill all your friends alongside the Essentials. I imagine you would not want that.
The Mechanic - Ah, dammit...
??? - He wants to know if you trust these aliens with dealing with the threat themselves.
The Mechanic - I'll help 'em out a little. But not too much. I'll just go probe one of these Essentials. Find out what they're made of. Then the aliens will handle it. They're good people, I tell ya. Great people. One of them, I've known for years...
The mysterious figure let out a quiet chuckle as he heard the Mechanic's words.
??? - Then we will trust your judgement, Head Caretaker. Do what you must to get these intruders out of our galaxy. Then we shall speak again.
The Mechanic - Yes, boss.
With this, the figure disappeared.
---
As UNO left the Relay and the Mechanic moved on to get the hole left by the Propa Big Rogue Krooza fixed, the Loron were left to their own devices - that is, to yell and complain to each other over whose fault it was that they did not manage to beat UNO up in the end. Ray'loth had been encased in a large cocoon, where he went through the metamorphosis which would transform him into an adult Betta Loron at long last, while all the others merely sat around in a circle, bored and unsure of what to do.
Jol'kiar - man it almost feels weird seein one of us akshully going throo da cocoon. ive not seen anyone do it fer so long
Brag'klogga - i kno wat ya meen. its not somefin ya see often since most boyz dai young
Jol'kiar - BAK IN MA DAY IT WASNT LIKE DIS... akshully no. ye it was exactly like dis.
Voa'reak - TIMES CHANGE cept dey dont
As they laid around, waiting for anything interesting to happen, a light flashed before them as someone materialized; it was Tuolog, though he was alone this time. The Loron all looked at him in confusion.
Brag'klogga - oh ma dayz FLIP OFF MAN
Fre'kloar - ONE EYED LOSA WAT DO YA WANT NAO
Tuolog - I have thing to tell you. A story, in fact.
Grak'tona - pffff if i want stories ILL JUS TELL DEM MASELF
Drizz'pyrokirk - yors is all lais tho
Grak'tona - DRIZZ I SWER
Tuolog - I believe it worth your while, and something you need to know. The history of Gratz'kaoz.
As that name was said, it was as if time had stopped for all the Loron - save for Grak'tona and Drizz'pyrokirk, who had no idea who that was. Fre'kloar and Jol'kiar immediately leaned forward, their expressions showing great confusion and apprehension, while some of the others outright cowered at the sound of the name.
Fre'kloar - YA CANT JUS SAY DAT NAME HEER LIL MAN
Knar'gank - history of gratz... wat do ya kno dat we dont??
Zalk'don - IM NOT LISSEIN TRALALALALALALA
Jol'kiar - EVERYUN SHUT UP. OK LIL IOKETA DOOD YA BETTA EXPLAIN YASELF BEFOR I STOMP YA
Tuolog - You must learn from his mistakes and not repeat them yourselves. This a lesson you must always remember, or there be dire consequences. Now, sit down and listen. Today you will know your enemy.
Destruction Prolonged
Edit
The Ruler and the Businessman
Edit
The Palace of Old Kings was the heart of the Wranploer society, the largest building in their capital at their homeworld of Vijaha, at the fringes of the Eastern Arm. It was the throne of the old Wranploer Legion, and was now the throne of the new Borealis Consortium Network, the revitalized and empowered empire of General Volim. The gigantic Wranploer sat upon his throne of gold, guarded by elite guards equipped with the best technology the Consortium had to offer, as he awaited the arrival of his partner, who wanted to talk to him. The thought of Volim having a 'partner' in itself would be considered ridiculous, were it not for the fact it caused his influence to almost double in the galactic arm.
As Volim sat on his throne, Falrik Zaarkhun arrived, completely punctual. He walked confidently and proudly, unlike many others who would enter Volim's throne room full of anxiety and fear at the Wranploer who towered above them. Zaarkhun arrived with his usual smug look, his presence very commanding as he stood tall. Behind him were his partners in crime, Genrai Nal and Sollow, who almost always accompanied him as bodyguards. Together, the three made for an intimidating group of criminals, who could slice apart any foe they set their eyes on. As Zaarkhun approached, his eyes lit up, as he became almost excited.
Falrik Zaarkhun - Beautiful, isn't it? Just imagine how much grander this palace will be in a few years, when the entire galaxy is ours.
Volim - If what you say is true, then I would make my father jealous, should he be alive. But your plans are questionable still. Dangerous.
Falrik Zaarkhun - Dangerous, risky, and so far, successful. Incredibly successful, I might add. Just think of how much more we could hoard in gold soon. It will be fantastic.
Volim - You expose yourself too much to the media. You could end up exposing us to the enemy. They're not supposed to know of our alliance.
Falrik Zaarkhun - And they won't. My exposition to the media only fools them more. If I stay in the shadows, it appears as if I have something to hide. But show your false face often, and they assume it is your only face.
Volim - Deception is a coward's weapon. I hear the news of the Zoles and Special Forces being decimated by someone. It would be the perfect opportunity to strike them.
Zaarkhun's smug grin turned almost to a smile, as he stepped up closer to Volim's throne.
Falrik Zaarkhun - That is exactly what I came to discuss with you. You see, they're not just being decimated by "someone". They're being decimated by a godrace.
Volim - A what now?
Falrik Zaarkhun - They're known as the Xi'Arazulha. They're a race of ninth dimensional beings which drain the life and souls of three dimensional mortals. At the moment, they have no specific target, they're just trying to bait out a race of fifth dimensional beings.
Volim - Dimensions? Souls? Gods? Did you snort Varkorian drugs?
Falrik Zaarkhun - You don't believe me?
Volim - Of course not. There are no such thing are gods or souls. These are falsehoods created by zealots to control their mindless sheep.
Zaarkhun chuckled a little, then nodded to Genrai Nal.
Falrik Zaarkhun - Show him.
Genrai Nal stepped forward. He brought out one of his blades, and took it off. He waved his hand over it, chanting under his breath. Suddenly, it rusted rapidly, as if time were being sped up by hundreds of years. Then, he stopped it. He waved his hand the opposite direction, and it returned to normal. Not only that, but any of the blood and scratches from it were wiped away. He then placed his blade back on his elbow, and stepped back again.
Volim - ... What the hell?
Falrik Zaarkhun - What you just witnessed was a manipulation of fifth dimensional energy.
Volim - Are you saying your bodyguard is... magical?
Falrik Zaarkhun - "Magic" is such an unfitting term for the phenomenon known as Essence. It's an extradimensional energy that manipulates space in this dimension. In Genrai's case, he is capable of manipulating time, to a limited extent. You have witnessed a being that has used such energy before. When you witnessed a being wipe out an entire alien species.
Volim - Hmpf. It's hard to forget a scene like that. That thing was too big to be natural and it launched strange energies all over the place. At the time, I... kind of thought it was a hallucination, to be honest.
Falrik Zaarkhun - It's real, Volim. And there are beings which are made of it. One of those is the Xi'Arazulha. That is to say, there is no way the Zoles and Niaka have a chance against them.
Volim - So, if these "Essence" beings are attacking them, it's our chance to move in and take them out while they're distracted! Wipe both of them out in one swift blow.
Falrik Zaarkhun - They're known as "Essentials". And, you're half right. But there is far more damage we can deal to them. Not with weapons, but with trade deals.
Volim - Trade deals don't conquer worlds. The Wranploer are an empire, not a corporation.
Falrik Zaarkhun - Correction: you are an empire. I'm a businessman. And let me explain how that will hurt them more. At a time when they are desperate for funding, when many of their businesses are failing, we move to fill the voids. They become reliant on the Borealis Consortium Network trading partners more and more. Not only do we become richer, but they become less self-reliant. And when they rely on their biggest enemy for their crumbling economy, then the second we pull trading from them, they can no longer afford to fight back when we strike.
Volim - This isn't going to bring them down by itself. Our enemies are formidable enough to have survived us for nearly two thousand years. You can hurt them with your trade deals, but the Zoles and Niaka are more than capable of defending themselves.
Falrik Zaarkhun - The galaxy is far different than it was two thousand years ago. They have new allies, the Unified Nation of Ottzello. Those, they are a powerful enemy. It is as you said, we could not defeat them for two thousand years. How do we expect to defeat them, and the Ottzelloans, now?
Volim - With weapons. Not with trading deals.
Sollow - The Wranploer isss so ignorant... Maybe we ssshould... cut him up and offer him as a trading gift.
Genrai Nal - No. Zaarkhun will deal with this.
Falrik Zaarkhun - Volim, Volim...you are failing to see the bigger picture. Military might alone has never defeated them, because they've always been able to see it coming. But if we negotiate deals that benefit us, if we make them reliant on us as a business partner, then the second they turn on us, their economy collapses. They can no longer afford to outmatch us. We play them like the fools they are, and then we take advantage of them.
Volim - I'm going to let you do your thing. But don't think you can make all our enemies reliant on you for trade. You would have to be truly deluded to think that. They already trade among themselves.
Falrik Zaarkhun - True, I can't. The Unified Nation of Ottzello doesn't play well with trade partners. That is why I will need to wipe them out another way.
Volim - If these "gods" are doing it, then let them do it. No point getting involved.
Genrai Nal - The godrace will not last much longer. We cannot rely on that.
Volim - Why not? If they are so god-like, surely they can get rid of the Ottzelloans for us.
Falrik Zaarkhun - But they won't be around for much longer. We cannot base our plan on a possibility that is so unlikely. The Ottzelloans were created by a godrace known as the Vyro'Narza, or the Taldar. If the Ottzelloans cannot just summon them, then the Taldar will come on their own to defend them before they become extinct. And at that point, we cannot wipe them out.
Volim - All you present to me are problems, Zaarkhun. You say gods are destroying the Ottzelloans, but you also say they are protectd by other gods. If that's the case then any hope to wiping them out is gone.
Falrik Zaarkhun paused for a moment. In his mind, he was creating dozens of possibilities for how to achieve his goal, eliminating each one until only a few remained, and then calculating just how probable his success would be, before finally presenting something to Volim within a matter of seconds.
Falrik Zaarkhun - We don't need to kill the Ottzelloans. We just need to get them out of the way. It doesn't even need to be us doing it. Borealis is full of such...xenophobic species, who have never met an extragalactic alien before. All I need to do is take advantage of it. Spread more fear about the Ottzelloans, more mistrust. They will turn on one another. UNO will no longer be an enemy, but an asset.
Volim - I'll leave you to that, then. In the meantime, I'm going to prepare this Consortium for war. The Zoles have ruled the galaxy for too long.
Falrik Zaarkhun - But of course. You amp up the attacks. I'll amp up a false flag rescue mission for every single one of them. I'll gain the trust of these fools, and take advantage of it.
Volim - I hope you do. I'll receive the blunt end if you fail.
Falrik Zaarkhun - And if I succeed?
Volim - Then I'll start respecting your strategy.
The Swarm
Edit
As the Omega Commander continued to patrol around space while preparations were being made to launch an offense against the Devourer's Chosen, each of the Leaders were spent as they were giving out orders. However, Tuolog was not looking after the military. Instead, he was continuing to examine space and the Essence let off by the Xi'Arazulha. Trying to find some possible way that they could be weakened or damaged. As of yet, he had no ideas, but he was not losing faith in his ability to find at least some hope. Some way to stop the bleeding of colonies as more fell to the Xi'Arazulha across the galaxy.
Tuolog was held up in the command chambers alone. The cylindrical, metallic room was normally lively, but with everyone bar him and the Tralkik Commander computer absent, it was largely void, allowing Tuolog plenty of space to meditate and concentrate on the space he was examining. The galaxy had felt like it had been wounded with the presence of the Xi'Arazulha - each planet, star and life lost felt as if the galaxy was being attacked and torn apart with a blade, and it indeed felt as if the Xi'Arazulha were leaving a bloody trail behind wherever they tread. Little did Tuolog know - or perhaps he did - that spreading his mind across the galactic plane was not a presence the Xi'Arazulha wanted. It was only a matter of time that his meditation invited a Xi'Arazulha to him, as he caused them some interest.
As he remained in his meditative position, eye shut and motionless, the lights within his chamber began to falter - static-like interference caused them to shut off, and the metallic sheen from the walls began to rust away as if some vicious fog had ate them away. It was clear then, that in Tuolog's meditative stance, he had invited a Xi'Arazulha in. It had sensed the Ioketa's presence, much like the faint waft of a meal on the wind, and sniffed it out to reveal the meditating sage on this ship.
Tuolog had predicted this as a possible outcome. With a Xi'Arazulha in his mind, it was now his chance to communicate with it. To find out what it was doing in Borealis. Tuolog communicated with his mind.
Tuolog - What are you doing here?
The Xi'Arazulha itself appeared, although as if it were phasing into the room through the wall. Its colossal stature, only half of it for that matter, peered through the rusted edifice. It was not exactly a solid, stone like entity that was reported, as it seemed that touching the consistency of this particular Xi'Arazulha may have caused a thick residue or mass to run off onto their fingers. So much so, that blackness was seeping off its figure as if it were some monstrosity from underwater - although the gelatinous mess it left behind did not seem to corrode into the metalwork. It was strange to see such a being like that - it did not seem too far removed from a physical being as bones and innards were partially visible underneath the mass of liquidated flesh. Nevertheless, it began to speak. The voice of a Xi'Arazulha was not known, although it was not too far from the spacious and heavy nature of a Vi'Navitum's, although it seemed some malformity had occurred to its voice as much as it did to its being overall. It sounded dissonant to say the least, like a swarm of insects trying to make a unified voice.
Xi'Arazulha - We have come to feed.
Tuolog was normally not moved during his meditation by anything. But this Xi'Arazulha took him aback. He had not been prepared, even by his centuries of practicing Essence and communicating with Essentials, for this encounter before.
Tuolog - Why feed on this galaxy? What is its value to you?
Xi'Arazulha - Catharsis. A swarm will devour cattle ripe for slaughter.
Tuolog - That not explain why you choose Borealis. All the billions of galaxies in all the billions of universes...in all the billions of timelines for each...and you choose this. Why?
Xi'Arazulha - Time collides. Twists in a knot. We have come to sever that knot.
Tuolog - Time... time. What interest you have in time? That not your area of expertise. That nothing to do with you. You feed on souls, not time.
Xi'Arazulha - Time. A linear convergence of events. Held to keep the cattle in line to be slaughtered. The keepers of the cattle have poisoned themselves against each other. We must devour the cattle, and the keepers.
Tuolog - I see. You wish to devour the Taldar souls. You use us as bait.
Xi'Arazulha - Bait is as sufficient feed as feeding the cattle against themselves.
Tuolog - And why now? Why you try to attack the Taldar now? You must have reason.
Xi'Arazulha - It needs not reason. Two forces juxtaposed must be balanced through their extermination.
Tuolog pondered the Xi'Arazulha's statements. At first, things were becoming clearer to him. But now, they were starting to make less sense.
Tuolog - You mean...you intend to devour both Taldar and Traffphyd? You intend to work against Zargoth?
Xi'Arazulha - Nourishment; cattle or keeper - is nourishment. We are the swarm. We feed indiscriminately. Two forces that tantalise our hunger shall be devoured.
Tuolog - Two forces that, combined, overpower you. This not make sense for you.
Xi'Arazulha - It needs not sense. The will of the swarm will be carried out. Lest cattle, keeper and swarm be extinguished by fire.
Tuolog - You... I mean, the swarm. The swarm attack out of fear of, "fire"?
Xi'Arazulha - We are the swarm. The fire will burn regardless. We feed on the ashes of the keeper and cattle, or we do not. All is nourishment.
Tuolog - Even knowing that the keeper overpower you? And that the keeper stop you from feeding?
Xi'Arazulha - The swarm does not die. The swarm evolves; its vestigial organs are shed - becomes stronger without it. Our hunger will empower us regardless.
Tuolog - I see. There no end game, no goal for you. It merely an exercise in improving yourself.
Xi'Arazulha - The cattle is eaten. The swarm migrates. The swarm devours another cattle. The swarm migrates once more.
Tuolog - You not devour this cattle. Its keepers too strong for you.
Xi'Arazulha - Then the swarm will shed its dead skin, regrow, and wait for the fire to cleanse the cattle and purge its keepers.
Tuolog - We shall see about that.
With that, the Xi'Arazulha slowly melted away, as if it pulled away into the wall it emerged from. All was left of its trace was the fog-like residue of its body upon the wall, and the rusted metal around Tuolog. The lights within the room switched back on, and heat slowly returned as the dark god's presence diminished into nothing.
A Demonic Alliance
Edit
The homeworld of the Devourer's Chosen was located deep within a nebula of entropic energy which destroyed any ship not also ridden with the demonic essence of nightmares. The planet itself was a fiery wasteland, seas of magma running through its surface as the land itself was little more than charred stone. A great black temple dominated the capital, once a proud city of the Indoctrinate Collective now turned into a twisted amalgamation of shrines dedicated to their gods. Seated upon a black throne was Geltastra, the Dark Apostle of Shu'wokerama and leader of the great cult of the Devourer, her eyes closed as she meditated, while she was surrounded by Radeon cultists which let out constant, quiet prayers.
For Durzhan, he was right at home here. Having being used to being surrounded by demon cultists due to his time with the Blyro'Tralzorca, Durzhan arrived surrounded by the toxic planet and the demonic imagery, and felt far more comfortable in this environment than he had in thousands of years. There was a slight grin on his face as he flew in to speak to Geltastra. He had a proposition for her. As he approached, he calmed himself down a little. He remembered how his idol, Zargoth, would act in this situation, and dropped any emotion from his tone as he approached Geltastra as a business partner. His arrival was met with violent surprise by her Radeon priests, who rose their hands preparing to blast him with his essence - they did not accept strangers in the holy temple - though they were stopped once the Dark Apostle opened her eyes to gaze upon him, and the priests immediately stood down, as if signalled to let him approach.
Durzhan approached until he was a few feet away from her throne. He was unfazed by the shocked reaction of the other priests. Then he spoke to her.
Durzhan - I would like to make an offer to you, speaking as one demonic servant to another. I feel our partnership would be mutually beneficial.
Geltastra - A servant of Zargoth in the halls of Shu'rimrodir... most curious, yes. Speak your mind, Katel...
Durzhan - Indeed, I come on behalf of Zargoth. He has made many plans for this galaxy that would be of great benefit to our masters. I do not wish to reveal his hand fully, but I can assure you that they would benefit you. How would you like to live in a multiverse without the Taldar telling you what to do?
Geltastra - The Taldar... detestable beings, an anathema to the lord of nightmare. You hope to remove them?
Durzhan - Among other things, yes. We hope to destroy them. Remember, it was the Taldar who played a large part in hurting your master's plans last time. You may have your revenge.
Geltastra - I am well aware of the events of the Second War. My master has informed me of it all. The destruction of the Taldar would be much favored in the eyes of my master, yes...
Durzhan - My master seeks the same. Our alliance, then, would help us achieve this goal. I do not ask much from you, but I ask that you help to destroy their little children. The children of the Taldar from Ottzello.
Geltastra - You want the Unified Nation of Ottzello destroyed? The terrors of Shard are decimating them as we speak.
Durzhan - You and I both know that they will not be here for much longer, however. We cannot count on that. That is why, once they have left, you and I will both seek to undermine them. The children of the Taldar may no longer interfere with our plans. I still need to...exploit them, of course. So no need to annihilate them completely. Just to put pressure on them.
Geltastra - We Chosen possess a goal of our own. And truthfully speaking, the presence of the Xi'Arazulha is a setback. The one I serve wishes this galaxy dominated, not exterminated.
Durzhan - You may dominate this galaxy. Once finished with it, my master has no use for it. He seeks only to exploit it, and after that, to destroy the Taldar for good.
Geltastra - Then consider it a partnership, yes... This galaxy will know its place in the eyes of the gods.
Durzhan - Excellent. When I require your attention, I shall return. For now, I need you to be alert about only a single thing: your planet, Vorin XI. It will soon be under attack.
Geltastra - Will it? Then I shall make sure it is well defended.
Durzhan - This is good. It is important to the children of the Taldar. It is the closest to the fifth dimensional rifts that allow them to communicate with their creators. It should not fall to them.
Geltastra - They will die trying.
Durzhan grinned, as he left the world satisfied about their partnership. Little did he know that he understood far less of Zargoth's plan than he knew, and what he little of it he had told the Devourer's Chosen may have been completely inaccurate. And yet, their common desire for vengeance and power fueled their faith in it, and would make this, at least in the short run, a successful deal.
As the Western Arm was ravaged by the Xi'Arazulha, life went on at the other side of the galaxy, where a meeting between the Wranploer general Volim and a representative of the Imalmah Hegemony took place. The Imalmah, a vile race of slavers with one of the most corrupt governments in the galaxy's modern history, was an occasional trading partner of the old Wranploer Legion and the new Borealis Consortium Network, though Volim found them an especially annoying kind due to one simple reason: they refused to accept the authority of the Wranploer. As much as he would rather see them dominated, the Hegemony held too much influence in their home region, and hostility towards them would lead to warfare, something the Wranploer general would rather not waste on them.
The meeting took place in neutral ground, at a wild world at the fringes of the Demolidus Sector. Volim was flanked by Wranploer troopers equipped with highly advanced rifles, and he watched the arrival of the Imalmah representative with some impatience. Slowly walking up to the meeting with his own escort was Fleet Commander Bakarl, one of the higher military authorities of the Hegemony and a well known terrorist across the Western Arm.
Volim - You're late, Imalmah. When I order a meeting at 16 o'clock, I want you here at 16 o'clock.
Bakarl - The soldiers of the glorious Hegemony venture at their own pace, General. Do you have the credits?
Volim rose a hand, displaying a data pad for the Imalmah soldiers to see. A grin grew on Bakarl's face as he crossed his hands.
Volim - Do you have the slaves?
Bakarl - They're on orbit. Will be given to you as soon as you hand over the credits.
Volim - I would rather inspect my merchandise first.
Bakarl - We don't take orders from you, Volim. It's high time you put that on that mouthless skull of yours. Give me the money.
Perhaps out of amusement for the Imalmah's courage, the massive Wranploer threw the data pad to Bakarl, who inspected it before nodding to himself repeatedly. He reached two fingers to his ear, yelling an order in the tongue of his people before Volim witnessed smaller Imalmah vessels carrying large containers making their way to the surface; handing over hordes of slaves to work in mineral mines and other forms of manual labour.
Bakarl - The slaves are yours. Always a pleasure to make business with you, Volim.
Volim - Not so fast, brain-stalk. We still need to agree on the terms of the next batch.
Bakarl - Ah, yes. Your officers said you wanted a bigger number? My superiors can make it happen, provided you can pay.
Volim - I'm sure we can make an agree-
At this moment, however, Volim and Bakarl both noticed the arrival of another vessel which loomed over his own and that of the Imalmah forces. The skies appeared to darken as fire was opened, barrages of laser blasts raining down at the meeting area and delivering heavy damage to Volim's personal shuttle, rendering it inoperational.
Volim - What the hell?!
Bakarl - Damnit, Volim. You said this planet was beyond the radars of the Niaka. They've busted us.
Volim - That's not a Niaka ship.
The skies over the meeting darkened as it slowly turned from a vibrant blue to a deep purple, and Volim and Bakarl's forces opened fire as they suddenly found themselves jumped by creatures, who attacked them in a furious frenzy; Malcaeum demons. The Wranploer general turned to see Bakarl running away into his own shuttle, which quickly took flight, abandoning the Wranploer forces behind with the money of their meeting - Volim clenched his fist and growled in anger over Bakarl's cowardice before taking out his own custom-made rifle and opening fire towards the demon horde, while the Wranploer ships in space fought the invader; the Devourer's Chosen.
It was the first time Volim witnessed the Corruptus up-front, and he quickly realized the gravity of the situation as he watched the demons of nightmare fight back against his men despite their complete lack of equipment, bisecting them or ripping them to shreds with their claws. Amidst the chaos, a cloud of dark energies manifested in the battlefield, revealing the form of a tall Bonio whose eyes shone a terrible red colour, and as he arrived, he let out a cry of fury as he charged the Wranploer troopers, tearing them apart with his energy blades as if they were made of paper despite only standing at half thir side. On his back, he carried a rack decorated with skulls of many races, including Dracogonarious, Spinker, Zoles and Wranploer, as well as some that Volim could not recognized. As the troopers tried to fire at him, their shots were absorbed by a barrier of entropic energy which enveloped his being like a shield.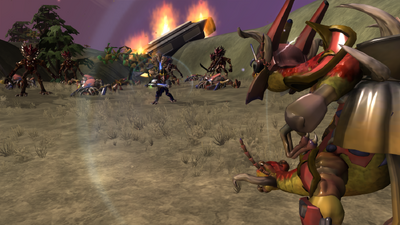 ??? - General of the Wranploer... Tremble before the power of the Devourer's Chosen!! I am Arberkul, Champion of Fury and Wrath... and I am your death made manifest!!
Volim - The Devourer's Chosen has sent assasins to kill me? Me?! Do you know who you deal with, you miserable zealot? I am the master of the Wranploer! You extragalactics are nothing to me!
Arberkul - This... is where you are mistaken! Your galaxy is ours now!! With you out of the way... aaaall of the Wranploer will be left ripe for my master to re-educate.
Volim - Over my dead body!
Arberkul - Indeed!!
Arberkul opened the full span of his wings, letting out a terrible, demonic roar as tendrils of flesh erupted from his back, thrusting themselves into the bodies of Volim's soldiers before pumping them with entropic energies, burning through their tissues and reducing them to ashes in mere seconds. Out of his mouth, a breath of demonic flames was launched at Volim which knocked the massive Wranploer backwards several feet, causing him to gasp in pain as he crashed against the ground. As he struggled to get back up, the could see his ships in orbit falling to the Chosen's dreadnought as Arberkul walked up to him menacingly, brandishing his blade in order to deliver the final blow.
Arberkul - Time to die, pirate scum!!
As Arberkul was about to slay Volim, his arm stopped as it was suddenly pierced by several thrown blades. Volim looked to his left, and saw Sollow tossing his knives to Arberkul, briefly slowing him. As he looked back to Arberkul, Genrai Nal arrived with his own two blades. He kicked Arberkul back, as he prepared to duel. The Wranploer was surprised by the sudden arrival of the two, though Arberkul himself only showed annoyance.
Genrai Nal - Champion Arberkul of the Devourer's Chosen. I would very much like to enjoy sparring with you. Do not disappoint me.
Sollow - But I'm sure he'll disappoint me...
Arberkul - What is this? A servant of the gods... serving the enemy?!
Genrai Nal - I serve Zaarkhun before I serve the gods. Leave, or challenge me in battle.
Arberkul - Blaaaasphemyyyyy!!!
The Bonio charged at Genrai Nal in a maddened frenzy, swinging his blades at him with the intent of teaching him manners. Genrai responded in turn, blocking every attack, before kicking back at him, while Sollow continued to throw knives. Despite the Inalton's strength, the Champion proved to be a match, while Sollow's knives did little but disintegrate in his entropic aura.
Volim got up, meanwhile, and looked to the sky at the Chosen dreadnought. He saw it come under heavy fire from a ship that he did not recognise. It appeared to be made with Borealan metal, decorated in rare jewels found only in the Eastern Arm, and equipped with weaponry considered illegal in the Western Arm. It could only have been Wranploer Legion design, except it was far too prestigious, almost too well decorated, to have been one of the Legion's ships. Could it have been Zaarkhun's design?
Arberkul found himself attacked by Sollow in-between Genrai Nal's blows, though he managed to sent one of his clawed hand at the Heeyorian's head; pumping him with his essence, Arberkul exploded Sollow's head, causing him to slump into the ground, twitching. However, as he noticed his dreadnought coming under damage, he stepped back, growling towards Genrai Nal.
Arberkul - Your martial skills are impressive... but your affront to the gods is not! There will be consequences!
Genrai Nal - I am sure there will.
Genrai Nal continued to attack Arberkul. Though he was physically weaker, his technique was more robust, as was his speed. However, before he reached him, the Champion's form was engulfed in demonic energies as he teleported away from the battlefield, with the weakened Dreadnought activating its FTL drives as it fled the planet. Genrai groaned a little, disappointed at the brief encounter, and turned towards Volim.
Genrai Nal - We must now leave. We can take advantage of the Imalmah later.
Volim - ... Where did you come from? How did you know I was in danger?
Genrai Nal - The Consortium Network has spies everywhere.
On the ground, Sollow's body stopped twitching as he rose to his feet, his head slowly reforming to back to how it was, and he let out an annoyed groan as he passed his hands through his neck.
Sollow - How embarrassing. If you speak of this, I will stab you.
Genrai Nal - You have tried this before, Sollow. It did not succeed last time, and it will not now. Unfortunately, you are yet still a weaker opponent.
Sollow - I take offense of that.
Volim - Whatever. Let's get out of here.
The ship which had damaged the Chosen dreadnought flew over above their location. From the loudspeakers, the voice of Zaarkhun boomed to the planet surface.
Falrik Zaarkhun - How do you like your new ship, Volim?
Volim - I quite like it, in fact. Were you keeping secrets from me until now, because I've never seen it before.
Falrik Zaarkhun - I thought you would appreciate the surprise. It was ready before I expected it to be, and just in time to intercept a Chosen ambush.
Volim - Those zealots... They tried to assassinate me! Why, the nerve...
Falrik Zaarkhun - They found that you were a nuisance to whatever plans they have. But don't worry, we will continue to be a much bigger nuisance to them. Come on, hop on board.
A small shuttle arrived to pick the three of them up, alongside the survivors of Volim's escort. It flew up to the ship, and dropped the survivors into the hangar. However, the other three were instead escorted to another part of the ship, much higher up. The shuttle dropped them inside the command bridge.
The command bridge was unlike anything Volim had seen before. The cielings and the floor were completely gold slated, with diamond decorations and pieces of exquisite Borealis art found across the walls. It was well lit, with a red carpet leading towards the throne at the centre which overlooked the windows. The throne was much like the one in Volim's palace, as the commanding bridge was not like most other ships filled with computer terminals, but instead only a single holographic communicator, as the rest mostly contained more gold plated plaques and diamond chairs for the other commanders. It was a luxurious bridge, with most of the technical details largely hidden away, not because they weren't in use, but so that they didn't spoil the view.
Zaarkhun stood next to the throne, making sure not to occupy it himself. He grinned at Volim.
Falrik Zaarkhun - Looks even better on the inside, right?
Volim - ... I must say, Zaarkhun. I'm impressed. And that doesn't happen often.
Falrik Zaarkhun - This is the best that money can buy. And believe me, when your ship has illegal weaponry as strong as this one, there's no danger in flaunting your wealth. In fact, it only serves as a display of power.
Sollow - It's stupid... jewels shouldn't be in walls. Such a stupid design choice.
Falrik Zaarkhun - You kid yourself, Sollow. Jewels are another sign of power. They're the rarest in the galaxy, and ironically, the slaves you would've gotten from those Imalmah are probably the ones who digged them up.
Sollow - Gold is bad for armory, and-
Volim - Would you stop being a killjoy? The precious metals can easily be over the real defensive material. I for one approve of his blatant flaunting, because it's us doing it.
Falrik Zaarkhun - Precisely. And it's a ballsy move. That's a display of power. Who attacks a ship that so readily fills itself with jewels costing trillions of credits? Who attacks someone with that display of courage? I tell you who does: a fool, who gets blasted away quickly by the cannons of that ship.
Genrai Nal - It was designed by Zaarkhun along with several other very pricey ship designers. Its defenses are top notch, and it can withstand more punishment than any known Zoles ship.
Volim looked around, a grin in his fang-filled mouth before he decided to speak again, turning his eyes to Zaarkhun.
Volim - ... I appreciate you saving my skin, and putting all this work into this ship. You have my gratitude.
Falrik Zaarkhun - Don't mention it. We're partners in crime. Take it as friendly gesture.
Volim - It would be only fair if we shared it. Order your people to make a second throne for you.
Falrik Zaarkhun - Very well. Sollow, you heard him. Relay the order to the designers.
Sollow - What about a throne for me? I'm the most important person here... Everyone loves Sollow!
Genrai Nal - Perhaps in your deathly dreams.
Grumbling under his breath, Sollow walked away from the chamber while Volim appeared to contemplate for a couple of moments.
Volim - This ship needs a name. Not a class name, a proper name.
Falrik Zaarkhun - Perhaps name it after our grip over this galaxy: an Iron Fist.
Volim - Perfect. Let it be known that, for now on, the headquarters of the Consortium is known as the Iron Fist. I bet that's going to turn a few heads.
Falrik Zaarkhun - It'll be a display of power. Do you want me to show you the rest of the ship?
Volim - Of course. Let the tour begin.
Zaarkhun proceeded to take Volim around to see its interior. While half the ship contained an on-board barracks and several places for Legion commanders to congregate and discuss battle plans, the other half was practically a cruise ship. It contained plenty of bars, casinos and even an arena for illegal sports. It was everything a Wranploer could desire. While everything on sale was pricey, a man like Volim could afford to pay up. The Iron Fist would soon become the ship of the Borealis elites.
A Heist Gone Wrong
Edit
A few days after receiving the Iron Fist, Volim and Zaarkhun now felt more powerful than ever. They were surprisingly friendly with one another, as they had a newfound trust for one another. The ship was an incredible display of their might, and already many around the galaxy were beginning to take notice of a ship made of such exquisite parts and with such deadly weaponry. The Wranploer Legion already had a reputation of extreme power, now Volim had a reputation of extreme power and extreme wealth.
However, as brilliant a strategist as Zaarkhun was, he was about to come to terms with one of his greatest weaknesses: his own arrogance in the face of success. Zaarkhun normally overprepared every single plan thoroughly, but after long streaks of success, could make the most foolish mistake that could dearly cost him a mission. This would be one such time. Sitting in their thrones, Zaarkhun stood up and prepared holographic plans to present an idea to Volim.
Falrik Zaarkhun - The galaxy are already taking notice of this symbol of power. But I think it's missing something. Another signal to those who gaze upon it that we are truly unstoppable. How about a rarer and more precious diamond found only within the Core of Borealis?
Volim - The Core? There aren't any special ores you can find in the Outer Core that you can't mine out of anywhere else.
Falrik Zaarkhun - I didn't mean the Outer Core. I meant the Inner Core.
Volim's eyes narrowed as he glared at Falrik, though he relaxed after a few moments.
Volim - I nearly forgot you're new here. The Inner Core is out of bounds. No ships go in. Those who do, never return.
Falrik Zaarkhun - Exactly. So wouldn't a proof that we did and returned be the way to truly show our enemies not to cross us? Wouldn't it be the ultimate symbol of strength in this galaxy?
Volim - ... No, you don't understand. There are... things, living in the Inner Core. I've seen them myself. They're not things you should ever meddle with.
Falrik Zaarkhun - "Things"? You mean the Grox? I've taken on Grox before.
Volim grunted audibly at the name, as if bothered just by its sound.
Volim - You don't know these "Grox" like we natives do. Once, the Zoles tried to colonize the Inner Core, and they did for about 800 years. But then the Grox came in. 200,000 planets fell in 4 hours.
Falrik Zaarkhun - Ah, so they are enemies of the Zoles. Perfect. When we steal from them, we shall frame it on the Zoles. They will be none the wiser.
Volim begun growing annoyed at Zaarkhun's insistence, clenching on the sides of his throne as he raised his voice.
Volim - I have accepted your judgement until now, but this is the worst idea you have ever spouted since we became partners. The Grox are enemies of everyone. You think my people haven't tried going in there before? It's suicide!
Falrik Zaarkhun - The craziest ideas are the ones that become the most celebrated through history. Only those who think outside the norm are the true achievers. We are the true achievers. And we will showcase it on this very ship. I intend to set a course for the Inner Core, to rob one of their diamonds, and to leave. We will frame it on the Zoles Imperium, who the Grox will lash out at, and all the while we will display it on the side of our ship as a trophy. And as a warning to the galaxy that we've been to hell and back.
Volim - I'm fairly sure that's not how geology works. And also, you're an imbecile for thinking this will work. I didn't nearly lose my neck to the Devourer's Chosen to be vaporized by the Grox days later.
Falrik Zaarkhun - We won't be vaporized. In the event that we come under danger, we escape immediately. Once we abort, we frame it, again, on the Zoles.
Volim - You think they care? They will lash out against everyone equally. It has always been like this. You've not done any research.
Falrik Zaarkhun - I've done enough to know that no one other than me would dare a heist like this.
Volim - Damnit all. I'm keeping the escape pod close.
Falrik Zaarkhun gave the orders to the AI on the ship, and immediately it set course for the Inner Core. It did not use the Cold Relays, as Zaarkhun knew they would see him coming that way. Instead, Zaarkhun used the ship to create a wormhole just a few parsecs away from the Inner Core, and then activate a spacetime cloaking device to presumably sneak through Grox territory unaffected.
As they arrived on the other end of the wormhole, the ship cloaked. Its crew were mostly unaware that they were in Grox territory, as Zaarkhun had not even announced it. Volim was extremely anxious, but Zaarkhun grinned to himself. Little did he know, however, that Volim was correct; he had done very little research into the Borealis Grox, and was assuming they were the same as other Grox he had previously encountered. His underestimating of Borealis's Grox Empire would become evident once the ship shook violently, its systems going offline and forced into emergency power sources as soon as they arrived. Almost as if out of nowhere, another ship was right by the side of the Iron Fist - it made the ship of the Consortium look like an ant in comparison.
Falrik Zaarkhun - What? We cloaked, didn't we? We used a spacetime distortion cloaking device. Grox can't detect that.
??? - You thought your... primitive devices would hide you?
Through the entire ship, every monitor begun displaying the image of a creature, startling the crew who was so far unaware of what was happening. It was a Marinox, but unlike those Falrik Zaarkhun had encountered at Ottzello, it possessed a light blue coat of fur and snow-white stripes across its body. The Marinox raised one hand, which slowly split itself into various wire-like tendrils which he seemed to use to operate something offscreen.
??? - Volim Thrava... Why are you here again? We already had our chat before...
Volim - I knew this was a bad idea!
Zaarkhun looked over to Volim, with a puzzled look. Did Volim know these people?
??? - I see you brought your space pirate friends with you... I am Commandant Khensu. If you have gone all your way here... it must mean you are offering yourself to be experimented on again.
Falrik Zaarkhun - What do you mean "experimented on"?
Volim - Remember when I said I've seen this things before? Yeah.
Zaarkhun was puzzled at first, and looked visibly confused and distressed. His face soon turned back to a confident and smug face, as he turned to Khensu, with his hands on the terminals of his ships.
Falrik Zaarkhun - Your size doesn't scare me, Marinox. I can blow apart your ship from the inside with any one of these weapons. Take your pick.
Khensu - I have already disabled your prehistorical weaponry. Your ship is now mine.
Falrik Zaarkhun - "Prehistorical"? Why, why you...
Falrik Zaarkhun slammed his fist on the weaponised warp bubble plasma cannon, hoping it would eat at the Grox from inside. As it could not legally be purchased anywhere in the galaxy, he assumed that the Grox would have no defense for it. But he was wrong. As Khensu had pointed out, the weapon had jammed completely. He continued to slam his fast down, looking more visibly irritated each time.
The visibly insulted Zaarkhun took another look at Khensu, and spat at the hologram.
Falrik Zaarkhun - Curious that you need to disable my ship to fight it. You're pathetic!
Khensu - Volim. My master has a proposition to you.
Volim - ... Eh?
Khensu - You may be more useful alive. I am ordered to let your ship go, but you must spread the word of my master.
The Marinox's eyes suddenly begun shining an intense white light as his voice changed completely, almost as if someone else was speaking. The voice was unsettling to the crew, with many soldiers having to cover their ears.
Khensu - You will succumb, and ascend. Or you will be annihilated.
With this, the entire ship shook once again as Volim and Zaarkhun watched it be seemingly thrown into the closest Cold Relay, eventually coming to a halt in an entire different star system at the Outer Core.
The two returned to their space and were silent for most of the journey. Zaarkhun was annoyed, but at first, he was not annoyed at himself. It couldn't be his fault. He was too good at planning. How could this be his mistake? There was no way in his mind. Volim, however, was clearly infuriated with Zaarkhun, not speaking out of the annoyance he felt for him at that moment. Eventually, he spoke up.
Falrik Zaarkhun - I blame the designers of this ship. They should've got the emergency power to work properly, and we would've been able to blast that twit and have him choke in space.
Volim - Silence yourself. Now.
Falrik Zaarkhun - It wasn't my fault! I did everything right, whoever designed this ship didn't listen to me!
Volim - I said... silence! I don't want to hear a word!
Zaarkhun looked at Volim's infuriated face for a few moments, before his own expression sunk. He had to admit that he was in the wrong. He'd been far too arrogant this time. It would be a few hours before he would bring himself to apologise, but until then, he left the room to try and recouperate any losses. Perhaps a few successful racketeering operations would make him feel better about this embarassing defeat.
Death Overhead
Edit
Grenzaar was the last place UNO were expecting an attack. The golden space station just orbiting the star at the centre of the Ottzello Sector was a place of prosperity in Ottzello and a sign of its solidarity together. It was a symbol of war-torn races coming together as one. It was the one place that had never been touched by conflict, and the one place where Ottzelloans could escape it. Inside its outer shell, the space station felt like a planet, and was at least twice the size of one. It was full of artificial greenery, and golden metropolises, as the very wealthy Ottzelloans who could afford to live there or to take a vacation there went about their lives without concern for the Xi'Arazulha. In fact, it was almost impossible to see a single weapon, a single gun turret or a single defensive drone from a glance as it was so far away from the conflict and turmoil in Borealis outside. To Ottzelloans, it was their utopia that they had won for themselves. As surrounding systems were extremely well defended, there was a very bold assumption that no one would choose to attack there. To UNO, doing so seemed like suicide, and seemed unthinkable.
It was however, the one place the Xi'Arazulha themselves actually wanted to attack. The planets in their previous massacres were merely obstacles that the Xi'Arazulha destroyed on a whim, although they knew that the centrepiece of the UNO - Grenzaar, was sure to elicit a reaction from the Vyro'Narza or even the Vyro'Razla - the Xi'Arazulha deemed both of them as equally viable nourishment for their ever devouring war machine, and Grenzaar was valuable to more than just those who lived on it. Suicide it may have been to anyone else that wished to attack it, although the Xi'Arazulha were beyond death - in fact, they themselves were the very incarnation of death itself. Within orbit of Grenzaar, manifested a blackened entity - not too far inclined towards a solid mass nor a liquid one. It did not initially pick up on the surveillance surrounding the construct, although it began to show up as the typcial presence of a Xi'Arazulha - a severe drop in heat signature around the area it formed, and appeared as if this blot on the radar was slowly spreading outwards.
Normally, the UNO response was to send everyone into an immediate but controlled alert. But they could not respond as quickly as usual, as it was a completely unprecendented and unexpected attack. Just as the computers realised that the radars were not, in fact, bluffing, they summoned hundreds of ships and went into a full alert. It was not the typical controlled reaction, it was a complete panic. Many of those in Grenzaar, once informed that the station was under attack, immediately rushed not for weapons to defend themselves with, but to the spaceport just in case the shell of the space station was destroyed and they lost either their homes or their lives. If the hull cracked open, and they truly believed the Xi'Arazulha could do that, it would take months of recovery, and would destroy the life support systems in whichever sector they had attacked. As it manifested, it became clear that this was indeed the form of a Xi'Arazulha, although not as they knew it. The creature was somewhat akin to their shape, although it seemed to be made out of crawling objects - whether it looked like snakes, a swarm of locusts or a flight bats were interpreted by their individuals, but no interpretation deemed it benevolent. It did not appear to move however; as more and more of the fleet came to engage the monstrosity, they saw that this was a kind of Xi'Arazulha that was even worse than those that preceded it.
A Kralgon fleet commander and an Inalton fleet commander, leading the two defensive fleets called upon to engage the threat, communicated to one another.
Kralgon admiral - Hold your fire. This Xi'Arazulha is different to those we've seen before.
Inalton admiral - We have no idea what it is planning. Our goal should be to keep Grenzaar safe. We need to draw it out!
Kralgon admiral - No. Evacuate everyone in Grenzaar, we cannot guarantee their safety. Our goal should be to limit the damage. Once it makes its move, then we shall fire.
The fleets waited in silence for the Xi'Arazulha's first move. Unfortunately, they knew that the tension - as thick as it was, could have only been broken if they moved first. The last encounter this close to a Xi'Arazulha only ended in the Xi'Arazulha's retaliation, and they were not certain as to whether this one in particular would ever move. It appeared the Xi'Arazulha thrived upon the futility of those in front of them.
Inalton admiral - It's not even moving, dammit. It's like it's taunting us.
Kralgon admiral - These are gods, they don't have the same concept of time as we do.
Inalton admiral - You don't outrank me. I'm not taking orders from you. All ships, prepare to fire, and draw it away from Grenzaar!
As ordered, half of the UNO Warships and UNO Blastships fired on the Xi'Arazulha. They didn't mean to damage it, they meant only to provoke it. To try and have it focus its firepower on the ships. Most of its occupants were artificial intelligences, so unlike the space station, they were unafraid of losing ships. The Kralgon admiral sighed, and commanded his own fleet to fire on the Xi'Arazulha as well. The biological crew members did so knowing their efforts would be futile, and their lives were not going to last much longer. Their futility was correct; although it did not seem to immediately retaliate, however. It became further apparent that this creature was beyond the other Xi'Arazulha, as its very presence began to drain the very vivacity of the light surrounding the planet, and the star of the system suddenly went dark. It was replaced by a crepuscular and ominous light, not too far removed from the fog-like miasma the Corruptus emanated from their being. However, all of their senses were truly drowned out from the encroaching buzzing sound that came from the Xi'Arazulha. It suddenly exploded in a tumult of insect-like aberrants; none of them could ascertain the shape of these creatures as they seemed to be part of the very dense air that polluted the space around Grenzaar itself. Nevertheless, a colossal swarm beat down upon the fleet - both artificial and organic alike, devouring them of all that may have been deemed as resourceful.
Inalton admiral - We're going down with the ships, it seems. Try and send in more fleets. Maybe we can keep this Xi'Arazulha busy until it realises that we're just delaying it.
Kralgon admiral - Have UNOL received word yet?
Inalton admiral - UNOL are informed. They are going to find a solution as soon as they can.
Kralgon admiral - Then we must pray to Volzara that they find one sooner rather than later.
Several UNO Fighter-Bombers attempted to combat the swarm with coilguns, aware that even if they did little damage, they could at least shake apart the swarm of locust-like beings and reduce the impact on the hulls of the larger ships. As the swarm enveloped their fleet, a voice came from the scramble of the abhorred insects, and spoke not exactly in unison - a great dissonance came from the voice as it seemed to shake Grenzaar underneath it.
Xi'Arazulha - Awaken. Your sacrificial lamb; devoured by the swarm of time.
Inalton admiral - What the heck is this thing?
Kralgon admiral - It appears to be some sort of Xi'Arazulha figurehead. It speaks of the "sacrificial lamb of time"...it must be referring to-
Inalton admiral - It's destroying Grenzaar now. Stop it any way we can!
Out of desperation, the Blastships and Warships unloaded every single one of their spacetime distortion weapons, and in some cases, called to any Ioketa on their ships to fire Chronoscopic-charged blasts at the Xi'Arazulha. Anything to deal the slightest bit of damage. They knew there was no hope for them, but if they could save a single child, if they could slow things down enough to allow a single ship to evacuate the station safely first, then they would have succeeded.
Xi'Arazulha - As the prey must struggle; its predator must feed.
A single column of the swarm, forever moving in its chaotic state, pierced straight through one of the command vessles of the fleet, as effortlessly as it was to have cut wood apart with an axe. Nothing upon contact of the swarm appeared to rust away however; instead, it purely disintegrated into nothingness. It seemed that the swarm was coalescing its number towards Grenzaar's shell, ready to strike it in such a way that the planet-like space station would be pierced in two.
The desperate admirals began to slam their fists on every single weapon they could. Even the artificial intelligences commanding the unmanned ships entered a panic mode as they immediately summoned as many as they could, fired as many spacetime warheads as they had against the Xi'Arazulha's arm. But not a single thing. Not a single weapon penetrated it, nothing dealt the slightest bit of damage to it. It was clear that within seconds, any Grenzaar citizen that hadn't made it to a ship yet would lose their life. And all of them would lose their home.
Battle of Vorin XI
Edit
The news got to UNOL about the horrific attack on Grenzaar. Grenzaar, the symbol of prosperity, solidarity and peace, had just been split in two. This was more than just billions of lives lost to UNOL. It was a sign of the solidarity of UNO being torn apart right before their eyes. And more than that, it served as a serious reminder as to how helpless they were to defend themselves against this threat. They had to summon the Taldar. And they had to do it immediately.
UNOL made a call to their allies, the Zoles and the Niaka, urging them that it was extremely important.
Valzo - Allies of Borealis, we require your immediate attention. The Xi'Arazulha hostilities increase by the minute, and we need your help.
At first, no response came back. The thought that the Xi'Arazulha had completely severed their link with the rest of the galaxy crossed their minds for a moment, until they detected the arrival of a flotilla of various fighters, who begun responding to Valzo's signal. Zoles and Niaka ships.
Vekaron - This is Commandant Vekaron of the Zoles Imperium.
??? - And this is Chief Minor Xeron of the Niaka Special Forces!
UNOL expressed a huge sigh of relief, as their eyes lit up. For once, they had good news.
Feldosia - Thank you for answering our call. You have no idea how much this means to us in a time of need.
Valzo - Our capital, the planet-space station Grenzaar, was just destroyed by the Xi'Arazulha. However, on the flip side, we might have just found a way to finally fend them off. We will need your help in doing so, as it requires taking over a Devourer's Chosen planet.
Vekaron - We have been sent here to investigate the 'Xi'Arazulha' threat. Our own people is beginning to feel the blunt of this invasion.
Xeron - Elaborate on your plan. How do those doomsday cultists fall into this? Are they responsible?
Tuolog - We not believe they related. However, one of their planets - Vorin XI - has a high concentration of Chronoscopic Energy and is very close to a fifth dimensional rift. If we able to get a signal on that planet, we might be able to summon Vyro'Narza.
Xeron - Chrono-what? Vyro'who?
UNOL looked at each other, many scratching heads, before they looked back at Xeron and Vekaron.
Yogtam - Uh, have you guys not heard of the Chronoscopic Theory in Borealis at all? You've never heard a single one of the legends of the Vyro'Narza?
Vekaron - I'm not familiar with any of these names.
Xeron - This an Ottzelloan thing? Because you're not at Ottzello, friend.
Zr'Ahgloth - MAN YOO GUYZ IS PROPA STOOPID REED A BOOK OR SOMFIN akshully nevamind dont do dat cos reedins borin
Tuolog - The Vyro'Narza, also known as Taldar, are a fifth dimensional godrace. The Chronoscopic Energy is what they use to manipulate the fifth dimensional holospace to, in turn, manipulate time. I could explain to you the scientific Chronoscopic Theory in detail, but we have little time for that.
Xeron - Fifth domension? Gods? What is this nonsense? Has the stress of war broken your psyche?
Kralgon Emperor - It's not nonsense, friend. We have met these gods before. We were created by them. Each of our races did not biologically evolve. It was created by the gods and we have their essence written in our DNA. Look, this is proven theory!
Vekaron - ... Regardless. We can speak of this later. Right now, we need to put an end to the Xi'Arazulha assault on our galactic arm. What must we do in this planet you mentioned?
Tuolog - The only thing we need is to fight off cultists for at least twenty minutes while I meditate. I summon Taldar through portal there, and then they able to access galaxy without fear of Xi'Arazulha Death Energy stopping them from getting through. Then, they fight them off and galaxy is safe.
Xeron - High Command wasn't kidding when they said you people were eccentric. But at least we'll be ridding ourselves from one more hub of that damned cult.
Vekaron - Give us the coordinates, and the fleet will follow you there.
Tralkik Commander - I will transfer them to you. I would recommend orbital bombardment prior to landing.
Xeron - Heheheh. Of course.
After the co-ordinates were transferred, the UNO, Zoles and Niaka fleet went through the correct Relays to reach Vorin XI, the cultist planet. The world was a charred wasteland, its skies blackened in smoke and its oceans a shadow of their former self, having largely evaporated. A fleet of Indoctrinate Collective ships, their forms twisted and shaded in black purple, was the first thing the allies encountered as they arrived, and the Zoles and Niaka were startled as their communications suddenly turned on, revealing the hologram of a fearsome-looking Duletha in black armor.
??? - Intruders! You stand before Acolyte Yagaran, Lord of Terror of the Chosen! We knew you would come!
Xeron - What the hell? Get out of my comms channel, you zealot scum!
Kralgon Emperor - Yes, you did, did you? Hah! We're going to destroy you whether you saw us coming or not!
Yagaran - We shall see about that. Your souls shall make fine offerings to the Great Corruptor.
The Chosen and allied fleet opened fire on one another, the Zoles taking on the cultists head-on while the Niaka ships maneuvered themselves to begin the orbital bombardment of the planet. As they were made from the designs of the Indoctrinate Collective, the fleet of the Chosen was formidable, more than a match for even the dreadnought of Commandant Vekaron. In response, the Emperor laughed, as several Kralgon Land Destructors teleported down to the planet, and many other Loron and Tralkik armies landed through Kralgon Pods. He, Valza and Feldosia stood on top of a larger Destructor, which began aiming its cannons towards the Chosen, as the swarms of soldiers arrived.
Kralgon Emperor - Come and get us!!!
Ships fell into the planet's atmosphere as the battle raged on, the Niaka beginning to blast the more densely populated parts of the planet as hordes of cultists armed themselves to fight the invaders, and Corruptus Demons begun materializing, eager to destroy whoever it was who dared enter their world uninvited. The UNO Warships flew in and fired at the Demons, while many Blastships focused on bombarding the world from orbit. The ships attempted to make room for Tuolog to land on the world and be able to meditate for long enough. The fleets proved very difficult, but the more pressure they applied on the Chosen, the better chances they would get.
From his flagship, the Acolyte chanted as his body was enveloped by an aura of entropic essence, and the fleet could see the Chosen's very ships being covered by auras of demonic energy which aided in absorbing their shots. They had not yet met the leaders of the Chosen, but the Acolytes were some of the most trusted servants of the Dark Apostle, each a force to be reckoned with. Meanwhile, in the planet, the demons could sense Tuolog attempting to harness his essence, making him their prime target as they attempted to rush at him.
Yagaran - You fight powers beyond your understanding. You shall feel the true terror of the lord of nightmare!
Zr'Ahgloth - MAN YOR A MASSIV WIMP COM LAND ON DA PLANET AN FITE ME PUNK
Vekaron - We're taking heavy fire here! Their ships are covered by some unknown shielding technology!
Xeron - What in the Chief Major's name is even going on here?!
Kralgon Emperor - What?! What's going on up there?!
Yogtam - I can't tell what's shielding them. It's not a deflector shield we've encountered before. But it's not like the Xi'Arazulha...
Tralkik Commander - Sensors indicate them to be entropic essence barriers.
Yogtam - You're joking. Tuolog, anything you can do about that?
Tuolog - I not sure if I can double focus my efforts. You have Ioketa on board?
Xeron - You people and your "energies" and "essences". It's like I'm in the orbit of an Adrahira colony.
Dozens of Ioketa on the Omega Commander, and dozens others landing on the planet, began to focus their efforts. Each of them entered a meditative stance, focusing their efforts solely on combating the Essence on the Chosen warships. They could not remove them outright, but they could fight them hard enough to allow several UNO blasts to get through. The cultists within the fleet begun struggling to maintain their defensive barriers, including Yagaran himself who growled in anger, though the Duletha's emotions led him to lose his focus - the allied fleet could see his flagship's shield waning.
Vekaron - On my mark... fire the main cannon!
From the front of Vekaron's dreadnought, the main laser cannon fired a powerful blast which penetrated the demonic barrier around the Acolyte's ship, piercing through the ship from one end to another. As the enemy leader fell, the allies heard the Acolyte's words as his ship was ablaze by explosions.
Yagaran - You fools. Our deaths serve only to nourish our master! The age of demons shall begin soo-
At this point, all contact was lost. The Chosen's fighters, realizing the fall of their Acolyte, begun retreating from the battle.
Zr'Ahgloth - HAHAHAHA GET REKT im still mad i culdnt fite him man whai didnt ya let me land wiv da empra
Yogtam - Because you would've got eaten alive in close combat, idiot.
Zr'Ahgloth - YA MOM
Xeron - Bah. "Age of demons". I've heard enough doomsday cultists spew something like that these last few years.
Vekaron - The enemy leader has been neutralized. The Chosen are retreating. Status report of the surface?
The Kralgon Emperor, on hologram, was seen taunting and blowing rasberries at the fleeing enemies, as well as laughing hysterically as his cannon fired without a clear target. Eventually, he calmed down, and turned towards the holograms.
Kralgon Emperor - The cultists have been annihilated. We have enough room for Tuolog to summon the Vyro'Narza.
Vekaron - Are you... quite alright?
Kralgon Emperor - I have never been happier...mwahahaha...MWAHAHAHAHAHAHAHA!!!!!
Xeron - Is he gonna be a problem?
Feldosia - ...He does that.
Right next to the Kralgon Pods, which began to leave the world, Tuolog landed, with Zr'Ahgloth and other Loron guarding him. He meditated for only a mere few minutes. As some Corruptus Demons still roamed the vicinity, soldiers of the Zoles and Niaka lent their hand in protecting Tuolog - none were quite aware of what was happening, being quite confused over the entire scenario. As they awaited for the Ioketa elder to contact the Taldar, Vekaron and Xeron spoke to UNOL again from their ships.
Vekaron - While I share my Niaka companion's skepticism over all this, I'm not exactly denying what you have been saying so far. When you see the report that an entire blockade of ships fought one of these Xi'Arazulha and failed to even scratch it... perhaps there really are "gods" out there.
Xeron - I still think this is a bunch of poppycock. Maybe by "gods", they mean some sort of precursor race.
Feldosia - No, we refer to extradimensional beings which are powerful enough in this dimension to be considered gods - and, by many, to be worshipped as such.
Tralkik Commander - The godraces we are seeing here are known as Essentials. They are tied to a particular Essence, an extradimensional energy which can manipulate this dimension from another. The Xi'Arazulha represent Death Energy, they thrive on the death of souls. The Vyro'Narza represent Chronoscopic Energy, they operate time from holospace - the fifth dimension.
Vekaron - This is all new information to us. We don't share your galaxy's history, nor have we been outside of Borealis. These "Essences" are not something seen here before.
Xeron - I'll believe it when I see it. And considering how optimistic you all are about it, you may make my day and shut me up.
Valzo - At some point, we intend to translate our books on the Chronoscopic Theory to your kind so you can understand in detail the Taldar's role in time. But the short of it is this: the Taldar exist to keep time flowing, to prevent anomalies from occuring. And they also side with the godraces who oppose the Xhodocto, to which the Xi'Arazulha are aligned with.
Xeron - I can see this is gonna be a long book.
Kralgon Emperor - It is pretty long. But it's also really fascinating. What fascinates me, personally, is that your galaxy has never seen it before. This is curious, as the only galaxy that had been relatively untouched by Essence before was Cyrannus, which requires a wormhole to reach it.
Vekaron - I feel like that's about to change.
Xeron - Thanks, outsiders.
Just as Vekaron and Xeron spoke, Tuolog finished his meditative stance and stood upright. His eye seemed to light up, but not with glee - it lit up with golden energy. Before him, a green portal opened, to the amazement of the Zoles protecting him, but to the shrugs of the bored Loron. Out of it, came several Vyro'Narza.
The Vyro'Narza were magnificent beings, that to the mortals, took on a humanoid form. They were tall, glowed green and gold, and operated very closely in a group, as if in a hive mind. They left behind them trails of energy as they flew, their bodies defying any laws of physics. Their presence was enough to make the mortals feel a great sense of awe - and not a sense of fear, but a sense of solidarity with these beings. The demons still in the vicinity recoiled back and roared out to each other, almost as if afraid as they begun dematerializing back to whence they came, unwilling to face such beings in combat.
Finally, a Vyro'Narza appeared operating outside of the group mind. She took on a far more feminine look, though she was taller than the others and her energy shone even more brightly. To many Galot, she would be considered extremely attractive, as her features were largely based on those found within Galot and Technobian DNA. Much like the others, she gave the mortals a great sense of awe with her presence, as she flew towards Tuolog, before standing still.
Kralgon Emperor - So, thoughts?
Xeron - ... Well, damn.
Valzo - The feminine one is their goddess, Vyro'Nazdea. Or as many like to call her, Volzara.
Vekaron - Can she stop the Xi'Arazulha?
Valzo - Let's listen to what she has to say.
Zr'Ahgloth - WOW MAN. NEVA REALIZED DA TIME PIGGIE GODDESS WAS DIS HOT. ID HIT ON HER BUT CHIKS AR GROSS
Volzara walked towards Tuolog, as the other Loron stepped aside out of respect (something they never normally displayed). She appeared to have a motherly, comforting look on her face as she spoke to him out of concern. As she spoke, her voice sounded softer and more tender than one would expect of a powerful and mighty goddess.
Volzara - Tuolog. It has been a long time since we have last spoken.
Tuolog - Greetings, Volzara. I wish we spoke under better circumstances.
Volzara - Yes. I have known that what would happen to your galaxy would come soon. Thank you for opening this portal on your end. I might not have been able to reach you in time otherwise.
Tuolog - Xi'Arazulha seek to devour you and Vyro'Ralza. One of them destroys Grenzaar as we speak. It must end.
Volzara - They are not after you. They are after me and my other children. I know not why they attack now, but you are right. It shall end here.
Tuolog - Thank you. All of Borealis will be in your debt. Right?
Xeron - Provided this all works! I still think it's crazy.
Volzara - You owe me nothing, my child. Nor do those of this galaxy. No, it is I who wish I could've come sooner. Alas, the Death Energy trapped all the Taldar who attempted to arrive. But more than that, I fear there is someone else who is trying to intervene. A man whose path I have not crossed in many millennia.
Tuolog - It's Zargoth, isn't it?
Volzara - Yes. I have felt his presence. I do not know what he has to gain by colluding with the Xi'Arazulha, though. If we find ourselves outnumbered, I believe we can call in the Xol'Etra as well, but it may not come to that. You said they were at Grenzaar right now?
Tuolog - Yes. One Xi'Arazulha is destroying Grenzaar. He is taking his time. Probably to watch the population suffer.
Volzara - I remember when Grenzaar was built. I speak not of this timeline, nor this universe. I remember when Grenzaar was built by the Taldar before they were the godrace you know them to be now. When they were three dimensional mortals like yourself. For them to attack Grenzaar is them declaring war on me and my children. We shall not stand for this.
Tuolog - Indeed. We must go before-
Before Tuolog finished his sentence, a mass of dark purple mist rose from the earth, its gaseous form revealing a pair of shining red eyes as it took the vague shape of a Duletha, who pointed at the Ioketa and at Volzara in rage. The Acolyte's furious soul threatened them once again.
Yagaran - The age of demons is coming!
Volzara looked over to the mist surrounding Yagaran, and clicked her fingers together, before pointing in that direction. A large beam of Chronoscopic Energy that came seemingly from above him shone down on him and crushed him under its weight. As the Acolyte's soul was purged out of existence, the mist disappeared and the skies over their heads slowly opened up, revealing the planet's moon over their heads.
Xeron - ... What the hell?
Vekaron - Hm. Persistent one, isn't he?
Volzara - No one threatens my children in front of me.
Xeron - Seriously, what the hell?! You people are crazy!
Volzara looked back to Tuolog.
Volzara - I will send the Taldar immediately. Then I will confront their leader myself. I will protect you from him.
Tuolog - Do you want us to accompany you?
Volzara - You do not need to. We shall do all that we can. Ensure that your people are safe. You will need them, for what follows afterwards. The fate that follows. You must prepare for that. I cannot help you then; I may only settle matters involving Essentials, for doing otherwise will bring our long war here, and that may destroy your universe.
Tuolog - Fate... Vague Fate?
Volzara - Yes. I have warned you about it already. You must be prepared.
Volzara then turned away from Tuolog, and seemingly vanished into the air. However, instead, she appeared in front of Xeron and Vekaron's holograms, though curiously not in front of UNOL's. She addressed them at the same time.
Volzara - Do not be so harsh to my children, children of the Cold Ones. They mean no harm on your galaxy. They mean no harm on your people. They want this galaxy to be safe for both of you. And you will need them when the time comes.
Xeron - Man, the Chief Major is gonna flip when she reads my report.
Vekaron - I feel like this is a turning point to the galaxy. Whether it's for better or worse, I can't tell yet.
Volzara - I have seen all of time. From the beginning of this universe, to its end. You are correct, it is definitely one of those turning points. And in many timelines, it is indeed for better. But for now, please remember my words, children of the Cold Ones.
Xeron - Whatever you say, lady. Just get those alien "gods" off our home, please.
Volzara disappeared, this time for good. The portal also closed, as the Taldar were now able to access this realm on their own. They had arrived in Grenzaar just nanoseconds after they left this planet.
Kralgon Emperor - ...Seriously, you'd address a goddess like that?
Xeron - I don't practice your religion, friend. Niaka have no gods.
Kralgon Emperor - I mean, I don't either, but she's a benevolent extradimensional time queen entity and you call her "lady".
Xeron - It's a girl extradimensional time person, as far as I can tell.
Tuolog - Hehe. It not important. For now, Niaka and Zoles, you may return to your leaders. The Taldar handle this from here on out.
Vekaron - Very well. Keep us informed.
Xeron - What a wild ride. I need a drink.
Zr'Ahgloth - WE CULDVE WON EVEN FASTA WIVOUT YOR HELP TBH
Xeron - I'll keep that in mind.
Tuolog - He not mean it. We keep in touch.
Volzara's Retribution
Edit
Grenzaar was destroyed. No manner of technology now could have saved the once beautiful and massive construct; the swarm of deathly locusts that tore through the spherical world split it apart much like a tidal wave that swept away, crashed through and shattered anything in its path. It was now nothing but nourishment for the Xi'Arazulha that devoured it - slowly withering away underneath the infinitely growing blackness that gnawed away at every metal, plant, and anyone unfortunate enough to have not escaped its wrath in time. The Xi'Arazulha awaited - in millions of millions of places at once, without speech but with the enormity of the swarm's buzzing, in hopes that a Vyro'Narza would appear to rebuke it. It did not care whether it was warded off - but it wanted them to respond in any way possible.
It was not just a Vyro'Narza who appeared to rebuke it. It was the Vyro'Narza. To the relief of the hundreds of thousands of crew members of the UNO starships, who had felt so defeated after the loss of Grenzaar, a flash of gold appeared before the enormous Xi'Arazulha, followed by hundreds more other Vyro'Narza who appeared. Volzara herself arrived to confront it, and stood before Grenzaar, ready to defend it with her life. She had an anguished and pained expression on her face, much like that of the UNO admirals who were forced to order their ships to flee. On arrival, the rest of UNO could finally feel safe to leave, confident that this fight now belonged to Volzara, but still afraid of what could happen to her.
Volzara - You and yours will leave my children at once. This ends here.
The Xi'Arazulha began to speak, using the ruins of Grenzaar itself to form a set of jaws, mockingly speaking back to the time goddess in front of it.
Xi'Arazulha - This will never end. The cycle always rebirths itself. Perpetuating the food for the swarm.
Volzara - All things end, every single one of them. Nothing is permanent. And who might you be, you who claims to be without ending?
Xi'Arazulha - We are known as The Plague That Feasts. The unconquerable hunger for all. Stop the swarm; it will grow anew, and in greater numbers.
Volzara - Not in this timeline.
Volzara held her arm out towards Grenzaar, as she focused her attention on it. As she did so, time began to reverse, as Grenzaar began to repair itself, and shut itself in on the Xi'Arazulha. The devouring swarm saw it as the opportunity to strike back - bursting its way out of the repairing wounds it created, it convened its way towards Volzara herself, readying its amorphous form to engulf her within its own darkness.
Xi'Arazulha - Compassion for those that are fed upon. You are but to be eaten as well.
Volzara saw it coming. Moving far faster than the swarm could, she ended up on the opposite side of them, as she blasted them with Chronoscopic Energy, attempting to create a hole in the swarm of locusts with her power, before she stood up right again, awaiting their next move.
Volzara - You shall not feed on me nor my children here. I have seen every timeline in which you do. I know your every move.
Nevertheless, the swarm kept attacking. It ultimately did not appear to be concerned about its loss; something that was perhaps as concerning as it was not, as it was clear that Volzara had the upper hand. Volzara did not have to continue to outmanouvere them, as she instead attempted to fool the swarm into falling into her traps. As they approached her, she immediately held out her arms, and began to manipulate time around the area. From the past, she summoned dozens of unformed rocks, which would have become planets, and asteroids to throw at the swarm first, forcing them to devour rocks which provided them little nourishment before they could reach her.
Xi'Arazulha - What the swarm feeds upon is insignificant. We are but that which feasts.
Volzara - Feast on this.
As the swarm approached her, she focused her energy further. This time, she would manipulate time around the entire region of space. Stars began to flicker away around them, as she was bringing time forward several millions of years. Eventually, an enormous supernova began to surround them, a supernova left from the nearest star. As the swarm opted instead to feast on the energy from the heat it generated, Volzara began to blast them away with Chronoscopic Energy. She hoped that by confusing it with so many different food sources, she could slow it down. The swarm began to spread far and wide, leaving it thin and without much substance to its being. Volzara took advantage of this. She turned time back once again, removing the wormhole and returning time to the present. With the swarm no spread out and with little to feast upon, she destroyed each of the locusts individually, far faster than the Xi'Arazulha could keep up with her.
It was not long before the swarm grew smaller, and smaller. Until there was nothing left, and the blackness of Grenzaar's star flushed away and the light returned. Volzara looked at the barren space left over. She believed the Xi'Arazulha to now be without a leader, and felt that the rest of the Vyro'Narza would be able to fend off the attack from there. She now resigned herself to trying to repair Grenzaar.
---
Maktanshatin watched the massacre unravel from Shard. Within his own dead realm, he witnessed Volzara disrupt the Xi'Arazulha's onslaught, but appeared to do nothing to retaliate. Instead, he remained sat upon his throne of broken glass, awaiting for perhaps the Vyro'Narza to come to him. Instead, Zargoth, who had already been to Shard previously, returned just after Volzara had been attacked. He arrived expressionless and with no tone in his voice, but his words would express the closest he had ever been to angry, or at least, disappointed.
Zargoth - Maktanshatin. You are irritating me.
Maktanshatin - As if your plans would gain any weight. To lure Volzara out was perhaps one half of my wish; the other half, yourself.
Zargoth - I asked you to wait until Durzhan had sparked the war before you entered Borealis. You did not do that. I asked that you only devour Vyro'Narza when I was finished with them. You did not do that either. And most crucially, I asked that you do not attack Volzara. You did that. How disappointing.
Maktanshatin - I...decided to create plans for myself.
Maktanshatin stood from his throne, meeting Zargoth at eye level with some modicum of self-righteousness about himself.
Maktanshatin - Durzhan would spark a war that would ultimately end...in what, perhaps? Such details were missed in our first discussion.
Zargoth - I would've trusted you with more information had you cooperated with me. You did not. Our partnership is ended. You will have nothing to feast on; I will take the Vyro'Narza's souls for myself when I am done with them.
Maktanshatin - I believe you would have done that yourself regardless of our agreement. That is why I decided to alter my own terms. Destroy Volzara and the Vyro'Narza...and destroy Zargoth along with it. And then there would be nothing to contest me.
At that point, a blackened mass of energies seeped from Maktanshatin's hands, sent straight at Zargoth to throw him upon his back.
Maktanshatin - There was no real intention to allow any other to have dominion over a domain ripe for its feast. To believe that Theruskrayathos would spare you and Volzara for your inane desire for control was your downfall. All we wish for is that those who oppose him to die in the anarchy they bask in.
Zargoth - You are foolish to think you can oppose me. I will destroy you in your own realm.
Zargoth stood up, as he immediately fired back with blasts of his own energy. But he was far faster than Maktanshatin, and he then lorded over him awaiting the next move. It was then that Maktanshatin called upon the realm itself to close in upon Zargoth - the dense clouds that surrounded them began to engulf the demonic god from all angles, much like the swarms that clouded over Grenzaar.
Maktanshatin - You would forget; time does not move in a realm where time is devoured. You have wandered into my trap.
As Zargoth felt the clouds surround him and almost choke on him, he could not evade this trap, as Maktanshatin had explained, as he could not reverse time in a timeless realm. Instead, Zargoth simply fought back at it with the strength of his own energy, bursting out as he then threw a punch to Maktanshatin's face, and blasted more Dark Chronoscopic energy down his throat. The death god spluttered; the energies that Zargoth forced upon him stung his very innards, although it caused Maktanshatin, of a larger and monolithic build to return with a fist of his own. The god held on to his chest as it burned from the essences he swallowed by force - causing the many eyes of Maktanshatin to furrow in anger.
Maktanshatin - Idiot. You cannot escape a fate they have already wished for you to suffer!
Zargoth was taken aback by Maktanshatin's punch, but was able to retain his ground, as each of his six tentacles began to fire more Dark Chronoscopic energy at the death god, attempting to knock him to the ground. He ignored the death god's words.
Maktanshatin - Allow the mortals to grow, and they pollute repsonsibility with compassion and weakness. You are destined to be removed.
Zargoth - I care not for the plight of mortals. You conflate me with Volzara. I only care for power. And you stand in the way of that.
Maktanshatin filled the very infinity of Shard with his cynical and mocking laughter, looking at Zargoth with all of his eyes fixed upon his face.
Maktanshatin - How the weak grow. How the weak grow weaker. Mortals turned into gods. Responsibilities entirely unfounded upon the premise that they found you first. Be glad it were Alearenthumend that found you, for Theruskrayathos would have made you suffer.
The death god clasped his colossal hands upon Zargoth's head, pulling his face close towards Maktanshatin's, the death god filling his mind with words of terror;
Maktanshatin - He would have made you watch. He would have made you witness the very deconstruction of the one you love, from flesh to bone, to dust. Her very mind unmade by the gaze of Angazhar. And he would have made you confess it; would have made you laugh in the mockery of her destruction, so that the last sane thought of your withering soul would be the knowledge that her dying moments would have been filled with your laughter, and all that would be let of Prince Zargoth of the Taldar would be his own mind undone.
This was enough to break Zargoth. He lost it, and right there, he dropped the act. His emotionless expression was replaced with one of rage, as his scream of anger shook the entire realm of Shard. He broke free of Maktanshatin's grasp, as each of his arms and tentacles fired blast after blast of Dark Chronoscopic energy at the death god, overwhelming him with his speed and power. In his anger, Zargoth used all of his might to inflict as much harm as he could, and did so at a speed much greater than the death god could react to even within his own realm. As he pushed the death god back further, he sprayed Dark Chronoscopic energy all throughout the realm, and eventually delivered one punch to his face, and lifted him by the neck.
Zargoth - Speak of her in those terms again, even look at her, and so help me, I will annihilate you and every last one of your kin, and burn every realm that has been touched by your stench!
Maktanshatin - ...All I can think of...is...if Theruskrayathos would do this to you...imagine...just imagine...just imagine the torture Ormenthdraverang...what he would put her through...heheheh...you cannot be us...not us, Zargoth...for you will not know immortality until...you have lost your mind.
Zargoth knew, deep down, that what the death god said was true. He had never truly felt like one of the other demons, and was more like the black sheep among them. In rage, he continued to hammer away at the death god, and then filled his throat with Dark Chronoscopic energy once more, attempting to make him choke on it.
Zargoth - I will make you lose your mind now: you are about to be beaten, in your own realm, by the god of Time, in a timeless environment.
Maktanshatin - ...'God'...
Maktanshatin began to cough and splutter as the dark light of Zargoth's essence cracked through his glassy and statuesque body, causing it to crumble underneath its own weight, until Zargoth held nothing but Maktanshatin's inanimate and lifeless head. Maktanshatin was not dead - death itself could not die, of course - but the realm fell unconscious, and so did the Xi'Arazulha as Zargoth beat it into submission. The skies of the realm went completely black, leaving the fallen Vyro'Narza and the shattered remains of Maktanshatin's body upon the floor. The Xi'Arazulha's reign of terror was over, although not even Zargoth would know for how long.
Zargoth's face became expressionless once more, as he returned to his normal state. He slowly left the realm the same way he had arrived, returning to Kolossus and Durzhan to fill them in on what would happen next. The Xi'Arazulha had presented themselves as an irritating obstacle which, for long enough at least, Zargoth had removed.
The Divine Lord of Tangent
Edit
Having returned to his corner of Sequencium, Zargoth spoke to Kolossus and Durzhan to inform them that the Xi'Arazulha had, at least for now, been taken care of. The two would have had no idea how difficult a struggle the death god would've presented him, or how humiliated he had been, as Zargoth would not have expressed it. Instead, Zargoth would return with only good news in the realm. For both of them, as he had shown no feelings at all, he had also never shown any sign of weakness before.
Kolossus and Durzhan awaited him, the latter with some enthusiasm, as he addressed them. Zr'An'Kar, meawhile, showed distaste in his expression as he kept his three eyes narrowed.
Zargoth - The god of death is...for now, at least, dead. He was an annoyance, but he is removed. At the very least, he has begun the war for us.
Kolossus - A waste of precious time. I was against this idea from the start. All this has led to is a back door for the Vyro'Narza to come in and out as they please.
Zargoth - No, Volzara will close it. She knows that if she intervenes with any matter not involving the Essentials, it will bring the long Essential War here full scale, and her children will be the first to die in the crossfire. No, she will present no issue to us.
Kolossus - The beings you dealt with are among the less trustworthy. I cannot fathom what crossed your mind. At least, Durzhan has taken the time to approach the Corruptus. Demons I can actually trust.
Durzhan - Yes. However, the Xi'Arazulha have presented me with some convenience. They have started a war full scale, and the entire galaxy is ungulfed with it. Feeling opportunistic, the war criminals have begun to attack the Zoles peacekeepers alone. I did not even need to prod them. This will spark a chain reaction, and soon, the galaxy will be plunged into a conflict that creates exactly the environment we desired.
Zargoth - Excellent.
Durzhan - The war criminals may yet remain useful, however. I have had to reshape my plans, but I do believe they fit perfectly in the new puzzle. The Perfect Fate shall come.
Kolossus - Do what you must. Just remember it is imperative that the Vague Fate must be stopped. I can feel it now. It has arrived.
Durzhan - It will not only be stopped, it will first be taken advantage of. It, too, serves as an opportunity to create a rift between the factions of Borealis and drive them further apart. Conditions, under which, the Perfect Fate shall come.
Zargoth - See to it. It arrives as we speak.
At this moment, neither of the three expected Sequencium's light to have been snuffed out. It seemed much like an eclipse or some sort, but there was little within the powers of any to have caused such a darkness to envelop the realm as it did. The immediate thought was that Maktanshatin had come to devour Sequencium whole, although it was too soon for the god to have awoken from the submission he was sent into. Maktanshatin would not have hesitated to have done so either, as it appeared that the realm itself just went dark without much other explanation. Nevertheless, a heavy sensation came across the three as the darkness fell overhead.Zargoth and the other two were immediately caught off-guard, as they looked above them and prepared to fight them. If it were not Maktanshatin, who could it be? Were the Vyro'Narza trying to snuff them out and reclaim the whole realm? No, that was not logical either. Durzhan, out of fear, retreated lower to the ground to take up a defensive stance, while Zargoth simply stood his guard awaiting the intruder. Kolossus's face showed frustration as he eyed the environment's sudden change before darting back to Zargoth - whatever was happening, he was probably responsible.
The sky was suddenly set alight with a terrible fire; painting Sequencium's darkness in colours of red, blue and white - although in the midst of the flames, was a ring of this blue light encirling a blackness so dark it appeared that Sequencium's sky was torn apart and sucked inwards - it was certainly too terrible to gaze on for so long and not be sent mad by its immensity, and the enormity of the fire's roaring as it exploded across the horizon caused the entire realm to shake violently. Zargoth stood still as it began to shake. He had ruled out any possible intruders that could do this other than the Xhodocto themselves. Now he would simply await whichever would come before he would talk his way out of this. Alternatively, if they stayed too long, he may be able to convince the Vyro'Narza to ward them away instead.
It was only then by the voice of the Xhodocto - infernal and maddening; maddening beyond both mortal and immortal measure, that Sequencium was now host to Angazhar. The tearing chorus of his voice - sounding not much unlike a myriad of realities opening and collapsing upon each other uttered throughout the realm at such a loudness that it was only a miracle the entire realm - even the entire foundation of causality itself was not flattened by it.
Angazhar - War and fate. Under the belief that one achieves the other.
Kolossus - Zargoth... what have you done?!
Durzhan - Who is this?
Zargoth - So you are the Theruskrayathos I have heard so much about. I believe I do not need to introduce myself. But you have decided instead to introduce yourself to me and my real-
Angazhar cut Zargoth's speech shorter than he intended. The Lord of Tangent suspended them all within their own bodies, causing their very skin to grate upon itself, and at the full mercy, or lack thereof of the Xhodocto before them. The very eye of Angazhar moved downwards towards the horizon, as it met them at a level. It was then that Angazhar looked into their very minds; and they themselves saw Angazhar's almost incomprehenisibly vile malice that turned the realm black with even an infinitesimal of his presence there to see them. It felt not unlike a searing hot needle boring its way through one's skull, and with it, spilling all thoughts of terror and fear with such boundlessness that they would have only prayed that it stopped.
Angazhar - The mortal prince turned emperor; to shift fates unexisting into futures unrealistic - upon the premise of fleeting thought.
Zargoth struggled against Angazhar, his mind going completely insane. He wrestled not just with Angazhar's grip over him, but with his grip over his own thoughts. He tried to force himself to remain completely still, trying to resist any sort of feeling that Angazhar would inflict on him. But Angazhar was far stronger than Zargoth. He continued to struggle against Angazhar's grip, and to remain as still and emotionless as ever. Kolossus's sleek and serpentine form cowered before Angazhar, while he continued to grow frustrated over Zargoth's insistence in challenging their master.
Zargoth - ...You aptly describe me...yes...
Kolossus - I warned you this was a bad idea from the beginning. Your acts against the Xi'Arazulha have earned the ire of the Xhodocto themselves.
Angazhar - The prize of war and death. It tantalises the soul; it will bear no fruit.
Zargoth - I...do not fear you...I do not...feel...anything...
Kolossus - I should not be punished for Zargoth's failures!
Zargoth knew he was lying to himself as he spoke, desperately trying to resist. Durzhan remained torn, having no idea where his loyalties truly lay here.
Angazhar - Weakness. Guilty by association...one hand swells and the other rots. To sever these hands would allow blood to spill. An anarchic future would await; perfection is not anarchic.
Angazhar's suspending grasp was relinquished, and the three were allowed to move once more. Angazhar's eye began to float side to side, although with each jerk, a flash of light tore away at Sequencium's edges, although it repaired itself as quickly as it was torn apart.
Angazhar - Define that which is imperfect as perfect.
Kolossus - You wish for anarchy, great one... We can provide it. The Perfect Fate will bring war and bloodshed. From destruction, we will remove obstacles and open way for future conquests.
Zargoth - Yes. It will shift the balance of power in your favour once more, and deal irreparable damage to Volzara and her band of rebels who would think to oppose you.
Kolossus - Indeed! Merely... Allow us to continue existing. Our Perfect Fate will be of use to you.
Angazhar's very eye magnified; his iris almost engulfing the entire horizon. Within his abyssal gaze, they saw what may have been a reflection of his own domain; a hell beyond hell that twisted in ways that not even the orderly mind of the Vyro'Narza would be able to fathom.
Angazhar - Fate. Balance. Power. All meaningless.
Kolossus - It will bring war.
Angazhar - War. War brings change. Change brings stagnation. Become shattered in droves; unify in the dying agony of their weaker half. It must not be allowed to change. No prize can be attained. No prize will be attained.
Zargoth - You misunderstand the prize that we seek here. The change that we bring will be a permanent, and irreparable one. It will not only see the dying agony of the weaker half, it will remove the weaker half. For good. I who have witnessed every timeline of every universe know when I see a change that is truly permanent. This one is.
Angazhar - Remove the weaker half. The stronger half will divide. You will become the weaker half. Such change is but a devolution of the weakness that you have instigated.
Zargoth - And if the stronger half does not divide? You speak of it as if it is an inevitability. I ensure you, the opposite is true.
Angazhar - It always divides. For I am the one that divides; to break down the weaker half is but what is demanded.
Durzhan - Great one, I assure you, this time the events do not unfold the way you say they do. This time, we build up the stronger half, and we build it up for good. This entire realm of Sequencium, it shall be yours.
Angazhar was bemused by their confidence. It was regarded almost as impossible to entertain Angazhar, yet they had done so. So much so, that a laughter murmured out of Angazhar, yet it had still filled them with an aspect of horror they could not describe.
Angazhar - Unification of the stronger half. They are the stronger half. They will divide. Fight among themselves; cast out their weaker halves until they grow stronger. No stronger half remains; for change do not allow these halves to exist harmoniously. To advance the hands into futures unknown is but to cast down the weak.
Durzhan - Great one...merely allow us to continue. We shall not let you down. We have planned this for millions of years.
Angazhar - Continue you shall. Yet change determines your fate. A stronger half will arise; a stronger half will divide regardless. Such cannot be changed. Such that change will not allow to remain.
Zargoth - If I fail, and I do not repay you, I am aware you will simply have the pleasure of destroying me. I have full confidence in my ability.
Angazhar - If the mortal prince turned emperor fails not, the pleasure of destruction remains hanging above his head.
Zargoth resented Angazhar's constant reminder of his past. He did not voice this to Angazhar, out of a fear which he would not admit to himself. He remained without words. Kolossus remained some distance away, anticipating what would happen next as he did not intend to intervene. It seemed that nothing else would occur between Angazhar and the rest of them, as the Xhodocto fell silent and disappeared from the sky, in as a graceless display of fire as he came. Zargoth turned towards the others. While he may have been feeling shame inside, he elected once again to remain expressionless.
Zargoth - We shall not interfere with the Xhodocto or other demons again. We shall work on our own terms.
Kolossus - Our links to the Corruptus will not be erased.
Zargoth - Of course. We shall remain close allies with them. But the rest, it would be wiser to avoid, to prevent this from occurring again. We have planned this for too long for the demon committee to slow our progress. Eventually, they will be proud of us.
Kolossus - I have always trusted your judgement. But you put us in danger this time. I would rather not go through this again.
Zargoth - Yes. I made an error in my calculations. Cooperating with the Xi'Arazulha set us back when it should have aided us. When the Perfect Fate comes, it shall repay you both.
Durzhan - It was my fault. Had I been able to spark a war on my own...
Zargoth - No. The decision was mine alone. It does not matter now. We continue as planned.
---
It was now time...for the Vague Fate.
Colonization is currently

CLOSED




Bold indicates particularly important topics


Italic indicates fiction made by users other than Borealis's creator
Community content is available under
CC-BY-SA
unless otherwise noted.