Right Behind You features a story based around Claire Rambo, a Rambo Nation operative agent. Given new orders to leave Aecor, at orders from vice-admiral Ramcard after he joined forces with the DCP, the Empire and the Imperium to destroy a Congregation presence and attacks by a lone cruiser who appeard through an anomaly. Succeeding in destroyer the evil cruiser, Ramcard wished for Rambo operatives to gain intelligence and explore uncharted regions without the use of Rambo space ships, as they would draw too much attention in lawless regions.
Ramcard soon became the main spoke person to Claire, and even gained a soft spot for her. Though the initial mission was to extract Voro Acetenus from Orbispira and Xora from Sanderhal, Claire soon found herself on her very own adventure with the permission of Rambo Command.
Together with her friends, the crew of the Falcon Claire is one of the few operatives operating in the Unclaimed Territories of Quadrant 82!
---
Prologue
[
]
---
Claire stood a lone balcony at the Aininyë created structure known as Aecor. During the events of the Hunt for the Zevian Skull the planet was discovered and placed under the protection of Rambo Nation and the Cognatus Empire.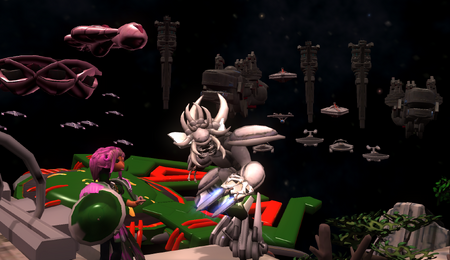 Looking above Claire saw Cognatus starships and Rambo space ships in formation, ever on guard duty to protect the mysterious planet. Claire stretched her back, a slight sting hit her, a left over from the almost deadly attack by the dreaded Cogsangui known as Thel'Vicliquam.
Suddenly Claire was approached a Cogsangui, clad in white armor with spikes. Claire recognised the one as shiplord Rta'Shagili, who appeared just in time during Thel'Vicliquam's attack to spare her life and that of her father.
Rta'Shagili: "Humanoid, there is an urgent message from your Capital. It is required you answer it in all haste!"
Claire: "You know Shiplord, this humanoid has a name."
Rta'Shagili: "I do not see how that would be relevant at this very moment?"
Claire sighted and looked at the Consangui shiplord, even though the two managed to cooperate with eachother to set up the defenses of Aecor, he refused to call her by her name, seeminly the shiplord still viewed her as a lesser life form or such. Claire looked beyond the shiplord at the massive green vessel, a space ship once belonging to the mysterious and powerful Atlantica. For reasons unknown the ship was left behind, though at the moment neither the Cognatus nor the Rambo found a way to activate the vessel, let alone even enter the ship. Claire nodded and walked past Rta'Shagili to answer the message from the Capital.
---
Chapter 01: (06 AQF - Month 10)
[
]
---
Claire and her crew start their new journy, as heralds and representatives for Rambo Nation they are going to find out that not all missions are fun or great to do, as well as discovering that their beloved Nation isn't always that noble as they believed it was. Unknown to Claire, at the same time Rambo Command lost contact with the USS Enterprise wich was drawn into an adventure in the future, a fact Rambo Command necgleted to tell her.
Visiting Yudumarth
---
Chapter 02: (06 AQF - month 11)
[
]
---
Dealings in Cyrannus!
Troubles at Sanderhal!
---
Chapter 03: (06 AQF - month 12)
[
]
---
While Claire and the crew of the Falcon continue their adventures, Claire her father, James Rambo returns and readies himself to embark on the Voyages of Enterprise while Rambo Nation struggles to maintain it's galactic position in Ortum a Dynastia.
Scion councils on Terra Prime!
---
Discovery at Koerband
---
Chapter 04: (07 AQF - month 01)
[
]
---
The year 07 AQF has begun! For Claire and her crew there was no celebration of the year as they were send to investigate Installation 05 at the Rambo Nation colony of Koerband. There presence set things into motion that became part of bigger plan, the start of 07 AQF was to building block that would leave its mark for the rest of year!
---
Chapter 05: (07 AQF - month 02)
[
]
---
Epilogue
[
]
After being saved by the dropship, Claire and Crecklorin walked the hallways of the massive dreadnought. The Creckel, Crecklorin felt uneasy. He never encountered these Cogsangui before, only heard the dreaded stories about them and felt unsafe, even Claire felt a bit unnerved, she only met a few Cogsangui and she always was careful around them, unless it was her friend Voro. Entering the bridge of the Harbinger of Truth, Claire was relieved to see several familiar faces amongst the crowd of intimidating Cogsangui, including Voro, Tironus Manition and Corva. Smiling broadly, the Alavar Corva ran and hugged Claire while Tironus Manition patted her on the back, Claire returned their hug warmly and intenste and smiled at them.
Claire: "It is great to see you unharmed my friends, I was so affraid. These Virals are terrifying up close."
Tironus Manition: "No kidding, I wasn't sure if we'd get out alive. Luckily our mandible'd friends provided a hand."
Thaur Vicliquam stood forward and bowed his head.
Thaur Vicliquam: "An ally of Primarch Voro is a friend of mine, human."
Claire returned the gesture with a nod, spreading her hands she turned her attention to her other newfound friend.
Claire: "Let me introduce the one who help safe my live besides my Scions, Crecklorin, son of Crecktain, heir to Creckabad!"
The grumpy Creckel nodded and looked outside. Shocked he turned again and pointed at the fleet approaching the vessel they were on.
Voro: "Honoured, my Creckel friend. Though it appears we have little time to talk, a Rambo fleet is approaching and we must prevent a hostile incident. Claire, my friend, would you be willing to send a transmission to the Rambo fleet? You are an operative after all."
Claire smiled and opened a transmission with aid of Thaur Vicliquam, who she eyed weary due to him having the same "Vicliquam" in his name, she met a Cogsangui once with the same word in his name and she wouldn't want to relive the encounter.
Claire: "This is Claire Rambo, Operative in service of her Royal Majesty, Supreme Empress Ramashe of House Le Rambo. With the power bestowed upon me by Fiction:Rambo Nation/Rambo Command, I hereby order you to stand down your assault, this ship and those onboard are friends."
That being said, most of the ships stopped their advance, thoug the lead Excelsior-Class replied, fleet captain Silveria claimed they tresspassed quaratined territory and endagered the population, increased the Viral threat and entered orbit without permission. Claire rolled her eyes.
Claire: "Let me deal with the details fleet-captain, Harbringer of Truth out".
Corva: "What should we do, Claire?"
Claire: '"That depends on Voro I believe, he owns the big ship now."
Voro: "This is Rambo space and I do believe we have outstayed our welcome. Helm, take us into hyperspace."
Claire claimed they were always welcome, and would report their adventure to Rambo Command for clarification. Voro nodded appreciatively and turned to Claire, Corva and Tironus Manition.
Voro: "I am afraid my time with you all has ended. A new future is beginning for the Cognatus and I have been chosen by my kin to lead the charge. It saddens me to leave you, but I trust we will meet again."
Claire walked towards Voro, taking his head into her hands, she gave a gentle kiss on his forehead.
Claire: "Thank you for everything my friend,, may the Gods be with you".
Trivia
[
]
The name of the story was created by Imperios!

The page was a featured article for March 2015, two month before its conclusion.
Further Reading
[
]
Cyrannus Based Companies
Alberen Engineering Corporation

 ·

Cyroenian System Yards

 ·

Megastructural Construction Corporation
Quadrantia Based Companies
Froramsilia Company Association

 ·

Muunivelle Shipping Company

 ·

Quadrantia HoloNet

 ·

Saurien Sector Corporation

 ·

Triggant Estates