On this page you will find some of the individuals who play a part in the Quadrant Galaxies and are encountered by either Rambo Nation or others.
The following individuals can be of differant species and Quadrants, and are often individuals who are afflicted with Nations or Empires found in the Quadrant Galaxies, though this is not in all cases.
---
Individuals
[
]
A-E
[
]
F-k
[
]
L-R
[
]
S-Z
[
]
Template
[
]
---
Cyrannus Based Companies
Alberen Engineering Corporation

 ·

Cyroenian System Yards

 ·

Megastructural Construction Corporation
Quadrantia Based Companies
Froramsilia Company Association

 ·

Muunivelle Shipping Company

 ·

Quadrantia HoloNet

 ·

Saurien Sector Corporation

 ·

Triggant Estates
---
Former Charachters
[
]
---
---
Earionnae (Missing)
[
]
---
Captain Earionnae is a young smuggler, who commands the Vashee, a ship from an unknown Galaxy. She is young, but will play an important part in the history of Rambo Nation.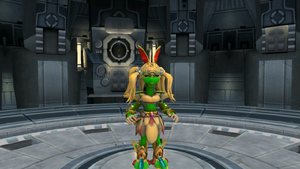 Interestingly, she is similar to Princess Aur'Lumniassa. But it is impossibly that she is Sartarnias, as they are far away. Captain Earionnae, the Captain of the Vashee and a smuggler, although still very young, she is well known throughout the criminal world of Quadrant 82 and Quadrant 89, even the Syndicate knowns her, and wants to employ her, but they have not yet succceeded in that. hat is known of her history, is that she is born 19 years ago, but was left orphaned. She was raised by an unknown Mithrilisc in a temple, where they honored the Rambo Gods. So, over the course of years, even though she is not a Ramboidae, she honours the Rambo Gods a lot, and believes the stories told over them.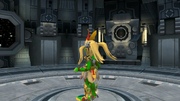 However, when her father, whom raised her (the Mithrilisc) vanished, she escaped the temple and went searching for him, but she went lost and soon she found herself on Koerband. There she met Ambassador Ram'Vell and the two became good friends. But when she was 15, she left Koerband and travelled around Rambo Nation.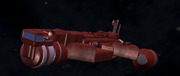 And during one of her travels, she found a chrashed ship, with a unknown structure, she named it the Vashee, an ancient Ramboidae word for princess. And with it, she went exploring and somehow became involved in the smuggler world, where she became well known, but that was a difficult thing, she is often the target of jokes or sabotation. One of her specialities, the smuggling of Algernon Wine and other forbidden things from restricted areas are often bought and persued by high authorties. Of course, off the records. During the Galactic War, she had a few encounters with the Imperial Alliance and Rambo Nation ships. But was not captured nor persued. But buissiness, like all smugglers and bounty hunters faced, was going down. But her crew supported her and remained with her.
Shortly after the Galactic War she went back to Koerband, where she met with Ram'Vell to diliver him some illegal Algernon Wine.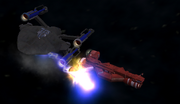 When preparing to dinner with Ambassador Ram'Vell, they heard explosions and soon witnessed the invasion of Koerband. While escaping the Colonie, she engaged and managed to defeat several Lizardians and even a Lizardian Elite.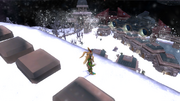 But when approaching the Vashee, she was confronted by the Lizardian Commander who had held her responsilbe for the fall of Koerband, now she was a wanted person by Rambo Nation. She soon left, in doubt and a little affraid. But during her escape the Vashee was attacked by the USS Prometheus and as they prepared to enter a vortex, the USS Prometheus damaged one of the ships engines and vorex became instable. Half way, the Vashee exited the vortex and was driftless. And if that was not the worst thing, they were heading towards an icy planet, and is was not going to be a soft landing.
Earionnae chrash landed on the Rambo Colonie of Ramar Shadda, the greatest ice colonie of Rambo Nation and the home planet of the ancient Emperor Ramulindalë, an Rambo Emperor of older times. When searching for help she met some Serindia in Cold Weather Uniforms who brought her to Ramar Shadda Capitol City and there she talked to the Ambassador who wanted to help her. However, during the talk the Colonie came under attack by Captain Lizaconda who she managed to defeat due to him underestimating her.
However, Earionnae was later caught when Lizaconda fully invaded the colonie and she was send to the work camps on Koerband, where she had to do some strange excavations for the Imperial Alliance. She was later send to prison again. When Rambo Nation liberated Koerband, she escaped onboard her vessel and now travels somewhere in the Qaudrant Galaxies.
The Vashee
The Vashee is a Consular Class ship, found on a abandoned planet, Earionnae salvaged it and modified it with Rambo Nation technology and soon became her personall ship. It was soon a known smuggler ship, but proved difficult to catch as Rambo Nation Space Ships were slower then the Vashee.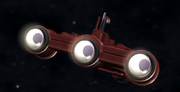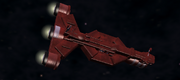 The ship has a few accomodations, like the bridge and quarters for the crew and Earionnae herself. It also has a large cargobay and living and dining room. The engine room is only used by one mechanical.
the ship is very fast, and unknown to Rambo Nation the ship uses some kind of vortexes to travel, faster than the fasters ship of Rambo Nation.
---
OOM-224, Swerion Droid Captain (destroyed)
[
]
---
Not much is known about the history of OOM-224, or simply called Captain 224.
It is known that he was build around 36 years ago in the Swerion Factories and was put in active service.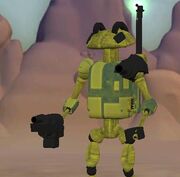 After 10 years of service of soldier, he was given an update and refit and was given a better AI which turned out to be good for 224. It became more smarter and better at tactics, after another 2 years he was made Captain of the Swerion Cruiser 17.
When becoming Captain of Cruiser 17 he became one of the most notorious Droid Captain the Swerions knew. And they began to trust him.
As Captain he participated in the Hutter Blockade, an incident involving late payment and later also in the Rambulan Siege. After an attack of a Rambulan Ship, the Swerions responded and Captain 224 was given command to siege the nearest Colonie in which he succeeded. When the incident was over, he withdrawn and began patrolling the borders for many years. He later accompenied a Swerion Trader to meet with Rambo Diplomats, and they began a trading relation ship.
224 was later involved in a battle with a Syndicate ship but managed to defeat them. A few hours later however the ship was attacked agian by a Syndicate Interceptor and the ship was boarded. It turned out to be Captain Neras who boarded the ship and stole valueble information. 224 was also damaged during the fight. 224 was later repaired and vowed to bring Neras to justice, a rarety for a droid. However, 224 was assigned to patrol the borders again near Rambo Space, and currenlty lies in orbit of Deep Space Colonie 01 for diplomatic talks. The droid was destroyed when the Swerion Trade Federation was destroyed by the Imperial Alliance.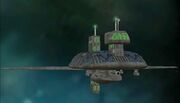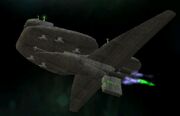 Swerion Cruiser 17'
Cruiser 17 is a Swerion Cruiser. When upon her launch, Captain 224 was given command of her and has since been involved in a few battles and blockades. The ship was damaged by a Syndicate Attack by Captain Neras, but has been repaired since and now lies in orbit of Deep Space Colonie 01. The ship is large, but a little bit slow, it has hangar decks and a lot of Battle Droids onboard, sometimes even a Swerion is on board. The ship is well equipped with shields and weapons.
---
Template
[
]
---
Cyrannus Based Companies
Alberen Engineering Corporation

 ·

Cyroenian System Yards

 ·

Megastructural Construction Corporation
Quadrantia Based Companies
Froramsilia Company Association

 ·

Muunivelle Shipping Company

 ·

Quadrantia HoloNet

 ·

Saurien Sector Corporation

 ·

Triggant Estates