Living Planets or Gaia Worlds are at least one species of metal-based organisms that live within the mantles of several planets across the universe.
Living Planets are primarily composed of a mixture of liquid and semi-solid ions, primarily from molten metals and metallic compounds such as salts, from within a planet's interior. However, the organism itself generally (but not always) remains within the mantle, avoiding the even more extreme temperatures and pressures at the core. Where its body is liquid, convection currents act as its digestive, respiratory and circulatory systems, transporting nutrients (i.e. more metallic compounds) from outside the body to within (unless the Living Planet has spread out across the entire mantle and core) and then transporting them to where they are needed.
Many Living Planets also extend into the crust, gradually forming structures that operate at lower temperatures and often forming symbiotic or parasitic relationships with crust-dwelling lifeforms. A few then continue to form a symbiosis with the entire biosphere as a whole. Occasionally, a Living Planet is discovered by a spacefaring civilisation, which then modifies it with advanced technology to turn it into a semi-biological - and often intelligent - computer.
Gaia Worlds usually reproduce by launching thousands of rocky "seeds", superficially resembling asteroids, into space. These travel at sublight speeds, and may take millions of years to reach another suitable planet if they ever do at all. In rare cases, they make use of spacefaring creatures or civilisations to carry and guide their eggs at relativistic or superluminal speeds to a new home instead.
Individuals
Edit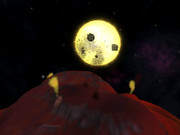 Very few Living Planets have been identified, and some were even unknown to people living on their planets' surfaces or even within their planets' crusts.
Fahler in the Milky Way Galaxy is one, used by the Xyanxes as a biocomputer for a galaxy-spanning wildlife sanctuary. Seeds of Fahler were later used by the Girdo Empire for similar purposes, before being spread through the Apalos Biosphere Preserves.
In the Black Eye Galaxy was Kerxenoses, similar to Fahler but less well-known due to being far from any major civilisations. It was discovered by the Delpha Coalition of Planets, and after the "Annihilation" ended up in part of the "Archdemon Wall" running close to the Milky Way.
Whether the Planet Computers were Gaia Worlds that had been subjected to cybernetic and other enhancements, or purpose-built as supercomputers, is unknown.
Community content is available under
CC-BY-SA
unless otherwise noted.