The Legion of Badmanz, also known as Da Deffmarch Boyz, are a Loron faction that serves the Legion of the Deathmarch.
The Legion of Badmanz was a formation of various Andromedan Loron. These came from:
Splinter Loron factions who settled in the Andromeda Galaxy, when escaping the Kralgon Invasion Force and Delpha Coalition of Planets' purging of Loron in the Second Ottzello Galactic War.
Several Loron had already settled in Andromeda to fight the Vartekian, and due to rapid breeding and expansion, these Loron colonies hadn't been destroyed by the Vartekians.
Loron are notorious for spreading around the universe, and Andromeda was obviously soon home to a Loron faction.
Due to being far from the Ottzello Galaxy, they were neither enslaved by the Unified Nation of Ottzello nor absorbed into Fre'kloar's empire. They were robbing and murdering like all Loron, and their cruelty and power drew attention of the Sanktanaar Divin-Ra.
During the Annihilation, the Mali'Nar saved the Andromeda Loron from the apocalypse, moving them to the Purgatory temporarily and then back to the Andromeda when the Annihilation has ended. Then, the Mali'Nar have used their powers of mind control to enslave these Lorons, turning them into the Divin-Ra's new weapon. Master Br'klakkon has taken control over them, due to the fact he was a Loron himself, and has turned the newly formed Legion of Badmanz to the powerful empire where he rules over the Loron with iron fist.
Andromeda War
Edit
The Legion of Badmanz' first notable action was in the Andromeda War, although, governed by their master, they were generally working behind the scenes, their wild raids being skillfully controlled by Mali'Nar own sinister purposes, each being a surgical strike against the Commonwealth or other mortals whose destruction was required. Their full power wasn't unleashed until the final battle on Cathemera, when their leader, Br'klakkon, has claimed the Artifacts. It was there, however, where the Legion was decapitated, its warboss's death making the Lorons flee.
Nobody knows what happened with the Legion since then, but it is certain they are no longer a major threat to Andromeda.
Characteristics
Edit
Physiology
Edit
The Legion's Loron are as strong and robust as are all Loron, though do not have the System in their bodies like the UNO ones, making them slightly weaker. However, the Mali'Nar have enchanced the high-ranked Lorons with elemental energy, making them extremely strong and resilent, as well as larger. The ordinary Loron, however, do not have the same enchancements.
The Legion's females, due to being more intelligent, were taught by the Mali'Nar how to utilise the elemental energy, and became quite adept at using it. As a result, they are a bit more admired by the Legion's Loron.
Abilities
Edit
The high-ranked Loron Boyz and the Loron Chikz were empowered with the elemental energy, allowing them to use some fraction of the Mali'Nar's mind control and reality warping abilities. Due to being a Chronoscopic species, they have some minor Chronoscopic powers like all Loron, as well as other common Loron abilities.
The Legion's society is more ordered than the Loron one, having a strict hierarchy within their ranks. Unlike in the other Loron societies, da Chikz are often in places of power within the Legion, due to their intelligence and newly obtained elemental powers.
Legion's planets are like all Loron planets - drowning in blood and corpses, with angry Boyz fighting over dominance. However, the Lorons have learned from Mali'Nar the art of the psychic construction, and the silver and gold towers of the pure bling are dotting the landscape of Legion's planets, displaying the sheer power of their master.
Equipment
Edit
The Legion of Badmanz' vehicles are diverse in look, technology and origin. Some of them are the primitive machines made by Loron themselves, the elaborate Mali'Nar constructs given to Lorons as 'gift', the crude attempts of Lorons to imitate these constructs made by the Loron "elemental engineers", and vehicles stolen from The Divinarium, CAS, Wentals and other Andromedan empires. All these vehicles are painted with black, purple and sometimes red, adorned with silver ornaments, and are terrifying to sight.
Legionnaires uses little machines or devices, much like all other rogue Lorons. Mali'Nar give them some of their technologies sometimes though, arcane machinery which infuses the wearers with eldritch energies, giving them immense strength but eventually turning them insane (though for Lorons insanity is perfectly normal thing anyway).
Lowly Legion's Lorons use the same weapons as normal Lorons, primitive guns and daggers, crude but powerful in hands of barbarians like Lorons. Chikz and Bosses, however, were seen using different weapons - sleek and ancient blades and guns, made of the strange black metal. These weapons were seen to utilise the mysterious energies, extremely dangerous but volatile. Mali'Nar are believed to be the origin of these armaments, although Xhodocto may be involved as well.
Lorons in the Legion of Badmanz are like all other Lorons: primitive barbarians, bloodthirsty and cruel. Mali'Nar, however, have enchanced their intelligence slightly, making them intelligent enough to serve their masters. How much Loron is enchanced with intelligence is varied with each Legion's Loron: Bosses, for example, are far more intelligent than lowly Boyz due to their ranks. Some of the Loron, as well as most of the Chikz, have learned how to utilise Elemental energy to use as a weapon.
Dark Loron
Edit
Legion has managed to take some Dark Loron under their control, thanks to cooperation of Vyro'Ralza and Mali'Nar. The male Dark Loron are used as shock troops and the stronger force, while the female Dark Loron are used for their Dark Chronoscopic powers. There are also male Dark Loron 'flashboyz'; crazy Loron who can perform essence powers.
Individuals
Edit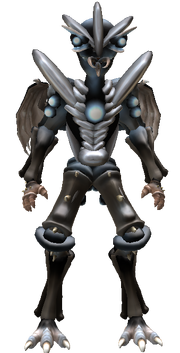 "I will return..."

Name - Br'klakkon
Species - Loron
Position - Supreme Leader
Br'klakkon is a second Mali'Nar commander appointed by Divin-Ra to lead her forces. Hated by other Lorons for his intelligence and craving for more power, he spent his lifetime studying ancient knowledge, using the dark powers he learned to carve his path to the leader of Andromedan Lorons. As Divin-Ra approached him, he became one of Mali'Nar, and now his plans endanger the whole Andromeda.
Br'klakkon is arrogant and violent, a result of him being beaten and bullied in his youth. However, he never lets his arrogance blinds him and he spends most of his time behind the scenes, subtly influencing events and watching them unfold, the grand schemer and manipulator. Vanishing and supposedly destroyed during the Battle fo Cathemera, Br'klakkon's fate now remains an enigma to the species of Andromeda.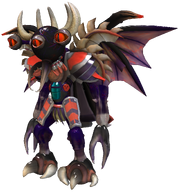 "SHUT UP BEFOR I BREAK YOO INTO A DOZEN PIECES"

Name - Gratz'kaoz
Species - Loron'Kikra
Position - Supreme Commander/Second-in-command
Gratz'kaoz is the second-in-command of the Legion of Badmanz. He is well known across the Loron as a complete madman who has been revived multiple times, being the greatest enemy of Da Rogue Boyz. Grakz'kaoz hates all the Legion of Badmanz, only serving under their name to obey his true master, Kolossus.
Gratz'kaoz is the most insane Loron'Kikra of all time. Bloodthirsty and overly violent, he won't exitate in killing his own boyz to release his stress. He has no concept of mercy, or friendship. He also gets angry over minor things, and cares for no one but himself. Even mentioning Gratz'kaoz is frightening in Da Rogue Boyz, and in Loron culture within UNO, who have given him folkloric names such as "Da Devil", "Da Maddest Geeza" of "Dat Fukkin Psykko".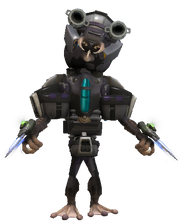 "FASTER! FASTER!"

Name - Gratz'kaoz
Species - Loron
Position - Commander
A third-in-command under Gratz'kaoz, Gar'dakkra is the fleet commander of the Legion of Badmanz, obsessed with speed and guns. In his mad thirst for thrill and pleasure, he seeks the wildest battles, the fastest races, where he could enjoy the bliss of speed and bloodshed, hear the music of the battlefield. Cries and screams are music to his ears.
While Gar'dakkra is still young for a Loron, he is a superb driver and captain; equally skilled in spaceship control and jetbike driving, both of which are equipped with the largest and loudest weapons he can get for his enjoyment. Br'klakkon also feeds Gar'dakkra with drugs that increase his reactions, empower senses and increase physical strength, turning him into a machine of slaughter.
Gar'dakkra vanished after the Battle for Cathemera, but there are rumours that he survived it, and now serves a new master as a bounty hunter. Whether this is true or not remains to be seen.
Relations
Edit

"YOR DUM MAN IMMA SLAP YOO UP"

"Our servants are better. Deal with it."

"Nice... I could use the Loron army for chaos."

- TDP
"da hell? wats dere peepz on? I dunt like deyr attitudes"

"YOOZ ALL COPYCATS but meh yor sik"

"Loron with dark powers...? We're doomed..."

"They will serve well to weaken biolife and allow mecholife to be victorious..."

- Masuri
"By the lifefather... We cannot let these shadow-empowered brutes bring ruin to even a single sector."

- Sarec
"big dum empiya fulla dum geezas led by a shiny losa I WANNA KILL DEM ALL BUT KOLOSSUS WONT LET ME AAAAARGH. i suppos imma just help dem in dis case"

Da Loron stoof
WEZ DA REAL LORONZ MAN DONT REED DAT UNO STOOF ITS DUM
OI BOLD MEENS SPESHUL STOOF
WE IS DA REAL COOL LORONZ DA ROGUE BOYZ IS DUM DONT REED DEM
| | | |
| --- | --- | --- |
| Da Tekkno Stuff | | SHUT UP MAN WE HAS DA SAME TEKKMO STOOF AS UNOS TEKK |
Da Cash
SHUT DA HELL UP MAN LOOK HEER
Da Timez
DUMBO GO HEER
Da Godz
YOO LOSAS ZR'AN'KAR IS DA DUMEST GOD EVA ALL DA OVA GODZ AN ROZ'TAH'FLOK IS BETTA
WE IZ DA DEFFMARCH BOYZ AN WE IS DA BEST COS WE WIV DA MALI'NAR YA DUMBOS
| | | |
| --- | --- | --- |
| Da Warz | | COMIN SOON MAN SHUT UP |
| | | |
| --- | --- | --- |
| Da Tekkno Stoof | | SHUT UP MAN WE HAS DA SAME TEKKNO STOOF AS MALI'NAR DO YA DUMBO MOST OF DA INFO IS HEER BUT OMG WE DONT NEED MUCH TEKKNO STOOF WEZ TOO POWAFUL HUR |
| | | |
| --- | --- | --- |
| Da Godz | | ALL DEM GODZ IS DUM DA ONLY REEL GODZ IS DA DEFFMARCH GODZ |
Part SporeWiki:Fiction Universe
"Deep in the human unconscious is a pervasive need for a logical universe that makes sense."

"But the universe is always one step beyond logic."

Community content is available under
CC-BY-SA
unless otherwise noted.