"I worshipped dead men for their strength, forgetting that I was strong."

- King Brygon, 2788 AD
Valishar Brygon Ta'raron is the legendary leader of the Volver Empire, leading member of the United Knights Alliance, and a valuable member and co-founder of the Enlightenment Collaborative. He is known for his many victories and war contributions throughout Tyris Major and Mirus.
Childhood
Edit
Brygon Ta'raron (ᎤᎿᏍᎾᏯN TᎦ'ᎿᎦᎿᏯN in Asconian) was born on January 5th, 2731 AD. He was an adventurous kid, he wandered around Gartoomia, the capital of Ascon often. Brygon was instructed in the art of swordsmanship from his father, Valishar Glynn and was trained in Soldarian martial arts by mother, Queen Laura.
Brygon recieved a private and formal education from the brilliant minds of individuals of the United Knights Alliance. People such as Dr. Talihar Que would tutor Brygon in mathematics, galactic history, and other scholastic subjects. Brygon's great-uncle Emperor Pulporious V personally tutored him alongside his own son Pulporious VI on the subject waging and winning wars. When Brygon was in his teens, he traveled to Mirus in order to learn more about his Raptoranean and Ugandalorian heritage.
, the galactic wide Nebulorian-Alpha War began. Ascon was attacked and his father told Brygon and his mother to hide underground until the attack was over. When the Nebulorian and Dead Watch fleets finally retreated, he came above ground. Glynn had to leave to fight in the war. Brygon was left in charge in his absence. The war raged for about a year. The allied forces were victorious, but his father had not returned. All that was brought back was his sword and helmet. Brygon was in disbelief. His father, the man who defeated the notorious Biskin Empire, was gone.
Early Reign
Edit
Brygon was proclaimed as the Volver Empire's Valishar (King) at the age of 23, making him the second youngest Valishar in Volver history after his great-grandfather Zirux. As Valishar, he kept all of his father's policies. Despite having to deal with his new responsibilities as Valishar, Brygon continued to train and became a true swordsman.
Brygon boosted morale for his troops and increased the empire's military strength ten fold, fostered stronger relations with his fellow members of the United Knights Alliance, and led raids against minor enemies of the Volver Empire.
During a short conversation with, Noruuk, the Infectant Scourge had been revived. They are led by Omega, the Infectant son of Ne'yon. Brygon fought alongside Noruuk and defeated the Infectant invaders, though Omega was able to escape.
He then contacted the Soldarian Empire for assistance. The Soldarians were attacked by the Infectants soon after and were defeated.
The Antroth Empire and the Waptoria Alliance of Species joined the Volver efforts against the Infectants. In an epic battle, Hive Mind, the true leader of the Infectants, devoured Omega and became the size of a planet. Th final battle was won when Brygon and his allies managed to defeat Hive Mind and the Bio-Morphling, Dead Watch, and Grox fleets. He lost his advisor, Noruuk during the second battle with Omega. Ugandalore the Great, a close friend of his father's, died as well.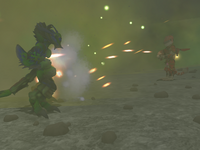 Brygon was attacked by one of his trusted knights, Reathee Desaa now known as "Crimson". Brygon was able to fend him off and returned to his castle. He arrived the next day on the planet of Ugandalore to discuss his encounter with the Unified Federation of Glory. He later found out that the leaders of the UFG had been attacked by his knights the day before. They believed that Brygon was a traitor. He quickly told them that he was also attacked. Their only conclusion was that some knights had rebelled against the Volver and UFG.
The UFG capital was then attacked by the rebels and as partially destroyed. Brygon and his friends managed to halt the attack. But this attack was only a diversion. Brygon returned to Ascon only to find that in his absence, Crimson had taken over the empire. His castle was damaged in the previous battle.
Brygon and the UFG forces beamed down and engaged Crimson's army. The battle was being lost quickly. The Loyal Volver and UFG forces were dwindling.
Suddenly, a Volver Knight clad in black armor appeared and defeated the entire army with no trouble at all. Meanwhile, Brygon was engaged in combat with Crimson. Crimson defeated Brygon using his stolen Nebulorian Battle Armor and Sword. Before he could deal the final blow, the dark knight entered the castle and defeated Crimson with ease. Crimson managed to escape, with his Unitech allies. The war was over, and the Volver Castle was rebuilt.
Xizothano Ada, leader of a God Race known as the Nyarqaeshu, had entered the galaxy, attempting to claim it for himself. Brygon and his allies in the UAE rallied and took on this new threat. Ada, however, had revived Brygon's past foes, such as Crimson, Omega, and The Infectant Hivemind. With this, Lord Ne'yon had been revived as well the man responsible for King Glynn's death. The Infectants and the Nebulorians, Lord Ne'yon's race, were revived as well. The UAE forces were severely unprepared to handle these many threats and were forced to work alongside King Ziskin of the Biskin Empire, sworn enemies of the Volver Empire, and the Unitech Citadel of Sentients, enemies of the Waptoria Alliance. This temporary alliance allowed the UAE to storm their way to Ada's domain.
Brygon was then forced to fight King, later revealed to be King Glynn himself. Ada had revived the old Volver Kings and forced them to become his Pieces. Brygon fought alongside Barda Clett, managing to defeat his father, freeing him from Ada's control. Glynn teamed up with Bryogn and Barda, meeting with the other leaders in an attempt to take on Ada.
Brygon and his friends fought against Ada, only barely wounding him. Ada later achieved what he called his God Form. He had gained unrivaled power and almost killed Brygon and his allies. Brygon later discovered that he was the so called "chosen one", known as the INDEX, that Ada had planned to recruit to his side. Brygon refused to join Ada. Luckily, Dr. Que, a leading Volver scientist, had developed a weapon called the Deity Pulse. The weapon was mounted on the Ascon Warship, protected by the UAE's allied fleet that had just arrived in Ada's dimension. The pulse was fired, stunning Ada, allowing the fleet to open fire. Ada was defeated, though he was later absorbed by The Dark One, allowing Ada to avoid death. The Dark One expelled the UAE and it's allies from the dimension, sparing their lives.
After the war, Brygon was gifted Void Essence, a powerful and very dangerous form of energy, by his father. This was King Glynn's last gift to him before he returned to the afterlife. Brygon was unsure how to use the essence, however he knew that it would prove useful in the future. It was around this point that Brygon went into reclusion for some years, hoping to master the Void. As a result, Brygon did not lead any forces in person during the Great Deciever and the Great Tyranny War, though he did continue to rule it and give orders as best as he could. Brygon's training ended around the Battle for Demogorgon Prime, and while he could not be present during it, he did appear during the Trail of the Dominatus to advocate for the utter destruction of their spacies and all their and their ancestors had build. Even among the victors, this unsettled many, and was to be the first over sign of the effects the Void had on the young king.
Great Mirusian Conflicts
Edit
Siege of Taurstad
Edit
Clouds over Null
Edit
Weapons and Skills
Edit
This blade is forged from Alphorium. Alphorium is a strange element that can drain the energy of whomever comes into physical contact with it. Volver had evolved to negate the effects, so Brygon can wield the blade without it draining his energy. This blade was also used against Lord Ne'yon hundreds of years ago. It is the only known Volver weapon that can harm even gods.
A shield composed of durable Asconium. It can absorb the attack of the enemy and convert the force of the blow/shot into energy for the wielder's armor. This shield originally belonged to the first Volver king, Holreb, Brygon's great-great-grandfather.
Volver-Class Plasma Rifle
The Plasma Rifle is a basic weapon for most empires. This version has been upgraded and modified by the Volver to better suit them in combat. It holds 3 plasma rods (30 shots per rod), and has a quick reload time. It fires quickly too, which makes up for its low power.
The rifle Brygon usually uses. This rifle is of Volver design and was created using Volver and Nebulorian technology. It can fire 360 plasma rounds per rod, causing severe plasma and electrical damage to opponents. The rifle can also use bullets, being able to fire 120 rounds per magazine. The rifle can switch semi-automatic and automatic fire with the press of a button.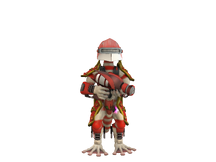 As a child, Brygon wore cadet class Volver Battle Armor. He actually didn't like the way the armor fitted him, and only wore it if he was training.
Mark VI Volver Knight Battle Armor
This is the armor Brygon wears now. It has complete shielding with protective padding underneath. It can easily defend him from gunfire and grenades. Because he lacks wings, Brygon has a jet pack built into his armor. This allows him to fly to places that he couldn't normally get to. He also has built in energy reserves that power his armor and heal his wounds. The energy is also known as Anergy, a form of energy that takes hundreds of years to burn out.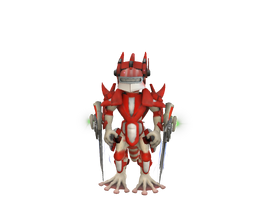 Mark VII Volver Knight Battle Armor
The only Mark VII battle armor belongs to Brygon. This armor is almost four times as strong as the Mark VI armor. With an increased Anergy storage, Brygon can use his weapons almost infinitely. The armor is made up of a Asconium-Titanium alloy that is tough enough to protect against even essence based attacks.
Abilities
Edit
Brygon was trained from a young age in both Volver and Soldarian martial arts and Volver Knight Swordsmanship. During his time within the UFG, he trained alongside Barda Clett, learning Ugandalorian combat tactics and styles. His skill with swords and firearms are amazing, as well as his hand to hand combat skills. Brygon has defeated foes such as Omega, Lord Ne'yon, his own ancestors, and, with the help of his friends, and most of all, the deity pulse, he defeated a god such as Xizothano Ada. With decades of war under his belt, Brygon has proven that he is a warrior of high caliber.
Brygon's genetics and training are the culmination of four major warrior races. As a result, Brygon is very strong, being able to lift foes larger than him with no problem at all. This is due to his Soldarian muscle fibers as well as his powerful leg muscles from his Volver genes. These leg muscles give him good speed and the ability to leap great distances. Unfortunately, he was born without wings and antlers, due to him only being half Volver.
Being mostly Volver, Brygon is immune to poisons, can breathe underwater and survive in the vacuum of space for long periods of time, can breathe through his skin using diffusion, and can produce toxins to shoot from his tail. His vision is incredible, as he can see great distances when scouting for his enemies.
His Soldarian genes allow him to use his muscles to their fullest depending on the oxygen levels of his environment. Even in an oxygen restricted environment, Brygon is still strong enough to knock out a human with one punch. These genes also him to predict the attacks of his foes by reading their muscle movement.
Brygon's Raptoranean genes allow him to learn new languages by touch, enable him to distingiush his mate amongst thousands of other people, and allow him to see directly into strong sunlight without harm. However, Brygon is unable to use the typically Raptoranean ability to absorb sunlight and use this to fly in a jet-like manner. This is due to Brygon's Raptoranean genes being diluted through the generations of his family, lacking the organ needed to do this.
Brygon's Ugandalorian genes allow him to absorb the essence abilities of his foes by decapitating them. These Ugandalorian genes also allow Brygon to multi-task incredibly well, and be immume to the effects of alcohol and other addictive products. Though Brygon's Ugandalorian blood is diluted trough the generations of his family, it is possible he may actually grow Ugandalorian dreadlocks when he hits a certain age.
Brygon, after being freed from darkling control during the fourth year of the Mirusian conflicts, would be healed by W'tze using Waptorian Bio-Trooper cells. These cells have become part of his body, and allow Brygon to heal mortal wounds and regenerate lost limbs. However, he still heals at a far slower rate than usual, due to not being part of the Waptorian Group-Mind.
After the Return of Them, Brygon became a Teir 2 Void Energy user thanks to his father. After training with Zataura Ada, Brygon began to hone his skill with Void Energy. Brygon can rip his foes apart without much problem thanks to the immense power of the Void. Though, Brygon chooses not to use Void Energy as much, as it can corrupt him if he uses it for too long.
With this mix of DNA, skills, Void Energy, and battle experience, Brygon is a warrior that should not be underestimated.
Personal Information
Edit
Pesonality
Edit
Brygon was usually a quiet child. He tended to wander off to find some kind of crazy adventure. Brygon enjoyed training with his parents, seeing that it was the only time he really got to spend with his father.
After becoming king, Brygon adopted a more serious personality. He carefully chose what he wanted his army to do before just sending them in. Brygon has been shown to be quite stubborn at times, especially when going into battle. One time he charged a military base alone, which was against what his advisor told him. Brygon cares deeply for his friends and family. He will lay his life on the line for them if he must. Even though his father "betrayed" him, Brygon still sees Glynn as a loving father.
After the Return of THEM, Brygon became much more serious and unforgiving in battle. Kyaan even described Brygon as ruthless. Most believe this is because of the Void Energy coursing through his veins.
Relations
Edit
King Glynn - "Father, I will continue to uphold our clan's legacy!"
Barda Clett - "A trusted ally and fantastic warrior. I trust the man with my life"
W'tze - "A great ruler of his people. He understands the culture of my people."
Queen Si'daal - She's pretty strict. I wonder how my father put up with her. But Si'daal has been a valued ally over and over again.
Oskel Leton - "Oskel is a great warrior. I hear he was once on par with my father. He is probably the most honorable person I know."
King Lavern - "He's...ridiculously strong. I've seen the guy plow through entire platoons without breaking a sweat!"
Takanius Clett - "We are the next generation of warriors my friend! Let's make our ancestors proud!"
Kyaan Desaa- "My trusted advisor. Me and him were raised together. We are practically brothers."
King Pulporious V - "I respect the man. He and his army have helped us win many wars. However, he keeps urging me to uphold my Soldarian heritage..."
Kossi'Valicar - "I've had a rocky relationship with the Enlightened Ones...But they are good allies to have'"
Averil Daxur - "I am well aware of the man's past. But, Averil has proven himself to be a trust worthy ally. He's even come to aid in battles without me needing to pay him first!"
Magmos - "I gotta say, the guy is good. Lavern taught this dude how to fight, and let me tell you, Magmos is a beast! Then again, he'd have to be considering his father is Lavern..."
King Holreb (Rook) - "I know this wasn't your fault. In fact, I thank you for building our mighty empire."
Crimson - "Dammit Reathee! I tried to show you the way and you didn't listen! Now you suffer for your betrayal!"
Lord Ne'yon - "It's YOUR fault my father died in the first place!! Rot in hell you Nebulorian scum!!"
King Biskin - "Don't think for a second that I would actually forgive you for what your kind did to my people! To my friends!"
Omega - "You're just a clone of that blue bastard."
Hive Mind- "She attacked my planet, endangered my people and friends. I have nothing but hatred for her."
Xizothano Ada - "You may have created my kind, but you are no God."
Quotes from Him
Edit
"Warriors want a worthy opponent. There is no redress in fighting the pathetic."


"It's only a scratch, if you didn't cut my arm off."


" I like to keep my friends close, and my enemies in the ground."

Quotes from Others
Edit
" Son, stay strong. You'll be in charge after I'm gone."

"He's a great warrior, one of the best. I'm proud to fight alongside him."

- Barda Clett
"An hybrid as a leader? Well, they have proven to be effective."

- W'tze
"Threats? Boy, that was no threat! I am the hunter, you the prey!"

- Slagan
"Be careful King, your power drives you to seek order. Seek discipline instead, they are different. Then you will rule your new power instead of your power ruling you."

Theme Music
Edit
Brygon's Main Theme: http://www.youtube.com/watch?v=pKv_wua6kFE
After the death of King Glynn, Brygon has become the main character of my fiction.
Brygon is the first Volver hybrid to rule the empire.

He was also the first Volver-Soldarian hybrid to exist.

Brygon has participated in more major wars than any Volver king.