Hisharo Kyõrisibo is a mysterious person hailing from the planet Senzaikyū in the Finduila Sector. Yet young a decent and impressive Wielder of the Light he is bound to aid the resistance against the Galactic Empire of Cyrannus. Something that goes against his mentors wishes on Senzaikyū.
Biography
Edit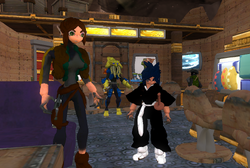 After being born on Senzaikyū, Hisharo Kyōrisibo had traits of a Wielder was raised since childhood as a Wielder trainee. In february 21 AQF, Hisharo felt his call of destiny and travelled to Nassau to meet with captain Komamuka Sajin to join him against the cruel might of the Legatus Finduilica and the Galactic Empire of Cyrannus. On Nassau he met with Yvenne Thalyssaera who he managed to convince of his good intentions and travelled with her to the landing pad. To their surprise the awaiting LC-cruiser was blown up and Legatus forces under command of Timothy Winthazen ambushed them. Using his wielding powers by raising his palm towards them, closing his hand into a fist and called forth a very thick rope of energy, binding the upper body of the Imperials allowed them to escape.
After locating Zaa Ashara who smuggled them off planet he was present when Yvenne met with the Hooded Girl and manned one of the turrets during the battle of Home Base. Later on the travelled with the dissident to the Cyrannus Galaxy though decided to remain with Zaa as a contracter and explorer instead of becoming a soldier within the Cyrandia Resistance.
He eventually joined the Lusitania Squadron and became a Tiger-class pilot in service of the Rambo Loyalist-faction. In August 2820, he became the co-pilot of Eldra Yunnorykan, who piloted the Curagae, a SC-130. Their destination turned out to be the planet Ramrevera, stronghold of Santa Company who were preparing to launch an assault against the Galactic Empire of Cyrannus.
Personality and Traits
Edit
Hisharo is a fierce and adventurous kid who loves the explore the universe. Raised in the strict morals and disciplines of the Light he is honorable and dislikes cruelty and evil.
A gifted wielder (magic) user, one of his perfected abilities is to raise his palm towards his foes, closing his hand into a fist and calling forth a very thick rope of energy, binding the upper body of his foes. Other abilities include calling forth an energy shield.
Acquintances
Edit

Allies

"Honorable fellows blessed by the Light!"

Disliked

"May the Light punish you for your bad deeds!"

Png files
The Png files require the DarkInjection mod and the CamBenColor Pack.
Further Reading
Edit
Community content is available under
CC-BY-SA
unless otherwise noted.