Han'Ateeshe is a Cogsangui warrior, who fought during the Intergalactic War as a respect ship commander. He was part of the first strike force against both Rambo Nation and the United Republic of Cyrannus at the Battle of the Shrine of Selenyia. He underestimated the skills of those defending and was captured, send to serve a long time sentence at Ramghatulkiaga Prison though managed to escape for a short time during the Great Cyrannus War. After a prisoner exchange he was stripped of all honor and was a shame to his people, leading him to seek refuge at Rambo Nation, eventually drafting into service of Rambo Command.
Biography
[
]
Cogsangui Warrior
[
]
Han'Ateeshe was born at the Cogsangui homeworld at an unspecified time, growing strong he was soon raised as a warrior in service of the First Cognatus Empire, eventually reaching the rank of ship master, commanding his own cruiser into battle. During the opening battle of the Intergalactic War in 00 AQF at the Shrine of Selenyia in the Cyrannus Galaxy, he engaged both the United Republic of Cyrannus and Rambo Nation who were conducting research at the Atlantica construction. Branding them heretics, a fierce battle was fought, he managed to overpower the Excelsior-Class, USS Hood of captain Rambas II, but Han'Ateeshe underestimated his enemies and was captured by Rambo forces. Escorted back to the Quadrant Galaxies, he was sentenced to the Ramghatulkiaga Prison. During his capture he refused to talk or tell his name, earning him the designation as the Cognati Captain.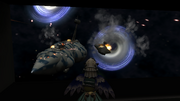 After 3 years of imprisonment and frequent interrogations with no results, an unexpected attack during the second month of 04 AQF, the early stages of the Great Cyrannus War saw an attack at the Prison by the Confederacy of Allied Systems. Freed he took command of the Mortalitas-dreadnought, Burning Heretic under a ruse to serve the Confederacy. However he sought to return to his people, unaware that the First Cognatus Empire didn't excist anymore after the final battle of the war. Engaging a Rambo fleet at Rambo Prime, he was bested by vice-admiral Ramcard and bounty hunter Zevracence and send back Ramghatulk.
During the 10th month of 06 AQF, Empress Ramashe agreed for a prisoner exchange to improve relations with the new Cognatus goverment, the Cognatus Empire. Horrified Han'Ateeshe was released and taken back to his people, who branded him lesser and incapable, stripping him of all rank and influance. After wandering among his people in poverty, he grew disatisfied with the Primercer and the way his people were heading and decided to flee and seek refuge among Rambo Nation. During their attempt his wife was killed, who gave her life so their only child could find a new way of living.
In service of Rambo Command
[
]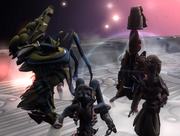 After arriving at the Rambo Capital, he sought for a personal audience with Empress Ramashe and Hand of the Monarch, Rambarth Dino II Le Rambo and pleaded for sanctuary and refuge. Taken by surprise, both agreed and Han'Ateeshe and his child were tutored and educated in Rambo matters. During the eight month of 07 AQF, both he and his child recieved their citizenship and Han'Ateeshe was given his own ship to command, a Dreadnought-Class, the USS Sacred Promise, though had to prove himself in an upcoming battle while his son remained at the Capital before being fully accepted in society.
During the 9th month of 07 AQF, captain Han'Ateeshe and his crew were dispatched by Empress Ramashe to join a Mou'Cyran Accords fleet that participated in the Cataclysm in the Neutral Zone of Cyrannus against the demonic entity Brezank. After fighting the tendrils, Han'Ateeshe joined the second team bound for the surface. The second team included their pilot, agent Caranye, the proud Kralgon Emperor, Hachiman, Thea'Nhirara and the Commander-King Thylaxiz. Together they fought demonic forces at the surface while heading for their target, the reactor.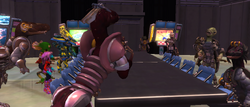 Han'Ateeshe dropped two plasma grenades into the reactor, it was destroyed by a violent explosion, hurting the demon. While the tendrils vaporized the water was rising, and the group managed to escape just in time. After the battle was won, Han'Ateeshe returned to his duties, as it was an experience he did not want to experience again, believing many of his team were not honorable.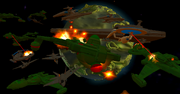 In the last month of 07 AQF, Han'Ateeshe teamed up with Muunithar and Apanoida again and participated in the siege of Vasuband, bringing upon the end of the Cyrannian Imperial State. In the meeting before the battle, he was rather impressed by the Imperial officers and Republic commanders and their unwillingness to work together for the common good.
By december 15 AQF, Han'Ateeshe was given command of the new Caradhras-Class, the USS Caradhras and was send by High King Rambert Ramveral to liberate Thelliria from Hutter Kingdom occupation. At first the Rambo had the upper hand but vice-admiral Ramcard ordered a retreat when the Hutters began bombarding the planet. Han'Ateeshe returned to Rambo space and continued patrolling the Colonial Sectors and further testing the new Caradhras-Class.
Personality and Traits
[
]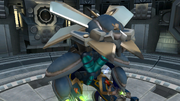 Han'Ateeshe is a strong and proud Cogsangui, trained since youth in combat, tactics and politics he is a keen and cunning Cogsangui, though it made him arrogant, resulting in a tendency to underestimate his foes. As a gifted warrior, he is skilled with his energy blade, prefering close combat just as he likes to execute close combat with ships. Han'Ateeshe felt betrayed by his people, even though he accepted his fate as he failed his people and mentors. As such, stripped of all ranks, pride and living in shame among his people he fled his homeworld and sought a better life for his wife and child.
After the death of his wife, he grieves for her, though remains proud and secure in sight of his child, who found a better life as a Rambo citizen instead of a life of poverty and shame among the Cogsangui. In grattitude of this second chance, he changed his armor and now wears the blue and yellow coloration in honor of Empress Ramashe. Since his Rambo citizenship, he developed an interesst in history and took a liking to Serindia Wine.
Ships Command
[
]
Acquintances
[
]
Allies
Empress Ramashe - My blade is yours, Warrior Princess
Vice-admiral Ramcard - I recognise your skill as admiral
Neutral
"Don't approach me without consent!"

Disliked
Quotes
[
]
Gallery
[
]
Png file requires the Dark Injection Mod.
Further Reading
[
]
Cyrannus Based Companies
Alberen Engineering Corporation

 ·

Cyroenian System Yards

 ·

Megastructural Construction Corporation
Quadrantia Based Companies
Froramsilia Company Association

 ·

Muunivelle Shipping Company

 ·

Quadrantia HoloNet

 ·

Saurien Sector Corporation

 ·

Triggant Estates