Delphan Excavation War of Ottzello is a Historical Event

---

"Delphan Excavation War of Ottzello" is considered a historical event or a completed fiction within the

SporeWiki Fiction Universe

. You must ask its original creator if you wish to add any additional stories.

The Delphan Excavation War of Ottzello was a year-long war fought between the Delpha Coalition of Planets and Da Propa Big Loron Empire in the Ottzello Galaxy between 2774 and 2779. The war was fought immediately following the First Ottzello Galactic War in which the two factions had previously clashed, and was instigated by the Propa Big Loron Empire resisting the DCP's attempts to excavate the Ottzello Galaxy in search of more artifacts of the ancient Vyro'Narza that they had discovered in the Tigris War that they believed would prove useful should another war begin following the Cold War. The DCP desired both to learn more about the Vyro'Narza in their home galaxy, but also to exterminate the Loron species, which they considered to be pests.
The Delpha Coalition of Planets' efforts were led by Warlord Titanozor under the orders of Emperor Wormulus II, and with the help of the Galot Republic captains Valzo and Zelfron, while Da Propa Big Loron Empire was headed by Da Propa Big Boss Zr'Ahgloth and his right hand man, Da Propa Big Warboss Thr'aloy. A few million DCP soldiers were slain, while billions of Loron were. The DCP's efforts proved mostly successful as they expanded their knowledge of the Vyro'Narza, particularly when meeting an individual known as the Taldar Elder, though the DCP never left the galaxy until the Second Ottzello Galactic War begun.
Zr'Ahgloth's Beef
Edit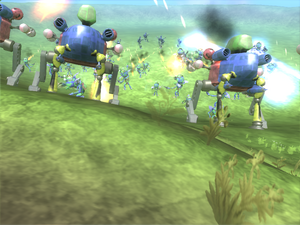 The Delpha Coalition of Planets had left Da Propa Big Boss Zr'Ahgloth in his worse state since taking over Da Propa Big Loron Empire. His sorely damaged reputation had led to even more bosses attempting mutiny against him, albeit unsuccessfully, but worse, had cut off his ability to unite other smaller Loron factions and left a few to break away from the Empire. His sorely bruised ego had infuriated him every day, leading him to launch more failed attacks against the far more advanced Delpha Coalition.
The now adult Zr'Ahgloth was unmatched in strength by any Loron within Da Propa Big Loron Empire, which meant that no Loron could overthrow him. However, his failures against the DCP meant that many wished they could. Arguably, Zr'Ahgloth's failures against the DCP were no fault of his own; his technology was at least a thousand years behind theirs, making them unbeatable in space battles, and he could no longer rely on numbers as he did when he conquered much of the Ottzello Galaxy. By all accounts, Zr'Ahgloth had proven to be as successful a leader as the Loron could ask for, and there was little he could do about the DCP's superior technology. But Loron were incapable of this kind of nuance: to them, Zr'Ahgloth's inability to quash the DCP proved he was a failure.
It was therefore up to Zr'Ahgloth to turn this fight against the DCP to his failure. Instead of it being seen as a sign of weakness for the once very popular leader, Zr'Ahgloth would instead rally the Loron behind it like he had never done before. He would excite the rest of the Loron to join his cause to take on a common enemy. He called his council of "homiez", the highest ranking other Loron, including himself, Da Propa Big Warboss Jol'kiar, and Big Warbosses Thr'aloy, Fl'ontalyx, Lo'thakkon and Fr'unthopal.
Zr'Ahgloth - i hav gathad yoo all here ta discuss wat ta do about da DCP thret. dey hav taken several of ma ships, dozens of ma planets, thousands of ma men, almost all of ma pride, an worse...MILLIONS OF MA PIZZAS. dis cannot go on fer longa, but we need a plan.
Fr'unthopal - hate ta break it to yas but most of da otha loronz dunt trust yoo ta do dat. dey fink dat yor growin soft in yor old age an dey wuld replace yoo if dey was tuff enuff
Zr'Ahgloth - lmao dose idiots. soft in ma old age? IM BARELY EVEN A BETTA BOY HAHAHAHAHAHA OH MA DAYZ. DEYZ SO UNGRATEFUL AFTA I CONQUERED MOST OF DA GALAXY AN MADE DA PROPA BIG LORON DA MOST FEARED EVA
Fl'ontalyx - dats tru howeva da dcp is tuff man. deir ships is too strong fer us
Zr'Ahgloth - i will hav Da Propa Big Sneekboss, Knar'gank, steel deir ships. den we use dem on dem an den we can rek dem ennit?
Lo'thakkon - akshully ma boyz tried dat. it jus self destructed. it seems da dcp protect deir stoof frum bein stolen
Zr'Ahgloth fumed with rage and slammed both his arms against the table, furious that he had no ideas against them. Before so much as thinking, he made several demands.
Zr'Ahgloth - UGGGGH. DERES ONLY ONE WAY TA DEEL WIV DIS. HAV DA CHIKZ AN DA MEKKAS AN TEKKAS WORK ON NOO SHINY SHIPZ TA FITE DEM. AN BUILD DEM BASED OFF DA GODZ ARTIFACTS DAT DA DCP IS SO OBSESSED WIV. IF WE CAN MAKE DEM INTO WEPONZ DEN WE CAN REK DEM
Zr'Ahgloth was, of course, referring to the same golden and green artifacts that the DCP sought after. The Loron knew little about these devices, but they believed them to be so shiny that they must be "da godz bling". Most of the Loron were thrilled at this idea, except for Jol'kiar.
Jol'kiar - uhm i hate ta break it to yoo but YA CANT DO DAT. DATS A TERRIBRU IDEA. KOGG'GARBLA, DA PROPA BIG PREEST, TOLD ME DAT ITS FORBIDDEN IN DA HOLY BOOKS
Zr'Ahgloth - SILLY. FIRST OF ALL, EVERYUN KNOWS REEDINS STOOPID. SECOND OF ALL, WAT DA HELL MAN WE ALL KNOW DAT DAT GEEZA IS PROPA CRAZY AN DERANGED
Jol'kiar - BAK IN MY DAYZ WE NEVA MESSED WIV DA BLING OF DA GODZ. WE KNEW FIRST OF ALL IT WAS TOO DANGEROUS, SECOND OF ALL DAT ALL THIRTY GODZ OPPOSED IT. YA CANT DISRESPECT ALL FIFTY OF DA GODZ AN EXPECT TA GET AWAY WIV IT. IF DEY DO, IT IS PROPHESISED DAT EECH OF DA SEVENTY GODZ WILL REIGN DOWN ON YOO AN REK YOO OR THROW YOO INTO MISTA BONE'S WILD RIDE
Zr'Ahgloth - FIRST OF ALL, WE HAV ROZ'TAH'FLOK, DA ULTIMAT GOD, ON OUR SIDE. SO IM SURE DAT ALL NINETY OF DA GODZ WONT MIND. SECOND OF ALL, YOO FORGOT DAT DERES ONE HUNDRED GODZ AN YOR DEREFORE A DISGRACE. THIRD OF ALL, I AM DISAPPOINTED WIV YOO. SO MUCH SO DAT IM DEMOTIN YOO
Jol'kiar gasped. He had feared that Zr'Ahgloth was losing his way, but this only confirmed it.
Zr'Ahgloth - I AM SENDIN YOO OFF TA FITE DA ZAZZIE LOSAS. YOO WILL LEED DAT CHARGE AN WIN AGENST DEM. DAT WAY PEEPZ WILL SEE DAT IM NOT A FAILURE AN YOO DONT HAV TA BOTHA YASELF WIV WAT IM DOIN. IN DA MEENTIME, THR'ALOY IS NOW DA PROPA BIG WARBOSS AN YOR JUS A BIG WARBOSS
Thr'aloy - DIS IS SIK IMMA FITE TITANOZOR
Zr'Ahgloth - NAH MATE. I GOT DA DCP WARLORD. YOO FOCUS ON GETTIN DA CHIKZ TA WORK ON SHINY BLING TEKK DAT KILLS DEM. IN DA MEENTIME THO I GOT AN IDEA
Zr'Ahgloth closed the meeting abruptly, as he called upon several Chikz to discuss his next approach.
Merely a few days later, aboard his ship, he equipped himself with a single, golden device, another of "da Godz" artifacts. This device was a spacetime teleporter, and da Chikz would use it to teleport him aboard Titanozor's ship. If he could not fight Titanozor in space, he could at least beat him in combat.
Zr'Ahgloth teleported on board the Halberd, Titanozor's warship, and launched himself to reach for Titanozor's throat. He successfully tackled Titanozor to the ground, though was promptly kicked off and hit the walls of the ship.
Zr'Ahgloth - IMMA SMASH YOO HEER
Titanozor - Hah, come to die? Your foolishness amazes me! I will crush your oversized skull right here!
Titanozor readied up his energy mace, a swiped Zr'Ahgloth's left arm with it. To his surprise, the mace could not pierce Zr'Ahgloth's flesh, let alone take off his arm, though it was enough to badly bruise it. Zr'Ahgloth yelled out in pain, before throwing his right arm to punch Titanozor's face. Titanozor was again surprised at the damage Zr'Ahgloth could dish out.
Titanozor - Hm, your kind are not weak. Too bad they are lacking in brains, or you might prove to be a worthy foe.
Titanozor brawled with Zr'Ahgloth further, as they exchanged blows. Caught in the struggle, Zr'Ahgloth pulled out the teleporter artifact, attempting to whack it over Titanozor's head with its metal. Instead, however, as he lifted it in the air, he accidentally hit its button, teleporting him back, but not before dropping the device in a panic.
Titanozor laughed, before peering over the device. It seemed that Zr'Ahgloth had handed him another artifact.
Titanozor's Mission
Edit
President Regto of the Galot Republic responded to Titanozor's transmission. She had heard much about the Delpha Coalition already, but had never had the chance to thank them in person.
Regto - Greetings, Warlord Titanozor. First things first, I must thank your people for all you have done thus far to vanquish the Loron threat. You have relieved my people of a great grief and we are in your debt.
Titanozor - That is what we do. Our kind measures its force on the severity of the enemy, Someone needs to bully the bully.
Regto - This is very much true. Master Kroc of the Krassio Host has told me that you are here to excavate more artifacts?
Titanozor - This was my goal that has taken me to this galaxy. The Tigris War has taken its toll across the universe. We the inhabitants of the cluster are desparate for someone to bully our bully. The Krassio tell us of a precursor race still active in this corner of the universe.
Regto - While we do not know for certain if they are indeed still active, we do know of a precursor race in this particular galaxy. We call them the Taldar, and we believe the technology we have found from them to have belonged to a Taldar Empire. We also believe them to be our ancestors in some form, for all Ottzelloan races with the exception of the Loron speak a language very similar to that we have found on all these Taldar artifacts.
Titanozor - Curious, the Loron are certainly like nothing we've encountered either. However, they seem to be capable of finding these artifacts.
Regto - The Loron have their own unified religion in which they worship several "godz", although there is no consensus among the Loron as to how many "godz" there are as they are a very forgetful species. We believe these "godz" to be Taldar. Therefore, they believe that the Taldar artifacts are "da godz bling", and seek to protect these holy artifacts from yourselves.
Titanozor - Do you have any intell on where they store, or perhaps proudly display this 'bling'?
Regto - I do. The Loron devote a shrine to the godz on a planet that they recently claimed from the Ottzel, which they are referring to as planet "Godfella", but that we refer to as the planet Yolta. I believe taking this planet back from them would present little challenge to you, but we ourselves have been unable to get through its defenses, let alone the ground troops defending the Taldar temples.
Titanozor - Hm, my fleet is limited in troop capacity, and we are now informed enough to know they are formidable warriors even when compared to our forces. Therefore, we rely on our weapons. Obviously, I do not want to destroy these artifacts or temples in the process of capturing them. How indestructible are they?
Regto - The artifacts are made of a material that apears to be an element in itself, but does not appear to be..."natural". In fact, some of our scientists suggest they not are from this universe. They are extremely resilient, but I would not call them indestructible. Therefore, it may be best if I send help to aid you in capturing the planets; my best soldiers, Valzo and Zelfron, can bring battalions to aid you.
Titanozor - My scientists failed to destroy one at quark-melting temperatures, and there was no measurable change. Yet it acts like matter. In that case, I will restrict superweapons to below this energy range.
Regto - Our historians have many questions about the Taldar that they could not answer. Some of them believe the Taldar to be almost godlike, of a higher state of being. But if that is the case, why did they leave behind empty cities and artifacts on our planets that could easily belong to a mortal race? All we know for certain is that they referred to themselves as the "Watchers of Time". But we do not know what this means. At any rate, I would like to introduce you to captains Valzo and Zelfron.
At that point, the Galot captain Valzo, fully armoured and geared for combat, appeared alongside Regto, while the Telzoc captain Zelfron also appeared. Both of them looked geared for combat, though they had been well rested, and had not fought since the First Ottzello War had ended. Seeing both the captains, Titanozor realised he was in the company of respectable fighters, who had experience with the Loron.
Zelfron - It will be an honour serving with you, Titanozor. Our people have heard much about your kind, like how you managed to annihilate Loron ships before ever needing to engage them on the surface.
Titanozor - Your esteemed battalions are welcome. This will probably be how we will tackle Yolta. Wreath as much destruction as we can from distance, and then capture the temples and artifacts from Loron sheltering within.
Valzo - That seems preferable to engaging them head in. In close combat, the Loron can defeat any of our troops, and their numbers easily overrun them before our artillery can stop them in their tracks. However, if we can keep the Loron at a distance from the temples to destroy them, then we will have much less of a problem with this battle.
Titanozor - Then we have a plan, let us have a merry night to warm our forces to each other. And tomorrow they will fight and die together in the name of the Ottzello galaxy.
Regto - Excellent, thank you for your help. I look forward to your victory, and to seeing what you learn about the Taldar.
After a night of feasts and a day of planning, the joint DCP-Galot-Telzoc force gathered at the edge of the Godfella system to assess the Loron stronghold's defences, which was chaotic, but still practical and honed from a race with millennia-long history of interstellar conflicts. Around the system there were were long-range sensors-hubs, relaying subspace communications back to Godfella. There were thousands of ships in orbit, but without any apparent formations. Even from a great distance, the planet's fortifications could be seen from orbit - gunports where city-sized projectiles could be launched using fusion bombs at high velocity at orbiting invaders or projectiles. And on the ground, the Loron could swarm any invader from vast underground bases.
The joint fleet probably could take the Loron from orbit, but bombardment of the planet could risk destruction of the Taldar temples, and one could never be sure all the bases had been hit. Even with Galot and Telzoc battalions, the fleet probably did not possess enough soldiers to resist the Loron hordes and hold onto the Taldar artifacts. However, Titanozor had another idea, for the DCP knew a way to wipe the planet clean of all life, no matter how deep it hid underground...
The fleet disengaged from hyperspace at a subspace beacon over Godfella, this was to give the Loron a chance to report what would later hit them. The Loron's AIs squawked of a DCP ships sighted. All Loron ships in the system swarmed to Godfella within minutes, but Titanozor ordered the ships to engage hyperspace again just enough to keep the Loron distant. Once Titanozor had all the Loron where he wanted, he triggered a hyperspace projectile to emerge in the heart of Godfella's star. It was a starbuster. Playing cat and mouse with the joint fleet was enraging the Loron. Eventually they decided to sit and wait at Godfella in the hope that the cowards disappearing them would finally summon the foolish bravery to attack. Unbeknownst to the Loron while they were baking their pizzas, mere light minutes away wormholes were rapidly swallowing core material from their star and dissolving it in hyperspace. Without radiation pressure, the star collapsed in on its remaining core, which rebounded into the outer layers, ejecting them.
Titanozor ordered the fleet to jump to hyperspace again in the last minute it would take for the supernova to arrive. First came a wave of neutrinos first emitted by the rebounding core at nearly the speed of light, so dense it immediately sterilised all the Loron in their ships and on the planet, their AIs, and the wildlife of Godfella, even the Loron deep in the planetary crust were dying. Not long after, light waves were raising the surface temperature of Godfella to hundreds and quickly thousands of degrees, incinerating the proud remains of the Loron and their beasts. The joint fleet had to wait until the waves of plasma from the star's outer layers came crashing into the planet's already boiling atmosphere, scorching the surface even more. Despite the inferno, Godfella was not destroyed. The star had been low enough in mass to not completely annihilate planets in the system, as it would never have gravitationally collapsed into a supernova on its own. The fleet surveyed the planet's still glowing crust, which the starbuster had completely sterilised and licked clean. The only remaining artificial structures were the temple complexes. Having deployed sunshields over these regions, battalions of DCP, Galot and Telzok soldiers shielded with particle deflectors and high temperature suits were sent to the surface using shuttles.
A company of Titanozor, Valzo, Zelfron and their elite guards beamed down the surface via hyperspace. The ash-filled sky was broken by dazzling pools of light visible in the distance outside the sunshield, and the the biggest temple on Godfella stood resolute against the glowing rocks. Approaching the temple was difficult, the ground felt tacky under Titanozor's boot. Squelch, squelch, squelch could be heard as they cautiously approached the temple.
Valzo - I am detecting life signs in the temple. Somehow it protected them from all this radiation.
An aperture opened on the temple walls, and out ran several Loron looking even more confused than usual. Within a few squelching steps they collapsed choking in the fumes of molten rock and ash. Yet their burning bodies crawled another few metres clearly fixated on Titanozor himself, who could see the hate in their eyes before they finally succumbed to the heat. This did take the warlord aback, not just the strength of the Loron, but also the fact he had the hatred and might of entire species who wanted him dead.
The aperture laid open, and the the commanders stepped in. Inside they immediately took shots from snipers from placements on an upper deck, but the projectiles merely bounced off Titanozor's armour, its inertial dampers correcting for the exchange in momentum. His suit's autoguns took out their positions in one go. The allied battalion charged in, and Loron came rushing out of the greenish interior of the temple shooting this way and that. The enclosed space degenerated into melee combat, which gave the Loron an upper hand, as many allied soldiers fell the Loron's physical prowess. But Titanozor's strength almost matched the Loron's and he found little difficulty in parrying their melee attacks and countering with his own atom-sharp battle-axe.
Finally as the air became increasingly toxic to the point even the Loron eventually weakened, allowing the battalion to push their way their way to a cathedral-like place, with green lights arranged in psychedelic patterns etched along the walls. In the centre lay an altar, and one final adversary, what appeared to be a Loron in shamanic attire and a green gladius. Coughing, the Loron began to shout.
Shaman - YOO DERE TITANOZOR. YOO FITE ME NOW
Titanozor stepped out in front of Zelfron and Valzo to confront the Loron.
Titanozor - How do you know my name?
Shaman - DIS TEMPAL HOLDS LOTSA SECRETS BOUT DA GODZ DAT YOO LOSAS WILL NEVA KNOW.
Titanozor - Enough. Look around you Loron. This is the end of your days.
Shaman - HURHURHUR YUUZ MIGHT BE A RUTHLESS AND EVIL EMPIRE, BUT YOO UNDAESTIMATE US AN YOO UNDAESTIMATE DA WILL OF DA GODZ.
And with that, the two lauched at each other weapon in hand. However, Titanozor's axe shattered into fragments against the shaman's weapon, obviously made of Taldar matter. The shaman grabbed Titanozor by the legs and tried to pull him in half, his armour straining to stay together. Titanozor's guards stepped into action and fired shots at the Shaman who was beaten back. Leaping to his feet, but in pain, Titanozor dropped himself low to the ground and pushed the Loron into a wall, the two struggling over the dagger. The Loron was just a bit stronger, and the sword was getting close to Titanozor. Titanozor actually felt fear, because this was his first taste of near-death. He imagined how disappointed his father would be if he was to be defeated by a savage, and also to be the first his sons to die on a first mission. The fear tapped into rage, and Titanozor suddenly found renewed strength. His genes were modified for emotional activation after-all. Overpowering the Loron, he grabbed the gladius and chopped off the shaman's head.
Bruised and bleeding, Titanozor's armour was already repairing the injuries. He stumbled to his feet and faced the concerned look of his team. He had witnessed the savagery of the Loron, but was haunted by their determination to save their kind by destroying him. Judging the destruction they had wrought on an entire galaxy, he knew the Loron constituted a threat to the DCP Order. It was now time to finish the job he had been forced to begin, to step up the purging of the Loron with use of superweapons.
DCP Soldier - My Lord Titanozor, we are receiving reports from across the planet from other battalions. We found five new artifacts. There is nothing left alive on this world other than us.
Titanozor - Good result I guess. But I find it strange how this weapon is the only artifact in the greatest temple of the planet.
Zelfron - Perhaps it is the temple itself that is of significance.
Titanozor - When this system has settled, I'll send science teams to return.
As they began to leave, a voice echoed down the chamber that was not part of the battalion.
Voice - Stop... There is no need for anymore to land on this world.
Caught off guard, everybody spun around, but Titanozor felt unusual calm. At the altar, wispy light began to crystallise into a tall humanoid being, with patterns of green and yellow that almost appeared to melt into the walls of the chamber. A sapphire eye stared out towards Titanozor, Valzo and Zelfron, the latter two dropping to their feet. But the entity's face was soothing and wise after a day of rage. Titanozor felt no threat, but did not kneel.
Voice - We are the Watchers of Time, the ones you seek. We are the Taldar.
The Watchers of the Chronos
Edit
Deep within the Taldar temple, the Taldar addressed Titanozor, Valzo and Zelfron. They stood there in awe of him or her, but did not feel frightened no matter how mighty he appeared. The Taldar's face was one of benevolence, as if he or she was aware of their plight, and did not appear to expect to be grovelled to. This was the first incident in millions of years in which a Taldar had addressed a third dimensional mortal before. When the Elder spoke, he or she spoke with a very deep but echoing voice, as if it were dozens of voices speaking in unison, though it came only from the Elder.
Taldar - You may refer to me simply as the "Taldar Elder". I am sure you have many questions about my people, and I am happy to answer them all. For soon, what faces your universe is not something you can face alone, and you will need our help.
Titanozor bowed.
Titanozor - My greetings, Taldar Elder. It is a most good surprise that we are not beneath your notice, like how many other precursor civilisations ignore us. We are indeed in need of your assistance.
Taldar Elder - I appreciate the courtesy, but I do not require it. Indeed, we do not share the contempt for third dimensional mortals as many others do, for we sympathise with your plight. This is why we wish to help you. I know that your people, the Delpha Coalition of Planets, have been one of the major warriors fighting in the War of Ages. Soon, this war will grow to something beyond what it is now. I am sure you would like to learn more about my kind, and so I will happily explain whatever it is you wish to know.
Titanozor - I wish to know where your kind comes from. These artifacts behave like matter, but are virtually indestructible to temperatures that melt even matter's constituents.
Taldar Elder - An excellent question. Our kind, the Vyro'Narza, or the Taldar as you refer to them, hail not from this universe, or indeed from this dimension at all. We are beings of the fifth dimension, and we reside in a realm known as Sequencium. The fifth dimension is holospace; to explain it in the simplest terms, the third dimension is but a projection of the holospace in the fifth dimension. Therefore, we resolve to watch over your dimension from the fifth dimension, to keep time in check, and to resolve any anomalous elements and allow it to continue to flow smoothly. If we are doing our job correctly, you will not notice us at all.
Titanozor - And I'm guessing, the War of Ages is an anomalous event in the stream of time?
Taldar Elder - We fear it to be far worse than that. The inevitable involvement of other extradimensional beings will require our intervention. However, this is extremely dangerous for your people. Normally, the result of extradimensional beings clashing in a universe is the destruction of that universe. We have fought on several battlegrounds with the servants of the Xhodocto, and almost every time we have fought, that universe has been destroyed. We do not want the same to happen to yours.
Titanozor - I'm guessing you left these artifacts as signs to nudge us when the time was right...
Taldar Elder - Correct. These artifacts are remnants of our own time as three dimensional mortals. We grant them to all of our progeny, including the Ottzelloans. However, we also have vested interest in seeing the progeny of the Krass succeed; this was how you found an artifact in Tigris.
Titanozor - What can we do to make a difference with this universe?
Taldar Elder - For now, you must simply oppose the servants of the Xhodocto and all of their attempts to summon the Xhodocto themselves or any higher beings into this universe. If this cannot be done, we shall do everything we can to protect you from further harm. If we intervene ourselves first, however, then this merely invites the other extradimensional servants of the Xhodocto to do so, and they will most certainly destroy the universe.
Titanozor - This makes sense, perhaps the others make the mistake of seeing us mortals beneath their notice without you explicitly there. The DCP will step up its task along with our allies to prevent the summoning of these demons.
Taldar Elder - This is good, and this is all I can ask of you to do. We shall try to provide you with aid in any way that we can along the way, and should you obtain any more of our artifacts scattered across this galaxy, you have our permission to use them. Furthermore, should you encounter individuals who are capable of using Chronoscopic Energy, you are are free to use it to your will: it will become a valuable tool against the Xhodocto's servants.
Titanozor - What individuals in this galaxy possess chronoscopic powers, who might be friendly aides?
Taldar Elder - All of the lifeforms born from Ottzello have the potential to make use of these powers. I believe also there may be a select few in the universe who have mastered it, that you may encounter along your quest. Do not become overly reliant on it, however. Its manipulation over space and time is extremely limited, and even still, overusing it will create a time anomaly, which the Vyro'Ralza will fix...by destroying the perpetrator. Erasing them from time completely.
Titanozor - The Vyro'Ralza sound like they could be worthy allies on our side against the Xhodocto anomaly...
Taldar Elder - Alas, they are not. The Vyro'Ralza are servants of the Xhodocto, unlike us.
Titanozor - Thanks, I will oversee that chronoscopic powers are not abused in such an arrangement to create an anomly.
Taldar Elder - Our kind created the Ottzello Galaxy, and planted the seeds that would lead to the evolution of all its species. We have watched it grow. However, the Vyro'Ralza, led by Zargoth, have tampered with our creations. I was responsible for the creation of the Loron. At first, they were but guardians for the Norol, designed to protect them on their homeworld of Groodrub, a harsh environment, as we saw great potential in the Norol's future in many timelines. However, a Vyro'Ralza tampered with the Loron. They were made to be more savage and barbaric, and given far more independence. Eventually, they were the dominant species, while the Norol were but their servants. For this, I am in a self-imposed exile on this planet, and am cut off from the rest of the group mind. This makes me weaker than the rest of my kind, for our strength is in numbers.
Titanozor - The Loron fight like beasts, but they have a magnificence about them. I have become the archetypal villain of their species. I believe it will be either me, or them who will remain standing. I am afraid I may be forced to destroy the Loron by any means necessary to complete this task. For this I apologise with all my hearts.
Taldar Elder - Time is not as linear a concept as one may think. In fact, there are dozens of branching timelines, based on several possible events. Therefore, I cannot tell you with certainty what will happen to you, or whether or not you will be destroyed by or forced to destroy the Loron. However, I can tell you that in the vast majority of timelines, you are the victor of this war, but that in all of them, the Loron are about to become much more of a threat short term to you than they were before. Also, you need not fret over whether you have to destroy the Loron; I may be partial to them, for they are my offspring, however they are but temporary beings, as is all third dimensional biological life. Therefore, they must end at some point.
Titanozor - So in the fifth dimension, all moments in time are available to you simultaneously, not sequential?
Taldar Elder - That is precisely correct. Each universe has hundreds of branching timelines, though holospace only stores the different events that are significant. In many cases, travel to the past through traditional means may merely create a new timeline if past events are altered. However, if beings use Chronoscopic to affect the same timeline, by manipulating with the same holomatter that strings together their timeline, then a time anomaly will be created, which means we have to mend it, and the Vyro'Ralza have to destroy the perpetrators.
Titanozor - I will enjoy ending my debate with Dr Kenders over whether time can truly be altered. So Taldar Elder, who is your leader?
The Taldar Elder's eye seemed to light up just talking about her, as if the Elder had a sense of adoration for her. The Elder spoke with the same tone of voice, but more excitedly.
Taldar Elder - She is who is known as Vyro'Nazdea, or Volzara. She is the benevolent Goddess of Time, who watches over the omniverse with a keen eye. She is also the being that the Xhodocto hate the most, for she has been at the forefront of the struggle against them, to one day liberate the omniverse of their malevolent rule. Volzara herself speaks to very few mortals, but in a few timelines, you are one of those lucky enough to speak to her.
Titanozor - It would be an honour to meet her.
Taldar Elder - Very, very few mortals have this honour. If you require no more knowledge, then I trust you to go now and do what you have to do. Our people will be watching, and will guide you as we can, but for reasons I have explained, cannot be the first to directly intervene here.
Titanozor - Until we meet again. In this or that future.
Stepping Up
Edit
Titanozor had given permission for his captains to be creative with their superweapons as soon as the battle for Godfella had been resolved. Soon nearby Loron systems tasted the destruction wrought by the DCP's cruel weapons. Entire systems and fleets could be annihilated with starbusters. Loron shields were ineffective against the DCP's subatomic disruptors and and black hole slingers. While other captains preferred to attack the Loron on the surface using nanotechnological swarms, which could morph into vehicles capable of dodging Loron attacks, camouflage into the environment to assemble into devastating weapons in an instant. Some Delphan captains even risked direct confrontations with the Loron using ground forces, but only to feel a sense of risk. However, the Loron Empire was vast, and the fighting had become aimless.
In a new state of caution, Warlord Titanozor rallied his forces back. Throughout his mission, Titanozor had been guided by a series of clues. But now he only had a vague one given by the Taldar elder to deal with - that in all times branching from the present, the Loron were about to get a whole lot more threatening. Titanozor had also learned powerful precursors were operating in the Ottzello galaxy at present, and that they were the reason the Taldar could not intervene with direct instruction. The DCP had witnessed the power of the precursors in the Tigris galaxy and now Ottzello was also presenting an existential threat.
Titanozor needed to find natives in the galaxy who knew the territory and had experience with this "Chronoscopic energy". Fortunately, Titanozor's captains had not been completely focused on destruction. On one world that had been ransacked by the DCP, the nanoswarms had identified the bodies of an alien species who had shown little signs of decay, indicating a recent battle that had been lost to the Loron. The bodies bore all the technology and insignia of interstellar civilisation. The swarms assembled into universal translators and got to work hacking into the remaining information technologies, revealing the dead army to be the remains of the Ottzel, possibly the largest civilisation in the galaxy and appeared to be a warrior culture. The empire lay beyond a thick wedge of Loron space, and could be helpful in fighting the Loron and uncovering further secrets. Cautiously, Titanozor made his move. But things were about to get much harder sooner than he had hoped.
The Dark Lords of Time
Edit
A few weeks had passed since the Delpha Coalition of Planets had teamed up with the Grand Ottzel Order. This had infuriated Zr'Ahgloth: the Ottzel were a race of slavers, who had kept thousands of Loron slaves across many planets, and Zr'Ahgloth's goal had always been to lead their uprising against the Ottzel. In fact, he himself was born an Ottzel slave, and led the revolt of his slaves' camp that freed his kind. If he could personally kill Dakster, one of the great leaders of the Ottzel, during the DCP's war, he would.
His new starships had been outfitted with great technology similar to the Taldar artifacts, which were proving extremely effective against the DCP. For once, the Loron were proving to be a true threat to them, as the DCP's advance was drastically slowing down. Very soon, Zr'Ahgloth thought, he could take out Titanozor and Dakster in one go.
Zr'Ahgloth called up a meeting between the other Loron.
Zr'Ahgloth - OK BOYZ DIS IS IT. I SUGGEST WE TAKE A HUGE FLEET TO DA GALOT DEN KILL VALZO. WEN TITANOZOR AN DAKSTER COM IN TA RESCUE HIM, WE KILL DEM INSTED HURHURHUR
Thr'aloy - GENIUS I VOTE WE DO IT
Jol'kiar - BAK IN MY DAYZ...DATS EXACTLY DA KIND OF FING WE DID YEH LETS GO FER IT
At that moment, a portal appeared in the room. A floating alien, with a dark aura surrounding, flew out of it. Zr'Ahgloth and Jol'kiar both recognised it from before, but had no idea what it was. The creature appeared expressionless, and flew over to Zr'Ahgloth. As it flew over, Zr'Ahgloth felt a great heat coming from it, as if it were on fire. The creature was Durzhan.
Durzhan - I see that my artifacts I have been supplying you have been working out well, Loron. You will continue to put them to use.
Zr'Ahgloth - ...MAN I RECOGNISE YOO. YOO WAS DAT FLOATIN WEIRDO DAT HUNG AROUND GRATZ'KAOZ. WAT DO YA WANT MAN
Durzhan - I am Durzhan, and that is a loaded question you ask me. What I want long term, essentially, is perfection, but you wouldn't yet understand. What I want now, however, is the banishment of the Delpha Coalition of Planets from this galaxy.
Zr'Ahgloth - well we both want dat. i want ta write da perfect rap song an i wanna shank da Dumbo Combinashon of Pizza. SO LETS DO IT
Jol'kiar - hmmm yoo did help gratz be a maniac but ya also kinda saved us so lets heer wat ya hav ta say
Durzhan - I did help Gratz'kaoz, indeed, for the same reason I now help you. The Delpha Coalition of Planets now represent a threat to my goals. However, it shall not be easy to persuade them to abandon their cause, for they are a proud people, and as far as they are concerned, their goal to exterminate your people will be simple. If I can convince them that they have found all the Taldar artifacts that they need to find, I cannot so easily convince them that they should not exterminate your kind.
Zr'Ahgloth - BUNCHA GENOCIDAL MANIACS WAT KINDA LOSA COMMITS GENOCIDE ON AN ENTIRE ALIEN RACE
Thr'aloy - yoo did on lotsa alienz
Zr'Ahgloth - YEH BUT DEY WAS ALL BAD
Durzhan - It matters not. Zr'Ahgloth, when you engage Titanozor and Dakster in battle, I shall be there to assist you. I shall continue to provide you improved artifacts and keep going.
At this point, Jol'kiar lost his patience a little. He never recalled a time when a Loron boss had been so trusting of an alien like this, including himself. Therefore, he had to demand to know where these artifacts came from. Before he could ask, though, Durzhan answered.
Durzhan - An excellent question you were about to ask, Jol'kiar. Indeed, where do these artifacts come from?
Jol'kiar - how did ya kno i was gonna ask dat
Durzhan - You do in every possible future timeline. I have a limited perception over future and past timelines, a power I inherit from the Vyro'Ralza, also known as the Traffphyds. I am their servant.
Zr'Ahgloth - Vyro'Ralza? wat
Durzhan - The Traffphyds are the Dark Lords of Time. They are responsible for guarding the fifth dimension from those who would seek to tamper with it. And they are servants of the Xhodocto also, and serve to keep their order flowing. They must therefore oppose the Taldar. The Delpha Coalition search for Taldar artifacts, but Traffphyd artifacts are just as strong.
Jol'kiar - i hav no idea wat any of dat meant BUT IT SOUNDS WAY COOLA DAN WATEVA DA DCP DUMBOS IS CHASIN AFTA. DEREFORE WE WILL HELP YOO BY MAKIN USE OF DEEZ TRAPCARD-
Durzhan - It's Traffphyd.
Jol'kiar - WATEVA, WE WILL MAK USE OF DEEZ TRIFFID ARTIFACTS AN KILL FOOLS
Zr'Ahgloth - OK DEN SO THR'ALOY GOES TA FITE VALZO WHIL I TAKE OUT TITANOZOR AN DAKSTER ONCE DEY ARRIV
A few days following the meeting, the trap had been set perfectly. Thr'aloy led a fleet to invade a Galot Republic planet, and fought against their defenses. They put up little resistance, as not only had the Galot Republic not expected the Loron to attack a Galot planet while defending their own planets, but they had no way of dealing with the huge Loron numbers. The Galot had been forced to, as Zr'Ahgloth predicted, send Valzo to defend the planet himself. They then fought within a Galot Republic citadel, high above the city, as they watched it burn around them.
Valzo was little threat to Thr'aloy. He was far stronger and could resist all of Valzo's weapons. Valzo was forced to flee, but could not outrun Thr'aloy. He picked Thr'aloy up by the back of his neck, and tossed him to the floor beside. Naturally, this forced Titanozor, Dakster and Zelfron to arrive to defend their ally. The DCP could not rely on orbitally bombarding this planet, not until they knew for certain that the Republic cities could not be saved.
Titanozor and Dakster could arrive through a wormhole before being beamed down to the planet. However, Zr'Ahgloth's fleet had arrived by warping in spacetime, making use of another Traffphyd artifact. Zr'Ahgloth arrived alongside Thr'aloy, prepared to take them out, with Durzhan following behind him.
Dakster - Ah, Da Propa Big Boss Zr'Ahgloth. I look forward to placing your head on my trophy.
Zr'Ahgloth - HURHURHUR ILL BE SO HAPPY TA SMASH YOO INTO PIECES
Titanozor - The only one to be smashed to pieces will be you, Loron.
Zr'Ahgloth - YO THRALOY YOO TAKE OUT ZELFRON. I GOT DIS MAN
Immediately afterwards, Zr'Ahgloth leaped to kick the much smaller Dakster away from him. Dakster was thrown back several feet before activating hover boots to break his fall, while Titanozor flung his mace at Zr'Ahgloth. Zr'Ahgloth quickly caught it, turned towards Titanozor and threw several punches aimed squarely at his face before kicking him down. Titanozor was unprepared for Zr'Ahgloth's speed, and had forgotten just how hard Zr'Ahgloth's punches hit.
At that point, Dakster noticed that Zr'Ahgloth was not alone. Floating above him was Durzhan, who engulfed Zr'Ahgloth in flames and was pummelling energy through him. Titanozor noticed it too.
Titanozor - Could this be the Chronoscopic Energy that the Taldar spoke about?
Durzhan - Yes, and no. This is Dark Chronoscopic Energy. It is the dark spectrum of Chronoscopic, with far more destructive tendencies. As I course this power through Zr'Ahgloth, he is far more powerful than you can handle.
Zr'Ahgloth was now engulfed in flames, and moved far quicker. Dakster's eyes widened at the sight. He flew up in the air with his hoverboots and fired his best plasma cannons, only for Durzhan to freeze the fire in mid-air and reverse them towards Dakster, forcing him to dodge. At that point, Durzhan pointed his arm towards Dakster, and immediately entrapped him in what appeared to be a bubble. Durzhan had been slowed significantly in time.
Titanozor pounced in the sky and swung his mace at Durzhan, knocking him off balance and causing the time bubble to end, meaning Dakster was free. Dakster evaded Zr'Ahgloth's punches, aiming for his legs, and hoping to weaken him. Zr'Ahgloth growled, and flung a punch towards Titanozor, which knocked him down. Titanozor's suit easily resisted the heat that surrounded Zr'Ahgloth, but it was damaged heavily by the force of his punch.
Zr'Ahgloth and Durzhan clearly outmatched them both. Dakster's weaponry could not put a dent in him, while Titanozor had no hopes of matching him in combat. The idea that they could lose this war to the Loron seemed incomprehensible to them both. For these primitive savages to be so powerful seemed impossible.
It was but a stroke of luck that saved them both. As the battle seemed unwinnable, by Titanozor's side arrived the Taldar Elder. His benevolent light shone through the crashing city, as they could no longer feel the aura surrounding Durzhan. Durzhan watched the Elder's arrival in horror.
Taldar Elder - Leave at once, servant of the Traffphyds. You do not wish to see what a Taldar is capable of.
Durzhan warped away in anger. The Loron did not seem to take up arms against the Taldar, only stop in awe. Seeing that their opponents appeared to have stood down, so too did the Galot Republic, the Ottzel Order and the Delpha Coalition. It appeared that the Elder had a message for the Loron.
On top of the citadel, the Taldar Elder appeared to back away from it, and then flew high in the sky of the world, where all the forces fighting could see him. Then, the Elder took the form of a giant Loron, and suddenly all the Loron fell to their knees in worship, including Zr'Ahgloth.
Zr'Ahgloth - DATS...DATS ROZ'TAH'FLOK!!!!!
Thr'aloy - DA BEST GOD EVA!!!!!!
Taldar Elder - YEH MAN. I IS DA GREAT GOD ROZ'TAH'FLOK AN DA CREATA OF DA LORONZ AN ALL DA SEVENTY GODZ (BTW LEARN TA GET DA NUMBA RITE ALREDY). FIRST OF ALL YOR ALL STOOPID COZ YA AINT RAPPIN DA ROZ'TAH'FLOK RAP IN WORSHIP OF ME OFTEN ENUFF. SECOND OF ALL ITS COOL DAT YOR FITIN DA DUMBO COMBINASHON OF PIZZA AN EVRYFIN BUT I NEED YAS TA STOP
The Loron appeared to gasp. Titanozor, Dakster and Valzo looked at one another, and chuckled. It made sense; the Taldar Elder was the creator of the Loron, so technically, he was their ultimate god.
Taldar Elder - DA TROOF IS DAT DERES A WORSE ENEMY KNOWN AS DA XHODOCOTO. NOW I KNO SOM GEEZA GAV YAS ARTIFACTS FROM PEEPZ DAT WORK FER DEM BUT HES TRYNA TRIK YAS. DA XHODOCTO WANNA DESTROY DA OONIVERS. DAT WULD BE DA WORS FING AS IT MEENS NO MOAR PIZZA EVA. MAN HOW DUM IS DAT. SO I KNO IT SUKS, BUT DA COLD WAR IS ENDIN AN DA XHODOCTO WILL SMASH DA OONIVERSE SOON IN DA MARCH OF DA APOCALYPSE. YOO BES JOIN FORCES WIV DA DUMBO COMBINASHON OF PIZZA, MUCH AS YA MITE NOT LIKE IT, AN HELP DEM OUT.
Zr'Ahgloth - ...ehhhhhhh dats annoyin but DA GOD HAS SPOKEN. WE IS GONNA TEEM UP WIV DA DCP AN SMASH DA XHODDIE BOYZ. IT WILL BE DA BEST WAR EVA!!!!!!!!!!!
Taldar Elder - YEH AN YOO BES WIN DA WAR OR IMMA SMAK YOO UP IN DA AFTALIFE. NOW DONT MAKE ME DELIVA YOO A MESSAG AGEN
With that, "Roz'Tah'Flok", or the Taldar Elder, left. The Loron ceased their fire, as many of them committed to rapping the "Roz'Tah'Flok" rap that was written to worship him, while others simply stood there, completely baffled, awaiting orders from Zr'Ahgloth. Zr'Ahgloth sighed, as he walked over to Titanozor, and grumbled, before speaking.
Zr'Ahgloth - ...FINE. I GUESS IMMA WORK WIV YOO DEN. LETS SMASH XHODDIES
Titanozor - That is the right attitude. We shall come in contact with you again soon and help you prepare to fight them. Your strength will prove extremely useful against their forces.
Zr'Ahgloth - YEH WE KNO IT WILL. AN DONT FINK DAT DIS MEENS WE LIKE YOO. WES GONNA BETRAY YOO AFTA
Titanozor - Thanks for warning me in advance.
True to his word, Zr'Ahgloth relayed Roz'Tah'Flok's orders to the rest of the Loron. They would all stand down provided the Delpha Coalition help them with a common threat: the servants of the Xhodocto.
The war between the Delpha Coalition of Planets and Da Propa Big Loron Empire would not be reignited again until years later. The Delphan Excavation War was considered by the Delpha Coalition of Planets to be successful: they had obtained countless Taldar artifacts and gained new knowledge about the ancient race. However, little did they know, there were several more secrets about the Taldar that they had been unable to find. Durzhan may not have been entirely successful, but he had prevented the DCP from learning too many secrets, allowing them to learn just enough that soon, they would leave the galaxy entirely.
When the Second Ottzello Galactic War would come in the years to follow, the galaxy was entirely unprepared for what was to happen next. And the Delpha Coalition of Planets would not be able to so easily pull the galaxy out from this one.
The Delphan Excavation War of Ottzello is a remake of the original DCP/Loron War that was created by Technobliterator and Wormulon as their first collaborative project on April 6, 2010. The remake was begun on September 19, 2017, just over seven years later.
The original story was hugely different from the remake, and none of it is canon. It was also far longer, and contained additional participants: Richardson72 with the Vartekian, Liquid Ink with the Defensive System's Bloc, and Spriggs077.
Adventures
Edit
The following adventures were created for the original DCP vs Loron War:
Battle of the Dodrak shipyards
Creator:Wormulon
Desciption:The DCP amasses a fleet to engage and destroy the Dondrak shipyards.
Sporepedia: here
Taldar Elder
Creator:Wormulon
Description:Captain Valzo (you) and Titanozor find the Talder Elder.
Sporepedia:here
Battle of Satalkis (Fixed)*
Creator:Liquid Ink
Description:The Loron invade the Defensive Systems Bloc. The Lequian holds them off until the DCP arrive with Titanozor!
Sporepedia: here
Note:Make sure it is the fixed version.
Da Loron Attakz
Creator:Technobliterator
Description:The Loron invade a DCP stronghold
Sporepedia:shared
Vartekian supremacy
Creator:Richardson72
description:You have been assigned to aid a troop of Vartekians against the loron.
Sporepedia[1]