"HIRE DA ROGUE BOYZ OR GET STOMPED FLAT HURHUR"

Thugz Fer Dosh is a Loron SMC (subsidiary military company) in the Borealis Galaxy, subsidiary of Da Rogue Boyz and led by the Loron mercenary Gol'thabex. A mercenary group for hire, Thugz Fer Dosh will serve the highest bidder, although once they've tken a job they are often not persuaded to take another organizations' offer.
History
[
]
"Attenshon all da remainin Rogue Boyz peepz in Borealis. We haz jus beeten UNO an yoo betta celebrat in our victory wiv a pizza party or ma boyz gonna shank yas. Anywayz ders gonna be som changes round heer; da Rogue Boyz is nao a PMC, privat military company, of mercenaies an we iz da best mercenary groop dat all da big companies pay top dollar ta hire for dere services. Not much changin jus dat nao yoo betta lissen ta anyone wiv cash. An if yoo dunt liek it yoo can get evry chik an boy in yor gang ta form a line behind me an kiss my ass. Dat is all."

Origins
[
]
In the Second Borealis Galactic War's second era, the Coming of the Vague, as the Borealis Consortium Network planned a new kind of business and completely revolutionised society away from the concept of governments and nations and towards a new galaxy governed by war and currency, the Rogue Boyz felt the need to reform, with their now smaller empire.
Second Borealis Galactic War
[
]
In the Borealis War's third era, Business of War, the Thugz gained notoriety, and became the top mercenary company in the Galaxy. However, at the end of the era, when the Wrath of Gods began, the Thugz became a subsidiary of the Rogue Boyz, and put under Gol'thabex' command.
Characteristics
[
]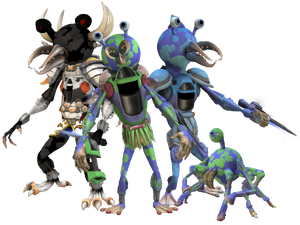 Species
[
]
Like the other Loron, the rogue Loron are incredibly robust and strong. However, they do not possess The System in their bodies, causing a large disvantage against UNO's Loron. They have, however, had a very large exposure to antimatter and other chemicals, which has made them stronger, as well as immune to the side effects of exposure to them and slightly more intelligent. This arguably puts them above UNO's Loron physically, despite lack of The System.
Behaviour
[
]
Thugz Fer Dosh are normally focused on whatever mission they have been given. Whoever signed a contract with the Thugz will have a very loyal group of Loron willing to do anything to get the job done, with the knowledge that there'll be cash and pizza at the end. When not on contract, the Thugz may raid other corporations and warbands, and will often wage proxy wars against other PMCs.
Abilities
[
]
Being regular Loron, Da Rogue Boyz have innnate mentalism powers, which will weaken enemies' adrenaline flow, nerves, and muscles. It is also used by Da Chikz to communicate with them. The Thugz are the toughest of the tough Rogue Boyz, and thus, tend to be a lot stronger in combat, with much sharper reflexes.
Technology
[
]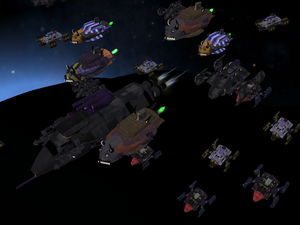 Thugz Fer Dosh technology is a mix of typical Rogue Boyz technology and technology they have bought, stolen or been provided by sponsors.
Fleet
[
]
Thugz Fer Dosh use the Rogue Boyz ships in their fleet; their ships fly using Cold Relays for FTL travel, and particle drives for sublight travel. Their ships in general use zero point energy. The ships also have albative armour for defense, and various other shielding from harm.
The Thugz are a freelance group, and they tend to use any ships they've either stolen, bought or been provided by sponsors. Notable ones include:
They also use many others, such as modified versions of
Tokzhalan Military Industries
drones, to use as starships.
Vehicles
[
]
Like ships, the vehicles of Thugz Fer Dosh are the same as Da Rogue Boyz' vehicles; they are incredibly advanced for Loron, and run on zero point energy, as well as having albative armour.
Thugz Fer Dosh only occasionally use vehicles that aren't their own, as on the War Economy scene, more vehicles tend to be unmanned. As such, there are no notable non-Rogue Boyz vehicles used by the Thugz.
Devices
[
]
Thugz Fer Dosh use Da Rogue Boyz' devices; the same equipment as the other Loron before they joined UNO, but their version is a lot more powerful. This includes Da Geekz. They also use Worka Drones, which can construct and repair their ships with nanobot builders; this technology was stolen from the Indoctrinate Collective.
They have a network of Geekz as well as Chikz working for them and their technology, led by Da Propa Big Rogue Geek, who resides on Da Propa Big Rogue Krooza. They have powerful technology, such as genetic modification and antimatter. Da Rogue Boyz also have perfect cloning technology, which was previously only used by UNO's Loron. In effect, they are 5 times as numerous as UNO's Loron now.
Weapons
[
]
While the Thugz technology tends to steer towards Rogue Boyz technology in most aspects, with weapons, it is a different story.
The Loron use the following weapons:
The Thugz tend to use modified Blastas, often more custom fitted than most Blastas. Several Thugz tend to customize their blastas with laser visions, scopes, added grenade launchers and grips, more so than ordinary boyz will. The Thugz weapon of choice is a machine coilgun, firing a speeds faster than ordinary machine guns, and firing incredibly powerful bullets that can rip through targets in seconds. Their custom bomz all tend to use plasma.


Thugz also love to use weapons stolen or bought. They notably use portable turbolaser blasters, plasma guns, as well as electrolasers, against their foes. But really, Thugz can be seen with pretty much any weapon that suits them.
Individuals
[
]
Notes
[
]
Trivia
[
]
Da Loron stoof
WEZ DA REAL LORONZ MAN DONT REED DAT UNO STOOF ITS DUM
OI BOLD MEENS SPESHUL STOOF
Da Cash

Thugz Fer Dosh

 ·

Mafia

 ·

MEH NO ONE CAREZ BOUT CASH ANYWAYZ LETS BE HOENST
Da Godz
YA SO DUM MAN ZR'AN'KARS DA ONLY REEL SIK LORON GOD AN DA OVAS BUT ROZ'TAH'FLOK IS DUM
WE IS DA REAL COOL LORONZ DA ROGUE BOYZ IS DUM DONT REED DEM
| | | |
| --- | --- | --- |
| Da Tekkno Stuff | | SHUT UP MAN WE HAS DA SAME TEKKMO STOOF AS UNOS TEKK |
Da Cash
SHUT DA HELL UP MAN LOOK HEER
Da Timez
DUMBO GO

HEER

Da Godz
YOO LOSAS ZR'AN'KAR IS DA DUMEST GOD EVA ALL DA OVA GODZ AN ROZ'TAH'FLOK IS BETTA
WE IZ DA DEFFMARCH BOYZ AN WE IS DA BEST COS WE WIV DA MALI'NAR YA DUMBOS
| | | |
| --- | --- | --- |
| Da Warz | | COMIN SOON MAN SHUT UP |
| | | |
| --- | --- | --- |
| Da Tekkno Stoof | | SHUT UP MAN WE HAS DA SAME TEKKNO STOOF AS MALI'NAR DO YA DUMBO MOST OF DA INFO IS HEER BUT OMG WE DONT NEED MUCH TEKKNO STOOF WEZ TOO POWAFUL HUR |
| | | |
| --- | --- | --- |
| Da Godz | | ALL DEM GODZ IS DUM DA ONLY REEL GODZ IS DA DEFFMARCH GODZ |
Part SporeWiki:Fiction Universe
Colonization is currently

CLOSED




Bold indicates particularly important topics


Italic indicates fiction made by users other than Borealis's creator