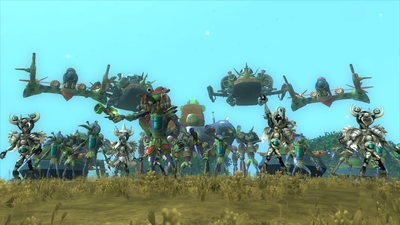 "WE IZ LORONZ. LORONZ NEVA LOOS. IF YA DAI DEN FORGET YOO BUT YOO ENT LOST COS YOO DIED FITIN SO DAT DUNT COUNT. IF YOO WON DEN DATS SIK YOR AWSOM. IF YOO RAN AWAY WELL MEH COM BAK. BUT WE IZ LORONZ WE IS MAED TA FITE, TA KILL, AN TA WIN. DATS WAT WES GONNA DO."

- Jol'kiar
Loron thrive on conflict, and Da Rogue Boyz' warz are no exception. The strongest rise to the top while the weakest die and become forgotten. Loron charge across battle trying to tear everything in their path to prove that "da boyz is da best". For strategies, Da Rogue Boyz use AIs that dictate good tactics, in addition to Da Chikz. Their military also plays the music by Flo'Sikka, often from albums Da Sikkest Eva 1 and 2.
History
[
]
Origins
[
]
The original Loron military truly started in the Loron's tribal stage. Their military was similar to todays Loron military; it was chaotic, and composed mostly of Loron warriors charging of to battle with no clue what they were doing, just punching and eating everything in sight. They also rode on massive warbeasts, which were the precursors to vehicles.
Early space stage
[
]
When Loron reached the space stage, not much changed at all. There were Loron with different passions serving different roles, which led to there being different classes of Loron. During the period in which the Loron were ruled by Krul'Takka, he decided the army needed to be more organized, leading to the ranks.
Propa Big Loron Empire
[
]
When the Propa Big Loron Empire introduced new ideas, all Loron empires copied them. One was the vehicles, which for a long time had been called 'useless pieces of trash man deyz stoopid'. There were several crazy Loron who became addicted to speed, which became the Craziez. There were, however, very few vehicles.
Da Rogue Boyz
[
]
The current Rogue Boyz military, however, is more advanced than any Loron military in history. During Da Moovment, the Loron developed new types of vehicles, even one - da Smasha - which involves Da Chikz in combat.
Characteristics
[
]
Methods
[
]
Loron do not fight with honour. They don't see fighting as a battle, or a struggle, but as a sport. They see something and concentrate on it until it's dead. But they often try and eat it during the battle, a shame, since they can die in the process. You can't really say they fight with courage, because they're too thick to know how they die.
Thanks to their extreme toughness, when they get to the enemy to fight in close combat (which is their most common and best way of fighting), they often reach the opponent before they die from gunshots first. Furthermore, their numbers are immense, thanks to da Chikz breeding ad their owncloning.. They can fight mid-range, but none of their technology is capable of fight long range, so they have to scavenge it. They will always eat and scavenge whatever's left on the battlefield after the battle. They barely ever lose battles that they try and win. Only 2 occaisions has this ever been known, since the writer accidently made a mistake and wrote it twice by accident.
Before the battle, music by Flo'Sikka, mostly by his album Da Sikkest Eva 1 and 2, is played, to get the Loron in the mood to smash things and tear everything apart. This is because of its call and response shouting, lyrical content about 'smashin stoof up', and catchy beats.
Gangs
[
]
Loron usually fight in "gangs", which serve as the equivalent of a squad for Loron (when in fact it is much larger). Since most Loron Gangz all wish to be the same trooper class of Loron, they essentially behave just as a squad would, with the squad leader being the Gangboss. Gangs choose which Warboss they want to work for, just as Warbosses choose which Big Warboss they want to work for. If there are no spaces or one Warboss is leading no gangz, then the Propa Big Warboss puts them in a Warboss gang.
Da Massiv Crew
[
]
Loron Armada's, known as Da Massiv Crew, are the Loron method of conquering the stars as quickly as possible. These huge Armada's, which are much larger than most other empire's armada, are led by a Propa Big Warboss with a dream of battle, and gather momentum as they take planets for their own...
Charge
[
]
The Loron charge, as documented by Grimbolsaurian armies, is the beginning to Loron battles. It is the first 10 or so seconds in which the Loron charge up to the opposing army with their chainsaws, teeth, fists and guns. They charge as if sprinting, very excited about the bloodshed. Several Loron die get trampled in the chaos, while others die from enemy ranged weapons before they reach their foe, which is described by loron as the saddest and geekiest way to die ever.
During the fight, several "Loron Carrias"- vehicles carrying Loron Boyz- drive to the enemy and unleash Loron, who simply jump out, guns blazing and smash up the enemy. Trukkas take pride in going fast, and thus often run over enemies (on purpose) or crash into enemy vehicles (which is described as the best way to die ever). Either way, the Gang in the vehicle will jump out, as they can be pushed so that trukka's roof comes off.
Besides huge amount of Boyz and Trukkas, all that enemies see are missiles and cannons reaching and failing to reach their target.
Joining
[
]
Signing up
[
]
There are 4 mthods of joining a Loron Armyboyz-
Simple- they go to a bar and hang out with Da Boyz or their gang there. Then a Loron Warboss will speak to them. He will, if they wish, throw them into battle, without training, without payment, or even words. They will just drive off to battle... often even to their death.
Of course Loron can go to Da Barrakz for training. They will talk to a Warboss there, and undergo Loron training, then will be handpicked by a Warboss to join.
If a Loron is part of a gang, then a Gangboss will have a word with a Loron Warboss. If the Warboss wants the gang to be part of his Warboss Gang, then the Loron have joined.
Another way is to simply be dragged into a Massiv Crew by the Massiv Warboss.
Training
[
]
Loron train in Da Barrakz. Their training consists of running 20 miles with stones on their backs, arriving at the destination and taking the stone off, ready to fight an epic (or another Loron if the epics are all dead) for at least 2 hours. Then, they gain a five minute rest and climb a mountain. After that, they jump off the mountain and swim the the island they're meant to making sure to eat underwater life that could harm them (I.E. sharks). They arrive at Barrakz associated with their class.
If they are one of Da Troopas/Da Boyz, they will be fighting other Boyz or epics, to train in combat skills, then will undergo ttarget practice, operated by a Propa Big Troopa.
If they are one of Da Boom Boyz, a Boom Boss will give them courses on blowing up vehicles by making them blow up a stolen vehicle that is driven by Da Crazy Boyz
If they are one of Da Sneaky Boyz, then their Sneaky Tuta (who is usually a Sneaky Boss) will teach them stealth and survival skills
Da Crazy Boyz training is to use a stolen vehicle and try to evade/survive Da boom Boyz and kill them, however, even loron aren't dumb enough to allow any of the boyz training to die in this
Choosing job
[
]
Loron choose their jobs really easy. Loron normally fixate on whatever they enjoy most, be it watching fireworks, the thrill of shanking in the shadows, carrying huge guns or simply smashing foes to bits. Likeminded Loron usually form in the gangs, and the gangs get recruited. Loron do have free will, and yet still manage to be organized largely thanks to Da Geekz and Da Chikz, but also thanks to huge input from Da Warbosses.
Army
[
]
A Loron army is called "Warboyz", or "Armyboyz". An example of how they are named is, if Propa Big Warboss Tlat'Dako is the leader, the army is named Warboyz Tlat'Dako.
Ranking System
[
]
Da Loron Rankingz

| | | | | |
| --- | --- | --- | --- | --- |
| type | Normal | Big | Propa Big | Boss |
| Da Troopaz | Troopa | Big Troopa | Propa Big Troopa | Warboss |
| Da Boomerz | Booma | Big Booma | Propa Big Booma | Boom Boss |
| Da Sneekaz | Sneaky Man | Good Sneeka | Propa Big Sneeka | Sneaky Boss |
| Da Craziez | Crazy | Very Crazy | Propa Crazy | Crazy Boss |
| Da Mekkaz | Mekka | Big Mekka | Propa Big Mekka | Mekka Boss |
| Da Tekkaz | Tekka | Big Tekka | Propa Big Tekka | Tekka Boss |
| Da Flashiez | Flashie | Big Flashie | Propa Big Flashie | Flashie Boss |
| Da Jetpak Boyz | Jetpakka | Big Jetpakka | Propa Big Jetpakka | Jetpak Boss |
| Da Freezflamaz | Freezflama | Big Freezflama | Propa Big Freezflama | Freezflam Boss |
| Da Warboss | Da War Boss | Da Big War Boss | Da Propa Big War Boss | Da Boss |
List
[
]
Fleet
[
]
The Rogue Boyz have much more powerful ships than the pre-UNO Loron did. Their ships fly using Cold Relays for FTL travel, and particle drives for sublight travel. Their ships in general use zero point energy. The ships also have albative armour for defense, and various other shielding from harm.
Vehicles
[
]
Like ships, the vehicles of Da Rogue Boyz are incredibly advanced for Loron, and run on zero point energy, as well as having albative armour.
Da Loron stoof
WEZ DA REAL LORONZ MAN DONT REED DAT UNO STOOF ITS DUM
OI BOLD MEENS SPESHUL STOOF
Da Cash

Thugz Fer Dosh

 ·

Mafia

 ·

MEH NO ONE CAREZ BOUT CASH ANYWAYZ LETS BE HOENST
Da Godz
YA SO DUM MAN ZR'AN'KARS DA ONLY REEL SIK LORON GOD AN DA OVAS BUT ROZ'TAH'FLOK IS DUM
WE IS DA REAL COOL LORONZ DA ROGUE BOYZ IS DUM DONT REED DEM
| | | |
| --- | --- | --- |
| Da Tekkno Stuff | | SHUT UP MAN WE HAS DA SAME TEKKMO STOOF AS UNOS TEKK |
Da Cash
SHUT DA HELL UP MAN LOOK HEER
Da Timez
DUMBO GO

HEER

Da Godz
YOO LOSAS ZR'AN'KAR IS DA DUMEST GOD EVA ALL DA OVA GODZ AN ROZ'TAH'FLOK IS BETTA
WE IZ DA DEFFMARCH BOYZ AN WE IS DA BEST COS WE WIV DA MALI'NAR YA DUMBOS
| | | |
| --- | --- | --- |
| Da Warz | | COMIN SOON MAN SHUT UP |
| | | |
| --- | --- | --- |
| Da Tekkno Stoof | | SHUT UP MAN WE HAS DA SAME TEKKNO STOOF AS MALI'NAR DO YA DUMBO MOST OF DA INFO IS HEER BUT OMG WE DONT NEED MUCH TEKKNO STOOF WEZ TOO POWAFUL HUR |
| | | |
| --- | --- | --- |
| Da Godz | | ALL DEM GODZ IS DUM DA ONLY REEL GODZ IS DA DEFFMARCH GODZ |
Part SporeWiki:Fiction Universe