"ALL WILL BOW BEFOR DA ROGUE BOYZ. WE IS DA SIKKEST EVA AN YOO IS ALL LOSAS. WE IS GONNA SMASH EVRYON DAT FINKS OVAWISE!!!!!!!!!"

Da Rogue Boyz are an empire of rebel Loron, scattered around the Borealis Galaxy, and with strong territory in the Ottzello Sector. It is made of up Loron, Dark Loron and Cold Loron. The Rogue Boyz were originally known as such because of their rebellion from Da Propa Big Loron Empire, until they decided they were above just a rebel group; the Rogue Boyz are called such as they feel they are 'cool peepz' and 'rebelz', breaking the boundaries of any laws.
Da Rogue Boyz, due to taking a large amount of territory quickly and instances of technology. Their policies are described as pro-Loron, as they wish the species to evolve by Loron nature, which they feel UNO is going against. The Rogue Boyz also see killig as Loron nature, which they believe justifies it.
"TA BE HONEST MAN I FOUT YOO WUS GONNA DAI IN DA FIRST WEEK IM PROPA IMPRESSED"

Da Rogue Boyz were originally a Loron gang led by the warboss called Fre'kloar. After he rebelled from Da Propa Big Loron Empire, his group expanded and conquered others, until he eventually became the only remaining rogue Loron faction of Ottzello. Fre'kloar then changed his group's name to "Da Rogue Boyz".
Early expansion
Edit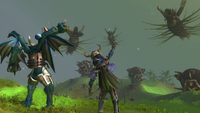 Later, Fre'kloar expanded his empire further in Da Moovment. In this war, Fre'kloar and Da Rogue Boyz had to leave the Ottzello Galaxy to move to the Milky Way Galaxy, due to the Hostile Xenoform Threat and New Kralgon Empire. In the Milky Way, he met Dark Gratz'kaoz, who had had memories of when his natural form had been killed. He wanted revenge on Fre'kloar, and Fre'kloar's boyz tried to fight him. This time, he was much stronger thanks to Nightmare Energy, and thus, couldn't be defeated.
On the way, he gained command of two Loron'Kikra - Zalk'don and Brag'klogga - but this was around the time of the Second War of Black Fog, consequently, they were gone as soon as Kolossus was defeated. More importantly, the Rogue Boyz created their first vehicles and starships, which proved useful, but weren't as strong as when their technology would later be expanded upon more. Some time after the Second Fog War, prior to Da Rampage, the Loron'Kikra were revived as the Dark Loron, and most joined Da Rogue Boyz, amplifying Da Rogue Boyz' power and influence. They also received technology from the Tralkikianoe, greatly enhancing their own.
Early conflicts of Borealis
Edit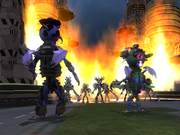 Da Rogue Boyz made their first act against UNO in Da Rampage. Being secretly given Vyro'Ralzan technology by Kolossus, the rogue Loron had the mission of dealing as much damage as possible. However, as the Tralkikianoe became active, UNO stopped fighting back, and Da Rogue Boyz decided to retreat and plan a much bigger attack in the future. After UNO was forced to leave the Sector and relocate to the Borealis Galaxy, Da Rogue Boyz attacked them, saying "hur dey mooved heer rite wher we liv".
During this time, the Rogue Loron later joined the Clash of the Crimelords, tricked by the Zaarkhun Consortium into fighting the Wranploer Legion. After the war was over, the Borealis Consortium Network was formed, and the rogue Loron turned their eyes back to UNO.
Second Borealis Galactic War
Edit
Da Rogue Boyz grew more and more during the Second Borealis Galactic War, where they got the Cold Loron on their ranks. Their ties with Zaarkhun allowed them to rival the galaxy's existing pirates, making them a major threat galaxy-wide. After Ottzello was quarantined, Da Rogue Boyz became mercenaries, calling themselves Thugz Fer Dosh. Thugz Fer Dosh continued to exist as an extension of Da Rogue Boyz, even after the Rogue Boyz became their old selves.
The Loron remained present during the Wrath of Gods, where they obtained the very first Chronoscopic Shard. However, after being defeated, they joined forces with the rest of the galaxy to defeat the defeat the Seagon Empire, the Alvino Brood, the Devourer's Chosen and the Borealis Grox Empire. When the Borealis Consortium Network took over, Da Rogue Boyz aligned to them again, but this caused them to go to a state of anarchy. Following the Consortium's defeat at the hands of the Polar Crystal Alliance and Kolossus, Da Rogue Boyz surrendered, ending their participation in the war.
Expansion
Edit
Following the Second Borealis Galactic War, the Ice Age began, with minimal participation from the Rogue Boyz. Though they did align with Billig Oltauris, they did very little during the events and mostly considered them to be a dull period.
However, immediately after, the Loron were revitalised with an event known as Da Ice Cube Trials. This led to an incident referred to as Settlin Da Score, when the Loron conquered and rebranded their arch-nemesis UNO, making them all slaves for the Loron controlled by Da Propa Big Rogue Geek.
Da Rogue Boyz' technology expanded to a point in which they were ready to wage war on the entire universe. This was known as Da Reckoning, in which they attacked Borealis, the Milky Way Galaxy, the Andromeda Galaxy, and the Cyrannus Galaxy. The war was unsuccessful, and Da Rogue Boyz, after a trial, were sanctioned and placed under martial law in which they were unable to use weapons for years and must attend re-education centres. Following this, Da Rogue Boyz stayed mostly isolated aside from fighting pirates, and from hosting Ice Cube Trial events.
Characteristics
Edit
"I TOLD YA MAN MA EMPIYA IS DA BEST DERE IS"

Like the other Loron, the rogue Loron are incredibly robust and strong. However, they do not possess The System in their bodies, causing a large disvantage against UNO's Loron. Many Loron have had a very large exposure to antimatter and other chemicals, which has made them stronger, as well as granting an immunity to the side effects of exposure to them and slightly more intelligent. This arguably puts them above UNO's Loron physically.
Behaviour
Edit
Da Rogue Boyz are often found as pirates, savages and thieves around Borealis. They are all very crazy, obsessed with war and power, and will go to any length to ensure they are the best. There are Loron such as Voa'reak who take this much further, having biological modification. The Rogue Boyz are lest expansionist than the Propa Big Loron Empire, due to their goal of destroying UNO.
Technology
Edit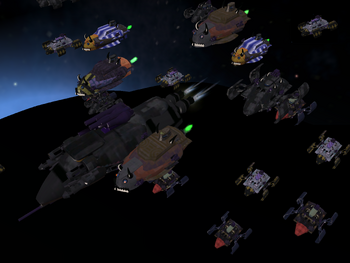 Da Rogue Boyz use more advanced technology than the Loron before they joined UNO. This includes Da Geekz. They also use Worka Drones, which can construct and repair their ships with nanobot builders; technology which was stolen from the Indoctrinate Collective. Notably, the Rogue Boyz' designs for starships and weapons are nationalised and consistent throughout, but each can look drastically different, as Loron choose to personalise their own. The reason for consistency in design is largely due to Chikz and Geekz' quality control.
They have a network of Geekz as well as Chikz working for them and their technology, led by Da Propa Big Rogue Geek, who resides on Da Propa Big Rogue Krooza. They have powerful technology, such as genetic modification and antimatter. Da Rogue Boyz also have perfect cloning technology, which was previously only used by UNO's Loron. In effect, they are 5 times as numerous as UNO's Loron now.
The Rogue Boyz have much more powerful ships than the pre-UNO Loron did. Their ships fly using Cold Relays for FTL travel, and particle drives for sublight travel. Their ships in general use zero point energy. The ships also have albative armour for defense, and various other shielding from harm. Though Rogue Boyz ship designs are consistent throughout the empire, they are not always used in their navies or fleets, as some are simply owned for personal use.
Like ships, the vehicles of Da Rogue Boyz are incredibly advanced for Loron, and run on zero point energy, as well as having albative armour.
The following are widespread Rogue Boyz weapons:
Da Rogue Boyz armies are amassed as part of Massiv Crews, a gathering of several Loron under stronger warbosses, which contain many Loron fleets and warriors. These fleets are often created with the goal of conquering worlds or destroying a certain enemy.
The Rogue Boyz armies are typically capable of causing major damage, due to the sheer strength of the Loron. Their weaponry, while primitive compared to most, isn't to be underestimated, and can cause havoc on opponents when the trigger-happy Loron fire them. The Loron's strength doesn't come in numbers, but when Loron are high in numbers, they can be devastating to anyone who allows them to get close.
An extension of Da Rogue Boyz, the Thugz Fer Dosh, are freelance mercenaries who act as a subsidiary to the Rogue Boyz. They can be hired by anyone, including the Rogue Boyz' enemies, to fight anything but other Rogue Boyz. As they have weapons stolen, provided to them by sponsors or bought by them, the Thugz' weapons aren't as standardized, and are far more powerful in many fronts.
Da Rogue Boyz's society is very typical of any Loron faction's society before they were absorbed in UNO, though they are more aggressive they are much more aggressive. Much like the other Loron, Da Rogue Boyz love rap music, pizza and their Godz, with the exception of Roz'Tah'Flok, who is considered a "stoopid dumbo". In contrast, Kolossus is seen as the patron and ultimate god of the Rogue Loron. They also control several mafias across the Ottzello Sector, making them a notable criminal network. Outside of the Ottzello Sector, they're seen more as an organization than an empire.
Rogue Boyz media and consumed media is purely Loron media, involving rap, contests of strength. For instance, listen mostly to Flo'Sikka and other rappers, particularly due to lyrical content about 'smashin stoof' and 'wat yoo gonn do', the catchy beats and his call and response shouting vocals, as well as the strong rapping verses. The Loron in the Rogue Boyz strictly follow all Loron traditions, which are upheld due to respect for them.
Individuals
Edit
"i gotta admit yor a sik boss"

These are the Propa Big Rogue Leedas.
These are the Speshul Warbosses.
Relations
Edit
Da Homiez
Edit

"YOOOOOO MATE YOR A HOMIE OF DA LORONZ. YA SHULD BE PROUD."


"eh who cares certainly not me no sir"

Da Dumbos
Edit

"who do ya fink yoo is provokin us? WANNA SLAP???"


"TIME TA KILL. TIME TA STOMP. TIME TA SHOW WAT DA ROGUE BOYZS MADE OF!!!"

"OMG MAN JUS FUKIN GO AWAY AN GO TA HELL"

"They are incredibly problematic..."

"If only they could just see that they would be so much better off in UNO...and that our cause was more righteous..."

"Seems fair enough that some Loron keep to their nature. But sometimes, something's nature not perfect. There always room for improvement."

"Useless idiotic scumbags!"

"Nothing short of arrogant and overconfident. If they continue to cause trouble, we'll be forced to exterminate them."

"Pests! Their attitude alone makes them as bad as the Wranploer!"

"IMMA KILL ALL OF YOO"

"YOO WILL JOIN US OR IMMA FORCE YOO TO"

"You will know pain eternal... or salvation in the blessing of the Shu'rimrodir... IT. IS. YOUR. CHOICE."

"Brutes."

"Curses. I am ashamed I am a Loron due to idiots like you. But you would be beneficial to my plans..."

"Gah! These stupid insects! My grand race will easiely crush these scum!"

"Okay. It's official. I LOVE THESE GUYS!"

Technobliterator had plans of creating a Loron rebellion but let OluapPlayer create them instead.
Da Rogue Boyz are owned by both Technobliterator and OluapPlayer, as both have expanded their history, characters and technology.
Da Loron stoof
WEZ DA REAL LORONZ MAN DONT REED DAT UNO STOOF ITS DUM
OI BOLD MEENS SPESHUL STOOF
WE IS DA REAL COOL LORONZ DA ROGUE BOYZ IS DUM DONT REED DEM
| | | |
| --- | --- | --- |
| Da Tekkno Stuff | | SHUT UP MAN WE HAS DA SAME TEKKMO STOOF AS UNOS TEKK |
Da Cash
SHUT DA HELL UP MAN LOOK HEER
Da Timez
DUMBO GO HEER
Da Godz
YOO LOSAS ZR'AN'KAR IS DA DUMEST GOD EVA ALL DA OVA GODZ AN ROZ'TAH'FLOK IS BETTA
WE IZ DA DEFFMARCH BOYZ AN WE IS DA BEST COS WE WIV DA MALI'NAR YA DUMBOS
| | | |
| --- | --- | --- |
| Da Warz | | COMIN SOON MAN SHUT UP |
| | | |
| --- | --- | --- |
| Da Tekkno Stoof | | SHUT UP MAN WE HAS DA SAME TEKKNO STOOF AS MALI'NAR DO YA DUMBO MOST OF DA INFO IS HEER BUT OMG WE DONT NEED MUCH TEKKNO STOOF WEZ TOO POWAFUL HUR |
| | | |
| --- | --- | --- |
| Da Godz | | ALL DEM GODZ IS DUM DA ONLY REEL GODZ IS DA DEFFMARCH GODZ |
Part SporeWiki:Fiction Universe
Colonization is currently

CLOSED




Bold indicates particularly important topics


Italic indicates fiction made by users other than Borealis's creator
Community content is available under
CC-BY-SA
unless otherwise noted.