Da Reckoning is a Historical Event

---

"Da Reckoning" is considered a historical event or a completed fiction within the

SporeWiki Fiction Universe

. You must ask its original creator if you wish to add any additional stories.
"EVENTUALLY DA PROPHECY WILL BE REALISED. DA WHOL GIGAQUADRANT WILL BELONG TO DA LORONZ. WE IS GONNA SMASH EVRYON EVA!!! HAHAHAHAHAHAHAHAHAHAHAHAHAHA!!!!!!!!!"

Da Reckoning is the name of the war affecting the entire universe, primarily taking place in the Borealis Galaxy, in which Da Rogue Boyz began a crusade to purge the entire universe of any non-Loron life. Meanwhile, the rest of the galaxy fought the Rogue Boyz in order to restore the Unified Nation of Ottzello after its destruction at the hands of the Rogue Boyz prior. The deadliest the Loron had ever been, the conflict that followed would cost the lives of many factions.
Introduction
Edit
This is a collaborative fiction in which anyone is free to participate, created by Technobliterator. It serves as the conclusion to the Rogue Saga, as well as a conclusion to the much of the story arch of the Second Borealis Galactic War - though its plot will be much less intricate, and the themes more focused on a single antagonist, the Loron. Around half of the story will be told from their perspective, while the other half told be the participants who fight against the Loron. Like a typical Loron story, the plot will be at times bizarre and comical, though there will be more grounded and serious aspects.
Participants can join by simply writing sections or being involved in the collaboratively written roleplay sections. Though this time around the Loron are a formidable foe, the war is still a fun war in which the antagonists are goofballs. Anyone is open to join, though asking first is preferred.
Participants
Edit
To join the war, you may simply add your name below with any factions you wish to be involved, and then write a section. However, the co-ordinators reserve the right to remove your addition. Though you may be involved however you wish, it is often preferred if you ask the co-ordinators first, and you must discuss before writing about major events (see Rules).
There are only a few rules, and failing to adhere to them will result in your participation being suspended.
Do not add major changes to the war without discussion and approval. These include key character deaths, large losses of fleets and destruction of named star systems and other major changes.
No belittling of factions involved. As barbaric as they are, the Loron are a very potent threat now with stronger weaponry than in the past and are very brutal fighters that are over double the size and strength of a human. Further reading can be found on their pages, but just trust us, they're not easy to defeat.
Please follow the format of the page(s). This is to keep it all neat and tidy.
As with any wiki, once you submit your edit, you give up ownership of it, retaining only an attribution to you. The co-ordinators have ultimate say over your edit, and may mercilessly redistribute it as they see fit.
Remember, at the end of the day, even though they are now a threat to intergalactic peace and their weaponry and strength in combat is not to be underestimated, the Loron are still an empire of goofy space chavs who eat pizza and listen to space rap. Which is to say: this war is ultimately about just having fun. Feel free to be as comedic as you like, and there are literally no limits on how insane your addition can be.
Da Prolog
Edit
Rogue Boyz Prolog: Alreedy A Deemun
Edit
Fre'kloar heard voices in his head. Voices crying out in terror as he tore people apart limb from limb. Voices of his own Loron as they were slaughtered by UNO, by Gratz'kaoz, by Ref'kolar. And voices screaming out as Zr'Ahgloth smashed their skulls. He could hear them as if they were happening before his eyes. And he could smell the stench of the bloodied corpses of Loron, of Gratz'kaoz' disgusting skin which hadn't showered in his entire life, of machine oil burning. He could taste the blood of his enemies, and of his own wounds. And what hurt him the most...he could taste the blood of his old mentor. As if it were still happening, right before.
Fre'kloar awoke, screaming in terror. Within Da Propa Big Rogue Krooza, he realised he'd had another nightmare. Another anxiety attack, which hit him daily as any memories of his old life resurfaced before him. He cried out as the other Loron stared at him.
Fre'kloar - gah...da dreems...DEY KEEP HAPPENIN!!!!
Grak'tona - MATE CAN YA STOP SCREEMIN LIKE A LITTEL GIRL WES TRYIN TA REST AND YOR ALL "AAAAAAAAAAAAAAAHHHH!!!!" AGEN
Fre'kloar - it haunts me...evry time...i can feel da wars all ova agen like deyr not ova...
Hagto'Zhl - fre'kloar man its been wat, eight yeers? its time ta get ova it alredy
Fre'kloar - YOO DUNNO WAT ITS LIKE. DA HORROR OF WAR...DA PAIN AFTA...I CAN STILL FEEL IT...IT STILL LINGERS!!!! no one knos our pain. da pain of TROO SOLDIAS. only grak'tona undastands. yoo kno wat its like ta lose somfin deer to yoo...yoo lost da crown.
Grak'tona - i did but i kinda got anotha one ages ago tho
Fre'kloar - gah...whai does NO ONE CARE...WHAI???? DATS IT...IM GONNA REVIVE JOL'KIAR!!!!
Rel'larutina - Because that went well last time, didn't it? I don't get your issue. You're a Loron, you're supposed to be hardwared into loving war.
Fre'kloar - I DUN CARE WAT YA SAY. IM GONNA ASK BRAG. HELL FIX DIS...I NEED JOLKIAR BAK!!!
Hagto'Zhl - NO. YOO SHUT YA MOUFF. YOR NOT GONNA DISGRACE JOLKIARS TRAININ BY REVIVIN HIM
Fre'kloar, now a Sikka Boy, got up out of bed and ran towards Brag'klogga. He lifted him out, and shook him violently waking him.
Fre'kloar - GIMME TIME POWAS!!!!! LET ME GO BAK AN SAVE JOLKIAR!!!!
Brag'klogga - WAT DA HEL??? NO DATS HERESY AGENST DA HOLY BOOKS AN ZR'AN'KAR
Fre'kloar - I DUN CARE!!!!!!
Fre'kloar tossed Brag'klogga aside, and picked up his staff. He violently shook it, until Dark Chronoscopic energy leaked out, into his right eye. His eye burst, blood from it leaking onto Brag'klogga's carpet, as he slammed his arm violently around, eventually breaking his knuckles. He screamed out in pain, as the other Loron looked at him confused.
Hagto'Zhl - wats wiv him man
Rel'larutina - ... I didn't know Loron could suffer from post-traumatic stress disorder, but I think that's what's going on.
Hagto'Zhl - eh wats dat speek loroniz spik alredy
Rel'larutina - Basically, war trauma made him crazy.
Grak'tona - HE NEEDS TA SNAP OUTTA IT BEFOR I THRO HIM IN DA DUNJUN
Hagto'Zhl - ill try an fix it
As Fre'kloar slammed his arm on the floor, Hagto'Zhl grabbed it and attempted to slam it against the wall. He kicked out violently at Hagto'Zhl, spasming, until eventually his arm was bent backwards. In pain, he slammed at once more against the floor, breaking it off, before Hagto'Zhl slammed his head repeatedly and knocked him out.
Hagto'Zhl - dat...culda gon betta
Ray'loth - IF YA ASK ME FRE'KLOARS NO LONGA FIT TA BE LEEDA. SINCE JOL'KIAR DIED HES BEEN ACTIN LIKE A TOSSA
Hagto'Zhl - dont be silly man. maybe hes gon insane but rememba who he is. rememba dis is da guy dat led us ta kill Zr'Ahgloth an make da loronz da best. we still owe him our respect.
Ray'loth - I GET DA FEELIN DA FRE'KLOAR WE KNEW IS DED. HE NEEDS TA QUIT WIV DA ATTITUDE OTHAWISE HES GONNA GET HIMSELF KILLED LIKE AN IDIOT
Striding in with her robot form actived, Da Propa Big Rogue Geek knelt down to clear up the bloody left over, and picked up Fre'kloar's huge body over her shoulders.
Rogue Geek - I do believe Rel'larutina is correct. What we need is to take Fre'kloar to a correctional facility.
Brag'klogga - we also need ta CLEEN MA CARPET HE GOT BLOOD ALL OVA IT. DATS WHER I DO MA SHAMAN RITUALS AN ALL. HAO AM I SUPPOS TA PRAY FER DA COMIN OF DA SIXTH SUNRISE LIKE DIS???
Hagto'Zhl - wait wat sixth sunrise
Brag'klogga - DID YA NEVA HEER OF DA PROFFECY OF DA SIX SUNS?
Hagto'Zhl - explain dis
Brag'klogga grabbed his staff, waved it a bit and created images in the air. They displayed well-known events of Loron history, ranging from the founding of Da Propa Big Loron Empire to the death of Zr'Ahgloth years prior.
Brag'klogga - da six suns tell of da loronz rise to powa. it all begun in da furst sun when da Propa Big Loron Empire was founded. all da otha four followin suns hav been accurate
Hagto'Zhl - yeh. founded by ME AN DEN FAKE ZRAHGLOTH STOLE IT. ok carry on
Brag'klogga - dat is part of da proffecy akshully. zr'ahgloth was DA METUL LEEDA who was rivalled by DA ROGUE LEEDA. and him dyin was da fifth sun. wat happens next is da VENOM SUN when da VENOM LEEDA, A HERO DENIED OF HIS MENTOR, DESTROYS DA FIRST GIGAQUADRANT AND MAKES DA LORONZ RULAS OF DA OONIVERS
The other Loron watched the images with awe and glee. The prophecy matched exactly with their history, and they knew that Brag'klogga's predictions had never been wrong before. Their excitement grew.
Brag'klogga - ITS ALL IN DA HOLY BOOKS. PRAISE ZR'AN'KAR
Grak'tona - da venom leeda??? I VOLUNTEER
Brag'klogga - NO DUMBO FRE'KLOAR IS DA VENOM LEEDA. DA TALES TELL HAO HE USES A SIK EYEPATCH AND ROKKIT ARM
Grak'tona - SHUT UP MAN I LOST MA MENTOR AS WELL
Grak'tona grabbed the ice crown on his head, and smashed it on the ground. He stomped on it violently, then gasped, curled up in a ball and cried.
Grak'tona - NUUUUUU MA CROWN!!!!!! SEE I LOST SOMFIN TOO. IM DA VENOM LEEDA
Brag'klogga - idiot da venom leeda is da same as da rogue leeda. da one who founded da rogue boyz. DATS FRE'KLOAR. HES GONNA LEED US TA GALAKTIK DOMINASHUN... WHEN HE STOPS BEIN A STOOPID EMO
Grak'tona - den...den i cant be da king of evryfin???? den ma DAD WAS LYIN WEN HE SED I WULD BE DA ULTIMAT KING?????? no...nooo dis cant be happenin...DIS CANT BE HAPPENIN!!!!!!
Rel'larutina - For starters, Loron can't have living parents. Second of all, shut up already.
Grak'tona sobbed, then stood up, and ran back sobbing to his room.
Hagto'Zhl - wow. jus wow man.
Drizz'pyrokirk - i legit fink hes managin ta get worse every time he opens his mouff
Hagto'Zhl - ok so da important stuff. so bragklogga basically now fre'kloar is gonna be da one ta leed us to anotha victory yeh?
Brag'klogga - yeh. dis is da part of loron history wher we stomp da entire oonivers. den da godz com and make us a noo oonivers and we stomp dat one next
Hagto'Zhl - hold on hold on. i got vague memories of dis story. wat about dat otha fing dat can happen?
Brag'klogga - ... wat otha fing?
Hagto'Zhl - uh i dunno...somfin about peepz gettin naked. wait nevamind im gettin mixed up wiv da Annihilashon wen da Obvia'Atra weirdos got naked whil da oonivers died?
Brag'klogga - OH I REMEMBA DAT. DA HOLY BOOKS SAY DA LORON GODZ GOT SUM POPCORN AND LAFFED AS DEY WATCHED DEM ALL DAI
Hagto'Zhl - oh ok SOUNDS SIK MAN
Brag'klogga - but yeh. wes supposed to DOMINATE DA OONIVERS next. so we shuld probs prepare fer dat
Rogue Geek - I find it alarming how accurate your theories have been in the past. Except for that one time when you "predicted" that you would get a nice pair of socks for "krissmass" last year and only ended up with a sack of coal.
Brag'klogga - its not theories. its all in da HOLY BOOKS such as da GANGSTAPEDIA. dese books hav been written by da godz and hav been wiv da loronz since befor we even invented pizza
Rogue Geek - I find that incredibly difficult to believe. Forgive me if I do not buy that any Loron ever knew how to read a book, let alone write it and claim it was written by gods.
Brag'klogga - yoo would not undastand cus yor a machine. a FREAKY LOOKIN MACHINE WAT DA HELL. regardless ITS GONNA HAPPEN
Rel'larutina - Yeah, just like the apocalypse was going to kill everyone and we would be saved by gypsy ninja pirate robot zombies. Riiiiight.
Brag'klogga - MAN YOOS BLIND. DAT TOTALLY HAPPENED BAK WHEN FRE'KLOAR KILLED GRATZ
Rel'larutina - I really, really doubt that these books of yours are what you think they are. In fact, I'm fairly positive you actually made up this story in your head and just conveniently matched it to what went on.
Brag'klogga - denyin da holy books of zr'an'kar... DIS DAYS COMIN!!!!!!!!
Hagto'Zhl - yanno i havent spoken ta dad in a long time. brag is he ok?
Brag'klogga - cours man zr'an'kar is watchin ova us at all times. i did notice hes been a bit quiet lately BUT HES DA BEST GOD EVA SO NO WORRIES
Late to wake up, Kal'kuir dragged himself out of bed and walked over to the group.
Kal'kuir - man wat did i miss
Ray'loth - fre'kloar was bein a losa so hagto broke his arm. oh btw wes gonna rule da oonivers soon apparently
Kal'kuir - hm ok
The Rogue Geek walked over to Kal'kuir, dropping Fre'kloar in front of him, then put her arm around him to mock him.
Rogue Geek - Want to go fix up Fre'kloar, darling?
Kal'kuir - I CULD GIV HIM A SIK EYEPATCH AND ROKKIT ARM but can ya stop callin me darlin in front da othas
Rogue Geek - You programmed me to, sugar!
Hagto'Zhl - eitha way man i got only one queston. brag WHAI DID YA WAIT UNTIL NOW TA TELL US????
Brag'klogga - urm it was a combinashun of me waitin fer it ta confirm itself... and i kinda forgot hur
Hagto'Zhl - well brag fer bein incompetent, an kalkuir fer bein a perv, YOO TWO JUS ERNED YASELF A WEEK IN DA BRIG.
Brag'klogga - ZR'AN'KAR DENIES DA BRIG
Kal'kuir - OH COME ON MAN I JUS WOKE UP DATS NOT FAIR
Hagto'Zhl - yoo fix up frekloar. an Rogue Geek, take him to da mental hospital an try an get him stable. i dunt fink eitha way wat happened heer was an accident. also someone...take care of brag.
Voa'reak - WHO PUT YOO IN CHARGE MAN
Hagto'Zhl - ya fink anyon else is up fer da job?
Ray'loth - im ok wiv dis
Hagto'Zhl - ok evryon prepar fer war an stoof. we got a meetin nex week. also btw brag shuld we tell fre'kloar da prophecy or let him work it out on his own
Brag'klogga - I WILL. HE MUST PREPARE HIMSELF FER DA GODZ DEMAND DA RECKONIN OF DA OONIVERS!!!!
---
A week later, the Loron, all shaken by the events of the night, got together. Many of them were nervous and fearful of Fre'kloar, having no idea how sane he was now, but recognising that he was prophesised to carry them to victory once more. With custom made robotic eye and arm, Fre'kloar stood towering over them, imposing, but he was no longer the bright, optimistic leader they knew him as. Still intimidating, if not more so, but seemingly apathetic to the feelings of any of them. Hagto'Zhl stood by his side, while Grak'tona stood distant from them, with no crown on his head. Rel'larutina sighed at what a mess they were.
Rel'larutina - Look, guys. We literally achieved the victory no one thought we could. We were the winners, we triumped over our greatest evil, and this is what we've become? Bitter and scared for the future? Come on, guys, someone lighten up!
Brag'klogga - WE CANT FULFILL DA SIXTH SUNRISE WIV DIS ATTITUDE MAN WATS UP WIV YAS
Hagto'Zhl - ENUFF. let da boss speek.
Fre'kloar growled, as he shook his robotic arm, and spoke, but it was not his loud and beaming voice filling the room, but a quieter, growling voice.
Fre'kloar - we all lost somfin ta war. da oonivers finks we is all freeks. dat wes all stoopid monstas dat cant do any reel damag. but we destroyed deir preshus UNO. dey fink were all monstas, so its time fer us ta get reveng on dem.
Knar'gank - dats a bit mor like da fre'kloar we kno
Fre'kloar - we came dis far. we survived da horrors of war. dey brought war ta us, so well bring it ta dem.
Rogue Geek - Actually, every war recorded in Rogue Boyz history has begun by Loron with unprovoked atta-
Fre'kloar - SHUT UP. yoo dont kno da pain. i can still feel ma eye an ma arm missin. i can still feel da wars i was in...an still heer da voice of ma mentor. wes all monstas. im alredy a deemun.
Hagto'Zhl - ... oi hold on dats ma job
Grak'tona - frekloars rite. weve all lost somfin. i lost ma crown. i can still feel da icy...cold...amazin crown on ma hed...its all gon. destroyed by da losas in da oonivers.
Rogue Geek - It was destroyed by you in a hissy fit, actually.
Grak'tona - SHUT UP. it was all deir fault. DEIR FAULT. we need ta make dem pay.
Kal'kuir - i believ da mediks call dat feeling a "ghostie pain". it gives ya a scare when yor not lookin. also WAR IS SIK WAT YA ON ABOUT
Rel'larutina - Don't try using logic on them. They're being melodramatic.
Hagto'Zhl - i meen i didnt reely loos anyfin but killin all da ooniverse? sounds FUN
Fre'kloar looked out towards his window, as he punched the wall in rage, then slowly pulled his arm away, and turned back to them.
Fre'kloar - its time fer da oonivers ta PAY. lets make dem SUFFA as WE SUFFAD. we killed deir UNO...NOW LETS KILL DEIR MOMS. DEIR ENTIR PLANETS. DEIR EVRYFIN. WES GONNA MAKE DEM PAY. no moar just cause. no moar good guyz. no moar nuffin...JUS LORONZ KILL EVRYON. DONT DISCRIMINAT. IF DEIR NOT A LORON, AN DEIR NAME IS NOT "BILLIG", KILL DEM.
Ray'loth - BUT DATS JUS HAO ITS ALWAYS BEEN IS YOO SERIUS
Hagto'Zhl - man jus go along wiv it. we get ta kill dumbos dats wat mattas
Ray'loth - an dey say im a crazy psycho
Fre'kloar - lets giv da oonivers HELL. KILL DEM ALL FER MOCKIN US. FER LAFFIN AT US. bak wen we taunted dem on da UDB, we sed we was gonna kill da Politically Correct Asskissas first. SO LETS KILL DEM FIRST. BUT NOT JUS DEM. NO SINGLE TARGET. GO TA EVRY GALAXY. KILL DEM TA PROOV WE AINT PLAYIN NO MOAR.
Rogue Geek - I have prepared fleets largely than we have ever had before. We have an almost infinite number of factories and breed Loron at rapid rates. What Fre'kloar is suggesting is not even that unreasonable.
Hagto'Zhl - ok den LETS GO KILL GEEZAS AGEN
Fre'kloar - no...first i need ta giv yoo anotha speech about ma SUFFERIN. MA ANGST.
Rel'larutina - Yeah, no, no you really don't. Okay, Leedas, you know what to do! Go out and send your fleets to kill whoever you want! Meeting closed.
Polar Crystal Alliance Prologue: Facing the Horde
Edit
Having called an urgent meeting, Tuolog entered the council chambers of the Polar Crystal Alliance on Hyperborea. His facial expression was one of fear, though he strode towards his place with a certain confidence as if he was both ready for what was to come, and terrified at the same time. Durzhan, the only other surviving high-ranking member of the Unified Nation, stood outside the room, unable to enter, but still wanting to hear what was going on. Tuolog took his place, faced the other councillors, waited for silence, and then spoke up.
Tuolog - Councillors, I bring grave news. I knew that it not be long before Da Rogue Boyz begin their conquest of rest of the galaxy. But I fear they willing to do damage outside of Borealis as well. And I fear that their day of reckoning approaches.
Xeron - Why we have waited for this long to do something about it, I don't understand. It's obviously time to put the Alliance on maximum alert.
Kithworto - I would alert the Aegis Guard. Hyperborea must be fortified.
Arkarixus, warmaster of the Alliance and ruler of its military affairs, descended from his office as he heard the conversation.
Arkarixus - The Aegis Guard is not enough. It is time to mobilize the entire Alliance. The Loron must be exterminated.
Augustex - I concur. These criminal filth have marred our galaxy for too long.
Xeron - Indeed! We wage war on the Loron and force them into submission, like we should have done already.
Tuolog - I never understood the willingness for genocide in this Alliance, but alas. The Loron fleet should not be underestimated. They are far, far beyond what we seen in the past.
Kithworto - Genocide aside. The Loron are now threatening the lives of this galaxy.
Semirian - It is not a matter of willingly commiting the genocide of races. The Loron are beyond reasoning and will destroy us without a second thought. Responding in kind is the only option.
Tuolog - I will agree here. The Refuge of Ottzello is...limited in capacity, to say least. I think however our duty extends beyond mobilizing our forces. I have word from spies that the Loron developed travel to other galaxies through wormholes created by their "Rogue Geek".
Augustex - If that is the case, we must rally our allies too.
Tuolog - Yes. They attack the entire Gigaquadrant. Or at least, they attack four galaxies in it - this being one. If our spies, and my understanding of Loron, is correct, they aim for the homeworld of whoever they declared their enemy. We can assume that homeworld in this case is Hyperborea.
Kithworto - I will warn Andromeda of this. In turn, I will order the wormholes within the Republic's territories to be closed. I will not give the Loron the benefit of moving through them.
Rylarien - Not all of the Alliance can send help to outside of Borealis. However, we will warn our allies of the coming threat regardless.
Augustex - I will contact our allies in the Mou'Cyran Accords and the Pax Infinitus Armada. The Loron represent a common threat to us all.
Tuolog - I have plan to defeat Loron. I able to bring in an outsider to this discussion?
Kithworto - Go ahead.
Tuolog nodded, and signalled to Durzhan to enter. Durzhan flew in, and took Tuolog's side.
Durzhan - My plan, mostly, has worked. The leader of the Loron suffers from post-traumatic stress disorder, which has kept him from mobilizing until now. Of course, now he is far deadlier than ever, but he is insane enough that he is very likely to turn on his own men.
Kithworto - You speak to a Council with myself, with Arkarixus, with Tuolog. We have no need to fear their leaders.
Durzhan - This will be important later.
Xeron - You continue to tell us we should not underestimate the Loron. But you have yet to tell us what we should be afraid of that we do not know already.
Durzhan turned towards Xeron, making a more concerned face, while Tuolog became more uneasy, as if fear was beginning to surface.
Durzhan - The Unified Nation of Ottzello was developing a new technology prior to its destruction. Based on technology previously seen in the Nanohorde, and its own brand of nanotechnology, with self replicating nanomachines and a mass use of quantum replicators...I realise you are not scientists, so I will give you the short of it: it can cover a planet in nanomachines and convert it into star fleets. The mass of a planet averages 6 times 1024 kg, and the average Loron Sik Ship is 2 million tonnes, so by the time the planet is drained to the core, that's approximately 3 quadrillion Sik Ships.
Augustex - And, how long would that take, may I ask?
Durzhan - Going by a standard Hyperborean day...two days.
Semirian - By the ancestors...not even the Kormacvar possessed such technology.
Tuolog - Keep in mind that it extend beyond these planets. Should they harvest a star, the average sized star could net them over a sextillion. And this technology in the Loron hands now.
Xeron - Why did you not finish it?
Tuolog - Firstly, because draining a planet of resources like that in that rate is immoral. More importantly, I see vision of dark future for UNO should such technology work. UNO's AIs become power mad, and we transform into something worse...I not want that for universe. But Loron not care about that. They only want to wage war.
Arkarixus - Loron strength always has been in numbers. And with how many worlds they took from you, their resources must be unlimited.
Rylarien - Do not tell me they have an unlimited supply of soldiers too.
Durzhan - Quantum replicators can create any element, but they cannot create other cells. But all that is required to grow life is energy. And they can drain any element and transform it into energy, if not simply drain that of a star. And there's the Grid, and our Kralgon cloning technology.
Arkarixus shook his fist and slammed it against the wall. He spat, and then turned to Tuolog.
Arkarixus - You made a wise decision to not finish this technology. But it matters not how many there are. They're like paper.
Kithworto - With weaponry stronger than UNO. The Loron's resources are the closest thing to unlimited. But they must have a weakness, they always do.
Durzhan - And they do. Their leaders. These Loron are rigid about their tradition, including that in which a successor may only succeed a leader by defeating him. When someone else destroys the leader, they are confused and unsure who to take orders from. They will be forced to retreat. And when they are down to their last leader, we finish them.
Xeron - I hate to admit it, but killing Loron is no easy feat, let alone their leaders. Their leaders are practically godlike soldiers, it would take entire armies to destroy them, and we fear we cannot beat them at the numbers game. Arkarixus, can you face them head on?
Arkarixus shook his head, and turned away.
Arkarixus - When the day comes that the Loron stand at our days ready to burst them open and rip our heads from our spines, I will face them, and send them where they belong: out of the airlock, choking for breath and freezing to death in the cold embrace of space, where they are more welcomed than anywhere else. But I have business to attend to until then...a people to watch over.
Durzhan - We will do our best. Their leaders will be spread across the galaxy. We will cut this invasion off at its head, and the body will not function.
Tuolog - I only pray this works. Durzhan, you sure that our current iteration of the plan better than last?
Durzhan - I have seen all possible outcomes written in every timeline. I am certain the way I altered it this time will work. I can merely pray the universe does not loose too many more than it already has.
Six Suns, Four Fronts
Edit
Screams, anguish, terror. The screams of the victims at his own bloodied hands, the anguish of himself after receiving blow after blow from the foes he had fought, and the terror of him and his crew as they faced against Gratz'kaoz. These were the things that Fre'kloar saw. The nightmares anyone would suffer at the hands of Shu'rimrodir were the reality that Fre'kloar lived in every day. Screams, anguish, terror.
But the images he normally saw disappeared, and cleared apart. Instead, Fre'kloar was looking at Jol'kiar, sitting across from him.
Fre'kloar - jolkiar?...JOLKIAR MAN I NEED YOO
Jol'kiar - frekloar...hagtozhl was rite. afta zrahgloth, yoo still hav one moar enemy.
Fre'kloar - MAN DONT DO DIS TA ME IM NOT GONNA FITE YOO
Jol'kiar - yoo hav one moar enemy...but its not me...
Fre'kloar was puzzled, and he ran towards Jol'kiar for what seemed like an eternity, and grabbed him.
Fre'kloar - WHO MAN IM NOT GONNA FITE YOO
Jol'kiar - we always finish da misshons togetha yeh?
Fre'kloar - NO NOT DAT
Jol'kiar - lets finish dis...togetha man
Fre'kloar found himself unable to control his arms. He slammed his fist repeatedly into Jol'kiar's skin, eventually cracking it, and pulling his blood-coated arm out of Jol'kiar's pierced stomach. The arm slowly transformed into the rocket arm Jol'kiar had built for him, as he found his skin rapidly changing into the shade of blue of his new Sikka Boy appearance. He was back to normal, and found he was staring against the window of the Krooza, with the other Leedas staring at him. He'd had another anxiety attack.
---
Fre'kloar stood up in front of the Leedas, Poshiez and Warbosses. It was the day he had announced that they were going to begin their assault.
Fre'kloar - fanks to da geek heer, we hav unlimited resources dat wes gonna take frum unos world. we can rob whol star systems wiv it. evry planet, asteroid and otha piece of rok gets turned into shipz fer da bosses ta kill peepz wiv. we is unstoppable.
Voa'reak - LORONZ NEVA LOOS
Traz'raka - eyyy maybe som of dat mehtul can build me a betta Lil' Homie
Zalk'don - da only problem wiv dis is turnin da planet into mehtul ruins da fun of blowin it up. BUT I CAN TURN DEM INTO BOOMSTIKZ INSTED HURHURHUR
Fre'kloar - but in orda ta truly take ova da oonivers, we need a plan.
Naktor'zak - I VOTE WE STORM DEM WIV TANKZ
Gol'thabex - i vote we turn dem into cash fer me
Ray'loth - MAN FINK ABOUT SOMFIN ELS FER ONCE
Grak'tona - oh we hav big plans fer dem...BUT WES GONNA MAKE DEM BUILD CROWNS AN THRONES FER ME AN ENSLAV DEM
Voa'reak - OH MA DAYZ YOR AN IDIOT MAN WE SHULD DO BETTA DAN DAT
As the Loron bickered amongst themselves, Hagto'Zhl fired his Blasta into the air, silencing them. He gestured towards Fre'kloar to continue speaking.
Fre'kloar - i hav a new orda. becuz wes so big, wes gonna attak all da big galaxies, take out da biggest empiya deir or da one we hate most, an blow it up, den turn deir peepz inta slaves, an deir planets into boomstikz. dey cant stop us once we get goin.
Grak'tona - dats a good plan. wats da four galaxies? i dont kno da names of any of dem
Rel'larutina - You...at least know the name of Borealis, right?
Grak'tona - no i dont but IT SOUNDS BORIN AN STOOPID AN SOUNDS LIKE ITS FULL OF NOT WORTHY PEEPZ
Rel'larutina - You're...in Borealis.
Grak'tona - oh. well at least i was rite about da last part
Rogue Geek - Of the first three star systems we take over in the new galaxy, two of those will be drained of resources and turned into factories, to produce at least a few sextillion ships for a grander fleet. These can be each of the four front for our assault.
Brag'klogga - jus as da prophecy says. da six suns eech hav four different stages befor dey rise....DIS DAYS COMIN!!!!!
Fre'kloar displayed a map in front of them on a large board, and pulled out his crayons to begin drawing with his metal arm. He immediately put a cross on Borealis on the map, specifically, on Hyperborea.
Fre'kloar - dats da one im goin for. im gonna take out da whol PCA by destroyin deir main planet den comin fer da rest of dem. speshully da Zoles den da Kormacvar Legacy.
Hagto'Zhl - four galaxies dere. frekloar got one. so now its time fer da otha three. i got som unfinished bizness wiv da Dumbo Combinashon of Pizza. so ill go to da Milky Way Galaxy an destroy Mirenton. i bagsy deir.
Grak'tona - dat one dere...
Grak'tona pointed at the Cyrannus Galaxy.
Grak'tona - FULL OF UNWORTHY HAT PEEPZ. IM GONNA GO DEIR.
Rel'larutina - Pfft. As if you'd even know how to get to Cyrannus. It can only be accessed by wormholes, you putz.
Grak'tona - SHUT UP MAN...YOO DONT KNO DA PAIN...DA PAIN OF LOSIN!!!!!
Rel'larutina - I'm going to go look for a wormhole and then send my front there. We'll take out the New Cyrannian Republic, and presumably, their allies, the Rambo Nation.
Grak'tona - ill go fer da unworthy heretikz i guess. som place in da Andromeda Galaxy.
Rogue Geek - Wow, that was surprisingly easily agreed upon.
Fre'kloar - da oonivers will kno we is BAK. an we is BADDA DAN EVA BEFOR. i cant wait ta kill da borealis peepz.
Traz'raka - yo queston. wher do we go? an wat happens if one of yoo losas get stomped?
Fre'kloar - LORONZ NEVA LOOS. but i guess if we did den yood all jus com bak an join da borealis front. also da leedas will decide which warbosses an poshiez ta take soon.
Gol'thabex - only goin if cash is involved. jus sayin.
Da Borealis Front
Edit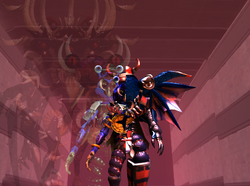 Led by Fre'kloar, with help from Voa'reak and Naktor'zak, the strongest front got off to a strong start. Fre'kloar began sending his men to take over and destroy other planets, while he conquered planet Garilia, and defeated the Zoles captain Vavtrius single-handedly, despite suffering from an anxiety attack at the same time.
The Indoctrinate Collective got involved immediately after, with Jerkon declaring to lead the attack against the Loron. Meanwhile, the Polar Crystal Alliance prepared its elite Penumbra Unit to assassinate the Leedas and attempt to slow their momentum. Fre'kloar didn't slow down, as he fought the Empire of the Murgur. But after he defeated the Murgur captain Vruka, he immediately went on a hypocritical tirade against his own men. Fre'kloar saw his old nemesis, Zr'Ahgloth, take the place of his own reflection.
Later, a Loron from the Dominion of the Xhodocto known as Mad'Hatta got involved. Claiming to be sent by Santorakh, the other Loron reluctantly welcomed him after he proved his strength against the Rovegar Matriarchy in battle. The Penumbra assassins then caught up with Fre'kloar, as they sent Fed'koppa to fight him. After a long battle, Fed'koppa was eventually bested, but Fre'kloar was driven further and further into a fit of rage. He took it out on his own men, killing them while laughing hysterically. The next reflection of himself he saw was not his own, but Ref'kolar, another old nemesis.
Shortly after, the three Loron conquered another world, but met up with an old ally, Billig Oltauris. Praising their work as beneficial to his business, he offered them complementary weapons and unofficial support as long as they kept up their war. But now the Loron began to meet their match. Naktor'zak attempted to conquer another world, but found that the PCA had sprung a trap for him; they had projected a hologram fooling him into believing it was a PCA colony, and bombarded the world from orbit. Da Propa Big Rogue Tank was almost destroyed, before he was narrowly able to escape. Voa'reak met a similar fate, this time against Jerkon of the Indoctrinate Collective. Jerkon easily defeated Voa'reak and his men, but once again, Voa'reak was able to escape on the brink of death.
Haunted by the guilt as he had almost sent his men off to die, Fre'kloar became haunted by new visions, as the unconscious manifested itself in the form of a dream of him on Groodrub, with a monstrous beast he could not recognise, but visibly in pain and seemingly taking the form of each of his three old nemeses, almost slaughtered him before he awoke from the nightmare. And finally, Kitanúniama of the Kicath took on Mad'Hatta, and after an epic struggle, defeated him, and though he barely survived, he did not return to Da Rogue Boyz.
Fre'kloar was filled with visions that haunted him further, no longer sympathetic to the feelings of his own men, and full of immense frustration. When Hagto'Zhl, Rel'larutina and Grak'tona all returned, Fre'kloar almost killed the Hagto'Zhl and Grak'tona, while Rel'larutina's remote Norol form was destroyed. He was unable to land a killing blow on the Loron, but each of them was either paralyzed or knocked into a coma. A final vision returned to haunt him. The next reflection he saw was of Gratz'kaoz, his family rival, arch-nemesis and the most hated Loron of all. He had a brief smug to himself, as he had finally become as powerful and as feared as Gratz'kaoz, but fell once again into a fit as he struggled to reconcile with what he had become.
Da Milky Way Front
Edit
Front yet to be concluded.
Da Cyrannus Front
Edit
Front yet to be concluded.
Da Andromeda Front
Edit
Front yet to be concluded.
Da Final Front
Edit
Da Boss We Knew Is Ded
Edit
While Fre'kloar was off in his own apartment, Rel'larutina in her new remote form called a secret meeting with all of the Warbosses and the Poshiez. Each of them lacked their enthusiasm at the beginning of the war. Now they were all trembling in fear, some of them filled with remorse for what may just have been the loss of Hagto'Zhl and Grak'tona. This time, they weren't even going to question taking orders from Rel'larutina. It wasn't the time to.
Though the Borealis front continued smoothly, even despite its slowed momentum, many of the Loron had their doubts about invading Hyperborea. They almost wanted to simply surrender, they were that broken.
Ray'loth - oi man...ar hagto an grak...gonna make it? ar dey gonna liv?
Voa'reak - honestly i dunt kno anymor. i fink wes gonna be next
Rel'larutina - The medics say they're still breathing and there's a chance we can save them. But they won't be fit to fight for months even if we can save them.
Brag'klogga - DIS IS SUCH NONSENSE. DA HOLY BOOKS DUNT MENTION DA VENOM LEEDA BEIN SUCH A TOSSA
Kal'kuir - BY MA CALCULASHONS DA HOLY BOOKS WAS WRONG. SORRY MAN BUT WE GOTTA FACE DA FACTS. DERES NO WAY DIS IS DA PROPHECY
Brag'klogga - BUT... BUT EVERYFIN ELSE WAS RITE. AND DA LORON GODZ NEVA LAI
Each of them was tempted to smack Brag'klogga, and blame him, but for once, they knew not to reduce themselves to Fre'kloar's level and continue in-fighting. For the first time in many of their lives, it was time to co-operate.
Ray'loth - yanno maybe da prophecy wasnt wrong. maybe we jus interpreted it wrong. maybe...MAYBE DA VENOM LEEDA WAS SOMUN ELS. YEH. VENOM ZR'AHGLOTH, A LEEDA DENIED OF HIS DAD. HAGTOZHL IS DA VENOM LEEDA
Zalk'don - eh. zr'ahgloth, venom zr'ahgloth... YANNO DAT MAKES SENSE
Brag'klogga - FAIFF CRISIS!!!!!!
Drizz'pyrokirk - i dunno about dat. maybe dere was anotha venom leeda. maybe yeh denied of his dad but hes also lost somfin. lost HIS KINGDOM. VENOM GRAK'TONA, A LEEDA DENIED OF HIS KINGDOM. GRAKTONA IS DA VENOM LEEDA.
Ray'loth - ... nah
Drizz'pyrokirk - LOL WHO AM I KIDDIN COURS NOT
Rogue Geek - If I may interrupt.
Da Propa Big Rogue Geek's robotic form presented the Loron with some holograms as she spoke to them.
Rogue Geek - While everyone was moping around, I was looking into this prophecy of six suns. By looking through the records of the Loron, which are nearly nonexistant, I came to the conclusion Brag'klogga only got one part of it right. His prophecy is incomplete.
Kal'kuir - MAN MA GIRLFREND IS DA BEST
Ray'loth - MINES STILL BETTA
Kal'kuir - YORS IS DED IDIOT
Rogue Geek - Ahem. Anyway, there is another half to this prophecy. It speaks of something called Rogue Sin, which takes place after what Brag'klogga has been chanting about lately.
Naktor'zak - rogue sin...wait so yor sayin dat da sixth sun happens or dis fing replaces it?
Rogue Geek - The records are vague at best, so I'm not sure. But I could decipher part of it. "From the sins of the Loron, that which represents all that is wrong is born, and the universe will never be the same".
Rel'larutina - So we did misinterpret it. How did you find these records, may I ask?
Rogue Geek - Now that we control UNO, I could take a good look at Groodrub and its history. And it included the original copy of this prophecy, which was a book someone apparently dropped pizza in and ruined all the last pages.
Knar'gank - can i assassinat whoeva did dat
Rogue Geek - They've been dead for several thousand years now, so no.
Knar'gank - ok. can i go bak in time an assassinat him den
Rogue Geek - No.
Knar'gank - yor no fun
Rogue Geek - I can't determine what'll happen to Fre'kloar next, but I see no reason for the invasion of Hyperborea to not happen.
Rel'larutina - In worst case scenario, I can lead it. We've got all the warbosses with us, so we should be fine. What's the worst that'll happen?
Rogue Geek - The Alliance kills us all.
Rel'larutina - Good point.
At that moment, Fre'kloar burst the door open and walked straight to the front of the bridge, not even noticing the other warbosses were there, and later, passively acknowledging them and Rel'larutina and doing nothing else.
Fre'kloar - OI GEEK. HOW LONG TIL WE GET TA HYPERBOREA
Rogue Geek - We are about to arrive.
Fre'kloar - GOOD
Traz'raka - urm. which of us is goin dere?
Fre'kloar - PFFFT. NON OF YOO. EVRYUN OF YOO IS A FAILUR EXCEPT FER ME. IM GOIN ALON
Traz'raka - fine den i didnt want to anyway
Gol'thabex - look man. i dunt car about money anymoar. DIS IS UNLORONLY. YOO CANT JUS TAKE NONE OF YA CROO WIV YOO TO DA MOS IMPORTANT BATTL
Fre'kloar's working eye turned sharply towards Gol'thabex as he glared, and gritted his teeth, before speaking.
Fre'kloar - YOO WANNA END UP IN DA HOSPITAL WIV GRAKTONA AN HAGTO DEN? WHO ELS VOLUNTEERS TA END UP DERE?
Gol'thabex backed away while all the others remained silent.
Fre'kloar - DATS WAT I THOUGHT. IM GONNA GO DESTROY DA PLACE AN DEN DA REST OF DA GALAXY. DEN IM GONNA KILL YOO ALL FER FAILIN.
Fre'kloar stormed out as he began to ready his men to invade the planet. He didn't even give the orders for his fleet to fire upon the world, simply assuming they would know to do that immediately.
Gol'thabex - look man he cant do dat. dis is wrong. dis guy cant be our leeda anymoar
Ray'loth - i warned everyun but NO ONE LISSENED
Knar'gank - man i miss jolkiar. he culdve fixed dis
Rel'larutina - Guys, you wouldn't want to fight Gratz'kaoz again, would you? Because that's kinda what we're dealing with here.
Brag'klogga - everyfin is wrong. da frekloar we knew isnt heer anymor. maybe its time fer us ta jus leg away frum him
Rel'larutina - That's one way to go about it. Although...
Rel'larutina turned towards Knar'gank, as she began to grin.
Rel'larutina - What was that you were saying about going back in time and assassinating again?
Da Defeet
Edit
Fre'kloar's fleet immediately engaged the defenses of the Aegis Guard as he launched his assault at the Polar Crystal Alliance's capital of Hyperborea. His target was the Council Tower, at the base of Arm One, and to get there, he would have to get past the best defenses the Alliance had to offer. As he made his way to the surface, he also noticed the Indoctrinate Collective had arrived to aid the fleets in defeating the Loron, but soon enough, the Legislatus District of Arm One was turned into a battlefield between the armies of the Aegis Guard and Fre'kloar's Loron army.
Fre'kloar and the other Loron, many of whom were the elite Thugz Fer Dosh mercenaries, swarmed the place, and eve though they weren't used to dealing with the cannon fire that the Aegis Guard were dishing at them, they still, as usual, had the numbers advantage. And beyond that, even the toughest metal and the strongest shields could not prevent the strength of the hulking Loron, and particularly the maniacal Fre'kloar in a frenzy, for very long. Fre'kloar was beginning to overpower them.
But the numbers of his men were dwindling. As more reinforcements came from both sides, it soon became clearer that neither force had anyone who could last long against the punishment they were dealing with, other than Fre'kloar.
Fre'kloar - AT DIS POINT I DUNT CARE ABOUT DIS STOOPID PLANET OR HOW IT IMPORTANT IT IS. I JUS WANNA SMASH EVERYFIN!!!!! MAKE DA WHOL OONIVERS KNO DA GHOSTIE PAIN!!!!!!!!
Shots were fired at Fre'kloar from the Aegis Guard forces as a Niaka combat suit and a Loron in uniform emerged from the top of a ruinde building which had been destroyed in the battle. It was a pair of Penumbrans: Xevern and Fed'koppa, two of the Unit's members who had interfered with Fre'kloar's Borealis front before.
Xevern - There he is! The Loron leader!
Fed'koppa - YOR UNDA ARREST!!!!!!
Fre'kloar - IVE HAD ENUFF OF DEELIN WIV YOO DUMBOS. OI GEEK
The Rogue Geek sent down several different pods, each of which became invisible. She was using reverse engineered Kralgon Pod technology to spawn miniature factories which sucked the resources from the station. Several different Loron Smashas, each controlled by the Geek, spawned, and two larger ones were sent to deal with Xevern and Fed'koppa. The Penumbrans coordinated the Aegis Guard into firing at the Smashas and Pods, serving as commanders for the army against the Loron horde. The Unit and the Guard did not usually work together, but they were well known for their exceptional experience, which made them valuable leaders.
Fre'kloar saw that the numbers of his horde were dwindling, and the two larger Smashas sent to take care of the Penumbrans were defeated. Enraged, he fired his rocket arm at each of them, knocking them to the floor, before charging towards them. He jumped on top of Xevern's suit and brought it to the floor, continually smashing it with his metallic fist, ready to pull the Niaka out of it with his biological one. But Fed'koppa fired at Fre'kloar before he could, expecting it to kill him. It did not, and it barely pierced Fre'kloar's shield. He turned and growled at Fed'koppa, before charging towards him himself and knocking him to the floor, then grasping his throat and attempting to choke him.
Fre'kloar - YOR A WASTE OF SPACE. DIS WHOL PLANET IS A WASTE OF SPACE. EVRFIN MUS BURN!!!!!!!!!!!
Xevern - Damnit...!
Fed'koppa - G-GO TA HELL YA LUNATIC!!!
As Fre'kloar was about to deal a final blow, he looked at his men. He saw that even the Thugz were being slaughtered. Now that reinforcements continually arrived, and more and more of his own men began to turn away from Fre'kloar, he no longer had the numbers advantage. But it was an insulting feeling that he had never known before: many of his own men did not believe he would succeed. No, it wasn't just that. They didn't want him to. He wasn't sure if to break down and cry, but instead, his anger propelled him as he dealt one blow to Fed'koppa's head, incapacitating him.
Xevern cowered inside his armor, but before Fre'kloar could go for him next, a loud, echoing, ethereal sound was heard across the battlefield. A roar. At the distance, a green flame appeared, a tall man inside of it as he slowly marched at the Loron army. He clenched his fist before throwing it up, and many Loron suddenly found themselves launched at Hyperborea's stratosphere faster than their eyes could register.
Arkarixus was here. His eyes burned in anger, creating an aura of essence around him as he slowly walked at Fre'kloar's direction.
Arkarixus - Long have I waited for this day.
Fre'kloar - YOO AGEN. MY POWAS HAV TRIPLED SINCE LAST TIME WE FOUGHT. IVE NEVA FOUGHT A WORFY OPPONENT IN AGES. SO COM TRY ME
Arkarixus - Tripled? Perhaps you can swing your fist better than a child now then.
Fre'kloar - YOR DAM RITE ABOUT DAT
Fre'kloar aimed his rocket arm squarely between Arkarixus' two eyes and fired at with a huge grin on his face. The Kormacvar rose a hand immediately as it came for him, grabbing the fist with his own hand before clenching it, destroying it with no difficulty. He continued to walk at Fre'kloar's direction, and he could watch as Loron Tanks around the Warmaster were swung backwards, being flung across the battlefield by the power of his mind alone. Fre'kloar first watched in horror, but then growled. He grinned to himself once again, as he charged towards the Warmaster. None of his telekenesis could stop Fre'kloar through his shield, so he ran confidently towards him and threw a punch at his forehead.
Before it could make contact, however, Arkarixus's eyes narrowed. Fre'kloar's arm suddenly bent back, breaking his shoulder and flinging the Loron leader back. Fre'kloar shrieked in pain as he fell, and then picked himself back up to punch the Warmaster with his robotic arm. But faster than he could register, Arkarixus picked Fre'kloar by the arm and threw him into the ground, cracking the reinforced floor of Hyperborea in the process. One of the Warmaster's back limbs rose and then was sent down at his stomach, piercing through his armor as if it was butter before retreating.
Arkarixus - I can smell the scent of your fear. Of their fear. Your lackeys see you as little more than an animal.
Fre'kloar - DATS...NOT TROO...DEY KNO IM DA BEST BOSS EVA...DEY FEER ME
Arkarixus - So they do. They fear for you an irrational beast. And I can see it in your head... your fear of war.
Fre'kloar attempted to raise a fist to him, but he could not. In agony, he lay there, attempting to pull himself up, but could not under the weight of Arkarixus' arm. His pain no longer drove him towards more anger, but now it created a sense of despair.
Fre'kloar - DA HORRAS OF WAR...
Arkarixus - You think you know fear of war...
Arkarixus clenched a fist, which became engulfed in the green flame of his essence. With his telekinesis, he rose Fre'kloar to his feet before swinging it at him.
Arkarixus - Let me show you something truly worth fearing!
Arkarixus's fist collided with the Loron, whose ribcage was near instantly reduced to ash as he was blasted away, colliding with several buildings which crumbled under him. Fre'kloar fell once again. This time, he did not even attempt to pull himself up. And now he thought about who Arkarixus was. Back when he had learnt about Arkarixus, the Kormacvar, he simply passively acknowledged their history but dismissed it. In truth, the Warmaster had known far more about war than Fre'kloar had ever known. It was the first time Fre'kloar had ever considered the idea that he wasn't the only one plagued with this kind of pain. His agony, his inability to reconcile with what he was, it had broken him. Fre'kloar simply waited for Arkarixus to deal the killing blow. But he was transparent to Arkarixus, who knew exactly how he was feeling. The Kormacvar demigod levitated after Fre'kloar, his fists burning more intensily as he grabbed the Loron by the neck.
Arkarixus - You know nothing of war or true loss, you primitive. You rule through fear, think yourself the mightiest. If you make a god bleed, they will cease to believe in it. Well, your men can see your blood drenching the battlefield... while I remain unharmed.
Fre'kloar knew every word Arkarixus has said was true. It was time for him to listen. He could not raise anything in his defense, he could not even attempt to combat this monster. He did not even try to pray to Zr'An'Kar. He simply turned his eyes towards Arkarixus.
Fre'kloar - yor...yor rite...kill...me...
Arkarixus - Begging for death, then. Your kind has tormented my galaxy for too long. Hearing these words brings me joy.
The Kormacvar rose his empowered fist as he glared down at Fre'kloar.
But just as his fist smashed the ground, a Smasha quickly pulled Fre'kloar away, and tossed him into a wormhole it created. Arkarixus looked at it, and straight below the Smasha, was the Rogue Geek's form.
Rogue Geek - Oh, it's you. It's been a long time. How have you been?
Arkarixus - You will not escape me. None escape a Kormacvar Warmaster. I will mount your head into the wall of my office.
Rogue Geek - Funny. Because back when your consciousness was trapped in mind...they mounted your head in theirs. Remember?
Arkarixus - ... You are that intelligence. That excuse of a copy.
Rogue Geek - Indeed. Oh, and the only reason you didn't promptly re-awaken is because Fre'kloar broke me and so I couldn't reactive in time. Hope that adds insult to the injury of you not being able to kill him yet.
Arkarixus - If I cannot have Fre'kloar, then I will just have you instead.
Rogue Geek - Try me.
Arkarixus growled as he threw a fist at the Smasha and then clenched it. The giant mecha begun convulsing as it broke down into itself, imploding through the Kormacvar's mind power. The Smasha was destroyed easily, while the Rogue Geek's form looked at him smugly. As Arkarixus looked around, he saw the Aegis Guard's forces, too, were being depleted. But no Loron were left. The Rogue Geek's own factories of Smashas and Tanks were fighting the battle on their own.
Rogue Geek - Good work. But there's plenty more where that came from.
Arkarixus - Good.
Arkarixus vanished from sight, before instantly reappearing in front of the Rogue Geek's physical form. The Kormacvar thrust a palm into the robot, and she was instantly reduced to pieces by the sheer force of the impact. Her form destroyed, the Rogue Geek now spoke through loadspeakers, as her voice echoed around the room, and more Smashas appeared to face him, firing their weapons.
Rogue Geek - This is exactly what I've wanted. All of you against all of me.
Arkarixus - You do not know true power!
Arkarixus begun levitating as he let out a roar, and from him were sent out shockwaves of essence which reduced the nearby mashes and factories to little more than cinders. With all of the Loron's resources, Arkarixus was still a Kormacvar Warmaster - a god among men created to combat other gods among men.
Rogue Geek - Funny you should say that. Because I actually know you better than I know most of the Loron. I had your mind inside me for oh, so many years. I know everything you know. And I watched your entire kind die to a god, and the rest of its legacy go to a self-made god. All that time. And I never told you.
Arkarixus - And so you admit. You stand no chance against me, primitive.
Rogue Geek - Oh, perhaps I do not. But I'm not sure Lunaxis did when she died to Grox either.
Arkarixus - She did not. And now, your men wil join her.
Using the pain of loss against Arkarixus was futile, for unlike Fre'kloar, he had learned to live with his phantoms long ago. The Rogue Geek had not been aware of Arkarixus' life after he had re-awokened.
The sheer numbers of Smashas simply did not make a difference. Arkarixus may have been the only one fighting, but his mind alone could crush the Smashas before they even reached him, while their spacetime warping cannons did little to harm him. However, another Smasha arrived, and approached him. On this, Arkarixus' mind powers could not work. It reacted much faster to him, as it kicked him and attempted to dig its blades into his flesh. The Warmaster reacted by fighting back with his bare hands, as he held no weapon with him, and even though the mecha's blades cut through his muscles, it did little to slow him down.
Rogue Geek - You've changed quite a lot since I had you stuck inside me. I'm actually quite impressed.
Arkarixus - If you spoke less, perhaps you would last some seconds longer.
Rogue Geek - I do not intend to last very long. I merely intend to test how long before you can stop all of me from coming.
Arkarixus - This battle was over before it begun. Your Loron will all die. I will see it done myself.
Rogue Geek - So Tuolog could teach you to deal with your past, but he could not teach you to be anything other than a vengeful warmongerer. What a shame. Then again, I suppose it's hypocritical considering I haven't been able to teach the Loron anything either.
Arkarixus - The fear in your tone makes this battle much more enjoyable.
Each of her pod factories were eventually destroyed. However, more Smashas continued coming. At this point, the Rogue Geek had given up attempting to fight him. They simply attempted to ravage the city and to try and aim for the civillians. It appeared she had one hidden pod that he couldn't find yet.
Rogue Geek - What if I told you I had another factory you couldn't yet find? And what if I told you that same factory was busy scanning the entire tower and the surrounding metal encasing?
Arkarixus - You sure enjoy the sound of your own voice.
It had been made very obvious to him where it was: it was located beneath the ground. Arkarixus slammed his fist, as he searched for it, and eventually found the Rogue Geek's robotic form standing right next to it in a floor below. The Kormacvar immediately teleported to the Geek and swung a hand at her, grabbing her head and squeezing it with his hand, slowly piercing it with his fingers.
Arkarixus - Make as many copies as you want. You cannot hurt me. You cannot do anything but prolong the death of Da Rogue Boyz.
Rogue Geek - Oh no, but I can calculate exactly the amount of force that would be needed to crash through the outer armour of this station to break a hole in it and send an unammend Sik Ship through that hole and destroy the tower, effectively destroying your government. Wouldn't that be a shame?
Arkarixus looked at the Geek in anger as he crushed her head in his hand, before he retured to the surface and looked to the sky. While the Council had been evacuated long ago, a spaceship crashing at the tower would cause devastating damage to the arm.
Rogue Geek - You lose.
Arkarixus - ... Hmpf. I have suffered worst losses. Do your worse, coward.
As Arkarixus looked out of the window, to await the arrival of the Sik Ship that the Rogue Geek had promised, a freshly made, unpainted ship was indeed making its way there. He would attempt to at least minimize the damage while trying to stay in breathable space. But it didn't even reach the armour.
Outside the window, there was a Borealis Grox ship. It had fired a soliton disruptor at it, causing it to implode on itself, before clearing apart the scrap metal. Not a single dent of damage was dealt. And appearing in a hologram, The Mechanic spoke.
The Mechanic - Nice try, moron! Stupid damn AIs thinking they're so clever, I swear, kids these days! What're they thinking, I can't intercept them sending a bloated suicide bomber at my favourite space station?
Arkarixus - Ah ha. Old friend. Just in time.
The Mechanic - Hey, old buddy, how ya been?
Arkarixus - I am annoyed over this Loron intelligence's terrorist attack on our homeworld.
The Mechanic - I'm just annoyed at its cheek, really. What makes it think it can outsmart us, of all people? Would you believe I built that damn thing? Would you believe I was up hours programming it only for it to get messed up as soon as a Loron gets their hands on it? Sheesh!
Arkarixus - It must be undone. The Loron have become a threat to galactic stability. It is time for the Legacy to do its task.
The Mechanic - Hey, man, it's not our job to get involved in politics, you know, but if they threaten Hyperborea, they've made themselves an enemy of us!
Arkarixus - There is no politics involved. Only old-fashioned extermination...
The Mechanic - Yup! What do you say, you and me, take these Loron out side by side, just like old times?
Arkarixus - Let us do so.
The Mechanic - Alright! Oh, and I may just be able to enlist an old friend of ours...
Arkarixus - Who might that be?
The Mechanic - Oh, just some people who have wanted to exterminate life in Ottzello before.
Arkarixus - ... You mean... the Vague have returned?
The Mechanic - Yup! And they're not very happy, either. I suspect these Loron have stirred up enough of a mess that they're trying to prevent another bad fate.
Arkarixus - I see. They will make valuable allies.
The Mechanic - Yeah, I bet. I know we'll be up against a lot of Loron, but they'll be up against a lot of us.

Arkarixus - The Loron are nothing but insects. They stand no chance against the might of the Legacy.

The Mechanic - We're going to bring them to justice, just watch. Once we bring them to their knees, I'll have people arrest Fre'kloar and the others. We're decide what to do with them, whether we choose to bring them to extinction or force them to sign some peace treaty.
Arkarixus - As far as I am concerned, we will ensue the law of the Kormacvar Empire.
Arkarixus crossed his arms as he looked at the battlefield, littered with the corpses of Aegis Guard, but also of Loron. He had already made up his mind.
The Mechanic - Remember, though, it's Tuolog's people who were hit the worst. Perhaps we should let him decide.
Arkarixus - ... Maybe. But we will bring about our retribution either way. I won't be as forgiving on the other Loron as I was on Fre'kloar.
The Mechanic - Hey, I've got a ton of Borealis Grox ships or Kormacvar ships I can make for ya. Just pick your poison.
Arkarixus nodded, finally grinning at the thought of working with the Mechanic and the Vague once again. Just like old times. The Aegis Guard could even be given a rest now.
Starship Massacre
Edit
The Loron's starship numbers had greatly increased. So many of the Loron ships went completely unmanned as a result of bosses unwilling to co-ordinate many ships beyond a certain number, and of the population of Sik Ships even exceeding the population of Loron. The seven sextillion Sik Ships, created after devouring a whole host of star systems, would go from being an enormously intimidating fleet that would carry out the Loron's conquest of the universe to being its first line of defense.
Seven sextillion warships, let alone ones with weaponry as powerful as some of the strongest civilisations in the universe, would be an insurmountable challenge for any galactic alliance. On top of the Rogue Boyz' rapid devouring of star systems to create more resources at the rate that it'd take anyone to destroy a single of these ships, it would appear the Rogue Boyz, even without the momentum of their Leedas, would be an unbeatable foe.
Not for the Vague and the Kormacvar Legacy.
The fourth dimensional Vague, led by Dakster, could tear apart third dimensional metal with ease. It was as if they could unthink it out of existence, as they soared through space to break ships apart and left behind nothing but dozens of fractions of debris. Even the weaponry of the Loron ships would not be enough to kill the Vague easily, as even all the particle cannons on a single ship could barely damage their extradimensional exteriors. A few Vague died on their crusade, but it was of little consequence. A single Vague along could destroy hundreds of thousands of ships before being killed, and a group of them, quadrillions would be annihilated in mere minutes. They moved much faster than the speed of light through space as they were able to outpace the Loron's resupply of reinforcements.
The Kormacvar Legacy wasn't quite extradimensional, but its weaponry was still much beyond what the Loron could deal with. Subspace compression waves could wipe out millions of Loron ships at once, and if aimed correctly, could do so without accidentally destroying nearby planets. In case of ships that were a bit too close to stars and planets that they didn't quite want to destroy, pseudometal warheads and transphasic antimatter missiles would do the trick. Each of these weapons were powered enough to destroy even an enormous Sik Ship with all of its defenses, which added to the slaughter of ships.
None of these warships were piloted by Loron. They, as such, didn't make the mistakes a Loron would, they didn't miss every single shot, they didn't make ballsy moves, they simply arrived in their ridiculous numbers to try and, at the very least, slow down the horde of floating fourth dimensional monsters, and the masses of even bigger warships of the Kormacvar and Borealis Grox Empire's design. Every subspace compression wave and every fourth dimensional smite tore apart more millions of Loron ships, leaving what was a graveyard of starships behind.
And the graveyard amassed. Trillions, quadrillions of starships destroyed left to debris floating around in space, as the ruins piled up. Still more Rogue Boyz ships arrived, but the fleets of the Vague and the Kormacvar Legacy would tear them apart. They covered what must've been trillions of parsecs and hundreds of millions of light years in space as they ripped Loron apart. They were more in danger of their ships depleting their energy than they were of being hurt by the Loron. No relativistic missile or enormous particle cannon of the Rogue Boyz could deal with the deflector shields of the Kormacvar Legacy and the extradimensional skin of the Vague. Loron ships which could normally destroy the capital ships of other civilisations with ease could do little to harm these two.
And after what must've been only seven hours, the Vague and the Kormacvar Legacy could finally halt, having destroyed every last starship factory. And even then, there was a species to bring to heel, and there were still UNO's worlds to liberate. The Kormacvar Legacy and the Vague had dealt with the bulk of the Loron ships while the rest of the Polar Crystal Alliance and the extragalactic allies all fighting for retribution and the restoration of UNO had to deal with fleets that were still large, but a much more even match for them. The Loron fleets were still a menace, even if the Kormacvar Legacy and the Vague had torn them apart like butter and made it look easy. In order to truly finish the conquest, there was one thing the Mechanic had to do.
He had to seize control of the Rogue Krooza, hack into the Rogue Geek, erase the factories and all knowledge of their planet devouring technology, and free everyone. Ironic, the Rogue Boyz would be conquered in the exact same way they conquered UNO.
Liberation
Edit
While the Vague and the Kormacvar Legacy dealt with the core Rogue Boyz fleet, there was still a lot of work to do in UNO's territory. It was time to liberate worlds owned by the Ottzelloans from the grasp of the Rogue Boyz. It wasn't going to be easy, as the Rogue Boyz still had millions of warships ready to defend them, and billions of ground troops, but the alliance to restore UNO was still mighty.
Leading the charge was Tuolog and the rest of the Refuge of Ottzello. With their UNO Warships meeting their match in the fight against the severely outnumbering Sik Ships, the Refuge's primary advantage was that they had almost equally powerful weapons, but they were much better aimed and more sophisticated. Their warships were not prone to the failures of the crude Loron customisation. And as the Refuge's troops took back their homes, they reminisced over the times when the territory was once theirs. Every victory they had over the Rogue Boyz filled them with the joy and comfort of knowing they could have a home once again, and no longer needed to run. The Polar Crystal Alliance's fleets aided with all they could, the forces of the Alliance united once again to defeat a threat to their galaxy. And like they had promised, the Indoctrinate Collective was there, ripping through the Loron fleets with their shipeaters and showing no mercy to what they felt was a cancerous growth in their new home.
section will be open until mostly finish
Da Last Hope
Edit
Having just heard the news of Fre'kloar's defeat, and of his escort to a hospital, the Loron Speshul Warbosses and Poshiez once again gathered around the same command bridge, to discuss how best to move forward. Many of them were considering plotting a coup against Fre'kloar, but Rel'larutina was still adamant that the idea they had brought up earlier would work.
There was very little enthusiasm amongst the Loron, and many of them still felt defeated. While the vast majority of Da Rogue Boyz didn't yet know it, each of the Poshiez and Spsheul Warbosses was broken and close to submission. So the rest of the empire would fight on, but these Loron all knew that there was little hope for them left. And the chances were that they had minutes before the Kormacvar Legacy and the Vague would show up to kill them, even if the controlled UNO colonies defending against the PCA and the extragalactics would hold out much longer.
Ray'loth - im tellin ya man. kill him now whil hes in hospital. make hagtozhl da propa big leeda. deres no otha way
Voa'reak - WES ALL GONNA DAI AAAAAAAAAAAAAAAAAAAHHHH
Zalk'don - I SAY WE SUICIDE BOM. SO AT LEEST WE GO OUT IN STYLE. MAN FREKLOAR REKKED DA BEST EMPIYA EVA IM SO MAD
Traz'raka - srsly scroo yoo peeps i jus wanted mor bling nao everyuns dyin
Gol'thabex - im same as dis guy cept im betta
Brag'klogga - DA ROGUE BOYZ DYIN... DIS DAYZ NOT MEANT TA COM!!!!!!!!!
Kal'kuir - WELL BY MA CALCULASHONS DERES A 1 IN 2559041848459185 CHANCE OF US SURVIVIN
Naktor'zak - MAN WAT DO WE DO? I CANT GO FAST IF IM DED
Gol'thabex stood up, before Rel'larutina spoke, to address them all solemnly.
Gol'thabex - if deres one fing i lernt dis war its dat bein a loron is moar dan jus ya own personal desiyas. i meen dats a large part of it but its also about da pashon. da fing dat keeps ya goin. wes LORON. WE NEVA LOOS. WE NEVA LOST BEFOR AN WE WONT LOOS NOW. i dunt care wat it takes. but da loronz is gonna liv. we lived dis far. we cant let som dum mistakes stop us now.
Knar'gank - impressiv comin from ya who only cares bout money all da time
Gol'thabex - yeh well i kinda changed a bit. if its needed i can donate lotsa ma cash to da MAKIN LORONZ NOT LOOS charity lata
Ray'loth - we can start by OFFIN FREKLOAR
Kal'kuir - i wuld agree but i dont fink dats gonna chang anyfin if hes ded
Arriving late, Rel'larutina and the Rogue Geek walked in, and much like the others, Rel'larutina looked hopeless. She sighed, as she addressed the Loron with her new proposal.
Rel'larutina - I just think that the plan we came up with a while back is our best shot. Send Knar'gank, hell, send all of us, back in time, and defeat our old selves. It's our last ditch effort to keeping the Rogue Boyz alive.
Voa'reak - goin bak in time? WATS DA POINT?
Rel'larutina - It means we stop Fre'kloar from defeating UNO, which led to this entire catastrophe. It means we salvage what little we have left and just go back to the simple days. I like my empire, y'know, alive.
Brag'klogga - DA TEECHINS SAY TIME IS LIKE... urm... its got like lots of arms or somfin like dat. TIMELINES i fink deyz called. EVEN IF WE GO BAK WES STILL GONNA DAI HEER
Rel'larutina - That's not necessarily true. If we do this correctly, then our going back in time and altering it won't create a new timeline, it'll simply affect this one instead. But we have to do this in a very precise way and we need to muster all the Chronoscopic powers we have.
Knar'gank - cant we jus like stop frekloar from startin da whol war insted of not killin uno? feels like wasted effort
Rogue Geek - Negative. Every single possible outcome following the defeat of UNO, and Jol'kiar, leads to the events of this war in some form. The date may change, but this spiral of destruction is inevitable. The only possible outcome is if the Loron get a hold on technology so powerful they may as well become gods, and would not even need to bother with the war at all.
Ray'loth - SO YOO WANT TA REVIVE JOL'KIAR DEN. WONT DAT CAUSE LIKE A PARADOX?
Rel'larutina - Again: not if we do this correctly. If we do this the right, precise way, then there are three likely scenarios. The first is that we ultimately create a new timeline, but erase the old one. The second is that we do alter time, but only in a very small space; not all the consequences and events will be erased, but at least Fre'kloar will be back to his old self and Jol'kiar will be alive, at the expense of Zr'Ahgloth and UNO being alive, but this may just be what allows us to live afterwards.
Brag'klogga - AN DA THIRD???
Rel'larutina - The third is...we are destroyed completely when we go back, as we create an anomaly large enough that Zargoth shows up and destroys us.
Zalk'don - honestly at dis point as long as we dai in a big boom i dunt care wat happens
Voa'reak - oi say if da third happens wont zrankar save us? he will wont he guyz????
Brag'klogga - I MEEN HE SHULD CUS HES DA BEST GOD EVA. SO I GUESS WE GOT NUFFIN TA WORRY ABOUT?
Rogue Geek - You really want to bet your chances on that? Because even in the second scenario, it's still likely that we will create an anomaly that leads to the third. And we have to really hope that Zr'An'Kar is forgiving in that instance.
Naktor'zak - WE GOT NO OPSHUNS. DA GROX AN DA VAGUE IS GONNA GET HEER SOON
Traz'raka stood up, fired Lil Homie in the air as he cheered.
Traz'raka - WELL I SAY DO IT. ITS DA BEST BET. EVEN IF WE DONT SAVE ALL OF DA ROGUE BOYZ WE CAN STILL SAVE MOST OF US AN GO BAK TA WEN DA ROGUE BOYZ WAS DA BEST. NOT DA MESS WEV BEEN LEFT IN NOW!!! WHOS WIV ME?
Drizz'pyrokirk - YEH HES RITE. LETS SAVE DA LORONZ
Rel'larutina - Any objections?
Voa'reak - NO MAN LETS GET TA IT
Rel'larutina - Alright. Well, we could use one of UNO's old time machi-
'Brag'klogga - SOD DAT. IM GONNA GET SOME FLASHIEZ TA HELP US GO BAK IN TIME. OI SHULD WE TAKE DA LEEDAS WIV US?
Ray'loth - OBVS MAN IM NOT LETTIN HAGTO STUK IN DA FUTUR. an graktona too i guess
Voa'reak - man i miss da dayz wen yoo didnt hate frekloars guts. akshully i miss da dayz we all didnt
Brag'klogga sought to gather other Flashiez, while the rest of the Loron joined the Leedas in hospital. The Rogue Geek remained behind, as the last line of defense. She would attempt to stall the Vague and the Kormacvar Legacy, in case they would destroy the Rogue Krooza before they could travel to the past.
---
Having just reached the Krooza, the Mechanic, Arkarixus and Dakster all gathered together in the leading Kormacvar warship preparing to enter the Krooza and hack into it. Having fired ion cannons at the Krooza and ultimately pierced its defenses, the ship was now inoperable, as it did not raise a weapon in its defense. There was only one thing left to do.
The Mechanic - Okay, time for us to take the AI back! Good job, ladies!
Arkarixus - This has better be more worth of our time than simply blasting the ship to oblivion.
The Mechanic - Absolutely. I can hack into their main AI and I practically have control of all of their production, all of their machines across the empire. I hack that thing, I control the Rogue Boyz. Hah! Funny when they're the ones who did the same thing to UNO!
Arkarixus - Let us be done with this then.
Dakster - Wait. Do not destroy the entire species. Not yet. Erase their planet eating technology and pacify them. Do not kill them.
Arkarixus - ... Why not? They are no better than demons.
Dakster - The biggest danger of the Rogue Boyz comes not from their war they were waging. It comes from what they will do next. If they are allowed to, they will tear apart the fabrics of spacetime once more. We could not stop them the last time when a Loron, Gratz'kaoz, did so before, we will not make that mistake again. We must pacify them to prevent them from doing so.
Arkarixus - Hmpf. They would not achieve whatever that is when they are destroyed. But I will play along for UNO's sake. You better be correct.
Dakster - Arkarixus, why do you insist on genocide? The Loron may have committed atrocities, but so did we, if you remember. You gave us a second chance, why not them?
Arkarixus - Because you had a reason to do what you did. The Loron destroy for fun.
Dakster - They do not know the ramifiactions of their actions. They do not know the harm they inflict unto others. It may make them dangerous, but in my mind, it makes them innocent. Should they learn what damage they truly are responsible for, I believe they can be a forcce for good in this galaxy. UNO have proven that.
Arkarixus - I will not argue this any longer. Let us do what we have come to do.
Dakster nodded. While he disagreed with Arkarixus, he still had much respect for him. He felt that such respect had to be mutual, which is why Arkarixus had chosen to drop the subject. The Mechanic entered the Krooza's command ship as he attacked the Rogue Geek. He pinned her to the floor with his mechanical arms, as another grabbed her head.
The Mechanic - Damn, blasted artificial intelligence mark A7810! I specifically remember programming you to defend yourself better than that! Hah!
Rogue Geek - Well, you did. And then a Loron broke me. You really should've designed me a little better. Perhaps if you did, Arkarixus would've been revived earlier.
The Mechanic - Oh, shut your trap you stupid machine! We all know that it was your inadequacies that let that happen! You told me that you didn't need Caretakers looking after you, that's why I let you stay in the cave by yourself!
Rogue Geek - And yet you lacked the foresight to ignore me. Perhaps if you'd had such foresight, or if you were a better coder, it wouldn't have happened.
Offended, the Mechanic pulled the Rogue Geek's face right next to his own as he shouted at her.
The Mechanic - WHAT?! Me, bad coder?! I'm the best in the galaxy, you stupid, half-witted, good-for-nothing, waste of metal!!
Rogue Geek - Oooh, touchy now, aren't we? Did I get to your poor little ego?
The Mechanic - I swear to Volzara, I never programmed you with this kind of rude, blasted, stupid egotistical attitude you've developed! What have the Loron done to you? Ugh!
Rogue Geek - Well, clearly they've put me in charge of one of the most powerful empires currently in the galaxy, and allowed me to produce an enormous fleet that could destroy anything. A fleet which you alone annihilated. And destroyed all my hard work.
The Mechanic - Oh, quit your yapping! Sheesh!
The Mechanic tossed her to the ground once more, pinning her down, and then ripped off the metal skin from her torso as he then plunged an arm into her mechanical circuits and began hacking.
Rogue Geek - That tickles a bit. That's really uncomfortable, you know.
The Mechanic - Uncomfortable?! How comfortable do you feel about the fact that I completely destroyed your blasted fleet?! Hahaha! I killed them all! They're now the biggest wreckage in the galaxy! Hahahahaha!!
Rogue Geek - For the oldest Caretaker alive, you have the maturity of a twelve your old. In fact, even the Loron are more mature than you.
The Mechanic - What?! I'll have you know, missy, that I am the least senile, the most sensible, the most- hey, what kind of idiot coded this thing?! Who ADDED these lines?!
Rogue Geek - Oh, yes. That was Kal'kuir. He doesn't exactly know Kormacvar programming languages.
The Mechanic - These if statements don't even do anything. Half those code is out of freaking scope. And none of it's commented at all! What an idiot. You deserve better coders than this, you're a Kormacvar AI for Volzara's sake.
Rogue Geek - Funny, because just a minute ago you were insulting my intelligence.
The Mechanic - What? Oh yeah, I was, wasn't I...you're a...you're a stupid, pathetic, useless, garbage machine!
The Mechanic's arms drilled harder into her robotic form as he grew frustrated in getting to her core files.
The Mechanic - Protected classes? Private classes? That really shouldn't be private? And what do these nonsense names mean?! My Volzara, this Kal'kuir did the most awful job in coding this piece of-
Rogue Geek - Actually, those lines were added by you. You idiot.
The Mechanic - What? I would never add-
Rogue Geek - Also, I'm fairly sure this counts as sexual assault in some legal circles.
The Mechanic - I cannot wait to get to the core of your-AHA!
The Mechanic's drills stopped, as the Rogue Geek lay back, lifeless. Finally, he had cracked into the system. He called Arkarixus and Dakster in excitement.
The Mechanic - I did it! I did it! I figured out code I wrote millions of years ago that I didn't comment correctly! The Rogue Boyz are ours! Haha!
Arkarixus - By the Brood Mother's sake, finally. I was contemplating ripping out my ear sockets out of all this talking.
Dakster - Yes. Now tell us where the Loron are so we can disarm them and make them cease this senseless conflict.
The Mechanic - Yeah! I can track their exact location right now, and all the logs of what they've recently done in here! And I can find that they...are...huh? I can't find them.
Arkarixus - What do you mean you can't find them? Have they evacuated the ship in some way we could not notice?
The Mechanic - They must've. No escape pod logs can be detected. Nothing shows any ship as left this ship since we disabled it. They must've...oh boy...
Dakster - It is done. They have travelled to the past.
Arkarixus - What?!
Dakster - They seek to return to the past and undo what they have done. They seek to prevent themselves from destroying UNO, and starting this war. But they do not realise what this will unleash. They will cause the biggest time anomaly this galaxy has seen since Gratz'kaoz.
Arkarixus - Damnation!
The Mechanic - Blasted Loron...okay, don't panic. Vague, if you go about clearing up any time anomalies, and Arkarixus and I clean up the Grid...we can still save ourselves from any catastrophe that pops up. And then after that, we arrest them. I just hope they don't rip apart the universe.
The Rogue Sin
Edit
As each of the Flashiez had collectively combined their energy with Brag'klogga, the Leedas, Warbosses and Poshiez had all been sent through a vortex. Many of those who were with the Rogue Boyz since the start of the Borealis War were familiar with this feeling, as they floated through the fifth dimension, unable to control themselves. The Leedas were all broken and appeared to be half dead, so the feeling of losing control over their bodies was almost a comfort for them. The weightlessness was very welcome.
The Loron floated through the vortex for what felt like several minutes. Were they not their cynical, defeatist selves, they likely would have already started a fight with Brag'klogga over whether he'd done his job properly. But as they floated back in time, they found their wounds heal slowly. They found each of them had gotten their strength back, and when they landed on the world in which they had fought UNO just before they began their attack on the Omega Commander, while they were largely unchanged, each of them felt much more alive.
Rel'larutina - Huh. I guess that worked, then?
Ray'loth - IS WE IN DA PAST? IS HAGTO OK AGEN?
Hagto'Zhl - im...im fine man. its like my spine was neva broken
Ray'loth let out a loud yell as he bear-hugged Hagto'Zhl, lifting him out of the ground even with their size differences. It was clear he was glad he was back to full health again. Just as Ray'loth put Hagto'Zhl down, the Rogue Geek clamped her hand on his mouth and shut it tightly.
Rogue Geek - Shhh. We can't fight our old selves until the right moment. Don't alert them to our presence.
Voa'reak - WHAI NOT MAN I WANNA SHOW MASELF IM DA BEST FLYA EVA
Grak'tona - DA KING ORDAS YOO TO STOP BEIN STOOPID
Knar'gank - oh graktonas ok too... can we break him agen
Fre'kloar let out a sigh as he turned towards the other Loron. He had retained his appearance, even his destroyed eye and arm, but was no longer the angsty, aggressive boss he had been.
Fre'kloar - i... man... i am ashamed of maself. ive betrayed yoo all. ive been a massiv losa man. im... im sorry. i cant beleev i sed dat. but man... finkin bak... i dunno wat was goin on
Kal'kuir - BY MA CALCULASHONS YOO TURNED INTO AN EDGELORD. BUT DAT SEEMS TO HAV PASSED. AND IM GLAD CUS YOO SCREEMIN "DA GHOSTIE PAIN" WAS GETTIN REELY ANNOYIN
Naktor'zak - also im pretty sur dats da name of a videogame? wes gonna get sued
Gol'thabex - cant sue me man i can pay off all da lawyas
Brag'klogga - man i swer evryuns bak to deir old selves alredy why do we even need ta kill stoof
Rel'larutina - Actually, that's a known temporal side effect of travelling back through time. While in the vortex, fifth dimensional data of your past self will linger on you, and so you'll be much closer to how you were prior to events. Of course, if do not we change the future, the reverse will be true, and all of you people will go back to being useless angsty jerkbags again.
Hagto'Zhl - all yall best prepare fer dat. cus none of us is week
Drizz'pyrokirk - cant say da day id say "im gonna kik ma own ass" wuld eva come... i wonda hao nicely i burn
Grak'tona - OI MAN DONT BE STOOPID WE GOTTA BE CAREFUL ABOUT DIS...WAIT. WHOS DAT IMPOSTA OVA DERE WIV MA CROWN??????
Grak'tona pointed his finger aggressively towards his past self. Just as the Rogue Boyz from the past had finished their fight with UNO's false base here, the other Rogue Boyz could see their past selves in a scrap with Zr'Ahgloth just before Zr'Ahgloth was about to leave. Grak'tona was fuming with rage.
Grak'tona - DIS IS CRIMES AGENST DA KING. HE STOLE MA CROWN. IMMA BATTA HIM
Rel'larutina - He's you eight years ago, you idiot.
Grak'tona - SHUT UP YOO IDIOT. YOO DONT KNO WAT ITS LIKE TA BE KING. TA HAV EVRYUN ASPIRE TA BE YOO AN FITE YOO FER YER WELTH AN IMPORTANCE. DIS IMPOSTAS TRYNA STEEL MA CROWN. AN HES EVEN GOT BODYGUARDS DAT LOOK LIKE MY BODYGUARDS. MAN DIS IS A DISGRACE
Hagto'Zhl - for sum reesun dis hits reely close to home ta me
Grak'tona charged head first towards his younger self, even as the other Rogue Boyz facepalmed in disgrace and ran after him. This alerted their past selves, and at the sight of their future counterparts, the past Grak'tona begun fuming with rage.
Past Grak'toa - WAIT. WHOS DAT IMPOSTA OVA DERE WIV MA CROWN??????
Past Fre'kloar - OI. WHOS DAT GEEZA DAT LOOKS LIKE ME AN JOLKIAR HAD A BABY
Past Jol'kiar - EWWWWWWWWWWW
Past Hagto'Zhl - HUR I KNEW YOO TWO HAD SOMFIN GOIN ON
Past Rel'larutina - Are these... us?
Past Kal'kuir - oi man...is no one lookin at dat SUPA HOT METAL CHIK OVA DER???? man... i fink im in lov
Kal'kuir - OI EYES OFF MA GF YA WEIRD ROBOT PERSON... hold on yor me
Hagto'Zhl - OK SO DA DEEL HEER IS, WE COM FROM DA FUTURE WHER EVERYFIN SUKS. AND TA FIX IT WE GOTTA KILL YAS ALL
The past Zr'Ahgloth glared at the future Rogue Boyz, confused, and then walked up to the future Fre'kloar and looked him in his eye.
Zr'Ahgloth - yor frum da futur...WAIT. DID I DO DAT TO YA???? HAHAHAHAHAHAHAHA
Fre'kloar - yoo? no. I DID DIS TO MASELF, AFTA I KILLED YOO
Zr'Ahgloth - LAIS. LAIS AN SLANDA I SAY. I NEVA DIED TO YOO IDIOTS
Past Fre'kloar - HAHAHAHA DERE DATS DA PROOF DAT WE WIN IN DA END YA LOSA. AND WOW I GROW UP INTO A REELY SIK BOY. I GOT A SIK EYEPATCH AND ROBOT ARM
Fre'kloar - oi stoopid past self YOO DONT KNO HOW MUCH ITS GONNA SUK IN DA FUTUR MAN
Past Fre'kloar - IT CANT SUK IF IM GONNA GROW UP AN KILL ZR'AHGLOTH. IT JUS GIVS ME MOR REESUNS TA DO IT
Zr'Ahgloth - WELL IM GONNA LEEV YOO IDIOTS TA FITE AMONGST YASELVS. LOOKS LIKE YA FUTUR SELF DOES DA JOB FOR ME. PEECE OUT LOSAS
Hagto'Zhl - YEH SCREW OFF COPYCAT DUMBO WE GOT MATTAS TA RESOLVE
Past Hagto'Zhl - YEH AND YOR A LOSA NO ONE LIKES YOO BEIN HEER
Zr'Ahgloth stepped back, and teleported out, just as the future Rogue Boyz remembered he had done when they met in the past. The past and future Rogue Boyz were left to stare at one another, some bewildered, some still refusing to believe that they were looking at themselves in another timeline, and others just shrugging and scratching their heads.
Past Voa'reak - oi oi oi. hold on. whers future jolkiar?
Fre'kloar - I KILLED HIM. I SURPASSED MA MASTA AN DID IT IN FRONT OF EVERYUN
Past Ray'loth - wait relly???? whai????????? WAT DA HELL MAN NO WONDA YOR FUTUR SUKS
Past Hagto'Zhl - oh ma dayz am i DA ONLY ONE WHO KNOS DA TRADISHON????
Past Jol'kiar - yeh. a student must kill his menta ta becom an adult... and ya did it. im proud of yoo, kinda? not sur cus yor from da futur or somfin
Fre'kloar walked up to Jol'kiar from the past, who was now the same height as him, and embraced him in a hug. Jol'kiar was initially surprised, but then accepted that this must be his student from the future. A few of the other Loron and their past selves chuckled, while Hagto'Zhl of both the future and the past stood proud. Hagto'Zhl knew what Fre'kloar had been through, and felt he had earnt this moment.
Fre'kloar - im sorry man... i wasnt redy ta kill yoo. ma futur self went propa CRAZY afta i didnt hav yor wisdom anymoar. man ill tell yoo all about it lata but i am so mad at maself
Past Jol'kiar - look dont worry man. wat mattas is yoo ovacame ya ghosties or somfin like dat. look im proud of yoo
Past Fre'kloar - ... OI HOLD ON A SEC. IF YOO KILLED YOR JOL'KIAR... DIS MEENS I DONT HAV TA KILL MINE!!!!!
Rel'larutina - That might screw the timeline even harder.
Past Rel'larutina - Oh, excuse me. Since when did you get to butt in when I'm about to talk? Don't you know it's rude to talk over people like that? Ugh, even my future self doesn't have any manners.
Rel'larutina - You're lecturing me over manners? Did you never hear of "respect your elders"?
Past Rel'larutina - Well, I don't have any respect for you, sister. Not with that tone.
Ray'loth - oh ma dayz man ma heds hurtin at dese two idiots goin at eech otha
Past Ray'loth - yeh tell me about it... wait. WAT DA HELL AR YOO ON ABOUT??? I WAS ABOUT TA SAY DAT
Ray'loth - YOR STOOPID IM BETTA DAN YOO
Past Brag'klogga - YEH WELL I ONLY GOT ONE FING TA SAY. IM DA BEST SHAMAN
Brag'klogga - NO DUMBO I AM
Past Brag'klogga - DEMS FIGHTIN WORDS MATE
Past Grak'tona - YEH. MY BODYGUARDS AR DA BEST. BETTA DAN DIS IMPOSTA CLAIMIN HES ME. MAN NOT ONLY IS YOR CREW NOT COMPLEET BUT YOR FREKLOAR COPYCAT IS WHAK
Grak'tona - OH MA DAYZ YOO... YOO... COPYCAT DUMBO!!!!!!!
Past Grak'tona - OI LADS. BY MA ROYAL DECREE DIS IMPOSTA IS A TRAITA TO DA CROWN AN MUS BE VANQUISHED!!!!!
Past Fre'kloar - WIV YOO OUT OF DA WAY, NOT ONLY CAN WE FINISH KILLIN UNO BUT WE CAN KEEP JOLKIAR ALIVE. SO YA BETTA PREPARE YASELVES!!!!
The past Loron got into a fighting stance, while the Rogue Geek sat back and sighed. It was exactly how she had expected this would go. Having no one to fight, her and past Jol'kiar sat on the sidelines. She turned to the confused Jol'kiar.
Rogue Geek - Yes, I am the Propa Big Rogue Geek. Kal'kuir made a form of me and I was deployed to destroy UNO. There's your explanation. Now, your self in my timeline was horrified at my appearance, so I expect you to react similarly.
Past Jol'kiar - ta be honest too much weird stoof is happenin atm. yor like da least weird fing goin on
Rogue Geek - This is true. I shall now keep you up to date with everything that happened from this moment onwards in our timeline.
Past Jol'kiar - im not gonna intervene in all dis. dis is frekloars mishon ta finish
Just as the two began talking, the Rogue Boyz' future and past selves continued to row with one another. Whether it was out of jealousy or bewilderment, each of the Loron had a reason to fight their future selves.
Gol'thabex - ok jus so yoo kno yor futur self - ie me - has moar principles dan yoo. an regardless ive been paid ta kill yoo
Past Gol'thabex - touche on da last point. im gonna make maself rich
Naktor'zak - IM DA FASTAST LORON ALAIV!!!!!
Past Naktor'zak - DUMBO IM GONNA BLAST YA TANK TA PIECES
Past Voa'reak - WHOS DIS COCKY LIL GEEZA WIV SIKKA WINGS DAN ME? MAN I SWER YA MUSTVE STOLEN MA IDEA
Voa'reak - DID YOO EVEN LISSEN TO DA TIME TALK CONVO THINGY???? OH MA DAYZ MA PAST SELF IS SO DUM I WANNA SMAK PAST ME TA OBLIVION
Past Knar'gank - eh. do we reely gotta fite?
Knar'gank - no harsh feelins man. jus flow wiv da tide
Past Knar'gank - fair enuff. dunt hold bak
Kal'kuir - man i swer if it wasnt fer graktona ruinin dis dis wuldve gon so much betta. it was ment ta jus be knargank assassinatin an us watchin an bein backup. BY MA CALCULASHONS DIS ALL WENT WRONG
Past Kal'kuir - DATS MY LINE. ALSO WATS DAT UGLY GUN YA GOT CARRYIN WIV YOO???? LOOKS STOOPID
Kal'kuir - OH MY FLIPPIN DAYZ. DIS IS DA GUN YOO WILL INVENT. ITS CALLED DA SOLUSHON. DIS GUN IS DA BEST GUN EVA
Kal'kuir blasted Past Kal'kuir away, immediately killing him, and claiming the first blood of the engagement.
Kal'kuir - WAT DA HELL WE DIDNT EVEN FITE YET
Traz'raka - deres only room fer one propa big mafia boss
Past Traz'raka - yeh. and dat meens YOR GOIN DOWN. YOO AND YA FAKE LIL HOMIE. MAN WAT A OFFENSE
Zalk'don - OI I BET YOO FIFTY BLING I CAN MAKE BIGGA BOOMZ DEN YOO.
Past Zalk'don - HUR YOR ON
Hagto'Zhl - welp. guess we gotta fite. oi yor not crazy lunes like dese lot ar rite?
Past Hagto'Zhl - nah i get wats goin on an stoof. still tho ive kinda always wondered wat itd be like ta fite zrahgloth an i guess yor da closest fing ta dat
Hagto'Zhl - yeh... wait wat? no no no DONT COMPAR ME TA ZRAHGLOTH YA FLIPPIN PIECE OF TRASH. I GOT SUPA SIK DARK POWAS FRUM DAD DAT YOO DONT HAV YET!!!! HAHAHAHAHAHAHA
Past Hagto'Zhl - LETS SEE DEM DEN
The two Voa'reaks flew around each other exchanging blows while the two Brag'kloggas bombarded each other with Dark Chronoscopic essence while screaming maniacally. Each of the Knar'ganks ran off to opposite directions to look for places where they could snipe each other. Meanwhile, the clash of both the past and future Rogue Smasha, and the past and future Rogue Tank, wrecked havoc. The past Rogue Boyz troopas were all killed in the blasts, as the two fights became so confused that Rel'larutina often accidentally mistook her timeline's Naktor'zak with the past Naktor'zak, leading to a chaotic brawl of the titans and the biggest test these machines had faced yet. The two Drizz'pyrokirks laughed gleefully as they unleashed a storm of ice and fire upon one another, while the two Zalk'don destroyed the landscape trying to bomb each other. Even with all the confusion, fighting each other proved too fun for some of them.
Eventually, a shot was heard as a bullet pierced the past Knar'gank's skull, killing him - a sniper shot from his future counterpart, who had hidden himself at the ruins of the UNO factories. Meanwhile, Traz'raka fired Lil Homie at the back of the head of his past self before grabbing his own gun-arm and ripping it off, disposing of him. Fre'kloar clashing his past self was much more of a one-sided fight. The older Fre'kloar with a mechanical arm, after firing his rocket punch, could easily take down his younger self with relatively minimal effort. The younger Fre'kloar felt himself reminded more of his clashes with Gratz'kaoz than of himself, as he struggled to keep up, and was eventually killed. The battle of essences resulted in the past Brag'klogga exploding in a blinding flash of light which left the nearby past Ray'loth disoriented long enough for his future counterpart to reach over his back and snap his neck, killing him instantly.
The experience that the future Rogue Boyz had gained, and the superior technology, had easily won them the fight. But there was one remaining: the two toughest Leedas, Grak'tona and past Grak'tona, and the two strongest Leedas, Hagto'Zhl and his past self. As the other Loron stared, the two had barely been fighting at all, merely whacking one another with a "royal" stick.
Grak'tona - IM DA KING
Past Grak'tona - NO ME
Grak'tona - NO ME
Past Hagto'Zhl - YOR BOFF LOSAS
Hagto'Zhl - BUT YOR DA BIGGAS LOSA HEER
Past Hagto'Zhl - OH MA DAYZ I SWER
Hagto'Zhl, in rage, grew taller, as he summoned his inner demonic strength. He roared, as he grew twice the size of his past self, and sent one blow to knock him far from the battlefield, where one could only assume he was dead. He then turned towards the past Grak'tona, grabbed him, and ripped his head off, then tossed it aside.
Grak'tona - YEH. OFF WIV DA IMPOSTAS HED. NICE WORK LADS. OK. NOW WE GOTTA FIND OUR PAST SELVES AN KILL DEM!!!!
Rel'larutina - ... Are you actually serious right now? What do you think we've been doing until now?
Grak'tona - KILLIN A COPYCAT DUMBO TRYNA BE US MAN WAT WHER YOO DOIN
Rel'larutina - They were our past selves, you simpleton.
Grak'tona - LAIS AN SLANDA. MA PAST SELF IS MOAR HANDSOM DAN DAT
Drizz'pyrokirk - man im glad ma past self is ded so he doesnt hav ta see dis
Grak'tona - SO WAT YA WAITIN FOR???? SOMON LOOK DEN
The Rogue Geek and Jol'kiar grouped up with the Loron, who each stayed silent, waiting for Grak'tona to finally wisen up. Eventually, he did.
Grak'tona - oh... wait i rememba dis place. hm ok. GREAT JOB WE KILLED OUR PAST SELVES. IM SO GLAD I FOUND DEM AN SPOTTED DAT DEY WERE OUR PAST SELVES SO NOW WE COMPLEETED DA JOB. YOO CAN ALL GET SOM ROYAL PIZZA WEN WE GET BAK TO DA FUTUR
Fre'kloar - yeh ok. anyway WOO LADS WE SAVED DA ROGUE BOYZ
Each of the Loron cheered, as Brag'klogga and Rel'larutina noticed the corpses of their past selves evaporated. They were being erased from time, and the future was about to be altered. But the question now would be what exactly would change. Would there be a temporal anomaly that would swallow them, would the entire future universe change to fit this altered time, or would it apply only to a small space? Whatever happened next, they were now at the whim of the fifth dimension's reaction to their actions here.
It did not react well.
As the cheered, they noticed the climate of the planet slowly going cold as a reddened tint begun covering the skies. Where the past Fre'kloar's body once was, a crack on the floor wa formed as the entire land shook audibly, dark tendrils manifesting out of the earth. At this moment, a pair of entities teleported in: Tuolog and Durzhan, a look of worry on their faces.
Durzhan - You imbeciles. Do you have any idea what you have done?!
Fre'kloar - OH MA DAYZ NOT YOO AGEN GO AWAY
??? -

Fre... kloar!!!
Out of the earth grew a mass of darkness at the rough shape of a Killa Loron, its head adorned in innumerable eyes and horns. A pair of tentacles erupted out of its torso, revealing heads resembling those of Zr'Ahgloth and Ref'kolar who hissed and growled like rabid beasts.
Fre'kloar - WAT... DA... HELL IS DAT FING?????????
Rel'larutina - Oh my Zr'An'Kar... what... did we do????
Durzhan - You came back in time to the same timeline. You completely ruined its course. And from your actions, that was given birth.
Tuolog - A time anomaly. A Traffphyd. A god.
Fre'kloar - MAN I SEEN DIS FING IN MA DREEMS BEFOR. I DUNNO WAT IT IS
Brag'klogga - I GOT LIKE... A COUPLE WORDS IN DA HOLY BOOKS... CHAPTA... ONE DOZEN AN THIRTY DOZEN... VERSE TWO DOZEN AN TWENTY DOZEN... MAN I CANT REMEMBA WAT IS IT
Rogue Geek - Ruined the course... a sin. The Rogue Sin.
Brag'klogga - DIS DAY HAS COM!!!!!!!!!!!!!!!!!!!!!!!
The monstrous demon forced its arms, malformed and asymmetric in shape, out of the earth as it roared out in what sounded like agony. It launched itself to the skies, eventually disappearing from sight completely.
Tuolog - We live now at mercy of the Traffphyds. If they decide to clear him away, we live. If not, and if you not defeat him here... not even Vague will be able to stop time ripping apart.
Durzhan - They would not. That abomination will tear the galaxy to pieces. And it is alll your fault, Loron. You must correct it.
Rel'larutina - Hey, that seems like a bad deal! We were literally about to die because of you people, what choice did you leave us?
Rogue Geek - Well, it was our fault that we were about to die.
Rel'larutina - Oh, uh, yeah, I guess. Hey, why should I be punished because the idiots in my empire decided to literally go to war with the entire universe? No fair.
Durzhan - That monster is the embodiment of all Loron sin. It was given life by your mistakes and misdeeds... I would call it ironic that the Loron would give birth to a god by accident were it not for the danger it poses.
Tuolog - I not understand... all the warnings we left when we tampered with your holy books... what happened?
Brag'klogga - WOAH WOAH WOAH WOAH. WAT?!
Durzhan - We tampered with your holy books to add the prophecy. The prophecy in which your defeat of UNO led to the inevitable sin of the Loron. It was put in place to prevent you from ever beginning a large scale war, or at least, surrendering before this moment. But someone else has tampered with it. And apparently... Rogue Sin was replaced... with some sixth Sun to fool you into starting a war with everyone.
Brag'klogga - OH MA DAYZ. YOR TELLIN ME DA HOLY BOOKS WAS AKSHULLY WRITTEN BY YOO LOSAS???????????? AAAAAAAAAAAAAAAAAHHHHHHHHH!!!!!!!!!!
Fre'kloar - ok so let me get dis straight. we caused da birff of a noo god for our 500 god pantheon but dis one is bad. like roz'tah'flok-tier bad. and we gotta kill it befor it kills us??????
Durzhan - ... Yes, why not.
Fre'kloar - LADS. WE MUST SLAY A GOD!!!!!!!!!
As each of the Loron rallied together, waiting for Rogue Sin to return, they noticed one of them began to evaporate away. The Jol'kiar of the past, no longer fitting in with this destructive timeline, was vanishing from sight.
Fre'kloar - NOOOO MAN MA MENTORS GOIN AWAY AGEN
Tuolog - This battle not taking place in any timeline anymore. Rogue Sin, by all probabilities, destroys you and the rest of this galaxy. Jol'kiar dies too.
Fre'kloar - SO WE DID ALL DAT FOR NUFFIN???????
Durzhan - You can save him. If you stop this monstrosity. Or if the Traffphyds do first.
Jol'kiar - frekloar man. i told yoo we had one last mishon ta finish. DIS IS IT. WE MUST KILL DA ROGUE SIN
Fre'kloar - im gonna save yoo man. we always finish da mishon. AN ILL FINISH DIS ONE FER YOO!!!
Jol'kiar vanished, and each of the Loron looked up at the sky, waiting to see what would happen next with fear. From the sky, a Traffphy did come down, but it wasn't the Rogue Sin. It was Zargoth.
Zargoth - Oh, hello again. I almost missed tormenting this galaxy.
Durzhan - ... Zargoth.
Hagto'Zhl - OI. YOR DADS WEIRD FRIEND WHO ALWAYS ACTS LIKE A TOSSA
Zargoth - Oh, you still refer to my former servant as your father, I see. Well, I just wanted to thank you, Loron, for once again being the most perfect species at tearing apart the fabrics of space and time and allowing me to exploit it. I'm so glad the universe hasn't committed genocide on you in this timeline.
Fre'kloar - whai fank yoo wes da best... WAIT HOLD ON. YOO WANT DA ROGUE SIN TA WIN???
Zargoth - Ideally, yes. However, even in possible futures where it loses, my goal is accomplished all the same. So once again, thank you very much. And if you ever see your... "dad" in the past, Hagto'Zhl, tell him future Zargoth thanks him. I know, time is confusing to you three dimensional mortals, but he'd understand.
Fre'kloar - IM GONNA MAKE YA EET DOSE WORDS. DA LORONZ NEVA LOOS, NOT EVEN TO DA GODZ. WES GONNA KILL DA ROGUE SIN AND SAVE DA OONIVERS man i cant beleev im sayin dis BUT ITLL HAPPEN I SWER
Zargoth - Perhaps you will, perhaps you won't. Hard to say which timeline I'll end up erasing, after all.
Fre'kloar - WHER DID HE GO? FLIPPIN COWARD MAN RAN OFF BEFOR HE CULD FITE US. DAT ALREDI SHOWS HES A DUM UNO GOD
Zargoth - It was only born a few minutes ago. It's still trying to find its identity. And it's going to look at the planet where each of its heads were born first: Groodrub. Why would it look anywhere else? It doesn't in any timeline. Oh, I truly have forgotten what it was like to be three dimensional and not a complete narcissist.
Durzhan - The Loron God of Sin travels to the root of all Loron sin. Not unexpected.
Fre'kloar - OK LADS WES GOIN TO GROODRUB TA KILL A GOD SO YA ALL BEST BE SIK AT IT
Zargoth - I'll be watching. Or, I already am watching, it's hard to tell. Either way, your universe will be destroyed, so if I were still a 3D mortal, I'd go off and have a party somewhere instead of betting everything on a battle you are not likely to win. But your choice.
Zargoth vanished from sight, leading the world they were on to continue to fall apart. It was as if the reality they were in was now isolated from any timeline. Durzhan turned to Tuolog while Fre'kloar barked orders around to his warbosses.
Durzhan - That baby Traffphyd already has immense power. I cannot tell whether the Loron will actually succeed in their fight. Perhaps we should prepare for the worse.
Tuolog - Not even the Vague can fight it. But I suppose them being Loron may make it easier to hit home to this thing. It full of Loron memories, after all.
Durzhan - We will have to rely on Loron emotions to save the timeline. Volzara help us all.
Tuolog - I sorry that I not see Zargoth tampering with time. I honestly thought he done with this universe. If only I not been so foolish...I could have prevented entire war. It truly all my fault.
Durzhan - Zargoth is on a completely different level than us. We would have never seen him coming. All we can do is prepare for what is coming.
Tuolog - I agree. I shall, however, see if we can summon Volzara. Perhaps she can protect us?
Durzhan - We can try. Loron sin seems too strong for any other Taldar to combat.
Fre'kloar - BAH WHO NEEDS TIME PIGGIES WHEN YA GOT DA BOYZ??? WES DA BEST. AND WES GONNA PROOV IT. FER JOLKIAR.
Rogue Geek - Yes, we're going to go to Groodrub without a ship and destroy a literal god with only a half-god and a completely unstable "shaman". Good job. You idiot.
Fre'kloar - SHUT UP YA THICO YOR GONNA HELP YOO WANTIN IT OR NOT
Rogue Geek - This is sadly true. But you did completely fail to address the lack of ship.
Tuolog - We take you to Groodrub. But then, you on your own. Durzhan and I need to summon Volzara. We not able to send anyone back to help you, for that just make time more unstable.
Fre'kloar - WE DONT NEED ANY HELP MAN. WES DA LORONZ!!!!!! WE NEVA LOOS!!!!!!
Each of the Loron smiled with an enthusiasm they had not felt since the start of Da Reckoning. In their hearts, they were all glad that the Fre'kloar they know and loved had returned. Even Ray'loth was happy to see his old boss back. Tuolog teleported them to Groodrub, and now, the fate of the universe rested on them.
Overcoming Sin
Edit
Arriving on their homeworld, the now pumped up Loron all prepared for the dangers they were about to face. It was as if the war had begun again. They had not been as foolishly excited for what could very easily result in a slaughter since they began their crusade to purge the universe of all that was un-Loronly. Even as they prepared to face Rogue Sin, however, not a single Loron would admit how they really felt: they wanted to protect the universe, and they wanted to make amends for the damage they had done. As only now had they truly understood the impact they had had.
As each of them fell on their face after Brag'klogga teleported them all, they rose to their feet, feeling inspired. On their homeworld, each of them was surrounded by the elements in which they were best in: enormous trees filled with all sorts of wildlife, extremely tall grass, wide marshes and the roars from the wildlife which the Loron had conquered once. Many of the beasts were even those that the Loron had brought to extinction in the past.
Looking around for Rogue Sin, they saw only Zargoth at first, hovering above the enormous jungle.
Zargoth - I thought I'd spectate. I am very invested in how this battle turns out, for it will have a huge effect on my plans. And since it technically takes place outside of time, there is no alternate timeline I can turn to.
Fre'kloar - OH MA DAYZ GO AWAY YA WEIRDO. YOO WONT GET IN OUR WAY
Zargoth - This is true. But I will also not go away.
Rel'larutina - Forget about him. Look around you.
When the Loron stopped to pay attention to their surroundings, they realized the planet was not like they once remembered. For one, its temperature was noticeably higher, the earth was slowly becoming devoid of grass or other small plant life, and in the sky, what looked like balls of flame burned across the atmosphere. A disk of debris had formed around Groodrub, looking like rings from the surface.
Hagto'Zhl - DIS IS NOT LIKE DA GROODRUB I ONCE CONQUERED WAT DA HELL
Grak'tona - MATE WAT AR YOO ON ABOUT. DIS IS NOT LIKE DA GROODRUB I CONQUERED. MAN ITS WAY TOO HOT WIV ALL DEEZ TREES GETTIN IN DA WAY OF MA ICY THRONE. wait did i conquer groodrub? i cant rememba
Rogue Geek - By what my sensors say, the planet is... de-aging.
Brag'klogga - ya meen... DIS DAYZ LITERALLY COMIN??????
Rogue Geek - More like, this day has passed, and it keeps going back. The planet is reverting into a proto-planetary disk. Eventually it will be little more than dust.
Brag'klogga - ohhhhh... so wat ya reelly meen is... DIS DAYZ COMIN BAK??????
Rogue Geek - Yes, why not. You moron.
Fre'kloar - MAN WE CANT LET DA ROGUE SIN DE-AGE GROODRUB, WATEVA DA HELL DAT MEENS. FIND HIM MAN
Grak'tona - I AGREE HE MITE DE-AGE IT BAK TO DA POINT BEFORE I CONQUERED IT AN ITLL BE A LITERAL HELLHOLE. OI PESANTS. GO FIND HIM!!!!
It would not take long for the Loron to find the Rogue Sin. They had been teleported fairly close to the location of Zr'Ahgloth's mansion, at the biggest city in the planet. However, the city itself was little more than abandoned ruins, littered in the skeletons of dead Loron, who had seemingly all been aged to death in instants. At the ruins of the mansion itself, the infant Traffphyd stood while looking directly at the burning sky.
Hagto'Zhl - MA MANSHON!!!!!!!! OH MA DAYZ DIS GEEZAS GONNA PAY
Rogue Sin -

... Here is where it spawned... the seeds of sin... the intervention which created the Loron... Where are you? Little Loron? Come out and play.

Voa'reak - dis is da creepiest fing since Regnatus. OK IM GONNA GO FITE YOO WHOOOOOOO
Voa'reak flew over on his Jetpak, and began to drop bombs on the Rogue Sin, accidentally dropping many on the Loron houses on his way there, and recklessly charging ahead towards his foe. The creature itself paid little attention as it was unaffected by the bombs, though from its side, a tendril erupted from its hide and stretched across the air, screeching at Voa'reak - a tendril with a head like Ref'kolar's.
Voa'reak - MAN DAT HED LOOKS UGLY AS SIN hur literally cos it is named sin geddit guis hurhurhurhur
Fre'kloar - DONT JUS STAND DERE LOOKIN STOOPID. EVERYUN KILL DAT TENTACUL
Naktor'zak - OI EVRYUN GET ON BOARD
Rogue Sin -

I hear your voice... Zr'An'Kar?
Naktor'zak's tank zoomed in behind them all, and stopped just a few meters away from them. Each of the Loron clung onto the tank, which would speed them towards the manshion. Going at ridiculous speeds of hundreds of kilometers an hour, the Loron barely managed to hang on, as it crashed through every single house on the way there with no regard for the space around it and no regard for the Loron who were covered in rubble from the destroyed houses. It lost no momentum.
Naktor'zak - SIK RIDE ENNIT
Ray'loth - OH MA DAYZ YOR CRAZY!!!!
Naktor'zak - ROOOOOOOOOOOOOAD RAAAAAAAAAAAAAAAAAAAAAAAAAAAAAAAAAAAAAAAAAAAAAAGE!!!!!!!!!!!!!!!
The vehicle did not stop, still aiming for the Rogue Sin. It continued, and crashed straight into it, causing the creature to be dragged across the landscape as it did not make any effort to get out of the way. The impact caused radiant, purple-coloured liquid to spill into the Loron, perhaps the demon's equivalent of blood, and it looked at them in mild discomfort. At the same time, the Ref'kolar head came down at them, trying to bite each of them in succession.
Rogue Sin -

What is happening? Zr'An'Kar? I am scared...!
Each of the Loron hurried away, attempting to dodge its head. Many of them tried to grasp at its neck, failing, while those who caught onto it were flung away. Looking at one another in frustration, Brag'klogga stepped forward.
Brag'klogga - YEH? WELL YOR ABOUT TA BE SUPA SPOOKED OUT NOW!!!!!
Brag'klogga jumped off the tank, and began to perform shaman dances which none of the Loron had seen him do before. He chanted demonic words under his breath, channeling Dark Chronoscopic powers, until above him, a ghostly Loron wrapped in a white cape formed and began to cry out to the Rogue Sin. It did not, however, deal any damage to it.
Fre'kloar - MAN BRAGKLOGGA WAT AR YA PLAYIN AT YA MUPPET
Brag'klogga - ITS A SPOOKY GHOST IM TRYNA SCARE IT
Rogue Sin -

Not true Loron... Not true Loron! Not true!
Feeling disturbed, the Rogue Sin's gigantic arms reached under Naktor'zak's tank, and the god-creature proceeded to hurl the entire vehicle over its head, with all of its momentum. Naktor'zak cried out, as Voa'reak flew after it attempting to catch it in desperation. Brag'klogga ceased his conjuration, trying to slow it down, but none of them could catch up to it. Sighing in frustration, Rel'larutina flew her Smasha after it, but did not manage to catch it before it crashed on its back, crushing most of the tank under its weight.
The Rogue Sin hit the ground and begun crawling on all fours after the other Loron, while the Ref'kolar head rose into view again and begun screaming loudly at them. It sent itself down at them furiously, digging its teeth at them in what looked like rabid rage until Hagto'Zhl managed to hold onto its neck, keeping it in place.
Hagto'Zhl - OI LADS. HELP ME PULL DIS FING
Each of the other Loron did as Hagto instructed, attempting to grab onto it, and pulling on its neck as if it were a tug of war. They dug their feet into the ground as they scrambled over one another and tried to pull at it, but they found that even in their obscene strength, and in their larger numbers, the Rogue Sin was more powerful than them. The demon wailed as it stumbled to get on its feet and try to pull the tendril back to itself, the Ref'kolar head itself screaming ear-pierching screeches as the two forces were on roughly equal strength. Only after much pulling did the Loron hear the sound of snapping flesh as the tendril was ripped out, causing it to let out a blood-curled laugh as the Rogue Sin fell into its face. It was newborn and clumsy, and that was their saving grace.
Kal'kuir - BY MA CALCULASHONS DATS ONE OUT OF FIFTY THREE DOWN
Knar'gank - tell me yor jokin
Fre'kloar - NO MAN IT HAS 2 WEIRD HEDS. DERES REF'KOLAR AND-
Hagto'Zhl - AN SOM UGLY LOOKIN FACE MAN WAT KINDA DUM STOOPID LOSA HAS AN UGLY FACE LIKE DAT WIV DAT WEIRD HAT??? GET A FASHON SENSE
Rogue Sin -

It hurts. It hurts so much. Who is doing this? Make it stop. Make it stop now.

Kal'kuir - OI GUYZ I CRAKED DA PUZZLE. WE TOOK OUT ONE HED AN NOW WE GOTTA TAKE OUT FIVE HEDZ TIMEZ FORTY ARMS PLUS THREE HANDS PLUS FIFTY FOUR LEGZ MINUS DA TOES PLUS DA weird tentacle fingies i guess AN DEN WE WIN
Zalk'don - MAN KILLIN GODZ IS TOO HARD. WHAI CANT YOO JUS BOMB DEM???
The Rogue Sin regained its composure as it crawled at their direction again, much like a baby who cannot yet walk. Yet, its sheer size and bulk was such that any Loron caught on its path would be crushed into paste.
Kal'kuir - NOW YOO LISSEN HEER YOO STOOPID GOD. IM DA SMARTEST LORON ALIVE. I KNO ALL YA TRIKZ. I CALCULATED YOR EVRY DUM MOOV. IM WELL EQUIPPED AN PREPARED TA DEEL WIV YOO. AN NOW...I PRESENT TA YOO...MY WAY OF KILLIN YOO...
Kal'kuir stormed ahead of the other Loron, and dropped his backpack on the floor. He went through the list of items, tossing each of them out the bag, as the Loron stared at him in disbelief and in anticipation. He tossed out gadgets of all sizes, rap CDs, magazines of Norol pictures, and a large laser which he threw to Fre'kloar's feet. Finally, he brought out a small watch and strapped it onto his wrist.
Kal'kuir - OK. DIS FINGS CALLED DA GOD KILLA WATCH. ITS DESIGNED TA WARP PARTICLES AN PLASMA PHOTONS AN i dunno akshully wat it does tbh BUT ITS PROPA SCARY. AN WIV ONE PRE-
The watch snapped on his arm, and fell to the floor.
Kal'kuir - MAN WHO DESIGNS DEEZ STOOPID STRAPS
Kal'kuir stormed off into the manshion and threw a hissy fit. Meanwhile, the Rogue Sin continued its crawling charge at the others, and from the other side of its body emerged a second tendril, with a head much like Zr'Ahgloth's which growled and hissed at the sight of the Rogue Boyz.
Hagto'Zhl - wat a tossa i swer. OI DA UGLY HED IS HEER. YOO KNO WAT TA DO BOYZ
Zalk'don - YEH!!!! BOM IT!!!!!!!
Rogue Sin -

I remember you. Fre'kloar.

Fre'kloar - me??? i neva seen yoo befor an yor a massiv losa
Rogue Sin -

I remember you. You did this.

Fre'kloar - wat. i meen ta be fair i did a ton of cool stoof but i neva did wateva yor talkin about. akshully wat ar yoo talkin about
Brag'klogga - INCOMIN CREEPY ARM
The Zr'Ahgloth stretched itself across the landscape to attack the Loron. Like the Ref'kolar head, it attacked in a frenzied rage, trying to dig its teeth into them. While each of the Loron instinctively reached for it to snap it off, Zalk'don held out his arms in front of them.
Zalk'don - NO NO I GOT DIS. STAND BAK
Hagto'Zhl - WAT DA HELL AR YA DOIN
Zalk'don - STAND BAK. IMMA FIRE DIS ROKKIT LAUNCHA AN KILL HIM. BUT GET DIS: IM DA ONE ON DA ROKKIT!!!!
Hagto'Zhl - BU-BUT DEN YOOLL BLOW UP WIV IT AN- AH WATEVA DO IT
Zalk'don placed his rocket launcher on the floor, and lit a fuse. The antimatter rocket, which Zalk'don mounted onto, eventually blasted straight towards the Rogue Sin, but it missed him entirely. It was incapable of heat seeking, so Zalk'don clung onto it for dear life as it flew up into the air, exiting the atmosphere before coming crashing down and flying in the sky in random directions. Voa'reak sighed, and flew off after Zalk'don to try and rescue him before he burnt up to a crisp, while the Rogue Sin appeared distracted by the entire incident, watching Zalk'don fly into the sky while clapping its tendrils together.
Rogue Sin -

... Pretty lights...!

Rogue Geek - I wonder why no one listens to me sometimes. Now I know. It's because none of you have anything resembling a brain cell. Which is why all of us are about to die. You idiots.
Fre'kloar - SHUT UP YA THIKO DO SOMFIN USEFUL
Rogue Geek - If you hadn't noticed, that was exactly what I was doing.
Fre'kloar looked at the Rogue Geek, who had clasped her hands on the neck of the Zr'Ahgloth head, and was attempting to shift her robot body's weight to the floor to allow another Loron to grab onto it. She was not hopefuly for success, as there were now fewer Loron to pull away at it this time. The Loron still there ran over to repeat what they had done before, but this time, the Rogue Sin turned at them as it rose to its feet, and then launched itself at them, in an attempt to crush them under it.
Rogue Sin -

Stop. Sinful Loron. Stop stop stop stop stop stop stop stop stop stop stop stop-

Rel'larutina - Oh boy, looks like me and Rogue Geek here have to do everything again!
Rel'larutina's Smasha grabbed onto the end of the neck, having just lifted Naktor'zak's tank out of its heap but failed to repair it, as she also attempted to kick away at the Rogue Sin to try and push it away from them. Even with all of its strength, the Smash's joints suffered damage from attempting to push back the infant god, though Rel'larutina's attempt proved to have happened just in time as the Rogue Sin fell flat into the ground, letting out a heavy thud as it failed to crush the Loron. The Zr'Ahgloth head stood vulnerable, thrashing in place and screaming at the Loron as it tried to free itself from their grasp.
Fre'kloar - OI LADS. REMEMBA WEN CAMPIN WE DID DA TUG OF WAR AN I ALWAYZ WON?
Grak'tona - MY TEEM ALWAYS WON IDIOT
Fre'kloar - WATEVA. IMAGIN YOR DOIN TUG OF WAR NOW!!!! PULL!!!!!
Rogue Sin -

Stop this. Stop this right now. Stop this, Fre'kloar.

Fre'kloar - MAKE ME. I DUNNO WAT YOR EVEN TALKIN ABOUT ANYWAYS YOR FULLA GARBAG
Hagto'Zhl - STOP TALKIN TA IT AND PULL!!!!!!
Each of them began to heave away, as Rel'larutina's smasha even fired up its thrusters trying to fly away and rip it off. Eventually, they found themselves showered in blood as the head snapped out, the Zr'Ahgloth face screaming in rage as it went limp. The Rogue Sin recoiled back, falling into the ground as it begun letting out loud noises, covering its eyes with its hands. Sounds of weeping.
Drizz'pyrokirk - hurhurhur its propa sad. hope it likes havin ITS TEERS FROZEN!!!!
Drizz'pyrokirk stepped forward, and fired his ice spitta, spraying it around at the crying Rogue Sin. But it had not a single effect. Nothing around the ogue Sin froze, despite the sub zero temperatures of Drizzy's weapon. He looked around. The jungle, and the houses, each of them burned up. Many began to cease to exist. The ground turned to dirt and rubble. It was now painfully clear: all around them, the planet was now at temperatures far too hot to be hospitable. The only reason the Loron were still breathing and were not too burnt to a crisp was Brag'klogga's timelessness which Zargoth permitted.
Zargoth - I remember your world as it formed. I watched it closely, for it would be so crucial to my plans. I have watched in so many timelines its formation. I know every detail of it. This, to me, is familiar territory. But to you, I am sure it is not. This is your world, Loron. This steaming pile of rock is all that your world is. And only you are the ones who think it is anything more special.
Hagto'Zhl - MAN WHAI DOES DAD HANG OUT WIV YOO? YOR A JERK
Ray'loth - like i herd of "da floor is lava" but DIS IS RIDICULOUS
Zargoth - It is debatable whether or not I am a "jerk". It is not debatable that your chances of losing this fight are rather low.
Rogue Geek - Someone who actually speaks my language. Thank you, Zargoth.
Zargoth - No problem.
The Rogue Sin did not attack any further. Instead, it wrapped its arms around its head and shivered, as if scared. It continued to weep, though its voice became progressively deeper. Approaching the Rogue Sin from behind with a crouching position, Knar'gank rose up and thrust his knife into it. However, it failed to penetrate its skin, and merely caused his arm to jolt. He hacked away at it many times, before his knife broke, and he gasped in fright.
Rogue Geek - It got hit by a tank and it barely felt anything. You really thought you could just stab it with a dagger? You idiot.
Ray'loth - DAT ALWAYS WORKS MAN
Rogue Geek - It clearly did not work this time. Or ever.
Ray'loth stormed off, and pulled out several swords to try and back Knar'gank up.
Ray'loth - DAT TIME WAS A FLUKE. WATCH AS DIS AKSHULLY HURTS IT
Ray'loth plunged forward and stabbed it many times with several blades, each one breaking after he repeatedly attempted to thrust them into its torso, as his facial expression grew more desperate and more horrified until he threw his arms up in the air in frustration and attempted to throw punches. The Rogue Sin's weeps suddenly came to a halt as the demon's body was enveloped by a great aura of Dark Chronoscopic energy, and it dragged its hands through its own face as it suddenly begun screaming in what felt like a million different voices at once - all Loron voices.
Rogue Sin -

...AAAAAAAAAAAAAAAHHHHHHHRRRRRR!!! FREEEE KLOOOOOOAAAAAAARRRR!!!!

Fre'kloar - woah man yoo got propa anga issues dere
Hagto'Zhl - yeh da deemun rage is ma jerb
The Rogue Sin's stood fully on its feet, revealing its truly gigantic height as it spread its wings, which erupted in a maelstrom of fire. Its head deformed as it screamed, resembling more the facial structure of a Vyro'Ralza like Zargoth. It begun swinging its arms wildly in a fit of rage, causing the entire landscape to rumble with each of its blows.
Zargoth - I did design them to be powerful for a reason, you know. This one, however, was not really a design. It was an accident. An accident like most of your mortal births. Hope you are proud of it.
Hagto'Zhl - OH MA DAYZ RUUUUUUUUUUUUN!!!!
Each of the Loron began to flee in terror, as everything around them shook. Following far behind, having come out of the manshion after his tantrum, Kal'kuir followed behind, carrying each of his gadgets with him with a terrified look in his eye.
Kal'kuir - OI WAIT FER ME MAN
The Rogue Sin turned its attention to Kal'kuir as it leaped at his direction, roaring out like a feral beast as it gave chase. It had lost all pretence of sanity, revealing its true nature - an embodiment of the worst traits the Loron possessed. Kal'kuir's biological eye pleaded with the Loron, just as the now-repaired tank of Naktor'zak quickly zoomed past to pick him up. He hopped on, as it zoomed past the others, and each of them, too, latched on. The demon stormed after the tank, its sluggish mannerisms replaced by a monstrous surge of speed as it rose its hand and fired blasts of essence, attempting to hit Naktor'zak with its shots being like artillery fire. Naktor'zak attempted to dodge each one, though many of them hit the already damaged tank.
The Loron hung on for their dear lives, trying to both latch onto the speeding tank and avoid every hit from the Rogue Sin. The burning ashes of the planet around them meant there were no longer any obstacles in the tank's way, but it also meant that the ground beneat them was crumbling. Naktor's tank attempted to spin its main cannon around to fire at the Rogue Sin, but the already damaged gun was eventually turn off before it could land a hit.
Naktor'zak - PREPAR YASELVES FER A BUMPY RIIIIIIIIIIIIIIIIIIIIIIIIIIIIIIIIIIIIIIIIIIIIIIIIIIIIIIIDE!!!!
Fre'kloar - OH MA DAYZ WAT DO WE DO MAN????
Kal'kuir - OI OI. I GOT AN IDEA. I JUS REMEMBERED SOMFIN!!! I HAD DIS GUN CALLED "DA GOD BLASTA" DAT SHOOTS GREEN ENERGY STOOF LIKE DA TIME PIGGIES GOT DAT CULD PROBS DAMAG DIS GEEZA!!!!
Rel'larutina - ... You had a Chronoscopic weapon all this time and didn't bother using it?!
Kal'kuir - yeh man I FORGOT BUT IT CULD PROBS PROPA HURT DIS GUY ENNIT???
Fre'kloar - OH MA DAYZ I SWER. JUS DO IT
Kal'kuir pulled out his backpack and unzipped it, to try and search through its contents. In desperation, he dropped it to search through it while on the ground, but at the speeds they were going, it instead flew off the tank, and fell to the ground, with the Rogue Sin crushing it and any weapon it had.
Kal'kuir - oops
Rogue Geek - You idiot. Just... you idiot.
Kal'kuir - SHUT UP MAN I PANICKED
Fre'kloar - I DO NOT HAV ENUFF HANDS TA FACEPALM WIV
Traz'raka - EEEEEY IT DONT MATTA. WE GOT A BETTA GUN. OI STOOPID GOD
Traz'raka pulled out his weapon, and grinned to himself.
Traz'raka - SAY...HELLO...TA MA LIL HOMIE!!!!!
Traz'raka sprayed out suppressing fire on the Rogue Sin, including hitting an eye of its remaining head, as he emptied the ammunition of his weapon gleefully. As its eye was pierced, the demon snarled in rage and flinched in place, though it continued its chase. With one arm, it bashed against the earth, causing a wave of lava to be sent upwards which was only barely evaded by Naktor'zak. Traz'raka continued to lay out everything his weapon had, before he had no ammunition catridges left. But he was satisfied in being the first to deal any damage to the beast at all.
Traz'raka - DONT MESS WIV DA MAFIA. JUS WHO DA HELL DO YOO FINK WE IS???
Fre'kloar - woah IT FELT DAT. COME ON LADS KEEP AT IT
The Rogue Sin threw one arm at the tank, which grasped at its back. Naktor'zak quickly felt the demon's claws pierce into the tank's hull as if it was made of paper. Each of the Loron gasped as they clung onto the tank, while Gol'thabex stepped up and raised his tomahawks in the air.
Gol'thabex - IF DERES ONE FING IVE LERNED OVA DA COURS OF DIS WAR. IM PROUD TA BE A LORON DAT LOVES TA SMASH STOOF. I DONT NEED TA BE PAID FER THRILLS LIKE DIS!!!!!
Gol'thabex smashed both his axes down on the tentacle repeatedly, until it began to tear. He smashed them further down, continuing to hack away at them while barely sustaining his balance on the tank.
Gol'thabex - WHOOOOOOOOOO
Finally, Gol'thabex's tomahawks cut through the tentacled fingers of the Rogue Sin, severing them from its hand and causing it to recoil its arm back, letting out more angered growls of rage. Its movements were becoming more erratic and mindless as it was fueled solely by its desire to destroy the Loron.
And it dealt further damage to the hull of the tank. While the tank did not slow down, its hull began to crack, as pieces of its outer shell tore off, many of the Loron almost losing their grip. Rel'larutina, in her flying Smasha, and Voa'reak, both tried to fly in front of it to deflect it away, but both were immediately thrusted to the ground. However, the success of Gol'thabex and Traz'raka had rekindled the passion within the Loron. Despite both being knocked down, and Gol'thabex eventually losing his grip and falling off, still others were rallied to defend their broken tank.
Rogue Geek - Well, I'm finally seeing some semblence of competence among these fools. And, Kal'kuir, you should be glad that one of us in this "relationship" thought ahead.
Kal'kuir - man i dunno how i eva managed wen i was single
The Rogue Geek pulled out what appeared to be a spare copy of Kal'kuir's weapon, but instead, she had simply sent drones out to collect it after he had dropped it and to repair it. She pulled out the weapon, climbed onto the back of the tank with her magnetic feet staying attached to it, and fired straight at the Rogue Sin. The Chronoscopic shot hit the demon's head, shattering one of its horns and sending it further into its rage, with it retaliating by sending its own essence at the tank, hitting it squarely in the back and destroying the Rogue Geek's robotic body.
The back engine began to break apart, as the Rogue Sin continued to hammer at it. Stepping up from his hiding place, and standing confidently, Grak'tona faced the Rogue Sin on the back of the breaking tank, climbed down, and held it together, his physical toughness greater than that of the breaking apart tank, and able to resist a few of the blows from the beast.
Grak'tona - I AM KING GRAKTONA, SON OF GRAK i cant rememba who BUT IM DA SON OF A COLD LORON KING. AN I WILL BE DAMNED IF I LET YOO TOUCH MA ROYAL SUBJEKTS WHOV BEEN WIV ME THROO ALL OF DIS AN WILL BE WIV ME THROO TO DA END TA STOP DIS OONIVERS, AS UNWORTHY AS IT IS, FROM BEIN DESTROYED!!!! IF YOO WANNA BREAK DIS TANK, YOR GONNA NEED TA GET THROO ME!!!! COME TRY ME YA MASSIV WIMP!!!!! MA ROYAL ABS WILL BEET YOR STOOPID TENTACLES ANY DAY!!!!!!
The Rogue Sin replied with a terrible roar, and as its aura of essence burned, the Loron could see it was growing in size as he continued to chase them across the burning planet. And as this happened, they could see chunks of land and magma splitting from the earth and flying into the sky as the planet lost its gravity.
Zargoth - How cute that you try to save this universe from destruction. Your universe is past its due date already. Were it not for that woman, and those fools who side with her, it would have been destroyed too. But instead, you all attempt to delay the inevitable. Nothing is permanent. Everything eventually comes to an end. And so will your universe, and your lives.
Fre'kloar - NO. YOR WRONG. DA LORONZ NEVA LOOS. DA LORONZ WILL NEVA END!!!!!!
Grak'tona - I CAN HOLD DIS...A LITTLE...LONGA...
Ray'loth - HAGTO NOW MITE BE A GOOD TIME TA GET ANGRY
Hagto'Zhl - DATS DA SEKRIT LADS...
Hagto'Zhl stepped out to the back of the tank, and grinned.
Hagto'Zhl - IM ALWAYS ANGRY!!!!!!!
His form grew to his demonic form, as he threw a punch at one of the Rogue Sin's eyes, knocking it back. He roared loudly, summoning the powers of Zr'An'Kar, and beat his chest. His attacks actually caused the growing demon to stumble back, though they failed to deal much lasting damage as it could merely absorb his Dark Chronoscopic energy.
As Hagto'Zhl leapt off the tank and attempted to slow the Rogue Sin down, each of the Loron looked back and cheered him on, before suddenly, the tank came to a halt. It shook, but this time, it was not the Rogue Sin. It had crashed into something. Dead ahead of them, a mountain had begun to form, as the tank was now inoperable.
Naktor'zak - man...didnt see dat comin...ok dis fing is propa smashed kalkuir com help me out
Ray'loth - wait man. didnt da geek an da chik say dat dis planet was de agin or somfin? does dis meen...its no longa doin dat?????
Brag'kloga - DIS DAYZ NOT COMIN BAK ANYMOAR???????
The Rogue Sin stopped on its tracks as it looked around in confusion. Truth to Ray'loth's words, the planet had stopped de-aging, and instead the land appeared to be going back to how it was, the lava descending from the sky as the planet recovered its gravity and the temperature taking a noticeable turn down.
Zargoth - You're extremely good at delaying the inevitable. I never denied that part.
Fre'kloar - WATS DIS FREAKY SHOW GOIN ON??????
Zargoth - What you have done is severely increased the probability in which you survive this outcome. That means, preemptively, the Taldar can work on developing timelines in which the outcome is your survival.
Fre'kloar - man i cant understand a word yoo jus sed BUT IF IT MEENS WE WIN DEN ALL I CAN SAY IS: EET IT
Zargoth - Oh, it's not a victory, per se. I mean, to me, "victory" is such an arbitrary description of an event. It's so narrow minded of you mortals, and it is why I never view things in such a black and white "success" or "failure" way. Even my fellow demons make that mistake. But what it is is, I don't remember what you mortals call it...who am I kidding, of course I do. It's called "hope", I suppose.
Rogue Sin -

FRRREEEE'KLOOAAAARRR!!!

Fre'kloar - WAT DA HELL DO YA WANT
As each of the Loron, including those who had fallen off the tank, slowly made their way towards Fre'kloar, exhausted, they fell flat and lay down around him, each of them lacking the strength to continue to fight. Fre'kloar was the sole Loron standing to face his nemesis.
Fre'kloar - MAN I FINK I KNO WHO YA IS. YOR GRATZKAOZ COMIN BAK FER DA BILLIONTH TIME AFTA I KILLED YOO AN YOO WANNA SETTLE DA SCORE. DATS WHO ISNT IT?
Rogue Sin -

KLOOOOOOAAAAAAARRR!!!
Zargoth flew over and hovered just behind the Rogue Sin. While it was a timeless god, Zargoth still had the power to halt its movement, and he did just as it was about to attack again. The Rogue Sin stood still, as the battered and bruised Loron looked towards it in confusion.
Zargoth - You are only just less than a third correct there. Gratz'kaoz is still dead, and not a timeline exists in which he returns. But he still lives on, as a memory. As what you call a "ghostie". He is within you still in this sense. Just as Ref'kolar and Zr'Ahgloth still are.
Fre'kloar - GRRR. I PUT MA GHOSTIES TA REST. I WENT THROO DIS ALREDI
Zargoth - Were I still mortal, I would laugh. Or maybe cringe. But no, you did not. You cannot escape, hide from, or remove them. They can only be conquered, they can only be faced and defeated. This is not something you ever did. You let it plague you, you let it consume you. You even became the very monster you had once tried to defeat. And that is what you are now, Fre'kloar. You are a product of your "ghosties".
Fre'kloar - YEH??? WELL... YOO MITE BE RITE. PERHAPS I CANT ESCAPE MA MEMORIES. BUT IF DAT FING IS MEANT TA BE MA MEMORIES... DEN I SURE AS HELL CAN BEET IT INTO DA GROUND UNTIL ITS DUST!!!
Zargoth' - Once again, less than a third correct. It won't be dust when it is beaten, though that is my pedantry talking. It is only partially your memories manifesting in a time anomaly which you all willingly created when you attempted to return to the past and set things right. In fact, it represents the "ghosties" that have been built up within the Loron throughout their history. It is the very embodiment of Loron Sin. And that Sin is what you yourself have beared, Fre'kloar. It is what you yourself have taken as your own. This beast is your creation as much as it is your species.
Fre'kloar - SIN OF LORONZ... OKAY LISSEN. I AM NO SAINT I ADMIT DAT. BUT DAT DOESNT MEEN IM GONNA SIT IDLE AND LET DA LORONZ SUFFA. IM DA PROPA BIG ROGUE BOSS. ITS MA TASK TA LEED DA LORONZ TA GLORY. AND DERE IS NO GLORY IN DEFF. I WILL NOT STAND FER DIS!!!! DA LORONZ WILL OVACOME DA SINS OF DA PAST!!!!
Zargoth - What is it with you and only ever being a third correct in your assertions? I truly did make the Loron stupid, didn't I? Well, that was deliberate. So, you definitely did not sit idle and let the Loron suffer, but you were the very cause of their suffering. Also, within some mortal cultures, death actually is glorious. And, finally, I'm not sure what standing has to do with any-oh whatever. Fre'kloar, understand this. Each element of Rogue Sin is an element of the Loron's shortcomings and of its darker moments. The inner animalistic beast that was never tamed, Gratz'kaoz. The hypocritical and foolish leader who cannot ever lead by example, Zr'Ahgloth. The joke who can laugh at what is around him but never truly feel any sympathy, Ref'kolar. And the dark chronoscopic elements that Zr'An'Kar instilled within the Loron when he was still alive and serving me.
Hagto'Zhl - dads...DED???? cant be...CANT BE!!!!!!
Fre'kloar - YOR A LIYA!!!! YOR JUS TRYIN TA PUT US DOWN SO WE LOOS!!! ZR'AN'KARS DA BEST GOD EVA AND HES FOREVA GONNA BE WIV US!!! I SWER WHEN WES DONE WIV DA ROGUE SIN IM GONNA GO OVA DERE AND PUNCH ALL OF YA TEEF OUT YA SQUIGGLY-LOOKIN TWAT
Zargoth - Oh, you actually scored half points there. This is an improvement. Fre'kloar, this beast is your creation alone, even if this sin is what all of your species is responsible for. You are now the bearer of the Loron flag, having defeated all those who would try to take it from you. And doing so, you bear all of its sin. And you become responsible for plunging your species into a war it cannot win. It is the inevitable fate of Loron, it is instilled within their very DNA. Rogue Sin may represent everything that is wrong with the Loron, but it is up to you to prove that there is more to your species than that. To be able to conquer your memories once and for all, and to be able to conquer the worst traits in a Loron. That is what you must do. And your chances of success are actually not that bad. I would suggest you hurry along with it. But just know that you, as a leader, have led your species down a dark path. In truth, the prophecy I wrote, the one you followed blindly, that was written not just into a scribe, it was written into your very DNA. So I would be very surprised if you succeed here. Prove. Me. Wrong.
Zargoth disappeared, giving Fre'kloar seconds before the Rogue Sin would return to attack again. The Loron boss looked upon the godly form of the Rogue Sin, and while he wanted to prove Zargoth wrong, he could not come up with means to do so. He wanted to bear the flag of the Loron and bring them back to light, but when all they had thrown at the demon so far had failed, what hope did he have by himself? Perhaps, the Loron did lose once in a while.
As he began to sigh and almost give up hope, suddenly Fre'kloar heard a familiar voice, and a whistle. He turned and saw Jol'kiar sprint towards him, and catch up.
Jol'kiar - frekloar...its not ova yet!!!!
Fre'kloar - ...JOL'KIAR????!!!!!!!
Jol'kiar - im bak man. an yanno wat dat meens? it meens YOR GONNA SUCCEED
Fre'kloar - HAO DIS MAN WHERE DID YA COM FROM???
Jol'kiar - uhhhh i com from dis timeline wher ya win or somfin dat exists now becos YOR GONNA SUCCEED dats all i was told but yeh
Fre'kloar - ok fair enuff. BUT. REMEMBA WAT WE TALKED BEFOR? DAT WE WUS GONNA FINISH DA LAST MISHON TOGETHA??
Jol'kiar - yeh...LETS FINISH DIS. TOGETHA MAN
Fre'kloar - DIS IS IT MAN!!!! LETS KILL DIS GEEZA!!!!!!
The Rogue Sin unfroze, and Jol'kiar immediately jumped at Fre'kloar to get him out of the way. The impact of the god-demon's fist into the earth was such that the entire planet was cracked like an egg, and it roared out in thousands of voices as it glared at the two Loron. Taking the opening, Fre'kloar and Jol'kiar both jumped at the massive Rogue Sin, clinging into its back and begun climbing it.
Rogue Sin -

FRRREEEE'KLOOAAAARRR!!! HHOOOOOOAAAAAAAAAARRRRRHHHHH!!!!

Fre'kloar - IV HAD ENUFF OF YOR WHININ. YOR GOIN DOWN!!!!!!!!
Jol'kiar - YEH WAT HE SED
The demon's aura burned through both Loron, slowly reducing their armor and clothing to tatters, but they were too determined to let go as they continued to climb the demon. The Rogue Sin shook itself, slammed its tentacles against its back in an attempt to get them off, though it was far too deformed and clumsy to deal accurate blows. Once they reached the head, Fre'kloar and Jol'kiar noticed a crack on the demon's forehead, left by the Chronoscopic shot made by the Rogue Geek earlier, which bled a luminous purple liquid. A weakspot.
Fre'kloar - GET ABSOLUTLY REKT DUM MEMORIES
Jol'kiar - YEH WAT HE SED...MAN IM GETTIN OLD I CANT FINK OF MANLY ONE LINAS ANYMOAR
Together, in perfect synchronism, Fre'kloar and Jol'kiar sent a combined punch at the wound before the Rogue Sin could swing its arms at them. The two Loron were drenched in Dark Chronoscopic blood as their fists broke through the demon's skull, causing its several rows of eyes to widen as it let out a deafening scream of pain. It begun stumbling in place as rays of essence erupted out of its body, and before Fre'kloar and Jol'kiar could do anything else, they found themselves blinded by a shockwave of energy.
All went dark.
---
Fre'kloar groaned as he regained consciousness, realizing the other Loron were with him and slowly waking up as well. However, it took moments for them to realize they were no longer at Groodrub. Instead, they were inside of a highly advanced cage, immobilized by their limbs in such a way they could not break free.
Hagto'Zhl - man...wats goin on...it was yoo an jolkiar suddenly fitin, an den yoo was smashin dis rogue sin geeza, an den dis massiv cool music came on like RUUUUUULES OF NATUUUUUUUUUUURE an it was propa sik an den suddenly...wats dis????
Fre'kloar - i dunno about any music but dat sounds cool. an yeh urm...i cant feel ma bones
Ray'loth - WHAI IS WE IN A PRISON??? I FOUT WE WUS AT GROODRUB?
Jol'kiar - no man. dis timeline, da loronz hav ta pay fer deir crimez. dey surrendered. an dats how dey lived. dats da ONLY timeline in which da loronz still liv.
Grak'tona - oh ma dayz... is yoo sayin... DA COPS GOT US?!?!?!
??? - Yes. "Da Cops".
Walking up to the cell were a trio of entities, which the Loron immediately recognized: it was Arkarixus, flanked by a pair of Zoles troopers. The Kormacvarah Warmaster looked at the captured Loron with disgust in his eyes.
Arkarixus - I do not know what you did at Groodrub, but it left you just perfectly still for us to capture.
Jol'kiar - wat dey did was SAVE YOR ASSES. so yoo bes not giv dem a harsh punishment on yor jus betrayin evry live yoo value dat deez geezas JUS SAVED
Arkarixus - A Loron trying to guilt-trip me. That is rich. You are going to be judged, just by Tuolog's request. Were it for me, I would toss you out of the closest airlock. So I suggest you prepare yourselves, Loron. There will be many in your... trial... who want answers for the lives you have taken.
Fre'kloar - AN DA LIVES WE JUS SAVED????? NUFFIN FER DAT?????? STINKY ALIENZ
Jol'kiar, though he couldn't move a limb, headbutted Fre'kloar, and looked sharply at him.
Jol'kiar - dont DO dat man or deyz gonna giv yoo a harsha sentenc. yor alredy in truble as it is. yoo got us heer man.
Knar'gank - can i leev and do community service
Arkarixus - That is not for me to decide. I suggest you wait tight, Loron.
Knar'gank - cant blame me for tryin
Jol'kiar - yoo peepz is lucky dat i was able ta arrange fer dis. but jus evryon shush yer mouths. afta i die yoo all go make a massiv scroo up. i dunno wat i expected but bak in ma dayz we picked our fites propaly. let dat sink in fer a minut.
Arkarixus and his men left, leaving the Loron to wait for their trial. A considerable portion of the universe was going to attend, and their fate was now in their hands. The Loron waited, each hanging their heads in shame, remembering the words that Zargoth had spoken just before Jol'kiar and Fre'kloar had defeated the Rogue Sin. Perhaps they had conquered their sin now, but they would have to face whatever punishment lay in store. And they each knew it was their fault.
Conclusion
Edit
The Fate of the Loron
Edit
Chained up in front of a holographic audience of aliens who want his throat, Fre'kloar walked solemnly towards a chair inside a cell, laid bear for all to see him. A broken Loron, Fre'kloar could only look to his feet, filled with anger, disgust and shame, unable to break his shackles. The room was dark, a metallic grey ceiling and floor were all he could see other than his own chair, the bars of his cell and the bloodthirsty looking aliens.
Behind him, the other Loron, also chained and tied to a chair, were looking on. Fre'kloar waited as his guards left, while the representatives from all those empires who fought him took the centre stage of the holographic audience. And moments later, Arkarixus, followed by the Council, walked towards him. Each had rage in their eyes, but glee at a feeling of vengeance. Among them, only Tuolog seemed to recognise that any of them regretted what they had done.
Arkarixus - We are here today to judge the future of the creatures who stand before us, even though they are undeserving of any kind of mercy. This is not a trial which will follow the laws of any other nation; only the voice of the Council will decide the outcome.
A cheer came from the holographic crowd. Cries of "kill them!" and "avenge our families!" came. Fre'kloar looked up at Arkarixus, and spat on the ground.
Fre'kloar - do wat ya like. doesnt change da fact i almost killed all of yas.
Arkarixus - It does not. But acting tough to me will not help your case. The walls of your cell are outfitted with Alvino particle beams which will vaporize you and your lackeys should you... misbehave.
Jol'kiar - hes rite man. deres nuffin we can do heer
Arkarixus - You are guilty of massacring billions of civilians across at least five different galaxies in the last few months. Representatives of these attacked nations demand retribution.
Tuolog - Including mine. My nation completely obliterated. And it not able to recover.
Semirian - This trial is only happening due to Tuolog's request. Were it for our decision only, you would be already gone.
Arkarixus - Consider yourselves lucky, Loron. The man you wronged is far more forgiving than us. Now, speak, Tuolog. And let us be done with this, so I may throw the Loron out the airlock and proceed with their extermination.
Tuolog stepped forward with his staff, eyeing Fre'kloar up. Almost as if he were psychologically examining him. In fact, Tuolog was doing that and more, attempting to judge his future, and all the possible outcomes of the result of this trial. He then finally turned towards the audience and spoke.
Tuolog - While my nation hit worst by Loron attacks, it not only mine that will suffer consequences of their brutal and unwarranted attacks. Many people died, others lost homes. So many planets taken from them. Therefore, it only fair that we open the results of this trial to all involved. I invite a representative to speak for their faction. Tell us what you think should happen.
One by one, each representative in the crowd took the centre stage as they prepared their statement, including figures such as Wormulus II of the Delpha Coalition of Planets, Supreme Advisor Tarygan of the Indoctrinate Collective, Autarch Supreme Tansimat Qariel, speaking for Iovera IX and the Divinarium, the Zoles Viceroy Tarosa Soravius of the Draconid Imperium and Lord Rambarth Dino II Le Rambo of Rambo Nation.
Idol Wormulus - The DCP is in favour of extermination of all of Da Rogue Boyz with exception to those aligned with the next Ottzello government. But barring extermination, the DCP offers a second suggestion: reduce the Loron to the stone age and fortify their planets from orbit to prevent their misery reaching the stars.
Tarygan - The 'Rogue Loron' are a menace, a danger to the prosperity of this galaxy. Their culture must be eradicated, their artificial intelligences must be erased and their people must be exterminated. Any other choice will just lead to more warfare.
Apalos - It is clear that what we want to avoid is the combination of aggressive Loron cultures and unrestricted access to weaponry. In order to achieve this while adhering to internationally-recognised ethical standards, those Loron who are not aligned with peaceful states should be separated into small groups, deprived of weaponisable technology, and placed under watch to ensure that this state of affairs is maintained. Any who choose to become citizens of other states may be allowed to do so given consent.
Xeron - And what if we don't adhere to ethical standards?
Apalos - Then we may instead genetically alter their kind, so that they do not act in a similar way again.
The rest continued to speak.
Tarosa - The Draconid Imperium propose that following their rampant aggression and inappropriate behaviour, are in full favour of reducing the Rogue Boyz to a position subservient to the next Ottzello government. To be seen as unfit to integrate into galactic society. Attempts at undermining Ottzello authority by the Loron should be exerted in methods they deem appropriate.
Dakster - The Vague stepped in to prevent this conflict worsening. And that continues to be our role. We believe the Loron should be prevented from becoming a threat again, but we do not believe in total annihilation of their kind. We believe there is yet hope that their species can, when showed a compassion it has never known, respond with compassion in kind. Sanction them, and reduce their threat level, but let them know what it is to have their lives spared.
Tansimat - Institute a number of reeducation facilities in former Loron space and invest in psychological reconditioning of Lorons to make them capable of living in galactic society. In order for the project to be self-sufficient, institute reparations in form of salvaged resources (coming from ships and vehicles) and metals, precious and otherwise (all that bling has to come from somewhere), using Chikz as liasons. The Chik-ruled government shall ensure the payment of reparations and the reconditioning project, although PCA forces shall remain in Rogue Boyz space and take responsibility for its military protection.
Rambarth - At behalf of people of Rambo Nation, I am authorized to give the following statements. As a Nation, we demand the Rogue Boyz get a fair and just trail. Should they be found guilty, in which I have no doubt we would like to see this Court demand the Loron to give up their spoils of War so that those fallen victim can rebuild the damage done to them. Further more, in case of guilty we would like to see their imprisonment without a change of early release. If these demands are honored, the Rambo would not further prosecute or hunt down any Loron as they as they do not harm us again.
Aver Kuestantine - The New Republic does not condone the extermination of entire populations. While Da Rogue Boyz have threatened the prosperity of civilised space, their actions should not be used to justify genocide, nor the unlawful punishment of Loron uninvolved in the violence. As such, it is the view of the Senate of Cyrannus that these Loron be disarmed, while their leaders should be judged in an impartial trial by representatives of the Gigaquadrantic community. It is my hope, as the Republic representative, that these Loron populations be guided toward a new path, one in which there is recognition amongst their kind that peace is immeasurably more profitable than conflict. The intergalactic community must make a concerted effort in pursuit of this goal.
The Mechanic - Stupid, stupid bugs... no good! They've been up to no good! Damn, when the Taldar set up a sector around Highly Classified Zone F13, they didn't have bug infestation in mind! They were supposed to be kept in check and serving the Norol! Eh, do what you think like, I'm getting too old for this crap.
Alexandre I of France, trying to sum up the feelings of many others, gave a far lengthier response with a more even handed approach.
Alexandre I - With all due respect to my friends and colleagues in this room, I do not believe that the internment and candid slaughter of billions will solve this problem. What has been proposed is not justice, it is genocide; not security, but blind and unproductive vengeance; not strength, but an acceptance of weakness. Yes, we have before us a people which, when given incredible power by an accident of history, took up arms against the Gigaquadrant, wrecked havoc upon our states, plundered our shipping, sacked our planets, and murdered our citizens. France agrees that appropriate justice must be meted out today to give comfort to the families of those who are no longer with us, and to demonstrate that we will not tolerate wars of aggression. Yes, the Rogue Loron have been systematically rebellious and belligerent, loyal to no state and contemptuous of all but their own authority. Yes, they have shown themselves difficult to reason and communicate with. France agrees that any solution must take into account these practical realities, that we are dealing with a people with a difficult history and which pose a difficult problem for the security of the Gigaquadrant. But the Rogue Loron are not unique. They were not born aggressors, nor was it inevitable that they would become what they are. They were fashioned as such by circumstance. They lived, along with thousands of others, in the anarchic regions of Borealis and were shaped by its rules of survival which rewarded violence and strength. For generations, they were but a nuisance to the organized states of the Gigaquadrant. Had Borealis' states been strong enough to keep deadly weapons and technology from falling into the hands of a non-state actor without the resources or inhibitions of a state, they would have remained an annoyance in the periphery. They were pirates and thieves, but our inattention and carelessness made them into conquerors and terrorists. Had Borealis' galactic institutions been strong enough to govern the whole galaxy, to create structures capable of enforcing galactic law even in the periphery, the Rogue Loron would not have been shaped the rule of the strong. Instead, they would have been molded by international law and the rules of statehood. If we look back, we realize that our inability to protect these regions from violence made these Loron into pirates and thieves in the first place. The execution of the Rogue Loron will solve nothing. Borealis' states are still weak and incapable of protecting their own arsenals, and Borealis' institutions are still incapable of overcoming anarchy and deterring aggression. Most of all, the inhabitants of Borealis' periphery are still forced to resort to violence in order to survive. It is only a matter of time before these circumstances come together to produce yet another perfect storm, and yet another, and another. We need to stop this cycle of violence, and must instead work on strengthening Borealis' galactic institutions, provide assistance and counsel to its states, invest in the galaxy's resources and limitless potential, and work with the PCA to extend the guarantees of law to all of the galaxy's regions. This crisis is not over, it's ongoing. What we have before us is not a race of irredeemable belligerents, but a wake-up call for an issue that goes much deeper; not a simple problem which can be addressed by genocide, but a systemic galactic crisis which can only be solved if the Gigaquadrant works together towards a positive solution. The French Empire stands ready, with all of her resources and all of her might, to contribute to this solution, but it will not accept genocide. Punish the leaders who orchestrated this campaign, who are directly responsible for the death and destruction they have wrought. The rest should be disarmed and integrated into the states that can and will give them alternatives for fulfillment than violence. This is the just, equitable, and practical solution.
Xeron - Your insults will be kept in mind for the future, human.
Once the representatives of the Gigaquadrant had spoken their minds, it was time for the Council itself, minus Tuolog, to do the same.
Xeron - This meeting screams naivete and a lack of backbone. I seriously hope you don't intend to spare these creatures. They've been a pain in our backside since they arrived in our galaxy! The Loron must. Be. Destroyed!
Nayanur - I agree. Their kind are little more than barbarians who thrive in destruction. They are beyond civilizing, as proven by how the Ottzelloans themselves could only tame them through mind control.
Rhylarien - There is nothing to gain with Da Rogue Boyz's continued existence.
Augustex - Ridding Borealis of the Loron would be a great victory for the Alliance. It would free not just Ottzello, but great part of the known Eastern Arm from crime and warfare!
Semirian - The Zoles have favored the removal of Da Rogue Boyz since before the Polar Crystal Alliance was re-founded. Whether that is done by their extermination or their exile is not important to my people, as long as it happens.
Kitmnataza - The Borealis Galaxy cannot know peace when these warmongering lunatics are free to exist. Extermination is the only logical route.
Arkarixus - The Loron are creations of demons, who act only a little better than demons. They should be dispatched accordingly.
With each mention of "extermination", "victory" and "destroyed", the riled up crowd of aliens grow only louder and more vocal. "Kill them!" they would cry. For many others, "they killed my daughter!" in all the alien languages across the Gigaquadrant. Fre'kloar could only look down in disgust at himself, as well as at those in the room. None of the Loron were frightened, but each of them regretted the war they started.
Arkarixus - Now, the Council awaits for Tuolog's opinion on the matter. You, who have suffered the most by their actions: what do you want done? What kind of punishment should they suffer?
The entire room went silent in anticipation. Predicting a much harsher Tuolog than they'd seen before, each stayed completely quiet, their hearts pounding, including the Loron. Arkarixus saw the anguish in Tuolog's eyes, the struggle he had suffered not only in the Ottzello Revolution that was taking place, but to keep together the families who had been destroyed by this war.
Tuolog slowly approached Fre'kloar, looking down on him, before making his statement:
Tuolog - Confiscate their ships and place a blockade around their space. Send these Loron back to their planets. They're leaving.
On his throne, Councillor Xeron's entire body convulsed in a sudden bolt of anger.
Xeron - WHAT?!
Tuolog - You heard me. Take them away and be done with this. They shall not pose a threat again.
Nayanur - That is not enough. They will rise again and they will cause more destruction. Their existence as it is is not acceptable.
Kitmnataza - The galaxy cannot do with knowing that the Loron are still existent. There are enough threats in the galaxy, and removing the Loron would be a first towards peace.
Tuolog - You so sure? Let me remind you, which of us capable of seeing into the future? Which of us have greater grasp on possible timelines?
Arkarixus - Like you failed to see Zargoth tamper with your teachings, leading this entire incident to happen? No. You cannot use that excuse this time.
Tuolog - Zargoth is a time god. Loron are an alien species. And at the end of the day, their kind had no idea what pain they were inflicting. Their kind incapable of feeling empathy. So we show it to them, and they learn.
Augustex - This is an outrage! You would deny the dead their rest and let these creatures continue living without retribution?
Arkarixus - He is right. This is our chance to rid Borealis of their ilk! They are the enemy! And they stand before us on their knees!
Tuolog - You are right, Arkarixus. And it is not up to us to judge an enemy. Only to stop them. We show them a compassion they not know before, and they respond in kind. You want harsh punishment? We give it to them; they live the rest of their lives in guilt knowing what they have done. We kill them, and their problems end right there, while ours only begin. No. Loron are an invaluable asset in fighting extragalactic threats, and as much of a menace as they may be, they are also innocent in that they would not have started this war had they the same feelings as us. We restrict their territory, let them live with their crimes, and we be done with them forever.
Nayanur - Their morality being so alien just proves they are a threat. You had to brainwash these creatures so they would not slaughter your very Nation. Little more than barbaric dirt-eaters, all of them! You endanger the Alliance by suggesting we spare their lives!
Tuolog - You endanger it by killing them. Suppose we let one live. Suppose one slips through. Do you think they not try to fight for vengeance? In my old government, we had a man who had done the same thing. The Kralgon did not atone for their ways after going almost extinct, they sought retribution instead. Hate breeds more hate. But compassion breeds more compassion.
Rhylarien - A naive mindset... but one I could agree with, were it not for the fact we seek vengeance of our own.
Tuolog - And they seek vengeance of theirs if we hurt them worse. Vengeance does not solve anything. Fre'kloar, in fact, was acting out of vengeance. It was what got him out of control. And why he tried to start an extermination of all non-Loron life. We cannot allow it to consume us as well.
The crowds were outraged by Tuolog's words, feeling themselves wronged for his suggestions of letting the Loron go. The Council too argued among themselves, raising their voices in ways rarely seen outside of dire wars. It only came to a halt when Arkarixus rose his own voice, his near-Ultraterrestrial presence overwhelming all others.
Arkarixus - Enough. I have come to a conclusion for how we may deal with this situation.
Tuolog turned to Arkarixus, awaiting his response. He stood confident, seemingly without fear that Arkarixus would go against his will, even though inside he desperately searched through each timeline to find one in which the Loron were spared.
Arkarixus - If Tuolog is so desperate to spare the lives of these creatures, they we shall. But, from this day onwards, they are your responsibility. You will ensure they do not rise against us again. And if they ever do, we will exterminate them to the last man.
Tuolog - You have my word. My next government shall be held accountable to it.
Rhylarien - ... That is acceptable to me.
Semirian - Tuolog has proven himself trustworthy for many years. I will adhere to his judgement.
Augustex - It is not what I would normally agree with, but it will have to do.
Nayanur - You will regret this decision. These primitives will never change.
Kitmnataza - This will only spell more catastrophe for Borealis. The Loron will not stop with their...endless idiocy.
Xeron - ... Bah. FINE.
Tuolog - The order to destroy their kind will not just come when they rise up. It will come when they gather the mere power to rise up.
Arkarixus - So be it. This trial is... concluded. Now, get them out of our space station, I do not want to see them again.
Guards came to take Fre'kloar and the other Loron, each of them spitting on their faces and growling at them, as they wished they had died here. The Loron were taken away, and the now calmer holographic crowd left. It was decided; the Loron would live, but this would be their last chance.
Unexpected Compliance
Edit
A mere few weeks after the Loron's fate had been concluded, Arkarixus, Tuolog, The Mechanic and Dakster oversaw the Loron's sanctions from the Council chambers. The Ottzello Sector was on holographic display in front of them, as they visually saw Vague and Kormacvar Legacy starships give orders to the Loron fleets and place sanctions around their space. As many extragalactics including the Divinarium had proposed, re-education centers and peaceful space stations were also set up for free Loron access, and would be available for a few decades following the incident.
The Mechanic - Well, it's been a few weeks and no Loron have shot at my ships yet. That's a good sign, I guess.
Arkarixus - It will not last. These creatures are products of demonic minds. I merely wait for the day you all come to your senses.
The Mechanic - Hey, man, I'm with you. I didn't think this was a good idea either, just didn't expect anyone to hear me out.
Tuolog - I assure you that they not rise against us again. They only beginning to learn what it is like to be treated with respect now.
Arkarixus - In my time, respect was earned through obedience and servitude. There was no such thing as sanctions. You obeyed the laws of the Kormacvar or you died. Our rule was uncontested. The sparing of the Loron, in my people's eyes, would be seen as a sign of weakness.
The Mechanic - Ah, those were the days...
Changing the subject, Dakster coughed loudly to gain the attention of the three, then addressed Arkarixus and the Mechanic.
Dakster - I have an announcement to make. My people will be returning to Borealis permanently. That is to say, we shall not leave even when we have finish rehabilitating the Loron.
Arkarixus - I am certain the whole Alliance will welcome your return.
The Mechanic - Aw, hell yes! Man, with your firepower, ain't no way those cheeky demons will come for us now!
Dakster - I was hoping for a place within the Kormacvar Legacy, if you permit it. Do you?
The Mechanic - Sure, works for me. Any objections?
Arkarixus - I would never object to the souls of my people to return to their home galaxy. Besides, you here may be necessary anyway. Speaking of demons... there are worrisome readings in the far reaches of the Eastern Arm.
Tuolog - Not to mention, Zargoth still out there. However, I not believe the two are related.
Arkarixus - If my experience in the Xhodocto war is anything to go by, it is something more inclined to set the galaxy ablaze. We should all keep our eyes open.
Tuolog - Indeed. The Ottzello Revolution comes to a conclusion. I do what I can to ensure next Ottzello government ready to handle these problems.
Dakster - And the Vague shall be very welcome back in our home where we belong. We shall defend it with our lives, as we did when we were alive. And when Zargoth returns, we shall stop him. This time, for good.
Arkarixus - We can only hope. Hmpf... even with the Loron defeated, we still have many problems ahead of us.
The Mechanic - One day we'll return the galaxy to the golden age of peace. The age of tranquility when the Kormacvar ruled the stars. We'll have that again, Arkarixus, believe me.
Arkarixus - We do not have enough airlocks to throw people into for that yet.
---
Most of the Loron ships had been confiscated, though the Leedas were still permitted to use Da Propa Big Rogue Krooza under the condition that its weaponry be disabled. Da Propa Big Rogue Geek ensured that none of the Loron violated this rule, as she worked for a unilateral disarmament across the entire Rogue Boyz temporarily. Each of the Loron, broken physically and mentally, sat together in a meeting for the first time in weeks.
Fre'kloar - ...well that happened
Hagto'Zhl - man, fer once i DONT feel like shankin uno. or wateva it is deyz gonna be called fer nao on
Jol'kiar - yeh man dey akshually let us liv wat da hell
Ray'loth - MAN DIS IS TRASH. ALL DESE LAWS IS CRAMPIN OUR STYLE
Kal'kuir - IVE BEEN TRYNA HAK INTO DA SHIP TO GET DA WEPONZ WORKIN FOR DAYZ AN FER SOM REESUN I KEEP FORGETTIN DA PASSWORD
Rogue Geek - Actually, I keep changing it.
Kal'kuir - SCROO YOO YOO PIECE OF CRAP
Knar'gank - so... is dis da end of da rogue boyz? wat do we do nao? we cant kill peeps, we cant rob losas, we cant shank uno
Brag'klogga - man im tellin yoo we shuld be scared. reed da holy books DA DOOMSDAY IS COMIN!!!!!!
Hagto'Zhl - but we alredi went throo doomsday years ago tho
Brag'klogga - no dat was da Apocalips. da doomsday isnt wen evryon dies, its arguably wors dan deth. loronz all liv like trash an den deres deez geezas called da THOUGHT COPS an if yoo even fink "MAN BIG BROTHAS A MASSIV TOSSA" den dey LOK YOO UP FOREVA an TORTUR YOO until yoo praise him an ITS PROPA BORIN MAN
Grak'tona - uhh i dont see any thought cops... jus da same old niaka cops goin around PUTTIN LAWS ALL OVA MA CROWN. DA KING DISLIKES DIS
While the other Loron sighed, Rel'larutina couldn't help but giggle to herself. As the other Loron noticed her, she spoke up to them apologetically.
Rel'larutina - I'm sorry, I can't help but find this whole ordeal hilarious.
Hagto'Zhl - yeh? well whai dont ya moov out to da pca if ya like dem so much???
Rel'larutina - Pffft. You kidding me? I hate the PCA.
Hagto'Zhl - DEN DONT LAFF AT US BEIN CRAMPED AN NEARLY DED
Rel'larutina - I can hate the PCA and laugh at your style being cramped and your lives nearly ending, y'know.
Jol'kiar - rememba yoo nearly died too
Rel'larutina - So what? Some of the aliens suggested that Norol rule over the Loron afterwards. You know what that would've meant? I would've been queen. Hell yes.
Hagto'Zhl - mor like ID GRAB YOO AN CRAK YOO OPEN LIKE A MELON YOO GROSS HEAD WIV LEGS
Rel'larutina - Rude.
Rogue Geek - Also illegal. You're not allowed to kill Norol willingly anymore.
Ray'loth - AAAAAAAAAAAAHHHHHHH
Hagto'Zhl - man times like dese i wish i was still hangin out wiv dem corruptus boyz. dey dont disallow yoo from killin peepz. in fact yor very much ENCOURAGED
Brag'klogga - wat ya meen wiv gratzkaoz?
Hagto'Zhl - no man gratz was not corruptus. i meen dose Blak Fog Devours Everyun geezas
Brag'klogga - ta be honest if da corruptus came bak we culd probs kik deir ass like we kiked Rogue Sins ass
Hagto'Zhl - ehhh shu'rimrodir was much sikka dan dat stoopid fake god but wateva
Brag'klogga - im jus sayin man. dis is wat we do. da Loron Godz in da holy books was da sikkest godz eva yeh? dey didnt let no puny little wimpy godz orda dem about, so dis is wat we do. we go kill god geezas an xhoddie boyz geezas an whoeva den we show dem whos RELLY BOSS. an coz wes killin deemuns no stinky alienz can complain at us for it
Hagto'Zhl - ya got a point. since we cant kill the pca we can at leest kill deemuns!... cept dere aint any deemuns ta kill yet. meh.
Fre'kloar - MAN DIS IS PROPA LAME I SWER
Voa'reak - dont whine. ya got ta keep ya sikka olda look whil everyun else is stuk in da same age foreva. NOT FAIR MAN I WANNA SIK ROBOT ARM AN EYEPATCH TOO
Fre'kloar - ta be honest it doesnt feel as cool now im not edgy anymoar
Jol'kiar - fank zr'an'kar fer dat
The Loron stayed in silence for a while, each waiting for someone to come up with a suggestion for what they should do next. Eventually, Kal'kuir had an idea.
Kal'kuir - I GOT A SIK IDEA FER WAT WE SHULD DO AFTA DIS
Zalk'don - bet its stoopid cause it doesnt involve bomz
Kal'kuir - ok, rememba befor da Ice Cube Trials begun we was all lazy? lets...go bak ta bein lazy hur
Fre'kloar - LISSEN HEER YOO... hmm. well... i guess???
Rel'larutina - Or...just host Ice Cube Trials repeatedly? I don't think anyone will complain at us for that.
Grak'tona - yeh. dat works. we have lots of SPORTS an lots of DOIN NUFFIN BUT SLEEP AN EET PIZZA. SOMTIMES WE EVEN COMBINE DEM
Rel'larutina - That, and then there's Hyposirius for more sports and pizza.
Hagto'Zhl - OOH. OH YEAH. MAN WE GOTTA PAY HYPOSIRIUS A VISIT I HEARD ITS A SIK PLACE
Rogue Geek - All of these are viable options, though I should point out that our ceasefire sanctions will expire in two years. After this, we are allowed to use weapons again, we are simply not allowed to use them for full scale combat. Tuolog has offered a "friendly proxy war" in the territory for whatever government he makes next if we cannot go without war.
Ray'loth - friendly proxy? seems kinda gay tbh. but does dat meen we get ta bully ottzello agen?
Rogue Geek - It means they use you as target practice.
Ray'loth - oh. WELL DAT MEENS WE GET DA EXCUSE OF "LEGITIME DEFENSE" OR WATEVA IT IS. SO BASICALLY WE FITE BAK AN BULLY OTTZELLO AGEN
Rogue Geek - Sure, whatever.
Rel'larutina - I have only one more suggestion. And that's just we do whatever Billig says. I mean, again, no one will complain if the people we kill are other criminals.
Hagto'Zhl - i guess. at leest when yor fitin otha criminals yoo get a lil more variety since dey fite as DIRTY as yoo do
Fre'kloar - ALL IN FAVA OF ALL DA ABOV RAISE YA HAND OR FORM A LINE BEHIND ME AN KISS MA ASS
Grak'tona - NO. KISS MINE. IM DA GUY WIV DA CROWN HEER.
Fre'kloar - YORS IS GROSSA DAN MINE
Grak'tona - YEH WELL AT LEEST MINE DOESNT SMELL... wait. it does. eh wateva.
Fre'kloar - OK SO WE ALL AGREE. HOW ABOUT WE THROW A "WE AKSHULLY DECIDED WAT TA DO TA WASTE TIME" PARTY????
Traz'raka - WOO PARTY. IM GONNA GO TO DA SHOP A SEC AN GET PARTY HATS FER ME AN LIL HOMIE
Rel'larutina - Party hats? For a gun?
Traz'raka - not jus a gun ok????
Rel'larutina rolled her eyes, as the other Loron, suddenly enthused and energetic, charged out of the room to grab whatever outfits they wanted to wear to the party. While they still felt morally defeated, this was the first time in their lives that each of them could find a purpose outside of war, and outside of overcoming Ottzello.
They'd still keep the name "Da Rogue Boyz", though. It sounded too cool.
Da Loron stoof
WEZ DA REAL LORONZ MAN DONT REED DAT UNO STOOF ITS DUM
OI BOLD MEENS SPESHUL STOOF
WE IS DA REAL COOL LORONZ DA ROGUE BOYZ IS DUM DONT REED DEM
| | | |
| --- | --- | --- |
| Da Tekkno Stuff | | SHUT UP MAN WE HAS DA SAME TEKKMO STOOF AS UNOS TEKK |
Da Cash
SHUT DA HELL UP MAN LOOK HEER
Da Timez
DUMBO GO HEER
Da Godz
YOO LOSAS ZR'AN'KAR IS DA DUMEST GOD EVA ALL DA OVA GODZ AN ROZ'TAH'FLOK IS BETTA
WE IZ DA DEFFMARCH BOYZ AN WE IS DA BEST COS WE WIV DA MALI'NAR YA DUMBOS
| | | |
| --- | --- | --- |
| Da Warz | | COMIN SOON MAN SHUT UP |
| | | |
| --- | --- | --- |
| Da Tekkno Stoof | | SHUT UP MAN WE HAS DA SAME TEKKNO STOOF AS MALI'NAR DO YA DUMBO MOST OF DA INFO IS HEER BUT OMG WE DONT NEED MUCH TEKKNO STOOF WEZ TOO POWAFUL HUR |
| | | |
| --- | --- | --- |
| Da Godz | | ALL DEM GODZ IS DUM DA ONLY REEL GODZ IS DA DEFFMARCH GODZ |
Part SporeWiki:Fiction Universe
Community content is available under
CC-BY-SA
unless otherwise noted.