Da Rampage is a Historical Event

---

"Da Rampage" is considered a historical event or a completed fiction within the

SporeWiki Fiction Universe

. You must ask its original creator if you wish to add any additional stories.

While the universe prepared themselves for the worst, after Annihilation, something else was happening in the Ottzello Sector of the Borealis Galaxy. A group of Loron known as Da Rogue Boyz weren't implanted The System when the Kralgon took over, and because of that, they were free to do whatever they wanted.
These Loron found about UNO's own Loron, and became angered with it. They didn't wanted their species to become "nice an dum", and were ready to do anything to remove the Loron from UNO and bringing their species back to their "propa wayz".
However, a darker force also watches this conflict. Something darker than anything the inhabitants of the Sector could even imagine...
It is the beginning of Da Rampage...
Da Startas
Edit
In UNOL, a new topic was arising...
Kralgon Emperor - Zr'Ahgloth, report here.

Zr'Ahgloth entered the room.
Zr'Ahgloth - YOO CALLED ME
Kralgon Emperor - Yes I did.
He showed images of the Rogue Loron.
Kralgon Emperor - Anything you have to do with this?
Zr'Ahgloth - uhh no man
Kralgon Emperor - What I'm not happy with is this
He pointed to a protest saying UNO LORON IS NICE AN WEEK.
Yogtam - Are you being nice and weak??
Zr'Ahgloth was suddenly angered.
Zr'Ahgloth - IM NOT NICE AN WEEK WAT DA HELL
Dakster - How can they even protest if the System is in their bodies?
The Emperor had some explaining to do...
Kralgon Emperor - Hmmm... well there were some Loron I wanted to experiment with by *not* adding the SYstem to them... and we know how fast Loron breed. Ah, I see what's happened.
Zr'Ahgloth - YOO IDIOT DIS IS YOR FAULT NOT MINE
Dakster - So there are Loron around the sector not under the System's control? This could give us some trouble.
Kralgon Emperor - It appears so, yes.
Valzo - Wait... I'm getting a transmission from Fre'kloar.
Fre'kloar appeared on transmission.
Fre'kloar - OI DUMBOS
Zr'Ahgloth - OH YOO I REMEMBA YOO YOO WAS DAT WARBOSS WHO SED DAT MY MOM WAS DUM AN TRIED TA CHALLENG ME TA BECOM BOSS BEFOR DA SECOND OTTZELLO WAR
Fre'kloar - YEH MAN DAT WAS ME MAN AN YA MOMS STILL DUM
Zr'Ahgloth - YA DADS DUM GO TA HELL
Kralgon Emperor - But there isn't one of you, is there? Who's that hiding there?
Hagto'Zhl turned around and appeared on screen.
Hagto'Zhl - OI WHOS CALLIN ME WAT DA HELL MAN YOO LOOK LIKE A PEPPA
Zr'Ahgloth - YOO!!!
The two had a cowboy-esque stare-off.
Hagto'Zhl - OH MA DAYS ITS DAT BLU COPYCAT ME
Zr'Ahgloth - OH MA DAYS ITS DAT GREY WANNABE
Tuolog - Floktranoa...
Valzo - Yeah, I agree with you Tuolog. Not again...
Fre'kloar - SO YEH MAN WE IS BETTA THAN YA LAME UNO FINGY SO WE IS GONNA KILL YOO
Hagto'Zhl - DA ROGUE BOYZ DA BEST
Zr'Ahgloth - YA MOMS DUM WE HAS DA SYSTEM
Hagto'Zhl - SHUT DA HELL UP MAN I HAS DIS

Hagto'Zhl showed off some of his Dark Gyronic powers.
Fre'kloar - SYSTEMS FOR GAYFISHES

Zr'Ahgloth was desperate for attention now.
Zr'Ahgloth - SO DOES I
He tried to use Dark Gyronic but failed.
Zr'Ahgloth - ehhh... OI TUOLOG SHOW OFF YA MAGIC
Tuolog - No.
Fre'kloar and Hagto'Zhl - hur hur hur hur
Kralgon Emperor - ....did he just speak like us...?
Fre'kloar - OI ZR'AHGLOTH YOO RUINED DA LORONZ YOR A FAIL BOSS
Tuolog - YA MOM RUINED DA LORONZ
Fre'kloar - SHUT UP MAN IM NOT TALKIN TO YOO
Zr'Ahgloth - YEH DATS RITE YOO TELL HIM... wait man yoo talk normal
Hagto'Zhl - wat
Tuolog - Of course I flipping talk normal! What made you think otherwise?
UNOL was startled.
UNOL - ...
Valzo - How about the fact, Tuolog, that you always use that spiritual voodoo blah blah talk?
Tuolog could have responded to Valzo, but he instead decided it'd be more fun to respond to Fre'kloar.
Tuolog - NO ONES TALKIN TO YOO COS NO ONE LIKES YOO
Kralgon Emperor - It seems he is fluent in every language by some Psionic ability... interesting.
Fre'kloar - SHUT UP YA GEEK
Tuolog - Indeed I am. OI YA MOMS A GEEK. Now then, who's ready to kick Loron butt?
Zr'Ahgloth - SHUT UP MAN ONLY DA UNO LORON SHOOD FITE DA ROGUE BOYZ
Tuolog - Then, fight!
Hagto'Zhl - WE IS GONNA KIK YOR BUTTS YA LOSAS
Zr'Ahgloth - WE IS GONNA KILL YA MOMS oi man wat planet
Fre'kloar - WAT DA HELL MAN WE EINT TELLIN YOO...we dunt hav a target yet BUT STILL
Zr'Ahgloth - dats not fair we need ta kno where ta fite dont we ovawise dis gonna be just wastin time lookin fer a planet wez bof on
Hagto'Zhl - SHUT UP MAN YA...wat hes rite ennit
Fre'kloar - LISTEN FOR YOR DISTRESS CALLZ CUS DATS WHERE WE WILL BE KILLIN YOR PEEPZ
Kralgon Emperor - If you can make it past our defense systems, that is...muhahahahahhaha!
Fre'kloar - SHUT UP PEPPA YA MOMS DUM
Zr'Ahgloth - WHO NEEDS DEFENSES WEN YOOV GOT DA BOYZ AN YA MOMS A PEPPA
Fre'kloar - hur hur we is bigga dan yoo fink we is everywhere in dis sektor ma warbosses ar all around waitin to shank ya mom
Tuolog - hur ya moms dum cos I KNO ALL MAN I IS GONNA DETECT WHERE YOO IS
They closed communication. Da Rogue Boyz were in town. And they were about to shank your mom.
Return of the Traitors
Edit
Zr'Ahgloth and his boyz were out in search for Fre'kloar's own boyz. Meanwhile, UNOL was discussing other subjects.
Valzo - I've been recieving anonymous transmissions today, and I've got another from the same anonymous sender. We haven't tracked their sector. ShallI we respond?
Yogtam - Is this that Fre'kloar guy again?
Tuolog - Fre'kloar is too dumb to send anonymous transmission. I been in his mind since our last talk.
Kralgon Emperor - Let's see what is this, then.

They turned on the transmission, with nothing but a black screen, and a sillhouete of a creature.
???? - .......
Kralgon Emperor - Who is there?
???? - ...You will not know...
Dakster - What is this? Too cowardly to reveal yourself?
???? - No, I'm just not stupid.
Kralgon Emperor - Hmpf, what do you want?
???? - ....
Tuolog - ...what do we have here.
Kralgon Emperor - Ha, at least now we can understand him. What is it, Tuolog?
???? - ...
Tuolog - It's a Telzoc.

Lights were turned on on the screen, revealing it was really a Telzoc. And not any Telzoc...
Telzoc - You are clever. You may be worthy of fighting after all, my old friends! Yeah that's right, I'm Zelfron!

UNOL was startled for a moment.
Kralgon Emperor - Zelfron? What do you want from us?
Zelfron - Have you not worked this out already?

Tuolog felt something really nasty in his mind.
Tuolog - I have a bad feeling about this...
Feldosia - I feel you, Tuolog. So do I....
Zelfron - You see, you're all pathetic. And my master is about to prove it...
Kralgon Emperor - Master? Listen, Telzoc. We have no time for your stupid threats. We already got enough problems.
Dakster - Yes, you're a traitor. Lying to us for centuries!
Tuolog - Let's not forget who is Zelfron's master...
Valzo - No, let's not. Well, we have people who can deal with you Zefron, even if the Loron are busy.
Zelfron - ...
Yogtam - We have survived the universe's annihilation. You don't stand a chance against us.
Zelfron - Oh I know what you've been through. I was there with you. And I smite your pathetic ways. Peace? It's inevitable that there IS no peace, and will never be any!
Valzo - You're pathetic, Zelfron. We though highly of you.
Dakster - I prefered when you were a Spode follower. Now you are an idiot.
Zelfron - No, YOU are the idiot for ever believing I followed that false god! Hah! Anyway, I must be off... I have more important matters to attend to. Most invovle your destruction.
Kralgon Emperor - As if.

Zelfron closed the transmission. UNOL now had something else to worry. They were aware of Zelfron's alignment with Zargoth. But what to do now? Deal with the rogue Loron, or deal with the Telzoc?
Invasions
Edit
While UNO was confident they were safe from the rogue Loron, they were about to get a nasty surprise. Distress calls were being sent from various locations, where the Rogue Boyz seemingly destroyed UNO's defenses with extreme ease. Apparently, they were using a strange alien technology, something too advanced to be Loron made...
Soon, the rogue Loron started to raid and loot UNO's worlds, killing billions in a matter of hours. Something had to be done fast.
Zr'Ahgloth - man we is so gonna batta dese losas
Thr'aloy - yeh man dese geekz ar ded

Zr'Ahgloth and his homie Thr'aloy leaded their boyz into the direction of the attacked planets. Upon landing into the first attacked planet, they found it to be infested with rogue Loron and Loron'Kikra. UNO citizens were either dead or being eaten alive.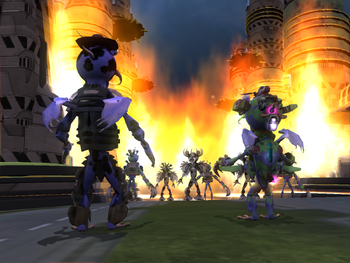 Zr'Ahgloth - WAT DA HELL MAN WE IS LATE
Thr'aloy - OI MAN I TOLD YA NOT TA STOP TA BUY PIZZA
Zr'Ahgloth - SHUT UP MAN I WAS HUNGRY
Rogue Loron - ITS DEM UNO BOYZ LETS BATTA DEM!!!

The two Loron forces fought each other. While the rogue Loron were strong and could kill the other UNO memers, they were still weaker than the Loron with The System. Eventually, UNO's Loron killed all the rogue boyz. Another distress call was being sent to the ship which transported Zr'Ahgloth and Thr'aloy.
Kralgon - Hey, you two! We already got another planet for you to go!
Zr'Ahgloth - hur hur da party eint started til da boyz com in

And the ship travelled to the attacked planet. But what was this technology used by the rogue boyz? Was it the Telzoc's doing? Or was it something else...
Battle of Plokri
Edit
Plokri was a forest planet owned by UNO. While there were only 2 real cityies, the Ioketa presence here was strong, and it was one of 3 worlds with great Ioketa presence. But the Rogue Loron didn't realise that there were strong defences.
Not only were there the extremely strong Essence defences from the Ioketa themselves, but several Kralgon Pods defending the location with great force. For some reason, the Loron's method of quickly taking the defences was not working so well, due to the Ioketa's ability to repel any Essence they didn't allow. But why would that stop the Loron?
Thr'aloy - oi man da rogue boyz has arrived
Zr'Ahgloth - can i finish ma pizza first man
Thr'aloy - AR YOO STOOPID
Thr'aloy took an army of Boyz and charged at the Rogue Loron; the System could identify to the user who did have the System and who didn't, so while the Rogue Boyz were killed a mixture of UNO boyz and their own, UNO's boyz knew who to fight. Soon, a larger Rogue Boyz forced, composed of Loron'Kikra and Loron, attacked. Thr'aloy charged straight into the battle, with excitement and happiness, and punched everything he saw. The battle was so hectic and chaotic, Thr'aloy didn't even realise his own Boyz hadn't survived, except himself, when he won.
The Kralgon Pods cloned more Loron, but each pod was slowly torn apart by a Rogue Loron'Kikra Warboss.
Ref'kolar - YA MOMS DUM
Thr'aloy - COM DEN LETS FITE
Thr'aloy grabbed Ref'kolar, head butted him and pucnhed him, before being kicked back. When on the ground, Ref'kolar stamped on Thr'aloy repeatedly, and then on his neck. Thr'aloy bit Ref'kolar's leg, making Ref'kolar fall. Thr'aloy kicked him.
Ref'kolar quickly got up and ran at top speed. Thr'aloy was running too. However Thr'aloy ran out of breath, and Ref'kolar was picked up by a small starship.
Zr'Ahgloth came running.
Thr'aloy - DA HELL WAS YA
Zr'Ahgloth - SHUT UP MAN I WAS EATIN MA PIZZA
Thr'aloy - YOR DUM
Zr'Ahgloth - YA MOM
Loron - OI MAN DA KRALGONZ WANT YOO DEYV FOUND ANUVA WARBOSS FOR YOO TA KILL
Thr'aloy - REF'KOLARS A WIMP HE RAN AWAY WEN I BATTERED HIM
Zr'Ahgloth - ALL DA ROGUE BOYZ KNO WEN TA RUN AWAY ITS STOOPID WE NEVA DID TILL WE HAD DA SYSTEM
Death from above
Edit
Zr'Ahgloth and his boyz travelled to the next planet, Lothiti. Lothiti was a rural planet, centered around producting food for the nearby worlds. The rogue Loron invaded and raided it, apparently led by a warboss called Voa'reak. Zr'Ahgloth and Thr'aloy were deployed into the planet, where they investigated the surroundings.
Zr'Ahgloth - DEYZ DESTROYIN OUR PIZZA SOURCES MAN IMMA SHANK DEYR MOMS MOMS
Thr'aloy - ENNIT MAN WAT DA HELL AR DESE ROGUE LORON ON BOUT

Suddenly, several Loron in jetpacks appeared in the sky and slammed against Zr'Ahgloth and Thr'aloy, knocking them away.
Zr'Ahgloth - WOAH WAT DA HELL
Thr'aloy - DEY GOT FLYIN PEEPZ MAN

UNO's boyz clashed with the jetpakc boyz, killing them all. As they advanced, they heard a voice.
??? - IM COMIN DOWN ON YOOS
Zr'Ahgloth - WAT DA HELL
??? - BUT YOO WILL ALWAYS BE BENEATH MA FEET

A larger Loron with a very large jetpack slammed against the ground, knocking Thr'aloy down and Zr'Ahgloth off a cliff.
Zr'Ahgloth - WAT DA HELL IM FALLIN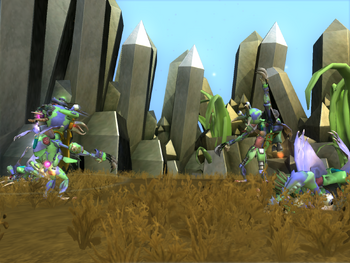 Thr'aloy got up and looked at the Loron. This was Warboss Voa'reak.
Voa'reak - hur hur hur dey sent a kid loron ta fight me wat da hell<
Thr'aloy - SHUT UP MAN IM DA SECOND STRONGAST LORON
Voa'reak - WE WILL SEE BOUT DAT LOSA

Voa'reak screached and flew up into the sky, before slamming against Thr'aloy again.
Voa'reak - HUR HUR IM DA SKYKILLA
Thr'aloy - ARGH MAN STOP JUMPIN AROUND AN FIGHT PROPA

Thr'aloy got up and started to punch Voa'reak, who fought back by kicking. Both jumped and kicked each other several time, until Thr'aloy headbutted Voa'reak, knocking him back.
Voa'reak - YOR TUFFER DAN YOO LOOK BUT IMMA SHANK YA DAD

Voa'reak flew and tried to slam into Thr'aloy again, but this time, he missed. Voa'reak then grabbed a bizarre gun and started to shoot at Thr'aloy. Each shot that hit the battlefield causes massive destruction. That certainly wasn't a Loron gun.
Thr'aloy - WAT DA HELL MAN IM SIK OF YOO

Thr'aloy jumped on Voa'reak, grabbed his shanka and started to stab through his jetpack. Soon, it started to malfunction, launching Voa'reak up. He let his gun fall on the ground.
Thr'aloy - YA THICO YOR GONNA BLOW UP NOW
Voa'reak - I DIED AS I LIVED LOUD FAST AN DANGEROUS
Thr'aloy - HUR YOR A GEEK DATS WAT YOO AR

Voa'reak exploded in a large boom. Zr'Ahgloth finally managed to climb the cliff he was thrown into, and the group's boyz were reporting back after defeating the invasion. Zr'Ahgloth noticed Voa'reak's gun.
Zr'Ahgloth - WOAH MAN DATS A SIK LOOKIN GUN IMMA CHECK IF ITS LOADED
Loron - NO MAN DONT YOO GONNA KILL SOMONE LIKE LAST TIME

Zr'Ahgloth grabbed and aimed it.
Thr'aloy - hur wat OI MAN DUNT TOUCH DAT

When Zr'Ahgloth fired, the shot killed the Loron boy next to him instantly.
Zr'Ahgloth - WOAH WAT MAN
Thr'aloy - DEY ROGUE BOYZ AR DUM BUT DEY GOT SIK GUNZ I GOTTA ADMIT
Zr'Ahgloth - i gotta show dis gun ta kralgonz man

The Loron left the now secure planet. Zr'Ahgloth wanted to show his new toy to the Kralgon Emperor.
The alien technology
Edit
Zr'Ahgloth and Thr'aloy returned to UNOL HQ. They had things to report.
Kralgon Emperor - Zr'Ahgloth, what do you have to report?
Zr'Ahgloth - hur hur me an thr'aloy battered two of dem warbosses
Thr'aloy - SHUT UP MAN I DID EVERYTHING MASELF
Zr'Ahgloth - YA MOM
Kralgon Emperor - Zr'Ahgloth shut up, I do control the System and I can see each one of your thoughts... so I know who killed who. And you were being lazy.
Thr'aloy - oh yeh we also found dis sik gun wif dat crazy jetbak warboss i killed
Kralgon Emperor - Show it.

Zr'Ahgloth grumbled and showed the gun to the Kralgon Emperor.
Kralgon Emperor - There we are. Hmm... this seems... incredibly advanced. Doesn't use bullets. I don't think the Chikz are capable of this themselves... Telzoc technology?
Tuolog - I see Telzoc mind. That not their tech. Their tech weaker.
Zr'Ahgloth - i never seen any of da chikz or da geekz do anythin like dat
Valzo - That can only mean one thing...
Tuolog - It Tralkik tech.

The members of UNOL became confused.
Thr'aloy - tralkik wat da hells dat
Kralgon Emperor - Tralkikianoe technology? Hm... you know you're actually right. I was actually thinking it was Vyro'Ralzan... Tuolog - It is Vyro'Ralzan.
Feldosia - Hmm?

Everyone was even more confused.
Dakster - How would a bunch of rogue Loron obtain Vyro'Ralzan technology?
Tuolog - I explain. The Tralkik origins are beyond this universe. They be from Time War. Eighth Time War. In this war Vyro'Narza and Vyro'Ralza dislike. They fight each other. But they beyond war. They make races to fight.
Kralgon Emperor - And the Tralkik are the Vyro'Ralza's race... a race of sentient machines.
Tuolog - Yes. Now they back. Telzoc brought them. Tralkik tech like Vyro'Ralza, same concept, but weaker. They evolve themselves. They now help Rogue Loron.
Zr'Ahgloth - WAT DA HELL DA ROGUE LORONZ CHEETIN
Kralgon Emperor - We must track them down. We HAVE to stop the Rogue Loron before they cause real damage...
Tuolog - We fight. But Tralkik use little essence so I may be stronger at dealing with them. They not have real minds so I not communicate with their mind.

Zr'Ahgloth posed, confident.
Zr'Ahgloth - HUR HUR IMMA BATTA DEM ALL
Tuolog - No. Tralik very strong and very methodical. They not be underestimated.
Thr'aloy - HUR DEN WAT WE DO NOW
Kralgon Emperor - The Tralkik took over a few planets without having any worlds themselves... in 3 days, a planet was theirs without the normal 'huge invasion fleet'. What we need to do is find the Tralkik's weakness.
Yogtam - And I'll be thinking of some defence strategies with you, Zr'Ahgloth.
Kralgon Emperor - For now, a few planets doesn't matter. But it's later...
Zr'Ahgloth - defense man hur dats borin
Yogtam - It won't be boring when you get to fight, no.
Feldosia - They could be a huge threat. I hear they're working with GTFO.
Dakster - Anyone else got something to discuss?

No one had anything to add.
Zr'Ahgloth - nah
Thr'aloy - imma go batta more warbosses while zr'ahgloth fites da tralkik ennit?
Kralgon Emperor - I believe so.
Zr'Ahgloth - hur hur im gonna kill sum geekz
Tuolog - Be careful. Tralkik very strong, and you can barely ever find them. That when they not use their superweapons. Take Yogtam with you.
Kralgon Emperor - I wish to see to the destruction of the Rogue Loron personally... I'll bring my fleet with Thr'aloy to fight them. Thr'aloy, muster our warbosses to fight theirs.
Thr'aloy - yeh man
Zr'Ahgloth - OI MAN I IS GONNA APPOINT DA WARBOSSES LATA
Kralgon Emperor - So... can we have some Inalton commanders?
Thr'aloy - dats stoopid i'll use da warbosses we got alredy but our warbosses at da moment ent nuffin speshul
Yogtam - AND Inalton commanders.
Thr'aloy - FINE IF YOO INSIST

UNO was now in more danger than ever...
The Meeting
Edit
Roshisiz - Everyone in the ZarClan. Report to our Ralza Temple. This is urgent.

Roshisiz was calling from a Vyro'Ralza temple.
Fre'kloar and Hagto'Zhl entered the temple.
Roshisiz - Ah, there you are. Where's Zelfron?
Zelfron entered.
Roshisiz - So we may begin.
Hagto'Zhl - ey roshisiz man soz bout dat time on da speesh station I forgot wat i was doin dere
Roshisiz - Hmmf. It's irrelevant now, don't worry. So then... anything we should discuss before I go on with my announcement?
Fre'kloar - WE IS LOSIN TIME HERE I WANNA BEAT SUM UNO LORONZ
Zelfron - Oh shush it, big boy.
Fre'kloar - SHUT UP BIRD BOY YA MOMS DUM
Zelfron - My mom's dumb? What does that make your mom? I shall have you now you're messing with the wrong person...
Roshisiz - SO I TAKE IT WE HAVE NOTHING TO DISCUSS!
Zelfron - When the hell where you in charge?
??? - Stop this fight, right now. We don't have time for this.
Everyone stopped and stared. they didn't need to see him to know who he was.
Zelfron - Oh my...
Roshisiz - This is what I was telling you about. You've done well, Telzoc.
Zelfron - Last time I checked it was only 60% finished, now you've brought him back?
Roshisiz - Since when was time relevant to this situation?
??? - Huh. Indeed.
Zelfron - So I present to you... Zargoth's right hand man.
Hagto'Zhl - EY MAN WATS UP
??? - Now, about the technology we have been exchanging...
Fre'kloar - YEH MAN ITS SIK HUR ZR'AHGLOTH WETTED HIMSELF THA LOSA
??? - Perfect. Cause as much damage as you can. Leave none of them alive.
Hagto'Zhl - HUR I AINT PLANNIN TA LEEV NO ONE ALIVE
??? - This is your final assignment. I will now leave you to go on with your lifes.
Fre'kloar - SO WE CAN DO WATEVA WE LIKE
??? - Yes.
Fre'kloar & Hagto'Zhl - SIK!!!!!!
They ran around smashing all the statues then blasts to their own world.
??? - Huh, they are cute working together. Now, I still need you *point at Zelfron* to do something for me.
Zelfron - What is it, my lord?
??? - I want you to find the Vyro'Narza known as Mac.
Zelfron - HA! That is just too easy! Tell him Roshisiz.
Roshisiz - We've had friends *points to the left* tracking him since we left.
Where Roshisiz was pointing, two humanoid robots walked slowly forward. Their footsteps were heavy, and echoed across the room. Their single eyes glowed a red-ish colour, scanning the room.
??? - Ah, excellent. After we have made our "surprise" to UNO, Mac will be next.
Zelfron - Muhahahhaha... it'll all be done in time.
Roshisiz - Wait- did you hear that?
It was Zargoth. He'd arrived.
Roshisiz & Zelfron - Zargoth!
??? - Greetings, master.
Zargoth - ....
Roshisiz - Erm, how is things my lord?
Zargoth - Irrelevant.
Zelfron - What do you want us to do now, Zargoth?
Zargoth - Have you not already been told?
There was an awkward silence acrossthe room.
??? - I have told them.
Zargoth - Then you should know what to do. Zelfron & Roshisiz - Right. We'll be off...
They left to do some fighting.
Zargoth - This is it, isn't it? This is the time when we, the Legion, take over.
??? - I have failed once, but that will not happen again.
Brain of Corruption
Edit
Back in the UNOL HQ, the leaders were discussing about their plans.
Kralgon Emperor - I should prepare my invasion fleet now, and Yogtam you've prepared yours?
Yogtam - Wait: there's a visitor. It's that scientist.

The scientist, responsable for the recreation of the Loron'Kikra, entered the room.
Valzo - Your 'product'... tried to kill us. And it was the Loron'Kikra, but weaker. You have some explaining to do.
Scientist - It's working as intended.
Feldosia - Oh? Is that why it's turned against us?
Zr'Ahgloth - IMMA BEET YOO UP
Scientist - Huh...silly mishap. I killed you once, I can kill you again.
Zr'Ahgloth - YOO NEVA KILLED ME I ONLY SEEN YOO ONE TIME BEFOR
Kralgon Emperor - Hmm... I've never seen you registered, so...

The scientist started to float, and his body became engulfed in Dark Gyronic power.
Scientist - Really? You have seen me before. You have tried to fight me before. But all you did was kill my beta creation.
Zr'Ahgloth - OH NOT YOO
Tuolog - It Kolossus.

The scientist got bigger, and his body starts to transform into a vile snake-like body. It was really Kolossus.
Kolossus - Exactly.
Zr'Ahgloth - WAT DA HELL MAN DAT COSTED 50,000 SPOREBUCKS
Feldosia - It was 50,000,000, Zr'Ahgloth. Learn to count.
Tuolog - You should not exist. You time anomaly. You infest what you do not belong in.
Kolossus - Strong words for such a tiny little 3D thing.
Tuolog - You now... 5 dimensional. But you see it is not about the strength of one's being, but one's meaning, one's will, and one's mind.
Kolossus - You are all meaningless. This nation stood in my way last time, but now, your efforts in stopping me shall be irrelevant.
Tuolog - We are one people. You Legion all different, you not united. You just blindly follow and think what you are doing is right. Some of you Legion evil, some of you Legion enjoy killing innocents. You all wrong.

Tuolog raised his hand, chanted some words and started to connect his mind to Kolossus.
Tuolog - *in Kolossus' mind* You must understand turth. You will fight, you will force me out. You will think you succeed when I am gone, you will be wrong.
Kolossus - Begone from my head, inferior!

Tuolog blasted all the essences he could at Kolossus, but failed to cause damage. At this point all of UNOL ran away as the HQ's top is destroyed, but Tuolog remained in his chair. Kolossus launched a large blast of Dark Gyronic, finally killing Tuolog. The rest of UNOL evacuated the fastest they could.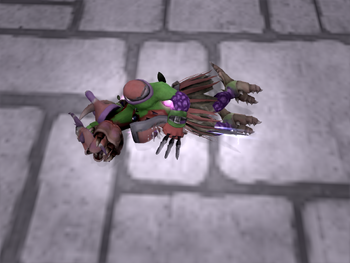 Kolossus - Hmpf. What did you hope to achieve? Now, this world will turn into a cursed hell by my new enhanced Dark Gyronic!

Kolossus destroyed the planet. UNOL retreated back to Grenzaar's HQ. All moaned over Tuolog's sacrifice.
Kralgon Emperor - We lost Tuolog. Now what can we do? We're hopeless at fighting anything supernatural.
Dakster - And just when he learned to talk normal.
Zr'Ahgloth - wah man cant we clone im or sumfing?
Feldosia - Tuolog's spirit is unique, as is his being. Unlike any of us, he cannot be cloned. He will be missed.

"You do well. Good luck. You think I fail. I not."


Zr'Ahgloth - oi yoo hear dat?
Valzo - Hear what?
Kralgon Emperor - Hallucinations that Kolossus left over, I suppose. We'll fight in Tuolog's honour! Leave the Rogue Loron, they'll be fought at a later date. Search for the Tralkik base and annihilate it!
Zr'Ahgloth - MAN IM PISSED OFF DEY KILLED OUR IOKETA HOMIE NOW IMMA SHANK DAT KOLOSSUS GEEK FER GUUD
Yogtam - That's the spirit!

They prepared themselves for their strike. Meanwhile, in Fre'kloar's base.
Hagto'Zhl - hur da UNO boyz ent attakin no more deyz given up
Fre'kloar - hur hur deyz so dum now we get ta kill dem fasta
Hagto'Zhl - nah wat wez gonna do is wez gonna attak dem propa hard fer now jus blow up ova peepz but wen we do atak UNO wez gonna hav all da warbosses big war
Fre'kloar - hmm yoo know dat might work guud thing I though of dat
Dark zr'Ahgloth - YOO NEVA THOUGHT OF DAT I DID
Fre'kloar - SHUT UP MAN OF COURS I DID...i though of it befoar but den i forgot BUT STILL
Ref'kolar - BOF OF YOO SHUT UP COS ID MAKE A BETTA BOSS DAN ANY OF YOO
Fre'kloar - SHUT UP MAN YOR A WARBOSS AN DATS IT

The Tralkik presented themselves.
Tralkik - Our purpose here is complete. By Kolossus' orders, you are now free to do as you please. We shall leave.

The Tralkik left the planet, later to be tracked by UNO.
Hagto'Zhl - YOO IDIOT YOO SCARED DEM OFF
Fre'kloar - REF'KOLARS MOM SCARED DEM OFF
Ref'kolar - WAT DA HELL
Hagto'Zhl - OI SHUT UP NOW IVE SEEN SOME LITTLE EMPIYA OVA DERE LETS BLOW DEM UP BEFOR DEY HELP UNO
Fre'kloar - yeh man lets do it

Things were about to get messy...
Mac's torture
Edit
Kolossus came back to the Ralzan temple, where he met with his master, Zargoth.
Zargoth - So, you liked yo go out for the first time since your revival?
Kolossus - Indeed I did. These new powers are amazing. Ther eis no way I can fail again now.
Zargoth - Of course not. In fact, between you and me, you never even failed. Your failure in the Second War of Black Fog was not even a failure. In fact to me, it was a success. Shall I explain to you?

Zargoth walked forward.
Kolossus - Enlighten me, master.
Zargoth - You see, Shu'ulathoi alone was never going to win this war. Your 'failure' in the Black Fog War wasn't something I can't see anyway. It was in the cosmos that you would go easy on Mac and the Zazane, otherwise you would never have even been created. The First War of Black Fog was your demo, the Second was more your origin than your first battle. You should not see it as a failure. And there's more, if you promise not to tell Shu'ulathoi.
Kolossus - I won't. Shu'ulathoi isn't even aware of my rebirth, actually.
Zargoth - I know. But well, I've been talking to the Four Horsemen, and secretly, they didn't want Shu'ulathoi to win and steal their thunder. There are a few reasons they didn't want Shu'ulathoi to win, one of those reasons being that Shu'ulathoi was not a complete demon. Of course, he is now, so if he were to battle again, he'd have an even greater chance of actually succeeding this time. To be honest, their plan was to let him die and make the mortals believe that they weren't up against any threat. But of course, when I told them that I saw Shu'ulathoi winning, things changed; Shu'ulathoi was to survive, but not win. That is why, this time, we shall win, and defeat all opposition.
Kolossus - And when I confront Mac again, I will break every single pice of his cursed 3D form!

Zargoth smiled and looked at Kolossus.
Zargoth - Yes. Did I tell you he's here right now?
Kolossus - He is?
Zargoth - Yes, Roshisiz has him. Normally we'd wit a few more days for Roshisiz to be done... but I couldn't be bothered so I sped up time.

Mac is marched in with several Tralkik along side him.
Kolossus - Well hello there, Mac.

Mac looked up to see Kolossus looking at him. He spitted in the ground.
Mac - Why hello, bastard.
Kolossus - As you may have seen, I am back, and this time, there won't be anything between you and a very painful destruction.
Mac - And as you have seen, I destroyed your precious computer.
Zargoth - Yes unfortunate... but there'd be no fun if you hadn't! Kolossus, you tell him how pathetic his 'i destroyed your computer' argument is!
Kolossus - As I have told you before, Mac. I have seen all possible timelines, and I survived in all of them. You never had a chance of defeating me.
Zargoth - Why do you claim to be the one who destroyed the computer, anyway?

Kolossus started to think.
Kolossus - You know what would be fun? I should bring Hez'Kalka here. He would love to see you this way.
Zargoth - Yes indeed, get Hez! Oh wait... that battle's not scheduled to happen yet. I've bought us front row seats, Kolossus, for when it does.
Mac - Screw you.
Kolossus - Excellent. I will enjoy every second of it.
Mac - Let me guess, I die. Well go fuck yourself. And get these fucking machines off me!
Tralkik - Give in.
Kolossus - Hmm no, I like you this way. Trapped. Defenseless. It makes me warm inside.
Zargoth - Ironic, isn't it? Anyway, I should get Kol Daren here to fight you... but it seems Kolossus wants to do the honours.

Kolossus laughed.
Kolossus - After you are destroyed, guess what I will do? I will curse more Vyro'Narzas. One by one, they will become pathetic like you. I will certainly start with that blasted Elder. The Loron no longer have a need for him, as I will take his place as their god.
Mac - Grrrr!
Kolossus - You see, Mac, you remember the tests me and Hez'Kalka did on you, right?
Zargoth - I'm getting Hez in here a sec.

Hez'Kalka appeared in a dark cloud.
Hez'Kalka - I know the drill, now I want to enjoy this.
Mac - I remember them tests! You were trying to see how to use essence to cure your disease, and you ended up killing a million people!
Hez'Kalka - Ha ha ha ha... you think THAT'S what this was all about? This is not about tests, experiment or what ever...
Kolossus - This was about cursing an Omnipotent race, and bringing them to this puny 3rd dimension. And like I said, I began with you, I'll carry on with the rest of them...
Zargoth - And of course, you were stupid enough to be fooled by whatever shit we've been feeding you, and by the fact there were multiple non-Taldar there. We killed them so you wouldn't suspect us of anything. Hahhaha, cutting off the Taldar from Gyronic, and they're stupid. How pathetic.

Mac screamed in anger.
Kolossus - Now, how shall we start? Maybe I could rip your arms and legs off, and leave you crawling around like a worm.
Zargoth - Well, Tralkik, have you gathered all his biological, physiological and neurological data?
Tralkik - Gathered.
Zargoth - Then Kolossus, do as you please. With this data, we'll learn how to curse them all, cut them ALL off from the group mind, make them all just like him. But without all the hassle. My plan goes forward. Now, I must be off, Kolossus do as you please.

Zargoth disappeared.
Kolossus - Hmmm...instead of doing this myself, I have a better idea.
Hez'kalka - So do I. Leave it to me.
Kolossus - You read my thoughs.

The Tralkik released the grip on Mac.
Tralkik - Hez'Kalka and Mac wll fight. We will withdraw and evaluate combat patterns.
Mac - ARRRGH!

Kolossus teleported away, laughing. Mac tried to strike Hez'Kalka, however, he passes right through him.
Mac - What?!

Mac tried again, but passed through Hez'Kalka again.
Hez'Kelka - Come on! Hit me!
Mac - Damnit.
Hez'Kelka - Come on, you sorry excuse of a Taldar. HIT ME!

Mac was now extremely angry.
Mac - Grrrarrrgh, I know this won't do anything but you will NOT say that to me!
Mac fired a large blast of Gyronic, which also passed through Hez'Kelka. Mac kneed, tired.
Mac - I give in. What are you?
Hez'Kelka - I am everything you hate and fear!

Suddenly, a voice was heard.
??? - He illusion.
Hez'Kelka - Huh? Who's there?
Mac - Who the...?
??? - I not here. I just trace Kolossus leave behind.
Hez'Kelka - Blast!

Hez'Kelka pointed at Mac.
Hez'Kelka - It's you who are doing this voice!
Mac - What?! No it isn't! It's YOU! You're playing with my head, damnit!

Mac tried to strike again, but ended up hitting a wall.
Hez'Kelka - You are a fool, and now a liar too? I'm surprised!
??? - Oh he not only one playing with heads...
Mac - So it IS you! Or... who?
??? - I not know. I with Kolossus. He in Tralkik base now.

Hez'Kalka walked forward.
Hez'Kelka - What? No! You will stay here and face me! You have awaited for this moment for years, didn't you?

Mac spitted on the ground again, this time smiling.
Mac - I awaited the time when I'd face you, not when I'd strike at some illusion.
??? - Hmm. They find out soon.
Hez'Kelka - Aaaarggghh!!!

The Hez'Kalka illusion, seeing that Mac no longer believed in it, ceased to exist. Mac teleported away to hunt down Kolossus...
Attack at the Tralkik base
Edit
Thr'aloy's deployment
Edit
The UNO fleet approached the planet where the Tralkik base is located. Yogtam and Thr'aloy are on the main ship. They were determinated in destroying it...in Tuolog's name. A transmission was sent from the base to Yogtam's mothership.
Tralkik - State identity.
Thr'aloy - SHUT DA HELL UP LOSA
Tralkik - We have no record of anyone by the name 'Shutda Hellup Losa'
Thr'aloy - WAT DA HELL MAN DEYZ MESSIN WIF ME
Tralkik - State identity.
Yogtam - You will know who we are soon enough.
Tralkik - Identified as threat. Activating defenses.

The fleet came close to the planet and started to attack the Tralkik ships. Thr'aloy and his boyz were deployed next to a jungle.
Thr'aloy - hur hur hur imma batta dese geekz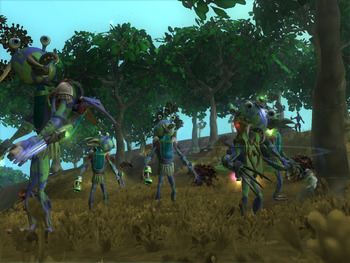 The jungle was silent as da boyz proceeded. Everything was calm...too calm...
Loron - wat da hell man dey ar gone
Thr'aloy - hur hur deyz scared of us
Another Loron - oi man dere eint anyone heer lets moov

It was then that a targeting laser was seen on Thr'aloy's head.
Thr'aloy - oi wat da WOAH WOAH

Thr'aloy ducked, and a shot just missed his head.
Thr'aloy - DERE DEY AR BOYZ BATTA DEM

All the Loron ran into the shot's direction, where they finally found the Tralkik. They were seen crawling down trees and clinging on to them, firing sniper shots at the Loron.
Loron - HUR HUR DESE PEEPZ AR UGLY ENNIT

As Loron climbed tje trees, some Tralkik with chainsaws came out of bushes and cut them down, making the Loron fall.
Thr'aloy - WAT DA HELL MAN YOR CHEETIN

Thr'aloy killed a Tralkik and stole his chainsaw, and starts to cut the other Tralkiks in half. Thr'aloy lauched happly at the chaos, as 20 Tralkik from bushes pulled out machine guns and sprayed fire over the entire area.
Loron - WOAH BOYZ FALL BAK

The Loron took cover and the firing stopped. It was silent once again.
Thr'aloy - hur hur imma show dese geekz ma noo sik gun
Thr'aloy grabbed Voa'reak's Ralzan Gun and showed it off. Meanwhile...
Zr'Ahgloth - OI WHERES MA GUN DAMNIT THR'ALOY

And back to the jungle, Thr'aloy jumped out of cover with the gun. The Tralkik noticed the weapon, and threw an EMP0 at Thr'aloy.
Thr'aloy - wat da hell

Thr'aloy was then locked on by several laser sights.
Thr'aloy - OI WAT MAN BOYZ GET ME OUTTA HEER

Some Loron attacked the Tralkik while others tried to free Thr'aloy. The Tralkik pulled our their buzzsaws.
Tralkik - Stand down.

A Tralkik sneaked behind Thr'aloy, who was now pinned, and grabbed him by the neck and stomach.
Thr'aloy - ARGH MAN WAT DA HELL

The Tralkik all pulled out weapons and chainsaws and surrounded the Loron.
Tralkik - Stand. Down.
Loron - hur yoo losas

Having no more options, the Loron stood down.
Tralkik - Follow.

The Tralkik marched toward the base, with the Loron following them. When they arrived, several defense turrets pointed at the Loron, but didn't fired.
Thr'aloy - hur I could break dat toy wif ma bare hands
Tralkik - Proceed.

They marched inside to a room filled with Tralkik Deathbots, and one person, who was in the shadows.
Thr'aloy - woah wat now
??? - Hahahaha...

Retreat or fight
Edit
Back in Yogtam's mothership...
Yogtam - What's taking them so long?

A transmission was then sent to Yogtam.
Yogtam - Hum? What is it?

He opened it, and it was a text message from the Kralgon Emperor, saying "Remember to check the battle situaton, using the System".
Yogtam - Oh yeah. I'll do that now.
Yogtam started to check, and saw on a video Thr'aloy's position of the battle, his heart rate and how he was currently drugged.
Yotgam - Oh great, he got captured!

Another transmission was sent, this time from the Tralkik.
Yogtam - Uh oh...
Computer - Engage in real-time hologram chat?
Yogtam - ...Accept.

The hologram of the Tralkik appeared to Yogtam.
Tralkik - We have captured your leading attack force. Please try harder, or we shall get our fleet to attack you instead.
Yogtam - Grrr... what have you done to Thr'aloy?
Tralkik - Thr'aloy is presently drugged, so he can no longe participate in combat. Did your nanomachines not tell you this?
Yogtam - Insolent machines...
Tralkik - No, we used an EMP device, disabling his gun he used. It also disabled his nanomachines, which are now slowly coming online.
Yogtam - Hmm...

The rest of UNOL joined the chat.
Kralgon Emperor - Status report?
Yogtam - Guys, we have a bad situation here...
Valzo - Tell us.
Yogtam - Thr'aloy was captured and drugged by the Tralkik.
Tralkik - You will now retreat.
Dakster - We shall refuse to stand down!
Yogtam - Oh yeah? I want my Loron back.
Tralkik - If you want them back, you shall fight. Do you want to make this easier or harder?
Kralgon Emperor - Leave them, they can be cloned. Time to blow this up!

The Kralgon Emperor fired a planet buster, which was destroyed in mid space, damaging Yogtam's ship.
Yogtam - Aaaargh! Watch were you are aiming!!
Kralgon Emperor - I did! It was blown up... some hidden orbital defences?
Tralkik - Yes. We are disrupting your weapons before they reach their target.
Feldosia - Can someone attack?
Tralkik - You may attack. I will not say if you will succeed, but we need a challenge.
Yogtam - They are provoking us...
Tralkik - Provocation is a useful tactic. When aimed against feeble minds such as yours, even more effective.

Zr'Ahgloth came online.
Zr'Ahgloth - OI I HEARD THR'ALOY WAS CAPTURED DATS DUM GIMME MA HOMIE BAK YA LOSA
Valzo - ...You're a bit late....
Tralkik - More Loron? Weak minds not challenging. Give us Inalton.
Zr'Ahgloth - YA MOMS NOT CHALLENGIN
Tralkik - I agree.
Kralgon Emperor - Have Inalton, Marinox, Zazane and Loron then. See if you can handle them!
Feldosia - Yogtam, can you lead this force?
Yogtam - With pleasure.
Kralgon Emperor - Wait... change of plans. DESTROY!

The Kralgon Emperor fired a star buster, which was tampered with to destroy the AI Weapon it was fired from by the Tralkik defences.
Tralkik - If we were organic, we would laugh.
Zr'Ahgloth - SHUT UP YA WINPY GEEK YA MOMS DUM
Tralkik - You insult my "mom", a mere factory with feelings. Irrelevant.

Yogtam's mission
Edit
Yogtam landded on the surface with a squad of Ottzelloan Marinox, Ottzelloan Zazane, Loron and Inalton.
Yogtam - Right, let's show these Tralkik what happens when they provoke UNO!

They walked forward, with a strange silence in the air.
Loron - oi blud watch out cuz I rememba da boyz seyin everyfin was silent befor da geekz ambushed dem
Yogtam - Alright.''

Rumbling and marching footsteps were then heard in the distance.
Zazane - It's a patrol!
Marinox - We cannot take them down ourselves. Hide?
Yogtam - It's the wisest choice.

The group hid until the patrol came past. Their hearts beating fast, they looked out to see if the patrol have walked on.
Inalton - All clear. Onward.
Yogtam - Let's go, before they come back!

Their pistols close, and watching their back and side closely, the group marched forward in formation, not noticing the nanobot that was quietly moving alongside them. It was then that the voice was heard...
???? - Watch out now, path ahead danger. You be careful, you about to be hit.
Yogtam - Huh? Who's there?

Yogtam looked around and spotted a Tralkik sniper in the trees.
Tralkik - Spotted. Engage.
Several Tralkik Deathbots arrived from the bushes.
Yogtam - Incoming!
The group started to fire, with the Tralkik firing back. The Tralkik Deathbot Leader then appeared, revealing concealed weapons on hand; one was a blade the other was a laser, making him even more armed than he appeared.
Deathbot Leader - You will stand down or suffer the fate of your blue friends.
Loron - SHUT UP GEEK

The Loron then jumped on the Leader and started to beat him up. Other Deathbots fired their lasers and bullets, then used their poison blades and chainsaws to scar the Loron too much to continue.
Loron - AW MAN DAT HURT

The Loron jumped back, wounded. The Deathbot leader got up.
Deathbot Leader - We are just as co-ordinated as you with the System. But our numbers are greater, as you cannot land any large force on this planet. You will stand down.
Marinox - Negated. Continue fighting procedure!

The Marinox jumped and landed next to the Sniper, and started to claw it violently. The Sniper pulled out a poison blade attached to his arm and stabbed the Marinox, who being a cyborg, couldn't be poisoned and kept attacking.
Tralkik Sniper - You will regret that. All soldiers, attack!

More Tralkik arise from bushes and spray bullet fire everywhere. The Marinox is damaged too much and explodes, causing the Tralik to shaken, and allowing Yogtam's force time to hide.
Yogtam - Fall back!

The group hid in a cave, but the nanobot was still following them.
Deathbot Leader - It is useless hiding.

The nanobot then electricuted Yogtam and becomes inactive.
Yogtam - Aaaargh!
Tralkik Deathbots - *surround Yogtam' force* You will come out, and stand down.
Yogtam - Ugghh...I guess we have no choice now...

The group is marched to the same base as Thr'aloy. However, before getting into the base itself...
Zazane - *psst* Marinox? Can you run over there and self-destruct?
Marinox - No options left. Shall be done.

The Marinox jumped forward and self-destructed, destroying several Tralkik turrets. The Tralkik turned back.
Tralkik - What is this? Investigating...
Loron - OI GEEKBOI LOOK HERE

The Loron then ripped off the Tralkik's head, while the Inalton, Zazane and Marinox fired at the others.
Inalton - Die!
Tralkik - Combat situation initiated.
Yogtam - Haha! Good job on these self-destructing mechanisms, Marinox!

The last defense turret the Marinox didn't destroy activateed and turned at the group.
Deathbot Leader - You will di-

It was then that the Leader was killed by the turret.
Yogtam - Woah what!
??? - I use their own big gun on them. Heh, being spirit almost better than havin body.

The turret started to fire at the rest of the Tralkik, destroying them all. The turret then exploded.
Yogtam - This voice...
Loron - WHO CARES MAN JUST GO FOR DA BASE
Yogtam - True. Let's move!

Meanwhile, in the base...
Thr'aloy - WAT YA DOIN MAN
Tralkik - Outpost was destroyed. Incoming soldiers will now attack the base. We will leave you in here, with this poison gas. It wll kill you, while we kill your friends.
Thr'aloy - GO TA HELL

Yogtam and his group were tired, but they ran the fastest they could.
Kralgon Emperor on radio - Status report?
Yogtam - We are approaching the base.
Kralgon Emperor - You all seem in pain from last attack. Your psych levels seem high ater that victory. I suggest, however, that you eat some rations before proceding, while the System heals your wounds.
Yogtam - Yeah, you're right.
Kralgon Emperor - Remember- food not only helps out your healh, but increases your psych evel. A low level of psych that the System picks up results in a low level of performance.
Valzo - Good luck down there!

The group got their rations and started to eat.
Loron - ARGH WAT DA HELL MAN YOO DIDNT PAK A PIZZA
Yogtam - You calm down and eat your rations already!
Wounded Loron - hur hur hur good fhing dem Marinox boyz dunt need ta eat moar food fer us

The group ate up, then proceeded forward. Loron are moved onward by the System, which moves their bodies for them. A few minutes later...
Marinox - There. The base is ahead.
Yogtam - Great. Advance with caution.
Inalton - Why don't we just fire a missile launcher? We have a couple missiles stacked, we can destroy the defences and the radio towers.
Yogtam - Sounds like a plan. Let's do it.

The missile launchers were fired at radio tower, then at the defence towers.
Inalton - Now, look. The Tralkik will be blind.
??? - Not true, they all keep in contact just not so well with no radio tower. You be careful of patrols.
Yogtam - Oh?...Thanks.
Marinox - Proceed?
Yogtam - They may still be aware of us. Be careful with patrols.

They all proceeded hiding from patrols, and got to the front of the base.
Loron - DIS LOOKS EASY

The door then came crashing on the Loron's head, and he couldn't keep it up, so it crushed him. Tralkik started to appear.
Tralkik - You are detected. We shall now fight.
Yogtam - Damnit! Watch out!
Tralkik - Engaging combat.

The Tralkik take up positions around the walls and on the base, firing from there at the group. The group all get into positions, each one firing at a Tralkik weak point, their attacks co-ordinated by The System, destroying all the Tralkik. Another door opens to reveal more Tralkik coming out.
Marinox - More enemies approaching!

They all get into position, aiming their weapons well, destroying the Tralkik by aiming for the eye, then running forward ad tearing them apart*
Marinox - The System is co-ordinating our movements.
Yogtam - Excellent. Move on!

Thr'aloy and his boyz could now hear Yogtam's voice.
Thr'aloy - DUMBO LET ME OUT

Thr'aloy then noticed a hole on the wall, and started to talk from it.
Thr'aloy - OI MAN TURN DA GAS OFF
Yogtam - I can hear Thr'aloy. Let's go!

The group entered the base and tore the door down, revealing Thr'aloy.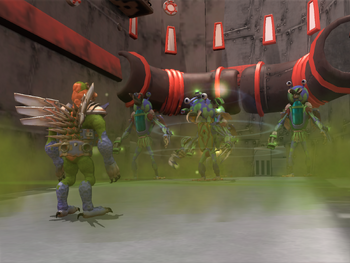 Thr'aloy - OI MAN WHERE YOO BIN
Loron - YEH MAN WE HAS BEEN IN DIS PLACE WIV GAS
Yogtam - I was killing some geeks, like you would say. Now, what's this about gas?
Thr'aloy - DERES GAS MAN YOO GOTTA TUR IT OFF ITS POISON AN IF IT GETS BIGGA ITS GONNA KILL
Yogtam - I get it.

Yogtam managed to turn the gas valve, stopping the gas, but turning an alarm on. Several Tralkik appeared.
Tralkik - You are now surrounded.
Thr'aloy - YA MOMS SURROUNDED COM FITE PROPA
Tralkik - You want to try to 'fight propa'?
Thr'aloy - GEEK

Thr'aloy grabbed the Ralzan gun and fired at the Tralkiks, with the whole group firing too, destroying the Tralkiks. Some Snipers also appear, but the group approaches and destrpys them too.
Unknown - Muhahahaha... I'm actually impressed.
Yogtam - Huh? Who's there?
Thr'aloy - ARGH YOO AGAIN

The figure then came out of the shadow...
Unknown - Yes, me again. Genrai Nal...
True intentions
Edit
Yogtam was surprised to see Genrai Nal in there.
Yogtam - Wait... aren't you with Falrik Zaarkhun?
Genrai Nal - I am. He is here, too.

Falrik Zaarkhun then appeared, clapping.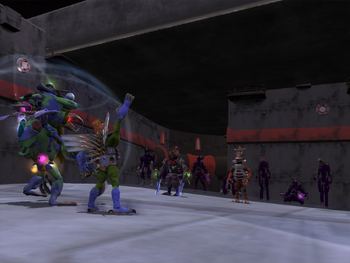 Falrik Zaarkhun - Well done, well done, congratulations. You survived my testing course!
Yogtam - How many times do you need to die to stay dead for good, you pest?
Falrik Zaarkhun - I'm a clone, you idiot. My father, the original, his body is right here. And if you are clever enough, you will know that acqquiring that body will give you information on the location of The Box.
Genrai Nal - Yes, the body was part of the computer. We wanted you to kill Zaarkhun, so Roshisiz could have his body, and use it in the computer. It has some information in it, due to being used by Zargoth.
Yogtam - So Mac was really right about the Box...
Thr'aloy - HUR IMMA SHANK YA DAD

Some lights were turned on, revealing Sollow.
Sollow - Welcome...to the Tralkik testing course!
Yogtam - Huh?
Sollow - I've been worknig with the Tralkik for a long time. I united Zaarkhun Consortium and the Tralkik to get you all here, and so the Tralkik could be used by the Legion. And what's more? This isn't the real base! It' a testing course! Oh, and that reminds me... *flicks a switch* Teleporters should be on now.

Kolossus then arrived, with Mac bursting out of a wall with his blade.
Yogtam - Mac!
Mac - Huh. You.
Yogtam - I own you an apology...
Mac - Damn right. I didn't want to use your death at the Legion's hand as my way of saying 'I told you so', so I'll tell you now; I told you so.

Kolossus noticed Mac and Yogtam, and chuckled.
Kolossus - So, you got out of that little illusion, huh.
Mac - Yeah, I did, you idiot.

Kolossus turned to Zaarkhun.
Kolossus - Well done, Zaarkhun. Now, please go.

Falrik Zaarkhun's clone, Genrai Nal and Sollow left, leaving Falrik Zaarhun's body behind.
Yogtam - That body is just a skeleton... but gene scans confirm it's Falrik's genes.
Marinox - Further infromation: Contains traces of Zargoth, and thus could lead us to the Box.
Thr'aloy - HUR I WANNA SMASH DAT KOLOSSUS MAN HE KILLED TUOLOG
Kolossus - You want this body? Tough!

Kolossus then thrown the body on the ground near some wood chopped from trees outside. He then set it on fire, burning it completely.
Thr'aloy - AW MAN I WANTED TA DO DAT
Mac - NO!!!!
Yogtam - Idiot!
Marinox - Tactical advantage lost.
Kolossus - Hahahahahaha!

Mac prepared his blade.
Mac - Now, we'll fight!
Yogtam - And we'll help!
Thr'aloy - YEH I WANNA BATTA HIM
Kolossus - Huh. What do you hope? You are powerless against me now. Not even if Tyraz Breek was here to help you.
??? - I prove wrong.

Kolossus then got a terrible headache.
Kolossus - Aaargh it's that voice again!

Mac took this opportunity to strike Kolossus, getting through his defences Thr'aloy jumped towards Kolossus and throwed punches. Kolossus, not injuried. beated Mac with a tentacle while fired a Dark Gyronic blast at Thr'aloy. Both fell back, but then Kolossus received another headache.
Kolossus - Grrrr!
??? - You fool. You not take turning to 5D. Your mind change. You not notice me.

A portal then started to form close to Kolossus, with something forming out of it.
Kolossus - Huh?
Yogtam - Fire!

Mac, Thr'aloy and Yogtam's group all attacked Kolossus together. This, however, wasn't doing much damage.
Kolossus - This hardly hurts me! You have no chance! Even with this headache, I am unbeatable!

It was then...that Tuolog came out of the portal!
Tuolog - You think wrong.
Kolossus - WHAT? I KILLED YOU!
Tuolog - You kill a body which you abosrb. You not notice me in your head. You not notice I survive inside you.
Mac - So THAT's the voice...
Yogtam - Tuolog! So it was you who warned me before!
Tuolog - Of course it me.

Several Tralkik arrived.
Tralkik - Attack target.
Kolossus - Kill them all!
Yogtam - Duck!

The group ducked and the Tralkik fired...except they were now firing at Kolossus.
Yogtam - What? They're firing at Kolossus!
Kolossus - What are you doing, idiots!

Tuolog chanted happily.
Tuolog - Robot so fun to control.
Kolossus - Aaaargh!

Kolossus then blasted the Tralkik, who zipped around room to avoid, and continue firing at him. Mac and Tuolog combined their enemies and fired at Kolossus' head, this time causing a deep wound.
Kolossus - AARGH! I cannot believe...I'll be forced to retreat! The odds were in your side this time, Mac. But your luck will run out soon enough.

And then Kolossus teleported away.
Tuolog - That not last of worries, mac. You have someone else to fight.
Mac - I know. Hez'Kalka...
Tuolog - Yes. Oh, it seem I not able to bring Zaarkhun body back with Gyronic. He use some Dark Gyronic stop me from doing that.
Kralgon Emperor - *in a radio* Status report?
Yogtam - We have a lot to report, Kralgon. A lot...
Tuolog - I got you friends. We have a whole 3 planets of Tralkik. We now produce them?
Kralgon Emperor - Tuolog? Is that you?... return to base to report completely.

Aftermath
Edit
UNOL meeting
Edit
Kralgon Emperor - Tell me everything.
Yogtam - Well, we now have the Tralkiks on our side, after editing the systems in that base. The Zaarkhun Consortium are STILL alive, and we've found Genrai Nal.
Tuolog - We not find anything out about Telzoc, and Kolossus made retreat.
Everyone stared at Tuolog with an awkward silence.
Tuolog - Oh and I back. For good.
Zr'Ahgloth - I BET THR'ALOY SMASHED DEM TRALKIKS SO DEY GOT SCRED AN JOINED US
Kralogn Emperor - I've finished reprogramming the Tralkikianoe, they will make an excellent edition. Oh, and, Tuolog, we've learnt how to clone you, in case this happens again.
Tuolog - Aww, I like being spirit.
Valzo - So then, what happens next?
Dakster - I suppose we'll just explore our new home, Borealis, and deal with the Rogue Boyz when we have time.
Feldosia - These are gonna be hard times...
Zr'Ahgloth - SHUT UP MAN WE CAN HANDLE IT COS EVRYTIME WE GET IN WAR WE GET SOMFIN PROPA GOOD OUT OF IT
Kralgon Emperor - Indeed, we grow stronger after everything; remember the Third Ottzello War? We pulled together. Now, we get the Tralkikianoe. What next? We'll be able to handle 2 wars at once no problem...
Tuolog - I see UNO future being good for long time.
What now?
Edit
Now that Zaarkhun's body was destroyed, and since Mac's couldn't be analysed, there was no way for the Allies to discover information about the Box. Now that Zargoth was fully active, things might get bad for the universe. However, UNO now had their own Tralkikianoe on their side, and now may have a greater chance of success...
Community content is available under
CC-BY-SA
unless otherwise noted.