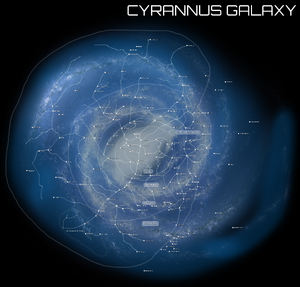 The Cyrannus Galaxy is home to billions of planets and millions of these have the conditions to support life. Many of these planets are members in the huge governments that call Cyrannus its home, such as the current galactic government, the Galactic Empire of Cyrannus.
Core Worlds
Edit
Acroa Sector
Edit
Calithilaen Sector
Edit
Cruan Sector
Edit
Imperial Sector
Edit
Inner Rim
Edit
Outer Rim
Edit
Unknown Regions
Edit
Further Reading
Edit
Cyrannus Galaxy
Species
 ·
Database
 ·
Galactic Timeline
 ·
Cyrandia Cluster
 ·
Cyrandia Wildlife
 ·
Valin'uvalyë
All of this has happened before and all of it will happen again.
The juggernaut of imperialist ambition, conqueror of galaxies, the Empire of might, stability and order.
The centre of peace and progress, a bright beacon of hope in the dark, a Republic greater than distance or time.
Each of these conflicts is but one tiny piece of a larger whole, a war endless and inestimably larger.
The galaxy of order and prosperity.
Community content is available under
CC-BY-SA
unless otherwise noted.