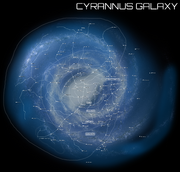 "Our galaxy is vast. To say the Empire is the only power would be grossly incorrect..."

- Apollo
The Cyrannus Galaxy is home to a great deal of powerful and unique civilisations. This page will list these civilisations in the following categories, both native and otherwise:
Precursors

Civilisations that had a profound effect on Cyrannus' past.
Hyperpowers

A single civilisation with no direct competition from another government.
Superpowers

A civilisation with a very strong, stable position in galactic politics, that directly and indirectly affects far-off civilisations in far-reaching ways.
Great Powers

A step down from superpower, though still with the ability to exert its influence over others far beyond its borders.
Regional Powers

A power which can exert its influence over others in its galactic region.
Minor Powers

Powers with very little power over the politics of others.
Other Civilisations

Alien civilisations that don't have political power.
Precursors
Edit
Hyperpowers
Edit
Superpowers
Edit
Great Powers
Edit
Regional Powers
Edit
Minor Powers
Edit
Other Powers
Edit
Further Reading
Edit
Cyrannus Galaxy
Species
 ·
Database
 ·
Galactic Timeline
 ·
Cyrandia Cluster
 ·
Cyrandia Wildlife
 ·
Valin'uvalyë
All of this has happened before and all of it will happen again.
The juggernaut of imperialist ambition, conqueror of galaxies, the Empire of might, stability and order.
The centre of peace and progress, a bright beacon of hope in the dark, a Republic greater than distance or time.
Each of these conflicts is but one tiny piece of a larger whole, a war endless and inestimably larger.
The galaxy of order and prosperity.
Community content is available under
CC-BY-SA
unless otherwise noted.