Craparar is an ancient Crakadox warrior imprisoned and frozen in ice at Aegimi.
Biography
[
]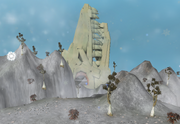 Craparar was born in a time when the Quadrant Galaxies were still young and developing. A proud warrior of the Crakadox, Craparar served in the war against the Gods. After proving himself in battle, he was assigned to serve as an honor guard at the temple at Aegimi. Due to unexplained circumstances the Crakadox vanished and went extinct, though Craparar remaind frozen in ice at Aegimi, defeated when defending the temple against an ice-dragon.
Personality and Traits
[
]
On his left arm, Craparar wields his massive claw, capable of crushing most materials with relative ease. Physical strong and large, Craparar is a force to reckoned with. As a Crekadox, he can breath both under water as on land.
Craparar is a proud yet gentle warrior.
Acquintances
[
]
Allies

"May the blessings be upon thy"

Disliked
Quotes
[
]
Gallery
[
]
Png file
The Png file requires the Dark Injection mod
Further Reading
[
]
Cyrannus Based Companies
Alberen Engineering Corporation

 ·

Cyroenian System Yards

 ·

Megastructural Construction Corporation
Quadrantia Based Companies
Froramsilia Company Association

 ·

Muunivelle Shipping Company

 ·

Quadrantia HoloNet

 ·

Saurien Sector Corporation

 ·

Triggant Estates