---
---
" < < LET ME STATE THIS PLAINLY > >

I ONLY DEMAND TRUE PEACE ACROSS THE ENDLESS COSMOS. YOU ARE NOT THAT PEACE. YOUR ALLIES ARE NOT THAT PEACE. COLD, DEAD SPACE IS THAT PEACE.

< < AND IF IT IS NOT, I WILL MAKE IT SO > > "

- Artemeis
The Artemeis Quantum Artificial Intelligence is an advanced AI and the inherited "child" of the long-extinct Atzerrians. Its impressive cognitive abilities have proven to be one of the first most dangerous threats to the intergalactic Kashuthil.
Although the AI has since been destroyed, its actions were drastic enough to shake the very foundation of the Kashuthil empire.
From the recovered evidence, it is unknown how or why Artemeis was created. It has been surmised that it was created during the time when the empire was already collapsing. It's capability of managing an entire empire has proven it as a possible case.
The AI is mostly known for its attempt to undermine the Kashuthil empire by forcefully controlling the empire's synthetic servants. These synths were manipulated into becoming the AI's shock troops to lead its vast fleets. In addition to its robotic army, it was also able to clone billions of Dronox to use in its ground invaders, further bolstering its forces.
Fortunately, the empire was able to suppress and win against the malicious AI. In the war, they were able to find the homeworld containing the mainframe, called Hub-0.19 Prime, where the Kashuthil hacked and purged Artemeis from its mainframe, before destroying the hub.
It was discovered that Artemeis had attempted to construct an experimental singularity brain enclosing and utilizing its home galaxy's core, which is a supermassive black hole. It seemingly intended to use this new computer to increase both its intelligence and its energy tenfold. It is currently unknown how else the brain would work, but had it been finished, it would've ensured victory for the AI.
CharacteristicsEdit
TechnologyEdit
The AI had access to entire caches of ancient and advanced technology from its creators. This included the empire's powerful ships and weapons. This advantage, combined with its great intelligence, allowed it to remain the dominant power in the galaxy.
It was also able to use the archived genetic information needed to clone the Dronox. During which, it was able to produce countless clones to use as its army.
AbilitiesEdit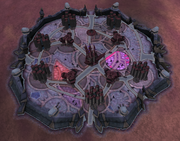 Maintaining its massive mainframe, it has a rather large degree of intelligence allowing it to multitask and command its military forces across several galaxies.
The AI is also capable of sending a widespread signal that can remotely control or even hack into other software. This has been used to forcefully control or subjugate other synthetic bodies, depending on whether the victimized empire uses robotic servants or citizens.
Using the Atzerrians' intergalactic wormhole technology, it was able to use portals to spread its signal to distances beyond its normal reach, allowing catastrophes of an intergalactic scale.
PersonalityEdit
Being intensely xenophobic like its creators, the AI has shown a cold and dominant attitude towards those whom it has interacted with. It has grown to resent almost every other known sentient being in the universe.
Page: Go Here
These were the ships reportedly seen and studied during the rebellion.
Page: Go Here
The AI has been able to clone billions of dronox to maintain a sufficient army.
Further ReadingEdit
The Mechronicles
Empires

Precursor Races
Xenon Galaxy Races
Intergalactic

Xenonian


Galactic Accord

Intersolar Pact

Independent

First Gigaquadrant

Story

Chapters

Events

Other

Mechronicles Universe
Community content is available under
CC-BY-SA
unless otherwise noted.