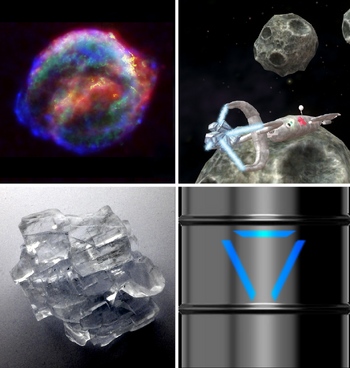 Andasium is a heavy g-block element with the symbol An and atomic number 126, found within the island of stability group on the periodic table. A highly stable and durable substance, andasium is known for its abilities to retain large amounts of chemical energy and is used widely as a cheap and portable fuel. It occurs naturally in large quantities on the outer arms of many galaxies, often harvested from supernova remnants, planetary nebulae, and asteroids.
In order to be used as fuel, andasium needs to be refined into ansite in specialized facilities, where it can take on a solid, liquid, or gaseous form. Collectively, these sources of energy are referred to as Ansite fuels in some countries. Andasium in this state is typically volatile, undergoing combustion and releasing its stored energy when it comes into contact with heat. Once combusted, andasium is destroyed and cannot be used again.
Nations which own large natural stockpiles of andasium generally wield a large amount of political and economic power as they are able to harvest and sell that stockpile with great efficiency. However, it is important to remember that andasium is a finite resource. It is easy to run out of readily accessible, pure andasium within a region, forcing producers to go to greater lengths to harvest less fuel.
It is possible to synthetically create andasium, and some civilizations used it to store discrete amounts of energy for portable use. However, due to the law of conservation of energy, the process requires more energy than can be ultimately retrieved through combustion.
Properties
Edit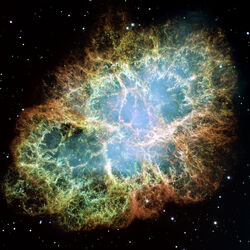 Natural andasium
Edit
Andasium is produced through nucleosynthesis inside massive stars which release their elements in supernovae. It follows that Andasium is more plentiful in regions with large amounts of short-lived supergiant stars such as the outer arms of galaxies. As a result, andasium is naturally scarce in some regions and plentiful in others, though even plentiful regions can run out.
Andasium is easiest to collect in its natural gaseous form, a substance colloquially referred to as stellar andasium, which can be found in abundance in the remnants of supernovae and in stellar nurseries where new stars are created. However, as stars and solar systems form, andasium takes on a solid form inside planets and asteroids which can be mined and extracted with the right equipment. Due to being a heavy element, andasium sinks to the core of planets and asteroids. Due to their small size, retrieving andasium from asteroids is far easier and cheaper than attempting the same on planetary objects.
Once it is reabsorbed inside stars, andasium is widely considered to be unreachable until it is released during a red giant phase or a supernova.
Refining andasium
Edit
In its natural state, andasium is a very stable element which does not react with anything it comes into contact with. However, when it undergoes proper refinement to create a compound called ansite, it takes on a reactive quality and can be burned for fuel.
Ansite can take on a number of different forms, appearing as crystalline, gaseous, and liquid substances. The rule of thumb is that unrefined gaseous (stellar) andasium can most easily be refined into gaseous ansite, though additional steps can be taken to turn it into a liquid or solid, solid being the most complicated. The same applies to solid unrefined andasium, which can most easily be refined into solid ansite.
In their crystalline, liquid, and gaseous forms, ansite fuels serve very much the same purpose: they retain energy. The methods and rates of energy extraction vary from form to form, but the combustion process is the same. When it comes into contact with heat, ansite undergoes combustion which turns the trapped potential energy inside the substance into energy that is capable of doing work.
Gaseous ansite, also referred to as ansite gas, burns the fastest, releasing energy in rapid bursts. It is often wanted for quick one-time boosts of energy, often to increase the responsiveness of vehicles and buildings to emergency situations.
Liquid ansite burns at a slower rate and can maintain a steady pace without sacrificing too much responsiveness. Given these properties and the fact that both gaseous and solid andesite can be cheaply converted to liquid ansite, this is the most common type.
Crystalline ansite burns at the slowest rate, releasing energy over long periods of time. It is perfect for maintaining steady amounts of power such as in the operation of a building or a starship.
Depending on how and where it was harvested and refined, ansite is judged to have different levels of purity. Lower levels of purity are often much cheaper but are potentially hazardous to its users.
Synthesized ansite
Edit
It is possible for advanced powers to artificially create ansite using a variety of replication techniques available to science. However, due to the law of conservation of energy which says that energy cannot be created from nothing in a certain system, creating ansite from scratch will necessarily require as much energy as will be gained from using it. Due to inherent inefficiencies in technology such as friction, sound, heat, etc, it is far more likely that it will cost much more than that. Drawing Andasium out of nebulae, asteroids, and planets and transporting it across galaxies would cost far less energy and typically – if done correctly – yield a profit of either energy or currency.
Therefore, synthesized ansite will cost a lot more to make than natural ansite and will cost more once it hits the market. That does not mean that it is a useless investment, however. Having the ability to create ansite from scratch would allow a nation to respond to shortages of ansite in domestic and galactic markets by sacrificing some of its resources to meet spikes in demand.
Andasium economy
Edit
Add your own fiction!
The science fiction collaborative universe of SporeWiki
You have just entered a rich science fiction world. Hope you enjoy!
Community content is available under
CC-BY-SA
unless otherwise noted.