As of December 30, 2792, the Amphibibot Collective was annexed by the Grand Tarkan Empire and became a part of the Kingdom of Miperiors. After its liberation, it is currently a part of the Miperior-Amphibibot Coalition.
The Amphibibot Empire was an isolationist Scientist empire consisted of robots. It was ruled by A-000001-M1, an Amphibibot who had the most advanced AI of the initial group, and reside next door of their inventors, the Miperiors Empire.
It was then surrendered, but not destroyed, by the Grand Tarkan Empire in the War of Miperiors. Few groups of Amphibibots managed to escape, but the vast majority was taken over.
The Amphibibots were at first a group of 300.000 robots manufactured by the Miperiors Empire. The robots were made to be delivered to another planet, but due to an unknown mishap, the spaceship carrying them crashed on a planet. Emergency protocols in the ship's computer forcibly activated the robots, however their AI programs had not been fully enabled. This resulted in them not being able to make use of the majority of their programming, as they lacked software drivers for all systems apart from movement.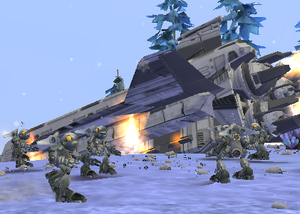 However, as the first made Amphibibot, A-000001, headed into the crashed spaceship, it established a temporary wireless connection with the ship's datacore. This resulted in a mass upload of information, another failsafe intended to preserve as much information as possible. As well as this information upload, A-000001 received an experimental advanced AI, well beyond the capabilities intended for a worker drone. This AI was intended to be a 'leader' program, to co-ordinate the entire complement from a central control room. The AI waited for a command signal, however none came as the pilots of the ship had died on impact. Falling back to contingency programming, A-000001 established itself as leader of the robots, installing updated worker AI's to the other robot platforms which then recognised it as their leader.
The Amphibibots formed a tribe-like society following A-000001's commands. Afterwards, they discovered that the planet had tribes pratically everywhere. The Amphibibots at first ignored those tribes and minded their own business, but their true power was revealed when one of the tribes sent a force to attack them. Most Amphibibots followed their threat response programming and left their tribe to raze the attacking Tribe, causing a fear factor from nearby tribes.
The other tribes, in fear of suffering the same fate as the destroyed tribe, left the Amphibibots in peace, which they responded well to. As time passed, the robots accrued enough resources to begin construction of a city, as well as creating numerous vehicles to assist them in establishing a colony. Eventually they began construction of their own spaceship, with which they launched their space program.
As time passed with the Amphibibots now being space-faring robots, scientists began making new machinery for their Empire, and for spaceships. Out of those inventions, the most widely-known is the new Amphibibot-forging industry. Scientists learned how to create replicas of themselves to increase their population. They began making more advanced makes, beginning with "A-000001-M2", and going up to "A-300000-M2".
Overview
Edit
The Amphibibots are a race of Robots who prefer to keep to themselves. Rarely do they ever intervene in events and wars, only exception being if it's either a threat to them, or benefitial to them.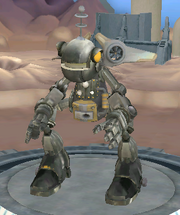 They're sub-divided in several models and makes. Despite Mk.1 being the very first one made, Mk.1 Amphibibots are not considered 'Gods' or 'First Ones'. The very first Amphibibot model made, however, is the Leader of the Empire.
Physiology and Abilities
Edit
Amphibibots are weak in nature in terms of combat, but as Scientists developed more technology, they invented 'Ability Packs', where an Amphibibot can purchase an ability(for example, feet that are able to change into jets to be able to fly) to be installed in his chassis. It's usually very costly, however.
The Amphibibots, being robots, are also able to survive and thrive in T-0 planets, as they don't require air to breathe. This makes them able to live in all types of planets, except one - Water planets. Obviously, comming in contact with water gives a short-circuit to their system, greatly damaging it.
Relationships
Edit
Registed Protectorates Edit
"IDENTITY RECOGNIZED AS PROTECTORATE. WILL DEFEND SUBJECT AS MUCH AS POSSIBLE."

Registered Allies Edit
"IDENTITY RECOGNIZED AS PASSIVE. DEFENSIVE SYSTEM SHUT DOWN."

Registered Assistants Edit
"IDENTITY RECOGNIZED AS FRIENDLY. DEFENSIVE SYSTEM FREQUENCY LOWERED."

Unregistered or Registered as Neither Edit
"IDENTITY RECOGNIZED AS NEUTRAL. PLEASE IDENTIFY YOURSELF OR TAKE FLIGHT."

Registered Foe Edit
"IDENTITY RECOGNIZED AS POTENTIALLY AGRESSIVE. TAKE FLIGHT IMMEDIATLY."

Registered Nemesis Edit
"IDENTITY RECOGNIZED AS AGRESSIVE. COUNTER-ATTACKING AT FIRST SIGHT."

Imperium of War - "Tertiary enemy recognized. No longer detected in the Sector. Vigilance-pattern programs remain online."

Registered Enemy Edit
"IDENTITY RECOGNIZED AS ENEMY. ATTACKING AT FIRST SIGHT."

Community content is available under
CC-BY-SA
unless otherwise noted.