Expansion packs add new features to the original game, Spore. Currently, there are three main expansion packs that have been named "Spore Galactic Adventures", "Spore Creepy & Cute Parts Pack" and "Spore Bot Parts Pack".
There might be expansion packs that may possibly include Plant editor, Hut editor and the Aquatic Stage. There are Parts Packs, which can be used with either Spore or Spore Creature Creator. Parts Packs include new body parts for creatures in the creature editor, as well as paint scripts, preview animations, and test drive backgrounds. The only purchasable Parts Pack to date is Spore Creepy & Cute. Expansion Packs (not to be confused with Parts Packs) increase gameplay depth, adds new features like creators and stages (not in the current ones). Expansion Packs can only be played with the original game or the special box (same game, just with extras in the box). The only expansion pack that has so far been confirmed is Spore Galactic Adventures.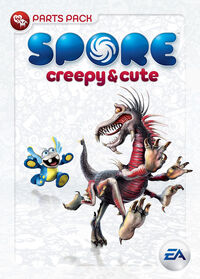 Adds 130+ items; 60 creature parts, 2 test drive backgrounds, 48 new paint scripts (12 base layers, 12 coat layers, 12 detail layers and 12 complete styles), and 24 new preview animations to the original game on a cute and creepy theme. Some items are cute styled, while others are creepy styled. Creepy and Cute Parts Pack was released on November 18
It adds great features to the Space Stage, including beaming your creature down onto a planet to play adventures, the ability to create adventures, collect rewards and much more. It also adds one detail paint for creatures and dowloads patch 1.4. It was released on June 23rd in the US and was released on June 26th in the EU. (See the Spore Galactic Adventures page for more information.)
Bot Parts Pack
Edit

The Bots Part Pack is a limited-edition add-on that adds 14 new cybernetic parts to the Creature Creator. The code that will unlock the content can only be found on specially marked Dr. Pepper bottles in the United States, meaning it will be very difficult for non-American users to get the parts. This was announced on the Sporepedia on January 5th, 2010. The promotion was originally going to end on December 31, 2010, but was extended to January 31st, 2012. Although the promotion has ended, the Part Pack, along with Patch 1.06, can be downloaded for free at ModDB.com.
External Links
Edit