The Electric is a part available in Cell Creator and Early Creature Creator in Spore for cells and creatures to possess, costing over 25 DNA to add to the creation.
Cell Stage
Edit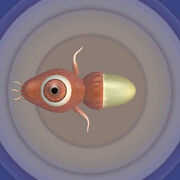 The ability that the cell gain from this part is "Electrocute" . This ability allows a cell to produce electricity and instantly electrocute an opposing cell, and possibly multiple cells nearby.
Creature Stage
Edit
Unlike in Cell Stage, this will grant a creature 1 level charm ability. Once the charm ability is used during the socializing process between the player and other creature, this part will spark for comedic effect.
This part is great dealing with epic cells, since it's only a cell part that can harm the epic cell.
Known cells with this part
Edit
Note: These parts are not available in Spore in general and cannot be used in-game besides accessing via unreleased editor.