Earth is a Featured Article

---

"Earth" has been featured, meaning it was deemed an article of interest by the Community.
The Earth is the third planet in the Sol System, which in Spore can be found as an easter egg. It is a T1 planet, with mild temperature and high atmosphere, and is uninhabited by default. Earth has two associated achievements: "Manifest Destiny" for visiting it and "Oh the Humanity!" for destroying it.
Characteristics
[
]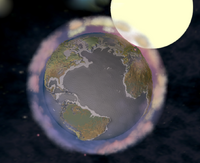 T-score
[
]
By default, Earth is a T1 planet with high atmosphere and mild temperature, randomly harboring three slots of flora and one for a herbivore.
Terrain
[
]
The unique factor about the Earth that its terrain is deliberately shaped like real-life Earth's, albeit the proportions of Earth is surprisingly small, with many small countries such as the United Kingdom shown as being the size of an average spaceship. Regardless, the Earth systematically functions like any planet throughout the game.
Along with other planets in the Sol System, Earth has a unique terrain that mimicks that of its real counterpart. However, Earth is no larger than other planets in Spore.
When Spore Galactic Adventures was released, Maxis made a template of Earth for adventure makers.[1]
| | | |
| --- | --- | --- |
| | Designed using USGS topographic maps, this replica of the Earth is perfect for creating your own custom made, realistic Earth adventures! Created by MaxisKate. | |
Relation to Steve
[
]
If the player makes it to the Galactic Core, Steve will give them the Staff of Life. He also mentions the "third rock from Sol," which describes Earth. Although he mentions a "free breakfast and presentation" while on Earth, there will be nothing new there. This may indicate that Steve originated from Earth and is an example of humans in future times, or it may just be a joke from Maxis.
Earth at different T-scores
[
]
Trivia
[
]
References
[
]