Tips and Tricks
[
]
Note: This achievement may not work if you haven't gotten Spore Patch 1.01
You can simply wait and soon this achievement will come to you almost automatically, or you can quicken it. If you haven't earned it yet or if you just got the game, enter the creature creator from the main menu and select the "Basic Creature" creator (the Cell Editor). Create about two creatures and save. Then return to the main menu. Select an empty planet and choose to start as a creature (or continue and finish a cell one). Then either create a new creature, or chose one from the Sporepedia other than the two you just created. One of the first species you meet should almost definitely be one of the two. After this you can continue to play, or just delete the game.
Creating a creature with the creature creator tool in space stage will give you this achievement.
There is also another, quicker option. In the Civilization stage, contacting another city or (at the start) a tribe (which is your own species) will give you this achievement.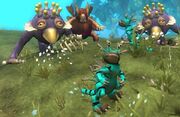 There is ONE more! You can also go to the creature stage and when it says Choose A Theme, click on the arrow and find My Creations. When you go into the game, You should see AT LEAST one of your creations somewhere in the world. Just left-click on it and you will get it.
It's possible to get it in space stage in your homeworld
You can also find your creature in Creature Stage. When you go to land, you can find a dead body.