Da Loron stoof
WEZ DA REAL LORONZ MAN DONT REED DAT UNO STOOF ITS DUM
OI BOLD MEENS SPESHUL STOOF
WE IS DA REAL COOL LORONZ DA ROGUE BOYZ IS DUM DONT REED DEM
| | | |
| --- | --- | --- |
| Da Tekkno Stuff | | SHUT UP MAN WE HAS DA SAME TEKKMO STOOF AS UNOS TEKK |
Da Cash
SHUT DA HELL UP MAN LOOK HEER
Da Timez
DUMBO GO HEER
Da Godz
YOO LOSAS ZR'AN'KAR IS DA DUMEST GOD EVA ALL DA OVA GODZ AN ROZ'TAH'FLOK IS BETTA
WE IZ DA DEFFMARCH BOYZ AN WE IS DA BEST COS WE WIV DA MALI'NAR YA DUMBOS
| | | |
| --- | --- | --- |
| Da Warz | | COMIN SOON MAN SHUT UP |
| | | |
| --- | --- | --- |
| Da Tekkno Stoof | | SHUT UP MAN WE HAS DA SAME TEKKNO STOOF AS MALI'NAR DO YA DUMBO MOST OF DA INFO IS HEER BUT OMG WE DONT NEED MUCH TEKKNO STOOF WEZ TOO POWAFUL HUR |
| | | |
| --- | --- | --- |
| Da Godz | | ALL DEM GODZ IS DUM DA ONLY REEL GODZ IS DA DEFFMARCH GODZ |
Part SporeWiki:Fiction Universe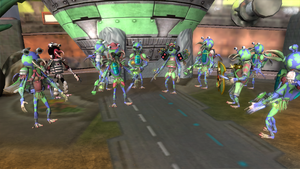 "Loron "Gangz" as they call them are little more than huge mobs of Loron doing their job. They don't seem like a normal street gang, since normal street gangs people choose which to join, here Loron can be forced into the gangs and the gangs are tradition."

- A Grimbolsaurian account of Loron Gangs
Loron Gangz are essentially the equivalent of a squad, or team (depending on their job). Gangs start off many ways.
This is very variable. Several gangs start off small, with a young Loron and a bunch of mates calling themselves a gang. Others begin with a Loron starting a group on the Technonet and inviting people to join. Some are even made by a Propa Big Warboss who wants a place to put Boyz who aren't in a gang. There are several other ways gangs can start too but these are most common.
A Loron gang refers to:
Something that is similar to a street gang or mafia
A group in an industry serves as the equivalent of a Team
Gang in battle serves as the equivalent of a Squad.
Gangs function alone, and are run by a Gangboss. While they function alone, when they are ruled by someone higher (for example, if the gang goes into Warboyz Tret'Flakan in an invasion, then Propa Big Warboss Tret'Flakan is in charge of them. If they are working in Blingboss Fol'Danna's shop, then Blingboss Fol'Danna is in charge of them, and they can only leave when their boss wishes them to. However this is no specific law, and the gang coul leave if they wanted, although Blingboss Fol'Danna would probably try to do something about it, such as hire Da SNeaky Boyz too kill them, or go fight them himself with his gang!
A Gang can range from 15 members to 1500 members. But if a Gangboss decides there are too many, he makes himself the Big Gangboss and appoints the toughest people in has gang Gangbosses, and essentially splits the gang into about 8. Altough that is up to the Gangboss what they do. The Big Gangboss is in charge of all Gangbosses, but it is not unheard of for Gangbosses to leave that gang, triggering gang bangs.
Gang Bang is the Loron tradition when two gangs fight each other. This is usually over something personal or to settle a feud. Gang Bang is basically when Loron go and "shank" each other and fight each other with fists or other weapons. Gang Bangs often result in both gangs significantly damaged, one gang defeating another gang's boss (and thus getting control of the other gang's members) or simply getting bored and walking away in laughter.
Da Loron stoof
WEZ DA REAL LORONZ MAN DONT REED DAT UNO STOOF ITS DUM
OI BOLD MEENS SPESHUL STOOF
WE IS DA REAL COOL LORONZ DA ROGUE BOYZ IS DUM DONT REED DEM
| | | |
| --- | --- | --- |
| Da Tekkno Stuff | | SHUT UP MAN WE HAS DA SAME TEKKMO STOOF AS UNOS TEKK |
Da Cash
SHUT DA HELL UP MAN LOOK HEER
Da Timez
DUMBO GO HEER
Da Godz
YOO LOSAS ZR'AN'KAR IS DA DUMEST GOD EVA ALL DA OVA GODZ AN ROZ'TAH'FLOK IS BETTA
WE IZ DA DEFFMARCH BOYZ AN WE IS DA BEST COS WE WIV DA MALI'NAR YA DUMBOS
| | | |
| --- | --- | --- |
| Da Warz | | COMIN SOON MAN SHUT UP |
| | | |
| --- | --- | --- |
| Da Tekkno Stoof | | SHUT UP MAN WE HAS DA SAME TEKKNO STOOF AS MALI'NAR DO YA DUMBO MOST OF DA INFO IS HEER BUT OMG WE DONT NEED MUCH TEKKNO STOOF WEZ TOO POWAFUL HUR |
| | | |
| --- | --- | --- |
| Da Godz | | ALL DEM GODZ IS DUM DA ONLY REEL GODZ IS DA DEFFMARCH GODZ |
Part SporeWiki:Fiction Universe
Community content is available under
CC-BY-SA
unless otherwise noted.