"WE IS DA SIKKEST AN DA BADDEST DERE IS. DA DARK BOYZS DA BEST"

The Loron'Kikra were the possessed counterparts of the Loron, created by Kolossus.
Loron'Kikra were created when Kolossus went back in time, and made sure that when corrupted by the Vyro'Ralza, they were given more Dark Chronoscopic energy, thus, evolving them differently in another timeline. This made them slightly stronger, and an entirely different colour. They were snatched and used in this timeline. The point they were used was a time shortly before the Delphan Excavation War of Ottzello. The Loron'Kikras were created by Kolossus as a "beta version" of a perfect Loron. They have all the powers of creatures possessed by the Shu'olerthae, but they still possess their "intelligence". The entropic energy only made them smarter (not much) and stronger (a lot).
Second War of Black Fog
Edit
After being created, they aided the Marinoxidiz attack and defend against the Corruptus's enemies in the Second War of Black Fog. After being a pain for the resistance for a long time, Kolossus was killed, and all Loron'Kikras were killed as well, extincting the empire. After the war, the Loron'Kikra were brought back to life as a new species known as the Dark Loron.
Characteristics
Edit
Physiology
Edit
The Loron'Kikra had a very similar appearance to the regular Loron, however they share several differences. Their skin is dark and grey instead of blue and green Their hands changed and turned into sharp tentacle-like fingers. Their feet also changed and became larger. Their wings are larger and are also surrounded by several striking weapons. Their head is filled with several horns, and their eyes changed to a more diabolical appearance, as well as a third eye appeared in their forehead.
Abilities
Edit
The Loron'Kikra share their fighting skills with the Loron, except they are more adept at stabbing rather than punching. They can also use Dark Chronoscopic powers, but most of the time, they end up damaging themselves with it.
Norol'Kikra
Edit
Dark versions of the Norol, known as "Da Dark Chikz", also exist. The Norol'Kikra share their intelligence with the natural Norol, but differ from being more aggressive and slighly stronger. They are, however, still very weak compared to the Loron. Their method of reproduction remains the same as the natural Norol, except the Norol'Kikra take more time to do it than normal.
Individuals
Edit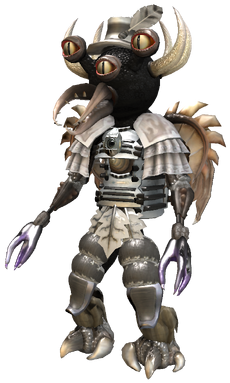 "YA MOMS STOOPID SHUT UP"

Hagto'Zhl is the Loron'Kikra counterpart of the Loron leader Zr'Ahgloth. Much like his natural counterpart, Hagto'Zhl is the idiotic leader of the Loron'Kikra, and a Propa Big Rogue Leeda in Da Rogue Boyz. Hagto'Zhl is cruel, sadistic and aggressive. Despite being more evil than Zr'Ahgloh, Hagto'Zhl is more emotional and melancholic than him. All Hagto'Zhl cares for is for killing dumbos, pleasing Kolossus and eating pizza. He often forgets that Fre'kloar is the ultimate boss, which leads to many fights, but the two are friends at the end of the day.

"IM DA BEST WARBOSS EVA MAN"

Ray'loth is the Loron'Kikra counterpart of the Loron warboss Thr'aloy, and is a speshul warboss of Da Rogue Boyz. Much like his natural counterpart, Ray'loth is a savage serial killer, killing others just for the fun of it. The highest warboss of Da Rogue Boyz before the Leedas themselves, Ray'loth is an extremely deadly opponent for anyone who attempts to fight him. His undying hatred toward Thr'aloy also fuels his strength even further, should he even be mentioned.

"GRRRRR!!!!!"

Gratz'kaoz was a descended Loron Massiv Warboss, notable for leading the biggest Massiv Crew of all time. He was a member of the Legion of Badmanz as well as a servant of Kolossus, and by extension, Emperor Zargoth. Gratz'kaoz was the most insane Loron'Kikra of all time. Bloodthirsty and overly violent, he would not hesitate in killing his own boyz to release his stress. He has no concept of mercy, or friendship. He also got angry over minor things, and cared for no one but himself. Even mentioning Gratz'kaoz was frightening in Da Rogue Boyz, and in Loron culture within UNO, who had given him folkloric names such as "Da Devil", Da Maddest Geeza" of "Dat Fukkin Psykko".
OluapPlayer created these Loron with Technobliterator's permission and knowledge. Originally, the Loron were removed from the fiction universe due to the creator being on an hiatus.
Da Loron stoof
WEZ DA REAL LORONZ MAN DONT REED DAT UNO STOOF ITS DUM
OI BOLD MEENS SPESHUL STOOF
WE IS DA REAL COOL LORONZ DA ROGUE BOYZ IS DUM DONT REED DEM
| | | |
| --- | --- | --- |
| Da Tekkno Stuff | | SHUT UP MAN WE HAS DA SAME TEKKMO STOOF AS UNOS TEKK |
Da Cash
SHUT DA HELL UP MAN LOOK HEER
Da Timez
DUMBO GO HEER
Da Godz
YOO LOSAS ZR'AN'KAR IS DA DUMEST GOD EVA ALL DA OVA GODZ AN ROZ'TAH'FLOK IS BETTA
WE IZ DA DEFFMARCH BOYZ AN WE IS DA BEST COS WE WIV DA MALI'NAR YA DUMBOS
| | | |
| --- | --- | --- |
| Da Warz | | COMIN SOON MAN SHUT UP |
| | | |
| --- | --- | --- |
| Da Tekkno Stoof | | SHUT UP MAN WE HAS DA SAME TEKKNO STOOF AS MALI'NAR DO YA DUMBO MOST OF DA INFO IS HEER BUT OMG WE DONT NEED MUCH TEKKNO STOOF WEZ TOO POWAFUL HUR |
| | | |
| --- | --- | --- |
| Da Godz | | ALL DEM GODZ IS DUM DA ONLY REEL GODZ IS DA DEFFMARCH GODZ |
Part SporeWiki:Fiction Universe
Community content is available under
CC-BY-SA
unless otherwise noted.