"da dark boyzs da best"

The Dark Loron are a Dark Chronoscopic-based subspecies of the Loron and the successors of the Loron'Kikra.
The Dark Loron were created by Kolossus after the former was revived, after being killed in combat during the Second War of Black Fog. Unhappy with the Loron'Kikra's results, Kolossus decided to remake the race in such a way that they were an actual subspecies of Loron instead of Loron under the possession of Shu'olerthae demons. These new Dark Loron would become more like their creator and less like Shu'olerthae zombies. At first used as weapons by the Unified Nation of Ottzello, the Dark Loron later rebelled and most of them joined Da Rogue Boyz under the rule of Hagto'Zhl. However, other Dark Loron under the rule of Gratz'kaoz instead joined the Legion of Badmanz and aligned themselves to the Legion of the Deathmarch. During the Second Borealis Galactic War, a large portion of Dark Loron was corrupted and absorbed into the Devourer's Chosen, and following the defeats of both the Badmanz and the Chosen, these Dark Loron joined the Dominion of the Xhodocto where they currently serve the Xhodocto.
Characteristics
Edit
The Dark Loron are much more similar to the standard Loron than their Loron'Kikra predecessors. They are tall and extremely strong reptilian creatures with insectoid jaws. Their skin is pitch black with gray spots, with their arms and legs being white in coloration. Their eyes are deep red and larger than those of a standard Loron. Their hands are clawed and grow in size as they grow older, and their feet have large talons as opposed to the webbed feet of standard Loron. Dark Loron possess larger wings than standard Loron, and as they evolve into more mature forms, they gain physical attributes similar to those of Kolossus such as a pair of antennae and a long tail.
Behavior
Edit
Dark Loron behave much like their Loron'Kikra predecessors. They are aggressive, hotblooded, barbaric and apathetic creatures who wish to cause as much chaos as possible for their own enjoyment. They love war, loud music and causing destruction. Like the Loron'Kikra before them, the Dark Loron are considerably more emotional than the standard Loron and are also easier to break mentally. By all other means, the Dark Loron are practically the same as the standard Loron behavior-wise.
Abilities
Edit
Dark Loron are as strong as standard Loron, being tied with them and with other Loron subspecies as the physically strongest species in the First Gigaquadrant. They share the standard Loron ability of using brainpower to weaken the muscles, adrenaline flow and nerves of their enemies. Their Dark Chronoscopic biology makes them resistant to dark essences, but vulnerable to Chronoscopic Energy and other essences such as Dream Energy.
Individuals
Edit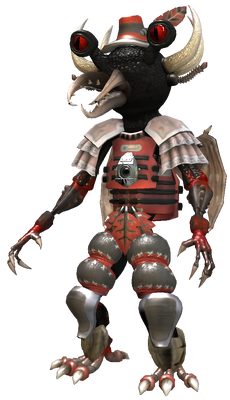 "YA MOMS STOOPID SHUT UP"

Hagto'Zhl is the Dark Loron counterpart of the Loron leader Zr'Ahgloth. Much like his natural counterpart, Hagto'Zhl is the idiotic leader of the Dark Loron, and a Propa Big Rogue Leeda in Da Rogue Boyz. Hagto'Zhl is cruel, sadistic and aggressive. Despite being more evil than Zr'Ahgloh, Hagto'Zhl is more emotional and melancholic than him. All Hagto'Zhl cares for is for killing dumbos, pleasing Kolossus and eating pizza. He often forgets that Fre'kloar is the ultimate boss, which leads to many fights, but the two are friends at the end of the day.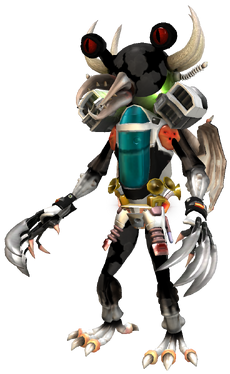 "IM DA BEST WARBOSS EVA MAN"

Ray'loth is the Dark Loron counterpart of the Loron warboss Thr'aloy, and is a speshul warboss of Da Rogue Boyz. Much like his natural counterpart, Ray'loth is a savage serial killer, killing others just for the fun of it. The highest warboss of Da Rogue Boyz before the Leedas themselves, Ray'loth is an extremely deadly opponent for anyone who attempts to fight him. His undying hatred toward Thr'aloy also fuels his strength even further, should he even be mentioned.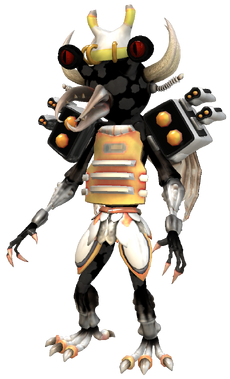 "I MAKE DA BIGGAST AN LOUDAST BOOMZ"

Zalk'don is the highest ranking Boom Boss of Da Rogue Boyz. A passionate explosives expert, Zalk'don got into demolition when he survived near-death from an explosion from a young age, and enjoyed it. Zalk'don is incredibly addicted to explosions, and will ensure to kill all his enemies with explosives, even at close range. He personally oversees creation of new weaponry, ensuring that it 'has da rite boomz'. His weapon of choice is the antimatter explosive, and he resultantly become exposed to antimatter.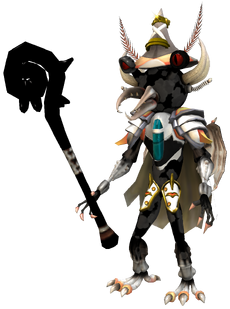 "IN DA NAME OF DA GOD OF WAR I DECLARE YOO A COMPLETE AN UTTA LOSA"

Brag'klogga is the highest ranking Flash Boss of Da Rogue Boyz. Hit in the head from a very young age, this resulted in Dark Chronoscopic repairing his brain, but consequently, making him insane but powerful. In this timeline, it simply made him stupid, and he was killed during Fre'kloar's rebellion. However, the dark Brag'klogga, after a lot of fighting, was made to join Fre'kloar's Rogue Boyz. Brag'klogga is incredibly useful to Da Rogue Boyz due to his power, but everyone is scared of him, due to his insane behaviour.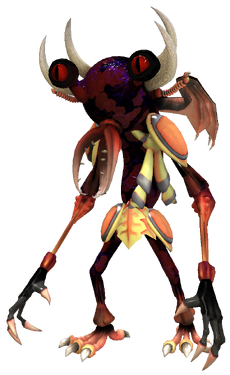 "HURHURHURHUR IMMA MAKE YOO SUFFA IN DA DEVOURAS NAME"

Ref'kolar was the Dark Loron counterpart of Fre'kloar who fell victim to the Devourer Chosen's original corrupting powers, which turned him into an insane but powerful warrior. He is an incredibly strong warrior, and a great leader like the natural Fre'kloar. As he tries as hard as possible to differentiate himself from Fre'kloar, he often uses long range weaponry more than attacking at close range. Ref'kolar was eventually murdered by Fre'kloar in Da Ice Cube Trials.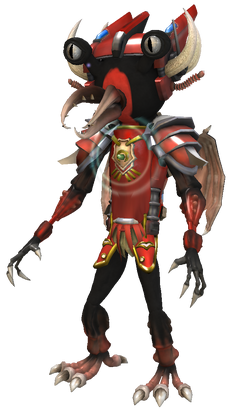 "da deemus is da best"

Gnak'rak was the Dark Loron counterpart of Knar'gank. Formerly a not well known member of Da Rogue Boyz, Gnak defected to the Dominion and became the right-hand man of Gratz'kaoz. Similar to his Loron counterpart, Gnak'rak was an extremely skilled Sneeka Boss. Unlike Knar'gank, however, Gnak'rak had no sense of honour or respect for his enemies and only wished for them all to die to Gratz'kaoz's crusade. During the final moments of the crusade, however, Gnak'rak was "out-sneaked" by his natural counterpart and was killed by him after being stabbed with a dagger through his spine.
"Children of my nemesis, it is unfortunate how well they have thrived."

"It seems black is the new dumb."

"There are differences between Loron?"

"They will be purged alongside their demon allies."

"Your souls...prove rather filling...for a time."

"WANNABE DUMBOS DAI"

"Pests. And like any pests, must be exterminated."

"Kinda useful, eh? When they ain't bashin' each other over who's the 'best' Loron, anyway."

The Dark Loron possess a Fantasyverse counterpart in the Khorloron.
Da Loron stoof
WEZ DA REAL LORONZ MAN DONT REED DAT UNO STOOF ITS DUM
OI BOLD MEENS SPESHUL STOOF
WE IS DA REAL COOL LORONZ DA ROGUE BOYZ IS DUM DONT REED DEM
| | | |
| --- | --- | --- |
| Da Tekkno Stuff | | SHUT UP MAN WE HAS DA SAME TEKKMO STOOF AS UNOS TEKK |
Da Cash
SHUT DA HELL UP MAN LOOK HEER
Da Timez
DUMBO GO HEER
Da Godz
YOO LOSAS ZR'AN'KAR IS DA DUMEST GOD EVA ALL DA OVA GODZ AN ROZ'TAH'FLOK IS BETTA
WE IZ DA DEFFMARCH BOYZ AN WE IS DA BEST COS WE WIV DA MALI'NAR YA DUMBOS
| | | |
| --- | --- | --- |
| Da Warz | | COMIN SOON MAN SHUT UP |
| | | |
| --- | --- | --- |
| Da Tekkno Stoof | | SHUT UP MAN WE HAS DA SAME TEKKNO STOOF AS MALI'NAR DO YA DUMBO MOST OF DA INFO IS HEER BUT OMG WE DONT NEED MUCH TEKKNO STOOF WEZ TOO POWAFUL HUR |
| | | |
| --- | --- | --- |
| Da Godz | | ALL DEM GODZ IS DUM DA ONLY REEL GODZ IS DA DEFFMARCH GODZ |
Part SporeWiki:Fiction Universe
Community content is available under
CC-BY-SA
unless otherwise noted.