Cold Loron are a race of Loron who have adapted to the Cold Relays of the Borealis Galaxy They are members of Da Rogue Boyz.
When the first working spaceship was developed, a warboss went off to explore the unknown. However, he ended up in a wormhole, which took him to 5 billions of years in the past, where his ship crashed into the snowy research planet Glacies, controlled by the Kormacvar. He was captured, and his boyz and chikz used for experiments. Over time, the Cold Boyz became incredible works of science, to the extent they even overtook their masters.
The Kormacvar, working with the Vyro'Narza, sealed the Cold Boyz in a small sector in the Borealis Galaxy. Here, they built their own 'Loron utopia'; full of beast riding, explosive technology, dangerous activities, and music. Every single asteroid, moon and rock in space contained a huge party and a space radio station. The Cold Loron were known for their unique dubstep-rap music.
Da Rogue Boyz
Edit
During the Prologue to the Second Borealis Galactic War, Da Rogue Boyz discovered the Cold Loronz old hideout through stories, and recruited their boss Grak'tona.
Characteristics
Edit
Physiology
Edit
The Cold Loron have a physiology which is unique, as it is more naturally cold. The loron are mostly made of a cold water which does make them slower. Being cold also makes them much stronger. On hotter worlds, however, there is a hormone that can cause the heat of the body to rise, meaning the Cold Loron won't burn.
However their 'ice spitta' contains liquid hydrogen; when the Loron eat, the bacteria's metabolism causes them to expell hydrogen, which is circulated by the blood into the ice spitta organ, where it extracts hydrogen and makes it cold enough to turn liquid. The process that makes it cold is:
First, it is chilled with the Loron's blood, which is already at sub zero temperatures
Then, the atmospheric pressure (artificially created by Da Rogue Boyz' ships) compresses the hydrogen, making it easier to be cooled
Finally, the leftover liquid hydrogen that was not spat will fully change the temperature of the hydrogen, making all liquid hydrogen the same temperature; if this was not done, then the ship can do this
Abilities
Edit
Aside from being incredibly strong, the Cold Loron's right arm contains a 'ice spitta'. This 'ice spitta', in fact, is a thermal weapon, that can be used to freeze enemies, in the same way a poison spitter spits poisons enemies. Due to being essentially 'frozen', the Cold Loron are also tougher than the other Loron in Da Rogue Boyz, but also slightly slower. Cold Loron can also freeze themselves up if they need to hide, but rarely do so, as it is described as 'wimpy'.
Cold Loron live with the rest of Da Rogue Boyz, although they have their own unique societies on colder worlds, and up mountains. This is because they are adapted to survive in any environment.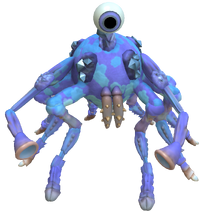 Cold versions of the Norol, known as "Da Cold Chikz", also exist. The Cold Norol share their intelligence with the natural Norol, although they are unique as they can freeze themselves up to fake death, often to save their eggs. Their method of reproduction remains the same as the normal Norol.
Development
Edit
Like the Loron, the Cold Loron evolve as they fight and get older.

Da Kidz - The baby Cold Loron.
Da Young Boyz - The young Cold Loron.
Da Betta Boyz - The adult Cold Loron.
Da Sikka Boyz - The old Cold Loron
Da Killa Boyz - The supreme Cold Loron. Also called "Abominable Snow Boyz".
The Cold Loron were going to be called Borealis Loron, but to avoid confusion, they weren't named this
Da Loron stoof
WEZ DA REAL LORONZ MAN DONT REED DAT UNO STOOF ITS DUM
OI BOLD MEENS SPESHUL STOOF
WE IS DA REAL COOL LORONZ DA ROGUE BOYZ IS DUM DONT REED DEM
| | | |
| --- | --- | --- |
| Da Tekkno Stuff | | SHUT UP MAN WE HAS DA SAME TEKKMO STOOF AS UNOS TEKK |
Da Cash
SHUT DA HELL UP MAN LOOK HEER
Da Timez
DUMBO GO HEER
Da Godz
YOO LOSAS ZR'AN'KAR IS DA DUMEST GOD EVA ALL DA OVA GODZ AN ROZ'TAH'FLOK IS BETTA
WE IZ DA DEFFMARCH BOYZ AN WE IS DA BEST COS WE WIV DA MALI'NAR YA DUMBOS
| | | |
| --- | --- | --- |
| Da Warz | | COMIN SOON MAN SHUT UP |
| | | |
| --- | --- | --- |
| Da Tekkno Stoof | | SHUT UP MAN WE HAS DA SAME TEKKNO STOOF AS MALI'NAR DO YA DUMBO MOST OF DA INFO IS HEER BUT OMG WE DONT NEED MUCH TEKKNO STOOF WEZ TOO POWAFUL HUR |
| | | |
| --- | --- | --- |
| Da Godz | | ALL DEM GODZ IS DUM DA ONLY REEL GODZ IS DA DEFFMARCH GODZ |
Part SporeWiki:Fiction Universe
Community content is available under
CC-BY-SA
unless otherwise noted.