"REPEET AFTA ME: ZR'AHGLOTH IS GREAT AN NO ONE CAN HOPE TA MATCH HIM EVA"

- Zr'Ahgloth
Zr'Ahgloth is a famed Loron who has served as Propa Big Boss of Da Propa Big Loron Empire, one of the elite Leaders of the Unified Nation of Ottzello, and finally, one of the military generals, a Leader, and later briefly the democratically elected President of the Union Republic of Ottzello (for Da Gangsta Party). He is a legendary and talented Loron who to this day is outmatched by very few in the universe in close quarters combat.
Zr'Ahgloth was born to a Norol who created him with the perfect genes to one day break them free of an Ottzel slave camp. Zr'Ahgloth led an uprising and rallied many Loron to his cause, eventually taking over and reforming Da Propa Big Loron Empire to return it to its more traditional (and barbaric) roots. After being once again enslaved by the Kralgon Emperor, Zr'Ahgloth joined the Unified Nation of Ottzello when the Kralgon Emperor did and became a high profile leader. Much later, Zr'Ahgloth joined his friend Tuolog in the uprising that led to the founding of the Union Republic of Ottzello, in which he remained a popular and important figure, including serving a short lived term as President of the Union Republic before a No Confidence vote by the people removed him from office. His successes have made him legendary among all Loron, being both a figure who has been venerated, feared and envied by other Loron, though his inflated ego has not slowed him down as he has fended off every single challenger to his position.
Zr'Ahgloth is one of the strongest, toughest and most revered Loron to ever live, rivalled only by Fre'kloar and Gratz'kaoz. He has consistently served as a ground force leader of every nation in which he has been a member, as his immense strength that is at least eight times as strong as the already extremely powerful average Loron soldier has made him a valuable asset. He is also a rapper, having released multiple studio albums (of which purchase has sometimes been mandated by law during his reign).
Birth and labour camp
Edit
Zr'Ahgloth was born in the year 2750 under a Norol known as Flan'zragthl who was a member of a Loron splinter faction that had been enslaved be many Ottzel slavers. She had pieced together the best genes she had acquired, in order to produce a Loron who could one day free the faction from slavery and rise against their Ottzel masters. When born, Zr'Ahgloth was poorly fed and physically tortured from birth, though the Ottzel could never work him to death.
Nonetheless, due in part to his DNA, Zr'Ahgloth built up a great endurance and resentment for his slavers, allowing him to survive torture, even if he had to eat other Norol including his mother to survive. From a very young age, he was able to lead an uprising and escape, freeing several other Boyz in the camp which he destroyed, stealing Ottzel ships and fleeing the world to join another Loron faction.
Becoming leader
Edit
When joining another faction, Zr'Ahgloth took over as its leader, killed its boss, and renamed it "Da Loronly Loron Empire", a rebel empire that wished to restore the "old wayz of killin an smashin stoof", a contrast to the bureaucracy of Da Propa Big Loron Empire under its boss Krul'Takka. Zr'Ahgloth loathed Krul'Takka's attempts at "modernising" the largest Loron empire, along with many of his peers, though he differed from others who opposed it. While other Loron had attempted to build their own larger factions by rallying Loron together to create a Loron faction that could surpass Da Propa Big Loron Empire, Zr'Ahgloth saw that it was the factionalism that was holding this efforts back, and aimed to take it over from within.
In his quest, Zr'Ahgloth routinely sought to prove to others he was the strongest Loron alive, fighting and singlehandedly killing not only other Loron, but enormous Epic Creatures on worlds he encountered, merely to assert his dominance. Zr'Ahgloth became legendary among other Loron, inspiring them and rallying them behind his goal: to kill Krul'Takka and restore Da Propa Big Loron Empire to its traditional ways. Eventually, Zr'Ahgloth launched a Massiv Crew against it, raided Krul'Takka's starship, and killed him and his guards with little effort, becoming the de facto Propa Big Boss.
Reforms and Ottzello Wars
Edit
Zr'Ahgloth reformed the empire by scrapping all changes that Krul'Takka had made to it. Da Propa Big Loron Empire was now devoted to upholding Loron tradition, becoming far more expansionist, but also crude and xenophobic. However, a lot of his reforms alienated Loron who had favoured them, with the most notable among them being Gratz'kaoz, a Loron who had lived in an orphanage that was destroyed during Zr'Ahgloth's purge of modernisation. During this time, Jol'kiar joined the empire and quickly raised through the ranks, catching Zr'Ahgloth's eye and leading him to become the Propa Big Warboss and Zr'Ahgloth's right hand man.
Once fully reformed and gaining strength, Zr'Ahgloth solidified his rule by beginning the First Ottzello Galactic War. Despite intervention from other extragalactic forces, the war was considered to be a win for the Loron who had expanded their empire while devastating the rest of the galaxy. During the war, Zr'Ahgloth met Thr'aloy, a warboss who dared to disobey his orders, but befriended him as he liked Thr'aloy's drive and fearlessness.
The war concluded when the Delpha Coalition of Planets invaded to search for Vyro'Narza artifacts and exterminate the Loron that tried to stop them, leading to the Delphan Excavation War of Ottzello. Feeling spited by Titanozor, who dared to win clashes with him, Zr'Ahgloth vowed to kill Titanozor and chase the DCP from the galaxy, but failed due to their extremely advanced technology. Zr'Ahgloth claimed later that the DCP had cheated with their technology, and that he would have won were it not for this or for the ceasefire that followed.
When a ceasefire occurred due to the March of the Apocalypse, Zr'Ahgloth and Da Propa Big Loron Empire fought against the demon spawn of the Xhodocto to escape Inferno, and served in the Final Battle. Helping to distract the Xhodocto, he held his own against them before Kroc defeated them. After this ceasefire, Zr'Ahgloth declared that he was the winner of the War of Ages and had personally killed Angazhar.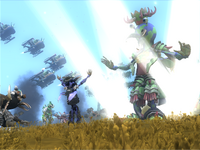 Later, the Second Ottzello Galactic War began. As the DCP had fled the galaxy, Zr'Ahgloth fought frequently against Tyraz and the Third Sovereign Domain, though he was enslaved by the Kralgon Invasion Force after a long battle with Tyraz, and injected with The System nanomachines. This led to Da Rebellion in his absence, when subordinates Fre'kloar and Jol'kiar left after it became clear that they could not take over Da Propa Big Loron Empire from within. After Da Propa Big Loron Empire joined the Kralgon, Zr'Ahgloth claimed once again he had won the war.
The Kralgon Emperor gave Zr'Ahgloth limited freedom during this time, so when a time anomaly created Hagto'Zhl and the Loron'Kikra during the Second War of Black Fog, Zr'Ahgloth wanted to know about it. The two bosses had a rap fued before fighting in real life over who the "real Zr'Ahgloth" was. Shu'rimrodir then captured the two before the fight was finished, and forced Zr'Ahgloth to fight alongside Hagto'Zhl, believing Shu'rimrodir was Roz'Tah'Flok.
Zr'Ahgloth continued to fight alongside the Corruptus, as cannon fodder and frontline soldiers. Later, shortly after Mac betrayed the Corruptus, the real Roz'Tah'Flok, a Vyro'Narza elder, told the truth to Zr'Ahgloth, who then betrayed the Corruptus to fight against them. Zr'Ahgloth joined forces with Tyraz Breek, his old enemy, to defeat Hagto'Zhl, and later Kolossus, who had caused the time anomaly.
Unified Nation of Ottzello
Edit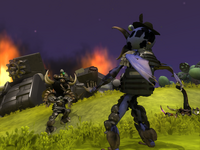 While the Second War of Black Fog was occurring, the Third Ottzello Galactic War had meanwhile reached its conclusion, leading to the Unified Nation of Ottzello being formed. Zr'Ahgloth joined UNOL, and claimed to his people he had singlehandedly won the Third Ottzello War and brought the galaxy together. Alongside fellow UNOL members, the Kralgon Emperor and Tuolog, continued to fight the Second War of Black Fog.
During the final events of the war, Zr'Ahgloth also led his boys into invading the Corruptus Overworld. Zr'Ahgloth killed several Marinoxidiz and Kikras before helping in killing Errr. When everyone was sucked into the Realm of Dreams, Zr'Ahgloth contributed into the final battle by distracting Shu'ytrogarva along with Mac and Herquie. After Shu'rimrodir was defeated, Zr'Ahgloth partied in New Draka, singing victory raps along with his boyz together, and again claiming he had defeated Shu'rimrodir and the "wannabe" Loron'Kikra and won yet another war.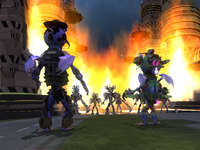 Da Rampage marked Zr'Ahgloth's first encounter with Da Rogue Boyz, the rebel group led by Fre'kloar and Jol'kiar. He was also startled to see that the Loron'Kikra and Hagto'Zhl were also brought back to life by Kolossus, and had joined Da Rogue Boyz. Zr'Ahgloth was less involved in the conflict, leaving Thr'aloy to have most of the fun, and the conflict reached no real conclusion. Nonetheless, Zr'Ahgloth claimed to have won the war and beat Fre'kloar back for good.
During the Place Your Bet campaign of the Great Cyrannus War, Zr'Ahgloth served as UNO's main fighter along with Tuolog. He fought several enemies, from assassins to epics, to the Rogue Leeda Jol'kiar to a Zanu'Paxka. In the end, however, Zr'Ahgloth and the rest of UNOL survived, and Zr'Ahgloth personally killed Nexatru, the mastermind behind the fights, by crushing his neck. Zr'Ahgloth returned to his new home in the Borealis Galaxy to claim he had won the war.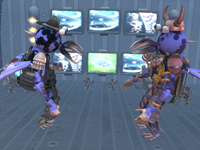 During the Second Borealis Galactic War, Zr'Ahgloth continued serving as UNOL's main muscle man and one of its most high profile leaders. Throughout this time, he clashed with Da Rogue Boyz, along with the Xi'Arazulha, The Vague, the Xi'Arazulha, the Borealis Consortium Network, the Borealis Grox Empire, and finally, Zargoth himself. Zr'Ahgloth claimed to be the hero who slayed of Falrik Zaarkhun, Regnatus and Zargoth, in the name of peace, and the ultimate winner of the war and champion for all Loron everywhere, despite Fre'kloar of Da Rogue Boyz also claiming to be the winner and the Loron champion.
During the Ottzello Revolution, Zr'Ahgloth initially led most of his Loron against the revolutionary forces. However, later throughout the short war, he changed faction by choice, believing the rebellious faction were closer to his true heart, which made him one of two UNOL members along with his friend Tuolog to side against UNO. He helped found the Union Republic of Ottzello, and notably provided the Loron with political representation in the form of Da Gangsta Party, which he led.
After many unsuccessful runs for president, Zr'Ahgloth became President of the Union Republic of Ottzello, with 54% of second preference votes, four years into the War of the Ancient Three. He ran on an ironically anti-war platform as the candidate mostly opposed to what he believed to be a one-sided relationship with the Polar Crystal Alliance, promising to oppose them if they got URO involved in more unnecessary wars.
Zr'Ahgloth's time in office was notably poor. Due to his disastrous budget cuts and many derogatory comments made towards leaders in the Gigaquadrant (some of which threatened to terminate their alliance and trade deals with URO as a result), Zr'Ahgloth received historically low approval ratings. Additionally, many factions within URO began staging coups against him, often inciting riots or even full-blown sieges, bordering on a civil war. Before this could happen, the Senate voted to give the public a No Confidence referendum, to which 68% of people voted No Confidence in Zr'Ahgloth, removing him as president after only a few months in office, replaced by a Libertarian Party president after a vote. Zr'Ahgloth claimed that the vote against him was rigged by the Rovegar Matriarchy and that he would have easily become the greatest president in history had they not cheated him.
Characteristics
Edit
Appearance
Edit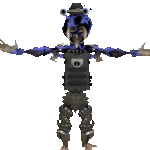 Zr'Ahgloth has a very unique and intimidating appearance among Loron. He is notably taller than others, standing at 7 metres tall, with a bulkier appearance and several scars that are hidden by his clothing. Unlike most Loron with green spots, Zr'Ahgloth's are all painted black, to show that he stands out from other Loron.
Zr'Ahgloth's mafia-cowboy styled attire is also extremely unique, and has become iconic among the Loron. In reality, much of this was accidental; he wore full clothing and a hat to cover up many of his scars from his days as an Ottzel slave, but they instead became symbols of his dominance.
Personality
Edit
Zr'Ahgloth is barbaric, egotistical, aggressive and single minded in his behaviour, making him both extremely headstrong and foolish. In these respects, he is a quintessential Loron and a lover of Loron tradition. He is extremely rebellious, and even as a leader or leading figurehead fancies himself as an outsider working from within. He views most of his inferiors as mere tools, though he is very loyal to his allies. He is also noted for his hypocrisy, demanding things from others that he would not expect from himself.
Zr'Ahgloth enjoys flaunting his strength by fighting any opponent to prove he is better, and his many achievements in battle have made him legendary among the Loron. Aside from this, he will often rob others of their shiny objects, which Loron refer to as "da bling" and use as a currency. He will begin fights without asking questions, though he will always claim he was the winner even if he was not (or that his opponent cheated).
Since Kralgon nanomachine injections, Zr'Ahgloth has become much tamer and less reckless about starting fights as a member of the Unified Nation and later the Union Republic. He would become much more noble in his beliefs and strive to be a hero, if only to prove to others afterwards that he won. His typical approach to foreign policy was less based on killing non-Loron and declaring war on all and more based on punishing those who would do the Ottzelloans harm.
Many of Zr'Ahgloth's detractors, such as those in Da Rogue Boyz, felt that Zr'Ahgloth was corrupt and selfish, and had abandoned the traditions he claimed to represent once once he became enslaved by the Kralgon. Many felt that Zr'Ahgloth was far too controlled by his own ego, and that his restoration of Loron tradition in Da Propa Big Loron Empire had ignored splinter Loron factions, with many feeling he did not warrant their respect. Others felt that Zr'Ahgloth's return to tradition went too far, and Loron such as Gratz'kaoz suffered from his destruction of orphanages, which involved killing the orphans as well as destroying the building, out of his own laziness to find them new homes.
Equipment
Edit
While Zr'Ahgloth rarely carries weapons into battle as he resents the idea of not using his fists, he has been known to use machine guns known as Heavy Blastas in some battles. As a member of the Unified Nation and and later the Union Republic, Zr'Ahgloth would make more frequent use of weaponry, plasma cannons, shields and internal cybernetic implants to overcome many of the new foes he was about to face.
Abilities
Edit
Zr'Ahgloth is a born fighter, whose sheer strength and speed outmatch most beings in the universe. His brute strength, unbelievable endurance and very high stamina dwarf that of other Loron and make him a natural fighter. On average, his arm transfers the energy of 72,000J, meaning a single punch is as strong as 72,000N normally. It is said his natural strength has only ever been outmatched by Gratz'kaoz.
He has also been known to pair very well with the Ioketa leader Tuolog, whose Chronoscopic powers have greatly enhanced his, and has made use of nanomachines and internal cybernetic implants to further his own strength (after denouncing such things as tools for "wimps" during his tenure in Da Propa Big Loron Empire).
Relations
Edit
URO - deez peepz is sik
UNOL - dey was sik man most of dem is ded tho

Kralgon Emperor - sik geeza man he let me smash stoof an encourages it
Yogtam - hes ok but propa warrias is liek me not him so i meen i kinda ignore him wen hes lecturin me
Commander-King Thylaxiz - wobot wiv da tralkik geezas. sik guy

UNOC - ma privat army
Other homies - most of yoos ar ded but yeh

Fl'ontalyx - yoo wer sik man we fought togetha an smashed dem
Lo'thakkon - yoo were a sik geeza
Fr'unthopal - a legend rappa yoo ar. dunt to no one dat yoo wrote most of ma lyrics tho hurhurhur
"Both feared and reviled across Ottzello once upon, now both respected and laughed at."

- Valzaria
"One of my most powerful weapons."

"If you manipulate him properly, he can prove useful. Otherwise, well..."

- Falrik Zaarkhun
"If Zr'Ahgloth is the best the Loron have to offer, we majorly underestimated their sheer stupidity."

- Ja'Dan Fleetfather of the Fordan Empire
"STOOPID STOOPID COPYCAT DUMBO YOR DUM AN YOR MOMS DUM GET A LIF AN STOP COPYIN ME"

"INCOMPETENT LOSA YOO IS RUINING DA BOYZ WE IS GONA KILL YOU"

- Da Rogue Boss Fre'kloar
"Foolish mishap. You are nothing but an error that I will solve soon."

- Kolossus
"What a strange fellow.He's so illiterate my Little Baki(Son) spells better than him"

" Every time I hear him speak, a little of my brain dies. Painfully."

- High-Templar Oderak
"GRUMBLE GRUMBLE GRUMBLE GRUMBLE grumble grumble GRUMBLE GRUMBLE GRUMBLE"

"For all purpose of war; one has little subtlety. No more than mindless slaughter and an uncircumstantial death justifies the existence of all Loron."

- Sethzak
"We got off on a wrong start."

While Technobliterator had the original idea behind the character, Sporesauce95 created his very first appearance, having imagined Zr'Ahgloth as a mafia leader. Technobliterator liked the idea, used it, and later created the final, taller Zr'Ahgloth in Spore.
While Zr'Ahgloth is the oldest fiction character page created by Technobliterator, Thr'aloy was the first Loron captain created in Spore Galactic Adventures.
Zr'Ahgloth was also the first Loron created solely for the Fiction Universe, and not for Spore, and the first character ever created by Technobliterator.
Zr'Ahgloth was the de facto strongest Loron to have ever lived, until Gratz'kaoz' character was later created as an antagonist for Fre'kloar.
Several pictures in the gallery here are old, and remain for the purposes of nostalgia, and many have been created by other users.
Appearances
Edit
Now reformed as the Union Republic of Ottzello
Bold indicates major members, Italics indicates UNO's version of other races
Note that aside from 'Main military lineup', most pages are on things which are unused
Da Loron stoof
WEZ DA REAL LORONZ MAN DONT REED DAT UNO STOOF ITS DUM
OI BOLD MEENS SPESHUL STOOF
WE IS DA REAL COOL LORONZ DA ROGUE BOYZ IS DUM DONT REED DEM
| | | |
| --- | --- | --- |
| Da Tekkno Stuff | | SHUT UP MAN WE HAS DA SAME TEKKMO STOOF AS UNOS TEKK |
Da Cash
SHUT DA HELL UP MAN LOOK HEER
Da Timez
DUMBO GO HEER
Da Godz
YOO LOSAS ZR'AN'KAR IS DA DUMEST GOD EVA ALL DA OVA GODZ AN ROZ'TAH'FLOK IS BETTA
WE IZ DA DEFFMARCH BOYZ AN WE IS DA BEST COS WE WIV DA MALI'NAR YA DUMBOS
| | | |
| --- | --- | --- |
| Da Warz | | COMIN SOON MAN SHUT UP |
| | | |
| --- | --- | --- |
| Da Tekkno Stoof | | SHUT UP MAN WE HAS DA SAME TEKKNO STOOF AS MALI'NAR DO YA DUMBO MOST OF DA INFO IS HEER BUT OMG WE DONT NEED MUCH TEKKNO STOOF WEZ TOO POWAFUL HUR |
| | | |
| --- | --- | --- |
| Da Godz | | ALL DEM GODZ IS DUM DA ONLY REEL GODZ IS DA DEFFMARCH GODZ |
Part SporeWiki:Fiction Universe
Community content is available under
CC-BY-SA
unless otherwise noted.