"Thr'aloy is a good war boss. He does das stuff I cant be asked to do. But he is a pain wen he acts all bad an all dat an goes to da ovas "I no somet wat you lot dont no, so ya betta listen good" den he tries ta fight me an I batter him."

Thr'aloy, codename The Skull, is a cyborg Loron and the Unified Nation of Ottzello's Loron Propa Big War Boss, and the leader of UNOC (Unified Nation of Ottzello Commandos). Previously a hero of the Loron, Thr'aloy was always a well known figurehead of the Loron, whose status has increased since his incident with The Vague and his reconstruction, causing him to be cybernetically reconstructed with a new, stronger body.
Thr'aloy works closely with Durzhan, who acts as both his aid in combat and instructor. As a cybernetic Loron, Thr'aloy switches frequently between Da Loroniz Spik and Ottzello Basic when communicating. He still has free will, but is mostly robotic.
Thr'aloy was born into Da Propa Big Loron Empire. He was a serial killer, hunting down clever Loron as he hated the new, civilised direction. He soon rose to become Propa Big Warboss through fighting. Many Loron believed he would be the next Propa Big Boss, until Zr'Ahgloth took that title.
Thr'aloy served not only as Propa Big Warboss, but as a Captain. He stole a large starship, painted it how he pleased, and started exploring the galaxy. He soon got bored of this job, and instead decided to call upon a huge force of other Loron Boyz to crush every planet he found. It wasn't long before Zr'Ahgloth decided to join in, and soon, the Loron swarmed the galaxy like a plague, kiling all in their path.
In the DCP/Loron War, Thr'aloy led large forces and overcame the DCP on several occasions (in addition to losing on several others). He managed to evade death multiple times, and also fought an ally of the DCP; Valzo. This was on a mission when Thr'aloy spread a huge plague known as OtzDie.
During the DCP purging of the Loron in the Second Ottzello Galactic War, Thr'aloy evaded death one again, and fled with the other Loron to Ottzela. He was also one of the ones who returned. When Zr'Ahgloth was captured, unlike the rest of Zr'Ahgloth's homiez, he didn't ask to become Propa Big Boss Fer Now. This was out of respect, and because he didn't feel any other Loron could live up to Zr'Ahgloth's reputation.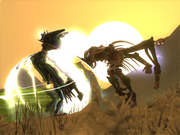 After a long hiatus, once the Ottzello Sector became UNO's new home, Thr'aloy came back to activity, now as a high ranking captain of the Unified Nation of Ottzello. During Da Rampage, Thr'aloy led the battles against Da Rogue Boyz and their Warbosses, fighting and defeating Ref'kolar and Voa'reak. He was later captured by the Tralkikianoe while trying to attack their base, and was left to die a poisonous trap room, but was then saved by Yogtam.
Second Borealis Galactic War
In the Second Borealis Galactic War, Thr'aloy would finally meet and fight his Loron'Kikra counterpart, Ray'loth. In a large and hard battle, Thr'aloy and Ray'loth would eventually have a draw when the Unified Nation Leaders appeared to save Thr'aloy. The battle reacted on both Loron's bodies, which caused Thr'aloy to grow into a Betta Boy.
At the beginning of the Coming of the Vague, Thr'aloy led a huge UNO fleet against The Vague's invasion. Thr'aloy was forced to crash land, and fought a single Vague soldier who slaughtered him. Before he was kill completely, the UNO Omega Commander saved him, and he was rebuilt using technology bought from the Borealis Consortium Network.
When UNO's quarantine was organised by the Zoles and the Niaka, Thr'aloy and the rest of UNOC attacked the planet where it would be activated, but they were confronted by Da Speshul Warbosses. Thr'aloy had a duel against Ray'loth, but eventually lost, along with the other UNOC members, who fled the planet, exhausted.
Dalverat was initially instructed to work with Dalverat. Following Dalverat's death in Da Ice Cube Trials, Thr'aloy worked with Durzhan.
Thr'aloy is a hugely savage Loron. He will go out of his way to kill as many people as possible, in the most fun ways he can. For a Loron, this is a good quality. What isn't such a good quality is his arrogance. When not leading Loron armies, he is a serial killer.
Thr'aloy, since having an implanted AI bran, is capable of great intellect. His Loron personality of being a pizza-loving savage party freak is synonymous with his perfect soldier leadership skills of his AI. This allows him to make complex battle related-decisions, as well as to co-ordinate the army better.
Thr'aloy's codename is The Skull, as being their leader, he is headstrong, and 'the Skull' is symbolic of death, which Thr'aloy avoided.
Thr'aloy's adolescent clothing was a big mess due to him picking up whatever his dead enemies dropped. Thr'aloy's current appearance uses an artificial skin is made of nanostructured electromechanical motor materials, consisting primarily of carbon, boron, and nitrogen. He also uses a special outfit designed by UNO to enhance his fighting capacities, which are attached to his metallic skin.
Thr'aloy, in addition to having a metallic artificial skin, has artificial muscles and blood. His artificial blood uses water as a medium carry things around the body, including nanomachines, nutrients and oxygen to body cells, waste products away from body cells, a variety of defence systems (white blood cells), and healing/repair systems (platelets). The muscles use the same nanostructured electromechanical motor materials, and allow him to run and jump at high speeds (around 60m/s), as well as be much stronger than in his previous biological body; he is capable of lifting 80,000kg above his head.
Thr'aloy tends to use lasers and shankas as his weapons. His shankas are high-frequency blades, which gather temperature as they are used allowing them to cut better, and are also electrically amplified, making them stronger. The blasters are hyperlaser weapons, powerful enough to kill most soldiers in a few hits. His artificial metallic skin makes him much tougher than ordinary Loron.
Thr'aloy has huge strength, huge toughness, and a high speed, thanks to his body and his implants. While Thr'aloy cannot regenerate or move as fast as Sollow (or run up walls and buildings), he is a headstrong warrior that can single handedly decimate armies head on, making him a formidable force to be reckoned with to anyone.

"Incredibly close. da best eva"

Zr'Ahgloth - best boss in history man. an deres bin a lot of bosses.
UNOC - sik peeps
Yogtam - propa sik fighta

"No opinion as of yet. imma shank ya lata"


"Hostile. IMMA SLAP YOO UP WEN I SEE YA"

Ray'loth - Annihilate immediately. WANNABE COPYCAT IDIOT.
Ref'kolar - Bah. YOR ALMOST AS DUM AS NORMAL FRE'KLOAR
Voa'reak - YOO FINK YOR ALL SIK YEH YOR JUS A WANNABE I BATTERED YOO
"OH MA DAYZ NOW I KNO HOW ZR'AHGLOTH FEELS"

- Ray'loth
"YOR SO STOOPID MAN.. I WAS JUS OUTTA FUEL"

"I SWER YOO CHEETED"

- Voa'reak
"Mishap, you are as disgusting as your Zr'Ahgloth companion."

- Kolossus
Now reformed as the Union Republic of Ottzello
Bold indicates major members, Italics indicates UNO's version of other races
Note that aside from 'Main military lineup', most pages are on things which are unused
Da Loron stoof
WEZ DA REAL LORONZ MAN DONT REED DAT UNO STOOF ITS DUM
OI BOLD MEENS SPESHUL STOOF
WE IS DA REAL COOL LORONZ DA ROGUE BOYZ IS DUM DONT REED DEM
| | | |
| --- | --- | --- |
| Da Tekkno Stuff | | SHUT UP MAN WE HAS DA SAME TEKKMO STOOF AS UNOS TEKK |
Da Cash
SHUT DA HELL UP MAN LOOK HEER
Da Timez
DUMBO GO HEER
Da Godz
YOO LOSAS ZR'AN'KAR IS DA DUMEST GOD EVA ALL DA OVA GODZ AN ROZ'TAH'FLOK IS BETTA
WE IZ DA DEFFMARCH BOYZ AN WE IS DA BEST COS WE WIV DA MALI'NAR YA DUMBOS
| | | |
| --- | --- | --- |
| Da Warz | | COMIN SOON MAN SHUT UP |
| | | |
| --- | --- | --- |
| Da Tekkno Stoof | | SHUT UP MAN WE HAS DA SAME TEKKNO STOOF AS MALI'NAR DO YA DUMBO MOST OF DA INFO IS HEER BUT OMG WE DONT NEED MUCH TEKKNO STOOF WEZ TOO POWAFUL HUR |
| | | |
| --- | --- | --- |
| Da Godz | | ALL DEM GODZ IS DUM DA ONLY REEL GODZ IS DA DEFFMARCH GODZ |
Part SporeWiki:Fiction Universe
Community content is available under
CC-BY-SA
unless otherwise noted.