"dunt yoo piss me off...YOO DUNT WANNA KNO WAT HAPPENS WHEN IM PISSED OFF!!!!!!"

- Gratz'kaoz
Gratz'kaoz was a descended Loron (later reincarnated as a Loron'Kikra) Massiv Warboss, notable for leading the biggest Massiv Crew of all time. He had served under the Marinoxidiz, the Legion of Badmanz and lastly the Dominion of the Xhodocto.
Early history
Edit
Gratz'kaoz' past was revealed in Know Ya Enemy. The son of a Loron whose family was in a massive feud with the family of a Loron who abandonned his own name, calling himself Badgangmanz, Gratz'kaoz was taught by his father to be a nice Loron, rather than aggressive like his family. He was consistently bullied, beaten up by gangs, and grew up with very few friends. When his father died, his house was sold, and he was forced to live in an orphanage, where he met Knar'thil and Zr'An'Kar; Knar'thil a sneeka Loron, Zr'An'Kar a Loron with unnatural powers.
Gratz'kaoz fought against Badgangmanz' gang, where he nearly killed Badgangmanz. During this period of his life, he became incredibly aggressive, and in his orphanage - which was more of an asylum - he took over, and soon became its 'leeda', and planned to rebel. However, before he could, Zr'Ahgloth came into power, and as part of Zr'Ahgloth's plan to return Loron to the old aggressive ways, Zr'Ahgloth abolished orphanages by killing all orphans who had ever lived in one. Gratz'kaoz was saved by Jol'kiar, Knar'thil was revealed to have planned Zr'Ahgloth's attack on the orphanage and Zr'An'Kar sent Gratz'kaoz to training.
In his training, Gratz'kaoz worked for a martial arts master, where on the first day, he accidently killed the master's other apprentices. After years, Gratz'kaoz fought against Badgangmanz - who was in fact alive - and thus earned the Propa Sik Blakk Belt. In the fight, the deal was that the loser's body would be burnt alive, so the loser's family would be ended. Gratz'kaoz then vowed to kill anyone else with the Blakk Belt to be the best Loron alive, starting with his teacher. After this, Gratz'kaoz was trained in Dark Gyronc powers by Tuolog, who advised Gratz'kaoz at the end to avoid 'Kolossus'.
Gratz'kaoz, on the run with Jol'kiar and Zr'An'Kar, set up an enormous empire of renegades from Zr'Ahgloth's Propa Big Loron Empire. Ater years, Gratz found Knar'thil again, and went to kill him, abandoning Jol'kiar. Knar'thil revealed that he had stopped Badgangmanz from being burnt, and Knar'thil's son Knar'gank went off with Jol'kiar, while Gratz'kaoz set off to kill Badgangmanz. Gratz'kaoz killed Badgangmanz - and his grandfather, the robotic Fre'gritol, who kept himself alive purely to kill Gratz'kaoz' family - once and for all, but learned that Badgangmanz had had a son, and vowed to kill this son. The son, while Gratz'kaoz didn't know, was Fre'kloar...
Da Rebellion
Edit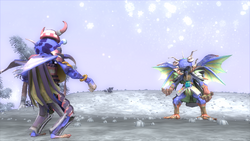 Gratz'kaoz reigned as the most ruthless and feared Loron of all. With an enormous empire, Gratz'kaoz ruled for decades with his empire, planning al th time to one day crush Zr'Ahgloth, and kill all other smaller Loron groops. However, Gratz'kaoz got himself into a rivalty with Fre'kloar, with neither knowing about their family rivalry.
While Fre'kloar expanded his empire and interests, Gratz'kaoz begna to notice how rapidly Fre'kloar's empire was growing. Gratz'kaoz sent threats out to Fre'kloar's groop, and began to conquer smaller Loron groops in order to prevent Fre'kloar's groop from acquiring them. Many Loron groops rushed to join Fre'kloar's, as Fre'kloar treated the bosses and the Loron a lot better. The two continued assimilating groops into their empire, until aside from the Propa Big Loron EMpire, only one Loron empire remained to kill- each other.
They eventually fought, and despite his powers, Gratz'kaoz was killed after he was thrown into a frozen river in one of the most epic battles in Loron's history. Gratz'kaoz's death led to the creation of Da Rogue Boyz, but little did they know, he would live as a Loron'Kikra...
Da Moovment
Edit
Dark Gratz'kaoz was one of the millions of Loron'Kikra created by Kolossus during the Second War of Black Fog. He retained his memories as ordinary Gratz'kaoz and thus remembered being killed by Fre'kloar. Gratz'kaoz was part of the Propa Big Bad Loron'Kikra Empire, but other Loron often needed to chain him when not fighting due to his incredibly chaotic behaviour. He often broke free of these chains, only to be captured by his Shu'olerthae later.
Gratz'kaoz wanted revenge on Fre'kloar, not understanding why or how, but was intent on killing Fre'kloar and his Rogue Boyz. Gratz'kaoz led a Massiv Crew against Da Rogue Boyz, but before he could have his revenge, he was erased from time when Kolossus was killed in the Second War of Black Fog.
Gratz'kaoz was once again brought back to life after the Black Fog War, but unlike the rest of the Loron'Kikra, Gratz'kaoz didn't join Da Rogue Boyz. He instead remained with the Legion of the Deathmarch until he was assigned to join the Legion of Badmanz.
Gratz'kaoz's first notable activity was during an invasion against the Unified Nation of Ottzello. Gratz'kaoz caused mass destruction, as well as killed both Tuolog and Feldosia before escaping.
Andromeda and Borealis Wars
Edit
Gratz'kaoz later led a Legion of Badmanz campaign into the Borealis Galaxy, where he would once again meet Fre'kloar. These events were known as The Cards Revealed. When Gratz'kaoz led the campaign, he was first encountered by the Borealis Consortium Network, and fought Genrai Nal. The fight ended with both incredibly tired, and Gratz lay on the floor abut to be ran over. Genrai Nal helped him up, and told him that he'd like to meet in battle again, but both agreed to end the battle in a draw. Some time later, Gratz fought Fre'kloar and Ref'kolar the Laugher, and after a long and bloody battle, was killed once again.
This however, was not the end of the demonic Loron warboss. During the invasion of Cathemera in the end of the Andromeda War, Br'klakkon summoned Gratz'kaoz to fight the Andromedan Galactic Commonwealth, where he unleashed his demonic powers and murdered many AGC-aligned soldiers with ease. After much wrestling against Tyraz, UNO arrived and weakende Gratz'kaoz down. The Loron demon was once again destroyed after Tuolog, Dalverat and Iovera IX attacked him with a massive blast of essence.
Many years later, Gratzkaoz returned briefly during the final stages of the Second Borealis Galactic War, where Kolossus sent him to fight the remaining living members of the Polar Crystal Alliance and Borealis Consortium Network in the Fifth Dimension. Gratz'kaoz murdered Gol'thabex with little effort and later devoured Sollow alive, and theen had a long fight against Tyraz Breek and Sarec. However, the fight ended with Gratz'kaoz being decapitated and killed by the combined power of the two warriors.
Tantummodo Mortem
Edit
Gratz'kaoz resurfaced for the last time during the Third Xhodocto War, as a captain of the Dominion of the Xhodocto. After being discarded by Kolossus for his several failures, Gratz'kaoz led a fleet composed of Loron'Kikra and Corruptus demons into the Borealis Galaxy with the intention of destroying Da Rogue Boyz. Through Dominion discipline, Gratz'kaoz's fleet caused tremendous damage to the Rogue Loron and soon also began attacking the Unified Nation of Ottzello, with the Loron of the galaxy comparing Gratz'kaoz's fleet as the Loron equivalent of the Apocalypse. During this time, Gratz'kaoz had the dark sneeka Gnak'rak acting as his second-in-command and his progress was noted by the Tandava Xhodocto themselves, where he was visited by the Tandava Lords Enthenthtiaethon and Vortansamserach.
Through the knowledge he had obtained during his tiem serving Kolossus, Gratz'kaoz attacked the Ottzelloan Vida'Rranlora database in an attempt to obtain the Time Secrets of the Vyro'Narza and would later obtain these Secrets by entering the Vyro'Narza library known as "Highly Classified Zone F13". By using the same Secrets used to create the Vyro'Xiyara, Gratz'kaoz obtained godhood and reality-shattering powers, to the point where he denied serving under Kolossus again, choosing to be his own master. Gratz'kaoz terrorized and caused even more destruction across the galaxy until Tuolog used a Weakening Secret on him, which caused him to lose his godhood but still retain tremendous amounts of powers.
In an united effort, the Rogue Loron and UNOC joined forces and engaged the weakened Gratz'kaoz in battle. Despite being affected by the Weakening Secret, Gratz'kaoz defeated and nearly killed the entirely of the Rogue Leedas, Warbosses and UNOC with the exception of Fre'kloar and Zr'Ahgloth. With their combined effort, the two Loron fought and finally defeated Gratz'kaoz in an explosion which razed the Loron'Kikra fleet off the galaxy. Despite the punishment he took, Gratz'kaoz survived the battle, but was too weakened to move. The hateful Loron warboss met his ultimte demise after his energy attracted Vorius into the planet, who devoured him whole and added his genetic code into his own.
Characteristics
Edit
Personality
Edit
Gratz'kaoz was the most insane Loron'Kikra of all time. Bloodthirsty and overly violent, he wouldn't hesitate in killing his own boyz to release his stress. He had no concept of mercy, or friendship. He also got angry over minor things, and cared for no one but himself; were it not for Kolossus, his boyz wouldn't have joined the Legion of Badmanz, and would have ate them instead. His punishments were also unnecessarily cruel. Were a Chik to tell him the pizza would take 10 more minutes to cook, he'd eat her, smash the oven and pull the pizza out to eat. Were a Loron to say that his tactics were wrong, he'd pick them up, chuck the as far as he could, squash their bones and eat their organs.
Even mentioning Gratz'kaoz is frightening in Da Rogue Boyz, and in Loron culture within UNO, who have given him folkloric names such as "Da Devil", "Da Maddest Geeza" of "Dat Flippin Psykko".
Appearence
Edit
Gratz'kaoz was a Killa Loron'Kikra, but much larger than a normal one. Even looking Dark Gratz'kaoz in the eye stroke total fear on anyone, not to mention his roaring loud voice. Gratz'kaoz after any fighting was an individual who most, if not all, Loron would avoid completely. Gratz'kaoz' skin was also very different to other Loron'Kikra, as his skin was burnt and scorched.
Equipment
Edit
Gratz'kaoz didn't wear any equipment, as his powers made them useless. The other reason he never used equipment was because he often smashed it as soon as it ever failed to function, or simply did what he wanted it to do.
Abilities
Edit
Gratz'kaoz was adept at using Dark Chronoscopic, with his powers being enhanced by his own composition. He was also immensely tough and strong, to the point he could tear most buildings down with his fists. He often did this to release stress, or simply out of boredom or annoyance; when the new single from his favourite rapper Lot'Tronak was poor by his standards, he smashed up Lot'Tronak' home, and then tore down all buildings from that record label, by simply smashing the building's supports with his fists, then eating the building and everyone in it as it crumbled.
Gratz'kaoz was stronger than most Tigris War era Xhodocto, and several times stronger than Zr'Ahgloth himself. To demonstrate his strength, Gratz'kaoz was capable of lifting 100,000 kilograms over his head. His muscles transfered the average energy of 108,000J; he had been known to transfer 200,000J of energy in a single punch, thus making the strength of this punch 200,000N. All of this made Gratz'kaoz one of, if not the most powerful Loron of all time. However, because he was descended and unnatural, he could not be used as an example for his species' strenght.
Relations
Edit

"I DUNT FOLLOW ANYONE BUT MASELF"


"YOO PISS ME OFF. PREPARE FOR DA WORST PAIN OF YA LIFE."

"OH MA DAYZ MAN NOT AGEN"

"MAN DIS IS TAKIN DA MIC WHAI DUNT HE JUS DAI"

- Jol'kiar
"I HERD DA STORIES AN DEYZ ALL A LOAD OF BULL. DIS THIKO GONNA DAI"

"Overconfident. Imperfect. Vessel of destruction. Mindless. His existence...shall cease once use has run out."

- Xhodocto
"A perfect minion."

- Master Br'klakkon
"Failures upon failures. He turned his back to his master and suffered for his crimes."

- Kolossus
"i rememba dis geeza. bak in da fog war we had ta keep him chained so he wuldnt attak da skulldoods an da rest of da homies. dunt wanna meet him agen propa scary thico"

"He is an admirable fighter, for sure."

Da Loron stoof
WEZ DA REAL LORONZ MAN DONT REED DAT UNO STOOF ITS DUM
OI BOLD MEENS SPESHUL STOOF
WE IS DA REAL COOL LORONZ DA ROGUE BOYZ IS DUM DONT REED DEM
| | | |
| --- | --- | --- |
| Da Tekkno Stuff | | SHUT UP MAN WE HAS DA SAME TEKKMO STOOF AS UNOS TEKK |
Da Cash
SHUT DA HELL UP MAN LOOK HEER
Da Timez
DUMBO GO HEER
Da Godz
YOO LOSAS ZR'AN'KAR IS DA DUMEST GOD EVA ALL DA OVA GODZ AN ROZ'TAH'FLOK IS BETTA
WE IZ DA DEFFMARCH BOYZ AN WE IS DA BEST COS WE WIV DA MALI'NAR YA DUMBOS
| | | |
| --- | --- | --- |
| Da Warz | | COMIN SOON MAN SHUT UP |
| | | |
| --- | --- | --- |
| Da Tekkno Stoof | | SHUT UP MAN WE HAS DA SAME TEKKNO STOOF AS MALI'NAR DO YA DUMBO MOST OF DA INFO IS HEER BUT OMG WE DONT NEED MUCH TEKKNO STOOF WEZ TOO POWAFUL HUR |
| | | |
| --- | --- | --- |
| Da Godz | | ALL DEM GODZ IS DUM DA ONLY REEL GODZ IS DA DEFFMARCH GODZ |
Part SporeWiki:Fiction Universe
Community content is available under
CC-BY-SA
unless otherwise noted.