Fre'kloar is a Featured Article

---

"Fre'kloar" has been featured, meaning it was deemed an article of interest by the Community.
"yor all diamonds... wait. dats stoopid. I ORDERED PIZZA NOT DIAMONDS."

- Fre'kloar
Fre'kloar is the founder and the Propa Big Rogue Boss leader of Da Rogue Boyz. The embodiment and epitome of a Loron, Fre'kloar is aggressive and cocky, but displays leadership skills beyond those of any other Loron, and as such, is adored and revered by the Loron as the greatest of his species. Fre'kloar's legendary fighting skill and aggression have allowed him to best many foes and endure in the toughest combat. His notable rivalries are with Gratz'kaoz, Zr'Ahgloth and Ref'kolar.
From a family of Loron who strove to best the species for its own identity, and who had a notable rivalry with the family of Gratz'kaoz, Fre'kloar holds values of being true to the Loron species and its culture. Mentored by best friend Jol'kiar in his ideals and his fighting skill, Fre'kloar fought against the corruption of the Loron in creating the Rogue Boyz, and throughout his life battled what were considered to be twisted Loron.
After the death of his mentor, Fre'kloar became much more introverted and less optimistic. Slowly, the post-traumatic stress disorder led him to become insane and twisted, even leading to accidental self-harm and to fights with his own friends.
History
[
]
Early history
[
]
Fre'kloar was originally a Warboss, born as an orphan who was rescued by Knar'gank and raised by Jol'kiar. He was trained by Jol'kiar to be the ultimate Loron boss, as the two worked for Da Propa Big Loron Empire. Though they managed to raise through the ranks, there were certain limits placed on how far the two could go before Zr'Ahgloth grew suspicious of their lack of loyalty to him. During the First Ottzello Galactic War Fre'kloar and Thr'aloy protested against the almost invincible Zr'Ahgloth, and while Thr'aloy won the favour of Zr'Ahgloth, Fre'kloar was largely ignored and hated by his clique, sticking closer to Jol'kiar while plotting to take over.
As Jol'kiar was a higher rank than Fre'kloar, and Fre'kloar was his apprentice, the only way for Fre'kloar to gain the trust of Zr'Ahgloth and be ranked higher was to kill Jol'kiar, as was Loron tradition. However, due to their friendship, Fre'kloar instead chose to put it off, which he would continue to do for many years.
Formation and growth of the Rogue Boyz
[
]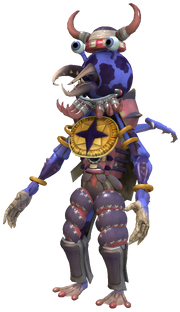 When Zr'Ahgloth was captured during the Second Ottzello Galactic War by the Kralgon Invasion Force, Fre'kloar seized the opportunity attempted to become Da Propa Big Boss Fer Now, a temporary leader, but due to his bad reputation among the others, he was laughed out. Believing it impossible to take over Da Propa Big Loron Empire from within Fre'kloar and Jol'kiar then went of a quest to create his own Loron empire to suprass it, conquering rival groups and fighting off the feared Warboss Gratz'kaoz. Following Gratz'kaoz's defeat, Fre'kloar officialized his new empire, calling it "Da Rogue Boyz", and later led his Loron off Ottzello due to the Hostile Xenoform Threat. Fre'kloar would then vow to conquer the Unified Nation of Ottzello and destroy it, seeing it as retribution.
Fre'kloar was behind most of Da Rampage, where he made his first real move against UNO. He would also meet Kolossus in it and receive Tralkikianoe technology from the Telzoc, which would enhance Da Rogue Boyz very significantly. During his time, he also met and befriended Hagto'Zhl once they found out about their mutual hatred for Zr'Angloth. This led to the Loron'Kikra joining Fre'kloar's empire, causing it to grow even more. Fre'kloar would later lead Da Rogue Boyz into fighting the Wranploer Legion, being fooled into doing it by Falrik Zaarkhun. While damaging the Legion, he would eventually halt the attacks after Falrik Zaarkhun and General Volim joined forces.
Second Borealis Galactic War
[
]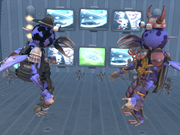 During the Second Borealis Galactic War, Fre'kloar and his Loron travelled to the remains of the Arm of Memories, where he met and befriended Grak'tona and the Cold Loron. Fre'kloar would also have his long waited fight with Zr'Ahgloth. Both failed to kill each other, and the battle ended in a draw after both were trapped by an old Caretaker. After exiting the Cold Relay where the fight happened, Fre'kloar led Da Rogue Boy through countless battles with growing enemies such as the Devourer's Chosen. In the final battle against the Xi'Arazulha, Fre'kloar fought and killed Ref'kolar along with a large number of Corruptus cultists and demons, helping the forces of Order in winning the fight.
When the Vague arrived, Fre'kloar merely watched as the extradimensional threat killed UNO for him. During this time, he met Gratz'kaoz once again during the Cards Revealed, and after temporarely joining forces with a revived Ref'kolar, killed him again. When Ottzello was quarantined, Fre'kloar sent his Warbosses to stop UNO from stopping the Grid, and after the galaxy started to be more corporation-based, he founded the Thugz Fer Dosh. During the final moments of the war, Fre'kloar joined forces with the Borealis Consortium Network until its defeat, and after this, he gave up on the war and escaped with the rest of the Loron.
Da Rogue Era
[
]
During the Ice Age, Fre'kloar and his Loron found themselves with nothing to do following the death of Falrik Zaarkhun. However, Gratz'kaoz would return one final time during the event known as Da Blak Kroozade. Being forced to join forces with Zr'Ahgloth to survive, Fre'kloar led his Loron into war with Gratz'kaoz once again and finally managed to kill him permanently. This event caused Fre'kloar to grow respect for Zr'Ahgloth, even though he refused to admit it.
Following these events, Da Rogue Era began with Da Ice Cube Trials, an idea which Fre'kloar claimed for himself. For his challenge, Fre'kloar had to defeat Ref'kolar once and for all. Along with defeating Jol'kiar's Dark Loron counterpart - Raj'liko - Fre'kloar defeated the insane Ref'kolar, who would not be revived again. This was followed by Da Rogue Boyz waging war on UNO yet again, except this time, they actually emerged victorious. With the aid of the other Rogue Leedas, Fre'kloar finally killed Zr'Ahgloth, and later fulfilled his training under Jol'kiar by killing him next.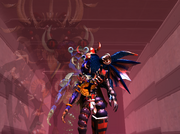 The event seemingly freed Fre'kloar from his aging immunity, with him growing into a Sikka Boy in the following weeks of the incident, though he begun growing increasingly distressed due to Jol'kiar's death, leading him to suffer from psychotic episodes, one of them involving him working with Dark Chronoscopic Energy in an attempt to revive Jol'kiar which ended up with him busting his eye and losing a half of his right arm, both being replaced with prosthetic replacements later. Fre'kloar begun growing increasingly hostile, blaming the universe for his misfortune and declaring war upon all of it, which led to the beginning of Da Reckoning.
While Da Reckoning was unsuccessful, Jol'kiar was revived, and Fre'kloar retained his new Sikka Boy look and his mechanical enhancements. Fre'kloar did not immediately begin a war with the Union Republic of Ottzello.
Characteristics
[
]
Appearance
[
]
Fre'kloar is incredibly tall, even for a Sikka Loron, making him an imposing figure. His eyes are legendary among the Loron for their sharp, intimidating glares at his foes, and for the confidence he displays when triumphant. His figure is menacing and typically Loronly.
Fre'kloar wears a military outfit to signify his leadership, but does not shy away from displaying his 'bling'. He also painted his spots purple, similar to other Loron bosses, to make himself appear unique. Fre'kloar always carries a shanka around, and his own specialised Blasta designed by Kal'kuir. Fre'kloar also wears Gratz'kaoz's mechanical jaw as a trophy for first his victory over him.
Since becoming a Sikka Boy and accidental self-harm, Fre'kloar's right eye and left arm were destroyed, replaced instead with robotic ones custom-made for him by Kal'kuir. He retains his menacing posture and intimidating glares.
Personality
[
]
Fre'kloar's personality is loud, violent, self-absorbed and easily prone to fighting, being very typical of a Loron. He is determined, ruthless and incredibly confident in his actions, being near fearless, and incredibly optimistic. His leadership skills are only matched by his mentor, his self-absorption only matched by Grak'tona, and his charisma only matched by Hagto'Zhl.
Notable about Fre'kloar is that he is incredibly stubborn in his following of Loron tradition. Although he can often be forgetful of them at times, and in some cases reluctant to follow through with them, he will always make a note to respect it.
After the death of Jol'kiar, Fre'kloar became much more of an introvert, and less of an optimist. Fre'kloar's angst grew over time, as post-traumatic stress disorder made him prone to anxiety attacks and the loss of his friend led him to depression. It was this time that Fre'kloar developed a self-hatred, feeling that he was not the Loron that the others purported him to be, and wishing he could have done more. Fre'kloar reverted to his old self following the conclusion of Da Reckoning.
Abilities
[
]
Fre'kloar is the strongest Loron of Da Rogue Boyz, and almost as strong as Zr'Ahgloth himself. His muscles transfer the average energy of 60,000J (joules), meaning a single punch from a muscle arm is 60,000N (newtons) strong. Beyond sheer strength, Fre'kloar's techniques allow him to outwit most opponents in battle, as his speed, strength and toughness make him a formidable opponent that few can directly contest. Like all Rogue Loron, Fre'kloar has minor resistance to some chemical substances due to prolonged exposure.
Fre'kloar's robotic eye provides him with incredible depth perception and the ability to scan and mark enemies to assess threats, chase after and kill them. His robotic arm is even more powerful than his biological one, able to transfer the energy of 120,000J, as it uses artificial muscles woven by metal. It also serves as a rocket, which Fre'kloar can fire at will and guide across the air to hit far away targets. He never seems to run out of rocket arms, due to Kal'kuir's allowing him to warp another one in from the factory using comically convoluted and extensive spacetime warping technology.
Relations
[
]
Homies
[
]
Neutral
[
]
Enemies
[
]
Ancestors
[
]
Badgangmanz
Badgangmanz was Fre'kloar's father, and Gratz'kaoz' worst enemy. Real name unknown, Badgangmanz is named after the gang he led in an orphanage. He was a strong Loron whose personality was similar to Fre'kloar's, although he was more sadistic.


Born into a militaristic family, Badgangmanz grew up with his father and mother, surrounded by weaponry from a young age. When his parents discovered that Badgangmnaz went to school with Gratz'kaoz, who was family member of Badgangmanz' rival family, Badgangmanz was trained everyday to fight Gratz'kaoz. As Gratz was a nice Loron who wasn't involved with fighting at the time, Badgangmanz could build an enormous gang to fight Gratz'kaoz, and his was one of many gangs who bullied Gratz regularly. However, Gratz'kaoz' father went to kill Badgangmanz' father; Badgangmnz' father was killed by Gratz'kaoz' father, and in revenge, Badgangmnz abandoned his family name and killed Gratz'kaoz' father, who was weakened by the fight.


Badgangmanz had to go to an orphanage with Gratz'kaoz, where he met many old gang membersin the orphanage and reformed the Badgangmanz Gang, as well as gaining many new members. Badgangmanz was thought by everyone to have been in there a long time, tough this was lies. Later, Gratz'kaoz fought Badgangmanz and nearly killed him, though Badgangmanz escaped, and believing he had more training to do, went to see a Loron martial arts trainer; little did he know, the trainer was the same one Gratz'kaoz would see. Badgangmanz would then once again fight Gratz'kaoz over earning the 'propa sik blakk belt', and before being killed, would be saved by Knar'thil.


Believing himself a failure, Badgangmanz sought his family history, and found his grandfather, Fre'gritol, trying to learn how to kill Gratz'kaoz. Fre'gritol wsa found to be still alive, keeping himself alive until all of Gratz'kaoz' family was dead with mechanic implants. Badgangmanz would be absorbed by Fre'gritol, in order to make Fre'gritol's new body complete. Both were killed by Gratz'kaoz at the end, however, and Gratz learnt that Badgangmanz had a son, which Jol'kiar looked after...
Fre'gritol
Fre'gritol was Fre'kloar's great grandfather, who had developed a hatred for Gratz'kaoz family. He kept himself alive for decades with mechanic implants, refusing to accept death until Gratz'kaoz' family was wiped out.


When Gratz'kaoz grandfather, Gratz'ronak, and Fre'gritol went to school, the two both shared theri complete hatred for the Propa Big Loron Empire, as at the time, it was more cultured and civil. The two built huge and both plotted killing the Propa Big Boss of the empire to take over and turn it into a more 'Loronly' empire, where killing and stealing were not only legal, but encouraged. Both argued, however, on who would become the new boss, and they fell out.


Soon, their arguments continued, and Fre'gritol secretly decided himself that he was going to do the plan alone, and gathered many of the gang to join Fre'gritol's new gang without Gratz'ronak. Gratz'ronak became incredibly angry, and swore to murder every one of Fre'gritol's gang. There was a huge, bloody fight, and Gratz'ronak was strong but Fre's gang were many. Gratz'ronak was killed, although after he had died, a Norol took his DNA, and created many new Loron, one of which was Gratz'ronak's son.


Gratz'ronak's son killed Fre'gritol, but Fre'gritol refused to accept death. In his will, he ordered his family to revive him as a cyborg any way they could. This resulted in Fre'gritol's survival, and he taught the family to always hate the Gratz family, and that he would not rest in peace until each one was dead. </tabber>
Quotes
[
]
"LOSA IMMA SHANK HIS MOMS MOMS MOM"

"MAN HES DA SIKKEST LORON EVA but he changes da tradishon its soooo dum"

- Jol'kiar
"You'll neva' get proper vengeance if your group is named da Rouge Boyz. Maybe if you renamed them the Rouge Broz it'd end bettur..."

"YOR SIK. TOGEVA WE IS GONNA OWN DA REST. WE GOT ONE GOAL IN MIND: WE GONNA B DA SIKKEST LRONZ IN HISTORY!!!!!!!!"

"hes not dat worthy BUT STILL HES SIK MAN. WE IS GONNA SMASH EVRYONE."

"SIKEST GEEZA EVA"

- Ray'loth
"DUMEST GEEZA EVA"

"Of all the Loron leaders, he's the most respectable. Not that many Loron leaders are respectable in the first place."

"This guy is pretty useful..."

"Argh, he's a real annoyance!"

"You are the greatest Boss of all... rise... let the spaceships of da Rogue Boyz ignite the worlds... and let the galaxies burn in your wake..."

- Divin-Ra
"Oh I heard you say that."

Notes
[
]
Gallery
[
]
Appearances
[
]
Trivia
[
]
Da Loron stoof
WEZ DA REAL LORONZ MAN DONT REED DAT UNO STOOF ITS DUM
OI BOLD MEENS SPESHUL STOOF
Da Cash

Thugz Fer Dosh

 ·

Mafia

 ·

MEH NO ONE CAREZ BOUT CASH ANYWAYZ LETS BE HOENST
Da Godz
YA SO DUM MAN ZR'AN'KARS DA ONLY REEL SIK LORON GOD AN DA OVAS BUT ROZ'TAH'FLOK IS DUM
WE IS DA REAL COOL LORONZ DA ROGUE BOYZ IS DUM DONT REED DEM
| | | |
| --- | --- | --- |
| Da Tekkno Stuff | | SHUT UP MAN WE HAS DA SAME TEKKMO STOOF AS UNOS TEKK |
Da Cash
SHUT DA HELL UP MAN LOOK HEER
Da Timez
DUMBO GO

HEER

Da Godz
YOO LOSAS ZR'AN'KAR IS DA DUMEST GOD EVA ALL DA OVA GODZ AN ROZ'TAH'FLOK IS BETTA
WE IZ DA DEFFMARCH BOYZ AN WE IS DA BEST COS WE WIV DA MALI'NAR YA DUMBOS
| | | |
| --- | --- | --- |
| Da Warz | | COMIN SOON MAN SHUT UP |
| | | |
| --- | --- | --- |
| Da Tekkno Stoof | | SHUT UP MAN WE HAS DA SAME TEKKNO STOOF AS MALI'NAR DO YA DUMBO MOST OF DA INFO IS HEER BUT OMG WE DONT NEED MUCH TEKKNO STOOF WEZ TOO POWAFUL HUR |
| | | |
| --- | --- | --- |
| Da Godz | | ALL DEM GODZ IS DUM DA ONLY REEL GODZ IS DA DEFFMARCH GODZ |
Part SporeWiki:Fiction Universe