Bloato is a Maxis-made cell, appearing in the Cell Stage at Level 5, and one of the last of cells appearing in the stage. It is the biggest cell in the game. It is also the last cell to appear with a proboscis and cilia.
Bloatos is one of the last predator-sized cells appearing in the stage, along with Snorfs. It has a total of 9 eyes and 8 cilia and is highly aggressive.
Its body shape, skin color/texture, proboscis and high speed suggests It may be related to Noseys in some way, and may even be the evolution of Nosey. It cannot be eaten by the player. It doesn't attack or get attacked by similarly-sized Snorfs.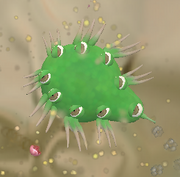 Abilities that can be harvested from this creature
[
]
Sounds
[
]
Tactics
[
]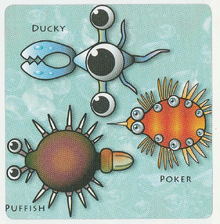 Trivia
[
]
See also
[
]